Jamaican oxtail stew is a must-try when it comes to sampling delicious dishes stemming from Jamaican cuisine. This hearty stew is full of Caribbean flavors that sing off the plate.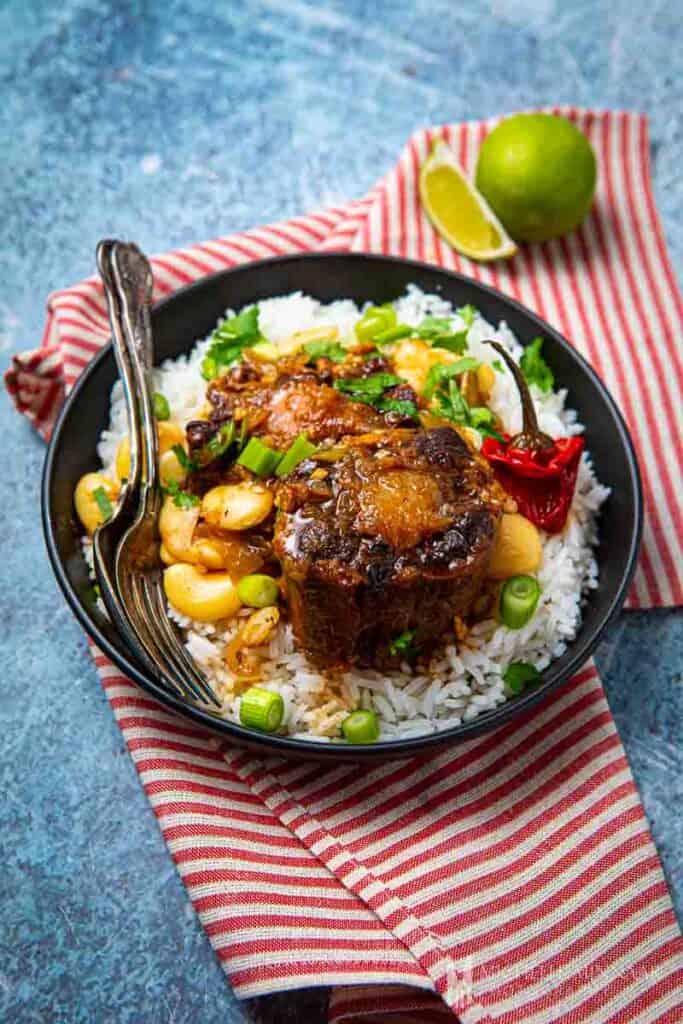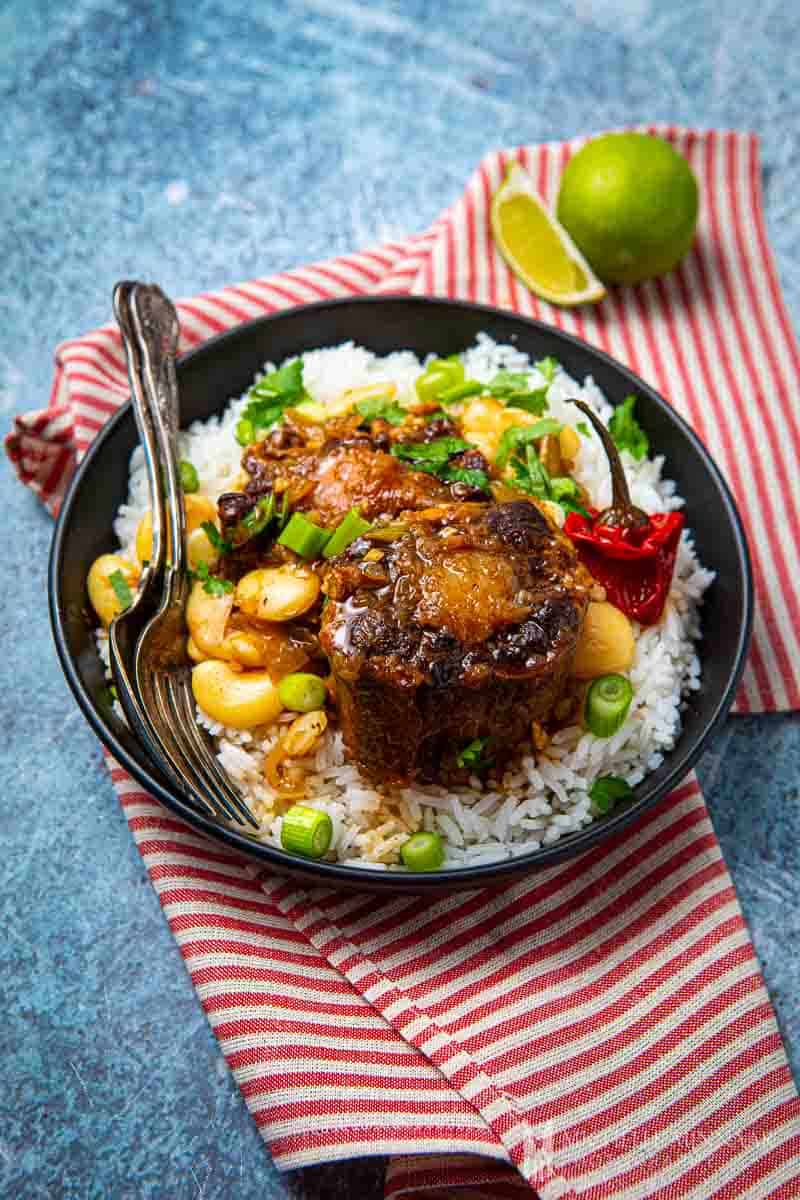 What's more, nothing beats this stew when it comes to perfectly cooked tender oxtail. All in all, this Jamaican oxtail stew is a memorable oxtail recipe.
If you've enjoyed oxtail before or you cook with this type of ingredient regularly, you'll know what it's like to appreciate meat that creates an amazing melt-in-your-mouth experience.
Once you are done with this oxtail recipe, you'll want to cook with oxtail all the time. Trust me!
This recipe can be mastered by any type of cook, so don't be afraid to make this rich Caribbean recipe. Besides, cooking with oxtail is fairly easy. Don't believe me?
Give this Caribbean recipe a go and see for yourself just how easy making oxtail recipes is!
top products for Jamaican oxtail stew
There are a few products as well as ingredients which you'll need in order to complete this Jamaican oxtail stew recipe. Take a look at these products below:
So, which products do you usually go for when cooking with a wonderful ingredient like oxtail? Let me know in the comments section below.
history of Jamaican cuisine
Jamaican cuisine is known for its authenticity, its use of vibrant ingredients and its frequent use of exotic flavors.
In essence, Jamaican cuisine is often referred to as a melting pot of flavors as well as culture, because it's one of the most diverse in the world.
In short, Jamaica's cuisine contains influences from East Asian cuisine, Indian cuisine, African cuisine and European cuisine.
This is all due to the fact that, throughout time, Jamaica and other Caribbean islands were the epicenter of global trade, as these Caribbean islands were located on important trade routes.
Moreover, it's as a result of many years of colonization, that many people were able to bring different influences to culture and food.
As more and more people started to appear in Jamaica, the more the food changed. Therefore, it is essential to understand Jamaica's cuisine through the culinary heritage of various countries.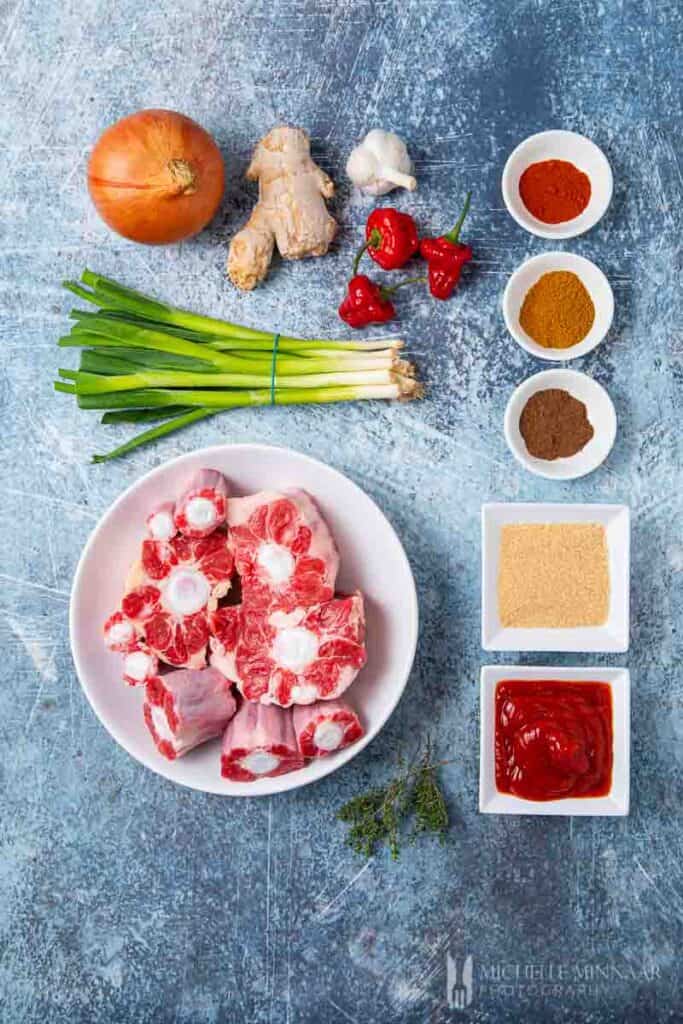 European culinary heritage
The Spaniards first arrived in Jamaica in the 16th century. They are known to have influenced Jamaica's cuisine with traditional Jewish dishes.
When the British arrived in the 17th century, they introduced baked goods as well as the production of sugar. Thanks to this, Jamaica became infamous for its production of rum.
East Asian cultural heritage
In the 19th century century, the British brought Chinese laborers to Jamaica. Although there are hardly any Chinese-Jamaicans left on the island today, one can still spot the Asian influences in dishes such as jerk chow mein.
Indian cultural heritage
Similarly to the Chinese, many workers were brought to Jamaica from India as workers. It is said, that it's thanks to the presence of Indians, that Jamaicans fell in love with cooking with pungent spices.
The end result is the creation of vibrant and spicy Caribbean curry dishes, made with coconut milk.
Often, the Indian laborers would make their curries with a side of rice. Today, the authentic dish rice and peas is a must in every Caribbean household.
If you're looking for another Caribbean recipe, try my delicious Caribbean chickpea and sweet potato casserole.
African cultural heritage
Most of the African influences in Jamaican cuisine stem from the transatlantic slave trade. One of the main spices from Africa was jerk spice and jerk sauce. Since its introduction, dishes such as jerk prawns or jerk curry popped up in Jamaica.
local Jamaican ingredients
As regards local ingredients, the ones which are still popularly used throughout Jamaican cuisine are those which have been cultivated on the island.
These include sweet potatoes, cassava root, and the scotch bonnet pepper. Scotch bonnet pepper is also known as a bonney pepper as well as Caribbean red pepper. Scotch bonnet pepper is a type of chili pepper which is very similar to the habanero pepper.
In terms of heat, the scotch bonnet pepper contains anywhere between 80,000 to 400,000 Scoville heat units, making it a very hot chili pepper.
If you have it at home, tread with caution. If you wish to add it into the recipe, start off with a small amount.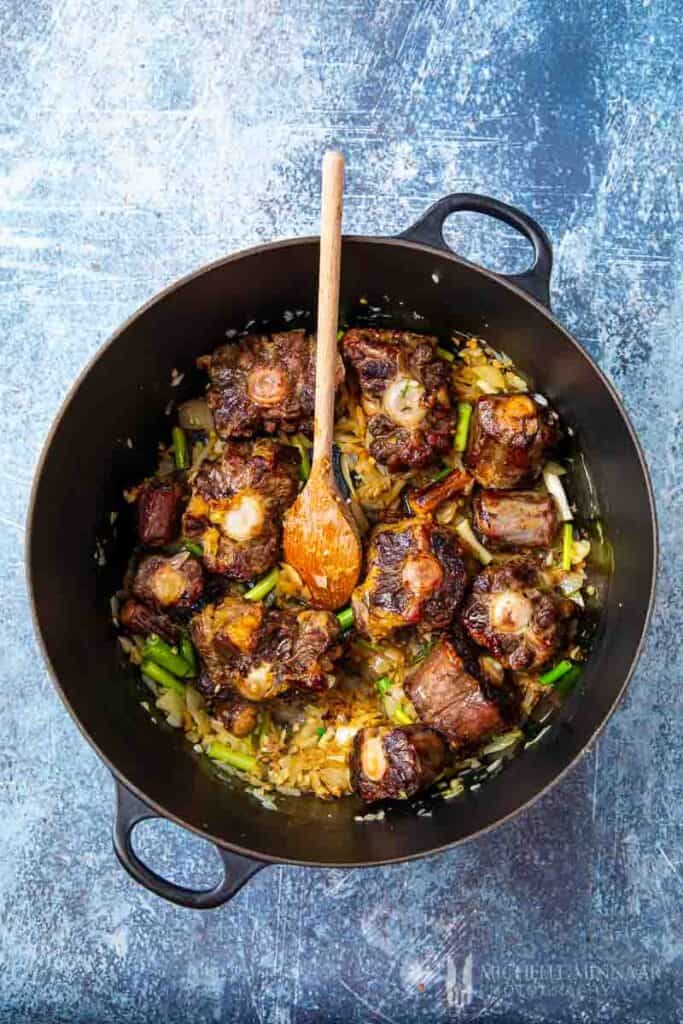 what is oxtail?
Oxtail is one of the most underrated cuts. Oxtail is the tail of a cow or bull. Back in the day, oxtails only came from an ox, however today it makes no difference.
Oxtails produce an immense amount of flavor when they're cooked. Hence, they are favored when making rich broths, soups, sauces, and stews.
When cooked long enough, the meat from the oxtail completely tenderizes and thus falls apart in your mouth once you start to eat it.
In essence, oxtails taste like other cuts of beef, however the umami flavor is far more intense. Ever since people discovered just how delicious oxtails were, they become highly demanded and thus the price also went up.
Still, other cuts of beef can be more expensive than oxtails. Therefore, I think oxtails are really good value for money because they really deliver on flavor.
The tail is available in multiple cuts. First of all, it's always skinned. You might find oxtails with bone and marrow still attached to it.
This is the best part, so please don't remove it, especially when you're making a soup or a broth. The marrow and the bone are responsible for delivery of the intense umami flavor.
For this reason, I love cooking with oxtails. In fact, I've recently made a fantastic Hawaiian oxtail soup recipe with oxtails.
How long does it take to cook oxtail?
Regarding the time to cook oxtails, it's quite difficult to say as the size of the oxtails can vary. In most cases, oxtails tend to be cooked through and tender after 2.5 or 3 hours of cooking. However, my Jamaican stew recipe calls for a total cook time of 4 hours.
Beware, this stew will take you an even longer time to cook if you don't select the right type of beans.
If you've got dried butter beans at home, you can use a pressure cooker to cook them before you add them into the stew.
However, if you don't own a pressure cooker, this step will take you quite some time as you'll have to soak butter beans overnight and then boil them for some time the next day.
In order to save you a considerable amount of time when it comes to making this recipe, use cooked butter beans (canned) like I did. Canned and cooked butter beans are the way to go!
Should I use a pressure cooker to cook oxtails?
Obviously, the total time to cook oxtails is reduced significantly if you use a pressure cooker. The atmospheric pressure inside the pressure cooker is boosted by the trapped steam.
In essence, this is what causes the boiling point of water to increase from 212 degrees Fahrenheit all the way up to 250 degrees Fahrenheit.
Due to the increased temperature, ingredients which generally take a longer time to cook, will cook a lot faster inside a pressure cooker.
My recipe doesn't call for a pressure cooker, however if you are pressed for time you can use one. Nevertheless, I recommend you take a look at other recipes which you can make using a pressure cooker in no amount of time: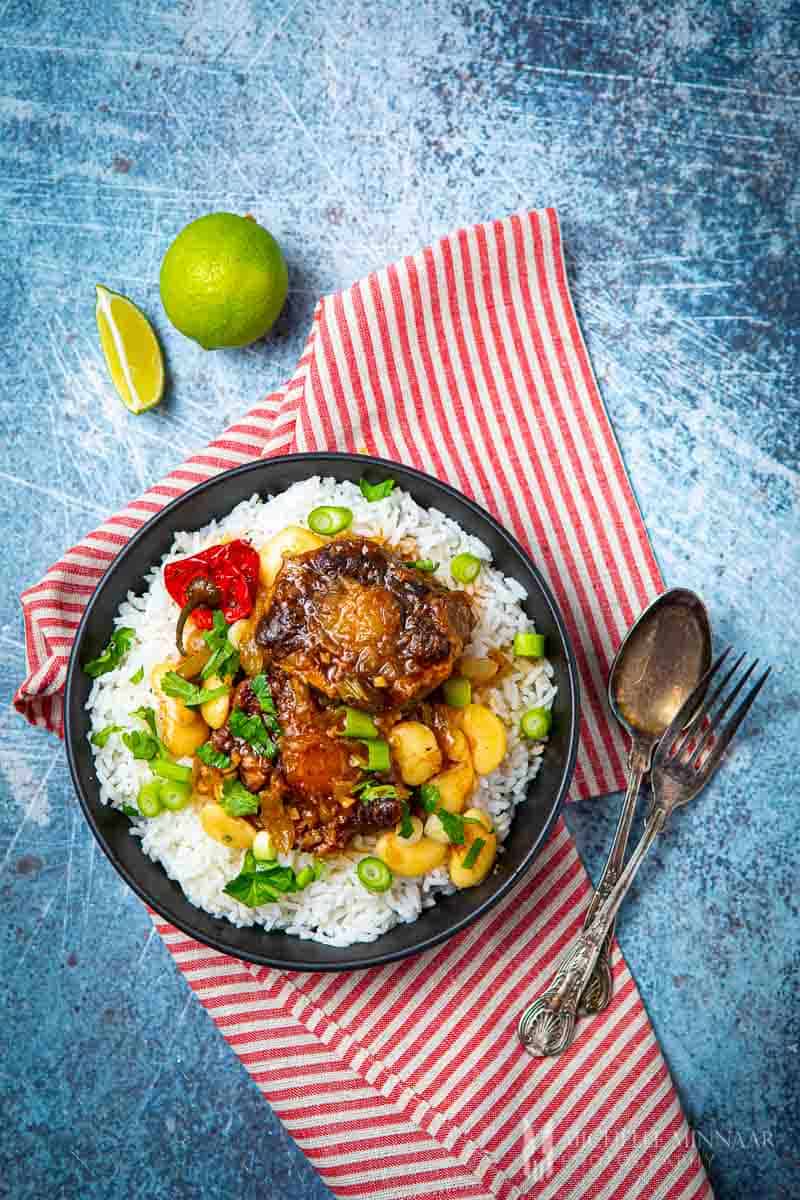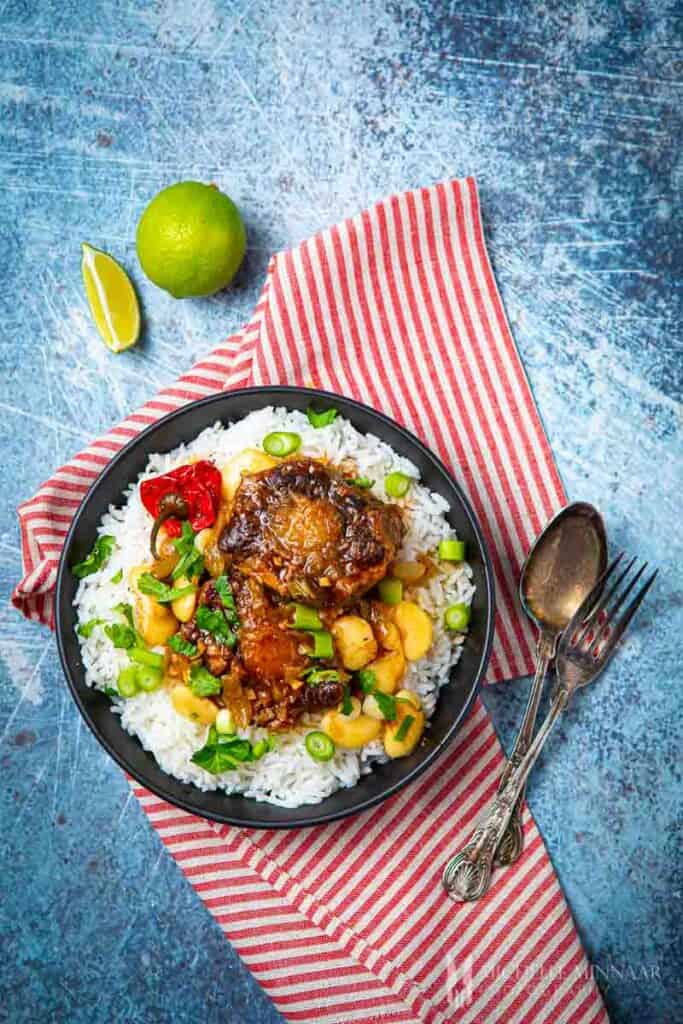 Why is my oxtail so tough?
There can be two reasons why your oxtail turned out tough. The first being that you didn't cook it for long enough, in order to make the meat completely tender.
However, there could be another reason which relates to the age of the cow. If the tail was removed from a cow which was too old, that could be behind your tough oxtail.
Why should you roast oxtails first?
In most cases, the oxtail is simply cooked in the pot. However, the roasting process is extremely important for making perfect oxtails. First of all, when you roast the oxtail, it will brown the meat beautifully. It will have a very appetizing colour.
Next, once you start to roast oxtails on vegetable oil, they'll start to release all of the excess fat.
This step is very important, because it could be the case that if the fats are not cooked down, your stew, soup, or any other oxtail recipe will become too oily.
So much so, that it could be the case that the recipe can become inedible. Hence, for a less oily stew, roast the oxtails first on some vegetable oil! This step won't take too much of your prep time.
What does Jamaican oxtail taste like?
Jamaican oxtail will not disappoint when it comes to flavor. In the case of the oxtails, you can expect soft and tender meat, with a rich umami flavour. However, in terms of the overall taste, expect an explosion of different flavors!
I've added many herbs and spices into this oxtail recipe, such as curry powder, garlic, onion, fresh ginger, thyme, smoked paprika, bonnet peppers, allspice, sugar, and Worcestershire sauce.
If you haven't got this sauce, you can add 2 tablespoons of soy sauce, lemon juice, a hint of sugar and some hot sauce. You can omit the hot sauce if you want.
The soy sauce carries those lovely salty umami notes that pair well with the flavors of the stew, making it one of the best alternatives for making the sauce.
In the end, once you combine the soy sauce with the other ingredients, you won't be able to spot the difference in your recipe.
Remember to give the oxtail recipe a good stir every 1 hour. Simmer the sauce 1 hour and stir occasionally to check the fluid levels of the recipe.
I usually remove the lid a couple of times to add salt, black pepper, or other types of seasoning (if necessary). Sometimes, you have to taste the recipe throughout the cook multiple times and adjust the flavor bit by bit as the oxtails absorb quite a lot of flavor.
Add as many spices as you like to make this Caribbean recipe your own. As mentioned above, you can also control the amount of heat you add to this recipe.
If you aren't too keen on too much heat, add only 1 scotch bonnet pepper instead of 2 scotch bonnet peppers. The scotch bonnet pepper is relatively sweet in taste, but very hot.
Observe how the flavor of the recipe evolves. You can always add more chili in the end!
best toppings
In my opinion, there are a few toppings which make the perfect seasoning for oxtails and oxtail stews. Namely, in my opinion – any type of greens make the best complement to a hearty recipe.
For instance, take a look at some of the suggested toppings below and pick them yourself:
fresh herbs such as parsley or coriander are perfect for seasoning oxtails. The fresh element will perfectly complement the recipe. Add the greens generously.
don't forget about salt and pepper (you can use white pepper or black pepper)
you can also grind some allspice berries to add extra flavor to the oxtails. Otherwise, consider these allspice substitutes.
spring onions
chives
scallions
watercress
More oxtail recipes
Here are more oxtail recipes for you to try!
Hawaiian oxtail soup – an exotic soup that makes great use of oxtails, you don't need to be in Hawaii to enjoy this delicious dish. Such a colorful collection of ingredients adds up to a soup that'll blow you away every time you try it.
Kare-kare – this Filipino oxtail stew is all kinds of special thanks to the addition of peanuts.
Oxtail pho – a Vietnamese oxtail stew that cooks for hours and the result is a clear soup with deep flavours. Best served with noodles and numerous toppings such as springs onions, cilantro, chopped chillies and lime wedges.
Oxtail stew – in this oxtail recipe the meat is cooked at a low temperature for hours on end in red wine with beans. For best results, eat the next day so that the flavours have been fully absorbed.
How would you serve this fantastic oxtail recipe? Which seasoning do you consider to be the best for oxtails? Let me know in the comments section below if you've ever cooked with oxtails before.
Competition Question: What is your favourite oxtail recipe?
Print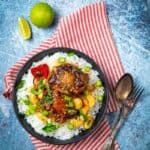 Jamaican Oxtail Stew
---
Description
Jamaican Oxtail Stew comprises oxtail slowly cooked with spices and butter beans, which makes for one very filling and satisfying meal.
---
2

kg (4lbs) oxtail

60

ml (4 tbsp) oil

2

onions, peeled and chopped

4

garlic cloves, peeled and crushed

7.5

cm (3 in) fresh ginger root

15

ml (1 tbsp) fresh thyme sprigs, washed

5

ml (1 tsp) smoked paprika

5

ml (1 tsp) salt

2

scotch bonnet peppers

5

ml (1 tsp) ground allspice

12

spring onions, cleaned and chopped

30

ml (2 tbsp) Worcestershire sauce

30

ml (2 tbsp) curry powder

90

ml (6 tbsp) ketchup

60

ml (4 tbsp) sugar

500g

(

2

tins) cooked butter beans
---
Instructions
Preheat the oven to 200°C / fan 180°C / 390°F / gas mark 6.
Place the oxtail in one layer on a baking sheet.
Roast for 25 minutes, turn each one over and continue to cook for another 25 minutes. Remove from heat and set aside.
Heat the oil in a large heavy-bottomed pot. (You can use the oil from the oxtail's melted fat in the baking sheet.)
Gently fry the onions for 5 minutes, or until softened.
Add the garlic and ginger, and fry for 1 minute.
Tip in the oxtail, then add the thyme, paprika, salt, peppers, ground allspice, spring onions, Worcestershire sauce, curry powder and ketchup.
Give it a good stir then check the fluid levels. The oxtails need to be submerged while cooking, so top up the stew with water until everything is barely covered. This might take 4-6 cups, depending on that size of the pot you use.
Bring the contents to a boil, then lower the heat to reach a steady simmering point.
Place the lid on the pot and cook for 3 hours, or until the oxtail is tender
Remove from the heat and add the sugar and butter beans.
Cook for another 30 minutes, then remove from heat.
Scatter with leftover spring onions and serve with rice and peas. Enjoy!
Notes
Traditionally, the oxtail is simply fried in the pot from the get go. However, the roasting process browns the meat beautifully, plus releases the fats, so that the end result will be a less oily stew.
If you like your sauce on the thicker side, thicken it with a cornflour slurry.
Prep Time:

15 minutes

Cook Time:

4 hours

Category:

Curry

Method:

Stew

Cuisine:

Jamaican
Keywords: jamaican oxtail stew, Jamaican beef recipe, oxtail stew recipe, Jamaican cuisine, oxtail and butter beans