One of Spain's most delicious dishes – and that's saying something! – rabo de toro is a melt-in-your-mouth stew that will send your taste buds into overdrive!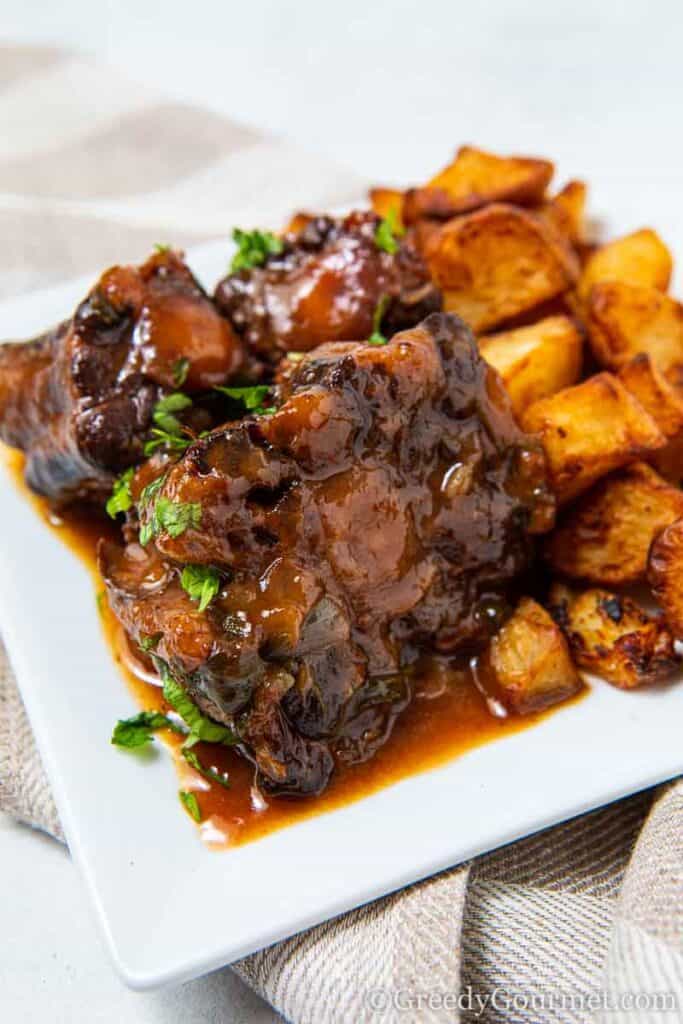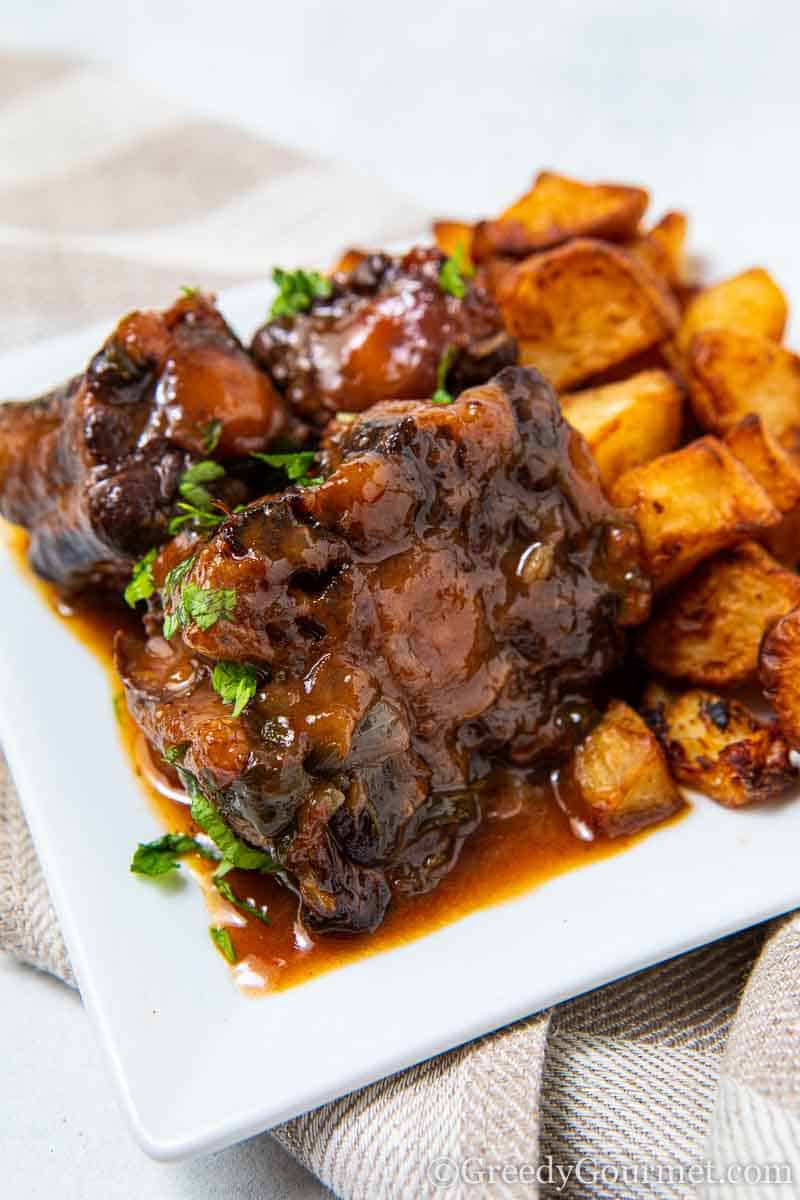 Made using oxtail, one of the most underrated cuts of meat, rabo de toro is packed full of flavour. Are you ready to try your new favourite stew? Okay, vamos!
Products you need for this recipe
There are a few essential items and ingredients that you'll need to get hold of in order to make this mouthwatering stew.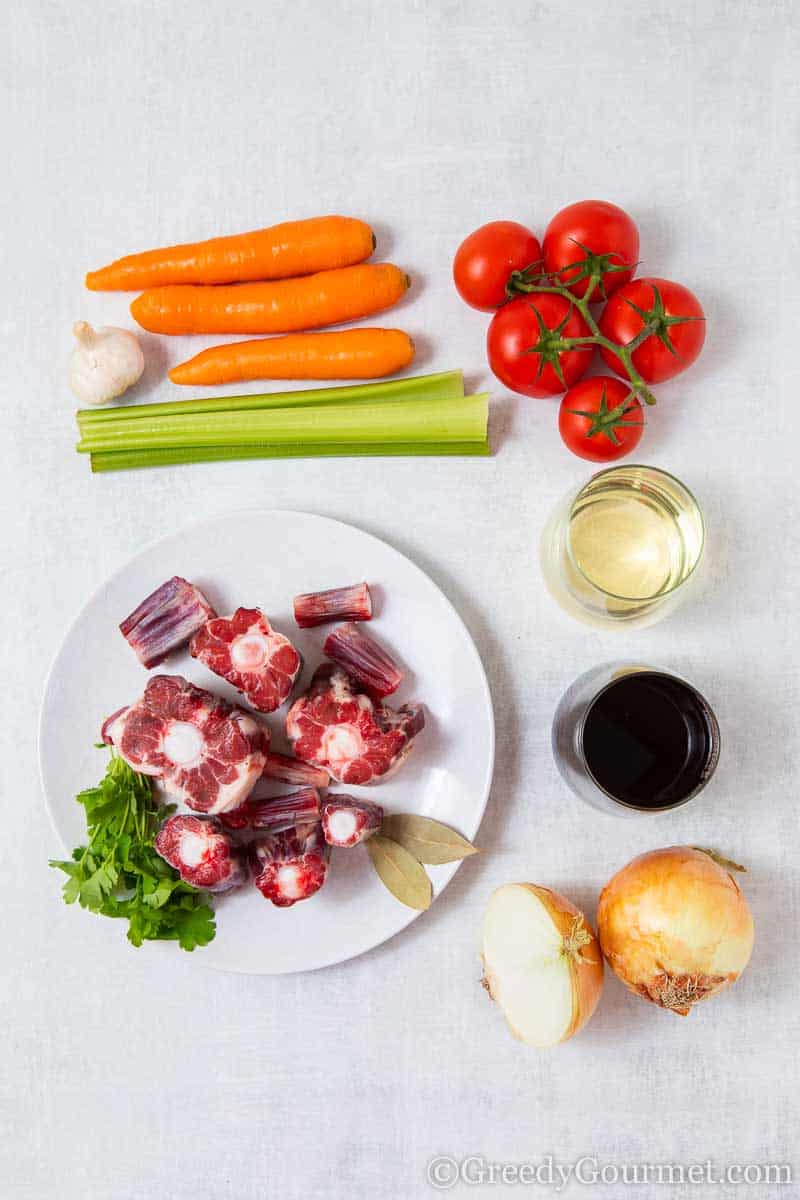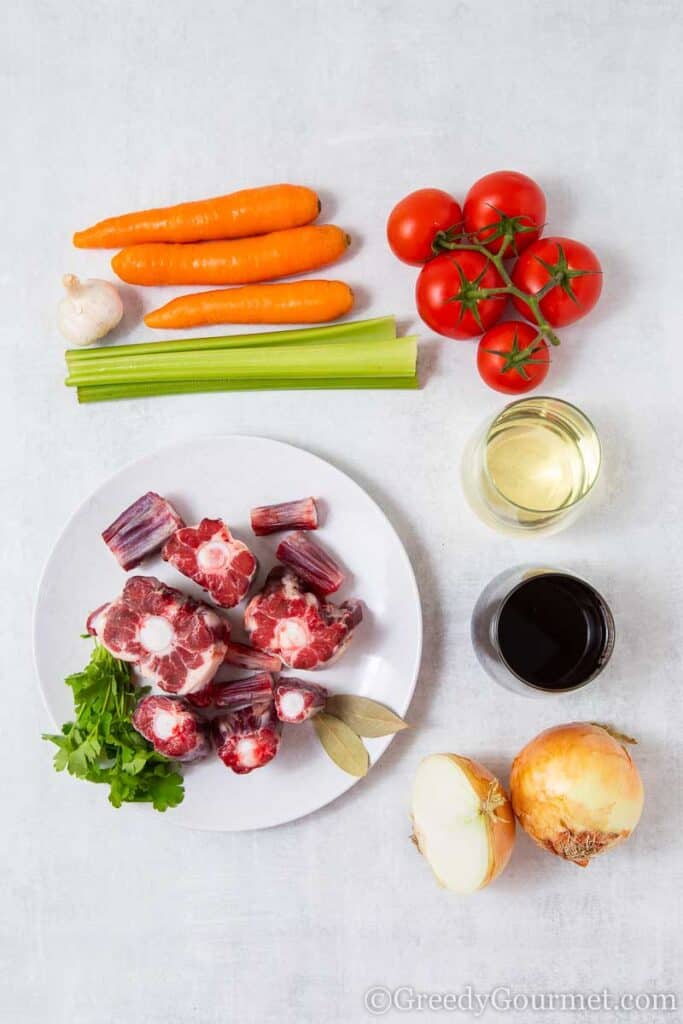 Rabo de toro recipe
Oxtail is typically quite a bony, fatty cut of meat. This makes it utterly divine when cooked over a low heat. The meat turns tender, the sauce gets all buttery and melt-in-your-mouth magnificent and the whole dish becomes something out of this world.
That's definitely true of rabo de toro. While tapas may take a lot of the plaudits, the real gems of Spanish cuisine are the homemade stews. When it comes to Spanish stews, rabo de toro is as good as it gets.
Like most stews, the cooking process is simple and the rewards are glorious. You'll brown the meat, before removing from the pan and sautéing onion, garlic, carrot, celery and tomato. In go the carrots, bay leaves, ginger and a clove for a beautiful combination of flavours.
Don't have any celery? Check out this list of celery substitutes!
The oxtail goes back in the pan, together with some red wine (pick Spanish plonk for authenticity) and a little bit of stock. Cover, leave for 3 hours and picture the Andalusian countryside, as the aroma of rabo de toro sends you into a blissful trance.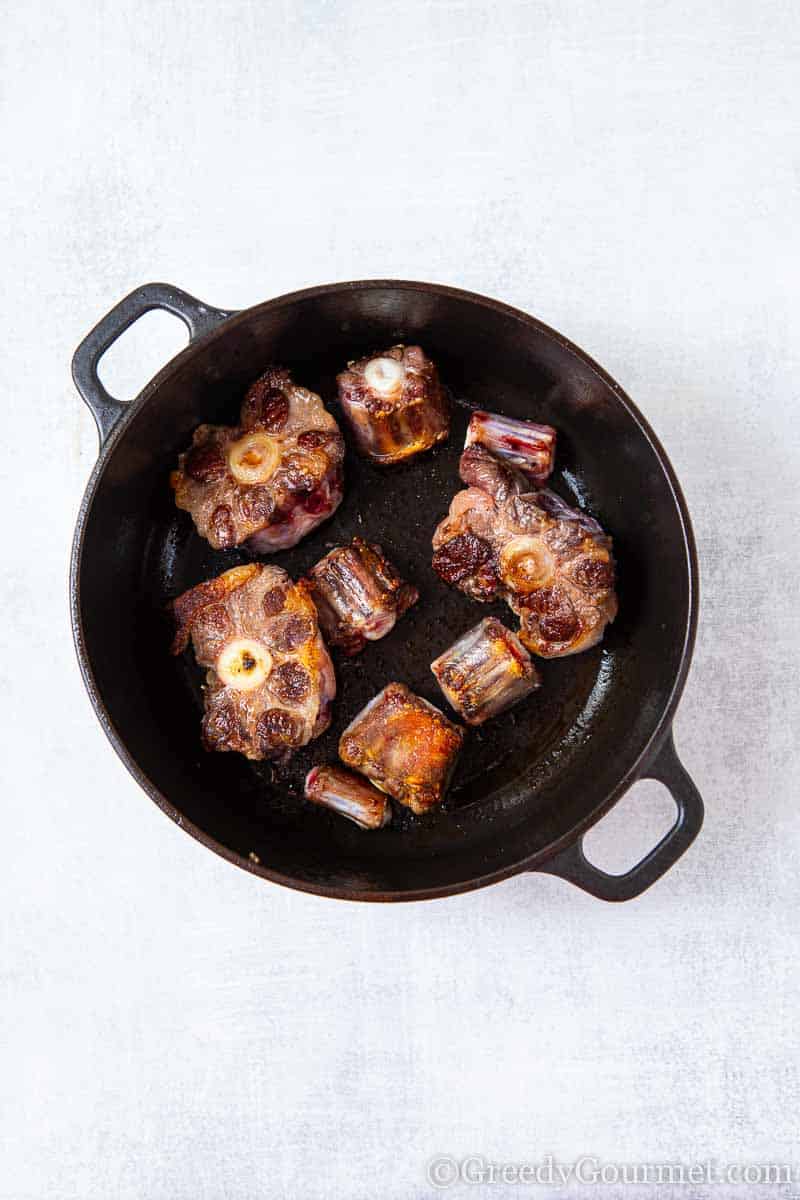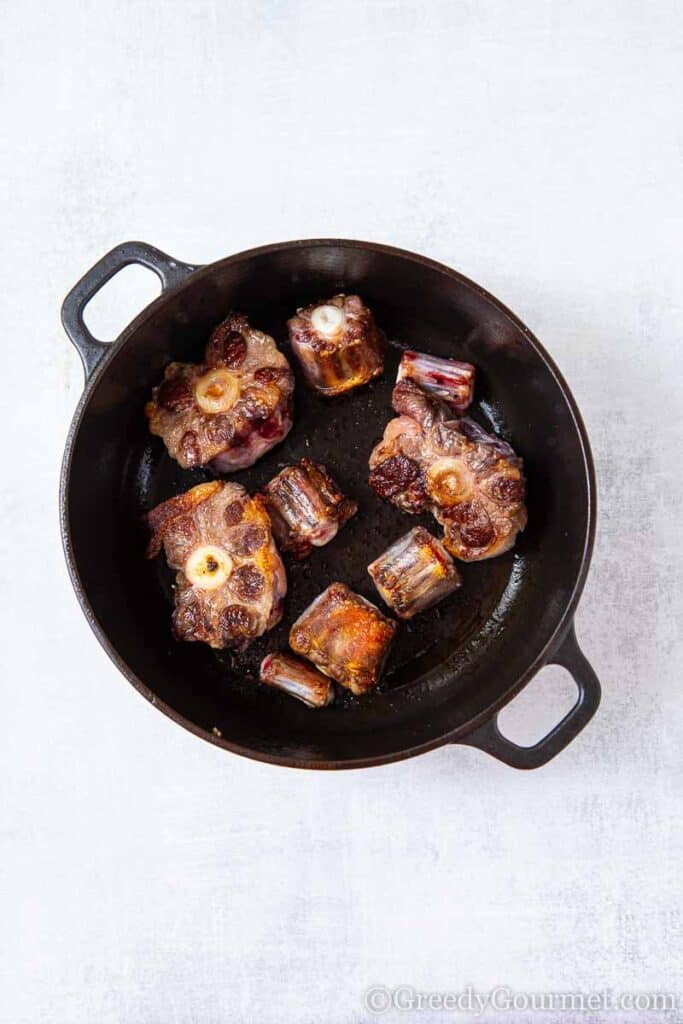 What is rabo de toro?
One of Spain's most traditional stews, rabo de toro is eaten in many different parts of the country. It's very popular in the south, particularly Andaluscia, as well as the nation's capital, Madrid.
Each region and restaurant has their own version of this hearty Spanish classic. Some purists stick to the original cut of meat used in days gone by – bull tail.
That's where the name rabo de toro comes from. In English, it translates as 'bull tail.'
Still, in many parts of the country, bull-fighting is leaving a bitter taste in the mouth. This is reflected in changes to cuisine and many Spaniards are less likely to serve bull tail on the menu. Instead, they'll serve up ox tail or cow's tail in rabo de toro.
Where did rabo de toro originate?
This typical Spanish stew dates back to Roman times. It's said to have been created in Andaluscia, a region in the south of Spain famous for flamenco and fabulous food.
Traditionally, after killing the bull at a bullfight, the bull tail would be braised and eaten in celebration.
Times have changed though and, with bullfighting losing popularity in Spain, the dish has been adapted for a modern palette, as well as a modern conscience.
Is rabo de toro stew healthy?
While oxtail is pretty high in fat, this hearty stew has plenty of health benefits too.
Oxtail is half fat and half protein. So, a 100g serving of oxtail contains about 262 calories, as well as 5.56g of saturated fat.
It's a great source of iron and protein. Just one serving of oxtail contains 3.6mgs of iron and 30.93g of protein. Iron helps you to maintain a healthy immune system and also helps prevent fatigue. Protein is essential when it comes to creating and repairing cells.
How do you prepare oxtail?
Before you cook this recipe, you'll need to prepare the oxtail. First, give it a wash in cold water. Pat the oxtail dry with kitchen towel and set aside to fully dry.
You'll also need to trim the excess fat from the oxtail. This is important – while the fat is going to add some fabulous flavour to this sumptuous Spanish stew, too much fat will spoil the dish.
In order to trim the fat from the oxtail, hold one end of the oxtail (use a tea towel to get a better grip). Then, using a chef's knife and cutting away from the body, slice the fat off in strips in a diagonal downward motion.
Can you freeze rabo de toro?
Once you've cooked this recipe, you might want to keep some for later. You can freeze it for up to 3 months. That's if you manage to resist the temptation to devour it in one go!
In what countries do they eat oxtail?
Many different cultures around the world use oxtails as a key ingredient in their national cuisine.
In Russia, many appetisers feature oxtail as an ingredient. Also, the famous thick Russian stew known as borscht uses oxtail. Kkori gomtang is a very popular and extremely tasty thick soup served up in South Korea, usually with rice.
In Italy, oxtails ragu is to die for. Simmered low and slow in a rich tomato sauce, it's absolute heaven in a dish. Coda alla vaccinara, or roman stew, is another very popular Italian dish.
In Jamaica, oxtails are used in spicy stews and soups, paired with fresh herbs and dried spices. Check out this Jamaican Oxtail Stew.
In the Philippines, a peanut-based oxtail stew called kare-kare is a big national favourite, while in Cuba, a similar stew to this one called rabo encendido is very popular.
What goes well with rabo de toro?
This delicious, hearty oxtail stew is big on flavours and melts in your mouth. When picking a side dish, potatoes and vegetables are ideal. Let's take a look at some great Greedy Gourmet recipes that'll go perfectly well with this Spanish classic.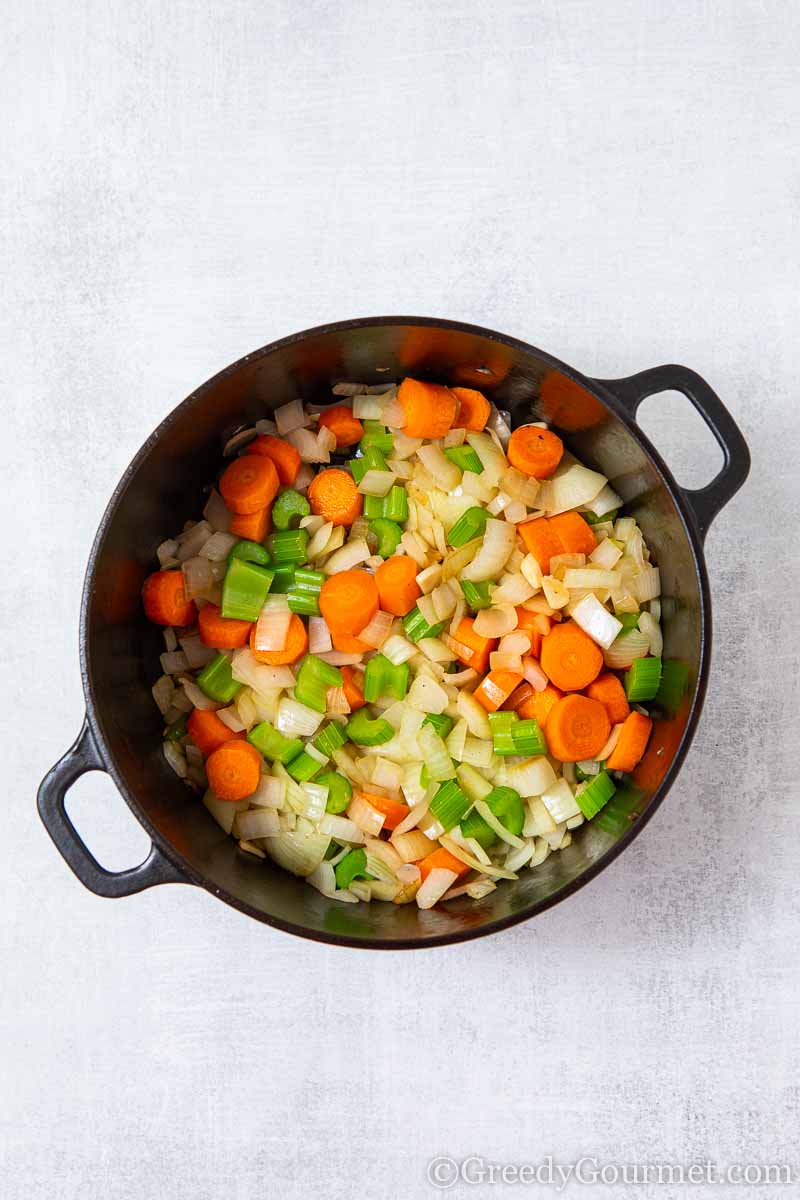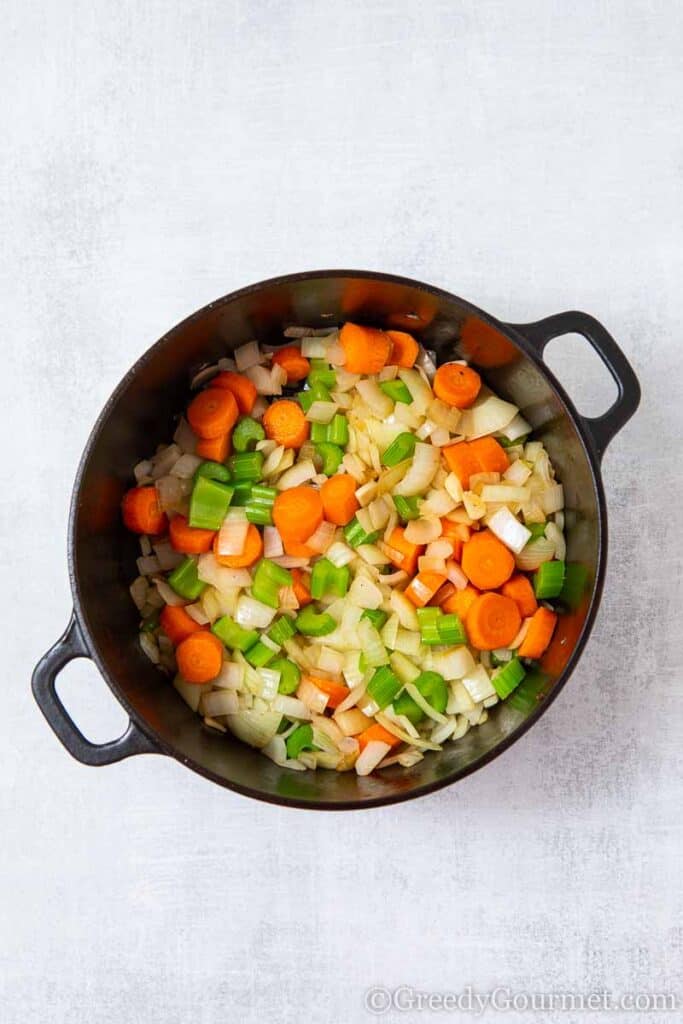 Storing oxtail in the fridge
If you don't want to cook your oxtail straight away, it'll keep in the fridge for 3–5 days. Make sure it's tightly wrapped.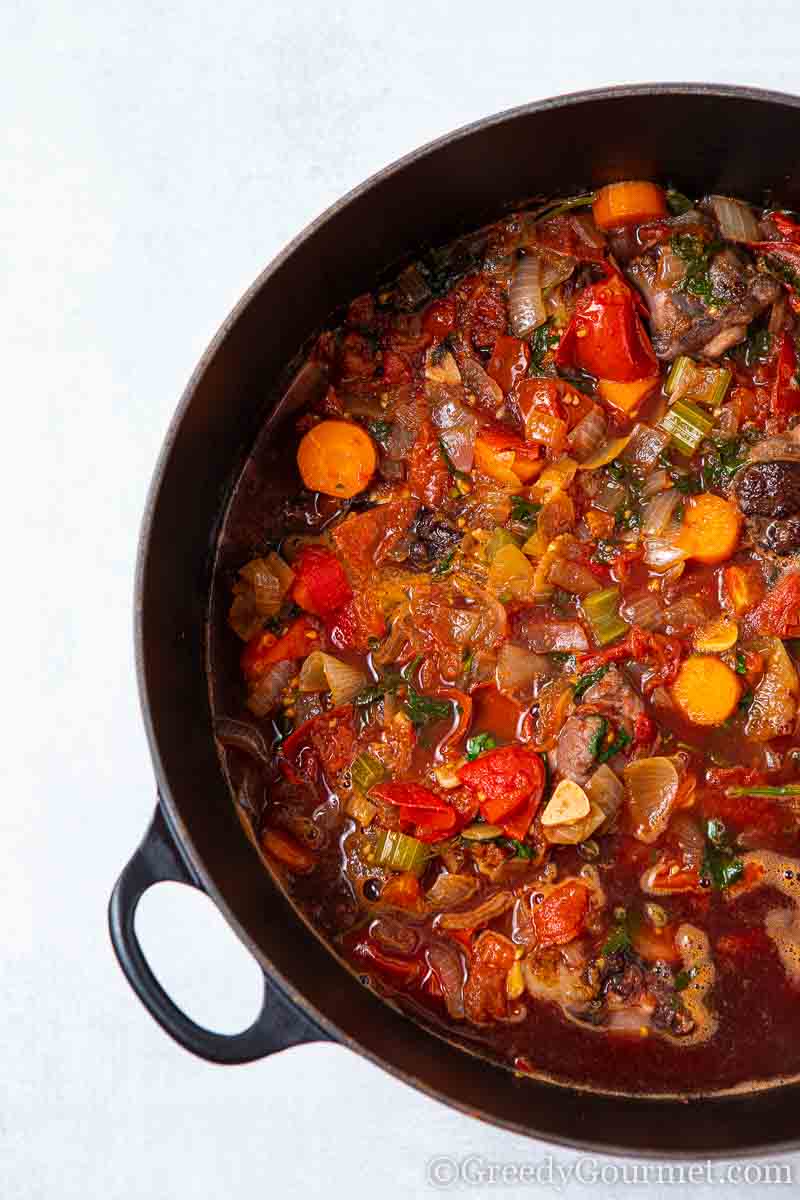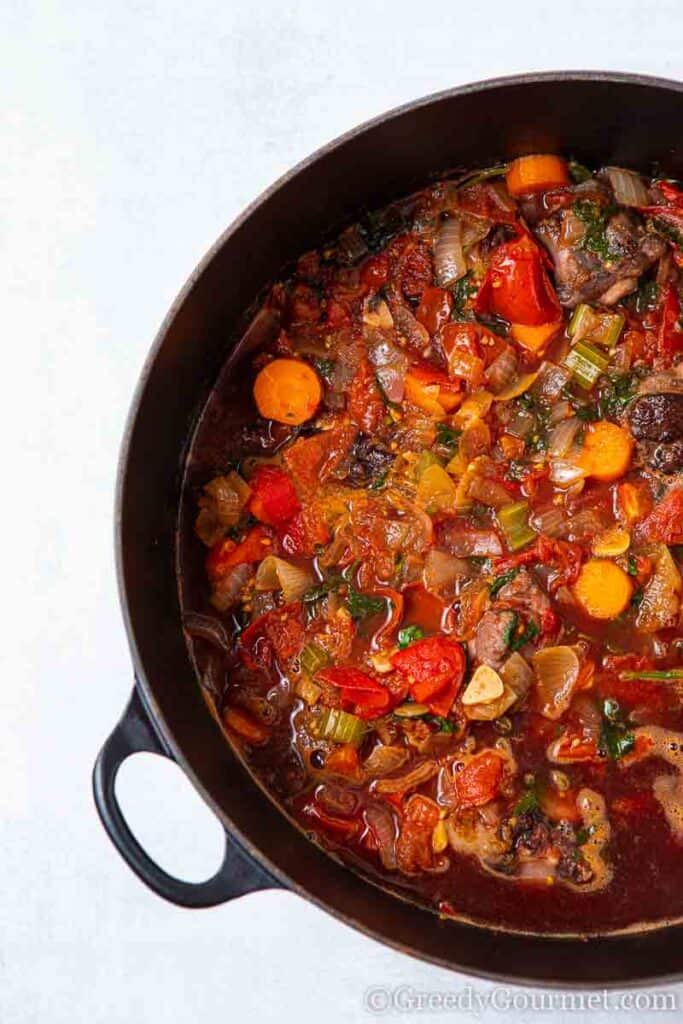 Storing oxtail in the freezer
You can also freeze oxtail for 6 months – again, just make sure it's well wrapped to protect it from freezer burn.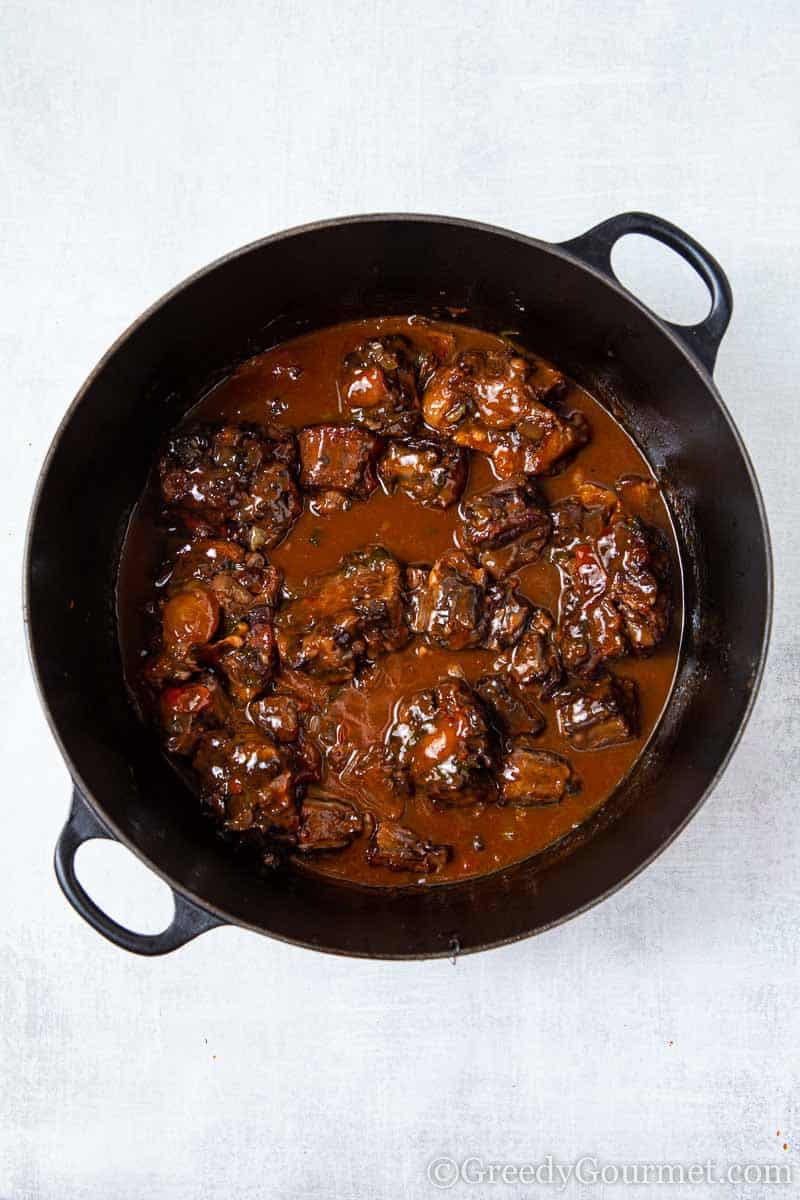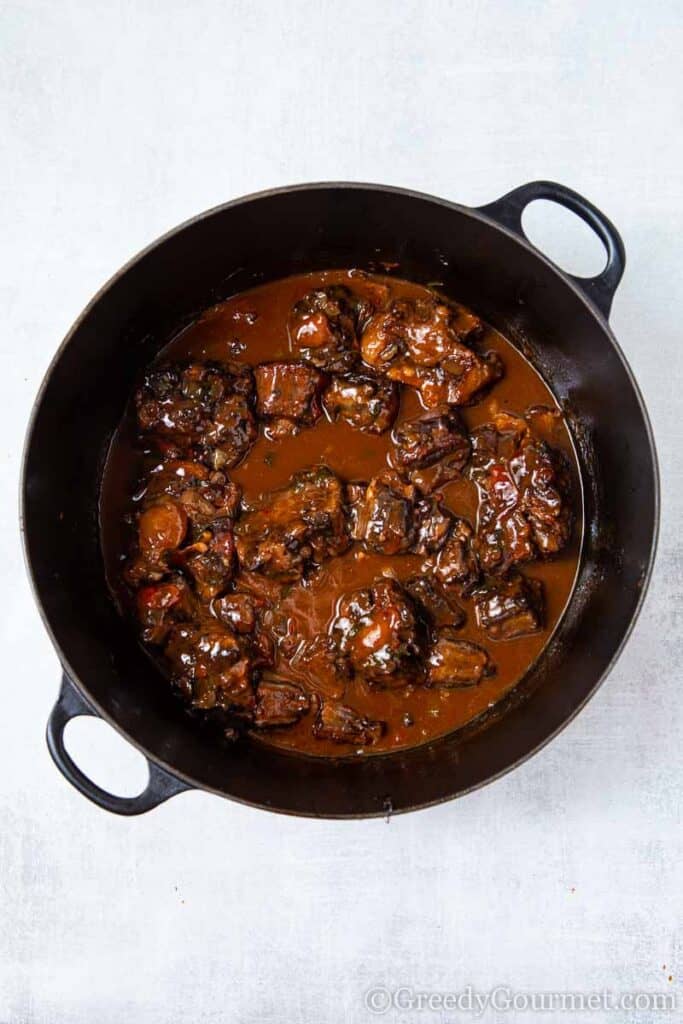 More great Spanish recipes
We all know how amazing Spanish cuisine is. Aside from this incredible hearty stew, there are a few other key dishes that can try your hand at.
Patatas bravas – the ultimate tapas, these beautifully crispy potato cubes are double cooked (sometimes triple) for extra texture. Served with a spicy salsa, if you've never sampled bravas now's the time. You're in for a treat!
Pimientos de padrón – salty, sweet and absolutely delicious with a glass of Spanish red, these little peppers are a divine little dish.
Spanish tortilla – a seriously tasty, supremely healthy tortilla that makes the perfect midweek lunch. Really easy and quick to cook up, this recipe is sure to become one of your new favourites.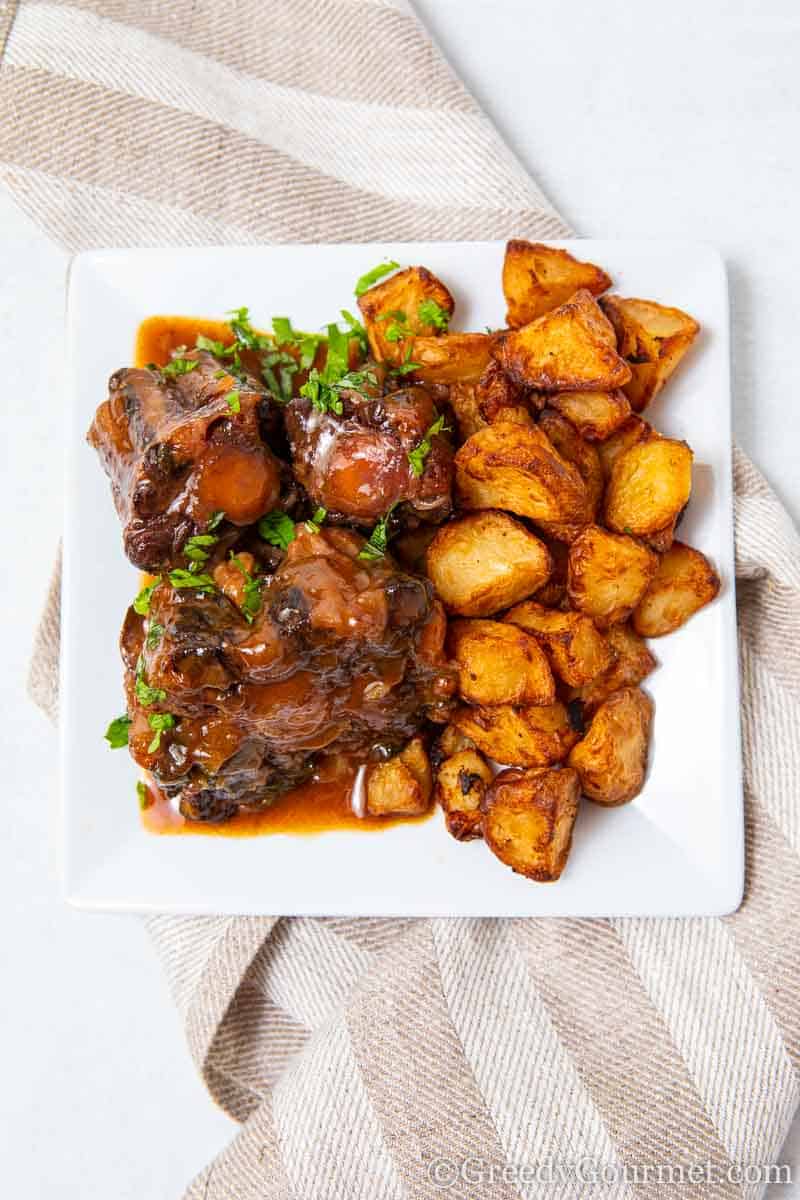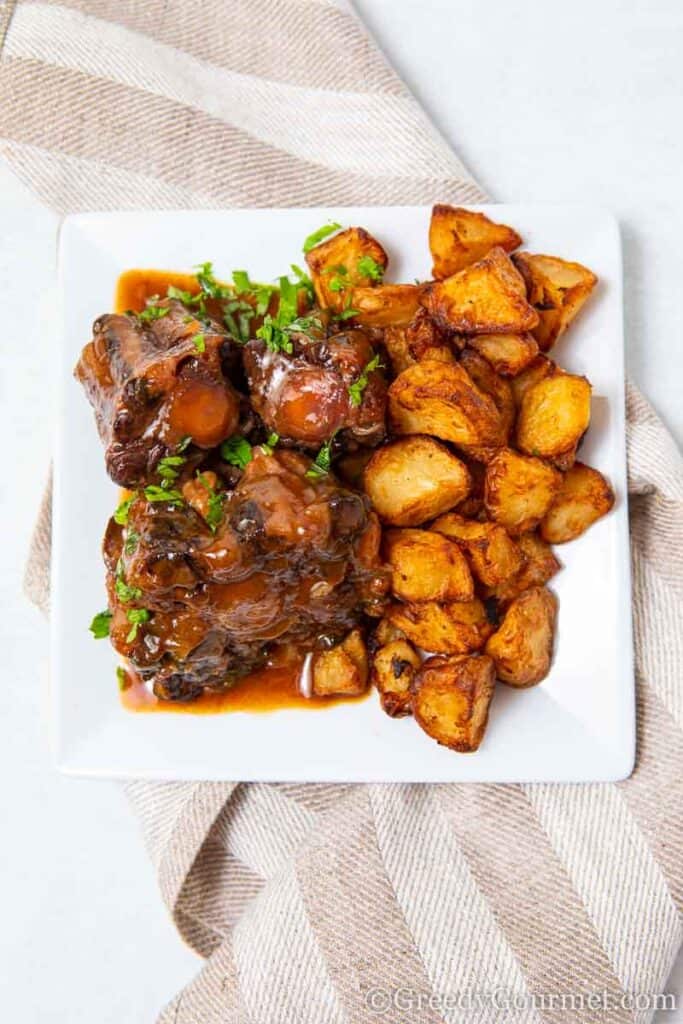 Other delicious oxtail recipes
If you're a fan of the beautiful rich taste of oxtail, don't stop at this recipe. Check out these delicious dishes and make use of this divine, criminally underrated cut of meat.
What's your favourite Spanish dish? Let me know in the comments below!
Competition Question: What is your favourite Spanish tapas?
Print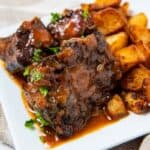 Rabo de Toro
---
Author:

Michelle Minnaar

Total Time:

3 hours 20 minutes

Yield:

6

servings

1

x

Diet:

Gluten Free
Description
Rabo de Toro is a Spanish oxtail stew that takes long cooking at a low temperature. The red wine, sherry and vegetables create a decadent gravy.
---
30

ml

(2 tbsp) vegetable oil

2

kg

(4lbs) oxtail, segmented and excess fat trimmed

2

onions, peeled and chopped

4

garlic cloves, peeled and crushed

2

carrots, peeled and chopped

2

celery sticks, washed and chopped

1

kg

(2lbs) tomatoes, washed and chopped

750

ml

(3 cups) red wine

250

ml

(1 cup) dry sherry

60

g

(2oz) parsley, washed and chopped
---
Instructions
Preheat the oven to 180°C / fan 160°C / 356°F / gas mark 4.
Heat the oil over a high heat in a large oven proof pot.
Brown the oxtail all over. It's best to do it in batches. Set the oxtail aside.
Continuing using the same pot, lower the heat and add the onions, stirring vigorously to soak up all the fats. Fry for about 3 minutes, or until softened and translucent.
Add the garlic, carrots and celery to the onions. Stir fry for about another 5 minutes, sweating the vegetables.
Add the tomatoes, and cook for another 5 minutes until a very chunky sauce forms.
Tip the oxtail in with the vegetables and stir.
Turn the heat up to high then pour in the red wine. Let it bubble for 3 minutes.
Add the sherry and bay leaves, cook for another 2 minutes.
At this point you have to check the level of liquid in the pot because you don't want it to dry out while cooking. Add enough water that all ingredients are barely covered. Continue cooking until a bubbling point is reached.
Place the lid on the pot and transfer to the oven.
Cook for 1½ hours.
Check the liquid level every hour or so and add a splash of water if required.
Lower the temperature to 160°C / fan 140°C / 320°F / gas mark 3, add the parsley and stir, then cook for another 1½ hours.
Fish out the oxtail and pieces of meat that fell off because it's so tender. Set aside.
Get a large bowl or pot and sieve the remaining contents. The goal is to separate the vegetables and bay leaves from the sauce.
Give the vegetables a squeeze to get as much of the juices out as possible, then discard them. What you'll be left with is a rich, dark and glossy gravy.
Tip the oxtail back into the sauce, stir and gently reheat before serving.
Serve immediately, with chunky potato wedges - tapas-style. Enjoy!
Notes
The cooking temperatures and times you can tweak. My favourite way to go about it is start off high, as stated in the recipe, but then you can go lower, say 140°C / fan 120°C / 284°F / gas mark 1, and cook it for 3 hours (or more!) instead of 1½ hours. If you prepare oxtail enough, you'll discover your own favourite method. Just follow the golden rule: the lower and slower, the better!
Prep Time:

20 minutes

Cook Time:

3 hours

Category:

Main Course

Method:

Braise

Cuisine:

Spanish
Keywords: rabo de toro, spanish oxtail stew, spanish oxtail tapas recipe, spanish bull tail stew, spanish beef recipe, oxtail recipe