Who doesn't like a good brownie? Either as a dessert after a nice meal or as an afternoon treat with your coffee. Brownies are easy to make and tastes absolutely delicious. Plus, you can take it in almost any direction you want, depending on what ingredients you put on it or what you serve it with. Feel free to adjust it to your personal taste. Whether it's the old classic style, with a spoonful of whipped cream or something more daring, the brownie will always be a hit. Make sure not to bake it too long, otherwise it gets dry. You want that spongy, gooey consistency in the center.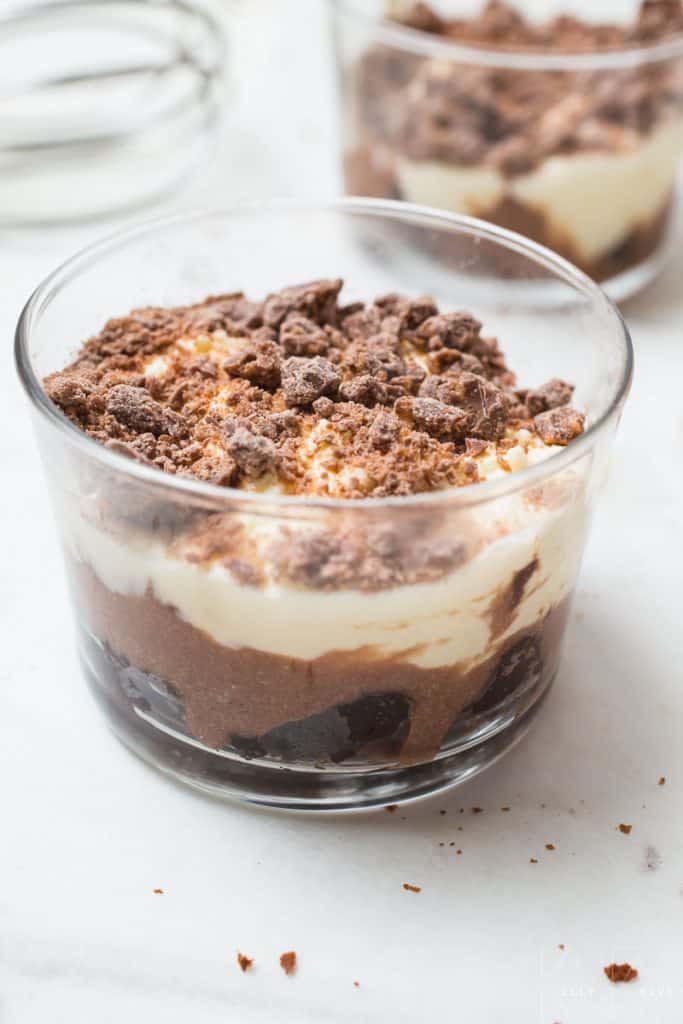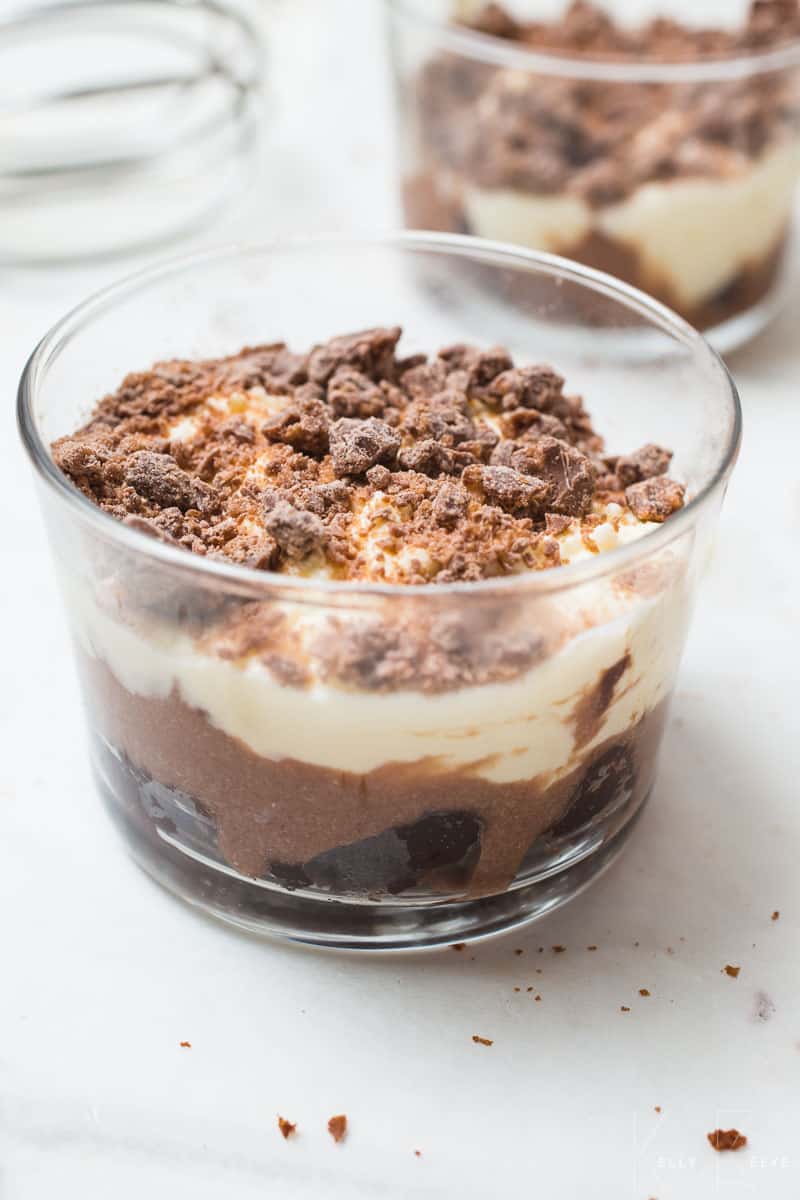 What are chocolate and pistachio brownies?
I'm sure you've had brownies before, but have you ever baked your own? It's actually not difficult at all. In my version, I use pistachio nuts. As you will discover when you cook a lot, some ingredients just have a special friendship, and pistachios and chocolate are very good friends indeed. It's a combination that many professional chefs like to use. For instance, sprinkle a bit of chopped pistachios on top of a chocolate mixture next time, to get some crunchy texture in there. You'll be surprised!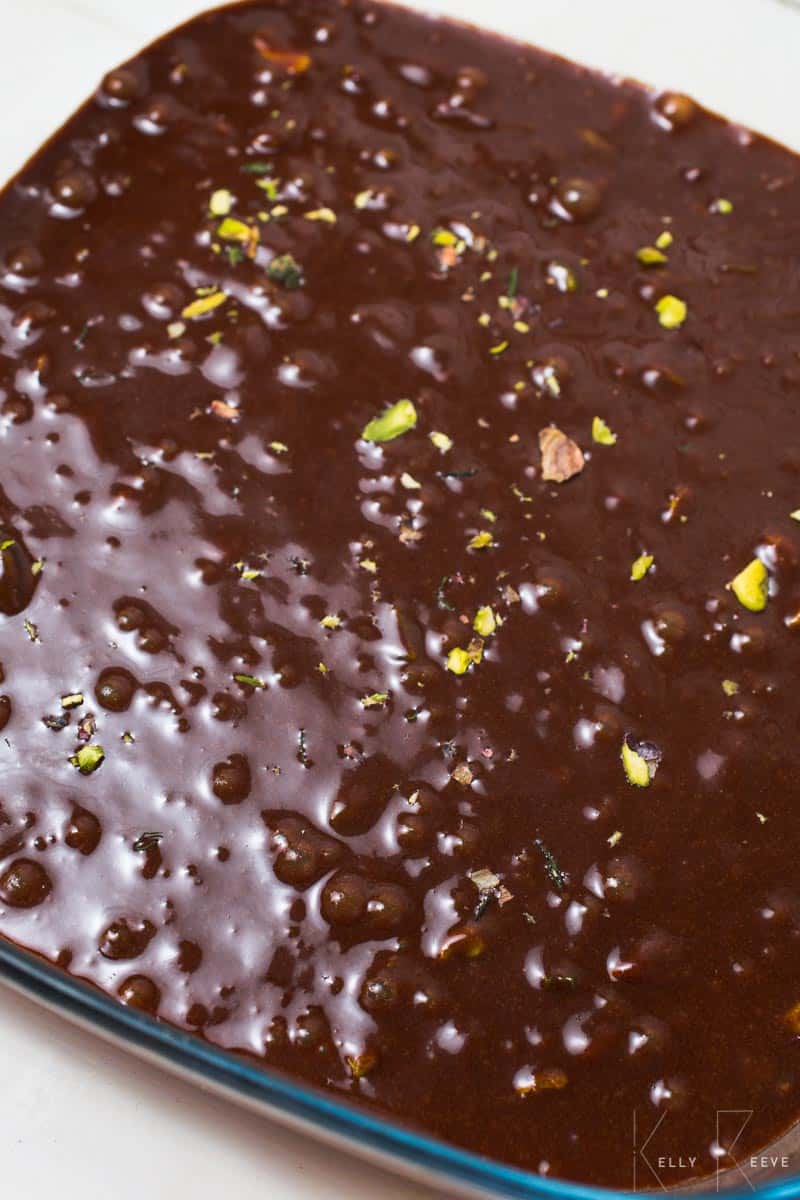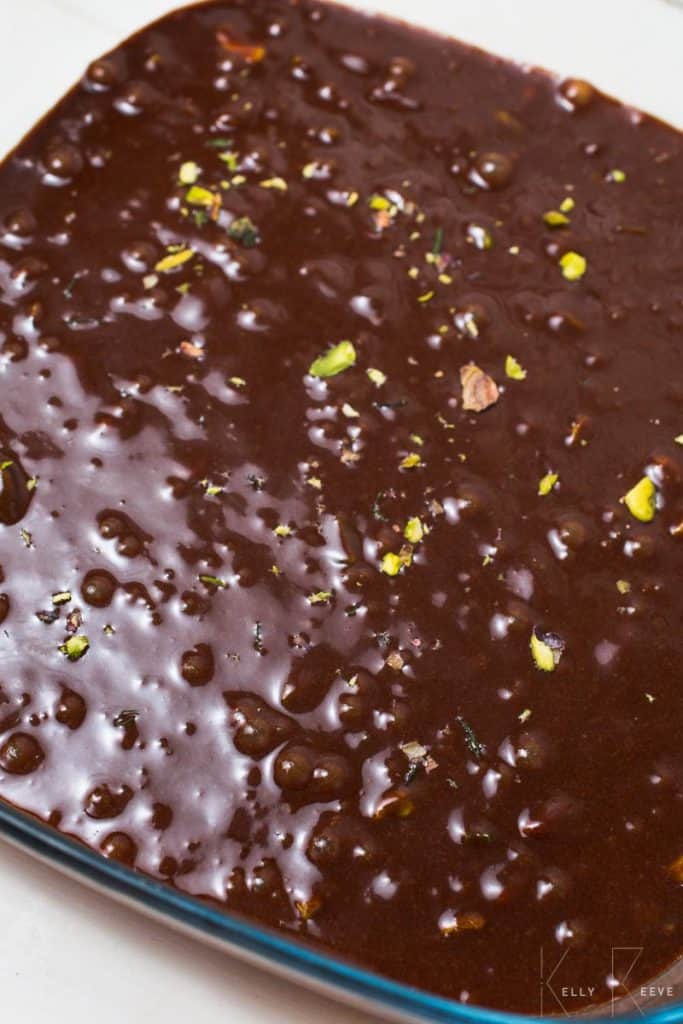 Sourcing Cocoa
A good quality cocoa powder is must have staple in your pantry. It can be used for so many things, whether it be cakes, or a cup of hot cocoa during the winter months or on a rainy day. You can find cocoa powder in just about any supermarket these days. So for this recipe you don't need to search for any special stores stocked with exotic products. I personally try to buy fair trade cocoa, because the conditions in the few cocoa producing countries are harsh and buying the right products can offer at least a little help to the situation. Most of the cocoa on the global market comes from just a few countries in West Africa, namely Ivory Coast and Ghana. Fortunately, the food industry is also doing their part, to secure sustainable production.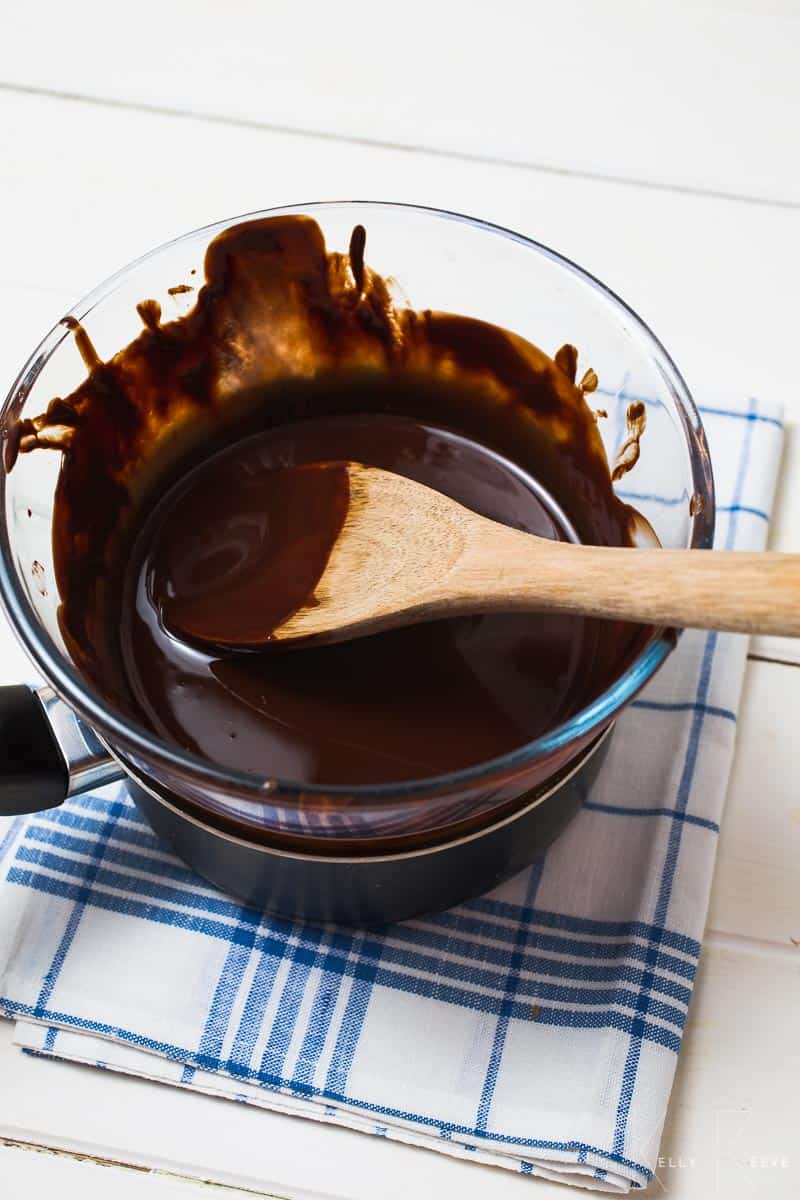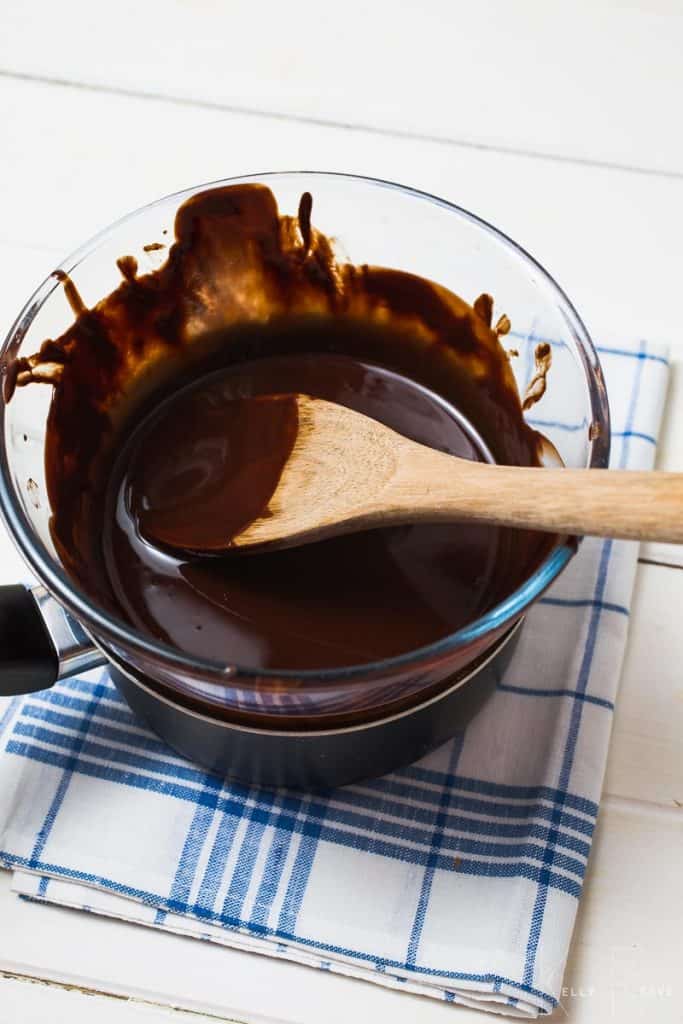 Selecting the chocolate
Depending on your taste you can use whatever kind of chocolate you prefer for the chocolate and pistachio brownies. However, I like to use a quite bitter dark chocolate with no less than 70% cocoa. The delicious bitterness of this type of chocolate will help balance out the sweetness in the brownies. The choice of chocolate also allows you to experiment a little. How about you use chocolate enriched with orange flavour? Or maybe you would like to try it with mint? The best thing about these chocolate and pistachio brownies is that you can basically use any type of chocolate you want. For example, you can use:
White chocolate – this is going to be a bit sweeter.
Milk chocolate – the usual favourite the kids go for!
Chocolate with nuts – this is clever as you wont need to add any more nuts. They are already inside!
As you can see, your options are limitless. Basically, just find out what type of chocolate you crave most and use it to make the chocolate and pistachio brownies.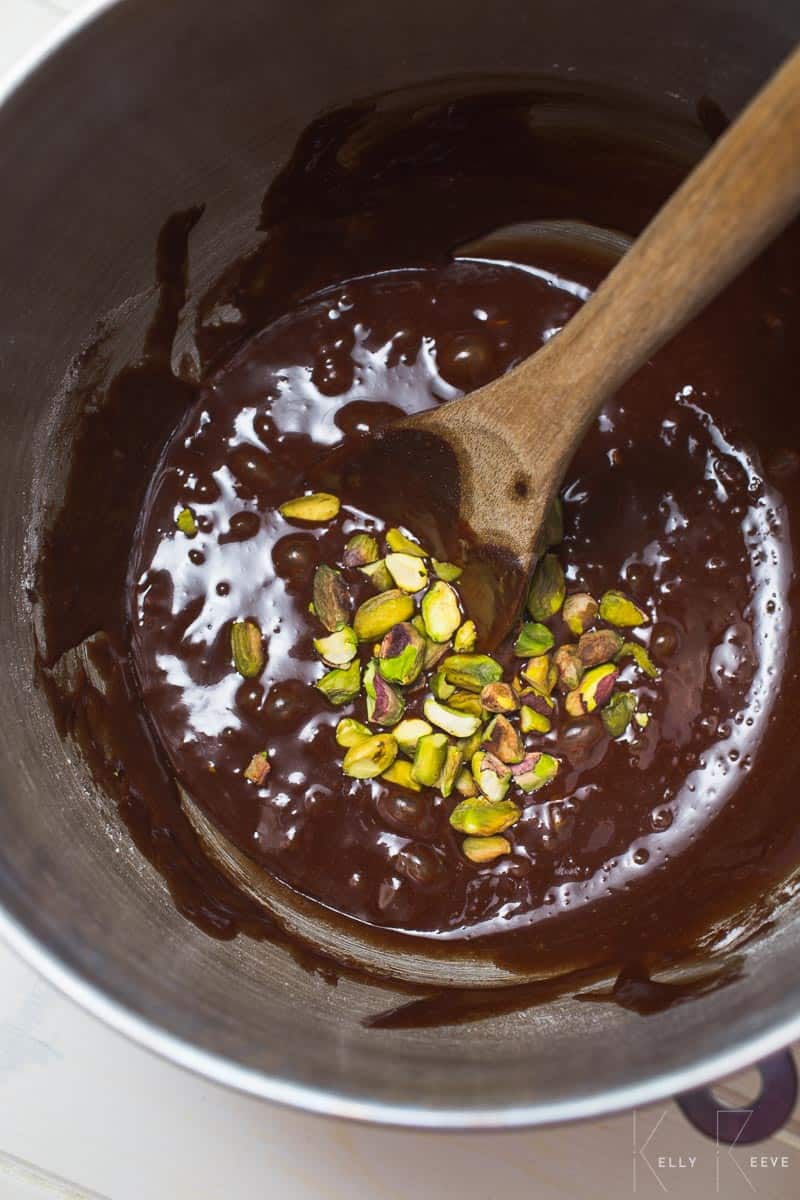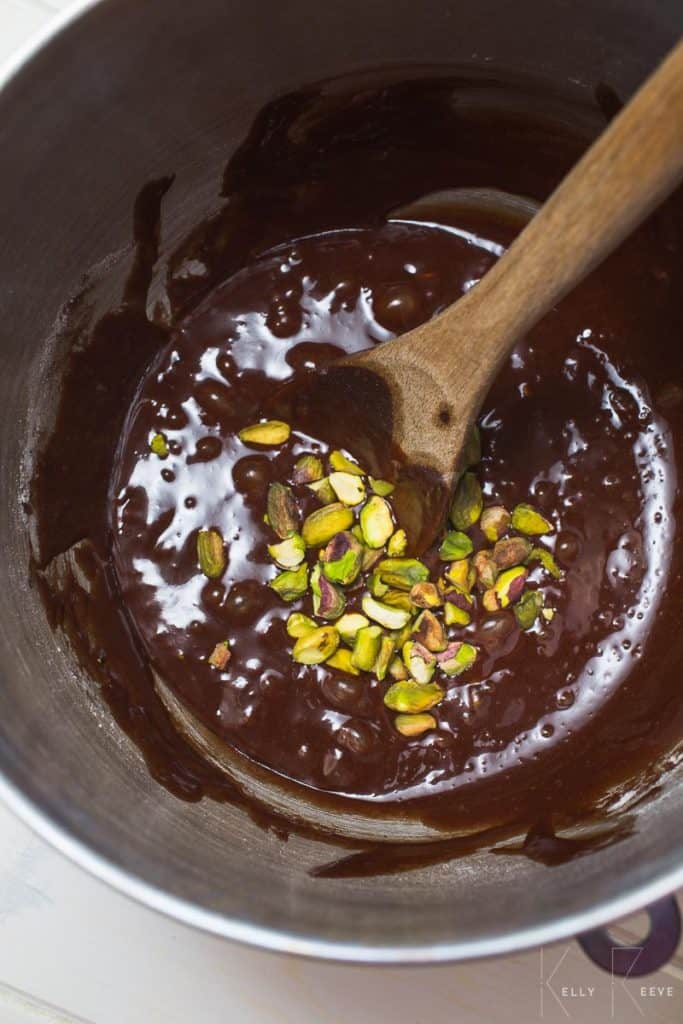 Are you for nuts?
Do you love nuts? I used pistachios for this recipe because I love the flavour combination of chocolate and pistachio but actually it's a very versatile recipe. You can substitute the pistachios in the brownies recipe with your own favourite nuts, such as hazelnuts, almonds and macadamia. These nuts work extremely well in those chocolate-covered surroundings of the brownie.
Allergic to nuts?
Unfortunately, allergy to nuts is not uncommon. In that case, you are unfortunately left with only one option: to leave out the nuts. That doesn't mean that you can't spice up your brownie with other things. Try to put dried raspberries or pickled cherries into the batter. Some grated orange zest also gives a very nice aroma in combination with the chocolate. Just let your imagination run wild here. There is simply so much you can do.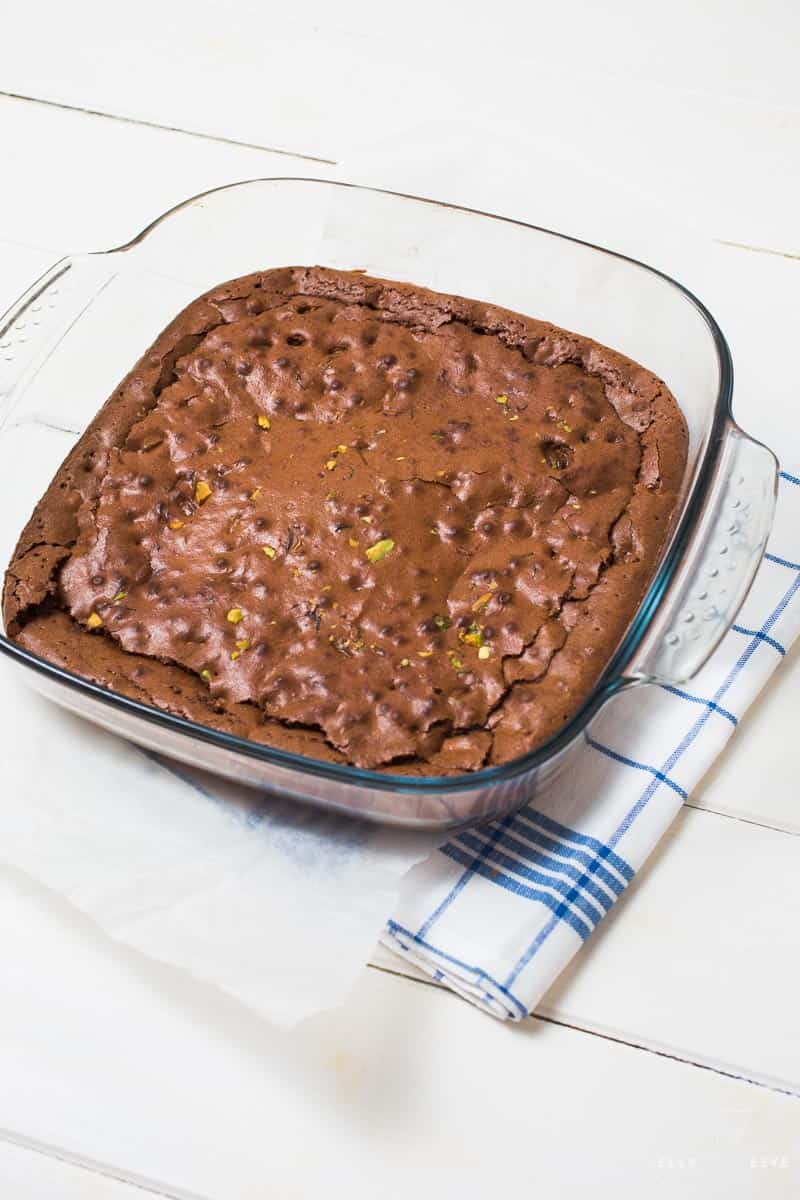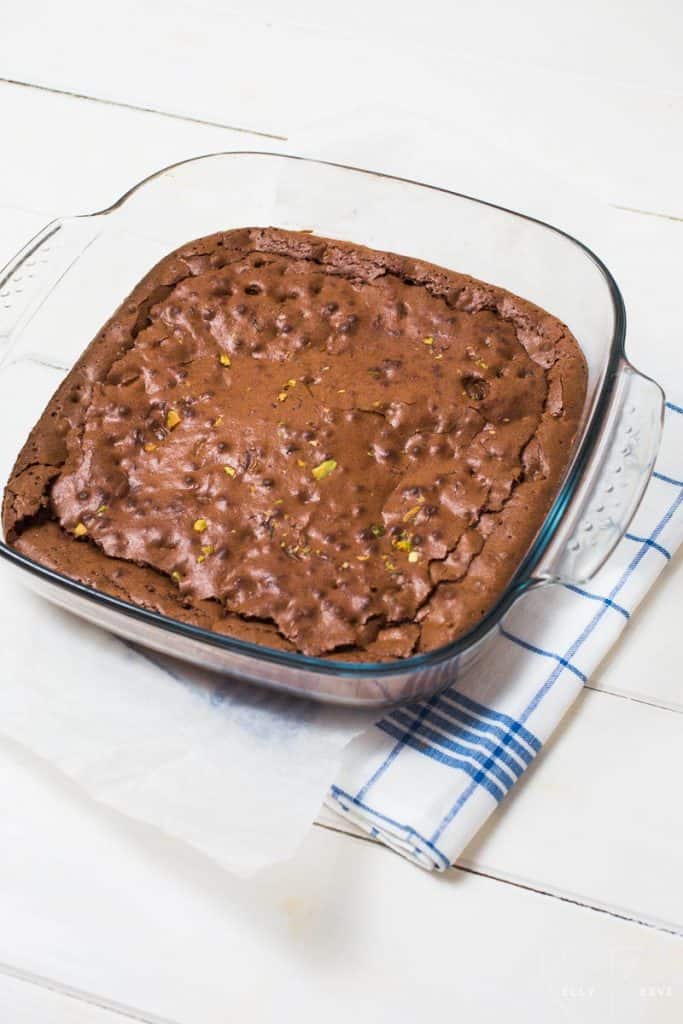 Serving
I personally love when the chocolate and pistachio brownies are served hot. That's right! Straight out the oven. This is when you get them the most moist and delicious. Serve with some whipped cream or vanilla ice cream on the side and you have a perfect dessert. I mean, who doesn't love ice cream right?
You can also serve the chocolate and pistachio brownie with some fresh fruit or my peanut butter ice cream. Now for the summer I would recommend fresh local strawberries, a lot of them at half price. For extra finesse, try to marinate the halved strawberries for about an hour with a little sugar and a dash of amaretto. If you love mint, add a little of freshly chopped mint with lime juice. Pair with some slow cooker Nutella fudge for your party and now that's summer!
If you would like to serve the brownies with some alcohol, I recommend Madeira wine or these Madeira wine substitutes.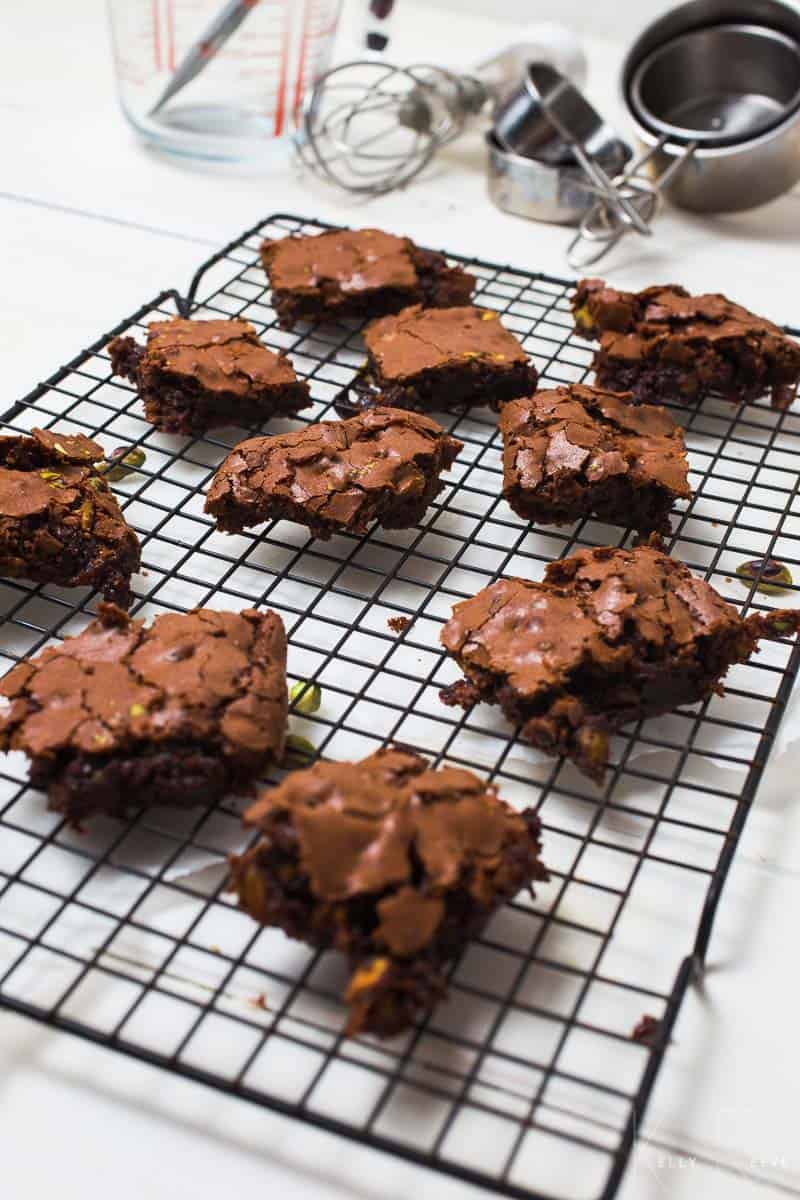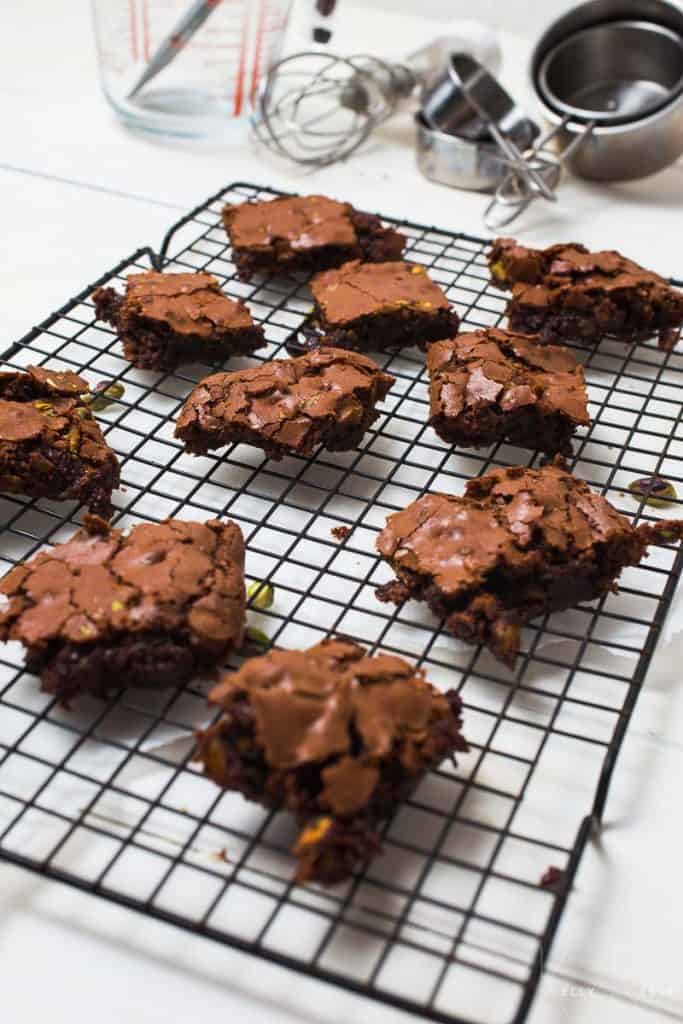 Other ways to serve
If you store your chocolate and pistachio brownie in an airtight container it will easily keep for three to four days. Simply cut it up into portion sized squares. You can also freeze the brownies and this way you will have the base of nice dessert up your sleeve for the next time some friends pop in. If you make a larger batch, you will have delicious treats for your afternoon coffee or a little extra sweet snack for the kids' lunch boxes. But there are even more you can do with your chocolate and pistachio brownies. For example, you've probably not thought about making your brownies into trifle before have you? I have not only tried it, but also made a great recipe, so you can taste the result too!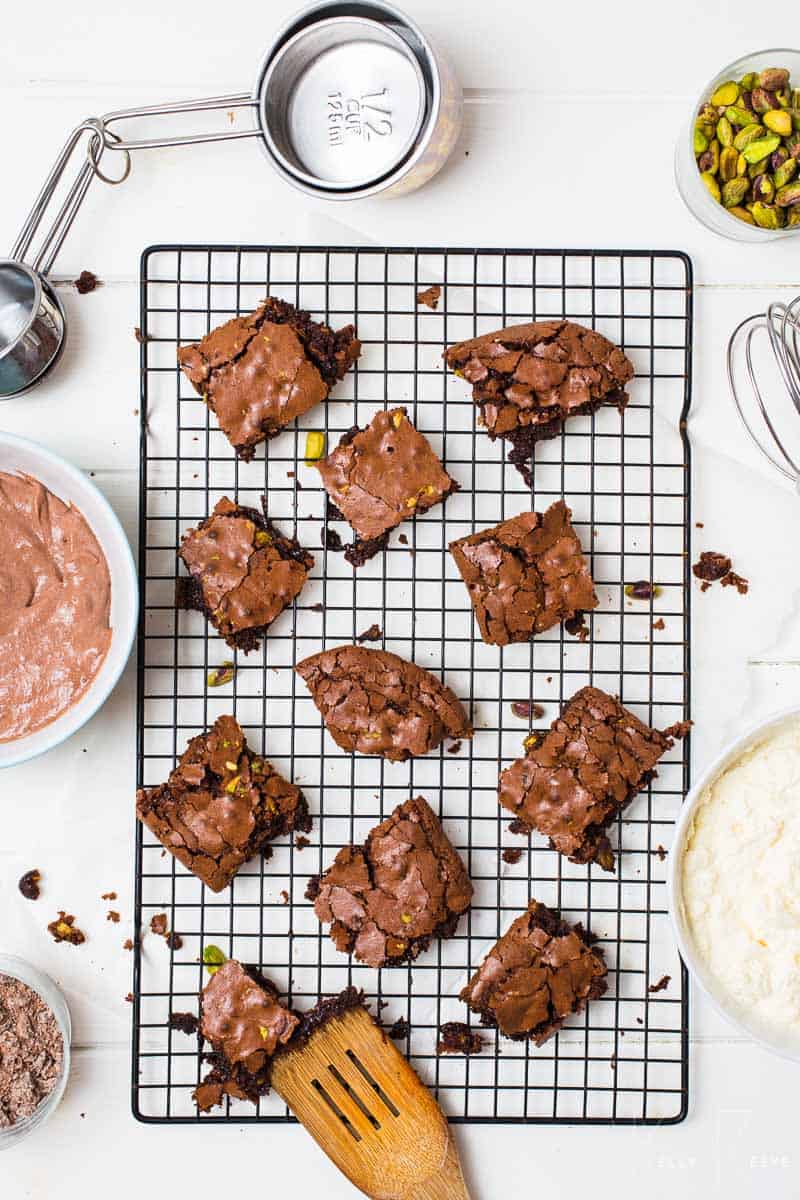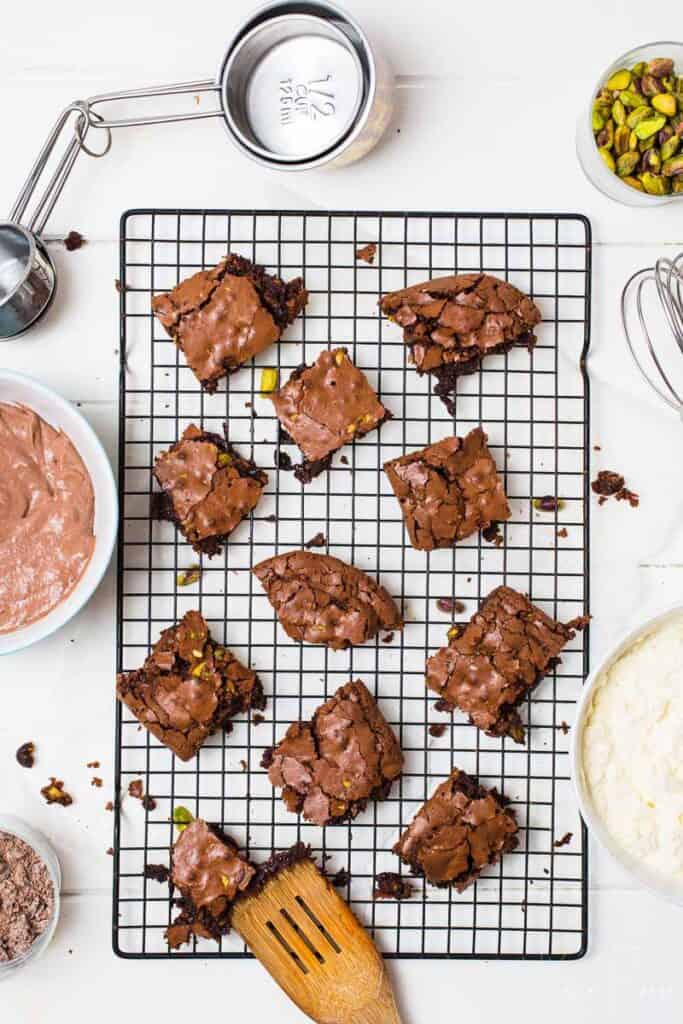 https://www.greedygourmet.com/recipes-by-national-cuisine/american/chocolate-pistachio-brownies/
https://www.greedygourmet.com/recipes-by-national-cuisine/american/peanut-butter-pecan-caramel-brownies/
https://www.greedygourmet.com/recipes-by-cooking-times/30-to-60-minutes/chocolate-and-courgette-cake/
https://www.greedygourmet.com/recipes-by-dish/baked-goods/chocolate-brandy-torte/
Print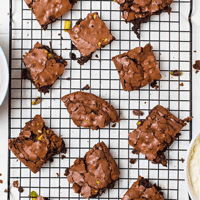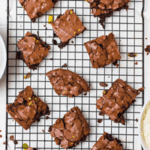 Chocolate & Pistachio Brownies
---
100g

(

4 oz

) pistachios

100g

(

4 oz

) unsalted butter

100g

(

4 oz

) dark chocolate (70%), broken into small chunks, plus extra

2

eggs

225g

(

8 oz

) granulated sugar

50g

(scant

2 oz

) plain flour

5

ml (1 tsp) baking powder

1.25

ml (¼ tsp) salt
---
Instructions
Line an 18x28cm/7×11-inch tin with baking parchment, allowing the paper to come 2cm/1 inch above the tin. Preheat the oven to 180°C/350°F/gas mark 4. Chop the nuts roughly so they're still quite chunky and roast them in the preheated oven for 8 minutes, timed. (This step is optional. If you're feeling lazy you can dunk the nuts directly into the mix. An alternative is to buy the nuts already roasted but unsalted.)
Meanwhile put the butter and chocolate in a metal/pyrex bowl placed over a pan half-filled with barely simmering water. Allow the chocolate to melt, then beat until smooth. Remove from the heat and stir in the other ingredient, including the nuts, until thoroughly mixed.
Spread the mixture evenly into the prepared tin and bake in the middle of the preheated oven for 30 minutes or until it is slightly springy in the middle. Take the brownies out of the oven and allow them to cool for 10 minutes before cutting into about 15 squares. Use a palette knife to transfer to a wire cooling rack and serve when cool or still just slightly warm.
Notes
Eat it on its own, with cream or vanilla ice-cream.
If you're not a fan of nuts, leave out the pistachios.
If you're not a fan of pistachios and prefer say hazelnuts (or a mix!), simply substitute them with the equal amount.
Prep Time:

10 minutes

Cook Time:

50 minutes
Nutrition
Serving Size:

1 serving

Calories:

183

Sugar:

19 g

Sodium:

96 mg

Fat:

10.5 g

Saturated Fat:

5.1 g

Carbohydrates:

23.6 g

Fiber:

1.3 g

Protein:

2.1 g

Cholesterol:

15 mg
save the recipe to your pinterest board

A special thanks to Kelly Reeve for assisting with the recipe shoot.