A deliciously sweet wonderfully indulgent childhood favourite, there's nothing quite like a golden syrup cake!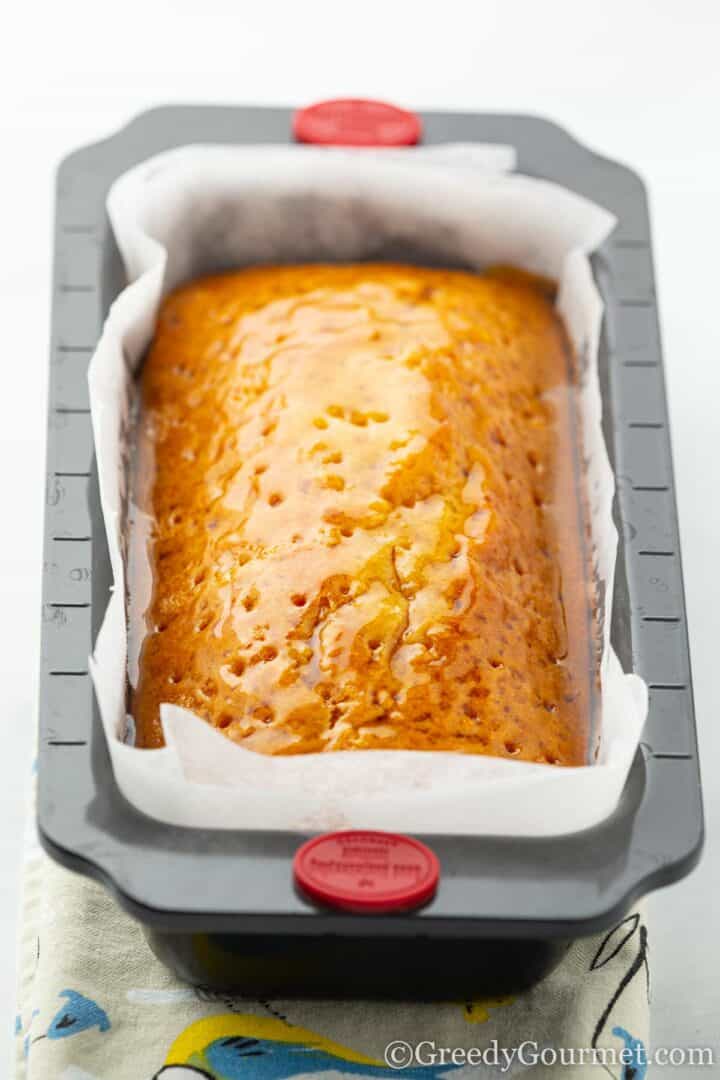 With the unique toasted caramel flavour of Golden Syrup –the classic British ingredient – this luscious loaf cake with a sticky sweet glaze on top is a dessert to please the whole family.
Why you'll love this golden syrup cake recipe
Delicious fresh out of the oven, but even better after a day or two!
Very easy to make and uses simple ingredients
The whole family will love it
You can serve it on its own, with warm custard or a scoop of your favourite ice cream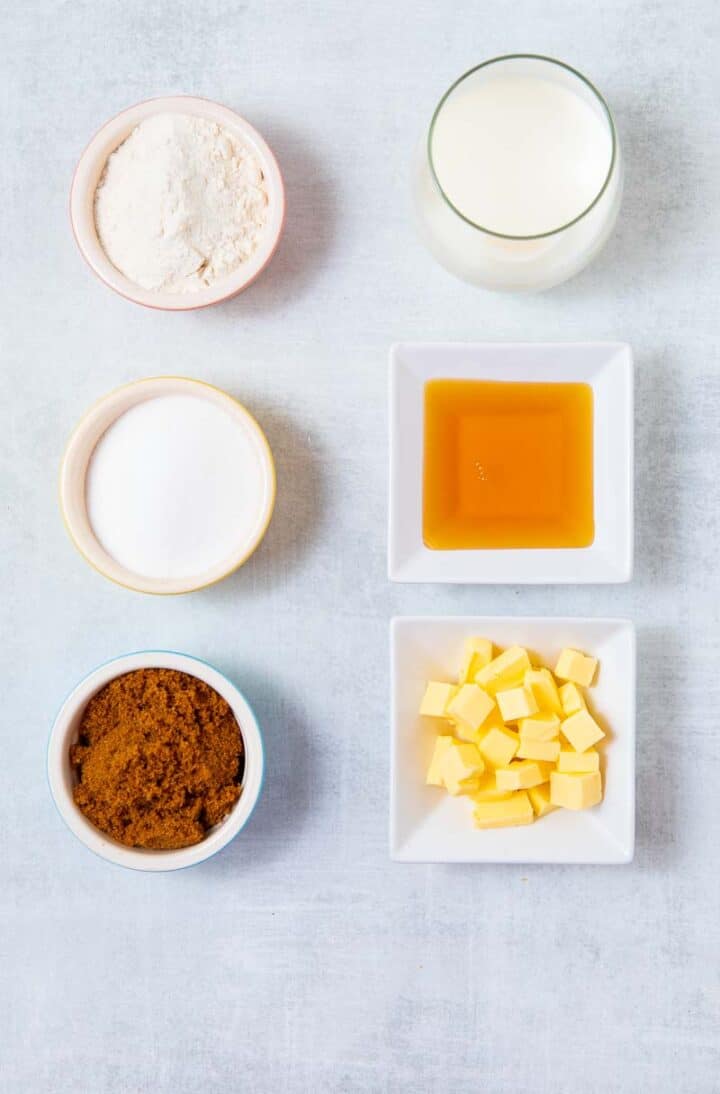 Equipment needed to make this recipe
There are a few essential items you'll need before you take on this golden syrup cake recipe:
Loaf tin – you'll need a 2lb loaf tin
Weighing scales – when it comes to baking, precision is key. Use a quality set of kitchen scales and make sure you get you follow the measurements below
Ingredients needed to make this recipe
Lyle's Golden Syrup – with its one-of-a-kind taste, this classic syrup is the star ingredient of this loaf cake recipe. Buy it in bulk and use it as a delicious pancake topping!
How to make golden syrup cake
Top Tips
The secret to a light and fluffy sponge is to sift the flour into the mixing bowl.
What to serve with this recipe
This golden syrup cake is delicious when served warm, fresh out of the oven, or once it has fully cooled. It taste divine on its own, but if you're feeling extra indulgent, try the following:
Custard
This is the kind of double act that creates childhood memories. Sticky sweet golden syrup cake topped with silky smooth custard. It just doesn't get any better than that!
Make my pink custard recipe, for a truly wonderful old-school delight!
Popular substitutions for this recipe
Let's take a look at a few alternative ingredients you could use in this recipe:
100% golden brown sugar
You can just use golden brown sugar instead of mixing it with caster sugar. You'll end up with a more golden brown colour.
Plain flour and baking powder for self raising flour
Haven't got self-raising flour? No problem. A clever little trick is to mix plain flour with a small amount of baking powder. Use the same amount of plain flour (150g) plus 1⅓ teaspoons of baking powder. Sift the flour and baking powder together into a mixing bowl before using.
Golden syrup substitute
You might think it would be easy to substitute golden syrup, but be careful! Honey and other sweet syrups don't have the same kind of luscious thickness and texture as golden syrup, meaning they react differently when baked.
You might just about get away with dark corn syrup, but I highly recommend tracking down some golden syrup (if you're in the States, you can buy golden syrup online).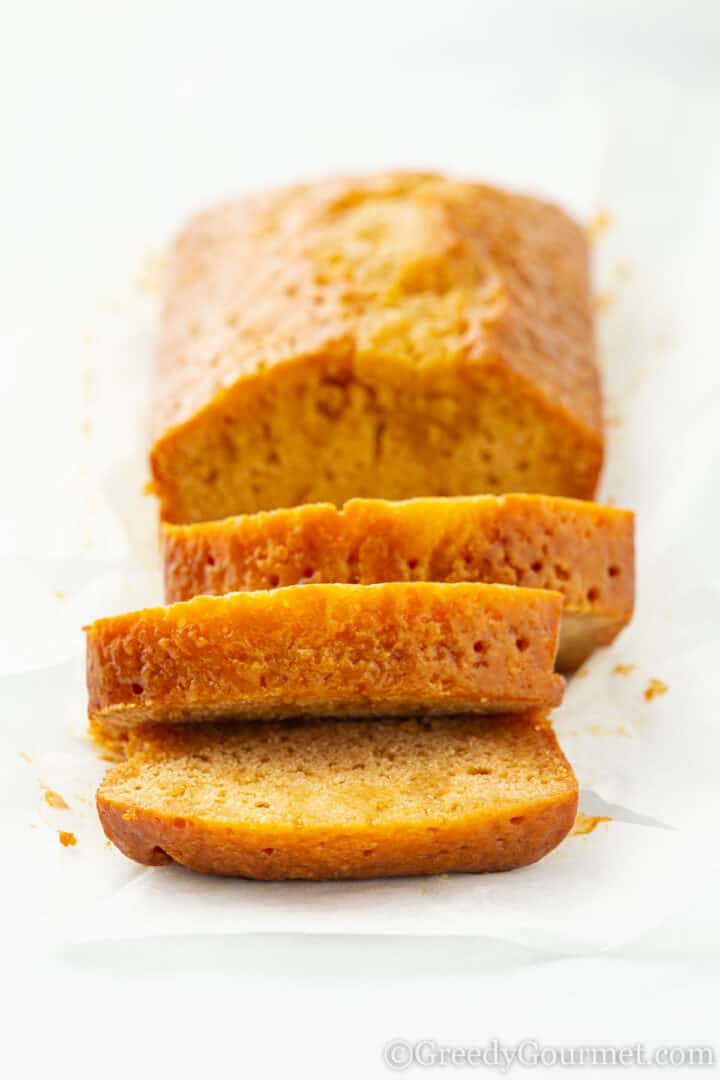 Variations to this recipe
Gluten free
Swap the self raising flour for a gluten free alternative such as buckwheat flour. Replace the egg with 1 tsp of bicarbonate of soda and 1 tbsp of vinegar.
Dairy-free
Use a suitable lactose-free milk in place of milk and margarine in place of butter for a dairy-free golden syrup cake.
Less sugar
If you prefer your cakes on the slightly less sweet side, use 150g golden syrup instead of 200g.
Spice things up!
Fancy adding a spicy twist on this cake recipe? Add a teaspoon of ground cinnamon or ground ginger to add a whole new dimension of flavour.
Make it fruity!
Add a tablespoon of lemon zest or orange zest to add a wonderful fruity flavour to this cake recipe.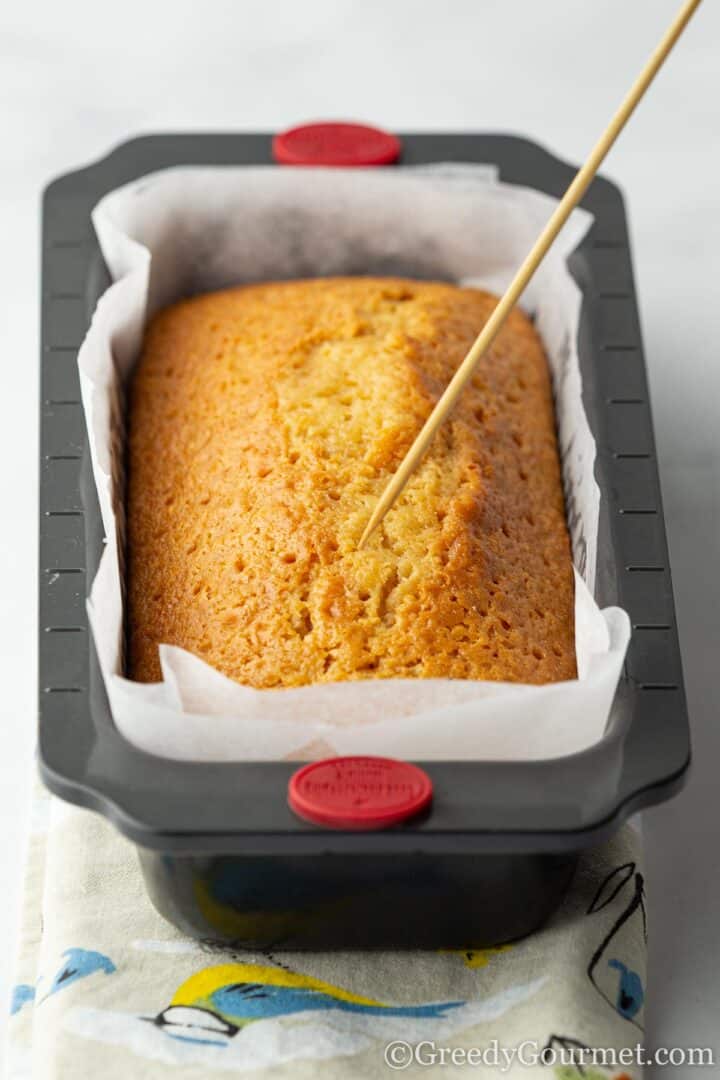 Top Tips
Make sure the butter, sugar and syrup mixture doesn't boil, as this will affect the texture and flavour of the cake.
Make sure the butter, sugar and syrup mixture has cooled to room temperature before you add the egg and flour mixture. If it's too hot, your cake won't rise properly.
What is golden syrup?
Golden syrup is a golden brown, sticky sweet syrup that is produced commercially. It's been used to bring flavour to desserts in the UK and throughout the world for over 100 years. 
Where can you buy golden syrup cake?
Lyle's golden syrup cake can be bought in supermarkets throughout the UK. However, the homemade kind is so much better! Plus it's a lot cheaper to make your own.
Where does golden syrup come from?
Golden syrup was first created in London in the 1880s. Charles Eastick and his brother JJ came up with the first formula for the recipe, which made use of a by-product of the sugar-making process.
This molasses-brown treacle-like would later be perfected in the sugar refinery of Abram Lyle, before being sold commercially in 1885 as 'Goldie' in the now iconic green metal tins. Before long, this new sweet syrup became a staple ingredient in British households.
Over 100 years later, it has been officially recognised as the world's oldest branded food product.
What is golden syrup called in America?
The closest thing to Tate Lyle golden syrup in America is probably dark corn syrup. However, it lacks the deep smoky caramel flavour of golden syrup.
In the United States, golden syrup is also referred to as light treacle or corn syrup.
Now that golden syrup is easy to find in larger American supermarkets, specialty grocers, and online, you can always use it in place of the corn syrup and molasses called for in such recipes.
Why hasn't my loaf cake risen?
Make sure the butter, sugar and syrup mixture has cooled to room temperature before you add the egg and flour mixture. If it's too hot, your cake won't rise properly.
How do you know when golden syrup cake is done?
The cooking time for this golden syrup loaf cake is around 50-60 minutes. Every oven is different though, so you want to make sure that you can test to see if your cake is fully baked.
The best way to do this is to use the old fashioned skewer technique. Insert a metal or wooden skewer into the centre of the loaf cake – if the skewer comes out clean, it's ready.
What does golden syrup do in cakes?
Not only does it sweeten the cakes, but it also acts as a binder, helping the cake to hold its shape.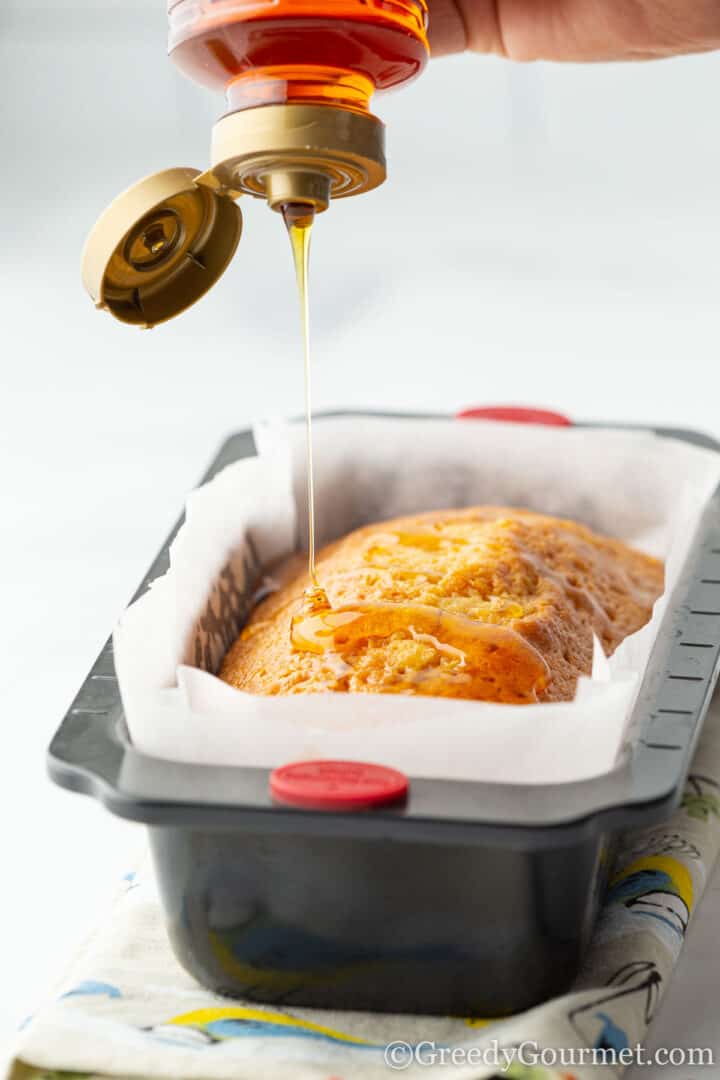 Can I replace golden syrup with honey?
Can I replace golden syrup with a low calorie option?
I wouldn't recommend it. A so-called 'skinny syrup' would produce poor results when used in baking, as the cake wouldn't hold together properly.
Can I divide the mixture into muffin cases instead of baking in a loaf tin?
In theory, yes, you should be able to, although I much prefer using a loaf tin for this recipe.
If you do decide to divide them into muffin cases, let me know how it goes in the comments below!
How do you store golden syrup cake?
You can keep golden syrup cake in the fridge for up to a week, but I prefer to keep mine at room temperature to better preserve the taste and texture. In fact, after a couple of days, it tastes even better!
Store in an airtight container in a cool dry place – it will last for around five days.
Can you freeze golden syrup cake?
Yes, you can freeze golden syrup cake for up to three months. Just make sure you place it in a freezer-safe airtight container.
How do you make golden syrup cake moist?
By making small holes in the top of the cake once it has been baked, then drizzling with extra golden syrup. Then leaving it to cool down.
How do you prevent golden syrup cake from splitting?
By using ingredients that are at room temperature. Remember to remove butter and milk from the fridge at least 30 minutes before you start making this recipe.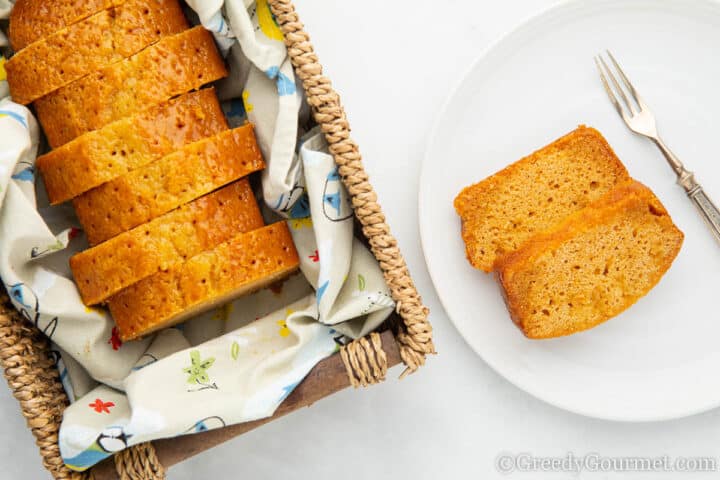 More classic dessert recipes
Fancy making some more old-school classics? Give these a try:
Print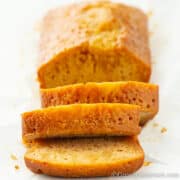 Golden Syrup Cake
---
Author:

Michelle Minnaar

Total Time:

1 hour 10 minutes

Yield:

8

Servings

1

x

Diet:

Vegetarian
Description
A quick and simple cake to make, this sweet Golden Syrup cake tastes delicious when served warm with ice cream.
---
Cake ingredients
100

g

(7 tbsp) unsalted butter, room temperature

75

g

(1/3 cup) golden caster sugar, room temperature

25

g

(2 tbsp) caster sugar

200

g

(9 tbsp) golden syrup

1

egg

150

ml

(2/3 cup) milk, room temperature

200

g

(1 1/4 cups) self raising flour
Drenching the Cake
65

g

(3 tbsp) golden syrup
---
Instructions
Preheat the oven to 160°C / fan 140°C / 325°F / gas mark 3.
Line your 2lb (1kg) loaf tin with parchment paper.
In a saucepan over a medium-low heat, place the butter, golden caster sugar, caster sugar and the golden syrup. Melt together stirring regularly. Once melted, set aside to cool.
Beat together the egg and milk.
In a mixing bowl, sift the flour and the mix in the egg and butter mixture as well as the butter, sugar and golden syrup mixture. (Please make sure the butter, sugar and syrup mixture has cooled to room temperature.)
Pour into your loaf tin and put into the oven for 50-60 minutes. Use the skewer technique to see if it is cooked fully. 
Use the same skewer to make holes into the top of the cake and drizzle over the rest of the golden syrup.
Set aside and allow to cool fully before serving up. Enjoy!
Notes
The reason why I have everything at room temperature is to prevent the cake from splitting at the top.
The longer you leave the cake the more the flavours intensify so feel free the wrap in foil and refrigerate for 3-4 days.
Do not allow the butter, sugar and syrup mixture to boil as this will affect the texture and flavour of the cake.
Prep Time:

10 minutes

Cook Time:

1 hour

Category:

Dessert

Method:

Bake

Cuisine:

British
Keywords: Old School Desserts, Traditional Desserts, classic British recipe, Golden Syrup Cake, Syrup Cake, british dessert, british cake recipe, british bake recipe