These Kinder Bueno cookies are rich and delicious, reminding you of childhood with every bite! Cookies and candy are two of life's greatest pleasures, and this recipe combines the two in an irresistible cookie that your kids (and you) will love!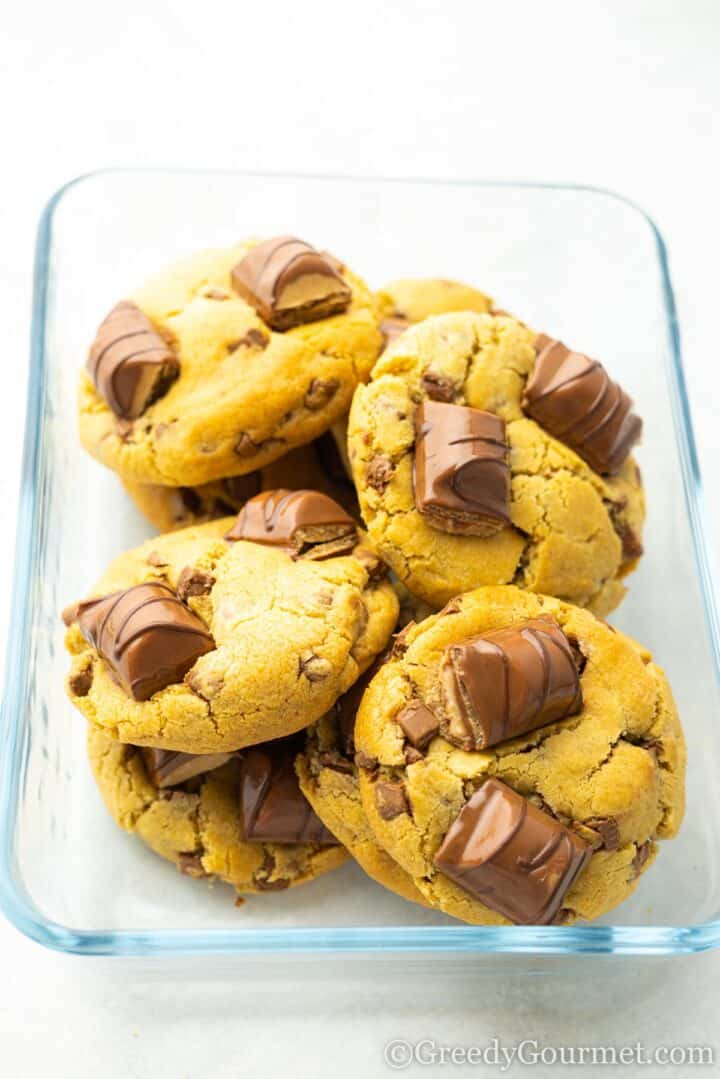 This Kinder Bueno cookie dough contain chocolate chips as well, giving it lots of chocolatey goodness. The crispy wafer, milk chocolate, and hazelnut filling of the Kinder Bueno candy is a glorious combination with the decadent cookie dough.
This recipe is inspired by my Kinder Bueno Cheesecake and pairs well with my No Churn Peanut Butter Oreo Ice Cream for a special treat! This recipe is an absolute crowd pleaser and is a great dessert to make for a child's birthday party or bake sale.
Why You'll Love This Recipe
It contains Kinder Bueno chocolate, enough said!
It is easy and fun to make
It makes a great holiday treat
It is simply addictive
Equipment Needed to Make This Recipe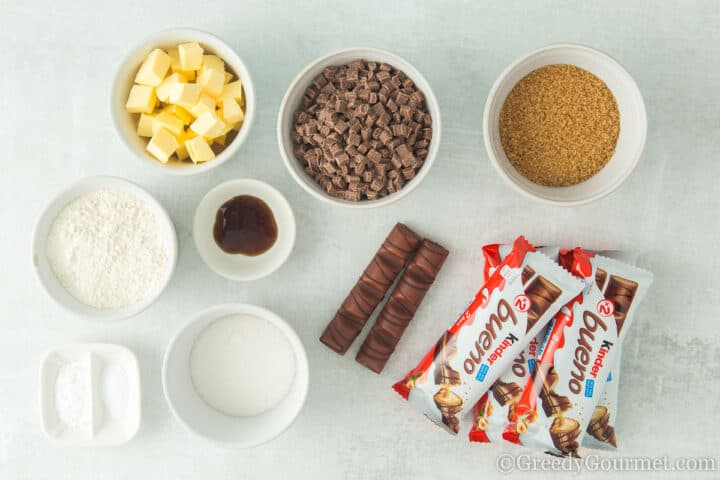 Ingredients Needed for This Recipe
Vanilla Paste - vanilla paste provides a thicker consistency than vanilla extract in the cookie dough and creates a stronger vanilla flavor in your Kinder Bueno cookies
Kinder Bueno bars - these classic chocolate candy bars contain crispy wafers, milk chocolate, and hazelnut filling. Similar to a Kinder chocolate bar but with the addition of the wafer, these bars are a texturally more interesting addition to these Kinder Bueno cookies.
How to Make This Recipe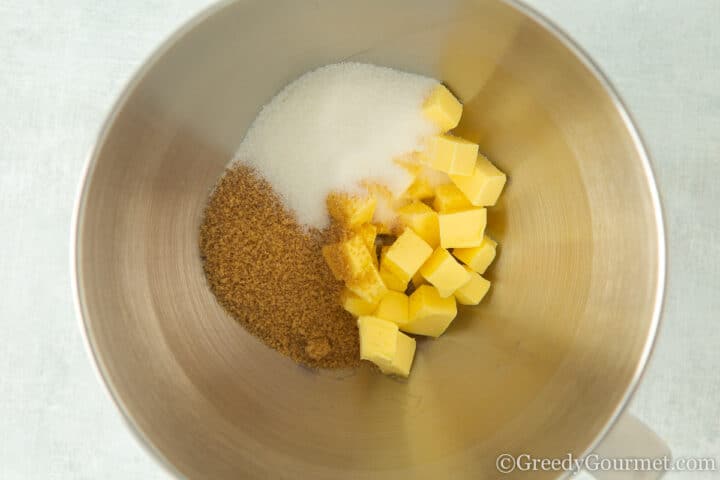 Place the butter and sugar in a mixing bowl.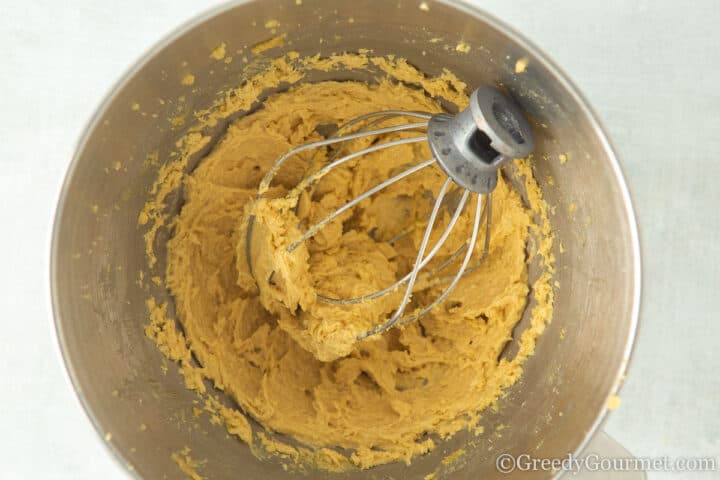 Whisk until light and creamy.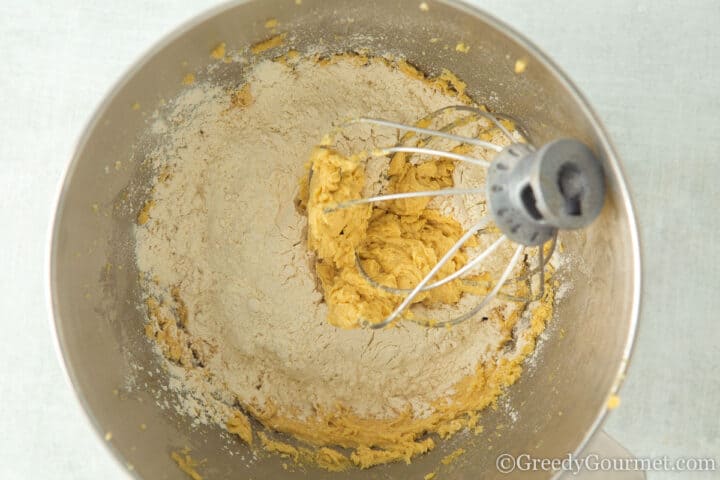 Add the flour and mix it in.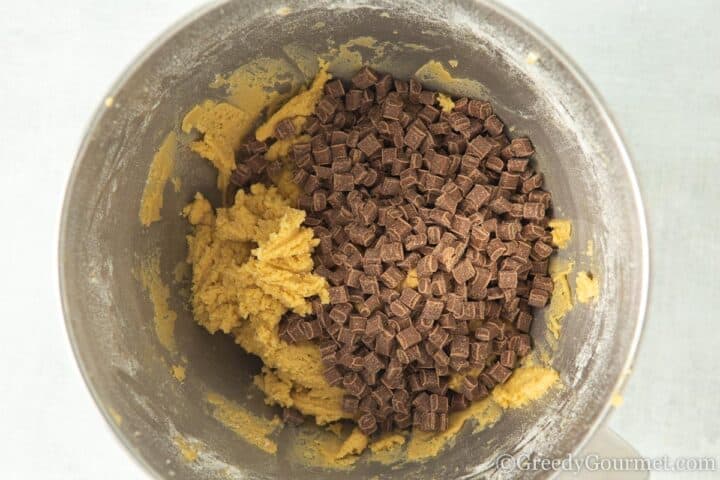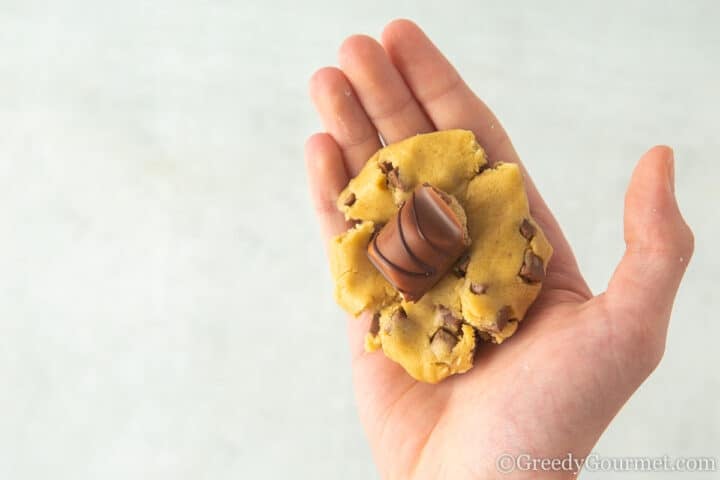 Divide the dough evenly into ball. Place a Kinder Bueno segment in each one.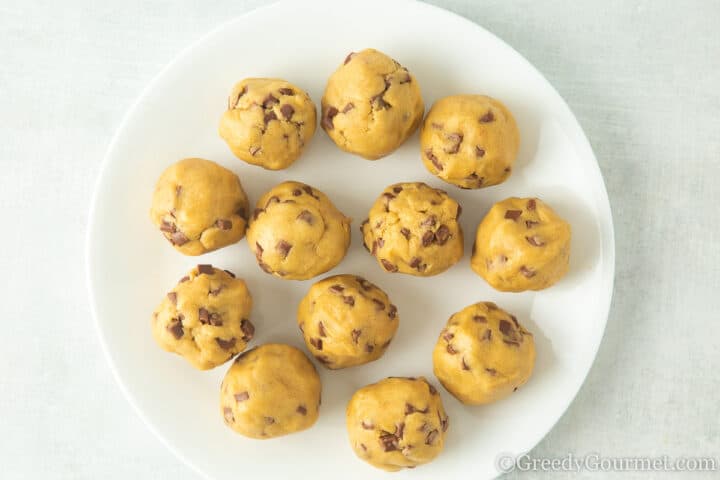 Chill the cookie dough balls in the freezer for 1 hour.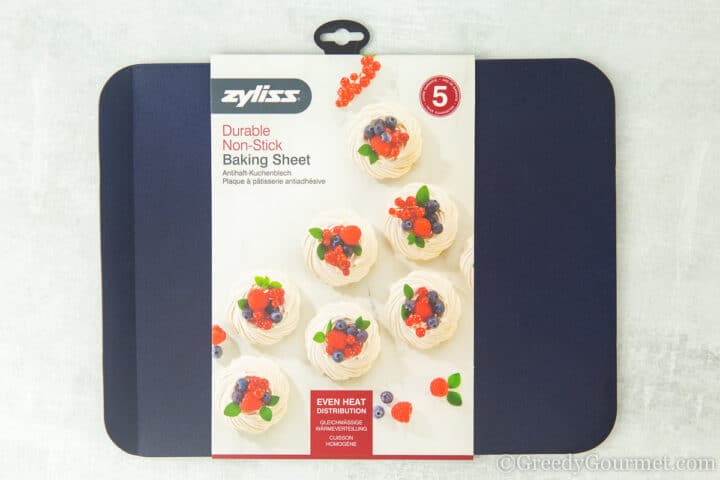 Use a good quality non-stick baking sheet!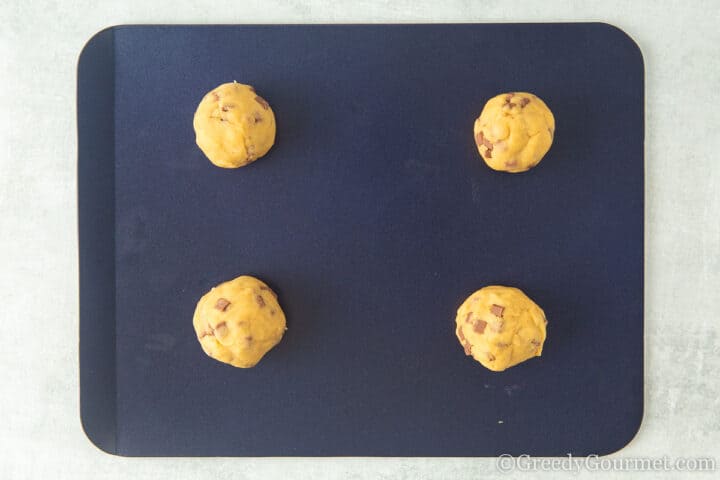 Place the cookies on the baking sheet.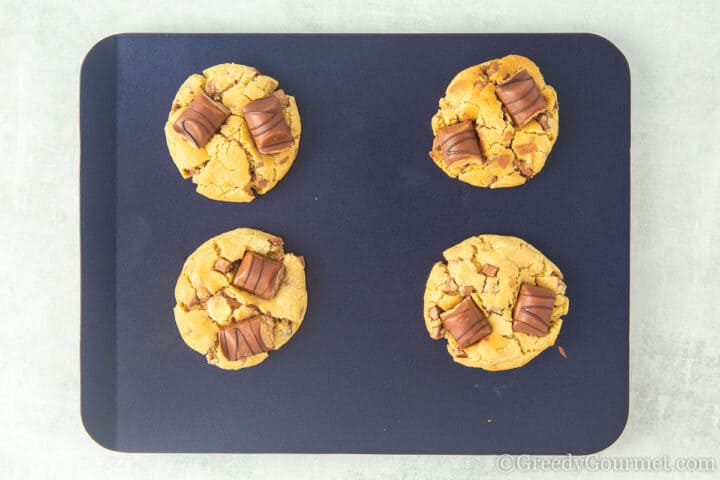 Bake until golden. Place 2 Kinder Bueno segments on top of each cookie. Press gently.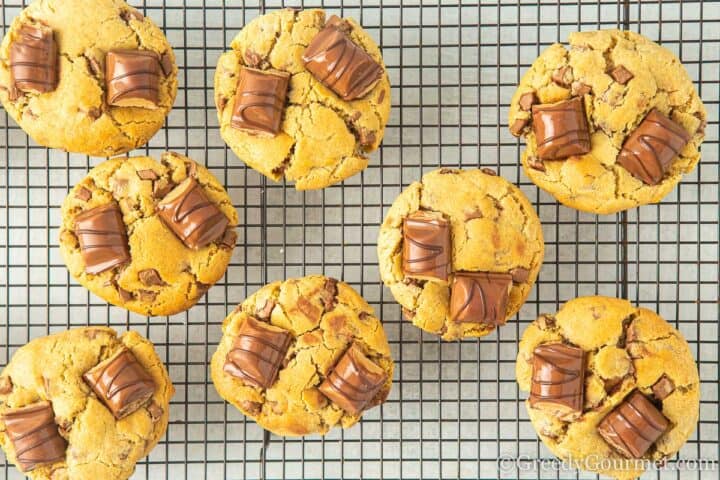 Let the cookies cool down then munch them. Enjoy!
Top Tip
Let your refrigerated ingredients come to room temperature before starting your cookie dough. This step allows for all the ingredients to come together nicely, creating a silky batter.
What to Serve With Your Kinder Bueno Cookies
Kinder chocolate cookies are so sweet and gooey that you will surely enjoy them on their own. If you are looking for something to wash them down with or a tempting addition, here are a few suggestions.
Drinks
Cookies need something to wash them down, try one of these homemade drinks to go along with your Kinder Bueno cookies
Cashew Milk - if you're lactose intolerant or just prefer the creamy richness of cashew milk, this recipe is perfect for dunking those Kinder chocolate cookies into.
Toblerone Cocktail - a boozy cocktail also based around a chocolate bar, this Toblerone cocktail will pump up the chocolate and satisfy your sweet tooth.
Sides
What goes better with dessert than more dessert? I don't have an answer...
Mini Egg Cookie Bars - these cookie bars don't have to be made just at Easter time, and you could add chopped Kinder chocolate to these bars for an extra treat!
Rum and Raisin Ice Cream - this velvety ice cream is a classic favorite and accompanies cookies and cake perfectly.
Chocolate Orange Cupcakes - I love the combination of chocolate and orange together. These cupcakes make a nice contrast to this Kinder Bueno cookie recipe.
Popular Substitutions For This Recipe
Gluten-Free flour
You can use a 1:1 Gluten-Free flour to replace plain flour in this recipe. Just keep in mind that Kinder Bueno bars contain gluten, so you may want to swap them for regular Kinder chocolate bars or an alternative candy that is also gluten-free.
Butter
Use unsalted butter if you are watching your salt or would like to control the amount of salt in the recipe. I suggest adding a pinch or two of salt to the cookie dough, as the salt will amplify the sweetness.
Sugar
Instead of granulated sugar, try caster sugar. Caster sugar can replace granulated sugar in a 1:1 ratio and will incorporate well into your butter due to its fine texture.
Egg Yolk
You can replace egg yolk in this recipe with vegetable oil or coconut milk to keep it eggless. The egg yolk contributes to the texture and richness of the cookie, but a fatty replacement will yield similar results to this Kinder chocolate cookie.
Variations to This Recipe
Instead of or in addition to regular chocolate chips, try white chocolate chips. White chocolate chips are sweet and have a different flavor than chocolate chips because they don't actually contain chocolate.
Try Kinder chocolate bars chopped up in this recipe as an alternative. This other chocolate candy has hazelnut spread filling in it and is just as delicious. Kinder chocolate is also gluten-free, making it a good alternative.
Top Tip
Use a nonstick baking tray to prevent the cookies from sticking. Although you are using the greaseproof paper to line your baking sheets, the nonstick surface gives you a bit of added protection from a sticky mess.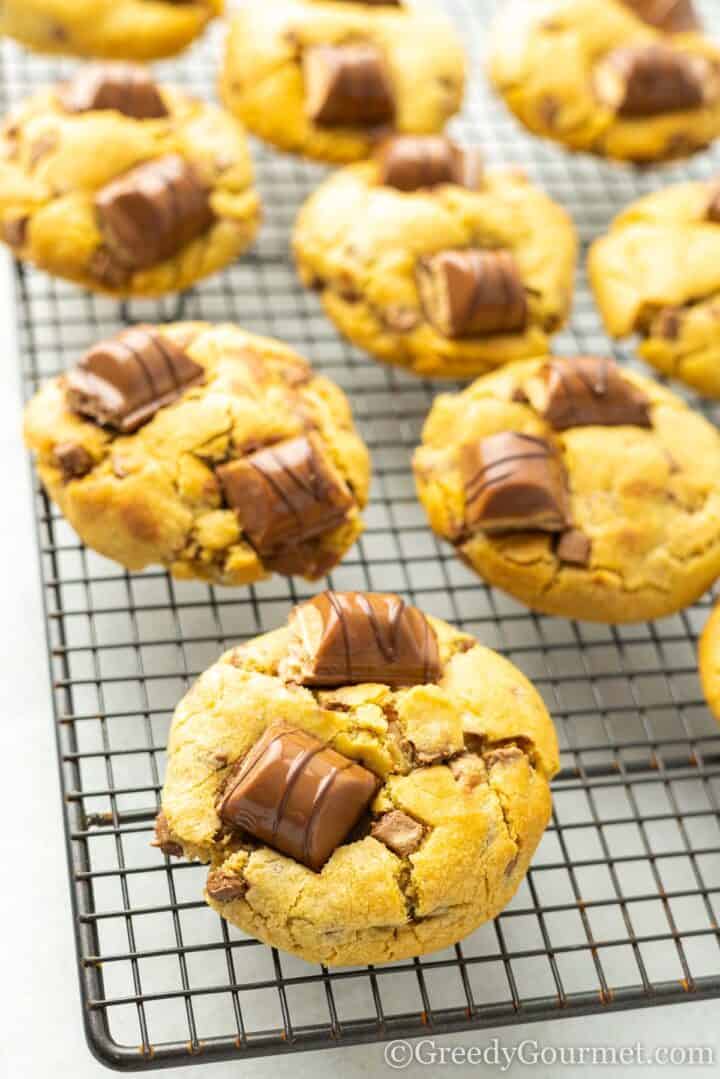 How Do I Store Leftovers?
If you store the cookies in an airtight container they will last about 5 days, but it is doubtful they will stick around that long.
Can I Freeze This Recipe?
Yes, the cookie dough is freezable for up to 3 months. Make sure that you store the dough in an airtight container in the freezer to prevent freezer burn.
Can This Recipe Be Scaled?
Yes, you can scale this recipe up or down depending on how many cookies you need.
Can This Recipe be Made in Advance?
Yes, you can make this recipe ahead of time. I don't suggest making it too many days before you will eat it for the first time, but making it the day ahead and storing it properly will be just fine.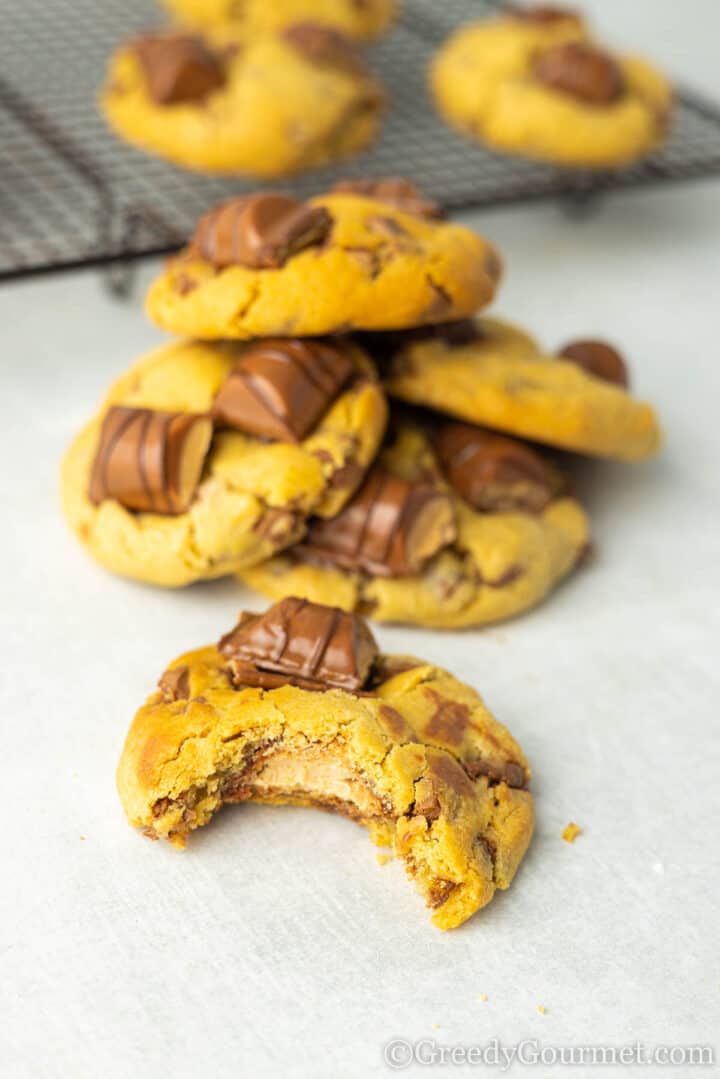 Print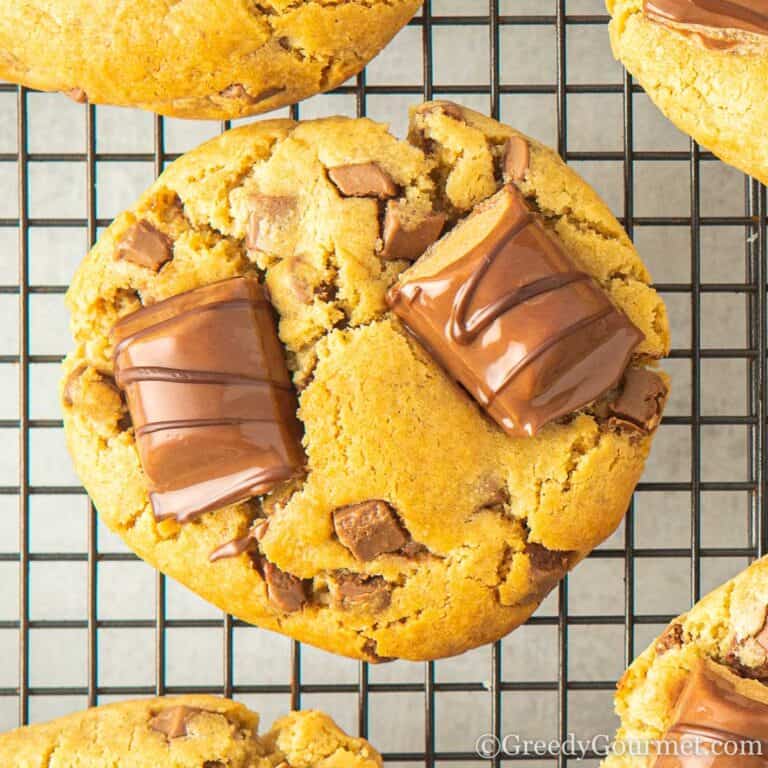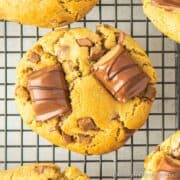 Kinder Bueno Cookies Recipe
---
Author:

Michelle Minnaar

Total Time:

45 minutes

Yield:

12

large cookies

1

x

Diet:

Vegetarian
Description
These Kinder Bueno Cookies are irresistible. This recipe is easy to make and the cookies are sweet and gooey, you won't want to share.
---
125

g

(1/2 cup) salted butter

100

g

(1/2 cup) brown sugar

75

g

(1/3 cup) sugar

1

large egg

5

ml

(1 tsp) vanilla paste

300

g

(1 3/4 cups) plain flour

6

g

(1 1/2 tsp) baking powder

2.5

g

(1/2 tsp) bicarbonate of soda

170

g

(1 cup) chocolate chips

9

Kinder Bueno bars, segmented
---
Instructions
Place the butter and sugars in a large bowl and mix until creamy and light in colour. This should take around 3 minutes.
Add the egg and vanilla and mix until well combined.
Tip in the flour, baking powder and bicarbonate of soda and mix until a sturdy dough forms.
Fold the chocolate chips into the cookie dough until the pieces are evenly dispersed.
Divide the cookie dough into 12 evenly sized balls.
Flatten each ball in the palm of your hand, then place a Kinder Bueno piece in the middle. Ensure to encapsulate the chocolate with the cookie dough, before rolling it back into a ball. Repeat this process until all 12 balls have a chocolate piece in them.
Place them on a plate and cover with cling film. Put the plate in the freezer for at least 30 minutes or 1 hour in the fridge to chill.
Once the cookie dough balls have chilled, preheat the oven to 200°C / fan 180°C / 392°F / gas mark 6.
Place 12 balls on two parchment lined baking sheets. I.e. 6 balls on each.
Cook for 15 minutes or until the cookies are crispy on the outside and golder brown.
Now you have to be quick. Remove the cookies from the oven and place 2 pieces of Kinder Bueno on each one, putting a bit of pressure on each one to wedge the chocolate into the cookie.
Transfer the cookies on a cooling rack until completely cooled.
Serve on its own or as a dessert with vanilla ice cream. Enjoy!
Notes
Just to clarify; each Kinder Bueno bar has 4 segments. You will need one piece per cookie which will act as a filling, and two Kinder Bueno pieces on top of the cookie. So 3 Kinder Bueno pieces per cookie x 12, 36 pieces, which totals to 9 Kinder Bueno bars needed. Of course, there's nothing stopping you from attempting to add even more pieces of top!
This cookie recipe works with most chocolate products and can easily be substituted for any of them. For a similar recipe, check out these Kinder Cookies!
The cookie dough is freezable for up to 3 months.
If you store the cookies in an airtight container they will last about 5 days.
Prep Time:

30 minutes

Cook Time:

15 minutes

Category:

Dessert

Method:

Bake

Cuisine:

British
Keywords: kinder bueno cookies, kinder bar cookies, bueno cookies, kinder bueno recipe, kinder bueno dessert, easter baking recipe