If you think Thai cuisine is all about spicy curries then you have probably never tried a good Thai dessert. Mango sticky rice is the ultimate Thai dessert. It combines exotic flavours with a smooth rice pudding to create the perfect sweet ending for a Thai meal.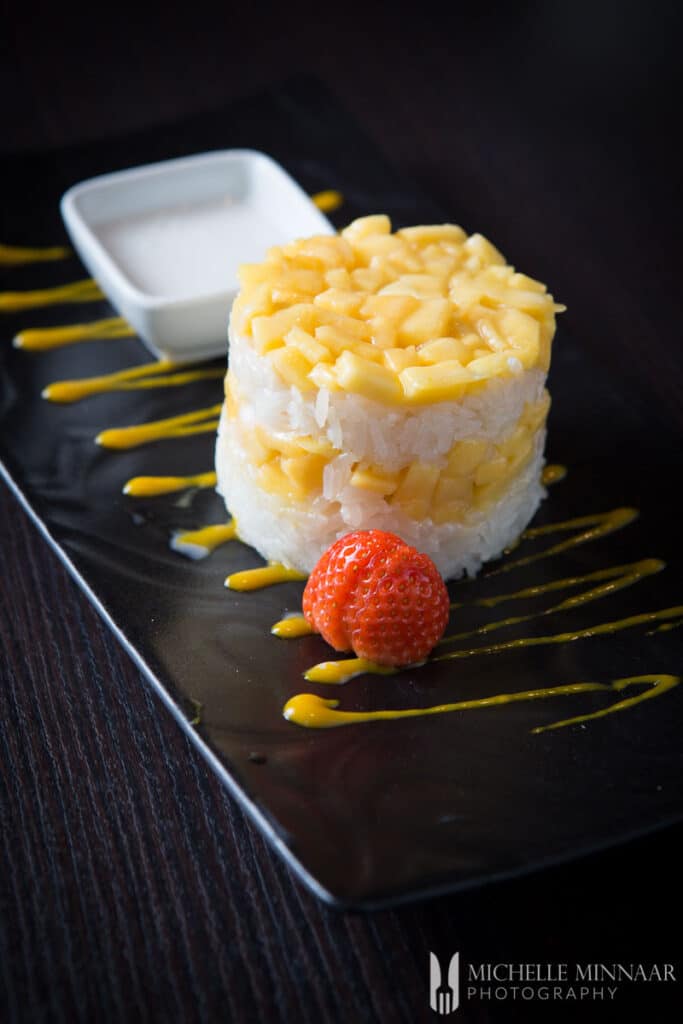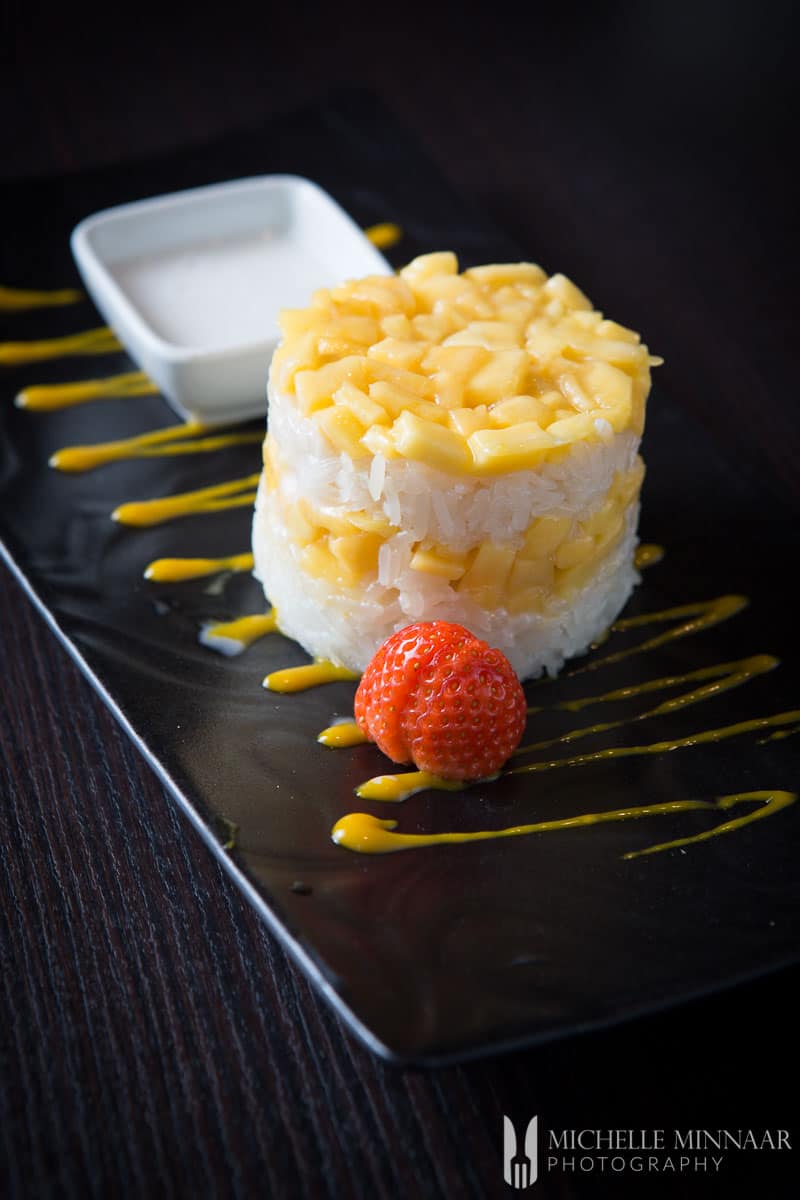 In Thai, Mango sticky rice is called Khao Neow Mamuang. It is one of the most popular desserts in Thailand, and once you taste it you will understand why. Luckily, it is actually quite easy to make at home. Moreover, despite the Thai heritage, mango sticky rice is actually a great all round dessert. An ideal sweet finish to any good dinner.
Even if mango is not your favourite fruit in the world, there is no reason why not to enjoy some delicious sticky rice. Instead of mango, simply substitute with other exotic fruit, such as pineapple or passion fruit. So, next time instead of ordering this Thai dessert in a restaurant, make an authentic Thai mango sticky rice at home.
authentic Thai mango sticky rice recipe
Mango sticky rice is a traditional Thai dessert which is also known as khaoniao mamuang. Not quite like our western rice pudding. In summary, mango sticky rice is made out of glutinous rice mixed with coconut milk and fresh mango. In Thailand, it is a very popular street-food dessert. However, it is also commonly found through the Indochina region and South East Asia. So even if you don't have the opportunity to see Thailand during your vacation, you can still find mango sticky rice in places like these:
Laos
Vietnam
India
Bangladesh
Cambodia
The best time for eating this amazing dessert is between April and July. Also, the mango sticky rice specialty stores in Asia only sell these in this period. It's all about seasonality in the case of mango sticky rice!
In addition, if you have a chance to look through the amazing street food of Thailand, you might also find:
Now, if you are looking for something more rich and more powerful then you should try the traditional green Thai chicken curry. In addition, once you try the green, you have to also try the red beef curry in a delicious sweet peanut sauce. Check out this post on the difference between red curry vs green curry if you'd like to know more!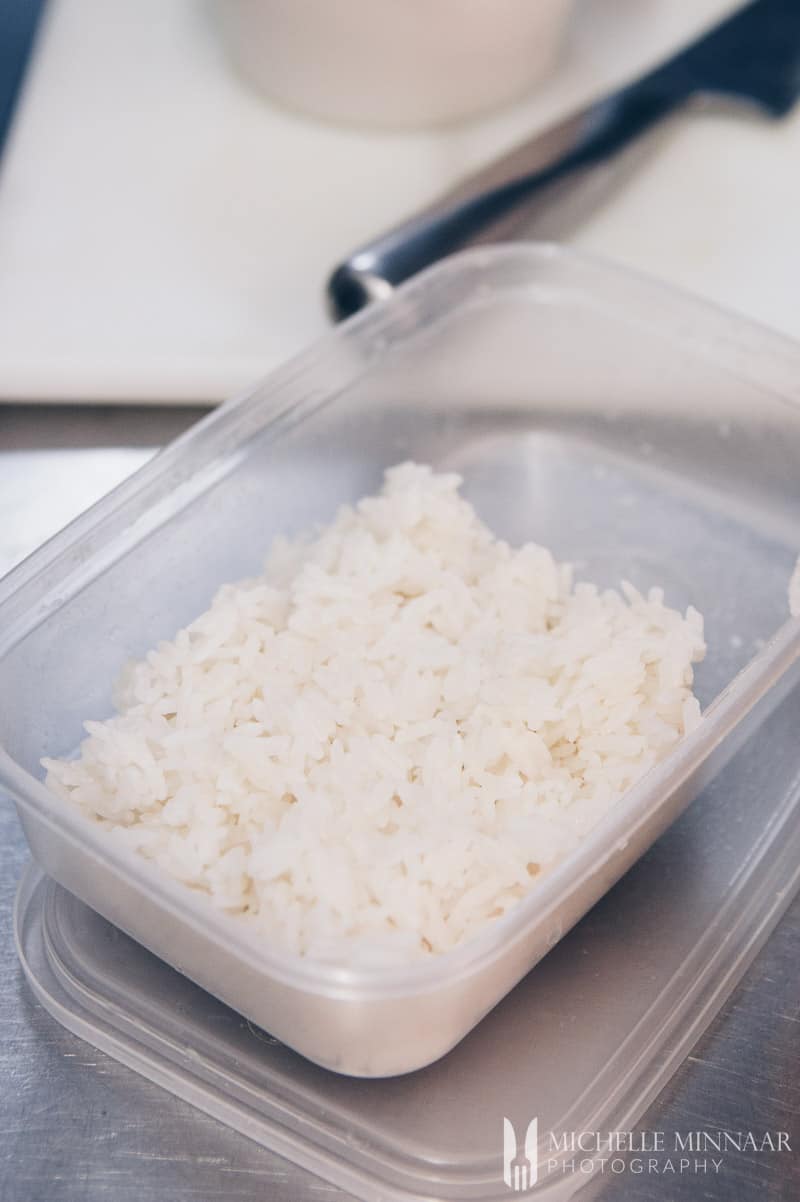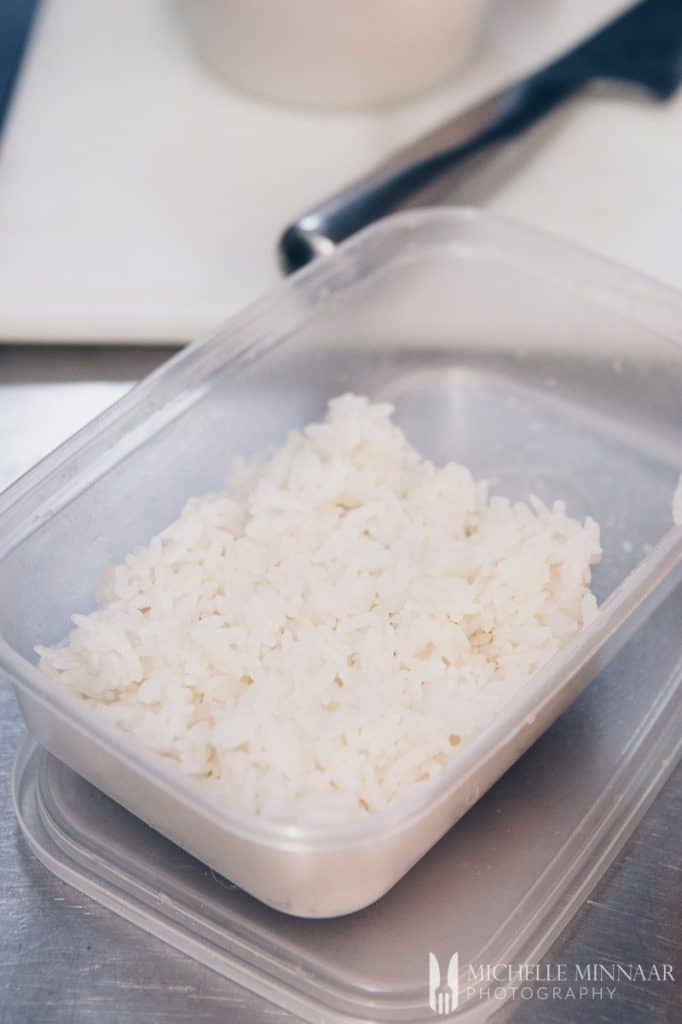 Thai sweet sticky rice with mango
Now let's deep dive into what makes it so authentically Thai. Well, as you might have guessed, the key ingredients to the mango sticky rice is the glutinous sticky rice. Generally speaking, glutinous rice is a sort of sweeter version of the white sticky rice. However, both are an excellent choice for replicating an authentic Thai mango sticky rice dessert.
In essence, white sticky rice is a part of many Thai desserts. For example, these include:
khao mak - fermented sticky rice with a touch of alcohol (for adults only)
khao tom - Thai sticky rice steamed and wrapped in banana leaves (can also be served savoury)
As for the preparation, you'll need to soak the rice in water prior to cooking it. The way you traditionally cook the rice is by steaming. Otherwise, an easier method involves the use of a rice cooker. It is only once you steam the rice, you add the coconut milk so it can absorb into the rice. This is when the sticky rice becomes irresistible.
substitute for white sticky rice
If you want to take your mango sticky rice to the next level and make it even more authentic, then listen up. Did you know that you can actually substitute with black Thai sticky rice? The common thing to do in Thai households is to mix in half of the white and half of the black sticky rice. The end result is a purplish colour which makes eating the mango sticky rice all the more fun.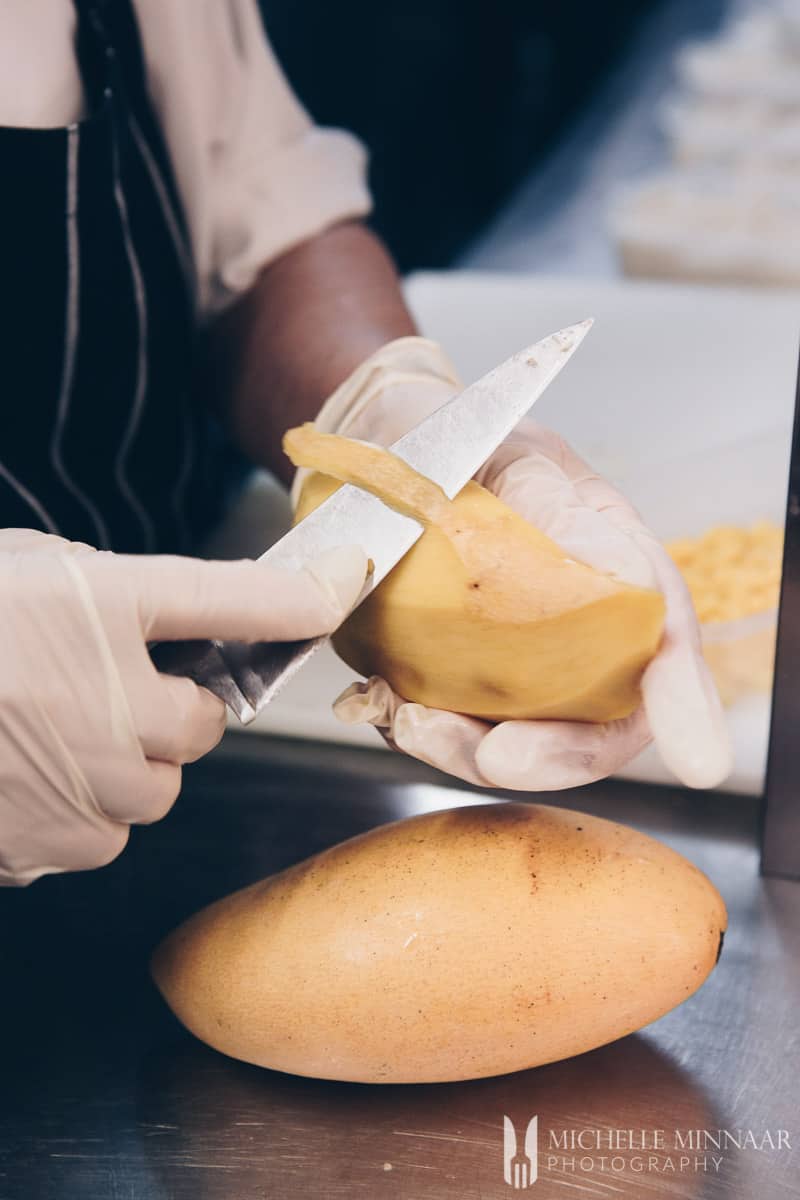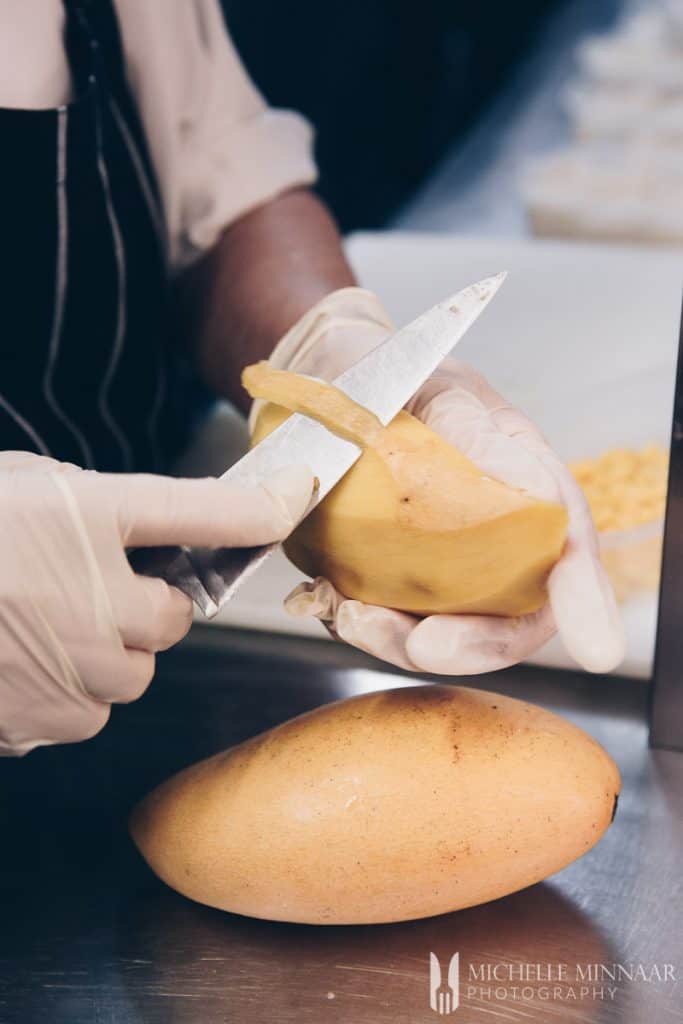 coconut milk
You can have excellent and fresh coconut milk by grating the flesh from a ripe coconut and pressing it with water. The liquid inside the coconut is coconut water, and it's not what we need for this dish. Don't confuse coconut water with coconut milk. To make your own coconut milk is a bit tedious, so a canned version from the supermarket or the Asian grocery shop will do just fine. In this case, there is no need to avoid the tins. Keep it nice and simple. In addition, you'll get to eat your dessert faster!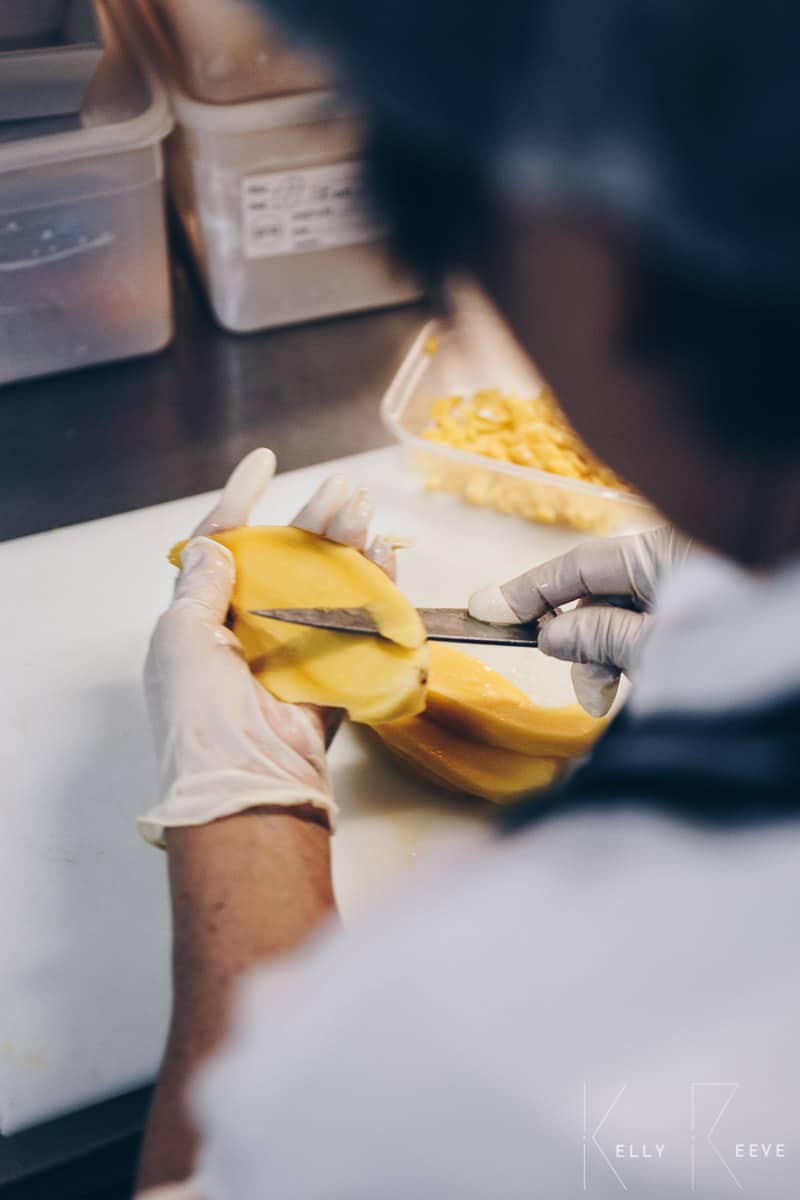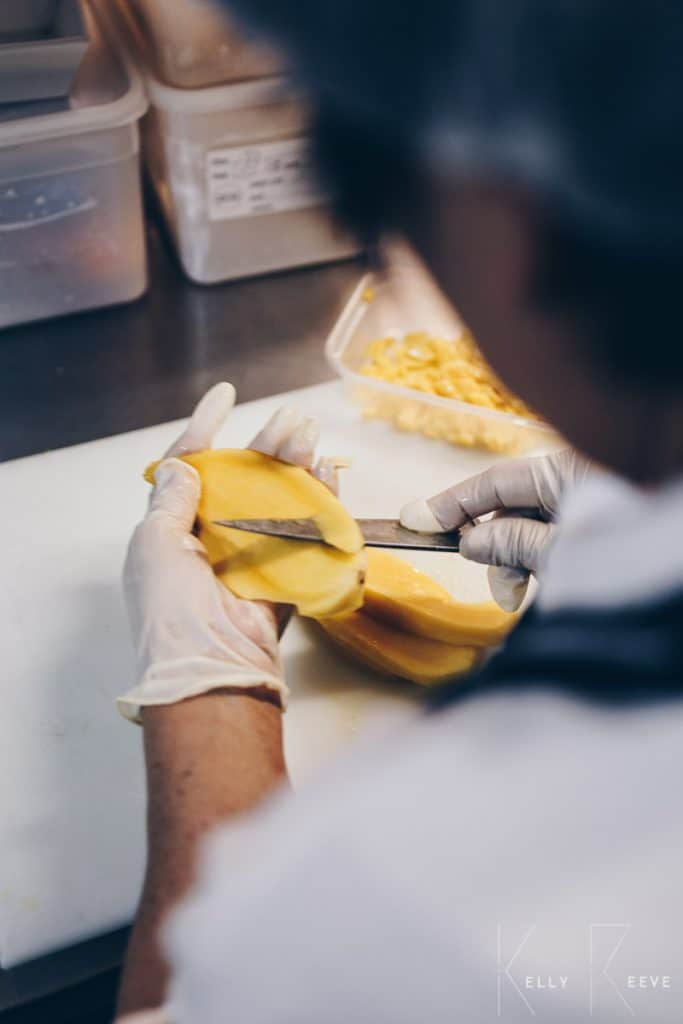 best mango for mango sticky rice
You'll need a Thai or Asian mango to complete this mango sticky rice. The flavour is just beyond that of the normal mangoes we know in the supermarkets. If you are looking into using fresh mango then I highly recommend you get yours in an Asian specialty store.
The Thai mango's peel is semi-pale yellow when ripe, and not the sort of green-red mango (Keitt) that you will find all year round in your normal supermarket. The Thai mango is sweeter and less acidic than the normal mango, and if you let it wait until it's almost too ripe, it will be just perfect for the sticky rice. This way you get the true Thai flavours.
Traditionally speaking, Thai people use the flower nectar mango and other ok-rong varieties. So, mostly yellow mango because it tastes much sweeter than the green ones. You can also use the red or orange mangoes from Mexico or the Caribbean islands. They are a good alternative to the Thai mango because they are also jammed with flavour.
If you can't get your hands on a good mango due to seasonality reasons, you can substitute with durian. Sometimes, other authentic mango sticky rice versions have a twin, which is banana sticky rice. So, you can use banana as well.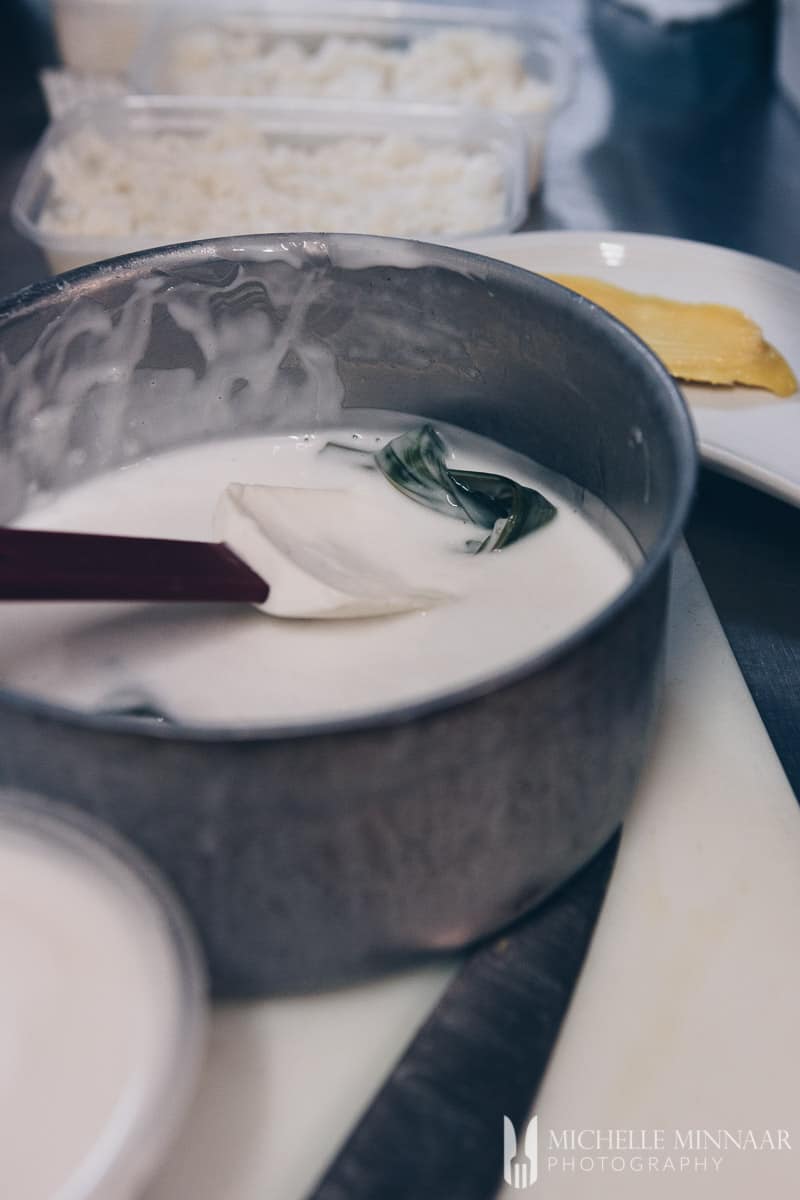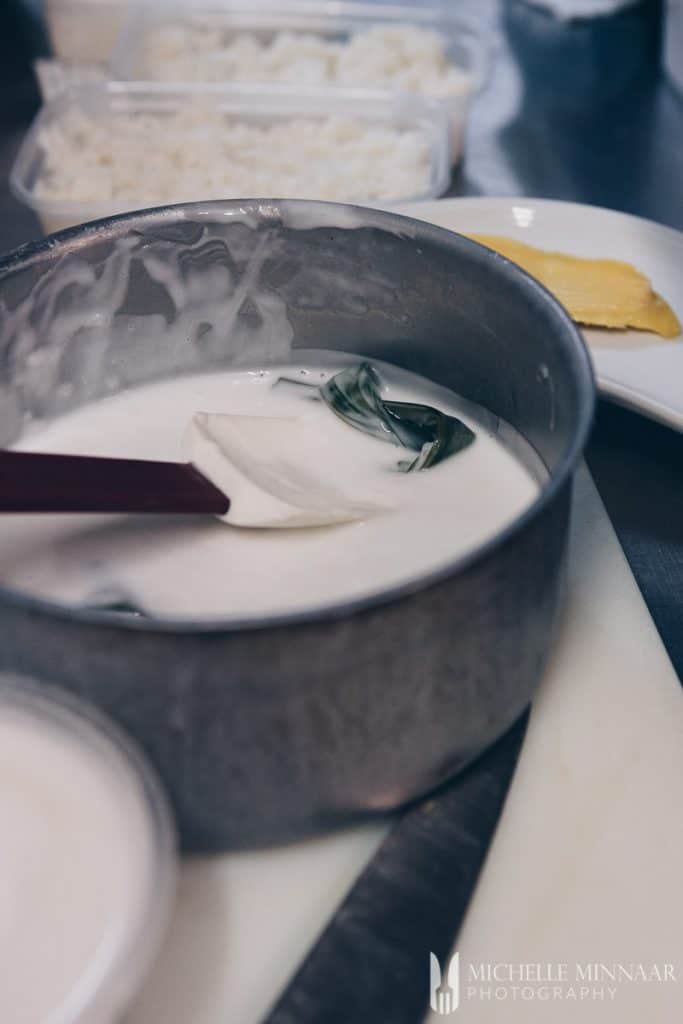 toppings
For traditional toppings, you can also include crispy yellow mung beans. Otherwise, to highlight the coconut flavour of the coconut milk, top with coconut shavings. I also enjoy it with a fresh berry coulis or fresh fruit. Consider it a European version of the Thai mango sticky rice.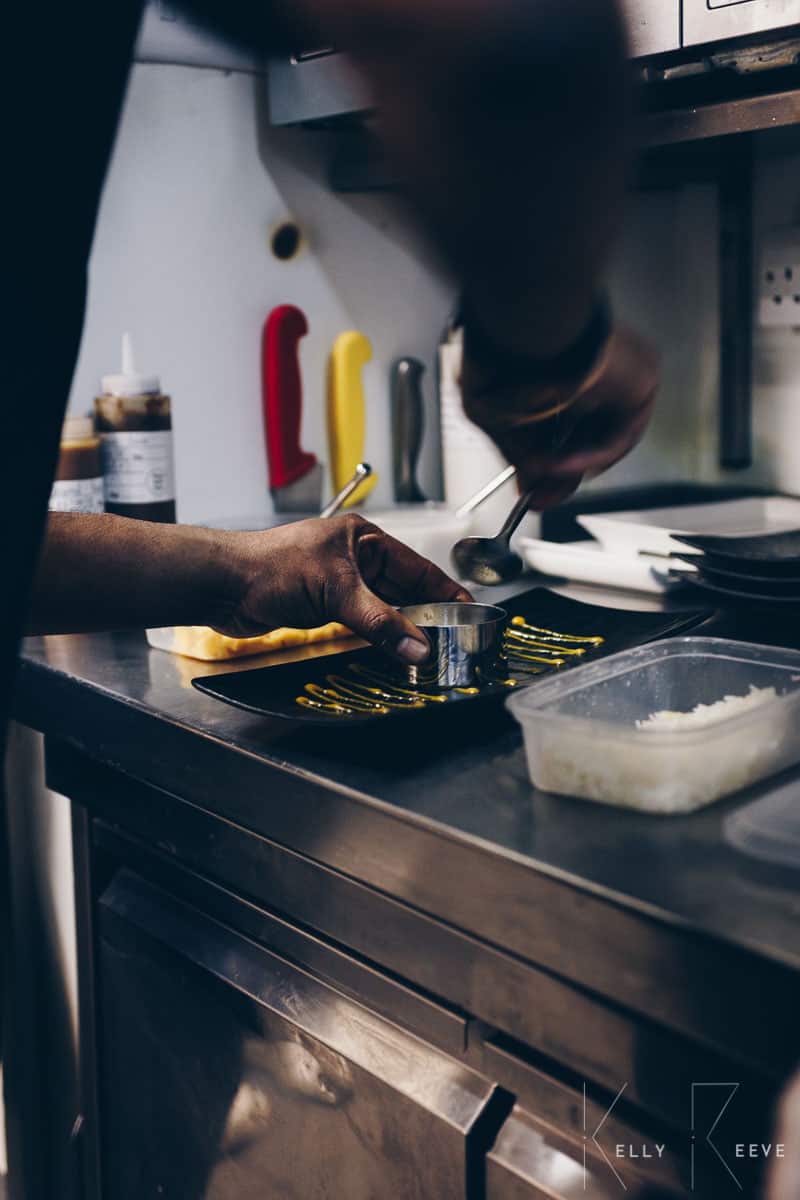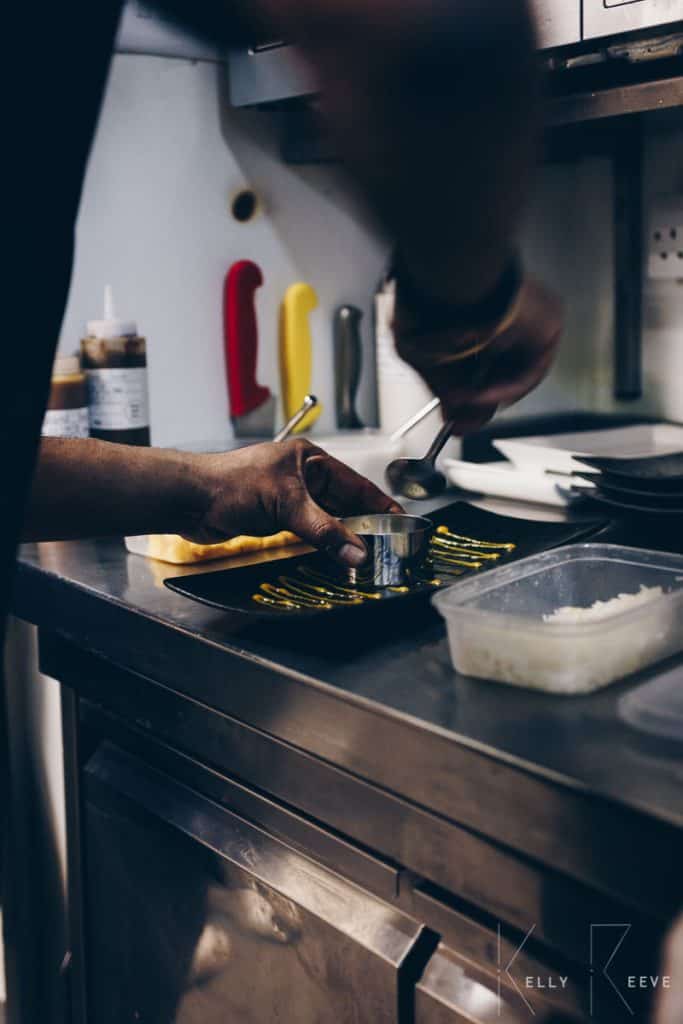 how to serve the mango sticky rice
Usually, you can serve it on a plate (ceramic or plastic) with a fork or a spoon. However, it is also traditionally enjoyed in the hand, especially when it comes to buying it on the street.
Print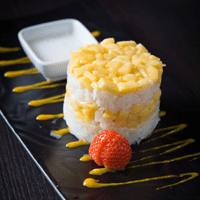 Mango Sticky Rice
---
Description
Mango Sticky Rice is a traditional Thai dessert recipe that is vegan. Thai sticky rice is cooked in coconut milk and served with mango. Try it!
---
250

g

(1/2 lb) gluten rice or sticky rice

125

ml

(1/2 cup) coconut milk

90

g

(3oz) caster sugar

20

g

(2/3 oz) salt

2

Thai mangoes, cut into small cubes
---
Instructions
Soak sticky rice overnight.
Steam the rice for 20 minutes.
Make coconut milk sauce by boiling the coconut milk, sugar and a pinch of salt together.
Peel the Mango and roughly chop it into small pieces.
Mix coconut sauce and sticky rice.
Layer the dessert by alternating chopped mango and sticky rice. Enjoy!
Notes
If you find you have lots of coconut milk leftover after making this recipe, don't let it go to waste! Use it in some other recipes or check out my guide on freezing coconut milk.
Prep Time:

30 minutes

Cook Time:

30 minutes

Category:

Dessert

Method:

Boil

Cuisine:

Thai
Keywords: mango sticky rice, traditional Thai dessert recipe, vegan Thai dessert, Thai sticky rice
save the recipe to your pinterest board