Have you been looking for a tasty, filling yet light salad this summer? The mung bean salad is a must if you want to lead a healthy lifestyle. Offering a gamut of different flavours and textures, it will also fill you up thanks to mung beans. You'll experience softness coming from the mung beans, avocado and tomatoes, and crunch from the spring onions and cucumbers. You can eat this mung bean salad on its own but iff you are a meat-lover, simply serve it as a side to some delicious steak. Need a handy recipe for one? Why don't you serve it as a side with my crying tiger steak?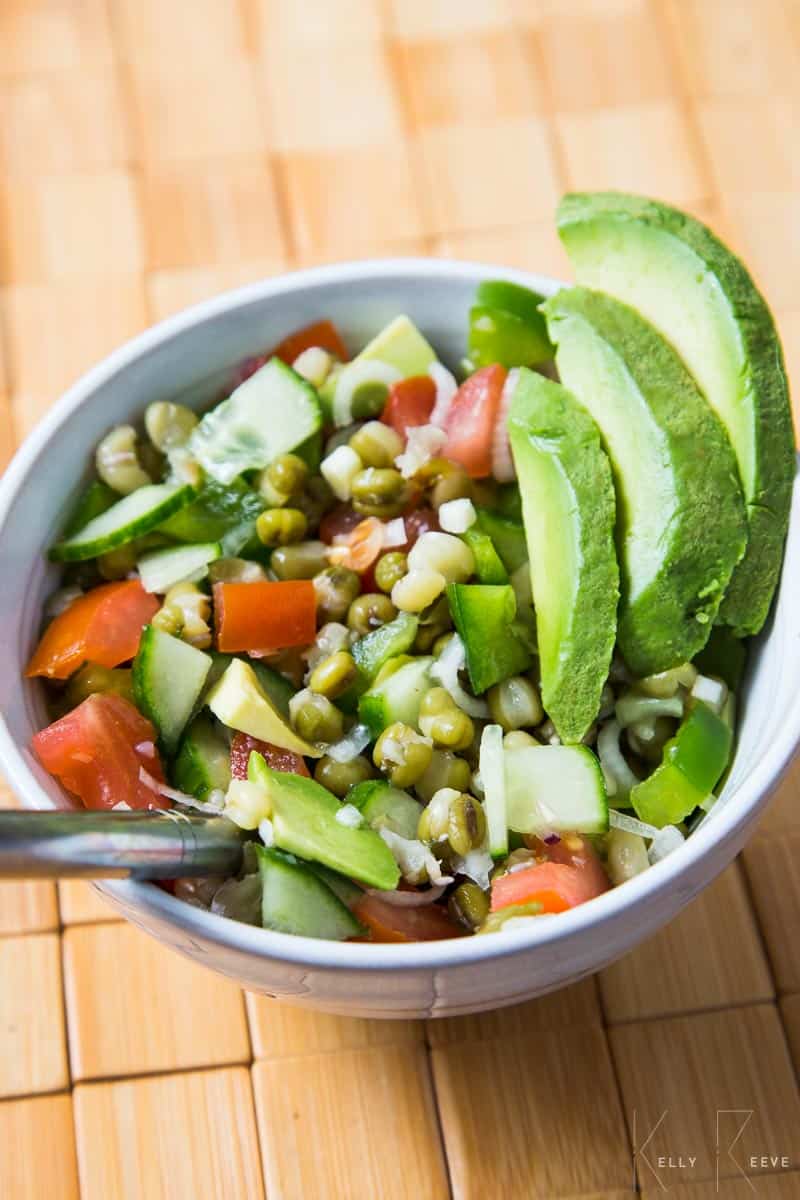 description and profile
You might have heard of mung beans. However, they also go by different names such as "moong beans" or "green grams". The term mung beans comes from the Sanskit word "mudga". Visually, they are green and are rather smaller in size, when you compare them to kidney beans or butter beans. These beans are commonly found across Asian countries such as India, Pakistan, China and other South-Asian countries. You can use them for savoury dishes or desserts, if you prefer.
What many people fail to realise is that you get bean sprouts from mung beans. Hence, you can add a nice crunch element to your mung bean salad if you sprout them. The mung bean sprouts are generally nutty in taste and they grow really fast. It only takes one or two days for the sprouts to pop up. See? No need to buy the sprouts in the super market!
history of mung beans
As with any other type of beans, you can probably already tell that they go way back in time. Some archaeologists argue that mung beans were originally cultivated and grown in Persia, today known as Iran. Others argue that Southern India is the original place where the mung bean was first discovered some 4500 years ago. The cultivation of these beans later spread throughout Asia into areas like Thailand, China and Vietnam. It was a common good sold on the Asian trade routes.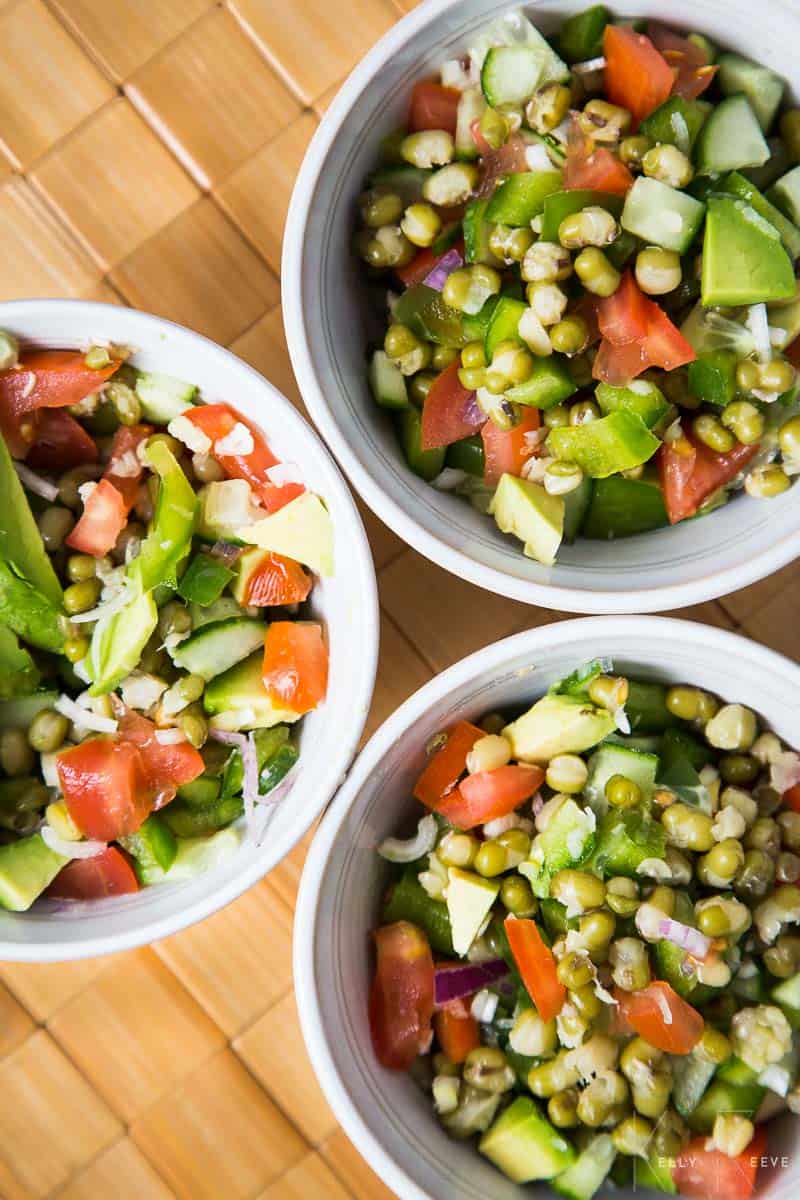 soaking mung beans
As this mung bean salad calls for dried mung beans, I will talk about how you can get your mung beans soft. Initially, I recommend soaking the mung beans in water for at least 6 hours or overnight in a large bowl. Do you know why people soak beans in water overnight? It helps removing those indigestible sugars which make our tummies bloat and hurt. Generally, it is recommended to leave the beans in cold water for up to eight hours. This ensures that the indigestible sugars are gone and thus the mung beans won't cause as much flatulence.
prepping the vegetables
The way you cut up your vegetables makes a big difference in terms of elevating your salad. Usually, I like to cut the vegetables in roughly the same size. This way the flavours of the veggies are distributed evenly throughout the mung bean salad. In addition to that, no one likes to chew on a big chuck of cucumber!
more veggies for vegans and vegetarians
If you are vegan or vegetarian then the mung bean salad is definitely for you! The beauty of preparing such a salad is, that you can literally throw in any vegetables you want and it will still taste delicious. Why don't you try blanching some broccoli and lightly pan frying some zucchini? If you feel like more of a crunch, then cut up some carrots for some sweetness. Speaking of sweetness, you can also go for pieces of corn. Do you see where I am going with this? You can take any vegetable and throw it in there. The choice is yours! Which ones did you go for? Drop a comment below.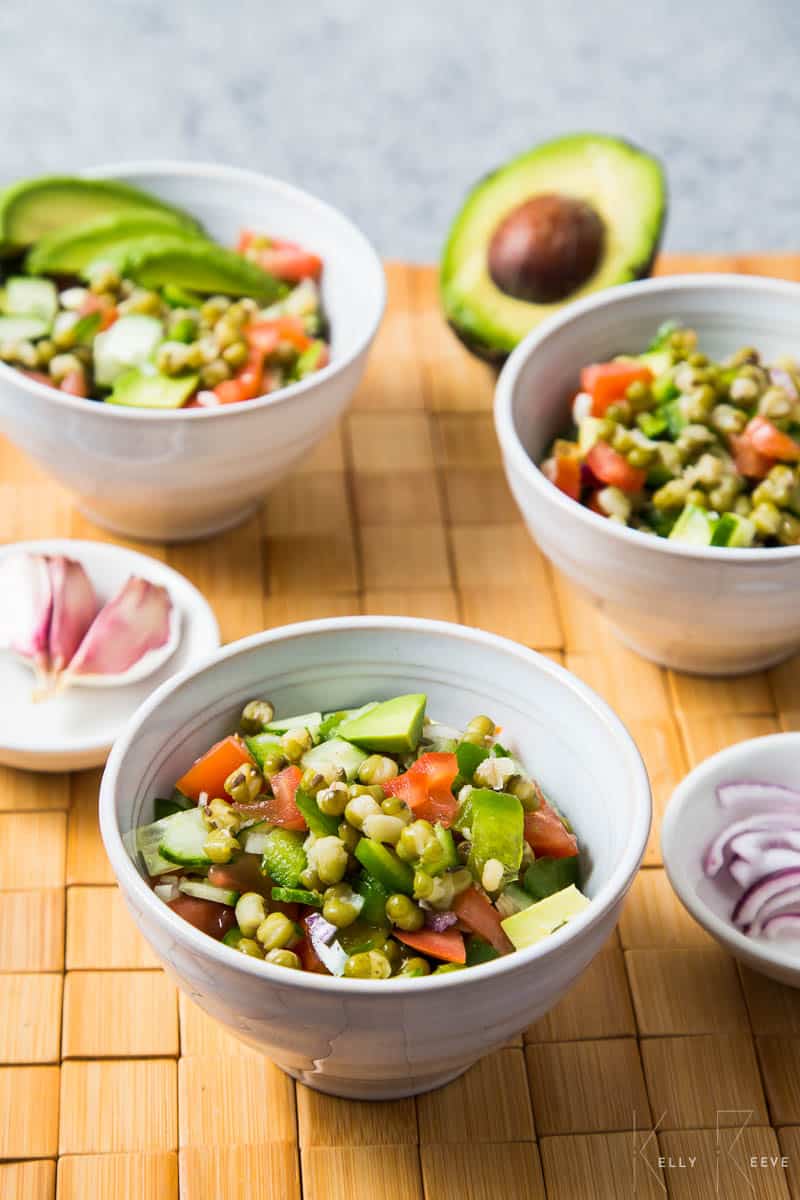 substitutes
Now, since mung beans are the filling element in this mung bean salad, you might want to think of similar substitutes. I also like using butter beans or kidney beans. Butterbeans are larger in size and have a sweeter and nuttier taste profile. I also have an alternative version of making a butterbean salad with avocado, pesto and pumpkin seeds. Broad beans are another alternative.
more carbs just not beans
Looking to stock up on carbs so this mung bean salad truly leaves you full? There are so many things you can add to make this salad enjoyable yet filling. First, why don't you try grains? Try quinoa, which is an excellent gluten-free substitute. I made something similar recently. I added grains and quinoa to a lovely salad and called it a healthy grain bowl. You can check out the original recipe here.
Print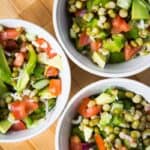 Mung Bean Salad
---
100

g

(1/2 cup) dried green mung beans

1

red pepper

1

tomato

1

avocado

1/4

cucumber

5

spring onions

5

ml

(1 tsp) sea salt

2.5

ml

(1/2 tsp) black pepper

2.5

ml

(1/2 tsp) ground cumin
Pinch of red chilli powder
Juice of

1/2

lime
---
Instructions
In a large bowl, soak the mung beans in water for at least 6 hours or overnight. The water should be about 2.5cm (1in) above the beans.
When soaked, drain the water, place the mung beans in a steamer and steam for 30 minutes until soft.
While the mung beans are steaming, chop the rest of the salad ingredients into small cubes and place in a serving dish.
In order to make the salad dressing, mix the salt, pepper, cumin, chilli and lime in a small bowl.
Remove the mung beans from the steamer, leave to cool and then add to the chopped salad.
Add the dressing, toss to combine, and enjoy straight away.
Prep Time:

15 minutes

Cook Time:

30 minutes

Category:

Salad

Method:

Steam

Cuisine:

indian
Nutrition
Serving Size:

1 serving

Calories:

158

Sugar:

3.6 g

Sodium:

544 mg

Fat:

10.3 g

Saturated Fat:

2.1 g

Carbohydrates:

15.7 g

Protein:

3.8 g
save the recipe to your pinterest board

A special thanks to Kelly Reeve for assisting with the recipe shoot.