Succulent cumin chicken skewers, marinated in delectable juicy pomegranate molasses, will have your guests asking for more on every visit…Pomegranate molasses is the syrup of the pomegranate fruit, prevalent in Arabic cooking it is sweet and sour and adding depth to every dish.
This has become one of the favourite condiments of our time and an essential ingredient in multiple cuisines due to its delightful zest and heady aroma. Its consistency and dark colour adds richness to the overall appeal of the dish. It is produced throughout countries of the Middle East; like Iraq, Iran, Syria and Lebanon.
A superfood with a lengthy, rich history the pomegranate can be traced as far back as 4000 B.C. This luscious red fruit grows from pretty little red flowers with a diameter larger than a lemon and smaller than a grapefruit. It has a white flesh with a thick skin filled with hundreds of seeds.
History of Pomegranate Molasses.
Traditionally, this fruit is a Middle-Eastern ingredient which is used particularly in Iranian, Lebanese and Turkish cuisine. A pure concentrated syrup made from the seasonal fruit commonly known as Pomegranate. The name Pomegranate originated from Latin - granatum which means "seeded" and pomum which means "apple". Some even say that the pomegranate was the real apple of Eve. Since then this fruit has evolved its way into multiple cuisines. It requires humid and Mediterranean types of climates. To preserve the perishable pomegranates Persian and Middle Eastern civilisations strained the juice and developed this syrupy Molasses.
It has been named in many ancient texts from the Book of Exodus in the Torah, the Quran, the Homeric Hymns, and Mesopotamian records, to name a few. The pomegranate originally came from Persia, or modern day Iran, and the western Himalayas. It has been cultivated for millennia in places such as Iran, Iraq, Afghanistan, Pakistan, India, Russia, and the Mediterranean region
The army of Xerxes carried spears with pomegranates on the tip (instead of spikes) when they invaded Greece in 480 BC.
The pomegranate became popular in the Middle Eastern civilisations 6000 years ago largely because its dense nutrition and juice provided sustenance for long journeys. The superfood status of the pomegranate has only grown in modern times as nutritional research has come to decipher and understand the true power of the pomegranate's phytonutrients. India's Ayurvedic medicine has used pomegranates as a source for traditional remedies for thousands of years. For example, the bark of the tree and the fruit rind is used to stem diarrhoea, dysentery, bladder problems, mouth ulcers, and intestinal parasites while the seeds and juice are considered a tonic for the heart.
It migrated as far east as China and Southeast Asia and was found along the Silk Road as a symbol of abundance and posterity. It is also grown extensively in Korea, Japan and Latin America, having been introduced there by settlers or traders.
As the pomegranate made its way to Europe, it had become more of a symbol than a food and was portrayed regularly in art, literature, religion, and mythology. Eventually, the western cultures have come to value the pomegranate for its medicinal properties, and it was featured in heraldry, being found on the heraldic crests of many medical institutions including the British Medical Association.
What does it taste like?
Although the name suggests, it does not taste like molasses. However, the consistency can be as thick as molasses or could be thinner and towards a lighter brown. It tickles the sweet and sour taste buds and is a little acerbic. It does have a tang to it as there is no sugar added due to the sweetness of the fruit itself.
Pomegranate syrup is a fragrant type of molasses produced by boiling pomegranate juice into thick treacle. It is often used in Middle Eastern cooking since it is prized for bringing a robust sourness to dishes, especially those involving duck or chicken. Although it is not commonly found on supermarket shelves, it is readily available to buy online in most countries, and more health food stores are starting to sell it as well. As with most molasses, it lasts indefinitely and is not prone to spoiling.
It is not a common ingredient in the Western kitchen, so you're likely to surprise many guests if you choose to use it – especially if you make it yourself, which ensures that the molasses are extra fresh and tasty!
Which cuisines is it used in?
More than just a nutritious food source, the pomegranate was an integral part of many cultures.
Pomegranate Molasses is a hallmark ingredient of the Persian, Arabic and Turkish cuisine as it is versatile and delicious. It can be easily incorporated in other cuisines as well with its sweet – tart like flavour. It complements roasted meats and vegetables, combines well with walnuts, adds pungency to beans, brings out the flavour of poultry, acidises fish, adds a unique tanginess as a salad dressing and can even be used in sorbets and drinks.
Pomegranates are rich in vitamin C, pantothenic acid, potassium, flavonoids, and other natural phenols such as ellagitannins, a powerful antioxidant. The pomegranate also has unsaturated oils, fibre, and many additional micronutrients, if you eat the seeds. The seeds in their casings, or arils, are the most desired part of the pomegranate, and they are consumed raw.
5 Things you can do with Pomegranate Molasses.
Throughout history the pomegranate had many uses, including the fruit as food, the juice as a tonic to kill parasites, the blossom was crushed to make a red dye, and the peel was used to dye leather.
Whisk it into your Salad Dressings: An apt substitute for lemon juice or balsamic vinegar. Spruce up your vinaigrettes with the use of molasses and enjoy the sweet and slightly acidic flavour added to the salads. It complements salads with fresh herbs like mint, coriander or parsley and grain based salads; incorporating brown rice, quinoa and couscous.
Stir up your Cocktails & Mocktails: It is a great ingredient for making a mocktail or a cocktail without adding too much sweetness. Pomegranate juice is sweetened and thickened to make grenadine syrup for cocktails. Stir it straight into a glass of sparkling water to get a refreshing drink or add it to the poison of your choice to get a sharp finish
Brush it on your meat and veggies: In the North of Iran, it is used as a meat tenderiser. It gives a good dose of acidity to glazes and marinades. A simple marinade of olive oil, yoghurt, pomegranate syrup, garlic, salt and pepper and a hint of oregano can do wonders for any meat of your choice be it beef, lamb, chicken or duck. Try these finger licking pomegranate and cumin chicken skewers for dinner tonight, for the full Mediterranean experience serve it with pomegranate couscous salad.
Whiz it into Relishes and Dips: Add it to any Mediterranean dip like hummus or baba ganoush giving new depth and zest to your dip.
Ice-cream or sorbets: Get an ideal Middle Eastern dessert in the comfort of your home by just pouring the sauce over a scoop of vanilla ice cream.
Throughout most of recorded history, our ancestors have had high regard for the pomegranate. It's immune-boosting phytonutrients have shown to be an effective tool in preventing degenerative and inflammatory ailments such as cancer, heart disease, and arthritis
Current research underway includes studies on how pomegranate components affect diseases such as diabetes, cancer, rhinovirus, the common cold, coronary artery disease, kidney disease, and brain injury.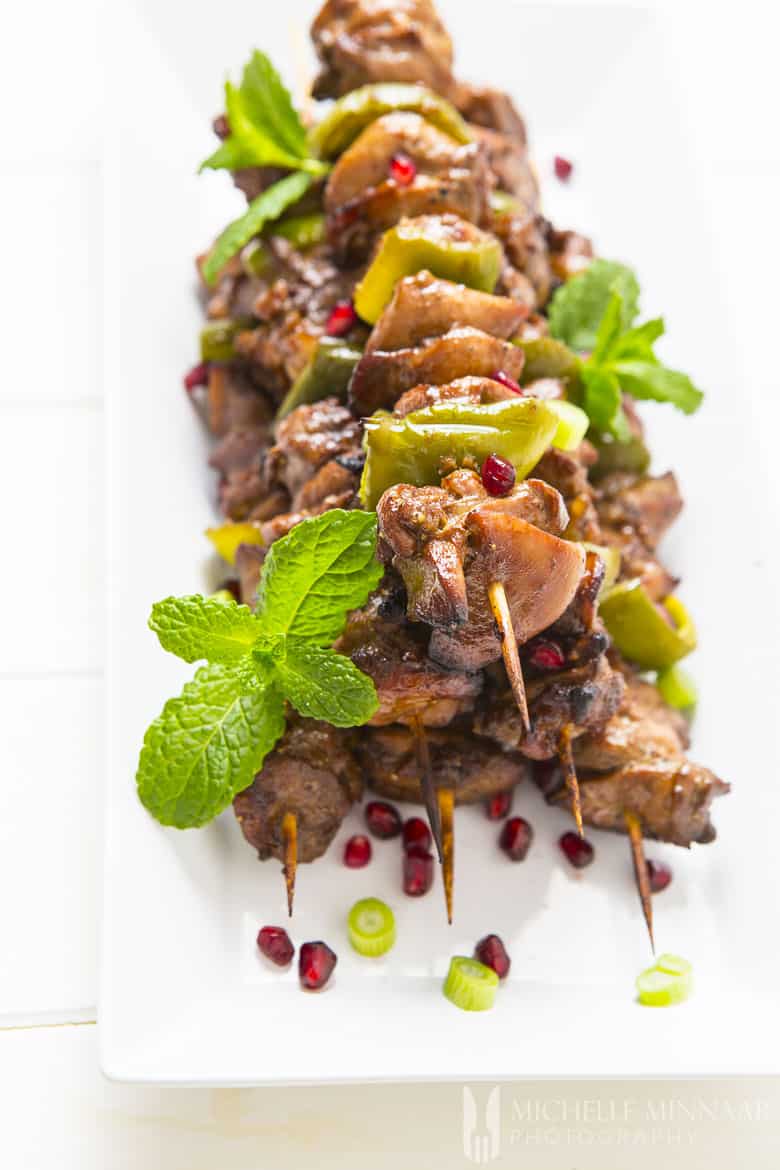 So add this delightful condiment as a staple to your kitchen storage and enjoy its richness to the fullest.
Print
Pomegranate & Cumin Chicken Skewers
---
60

ml

(4 tbsp) pomegranate molasses

60

ml

(4 tbsp) olive oil

15

ml

(1 tbsp) ground cumin

5

ml

(1 tsp) sea salt flakes

1

kg

(2lbs) boneless and skinless chicken thighs

2

green peppers, cut into square chunks
---
Instructions
In a large bowl, mix together the pomegranate molasses, oil, cumin, salt and pepper until well combined.
Cut the meat into square chunks and thread onto wooden skewers, alternating with green pepper.
Place the chicken skewers in a single layer in a tray and pour over the marinade, making sure every part of the meat is covered.
Leave the chicken the marinate for at least 4 hours, preferably overnight.
Barbecue the skewers over moderate coals, or grill in the oven, turning frequently, for 25 minutes, or until cooked.
Notes
Serve with Pomegranate Couscous Salad.
Prep Time:

30 minutes

Cook Time:

30 minutes
Nutrition
Serving Size:

1 serving

Calories:

309

Sugar:

6 g

Sodium:

267 mg

Fat:

16.9 g

Saturated Fat:

2.8 g

Carbohydrates:

8.3 g

Protein:

32.8 g

Cholesterol:

141 mg
save the recipe to your pinterest board