You might recognise salt and chilli chicken from the menu of Chinese restaurants. With this salt and chilli chicken recipe, you will be able to recreate this simple yet tasty dish, fresh at home.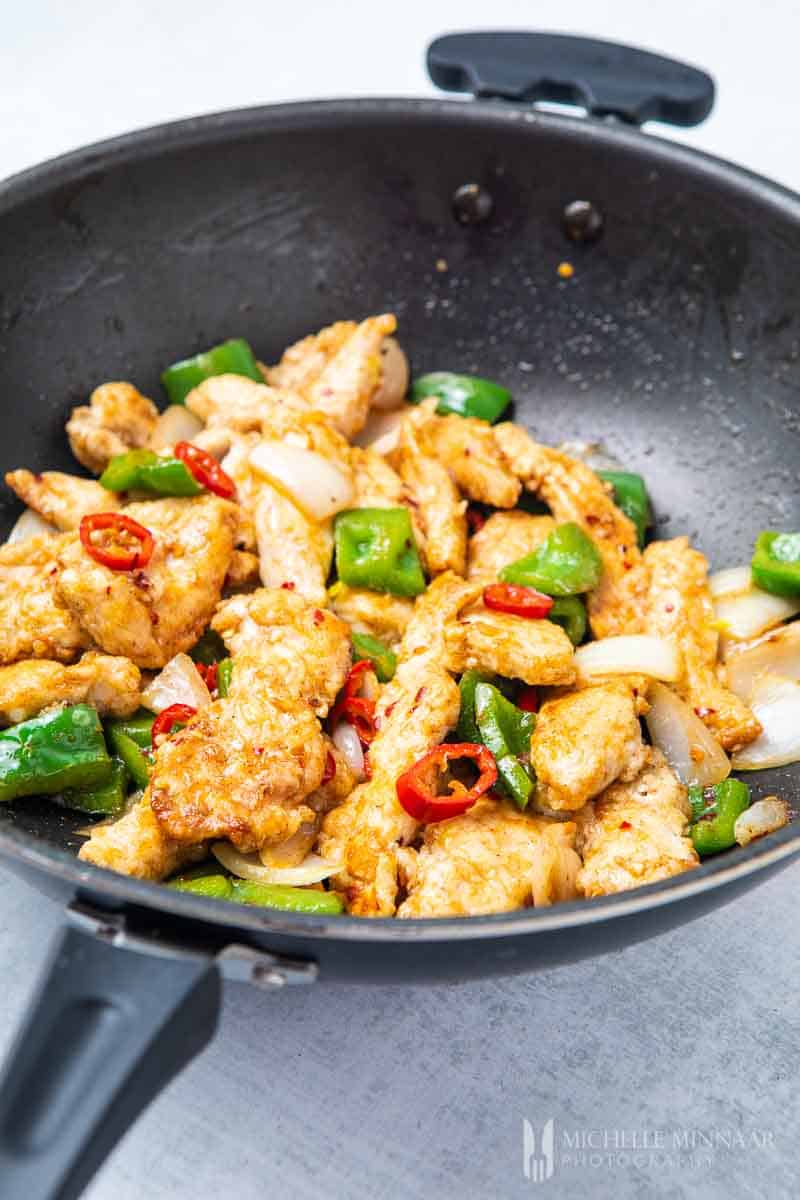 It is an easy everyday dish, however that doesn't mean it's boring. In fact, salt and chilli chicken is a vibrant, flavourful plate of food that the whole family will enjoy. I love recipes that give me a tasty meal with little preparation time all in one wok, for those busy weekdays.
Salt and chilli chicken is just such a dish. You can prepare a delicious meal in only about 30 minutes. Once you learn it, I am sure that salt and chilli chicken will be a regular part of your repertoire, too.
products you need for this recipe
Here is a list of products which you'll need to make this favourite Chinese recipe:
salt and chilli chicken stir fry recipe
A good salt and chilli chicken consist of three elements. The chicken itself, which needs to be deep-fried. Secondly, the vegetable stir fry on which the chicken is served. Finally, the rice to be served with it.
The original salt and chilli chicken stir fry is a very simple one with only onion, chilli and green peppers. In my version, I have stuck to this traditional combination. That being said the stir fry is where you can really put your own spin on the salt and chilli chicken.
The spice mix consists of 5 essential spices:
If you don't want to make your own salt and pepper seasoning, you can buy it online.
You can add any vegetables to the stir fry you like. I recommend in particular, sugar snap peas, mushrooms, or bamboo shoots to keep to the Chinese flavours.
Other suggestions are red peppers, thinly sliced carrot, or courgette. Small florets of broccoli or chopped up baby corn are also nice additions.
Adding more vegetables is also a great way of making the dish more filling, without adding more meat. For more inspiration have a look at my Chinese mixed vegetable stir fry.
You can even serve this dish with Salt and Pepper Spring Rolls, Salt and Pepper Chips or Salt and Pepper Tofu!
If you're unsure what to make, you can't go wrong with a classic like my Hong-Kong style sweet and sour chicken recipe!
how to keep the chilli chicken juicy
For this salt and chilli chicken I am using chicken breast cut into strips. Chicken breast is the leanest part of the chicken, which means it can easily become dry if not treated correctly. In this case, deep-frying the chicken strips helps to contain the moisture in the meat.
If you want to be sure to have the juiciest chicken possible, you can try brining it. Brining means to marinate the chicken in a sort of salt marinade that helps to keep the chicken juicy.
I have used this technique with success a number of times, and you too can learn all about it in my ultimate chicken brining guide. Alternatively, you can use chicken inner fillet, which you take from the inside of chicken thighs.
This cut of meat is not quite as lean as the breast. Therefore, it does not end up getting dry as easily as the breast.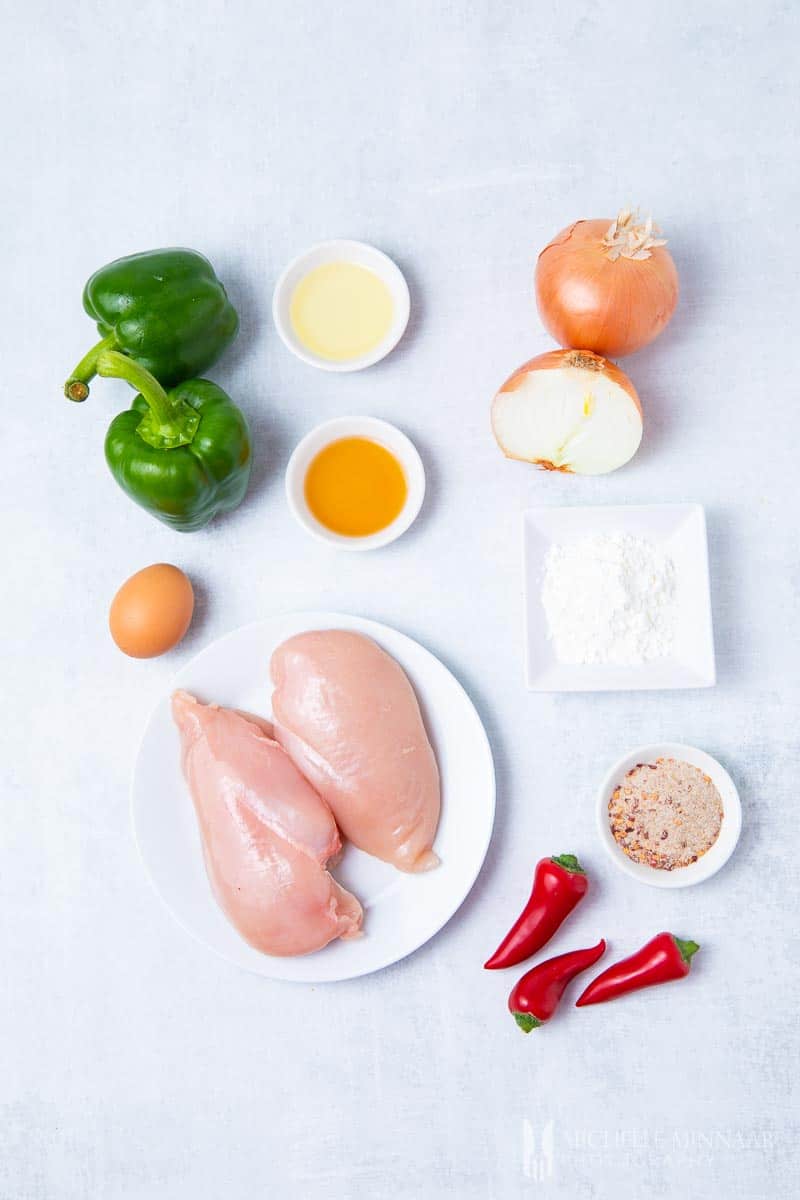 salt and chilli chicken wings
A fun variation of salt and chilli chicken is to make the dish with chicken wings instead. The process is otherwise the same. Again, for extra tenderness you can brine the chicken wings before starting. Brined chicken wings are even quite good on their own. Check out my recipe here you could also try chicken thighs.
If you opt to go with the chicken wings, just remember that they will need a little longer to cook. Furthermore, if you brine the chicken before cooking the salt and chilli chicken, hold back on the salt for the spice mix. The chicken will already have absorbed some salt from the brine, so it is a good idea to use less salt for the spice mix.
Making this recipe with chicken wings is a good way to get your kids to try it out. Somehow eating with your hands is just a bit more fun.
spicing
Unlike many other Asian dishes, this one is made without the use of fresh herbs. The spice mixture itself consists only of dried and ground spices. If you can't get enough kick in your food you can add more chilli to the mixture.
Alternatively, use extra-hot ground chilli powder instead of chilli flakes. For a more oriental aroma add a pinch of cinnamon or cardamom to the mixture.
You can also consider these Aleppo pepper substitutes as well as these chilli powder substitutes.
A tip is to make a larger portion of spice mixture and store it in an airtight container. This way you already have some pre-made for next time. In addition, you can use the salt and chilli spice mixture to make a vegetable stir fry or as seasoning for meat.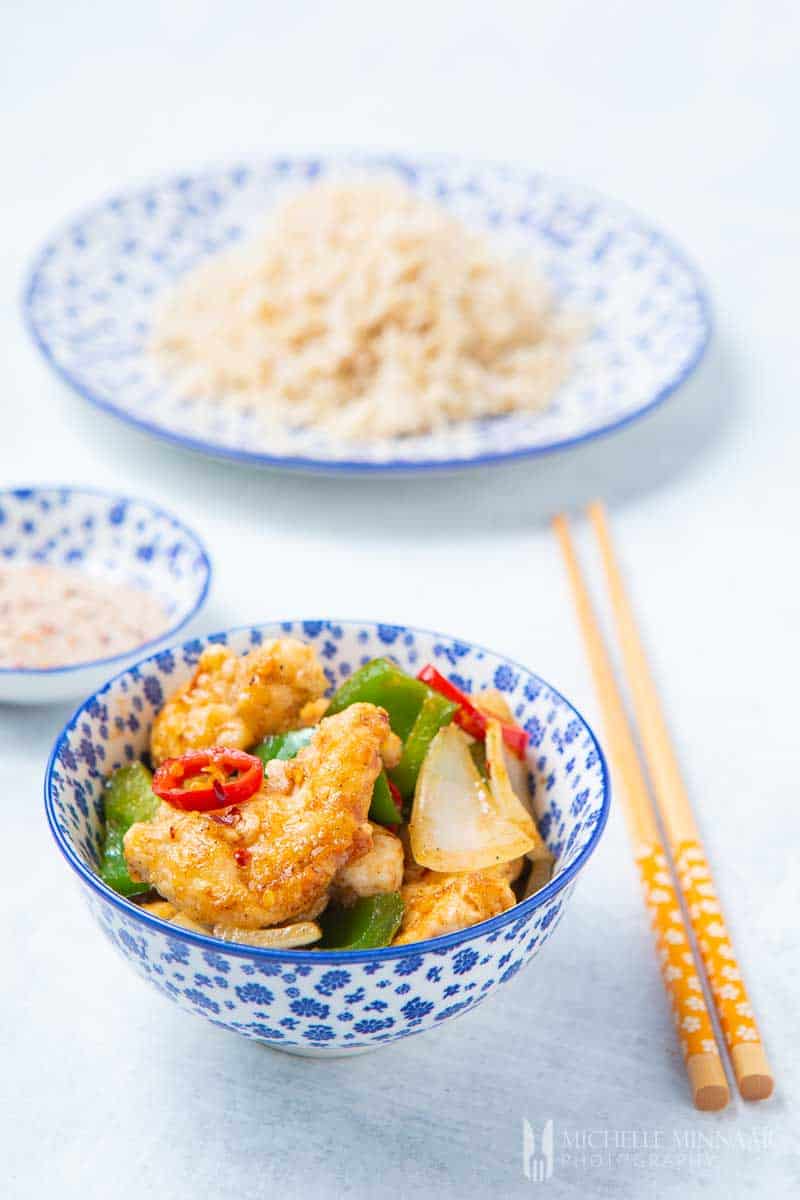 what to serve with salt and chilli chicken
In my opinion it is best to stick to the original version of salt and chilli chicken when it comes to serving. This means serving the chicken stir fry with white rice.
Use a good quality basmati rice and if you have a rice cooker then even better. For a bit of extra flavour put a little bit of vegetable stock in the boiling water, and give the rice a faint herbal aroma. Plain white rice is of course also an option.
If you don't feel like rice, you can also serve the meal with noodles. Choose from normal egg noodles, the thin, clear glass noodles, or even fried noodles. Moreover, if you want to eat the dish using chopsticks, noodles are much easier to handle!
toppings
Although I didn't use any fresh herbs in the cooking, it doesn't mean that you can't top off the finished dish with a touch of green.
Fresh coriander is of course an ever-welcome addition to Asian food. If you find the flavour a little too dominant for the salt and chilli chicken, there are some alternatives.
My favourite topping is actually finely chopped tops of spring onion. The green tops give a lovely freshness to the dish without overpowering it.
Other Asian chicken recipes
I hope that the salt and chilli chicken whets your appetite for other Asian chicken dishes. If so, you can have a look at this sweet chilli chicken stir fry or my Hong Kong style sweet and sour chicken. There are a lot of possibilities and many delicious meals to be had.
If you love Salt and Chilli Chicken, then you'll love Salt and Pepper Chips!
Print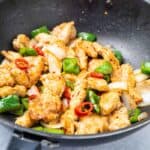 Salt and Pepper Chicken
---
Description
Learn how to make salt and pepper chicken and never order Chinese takeaway again! Read about the possible variations and how to serve this chilli chicken.
---
Salt and Chilli Chicken
500g

(1lb) chicken breasts, cut into thin strips

2

egg whites, whisked

60

ml (4 tbsp) corn flour
Oil, for frying

15

ml (1 tbsp) vegetable oil

1

large onion, peeled and cut into bite-sized chunks

2

green peppers, washed and cut into bite-sized chunks

2

red chillies, washed and thinly sliced

30

ml (2 tbsp) rice wine

5

ml (1 tsp) salt and pepper seasoning
---
Instructions
Mix all the ingredients and store in an airtight container.
Dunk the chicken in the egg white, then corn flour before deep frying.
Remove the chicken pieces from the heat and drain on kitchen towel.
Heat the oil in a wok and fry the onion, green pepper and chillies for 3 minutes.
Pour in the rice wine and let it sizzle for 2 minutes while continuing to stir.
Add the chicken to the stir fry and season with the salt and pepper seasoning.
Serve immediately with rice. Enjoy!
Notes
If you want to have your chicken to have a thick coating, use more egg and cornflour.
Alternatively, you can shallow fry the chicken with less crispy but slightly healthier results.
Feel free to add more of the seasoning if you prefer, but remember it's quite salty!
If you don't want to make your own salt and pepper seasoning, you can buy it online.
Prep Time:

15 minutes

Cook Time:

15 minutes

Category:

Dinner

Method:

Stir Fry

Cuisine:

Chinese
Nutrition
Serving Size:

1

Calories:

414

Sugar:

6.8g

Sodium:

1244mg

Fat:

18.2g

Saturated Fat:

4g

Carbohydrates:

18.4g

Fiber:

2.4g

Protein:

44g

Cholesterol:

111mg
Keywords: salt and chilli chicken, Chinese chicken recipe, how to make salt and chilli chicken tutorial, salt and pepper chicken
save the recipe to your pinterest board