Made with simple ingredients and incredibly easy to make at home, salt and pepper seasoning is a spice mix that brings amazing flavor to your favorite dishes.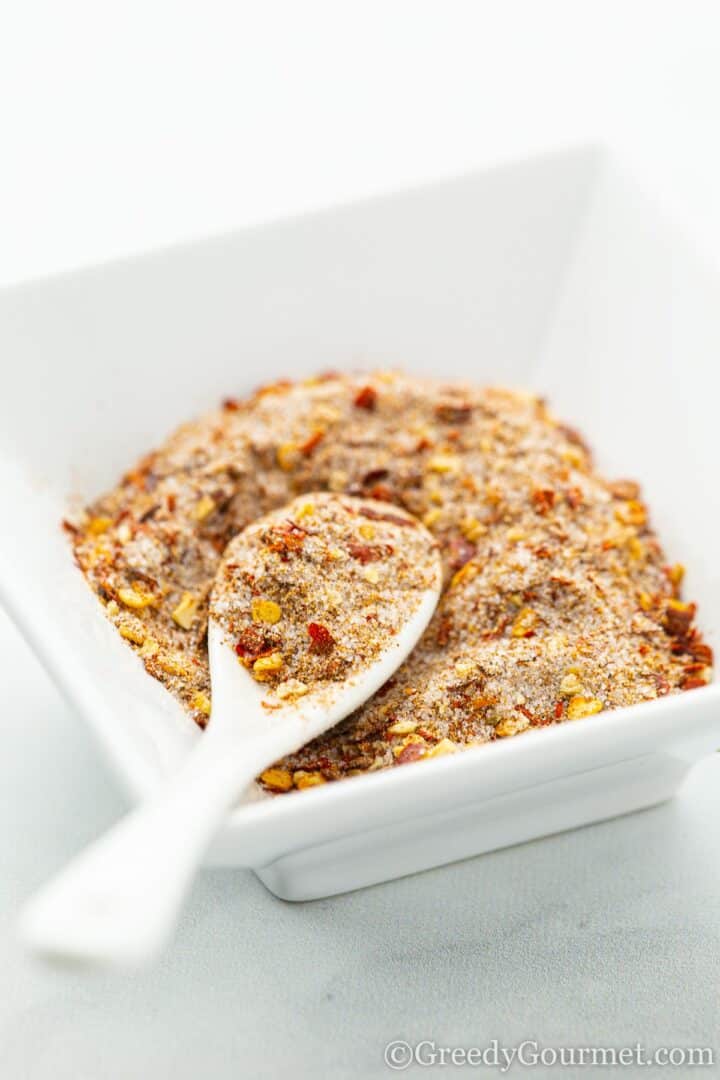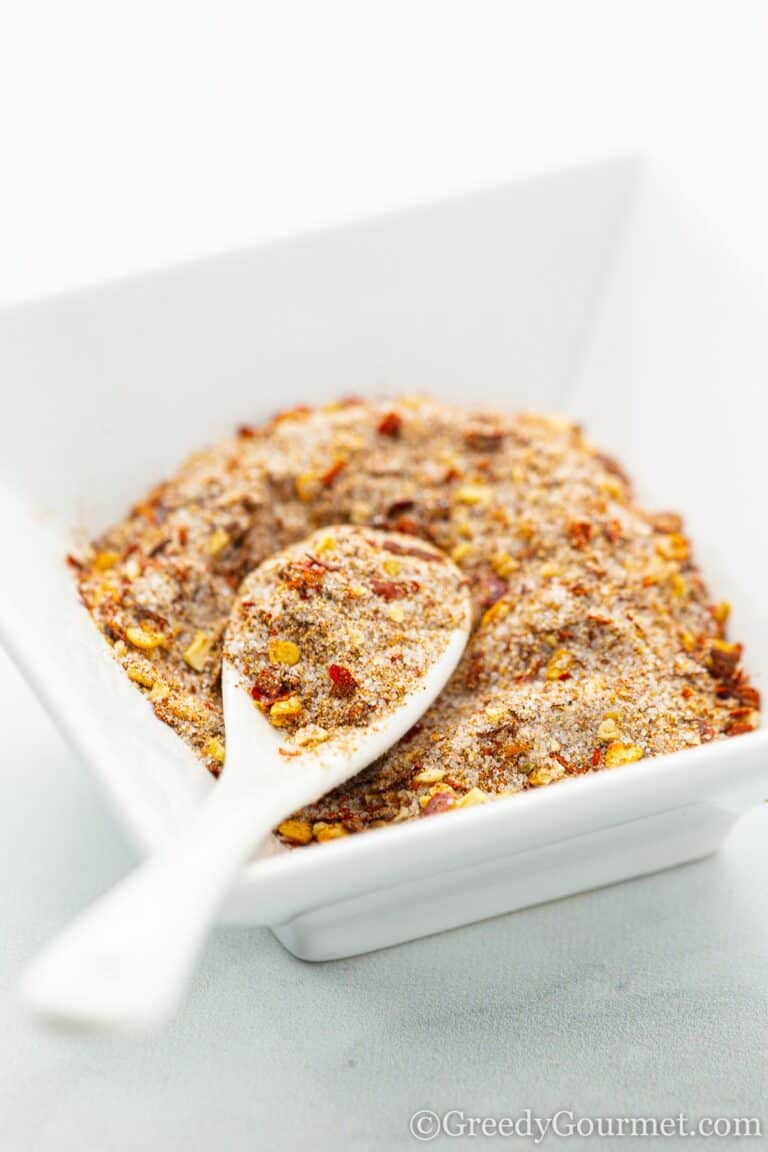 Let's find out how to make this traditional Chinese spice blend that has become a huge hit on the British takeaway scene.
Products you need for this recipe
Spice jars – these individual spice storage containers will keep your spices fresh for longer
Storage container – if you want to make a large batch, you'll need to storage it in an airtight storage container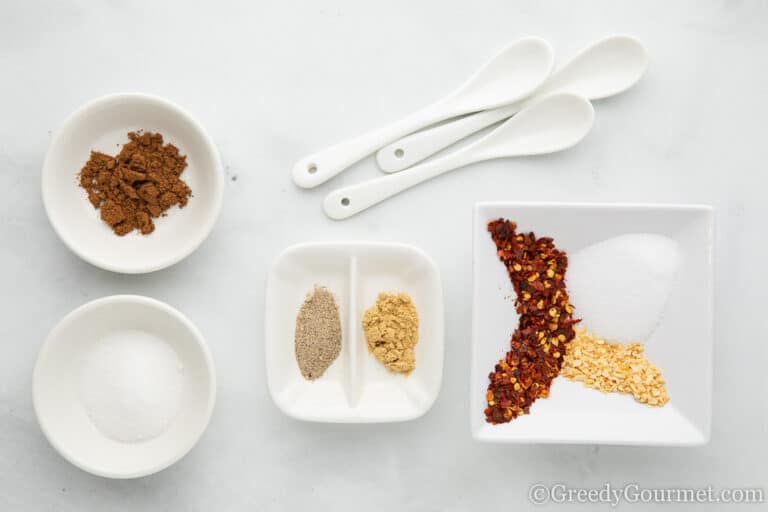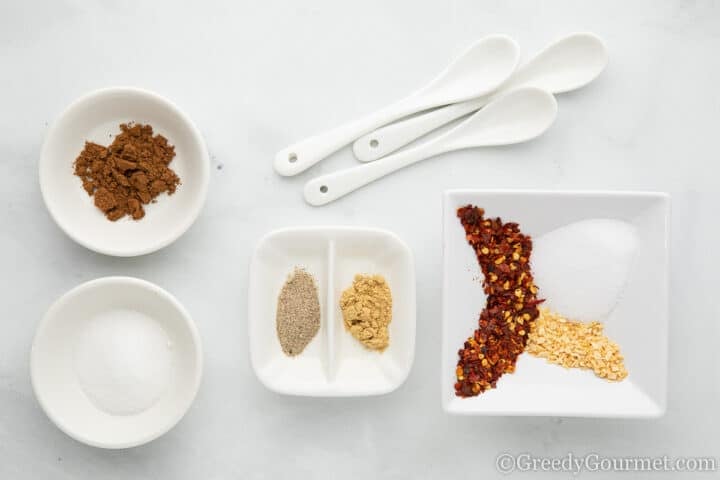 What is salt pepper seasoning?
It's a fantastic spice mix that brings a whole load of flavor to your favorite takeaway dishes. Popular across the whole of England, most notably Liverpool where salt and pepper chips came into fame, as well as Scotland, it has been used in takeaway dishes since the 1960s.
You'd be mistaken for thinking it was just some salt and pepper thrown together. I mean, what's so special about that?
Trust me though, this stuff is amazing! It's made up of salt, chilli flakes, pepper and a selection of other spices and the result is delicious. Use it once and you'll cook with it all the time.
No more unhealthy takeaways! Make your own homemade dishes that taste delicious and are much healthier.
What ingredients are in salt pepper seasoning?
There are a few variations to salt and pepper seasoning, but at its most traditional it contains sea salt, ground white pepper, Chinese five spice, crushed chilli flakes, garlic powder, ground ginger and caster sugar.
These simple ingredients are an enticing blend of sweet, spicy and savory. The flavour combination is absolutely amazing when paired with traditional Chinese takeaway dishes like crispy chicken, prawns or spring rolls. 
Another thing – my tasty homemade recipe doesn't contain MSG, unlike the stuff you'll find in the shops.
What is Chinese five spice?
It's a wonderful spice blend that contains cinnamon, star anise, cloves, Sichuan pepper and fennel seeds. 
Earthy, warm, toasty and slightly sweet with a mild spiciness, Chinese five spice works wonders when used in small amounts to bring big flavours. 
Chinese five spice was originally used as a medicine. The Chinese believed that it could be used to balance yin and yang, with each of the five spices playing a key role in balancing the cool yin with the heat of the yang.
It was soon integrated into Chinese cuisine and also spread to Taiwanese and Vietnamese cuisines.
How do you make salt and pepper blend?
It's so simple. You just gather the ingredients, mix them together and place them in an airtight container. That's it!
What diets is this seasoning suitable for?
It's suitable for most diets, including gluten-free, vegan, vegetarian and keto.
How do you store salt pepper seasoning?
You can store it in a spice storage container. You can also make a larger batch (just double or triple the measurements below) and store it in a larger air tight container.
How long does it last?
As long as your spice ingredients are relatively fresh and you store your spice mix in an airtight container, it will last for up to a year.
Variations on this recipe
If you want a little extra heat, try adding a teaspoon of chilli powder into the mix. You can also use one of these chilli powder substitutes.
If you want to bring an extra earthiness to the mix, swap the white pepper for Aleppo pepper. Again, you can also use one of these Aleppo pepper substitutes.
How to use salt pepper seasoning
There are so many ways to use this wonderful seasoning. Fry some crispy chicken, prawns, onions, peppers or any fresh fish with a sprinkle of this spicy mix and you'll have a wonderful dish.
You can oven bake chicken wings marinated in this chilli spiced mix for an excellent party snack food.
This spice mix recipe can also be used to season soups, sauces and stews. For me, when it comes to the best recipe, two stand out way above the rest.
Salt and pepper spring rolls
Simply cook the spring rolls first according to package instructions. Lace with this spice blend and you're good to go. Click on this salt and pepper spring rolls recipe!
Salt and pepper chips
A hugely popular takeaway dish in the UK, particularly Liverpool, where it was first served. The spicy seasoning powder is added to onions, peppers and cooked chips for a tasty takeaway dish. 
Check out my homemade salt and pepper chips recipe!  
Salt and pepper chicken
A Chinese takeaway favourite with some incredible flavour, this is comfort food at its best. Tasty strips of chicken sautéed with onions, peppers and this spicy flavour mix. Absolutely divine!
Want to make your own? Don't miss my salt and pepper chicken recipe.
Salt and pepper tofu
For all the vegans out there, this salt and pepper tofu recipe is not to be missed!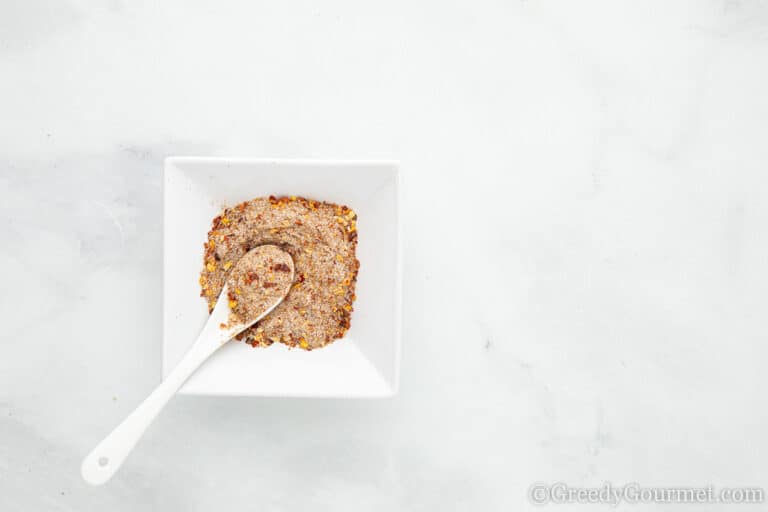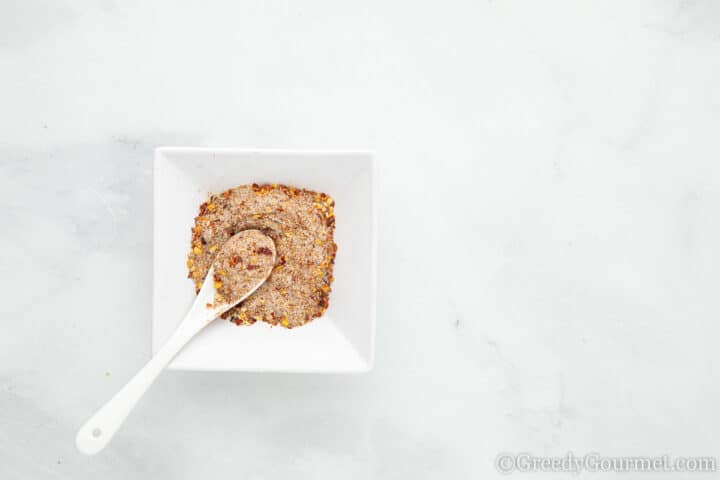 Wine pairing
Cooking with this spiced mix will bring some great flavours, but how do you complement those flavours with a delicious wine?
Here are my tips for the best wines to pair with this recipe:
Red pinot noir
A round, full bodied red pinot noir would work wonderfully well with the spices in this recipe, particularly the clove and cinnamon notes in the 5 spice mixture.
Riesling
An off-dry white wine like a Riesling makes a perfect pairing with spicy food. The slight sweetness helps to tone down the heat from the earthy spices.
French chardonnay
An oaked, full body French chardonnay is ideal for a lightly spiced dish. The barrel ageing brings extra character to the wine, which can include woody spiced notes, including cinnamon.
More Asian recipes
What's your favourite food on the menu of an Asian takeaway? The one you go to every time? Well, why not cook your own homemade version? Have a look at my favourite Asian recipes and take your pick!
Print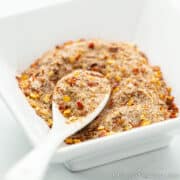 Salt and Pepper Seasoning Recipe
---
Description
Use simple everyday items from your kitchen to create Salt and Pepper Seasoning that is fresh & healthier than anything store bought. 
---
15

ml

(1 tbsp) salt

7.5

ml

(1/2 tbsp) caster sugar [optional]

2.5

ml

(1/2 tsp) Chinese 5 spice

10

ml

(2 tsp) crushed chilli flakes

2.5

ml

(1/2 tsp) garlic powder

1.25

ml

(1/4 tsp) ground ginger

1.25

ml

(1/4 tsp) ground white pepper
---
Instructions
Mix all the ingredients and store in an airtight container.
Prep Time:

5 minutes

Cook Time:

0 minutes

Category:

Seasoning

Method:

Grind

Cuisine:

Chinese
Keywords: salt and pepper seasoning, chinese salt and pepper seasoning, how to make salt and pepper seasoning, salt and pepper, salt n pepper, chip spice