These Salt & pepper chips, also known as Salt and Chilli Chips, are what you order for a Chinese takeaway. This fantastic recipe is classic British takeaway fusion food at its finest.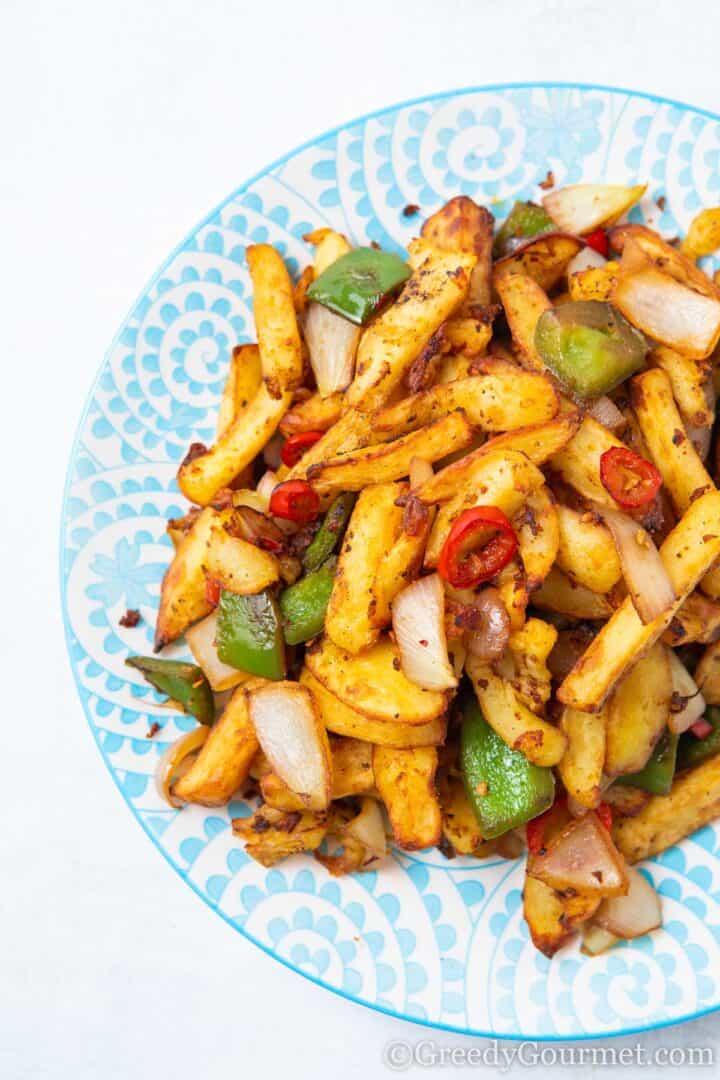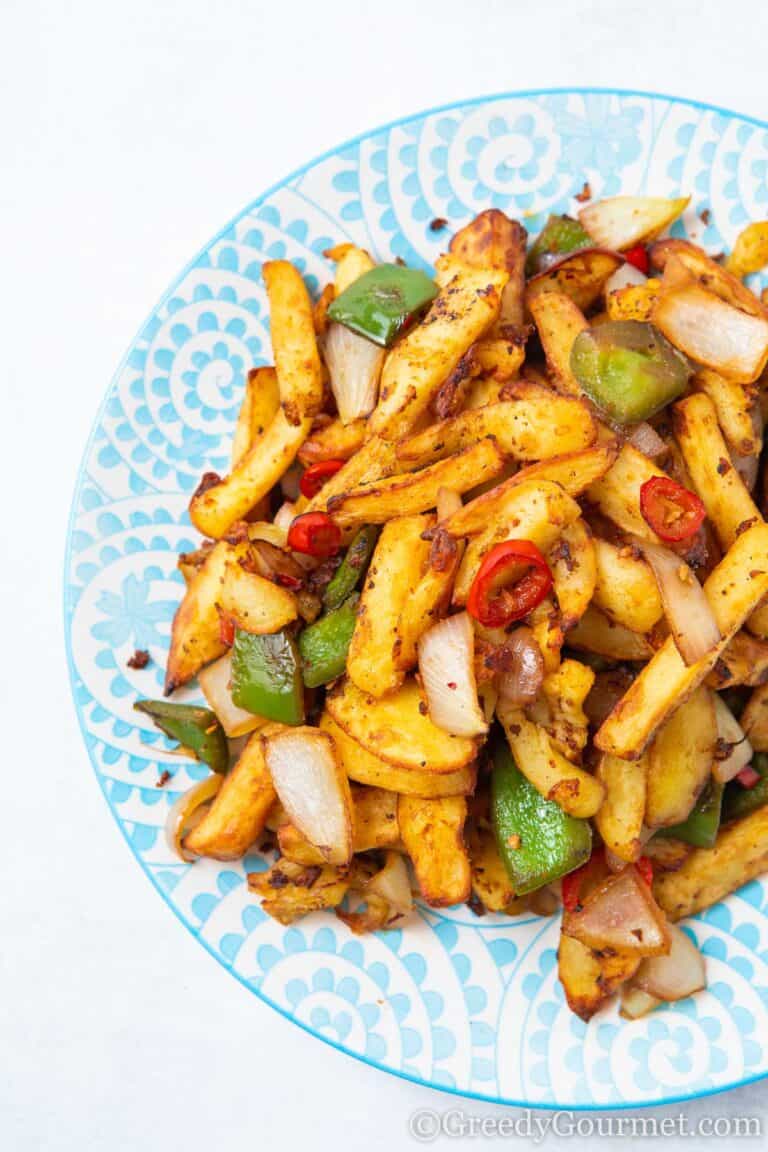 Sweet, salty and savoury all at once, just one taste of these chilli chips and you'll feel like there's a party going on in your mouth. Forget your local takeaway – make this in your own kitchen! Here's how...
Products you need for this recipe
There are a few pieces of kitchen kit that will make this recipe extra easy and extra special: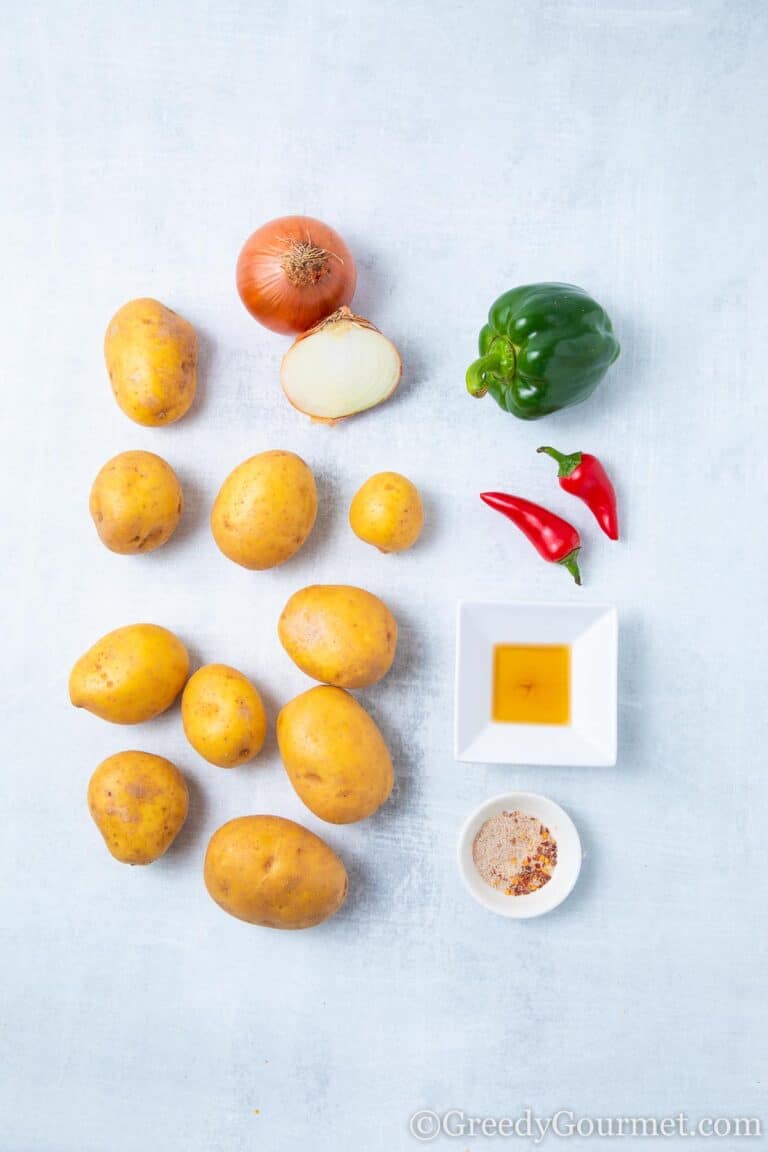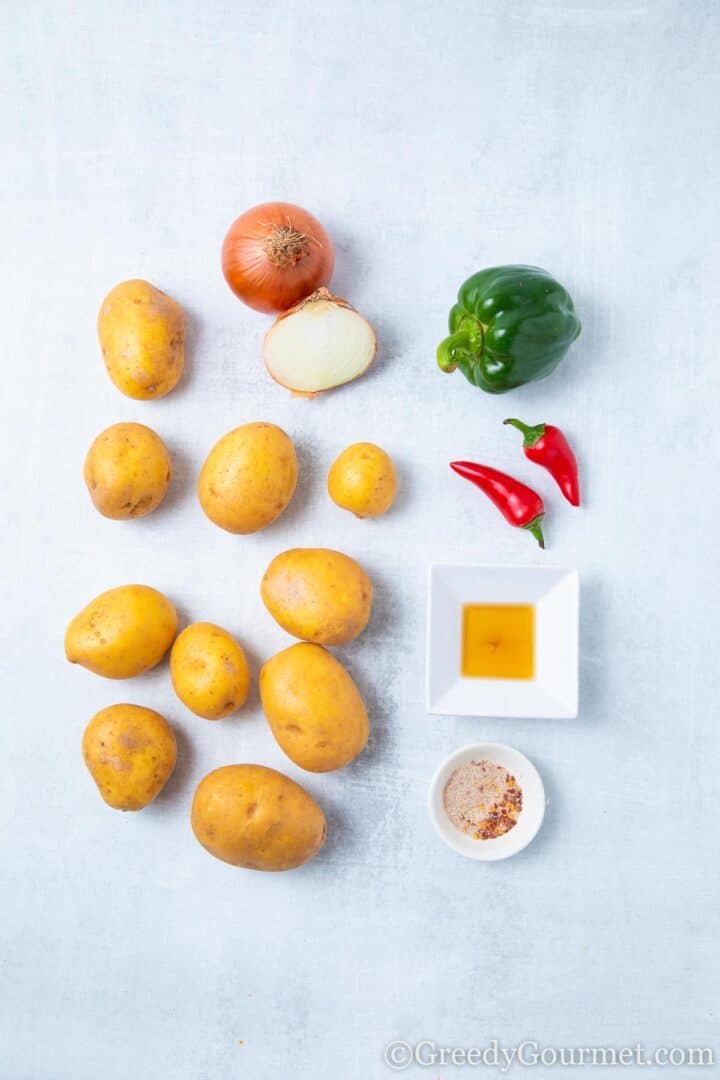 What's in salt and pepper seasoning mix?
Where does this dish come from?
Salt & Pepper Chips are the perfect example of a gift from the gourmet gods resulting from two very different cuisines coming together.
Invented in Chinese restaurants in Liverpool, where it's as popular as the Beatles and Steven Gerrard combined, this dish is a culinary favourite served across the whole city in the many Asian-inspired chip shops. You'll find this classic side-dish inside any Chinese restaurant in Liverpool.
 
The dish came to popularity thanks to the waves of Chinese immigrants who settled in Merseyside from the 1960s onward, bringing with them cooking traditions and specific flavours that would quickly influence local dishes. The best Chinese restaurants can be found in Liverpool.
Salt 'n Pepper Chips is, without doubt, the most popular Asian-inspired dish in Liverpool. They can be found all across the supermarkets of the UK, including Iceland salt and pepper chips. Its popularity spread way beyond the city, particularly across the North of England, where good old fashioned chips have always been a staple.
One of the earliest chippies to make salt and pepper chips – and some say still one of the best – is Chris's Chippy. The owners claim that their special salt and chilli chips recipe was created by a Chinese master chef in the late '60s.
Now instead of buying a Chinese salt and pepper box you can make your own.
What's the best way to cook chips?
When it comes to the perfect chips, we all have our own personal preferences. Here are a few different methods you could use to get those lovely golden brown chips. 
Oven bake
Straightforward and healthier than other methods, oven baked chips are a good way to go. If you want to keep things easy, use frozen oven chips. You can also make homemade chips – parboil them for 3 minutes beforehand, for best results.
Preheat your oven to 220ºC/428ºF then spread the oven chips evenly on a baking tray lined with greaseproof paper, or on a mesh tray.
Bake for 15–20 minutes or until beautifully golden brown, turning halfway through the cooking time.
Deep fry
Okay, it may not be the healthiest way to go. Still, for out and out indulgent fast comfort food, few things match deep fried chips. 
For the perfect deep fried chips, fry for around 10 minutes at a temperature of 130ºC. Remove and set aside to drain on kitchen towels. Then, turn the heat up to 190ºC and fry for a further 5 minutes. Remove and drain again on kitchen towels.
Air fry
The perfect balance of healthy and delicious, air frying chips is an excellent method and my personal recommendation. Air fryers are so easy to use and you'll end up with beautifully crispy chips, with minimal grease. 
To cook your salt and chilli chips in the air fryer simply follow the manufacturer's instructions. It should only take around 12–15 minutes.
How do you store salt and pepper chips?
Cooked chips should be eaten straight away. Let's face it… there are few things worse than yesterday's dry, tasteless reheated chips.
So, forget storing these salt and pepper chips for the next day. They are far too good for that. Think about the portion sizes you'll need before you cook them, to minimise waste and maximise taste!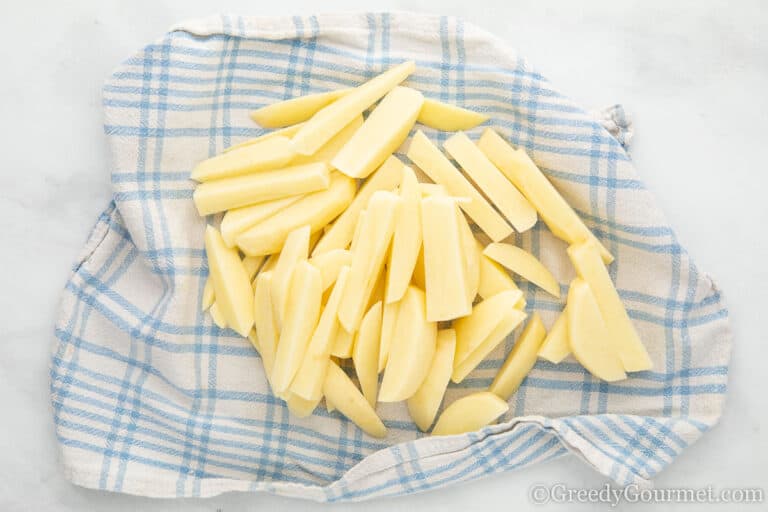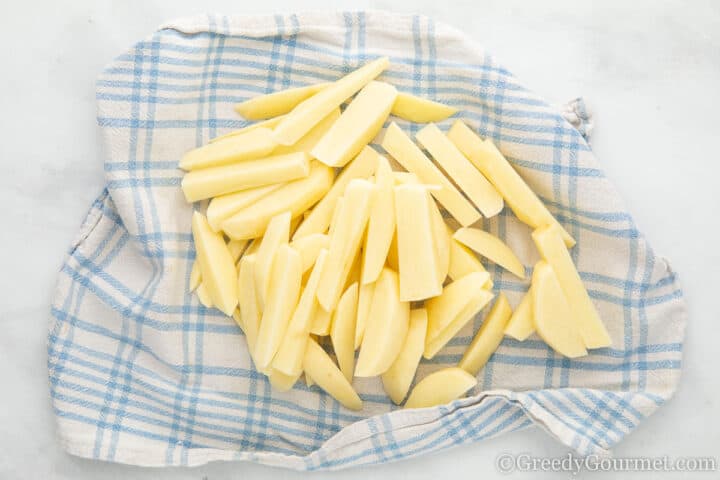 Tips for the best salt and pepper chips
While it might seem like fast, no frills food, the secret to the perfect salt and pepper chips lies in the detail. Get each of these points right and you'll be in heaven!
You can use skinny fries with this recipe, but for best results it's chunky chips all the way!
Evenly coated chips are important, so make sure you give the frying pan a good shake after you've coated the chips
Make sure you use my recipe for chilli pepper seasoning for the perfect spicy flavour
There's no getting around it – deep fried chips taste amazing, but invest in an air fryer for a healthier way to make chips
These salt and pepper chips demand to be eaten straight away. You can technically reheat them in the air fryer or in the oven, but just don't!
Freeze an airtight container of pre-diced chillies and onion to use next time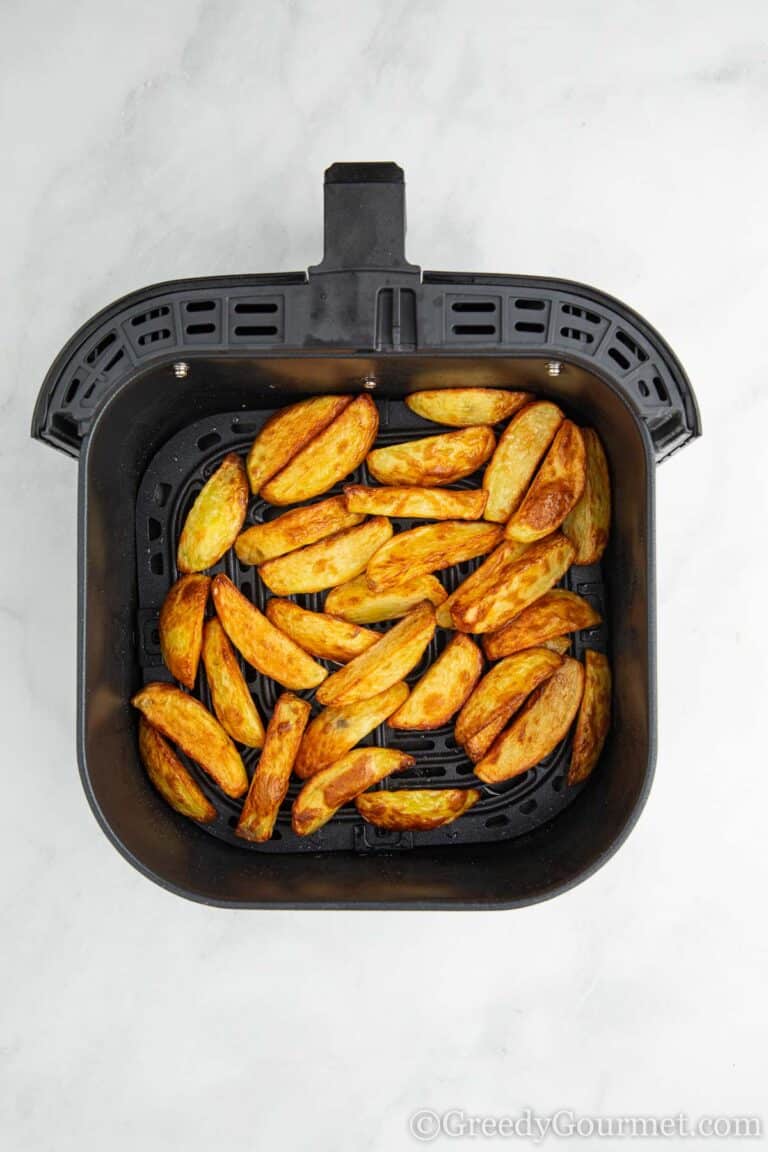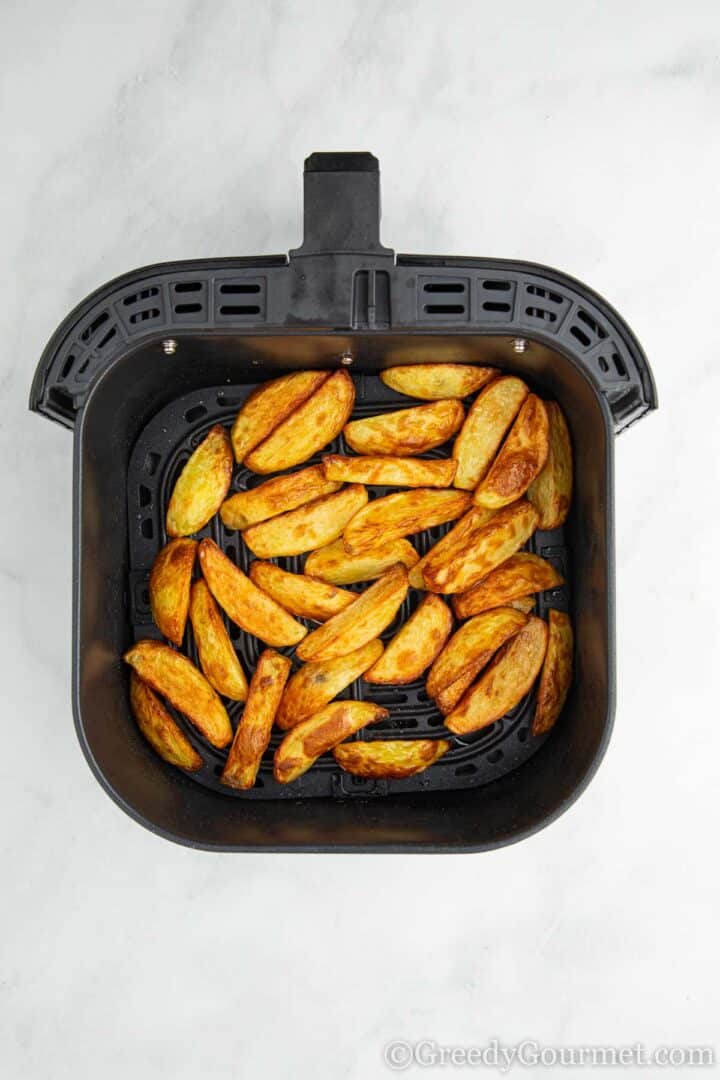 Recipe Variations
Salt and pepper sweet potato chips
For a healthier spin, use baked sweet potato fries in place of chips. Have a look under the recipe to see the average nutritional values for this dish.
Salt and pepper chicken
Another massively popular Chinese takeaway dish, Chinese Salt and Pepper chicken, otherwise known as salt and chilli chicken, is easy. Just swap out the chips for cooked chopped chicken thigh or breast fillets. For best results, cook the chicken fresh, instead of buying the pre-cooked stuff.
Use tofu instead
Vegans and vegetarians don't have to miss out when eating Chinese. These chips can easily be served with salt and pepper tofu.
Add soy sauce
Some salt and pepper chips recipes call for soy sauce. It's not necessary – which is why I've left it out of this salt and pepper chips recipe – but if you want an extra dash of umami flavour, feel free.
Add spring onions
Many traditional Chinese salt pepper chips recipes call for chopped spring onions to be scattered on top at the end of cooking. If you're a fan of a bit of an onion crunch, feel free to throw some in.
Add extra garlic
For many foodies, you can never have enough garlic. Throw two finely chopped garlic cloves into the mix, to enhance the garlic flavour from your salt and pepper spice mix.
Turn up the heat
If you're a big fan of chilli, why not double up? In addition to fresh red chillies, sprinkle in an extra teaspoon of chilli flakes, along the chilli flakes in the salt and pepper seasoning spice mix.
Turn down the heat
If you're not a massive fan of heat, deseed the chillies and remove the membranes.
Add chicken powder
Some salt and pepper spice seasoning recipes call for the addition of chicken powder, for that extra savoury edge. You fancy upping the flavour? Add ½ teaspoon into the spice mix.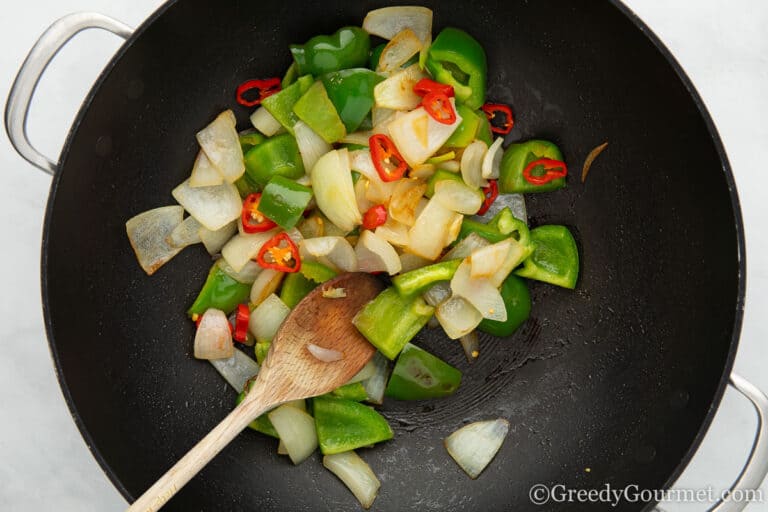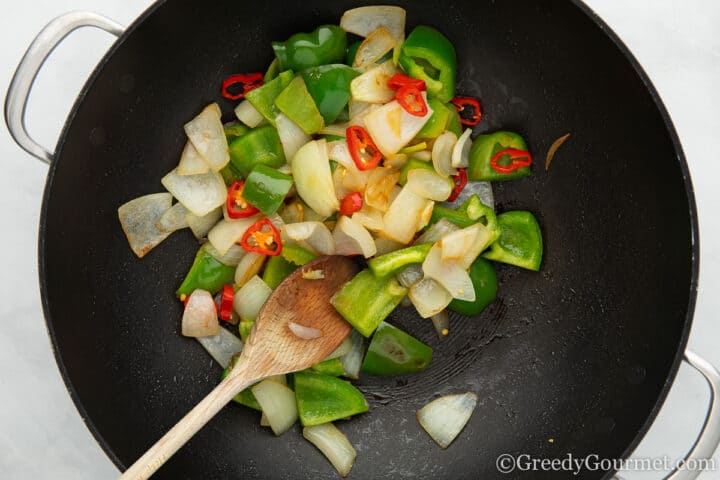 What could I serve with salt and pepper chips?
First of all, they are amazingly satisfying on their own! Serve them up on plates, pass around the forks and dig in!
However, Chinese salt and pepper chips make for a sensational side. Here are a few of my favourite recipes to serve with them: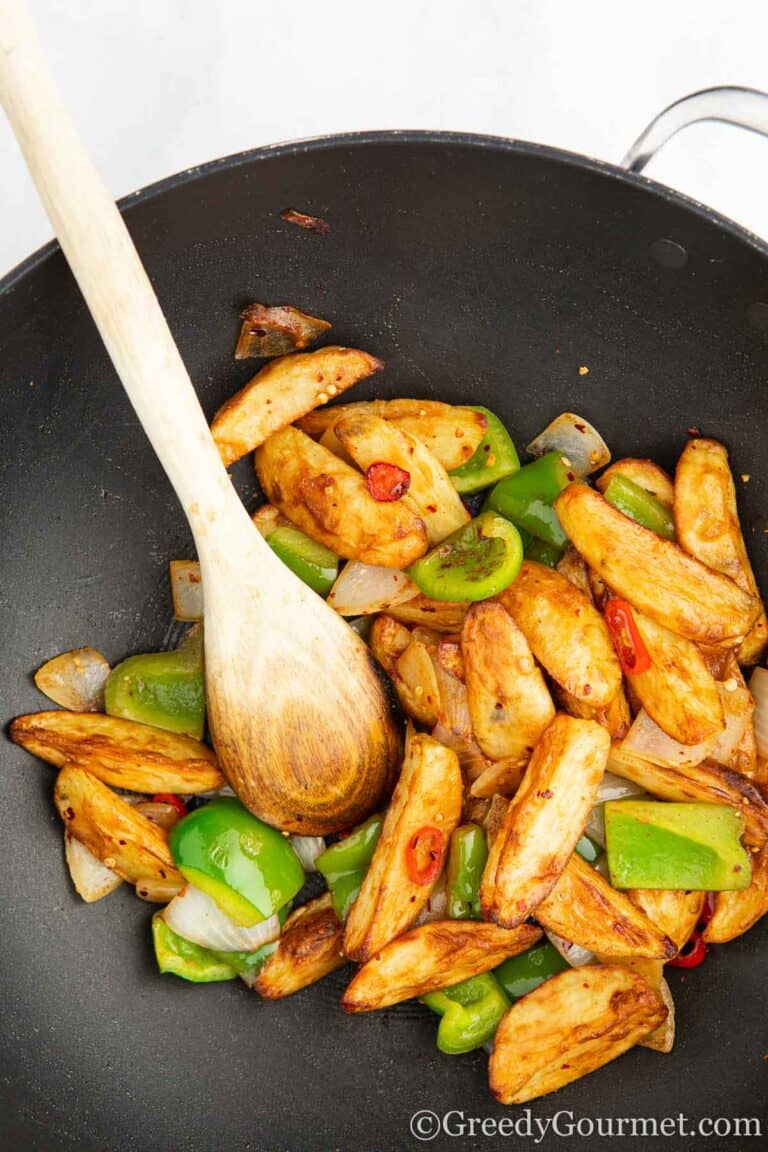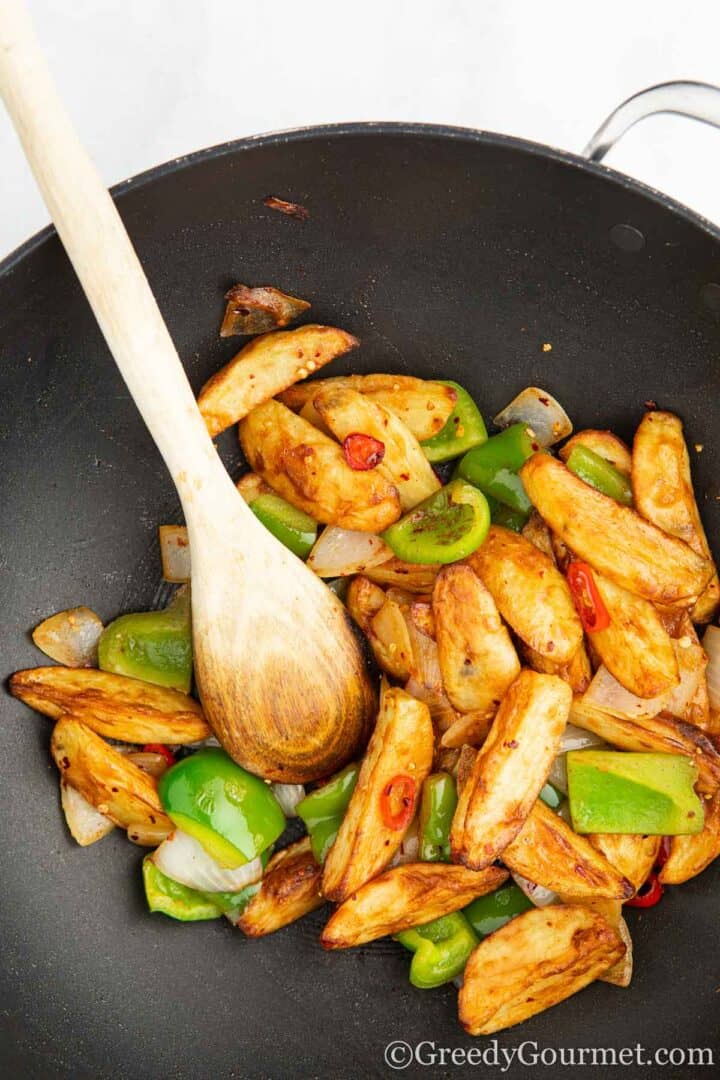 More Chinese takeaway favourites
Once you've mastered this delicious dish, try your hand at some of these tasty recipes: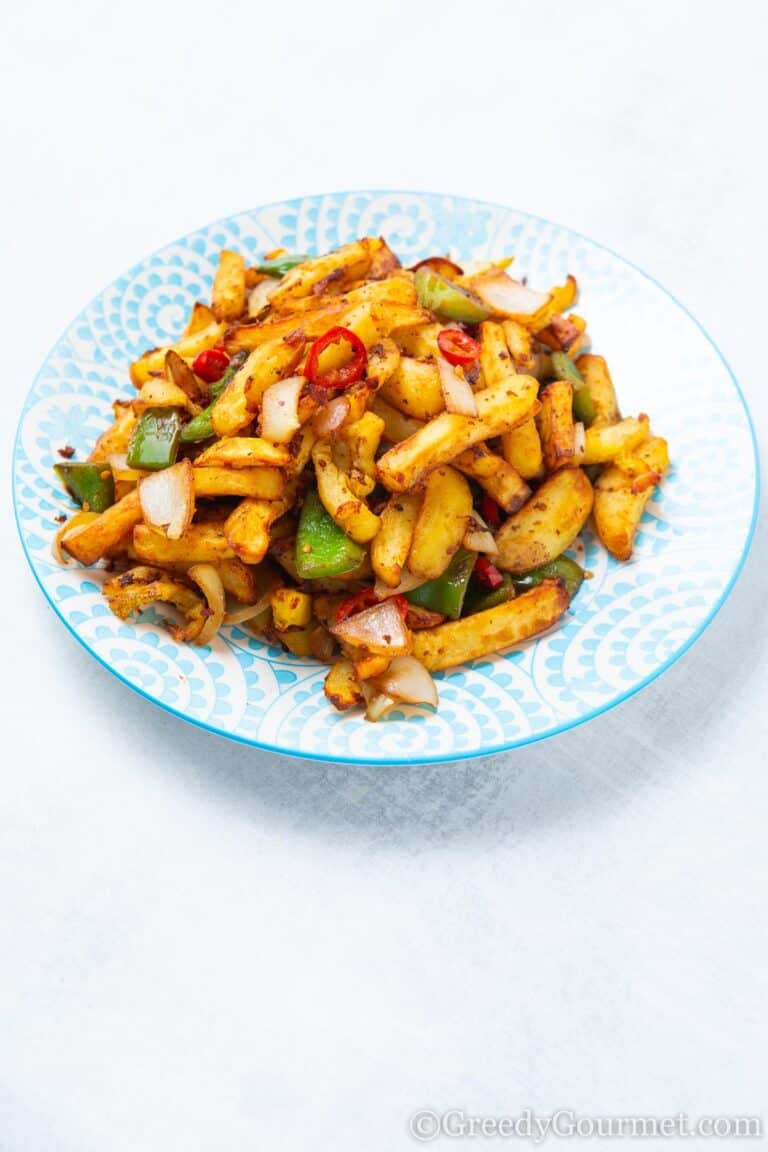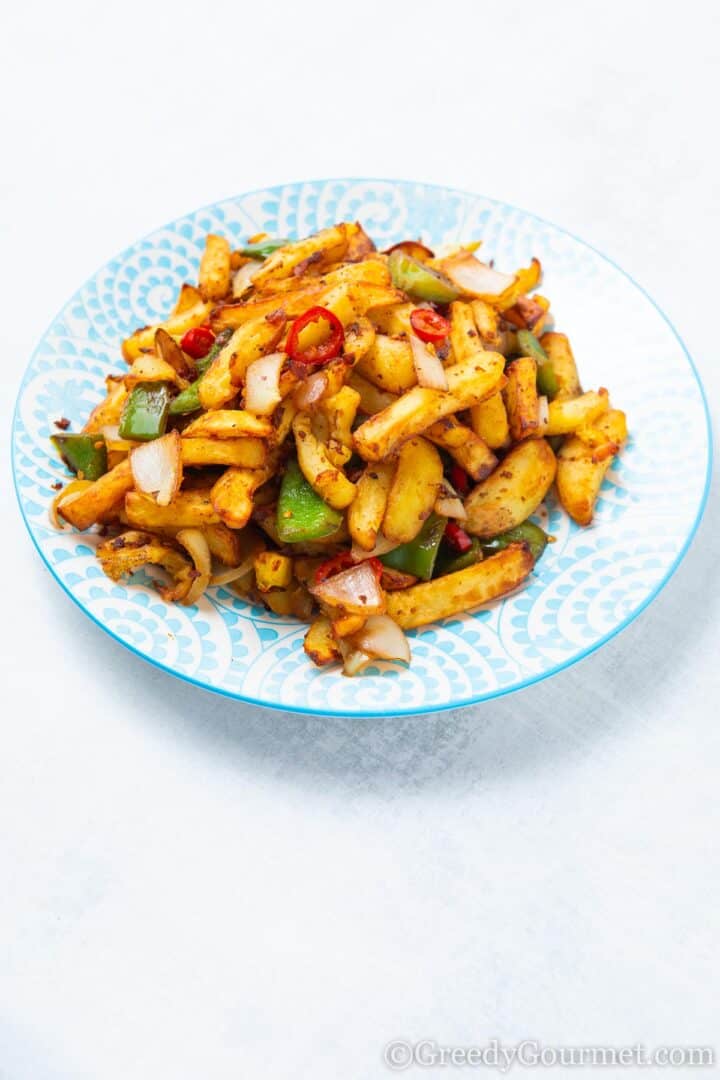 Print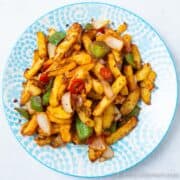 Salt and Pepper Chips Recipe
---
Author:

Michelle Minnaar

Total Time:

30 minutes

Yield:

4

servings

1

x

Diet:

Vegan
Description
Learn how to make this Salt and Pepper Chips recipe and your wallet will never have to suffer from expensive Chinese takeaways again. 
---
500

g

(1lb) frozen potato chips

15

ml

(1 tbsp) vegetable oil

1/2

large onion, cut into chunks

1

green pepper, washed and cut into bite-sized chunks

2

red chillies, washed and finely sliced

30

ml

(1 tbsp) rice wine

5

ml

(1 tsp) salt and pepper seasoning
---
Instructions
Cook the chips following packet instructions or make your own from scratch. 
Heat the oil in a wok and fry the onion, green pepper and chillies for 3 minutes.
Pour in the rice wine and let it sizzle for 2 minutes while continuing to stir.
Add the chips to the stir fry and season with the salt and pepper seasoning.
Serve immediately as a side dish to a fakeaway Chinese meal. Enjoy!
Notes
For best results, use chunky chips. However, any type of chips or fries will work. E.g. skin-on fries, skinny fries, steak chips or crinkle cut chips. 
Some recipes call for soy sauce. Feel free to use it but remember the seasoning is quite salty as well!
To save some time you can also use Kerala Chinese Salt.
Prep Time:

10 minutes

Cook Time:

20 minutes

Category:

Side Dish

Method:

Pan Fry

Cuisine:

Chinese
Keywords: salt and pepper chips, how to make salt and pepper chips, salt and chilli chips, salt and pepper chips recipe, chinese salt and pepper chips, homemade salt and pepper chips
save the recipe to your pinterest board