These salt and chilli chips are what you order for a Chinese takeaway. Make your own healthier version and save some money as well!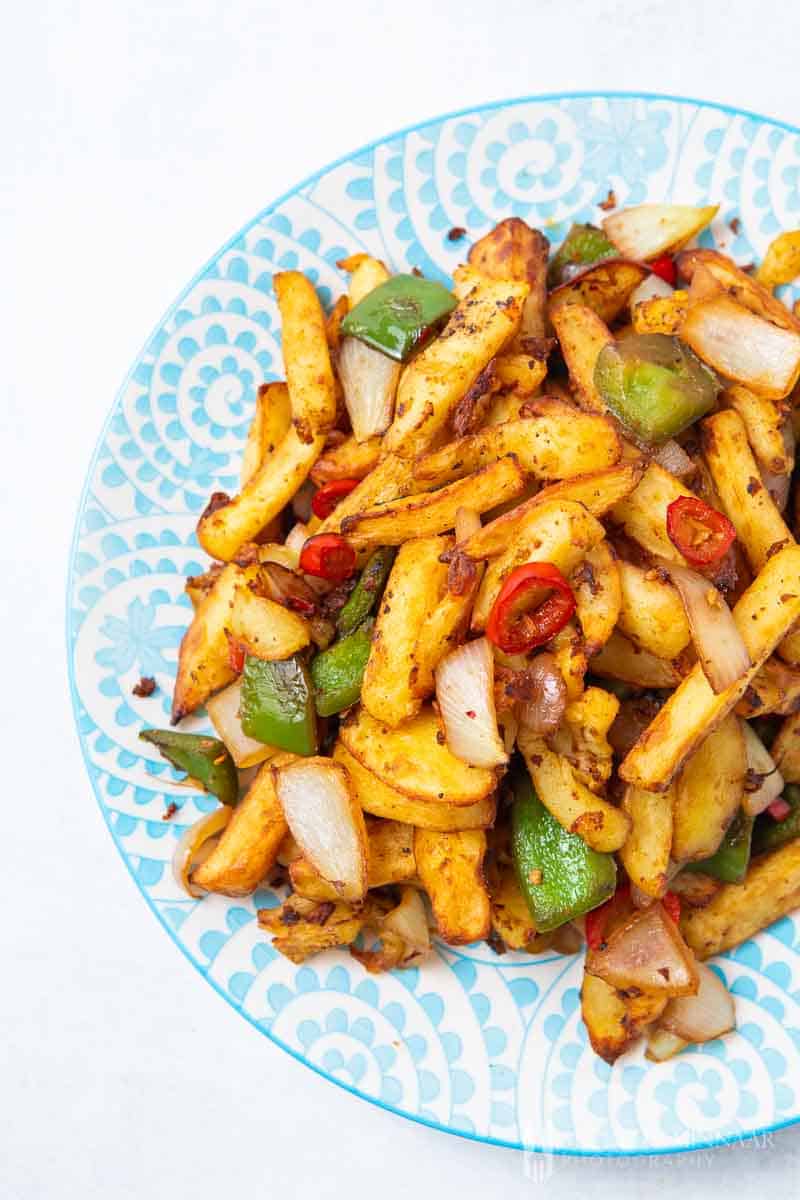 They are vibrant in colour as well as in taste. Every bite of these salt and chilli chips carries an explosion of bold flavours. They are best enjoyed with similar Asian meat recipes like this salt and chilli chicken, which is also to die for!
So, what are you waiting for? Get started on making your own Chinese fakeway. No need to deprive yourself of tasty Asian flavours for the sake of your wallet.
You can easily replicate these salt and chilli fries in under half an hour (more specifically, about 20 minutes). This makes it the perfect side dish that's both easy to prepare and inexpensive as well.
By the time the chips are ready, you'll be licking the spice mix off your fingers. Yes, these salt and chilli chips are insanely finger-licking delicious! Let's see if you'll be willing to share them. Never mind a Rolo, this is the ultimate love test.
salt and chilli chips Chinese takeaway recipe
Forget ordering expensive chips from any takeaway restaurants. These salt and chilli chips will win you over as soon as you take the first bite. They are incredibly flavoured and spiced. Again, these are not your plain ordinary chips that you might order in the pub.
This recipe will make you wish you discovered this chips recipe a long time ago. The best part is that you can control the amount of spice and flavour that goes into them. So, if you would like more heat or more flavour, just double the dosage on the spices.
products you need for this recipe
Here is a list of products which you'll need to make this favourite Chinese recipe:
chips vs fries
Have you ever wondered what is the difference between fries and chips? At first glance, they look almost identical. Fries are what chips are called in the US and vice versa. Chips are what fries are called in Britain.
Just letting all my international readers know! If you come to the UK and order salt and chilli chips, they won't come to you in a small plastic bag. In the UK, those would be called salt and chilli crisps!
Confused yet?
By the way, did you know that potato chips roughly account for 35% of the snack market every year? Click here to learn more about the humble potato chip.
how do you make salt and chilli chips?
The key to mastering the salt and chilli chips recipe is to make the spice mix perfect. The spice mix consists of 5 essential spices:
You can consider these chilli powder substitutes as well as Aleppo pepper substitutes.
So, before you start cooking salt and chilli chips, you need to make sure that you've got these in your kitchen.
Now, here's a handy tip. Some salt and chilli chips recipes actually call for a small dose of soy sauce. Remember, the spice mix is already quite salty so be careful with the soy sauce.
If anything, I highly recommend that you add salt-free or low-salt soy sauce. Otherwise, your salt and chilli chips may turn out way too salty – even for chips!
So fire up that wok and let's get frying!
more Asian flavours
For more Asian flavours, you can also add a little bit of black bean sauce into this recipe. It's also called douchi. It's very typical in Chinese cuisine. I've used it before in my amazing tofu in black bean sauce recipe, which is also an excellent alternative to Chinese takeaways.
The best part is, that you can reuse the spice mix as well as the black bean sauce with other Chinese recipes. These include:
There is nothing I love more than a versatile Asian spice mix!
salt and chilli sweet potato chips
This is what I love about this Asian salt and chilli chips recipe. You can actually make it with all sorts of chips.
For instance, the best substitute for potatoes would be sweet potatoes. Especially if you double or triple fry them – yes it's sinful but totally worth the crispy chips!
Just imagine these baked sweet potato fries covered with the spice mix. So good!
The spice mix can also work with other vegetable alternatives. I mean, who said that chips have to solely be made out of potato, right? Salt and chilli chips are not limited to potatoes.
For this reason, you can consider making vegetable chips out of:
All you need to do is to cut them evenly into chip-sized pieces. You won't even have to do that with green beans or asparagus. However, you'll have to cut the carrots and Jerusalem artichokes.
Which vegetable would you use to make salt and chilli chips? Would you stick to the potatoes?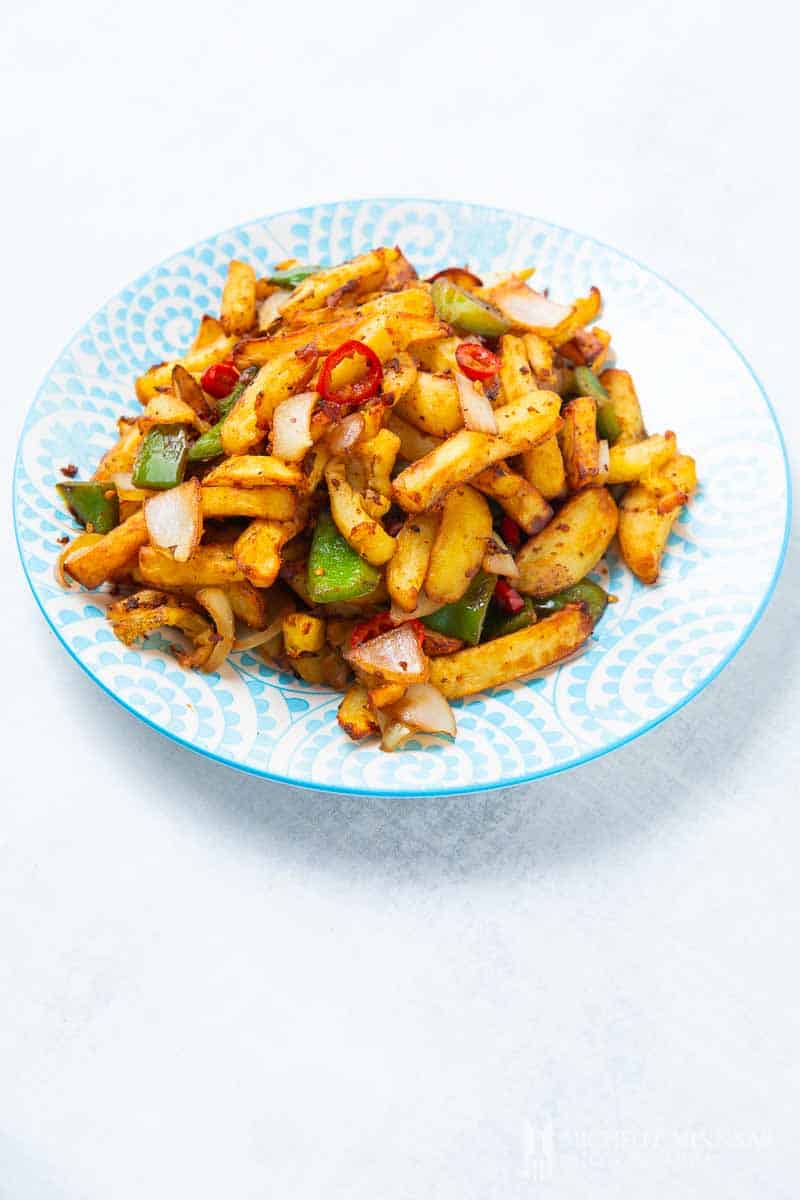 salt and pepper chips
If you are not keen on chilli flakes or chilli powder, then substitute with more pepper. Pepper will also add a slight kick to the recipe but it won't be as aggressive as chilli.
salt and pepper chicken
Similarly, you can use the same process when cooking a chicken recipe. No need for chilli, just go heavy on the pepper. Salt and pepper chips as well as salt and pepper chicken are very popular in Chinese cuisine.
Just don't forget to brine your chicken before you cook your recipe. Click here to learn how to brine chicken.
salt and chilli chips – calories
If you are wondering how calorific these salt and chilli chips are – well, I hate to disappoint you but they are not. Besides you can always alter the recipe.
For the lowest amount of calories, use green vegetables for chips. This is a super-healthy alternative! 
best dips for chips
One of my favourite dips for chips is this luscious and rich gluten-free barbecue sauce. What's yours? Let me know!
More potato recipes
Print
Salt and Chilli Chips
---
Author:

Michelle Minnaar

Prep Time:

15 minutes

Cook Time:

5 minutes

Total Time:

20 minutes

Yield:

4

servings

1

x
Description
Your wallet will never have to suffer on expensive Chinese takeaways if you learn how to make these salt and chilli chips. They are finger-licking awesome!
---
Salt and Chilli Seasoning
15

ml (1 tbsp) salt

7.5

ml (½ tbsp) caster sugar

2.5

ml (½ tsp) Chinese 5 spice

10

ml (2 tsp) crushed chilli flakes

2.5

ml (½ tsp) garlic powder

1.25

ml (¼ tsp) ground ginger

1.25

ml (¼ tsp) ground white pepper
Mix all the ingredients and store in an airtight container.
Salt and Chilli Chips
500g

(1lb) cooked potato chips/fries

15

ml (1 tbsp) vegetable oil

½

large onion, cut into chunks

1

green pepper, washed and cut into bite-sized chunks

2

red chillies, washed and finely sliced

30

ml (1 tbsp) rice wine

5

ml (1 tsp) salt and chilli seasoning
---
Instructions
Heat the oil in a wok and fry the onion, green pepper and chillies for 3 minutes.
Pour in the rice wine and let it sizzle for 2 minutes while continuing to stir.
Add the chips/fries to the stir fry and season with the salt and chilli mixture.
Serve immediately as a side dish to a fakeaway Chinese meal. Enjoy!
Notes
Some recipes call for soy sauce. Feel free to use it but remember the seasoning is quite salty as well!
Category:

Side Dish

Method:

Pan Fry

Cuisine:

Chinese
Keywords: salt and chilli chips, how to make salt and chilli chips, Chinese salt and pepper chips recipe, chilli chips recipe
save the recipe to your pinterest board