The Thai cuisine is among my favourite go to meals when seeking exotic flavours. There is just something about the herbs, the spice and the fresh ingredients in Thai food that screams delicious at you.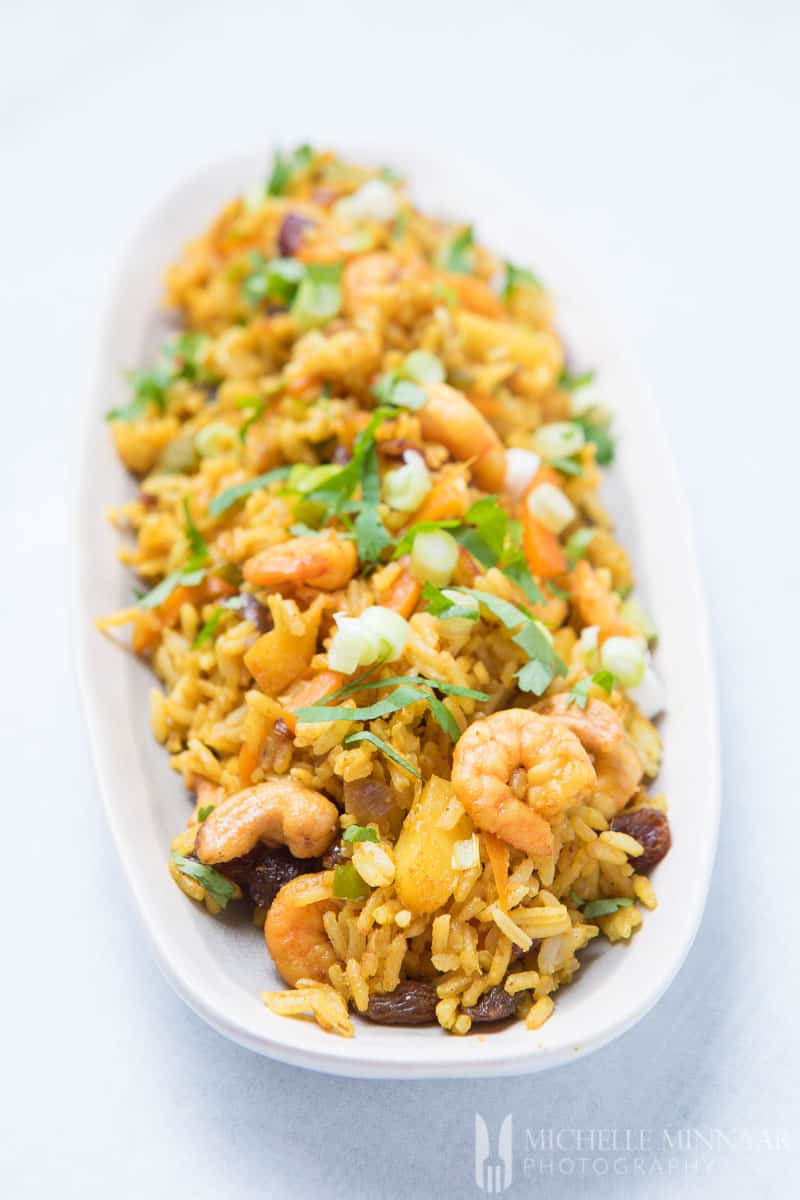 Therefore, there is no better time than right now to try your hand at some tasty Thai cooking. There is so much to choose from, such as these spring rolls. Or, why don't you nibble on a quick and easy Thai starter such as Thai fish cakes?
Thai pineapple fried rice might sound like a dessert, just like this mango sticky rice. However, it is in fact a wonderfully fresh savoury dish with prawns, packed with flavour!
Seafood in general, and especially prawns, forms a huge part of the Thai cooking, as you would expect for a country with plenty of coastline. Although, I bet you never thought of combining pineapple with prawns. It works so well! The prep time and the cook time are short, so you can even have it on a weeknight. You will not regret giving my Thai pineapple fried rice a try.
Thai pineapple fried rice
In Thailand, fried rice is called khao phat, which loosely translated means stir-fried rice. The basic version is one of the most common dishes in all of Thailand, however it comes in many varieties.
Almost like with a risotto, you develop the basic version by using different types of protein and vegetables. It is believed to origin from central Thailand.
However, fried rice is just here, there and everywhere in Thai cooking, it is simply impossible to know for sure. This version, the Thai pineapple fried rice is one of the most popular kinds.
It probably owes its success to the brilliant combination of sweet and savoury flavours. Also, the different textures make the dish so fantastically satisfying. You have soft rice, the chewy pineapple and the crunchy cashew nuts, all coming together in perfect harmony.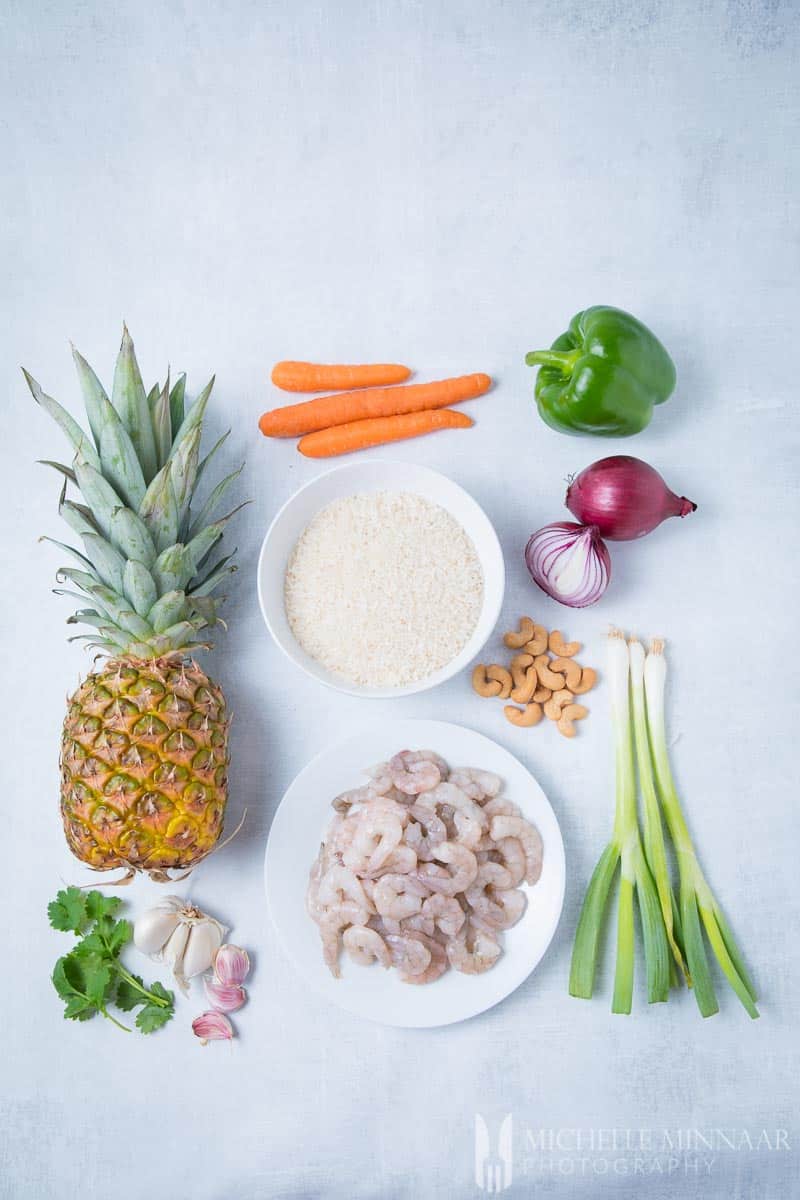 the pineapple
The pineapple is obviously a key element to the success of this dish. Therefore it is important that you get your hands on a good one.
What you need to aim for is a nice and ripe pineapple, which will be sweet and juicy. Here are a few simple things to look for when shopping for pineapple.
Firstly, the colour of the skin should be more dark yellow than dark green. If the pineapple is very green, it will be edible but simply not as sweet and tasty as you would want it to be. So look out for the colour.
The top of the fruit, on the other hand, should be green and not withered. If it is, there is a good chance that the pineapple is past its prime. If the top is green and you can move it about a little, it's a good sign that you have picked a ripe one.
Another tell-tale is the smell. A good, ripe pineapple will give of a clear odour of, well pineapple! This familiar exotic smell that you immediately recognise to be pineapple will be impossible to miss if the pineapple is ripe and ready to eat. Just what you need to make Thai pineapple fried rice!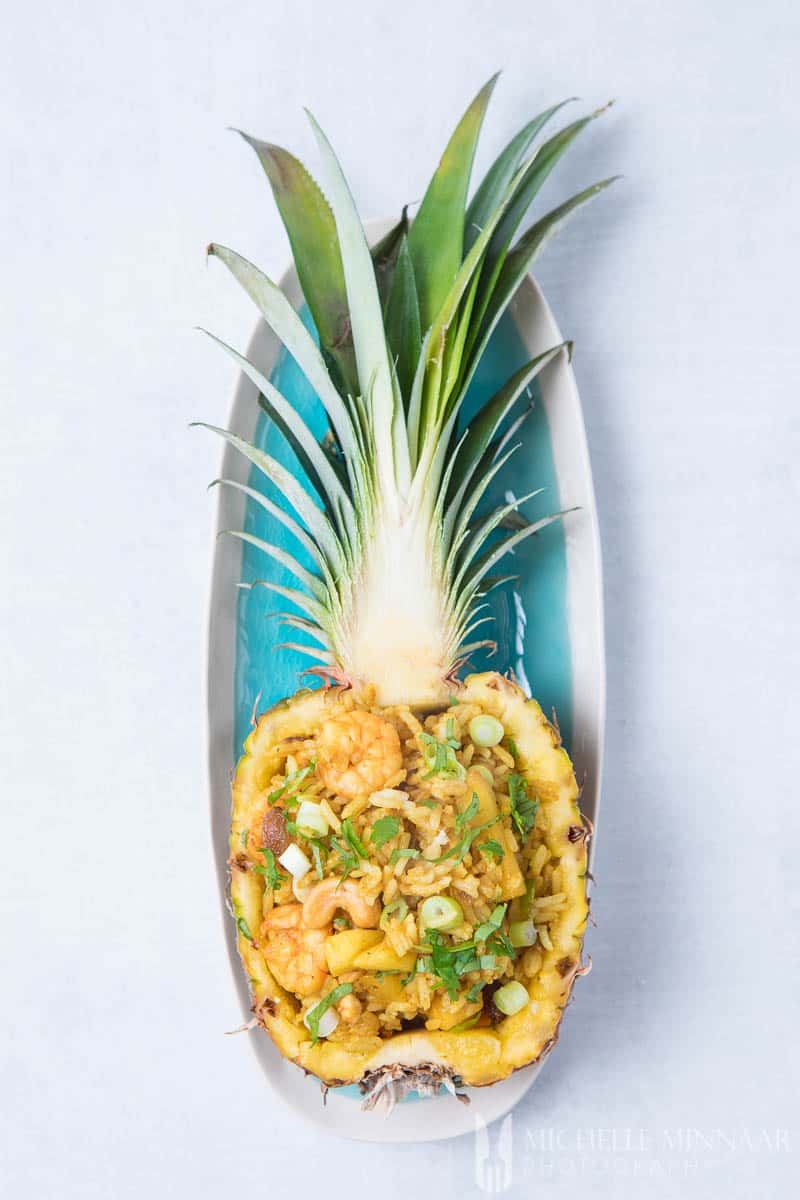 fried rice
You can adjust your Thai pineapple fried rice in a number of ways. This version is true to the classic recipe. Prawns are a part of the traditional version but you can replace them with other types of protein.
A popular version in Thailand contains catfish, for example, although you can use a more local fish like cod. If you go with white fish, you can poach it, flake it up and add the fish at the end of cooking time, rather than frying it with the vegetables and rice.
This way the fish will not end up tough and dry. If you are looking for more Thai seafood, try the baked sea bass and learn how to bake a whole fish with Thai flavours.
Other obvious replacements for prawns would be crab meat of crayfish, which you can cook in the same way as the prawns. If you are not such a huge seafood fan, you can replace it all together with light meat such as chicken, turkey or even pork.
You can even do a vegetarian version with just vegetables and tofu mixed with the rice and pineapple if you are vegetarian or vegan.
Seasoning
One of the elements which I have used to season this dish is shrimp paste. The latter is used throughout Thai cuisine but it possesses a very specific flavour that is not to everybody's liking.
If you have not cooked with shrimp paste before be very careful about how much you add. Even the tiniest amounts can have a massive impact on the overall flavour of the dish.
You might find the smell quite off-putting but I promise you, it does not taste the same in the actual dish. If you don't like it one bit, then you can leave it out.
Adding a little bit of finely cut fresh chilli can also lift the dish, and give some resistance to the sweetness of the pineapple and the prawns. If you like a lot of coriander you can mix in some leaves when frying the rice instead of simply using it as a garnish. Or better yet, add some Thai basil for more fragrancy!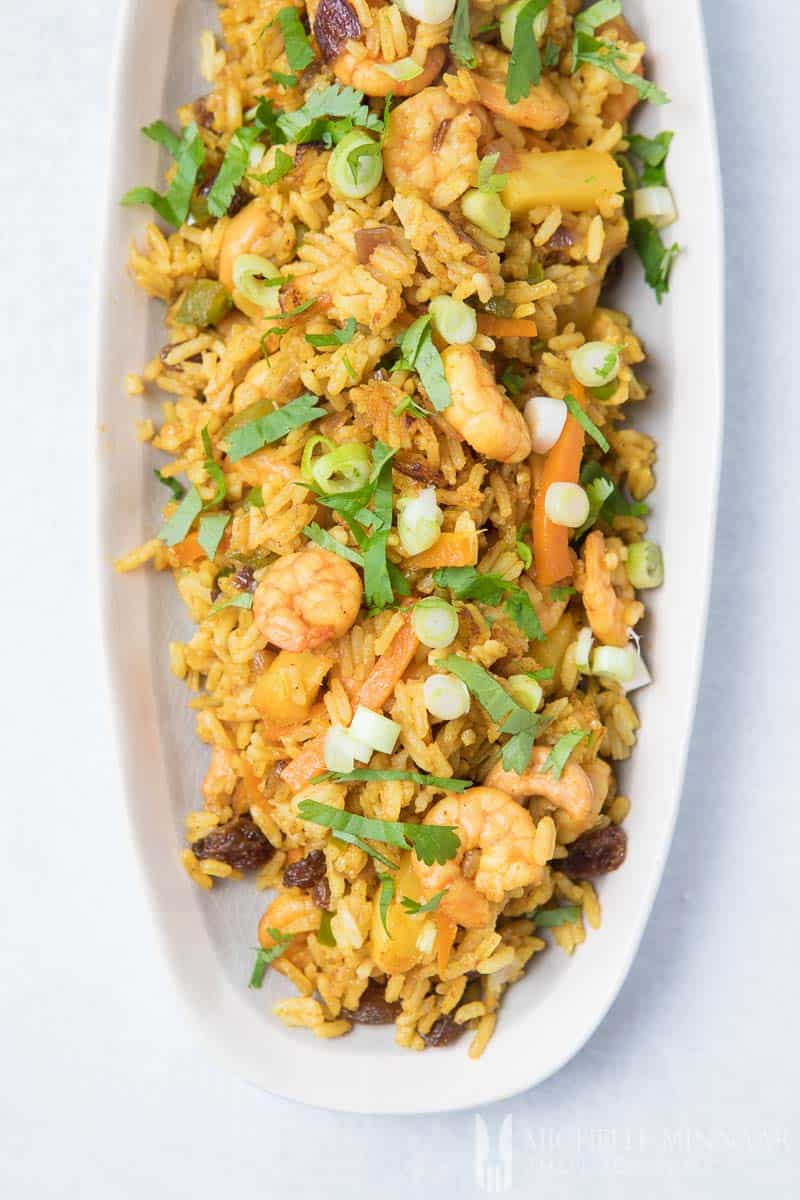 Serving
You can go all in for the tropical look and feel for this meal by making good use of the pineapple. If you cut it in half lengthwise you can cut out the flesh and use the shell of the pineapple as a boat-like bowl to serve the fried rice in. Brilliant, right?
Make sure to get a big pineapple that is properly ripe, otherwise this will be a difficult exercise. It looks exotic and festive, and it adds to my joy of eating this dish. Garnish generously with fresh coriander and voilà.
The dish is a complete meal on its own, but you can use it as part of a Thai buffet if you are entertaining guests.
To start off the meal, why not serve Salt and Pepper Spring Rolls first?
Print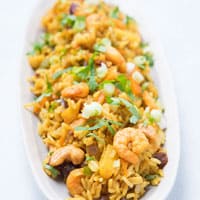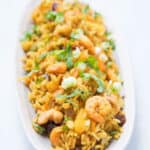 Thai Pineapple Fried Rice
---
Description
Thai pineapple fried rice is a savoury dish consisting of prawns, pineapple, cashew nuts, Thai rice and traditional Thai flaovurs. Garnish with coriander.
---
300g

(10oz) Thai rice

30

ml (2 tbsp) vegetable oil

½

red onion, finely chopped

2

garlic cloves, peeled and crushed

½

green pepper, washed and finely diced

1

carrot, peeled and julienned

250

ml (1 cup) fresh pineapple cubes

450g

(1lb) prawns

30

ml (2 tbsp) fish sauce

30

ml (2 tbsp) soy sauce

15

ml (1 tbsp) curry powder

2.5

ml (½ tsp) shrimp paste [optional]

4

spring onions, washed and finely sliced

60

ml (4 tbsp) cashew nuts

30

ml (2 tbsp) currants

Coriander, for garnishing
---
Instructions
Boil the rice according to package instructions. Drain and let it cool down completely before cooking commences.

Gently fry the onion in the oil until softened.

Turn up the heat and add the garlic, green pepper, carrot and pineapple and fry for 2 minutes.

Add the prawns and fry for 1 minute.

Add the fish and soy sauce, curry powder and shrimp paste. Stir and let the mixture bubble for 1 minute.

Stir in the rice and fry for a few minutes on a high heat, ensuring everything is evenly coated with the sauce.

Add the spring onions, cashews and raisins to the rice and give it a good stir.

Serve immediately and garnish with coriander.
Notes
One fun idea to serve this dish is to halve a pineapple and hull them out to create "boats", You can then fill them up with the rice!
Prep Time:

15 minutes

Cook Time:

30 minutes

Category:

Main

Cuisine:

Thai
Nutrition
Serving Size:

1 serving

Calories:

559

Sugar:

7.3 g

Sodium:

1516 mg

Fat:

14.9 g

Saturated Fat:

2.8 g

Carbohydrates:

71.3 g

Fiber:

4.3 g

Protein:

36 g

Cholesterol:

237 mg
save the recipe to your pinterest board