Whole baked sea bass with a Thai flair, using rich and punchy individual ingredients that combine into a magnum opus of flavour.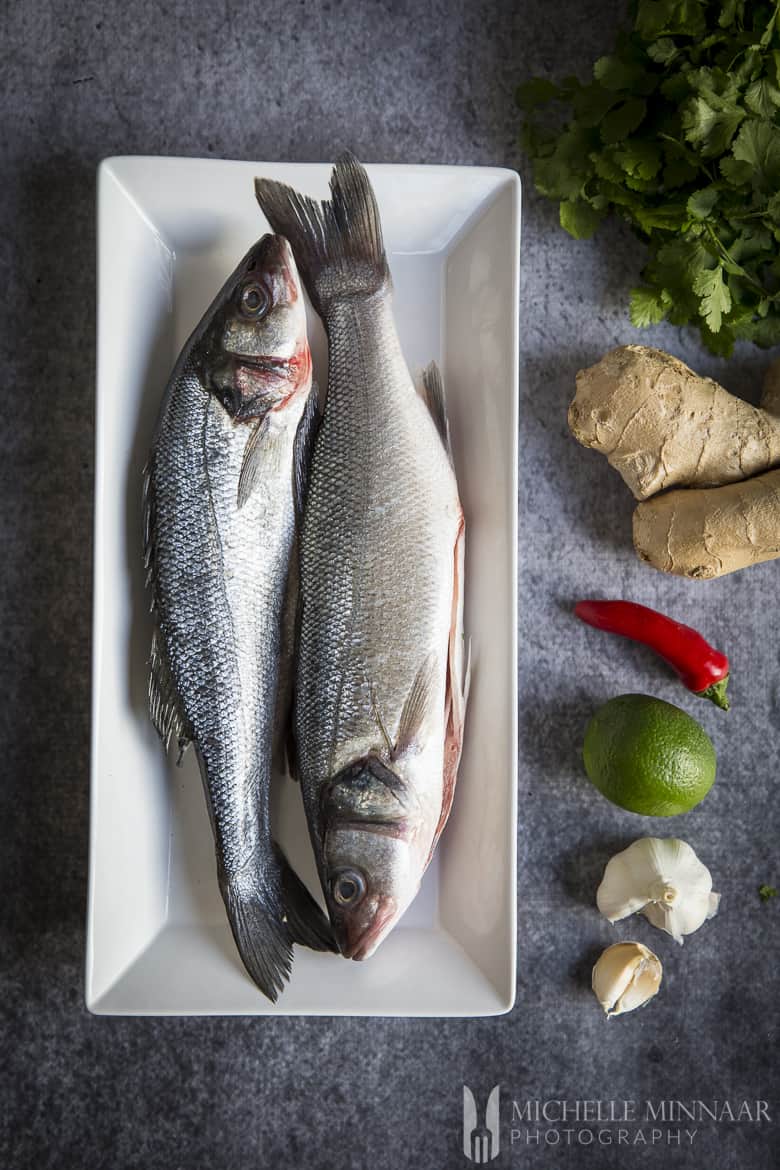 Most seafood recipes declare dressings should be served to be eaten with the fish. This dish creates the juice in the foil which is delicious when served with the fish. Crushing with a mortar and pestle does not always ensure all spices are consistently broken up to bring out all the compressed flavour, chopping in the food processor with a quick blitz saves time and brings out the unique flavours of the condiments.
Sea bass withered away in the bottom of the culinary cosmos until recently when professional chefs were reawakened with its sweet, textured flesh and gleaming, silvery skin. Now it is the fashionable fish to serve, regarded as a taste bud stimulating delicacy. Elite dinner parties have followed the trend with supermarkets now selling it alongside the ever present salmon and haddock.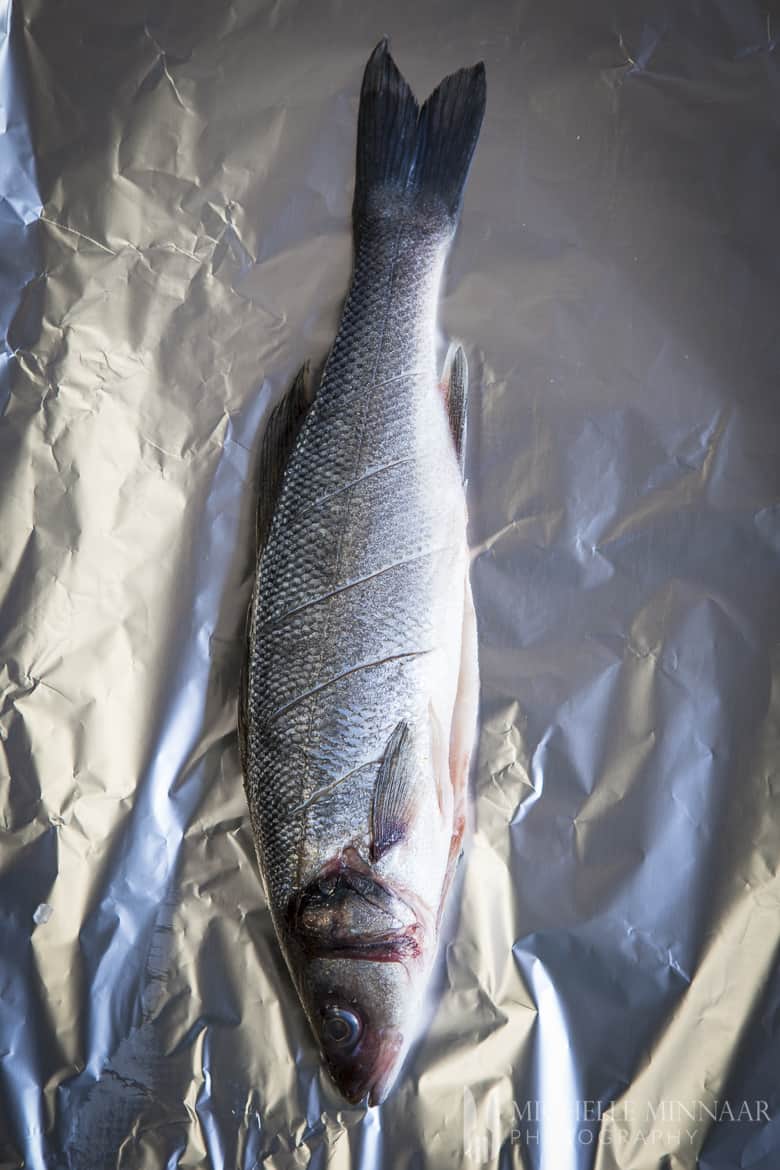 European Seabass
European seabass is primarily an ocean-going fish that enters brackish and fresh waters. Also known as the sea dace it is highly regarded as a table fish and often sold as Mediterranean sea bass. Other names from various cultures include loup de mer, robalo, lubina, spigola, branzino or bronzino.
Traditionally its name was bass but with the growing popularity of culinary skills in the home and restaurants the name "sea bass" was adopted. Perhaps it was to try and differentiate between catches from the ocean or fresh water. In the UK only one type of bass is present, from the sea. The North American freshwater (black or largemouth bass) is significantly stocked and bred in Southern European freshwaters, probably causing the necessary distinction between "bass" and "sea bass".
The sea bass has a quirky physiology - it has two, sometimes even three, anal spines. Its silver sides are striking in colour and it has a fleshy white belly. Juveniles have black spots on their back and sides and are often mistaken for other species. Sea bass can grow to phenomenal proportions - the sizes and weights are over 1 metre in length and 15 kgs in weight.
Primarily it hunts small fish but will also eat worms and crustaceans.
Mainly found in the salt waters around Europe, primarily the eastern Atlantic Ocean, the Black Sea and the Mediterranean Sea. They are seasonally migratory and sometimes move in shore to fresh waters and the northern seas, in summer it can relocate and be found in estuaries, lagoons and rivers as a result of the in shore migration.
Depleting Resources
This was one of the first types of fish to be farmed commercially in Europe - they were historically cultured in coastal lagoons and tidal reservoirs. Mass-production techniques were then developed in the late 1960s. Sea bass is the most important commercial fish, with the biggest most productive farming countries being Greece, Turkey, Italy, Spain, Croatia and Egypt.
"A highly sought after fish, bass angling attracts some of Britain's most committed anglers due to the warrior fighting qualities and glorious reputation of this striking looking fish. However, recent years have seen bass numbers crash. There have been numerous attempts with various different restrictions placed on both anglers and commercial fishermen in an attempt to halt the decline."
"Bass are in high demand from commercial fisheries and command a high price in restaurants and fishmongers. There is growing concern that both the total numbers and the average size of bass are rapidly reducing in the UK and European waters."
"The future of bass in Europe's waters is one of the most important issues in sea fishing at the moment, with ICES (International Council for the Exploration of the Sea) – a powerful organisation which advises the EU on quotas and conservation issues contemplating a complete bass fishing ban in 2017. Although they still class bass as a species of Least Concern on a global basis. It is the decreasing number of mature individuals and the decreasing population trend overall that has them concerned. They class bass as Near Threatened in the Mediterranean region."
"The rumoured ban on all commercial and recreational fishing for bass will not be happening in 2017, it appears that the current course of action will be lighter restrictions on both types of fishing, along with bans on commercial fishing during the two peak months of the spawning season. It will take time before we will know if these measures are enough to restore bass stocks."
2016, Bass, www.britishseafishing.co.uk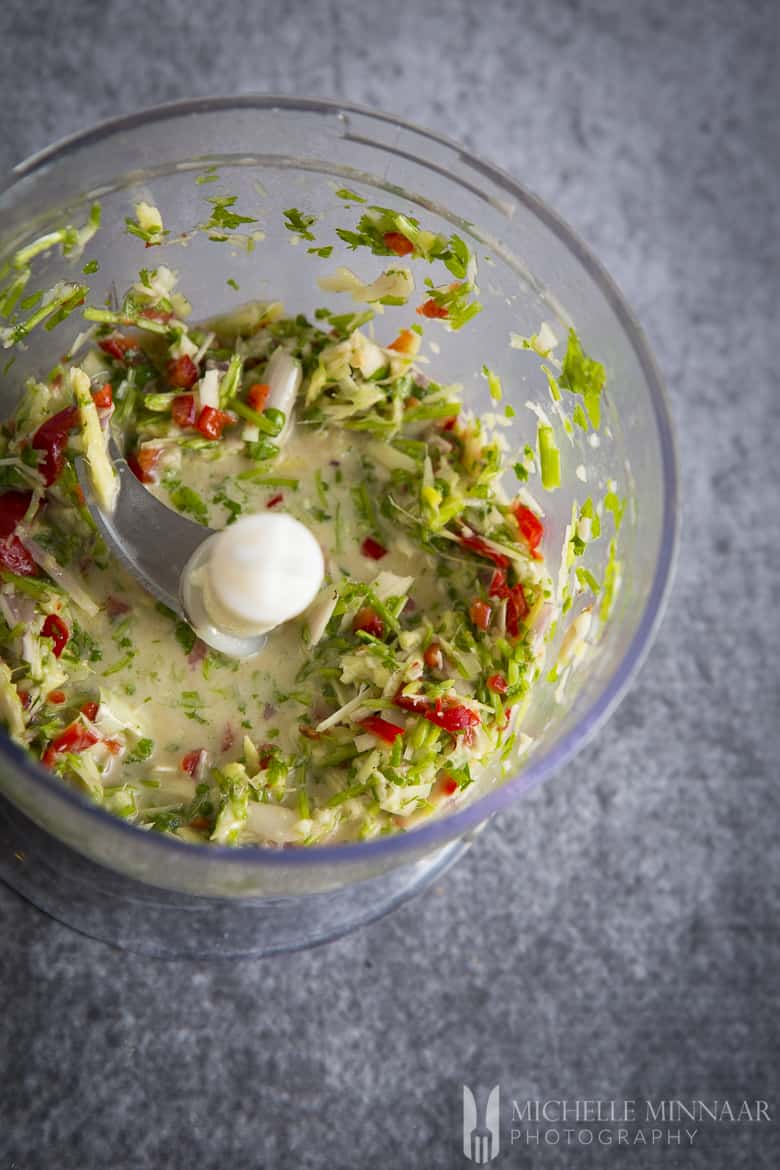 Nutrition
One serving of sea bass is low in calories and an excellent source of protein, selenium and essential omega-3 fatty acids. The downside of bass is it's mercury content, so pregnant women and children should limit or avoid sea bass altogether.
High Protein, Low Calories
Sea and freshwater varieties of bass contain 20g of protein in a 3-ounce serving, which is 40 percent of the daily value, according to NutritionValue.org. So you cannot go wrong choosing it for its protein content. Enough protein to meet your body's metabolic needs is a recommended 46g daily for women, while men get 56g. A 3 ounce serving of sea bass will give you all this protein for only 105 calories and 124 calories in the same portion of freshwater bass.
Omega-3 Fatty Acids
Low in total fat, both fresh and sea bass are excellent sources of two omega-3 fatty acids: Eicosapentaenoic acid, or EPA, and docosahexaenoic acid, or DHA. These fatty acids help reduce the risk of cardiovascular disease by lowering blood pressure and reducing levels of cholesterol, according to the Harvard School of Public Health. Sea bass provides 0.8g of combined EPA and DHA, while freshwater bass has 0.65g in a 3-ounce serving. One serving supplies 40 to 75 percent of your daily intake, depending on the type you eat and your sex, because men need more than women, according to recommendations from the Institute of Medicine.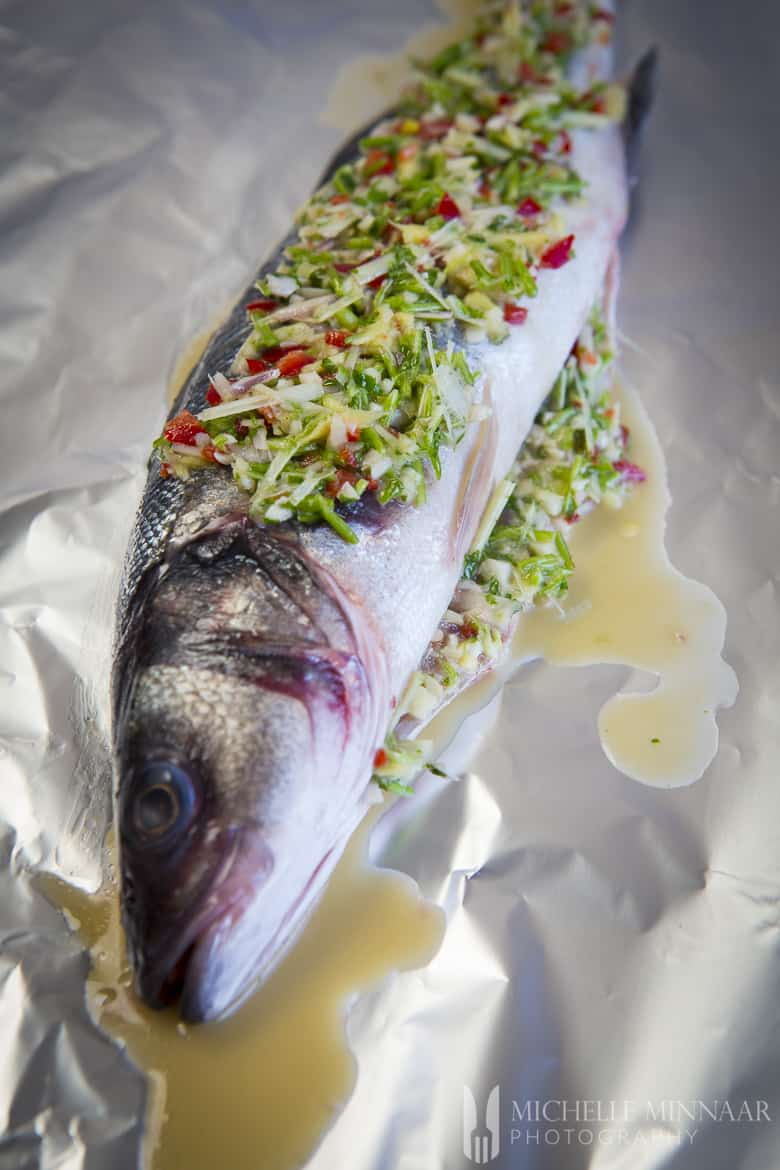 What to Look For When Buying Sea Bass
Wherever possible purchase line-caught sea bass. It should be cooked as fresh as possible. Seek out bass with clear eyes, intact fins and bright red gills, firm to the touch and free of an undesirable fishy smell or slimy covering. It is harder to tell how fresh sea bass fillets are - but try and identify pearly white flesh with no discolouration, you should be able to press your thumb into the white flesh of the fillet and it should not change shape easily nor hold the indentation.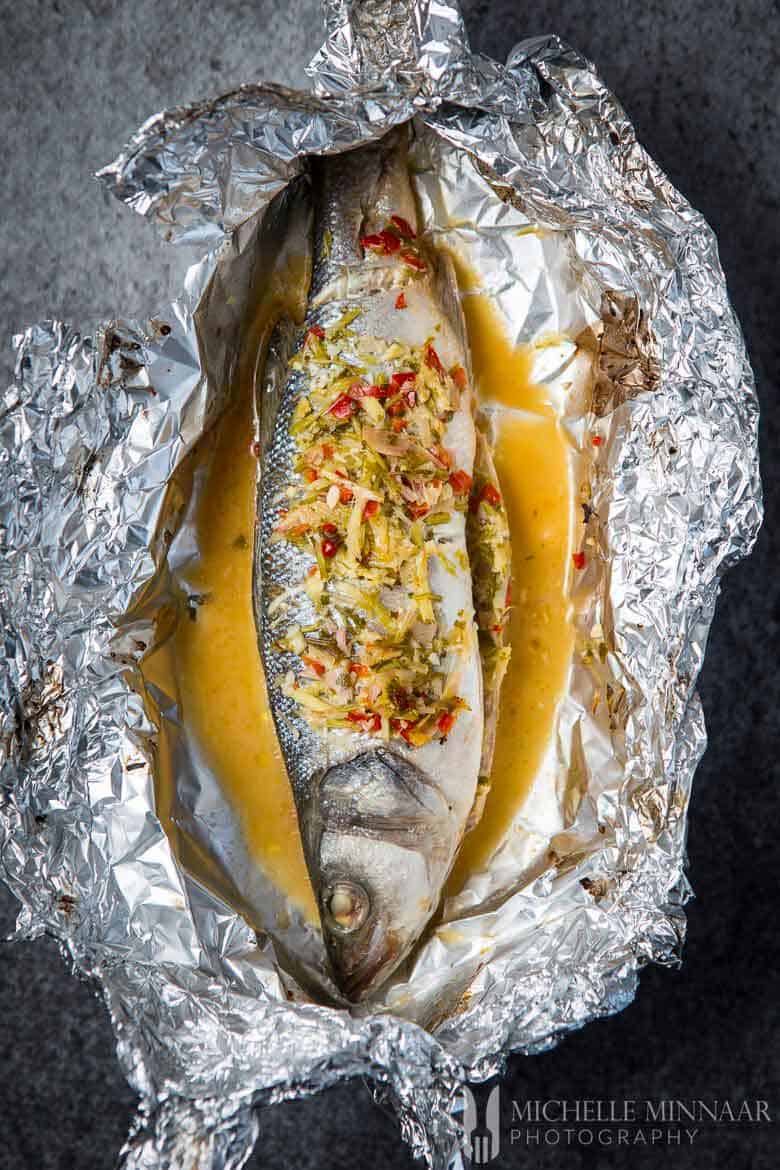 The Best Flavours for Bass
It is helpful when you have flavour guidelines for your foods, but I do recommend you always cook according to your preference. What I love about seafood, it is so versatile, you can cook it with almost anything that's available and it will still be scrumptious. There are so many choices to cook with.
In general fresh herbs are added towards the end of the cooking time; however fish cooks so quickly the fresh herbs can be added at the preparation time. Hard herbs, like rosemary or thyme, benefit from a lengthier cooking time and may be suitable for garnishing. Dry herbs are more concentrated and require longer cooking, they work very well in recipes for soups, stews, slow cooker etc.
If a recipe calls for fresh herbs and you only have dried available, the rule of thumb is a one-third measurement of the required amount. So one tablespoon fresh is the equivalent of one teaspoon dried. You cannot always substitute fresh herbs with dry herbs, especially when making foods like pestos.
"Meaty" fish can stand up to bold flavours. Mildly delicate fish is better suited to flavours that are more subdued like butter and a bit of lemon.
Here's a list of some of the best herbs and spices for fish.
Herbs
Basil, bay leaf, chervil, chives, cilantro, dill, fennel, lemon balm, marjoram, mint, oregano, parsley, rosemary, summer savoury, tarragon, thyme.
Spices
Cayenne pepper, chilli powder, coriander, curry powder, ginger, ground mustard, paprika, red pepper flakes, smoked paprika, peppercorns.
Other Seasonings
Citrus juice and zest, prepared mustard, onions, garlic, shallots, leeks, wine, vinegar and spice blends such as Jamaican jerk, Cajun/Creole, garam masala, Mexican, etc.
In Greek cuisine, bass can be prepared in a variety of ways and is often considered a delicacy. Greek journalists use the same word (lavraki) to refer to high-value exclusive news stories, a cultural reference to the perceived "luck" of an angler who catches this fish.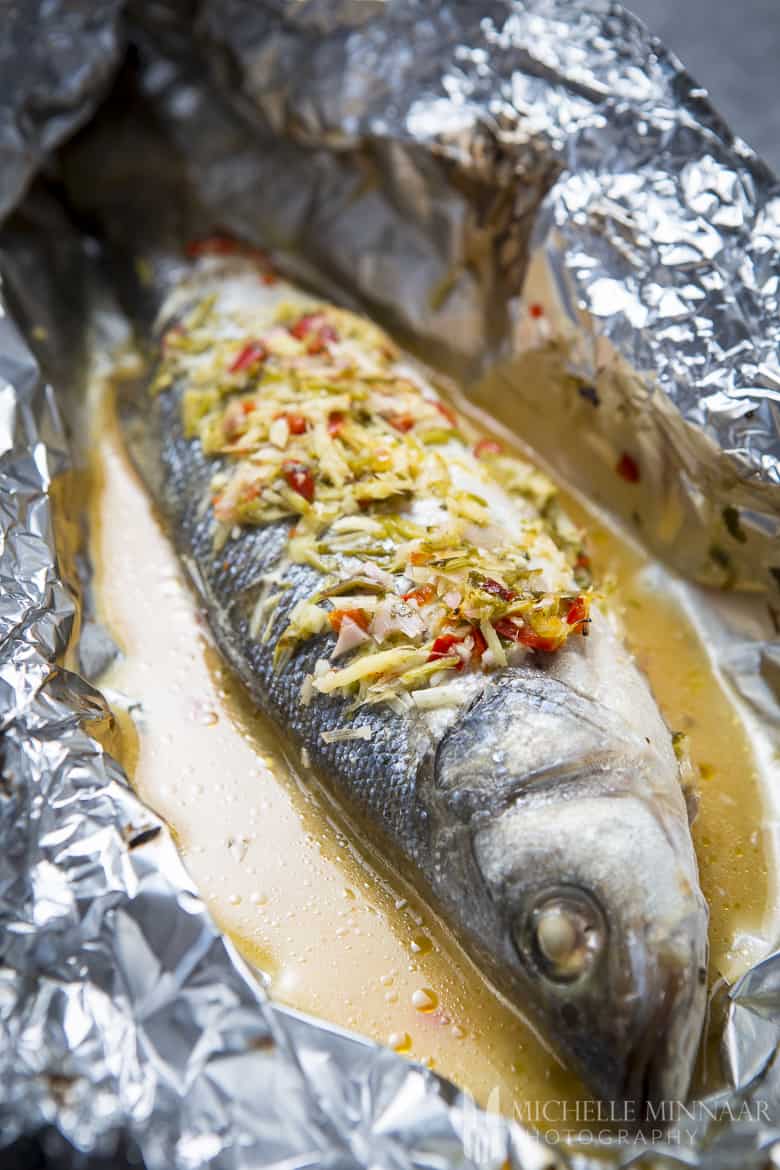 What flavours for sea bass?
Strong punchy flavours draw out the true brilliance of sea bass, try it with bacon or drizzled in a coriander and vanilla sauce. It partners well with sharp, sweet and sour Asian flavours.
Alternatively, try sea bass raw by slicing the fillets thinly and serving it as a Carpaccio with a simple chilli and oregano dressing.
How to Cook Sea Bass
Sea bass suits a whole range of cooking methods and should present no difficulty to a proficient home cook. The sharp fins and the thick layer of scales must be removed before cooking. I always ask the fishmonger to do this for me. I do not remove the skin as it's a great source of nutrients and takes on a heavenly colour, texture and taste once it meets a pan of hot oil.
You can either buy a fillet of sea bass individually or have a whole fish filleted into two individual fillets, again I ask the fishmonger to fillet my whole fish for me. When cooking a sea bass fillet, make sure that it has been pin-boned carefully beforehand.
Cooking sea bass fillets
Sea bass fillet is supple but holds firm during cooking. Pan-frying is probably the most popular cooking method. They can also be gently cooked by steaming, poaching, cooking en papillote or even serving raw as carpaccio. Alternatively, you could deep-fry sea bass fillets with a light, airy batter so as not to overwhelm its subtle flavour, season with ground sea salt and pepper.
Cooking sea bass whole
Baking in salt acts as a seal so the fish becomes succulent and tasty but not salty. Ensure that it has been gutted with gills removed - as this will impart a bitter flavour - but leave the scales on as they will help to lock in moisture.
Barbecuing or roasting in the oven is another delectable way to prepare whole bass, it is recommended that the fish is tightly wrapped in foil first, this will ensure that the flesh does not dry out as it cooks. Add flavour by including other ingredients to the foil, such as oil, butter, herbs, vegetables or citrus fruit. Alternatively, slash cavities in the fish and stuff them full of your chosen ingredients - try this indulgently delicious Whole Baked Thai Sea Bass recipe.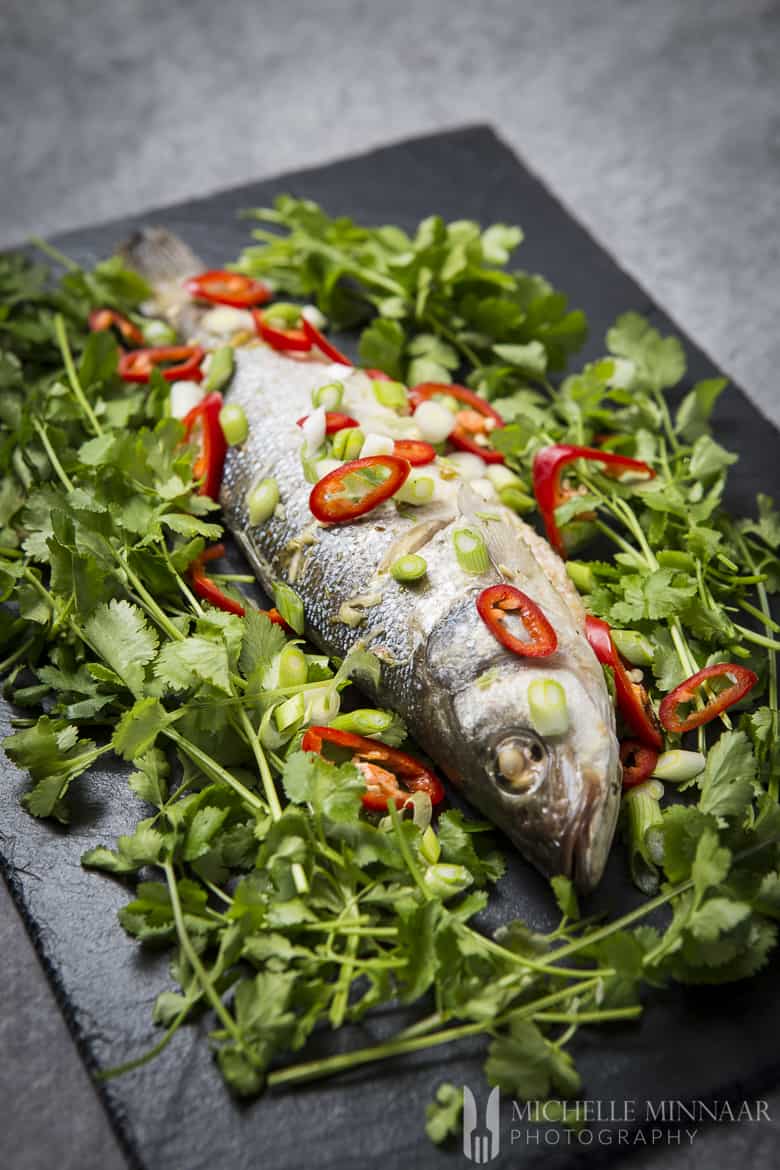 What is your favourite way to cook sea bass?
Print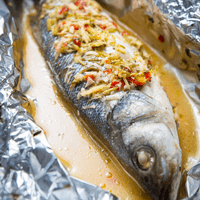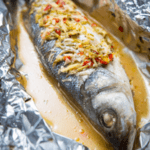 Whole Baked Thai Sea Bass
---
Description
This Thai sea bass recipe is easy to prepare and packed with flavour. Learn here how to cook whole sea bass by baking it.
---
4

whole sea bass, about 300g (

10oz

) each

2

lemongrass stems, outer leaves removed

5

cm (2in) root ginger, peeled

4

garlic cloves, peeled

2

red chillies, washed

1

bunch coriander, washed

2

limes, juice

20

ml

(4 tsp) honey

30

ml

(2 tbsp) fish sauce

60

ml

(4 tbsp) vegetable oil
spring onions, for garnishing
---
Instructions
Preheat the oven to fan 180°C / conventional 200°C / 400°F / gas mark 6.
Wash the sea bass inside and out, and pat dry with kitchen paper.
Score across the fish and through the skin 4-5 times on each side, then lay the fish on a large piece of oiled foil, big enough to wrap it up loosely. Do this for all four of them.
Place the lemongrass, ginger, garlic, chillies, coriander stems, lime juice, honey, fish sauce and oil in a blender and give it a quick whizz until the mixture is roughly chopped.
Season the fish inside and out.
Use half of the mixture over the fish, making sure you push some into the cuts.
Use the remainder of the mixture to fill the cavities of the fish.
Pull the sides of the foil up to create a loose parcel. Crimp the edges to seal, making sure there is some space around the fish.
Bake for 20 minutes or until the fish is cooked and flakes easily.
Let it rest for about 5 minutes before opening the parcel. Serve immediately.
Before eating, be sure to drain the juices in a bowl to serve with the fish. Remove the mixture because it's not edible because the woodiness of the lemongrass.
Notes
To add extra zing to the dish, you can zest the limes and add it to the spice mixture.
Prep Time:

30 minutes

Cook Time:

10 minutes

Category:

Dinner

Method:

Bake

Cuisine:

Thai
Nutrition
Serving Size:

1 fish

Calories:

427

Sugar:

14 g

Sodium:

1402 mg

Fat:

16 g

Saturated Fat:

1.1 g

Carbohydrates:

33.9 g

Fiber:

1.8 g

Protein:

37.9 g
Keywords: Thai sea bass, whole sea bass recipe, how to cook whole sea bass, baked whole sea bass
save the recipe to your pinterest board