If you're looking for a low-carb side dish with plenty of flavor, celery root puree is a dish you don't want to miss.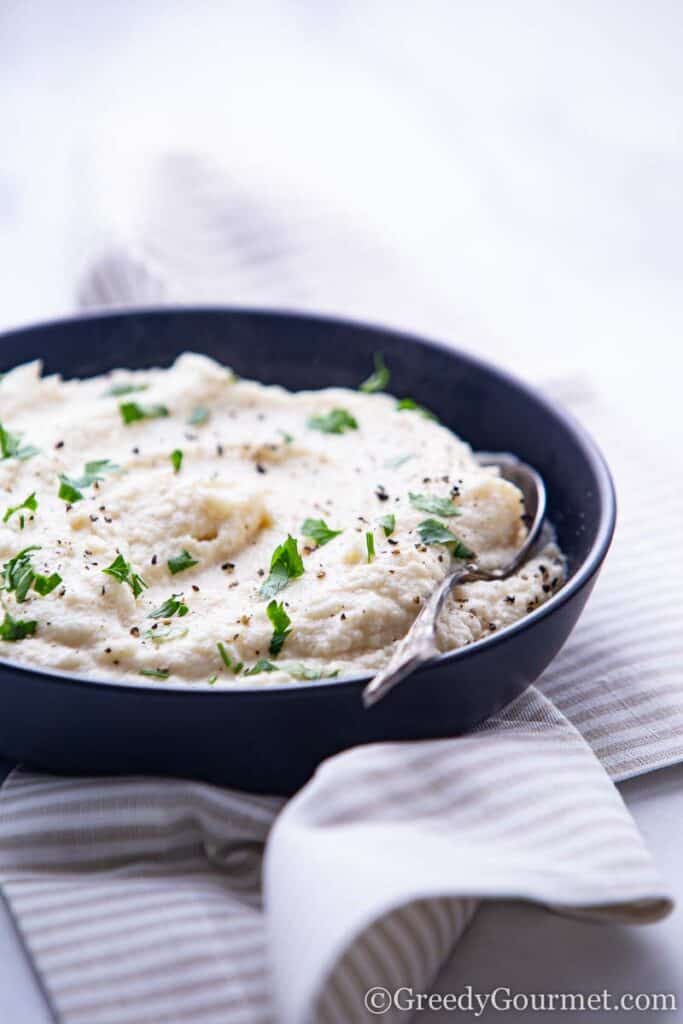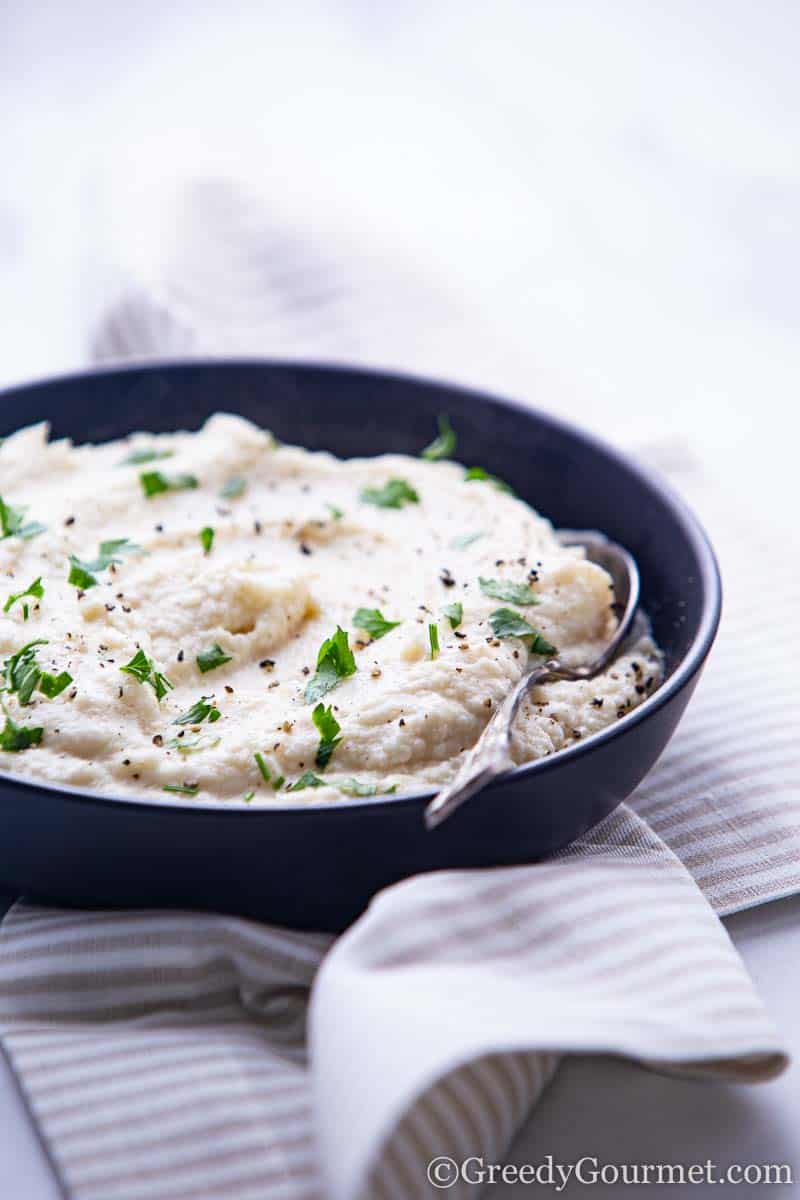 Healthy, super quick to make and an excellent alternative to potato mash, celery root puree is a seriously undervalued dish that needs a lot more love.
Products you need for this recipe
Let's take a look at some of the essential items for this recipe: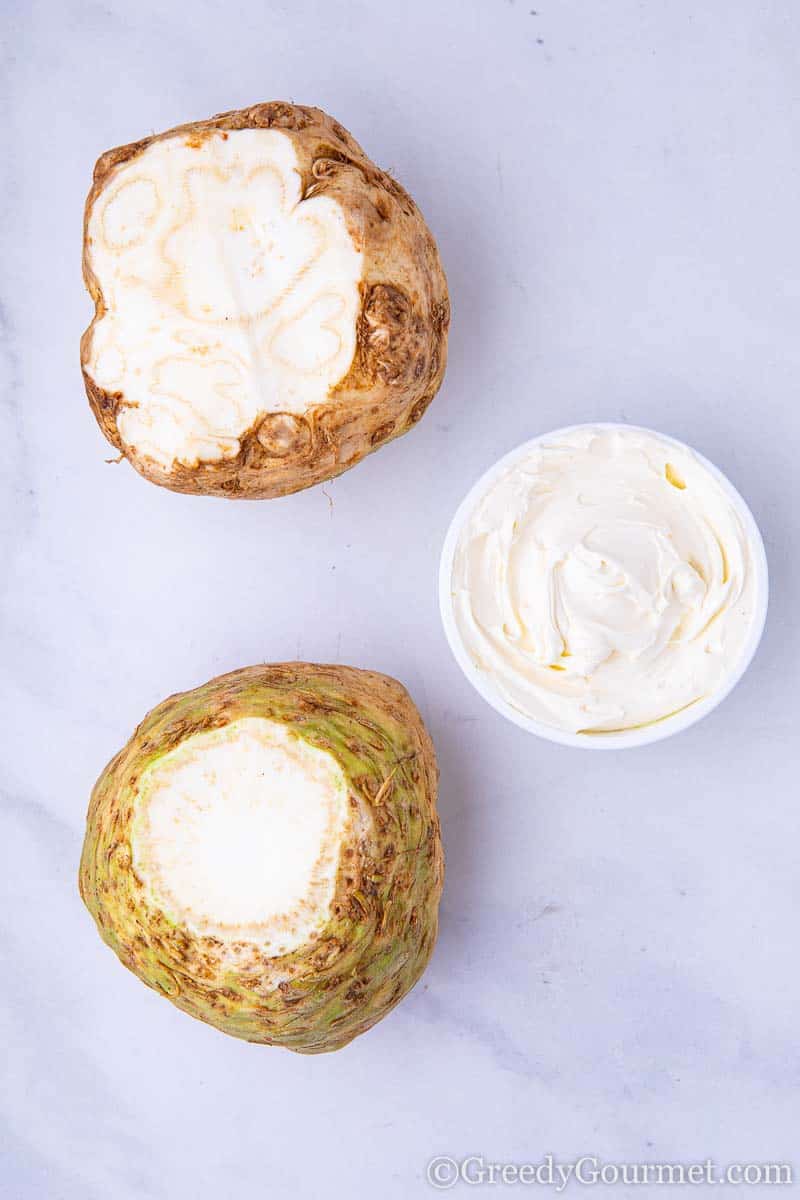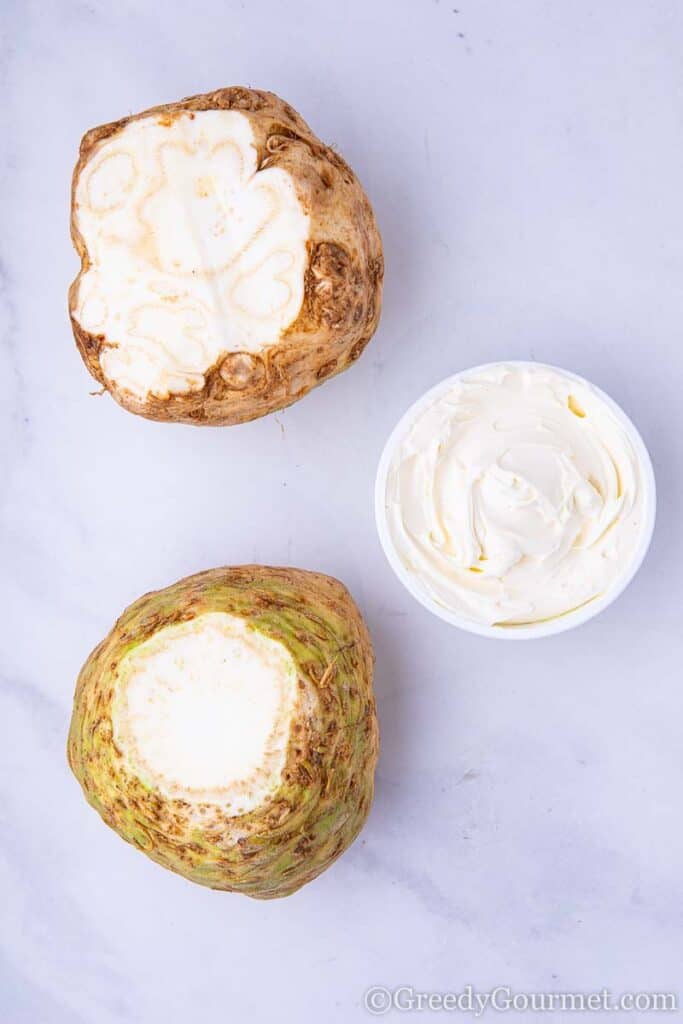 Celery root puree recipe
As unsung, underrated root vegetables go, celery root might just take first prize. That's what makes discovering this special side recipe all the more satisfying!
The reason for celery root's lack of popularity probably lies in its appearance. Looking a bit like the head of a grizzled old alien – or maybe a dried-out prehistoric sea creature – doesn't exactly make for an appetizing meal.
Still, go beneath the surface and you'll discover a vegetable with a lot going for it.
As a culture, we're big on potatoes. Whether mashed, fried or boiled, potatoes are everywhere. Well, sometimes you want the taste of something a little different.
Celery root puree really does make a wonderful alternative to potato mash. In fact, it's lighter, more mellow and less carb dense than mashed potato.
What's more, it's so simple to make. The hardest part is peeling the celery root – you'll soon get used to it – and the rest is chopping up the celery roots, cooking them in water, then mashing.
To bring some extra creaminess, add mascarpone – one tablespoon at a time – until you have the perfect texture.
What is celery root?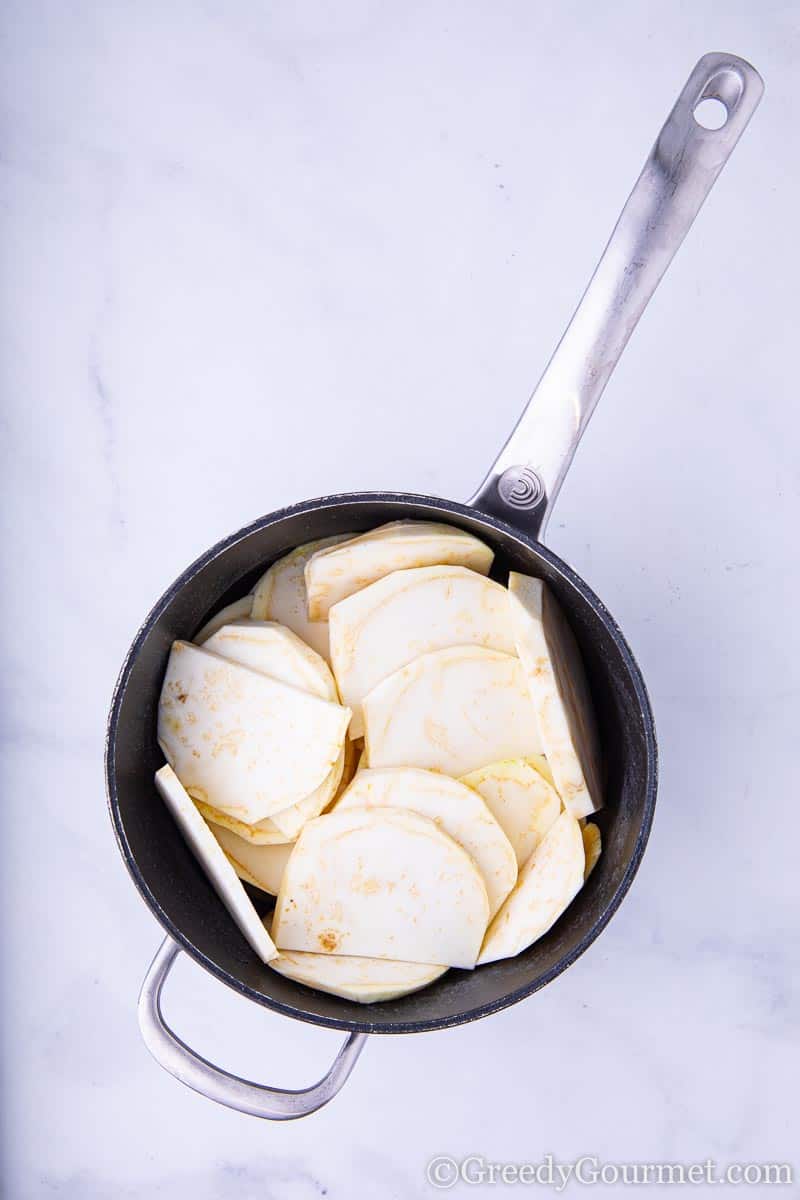 Sometimes called celeriac, knob celery or turnip-rooted celery, celery root is a root vegetable that is closely related to celery.
It's cultivated in many different areas around the world, including the Mediterranean, North Africa and South America.
Celery root has a big bulbous appearance, with an outer skin that is thick and gnarled. It's normally about the size of a grapefruit.
What does celery root taste like?
When eaten raw, celery root has a crunchy texture and a pepper taste similar to celery. When cooked, its taste sweetens and mellows a little.
How do you prepare celery root?
The thick gnarled skin of a celery root makes it difficult to peel. Ditch the vegetable peeler in favor of a small paring knife.
Slowly and carefully peel the skin off in vertical strips. You may have to work away and follow the bumps along the surface of the celery root. 
Be careful not to remove too much of the celeriac – it can be quite an expensive ingredient and you don't want to lose half of it with the discarded peel.
You'll know when the celery root is properly peeled, as you'll be left with the cream-colored inside.
Once you've peeled the celery root, you'll be ready to make your celery root puree.  After the first time, it'll seem less intimidating the next time you peel it. Trust me!
What else can you do with celery root?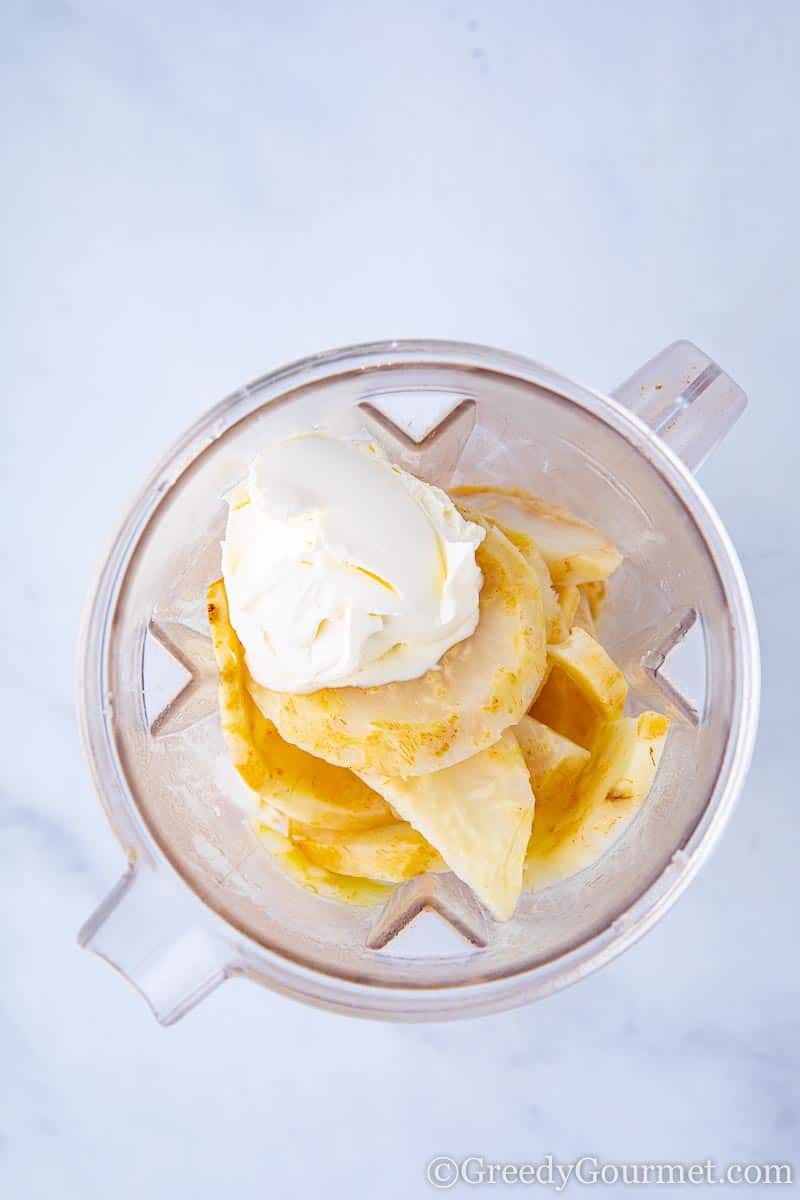 Aside from making a delicious celery root puree, you can also mix it with potato or sweet potato for a delicious mash up, deep fry it with batter for an indulgent treat, roast it alongside other winter veg, add it to a delicious winter soup or spiralize it for a low-carb pasta or noodle dish.
How do you store celery root?
To keep it fresh for as long as possible, it's best to store it in the refrigerator. Wrap it tightly in a plastic bag and store it in the veg compartment. It will keep for up to 2 weeks.
Are celery and celery root the same thing?
No, but they're closely related. They're from the same family of vegetables although they are different things.
Celery root is cultivated especially for its root. The name of the celery root plant is 'apium graveolens var. rapaceum.'
Celery, on the other hand, is cultivated for its stalks. The name of the celery plant is simply 'apium graveolens'
Is celery root good for you?
Yes, it absolutely is! First of all, it's low in carbs and calories, which makes it a great alternative to potatoes.
In terms of nutrients, it is absolutely packed full of them! It's particularly high in vitamin C, vitamin K and vitamin B6. 
It's also high in fiber and contains many essential minerals such as phosphorus, potassium and manganese.
As with most vegetables, you'll get a lot more nutrients from it when you eat it raw.
Is celery root keto-friendly?
How do you make celery root puree thinner?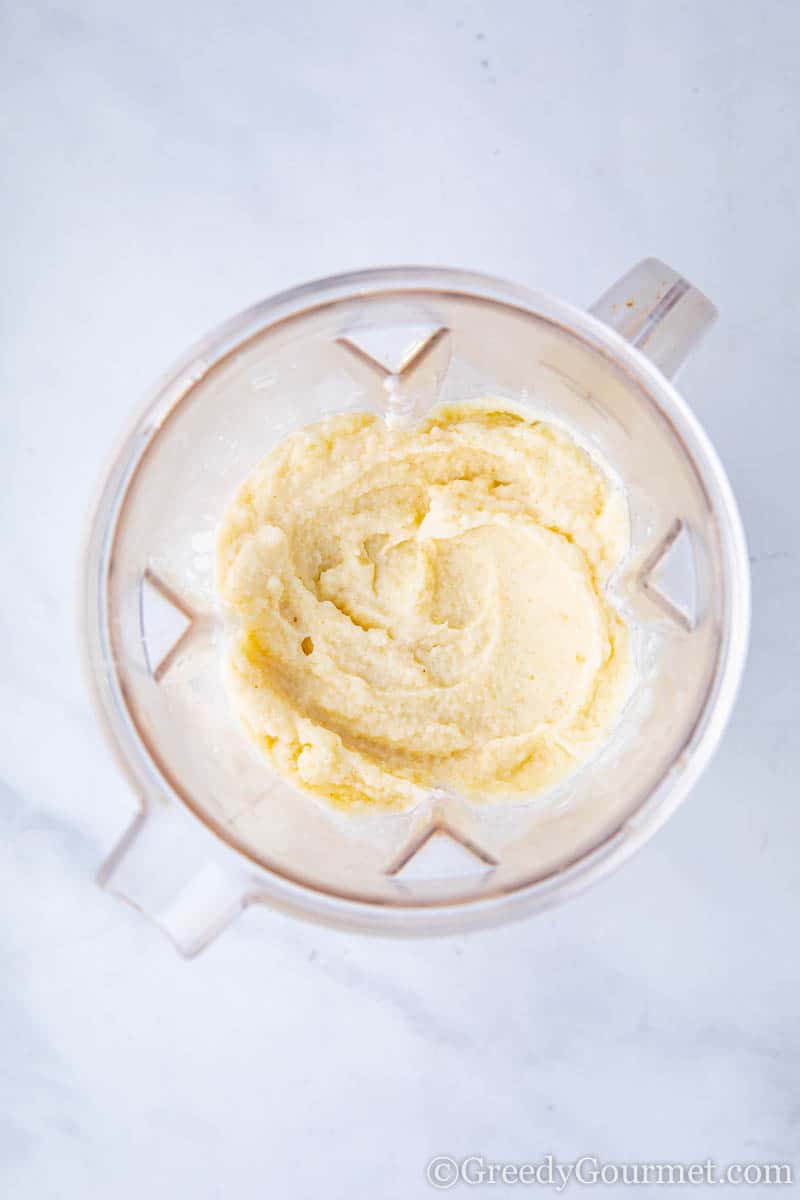 When mashed, celery root puree can still lack the smooth texture that you want.
First, using a hand blender will help to get a creamier, smoother consistency.
You could also try adding milk – full fat for a creamier taste or semi-skimmed for a thinner consistency. Add a small amount (¼ cup) at a time, until you have the desired consistency.
A little tip – whenever you add milk to mash, whether mashed potatoes, celery root puree or sweet potato mash, always make sure the milk is warm.
What ingredients can you add for extra flavor?
With its light and fluffy texture and subtle nutty, celery-like taste, celery root puree tastes fantastic with just a touch of butter and a sprinkle of salt.
However, I think mascarpone really adds a delicious creaminess to this dish. You could also add anything from garlic, nutmeg and ginger to parsley and thyme for an extra dimension of flavor.
You could combine some of these ingredients in a flavored butter – garlic and thyme butter for instance.
What should you serve with celery root puree?
BBQ Pulled Lamb – this is the very definition of mouth watering food! BBQ pulled lamb is unbelievably tender and tasty and would be a great combo with any kind of puree on the side
Beef Ossobuco – an Italian stew with an intense savory flavor, beef ossobuco is as tasty as it gets. Any kind of puree veg would be the ideal pairing with this rich, hearty Italian classic
Parmigiano Reggiano Baked Cod – healthy, hearty food just doesn't get any better. The star ingredient is the parmesan, which elevates this dish to an entirely new level of flavor and complexity
Lamb Leg Steak with Shallots and Red Wine Sauce – deep in taste and yet so quick and easy to prepare, lamb leg steaks are the perfect meal for weeknights. Cook them along with your delicious celery root puree for an excellent main/side combo
Steamed Sod – a healthy, delicious fish dish that's super easy to prepare, steamed cod with celeriac puree would make for a great weekday dinner option
Venison Stew – rich and hearty, this melt-in-the-mouth recipe is an absolute delight. If you fancy a change from the regular meat dishes, check this one out
Sous Vide Beef Cheeks – another fully-flavored melt-in-your-mouth beef classic, sous vide beef cheeks have to be tasted to be believed. If you're new to sous vide recipes, here's the place to start. Quite simply, an unforgettable culinary experience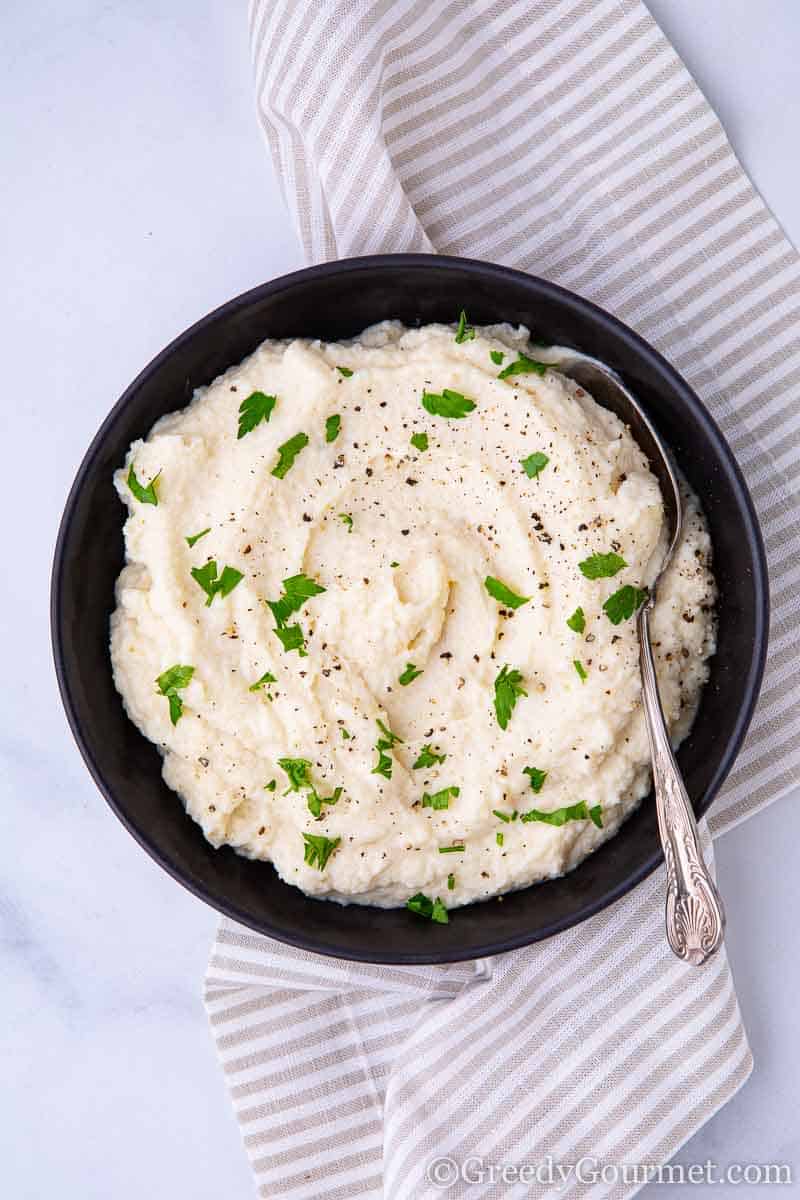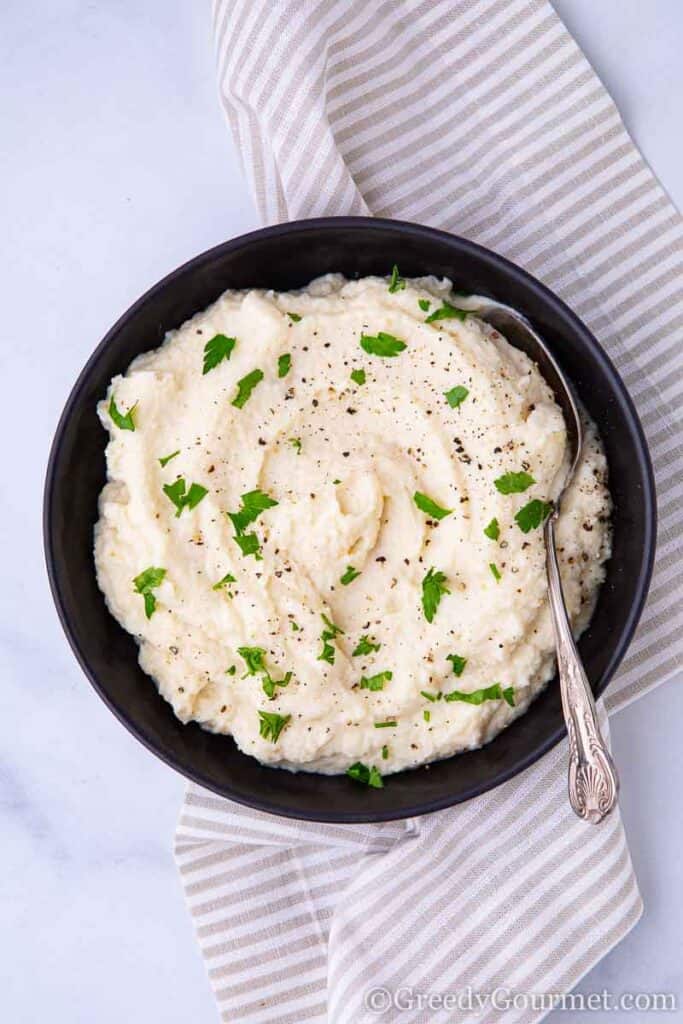 More wonderful vegetable side dish recipes
Want to cook up some more sumptuous veggie side dish recipes? Here are some more great options:
Print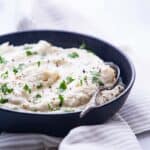 Celery Root Puree
---
Author:

Michelle Minnaar

Total Time:

30 minutes

Yield:

4

servings

1

x

Diet:

Vegetarian
Description
Celery Root Puree is a perfect side dish recipe for when you're looking for a Keto-friendly alternative to mashed potatoes.
---
1

large celeriac

14g

(

1 tbsp

) butter

100g

(

⅖ cup

) mascarpone cheese
salt and freshly ground black pepper
---
Instructions
Peel the celeriac and cut into thin slices.
Tip the celeriac into a pot of salted water and cook for 10 minutes or until tender.
Drain the celeriac, then pop the vegetable back into the pot over a low heat for a minute or so to remove the excess moisture.
Tip the celeriac, along with the butter and mascarpone cheese, into a food processor and blitz until smooth.
Season to taste and serve immediately as a side dish to a main meal. Enjoy!
Notes
Adjust the amount of mascarpone used to taste. Use more cheese if you prefer a creamier but sloppier puree. Alternatively, use less for a thicker consistency.
If you don't want to use too much cheese, add a splash of water instead.
Prep Time:

15 minutes

Cook Time:

15 minutes

Category:

Side Dish

Method:

Boil

Cuisine:

American
Keywords: celery root puree, celery root recipe, celery root side dish, vegetarian celery root recipe, how to make celery root puree