Creamy and rich, with a little zesty tang for your tastebuds, this is the best vegan ranch dressing you'll ever try.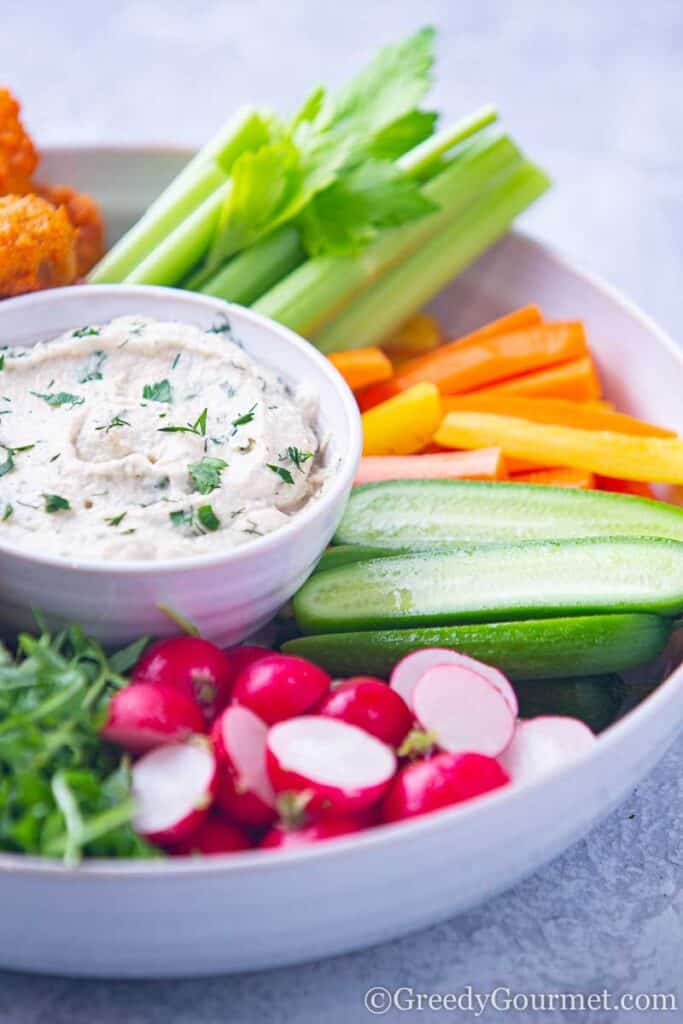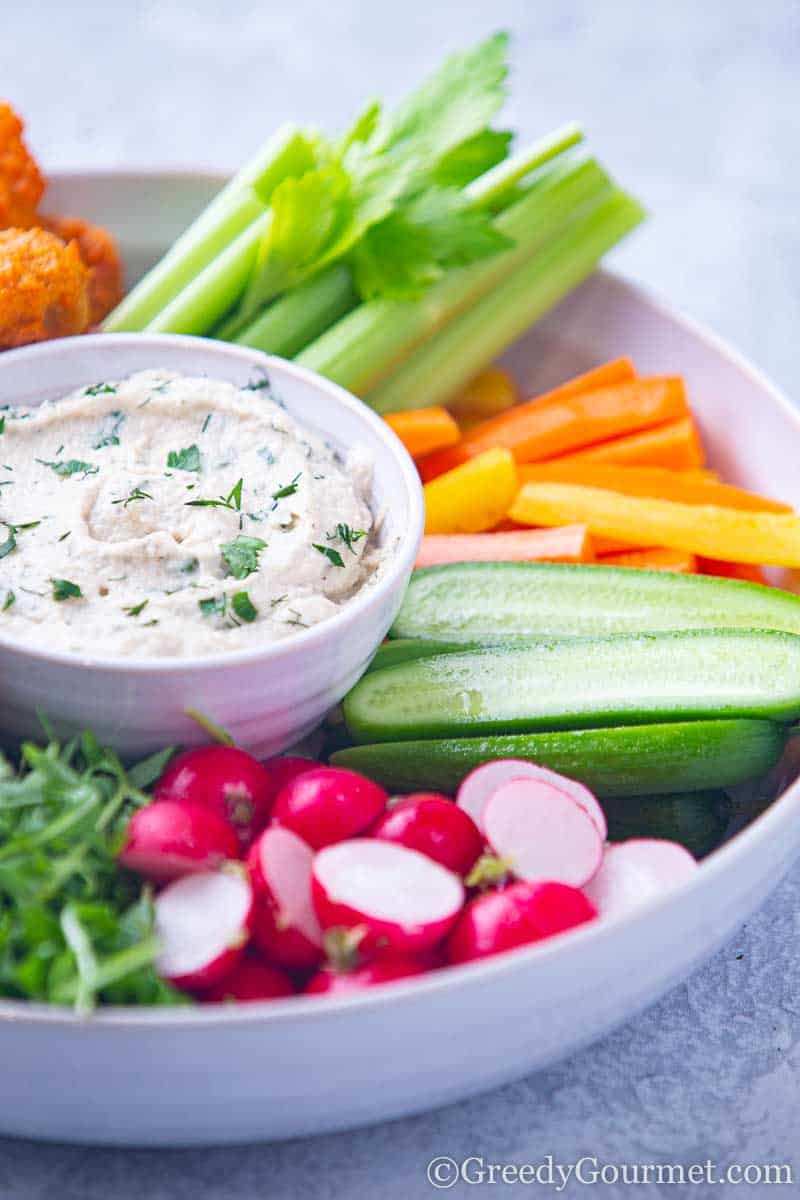 Make a big batch and you'll use it in so many different ways – as a sandwich dressing, a sauce, a dip – it's as versatile as it is delicious.
So, if you want to dress to impress and are on the lookout for an easy vegan ranch dressing that'll please kids and grown-ups alike, this one is guaranteed to hit the spot!
Products you need for this recipe
Here are a few items that'll help you make and serve this easy vegan ranch dressing:
Vegan ranch dressing recipe
With only six ingredients – not including a sprinkle of salt and pepper – this homemade vegan ranch dressing is a cinch. Best of all, you'll most probably have most of, if not all of the ingredients in your cupboard.
You'll need the following ingredients:
Raw cashews – for vegans, raw cashews are an absolute godsend! The deep nutty taste and creamy texture lends so well to dishes like this vegan ranch dressing
Almond milk – when blended with the cashews, almond milk will bring a beautiful silky texture and savory taste. You can buy almond milk from the store, but I highly recommend you make your own. Try my easy almond milk recipe!
Garlic powder – raw garlic would be a little too much for most tastes, so I've gone with garlic powder, for a more subtle boost of flavor. If you've not already got some stocked in your cupboard, it's a great ingredient to have on hand
Onion powder – another excellent flavor enhancer that brings an extra smack of umami, onion powder is an ingredient you should always have in your cupboard. For this ranch dressing recipe, it's central to the flavor
Apple cider vinegar – that zesty tang is really important to bring a balance of flavor. Enter that magical ingredient… apple cider vinegar! So very good for so and essential to this recipe
Fresh dill, parsley and chives – you'll be able to pick this up at your local grocer's. These fresh herbs are an optional ingredient that will bring a refreshing, fragrant twist to your vegan ranch dressing.
My advice is to stick with fresh over dried with these herbs – the dried versions won't bring anywhere near the same level of flavor
How to use this vegan ranch dressing
The best thing about this delicious vegan ranch dressing is that it's so versatile! Whip up a batch and keep it in the fridge – you'll be able to use it with everything from salads and sandwiches to pizzas and burgers.
Here are just a few of my favorite ways to get the best out of this homemade vegan ranch dressing:
Use it as a divine dip with big flavored vegetable dishes such as tobacco onions, parmentier potatoes, rosemary potatoes or baked sweet potato fries. Probably the ultimate pairing would be with my amazing buffalo cauliflower wings!
As a dip for crudités – crunchy raw vegetables like carrots, celery, cucumber, peppers or broccoli
Liberally spread on top of your favorite burger. If you're vegan, try it with my mouth watering butternut and chickpea burger. For meat lovers, it'll work wonders with my minted lamb burgers
Use it as a salad dressing for your favorite salads. I recommend this rocket salad with avocado, blue cheese and pecans, or for vegans this amazing pumpkin and beetroot salad. If you prefer something a little more filling, mix it into a salad olivieh in place of the mayo salad dressing and omit the chicken for a vegan twist.
Serve it as a light and creamy accompaniment to healthy fish dishes such as Thai fish cakes or steamed cod
Although the dish is not vegan, vegan ranch dressing works exceptionally well as a side to animal style fries.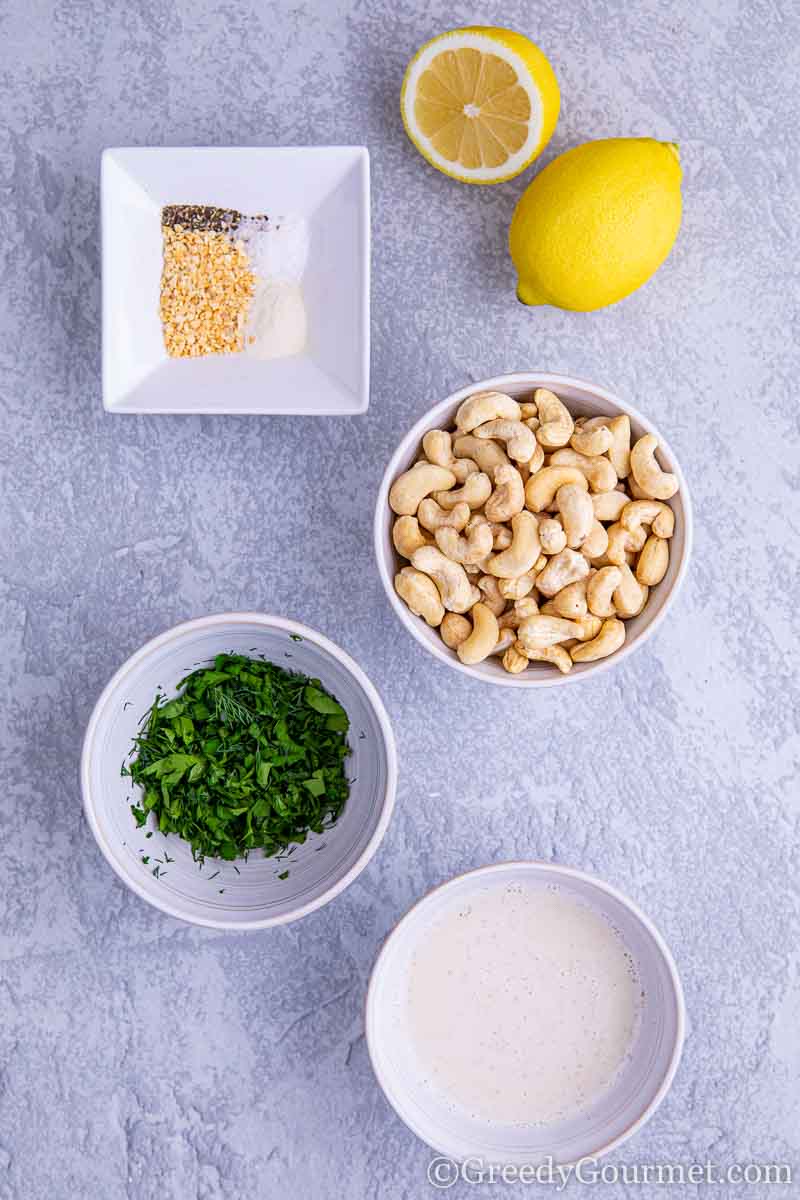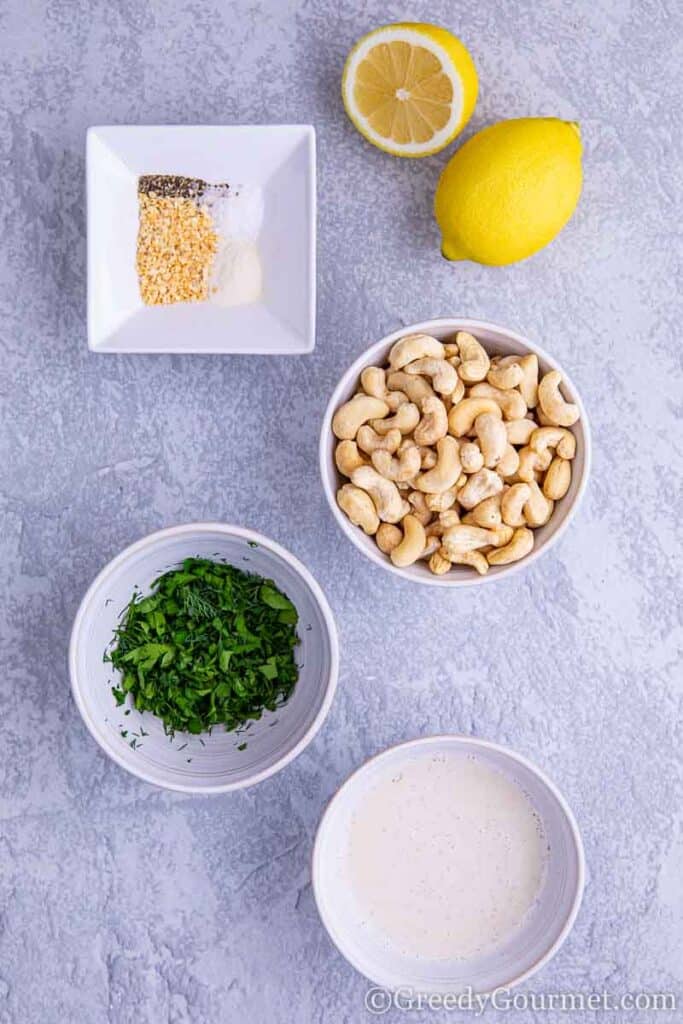 What is ranch dressing?
Ranch dressing is officially the most popular dressing in the United States. In a 2017 survey by the Association for Dressings and Sauces, 40% of Americans said it was their favorite dressing with Italian dressing way behind on 10%.
You'd never have believed that this hugely popular staple of American cuisine was invented by a plumber. Well it's true!
Steve Henson, a plumber from the tiny village of Thayer, Nebraska, came up with the recipe when working as a construction worker in Anchorage.
Unable to get hold of fresh ingredients, Steve came up with a delicious mix using dried herbs and dried onion and garlic powder. The creaminess to his original mix came from buttermilk.
Ranch dressing is characterised by three main elements. First, the creaminess. For traditional ranch dressing, buttermilk is used, although mayonnaise and sour cream are sometimes used.
Next, ranch dressing needs a herby taste. Normally this comes from parsley and dill, although other fragrant herbs can be used too.
The third important part of ranch dressing is the 'alium' element. This means the deep savory flavor you get from onion and garlic.  
Of course, a big turn of the black pepper mill is essential too!
What is vegan ranch dressing?
A simple twist on the original version, vegan ranch dressing uses similar basic ingredients to the original, with a few straightforward substitutes.
First of all, to make ranch dressing vegan, you need to replace the buttermilk, mayonnaise or sour cream with something dairy-free. 
When it comes to the perfect dairy-free ingredient to bring a smooth, velvety texture, look no further than cashews.
A dairy-free milk like unsweetened almond milk helps to bring the perfect creamy vegan consistency. You could also use vegan mayo, although, for me, cashews deliver a much better taste
Then, you simply add the same ingredients as you would for a standard ranch dressing. Simple!  
How do you make vegan ranch dressing from scratch?
It's so easy to make this recipe. It's the best ranch dressing for adding to so many different types of foods and, once you've made it for the first time, you'll want to keep a batch in the fridge at all times to bring some instant flavor.
Making this easy vegan ranch dressing is a three-step process:
Soak your cashews. You can do this overnight or, if you're making this recipe in a hurry, you can soak them in boiled water for 15 minutes.
Once you've soaked and drained your cashews, place them in the blender along with the almond milk, lemon juice, garlic powder, onion powder and apple cider vinegar.
Garnish with the fresh dill, parsley and chives.
That's it! Quick, easy and delicious!
Where can you buy vegan ranch dressing?
Most good health-food stores and large supermarkets would stock vegan ranch dressing. Let's be honest though, do you want to eat the store-bought stuff with all the potential additives when homemade vegan ranch dressing is so easy?
Six main ingredients and a three-step process for the best vegan dressing you'll ever try. No need to buy it when the homemade stuff tastes this good and is so easy!
What's the best non-dairy milk to use in vegan ranch dressing?
You've got a lot of options here, but the main thing to keep in mind is that you want an unsweetened dairy-free milk.
Soy milk and rice milk would both work well, as would coconut milk. Cashew milk would also be a good ingredient to use – check out my delicious homemade cashew milk recipe.
It's nice to get a balance though and that comes with the blend of almond milk with the cashews in this recipe.
How do you make this vegan ranch dressing recipe extra tasty?
Feel free to have a play with different flavor combinations until you find your personal best vegan dressing. 
If you're a garlic love, you could try black garlic salt or black garlic powder. You could even use fresh garlic if you don't mind that powerful raw garlic kick – make sure you use a garlic press to get that fine garlic paste.
Another great dried ingredient that brings a wonderful savory flavor is celery salt. Add half a teaspoon along with the garlic and onion powder and adjust the salt according to taste.
You could also use different combinations of fresh herbs. Try oregano, thyme, tarragon alongside the chives, parsley and dill. Mix and match until you find your ideal herb mixture.
This vegan ranch recipe is oil free. You could add a drizzle of flavored oil if you wish – try something like an extra virgin olive oil infused with shallots and garlic or a straight garlic infused extra virgin olive oil. 
Then either leave out the garlic and onion powder or adjust to taste.
Can you substitute fresh herbs for dried herbs?
Actually, the original idea of ranch sauce was to use dried herbs. The inventor of the humble ranch dressing, Nebraskan Steve (see 'What is ranch dressing') specifically used the dried variety.
Still, change is good. Let's focus on flavor and make use of fresh herbs.
While some herbs keep a lot of flavor when freeze dried – think thyme and oregano – others lose a lot of the taste and flavor that makes them delicious and fragrant when fresh.
Dried herbs are better kept for casseroles and stews, when the high temperature kills off the flavor of fresh herbs.
For dips and dressing, fresh is always the way to go.
How do you store vegan ranch dressing?
This recipe will keep fresh for up to a week in the fridge.
Believe me, you'll get through it a lot quicker than that, as this dressing goes with everything! Sandwiches? Check. Salads? Check. Leftover pizza? Check!
It doesn't freeze well though, so bear in mind you'll have to use it up within a week. That won't be a problem though!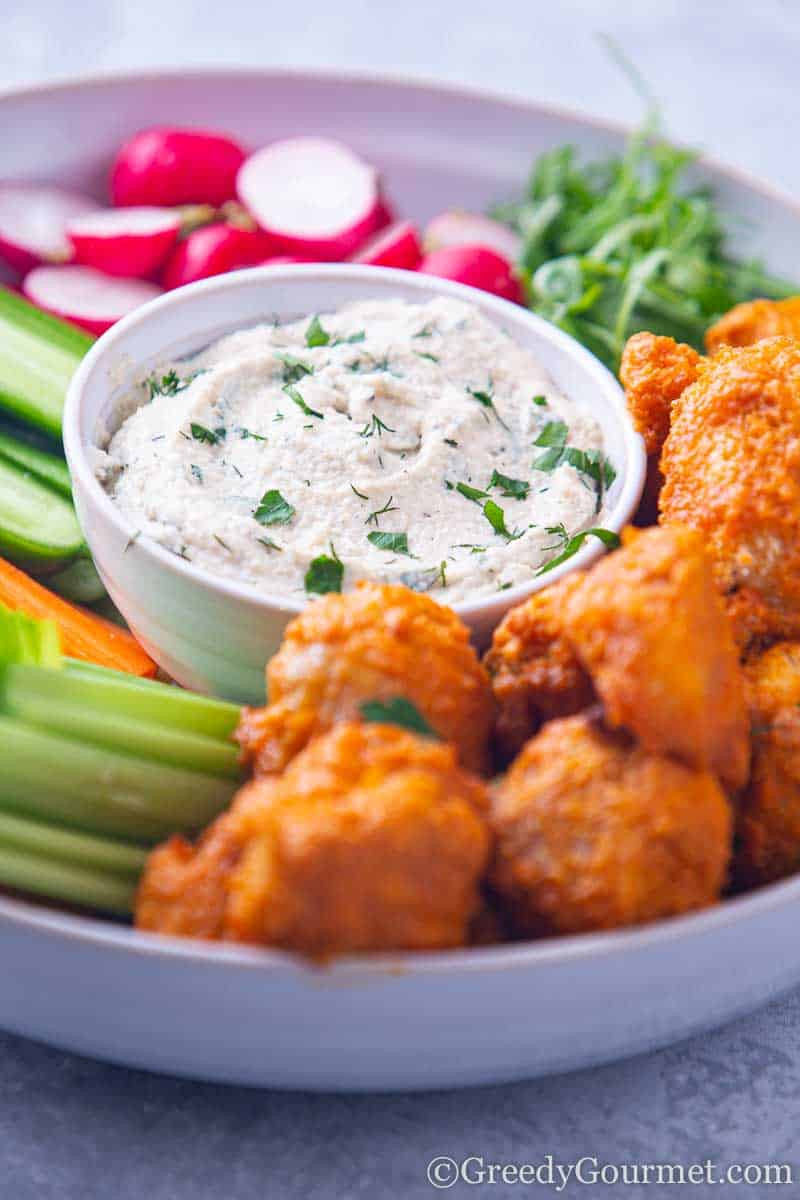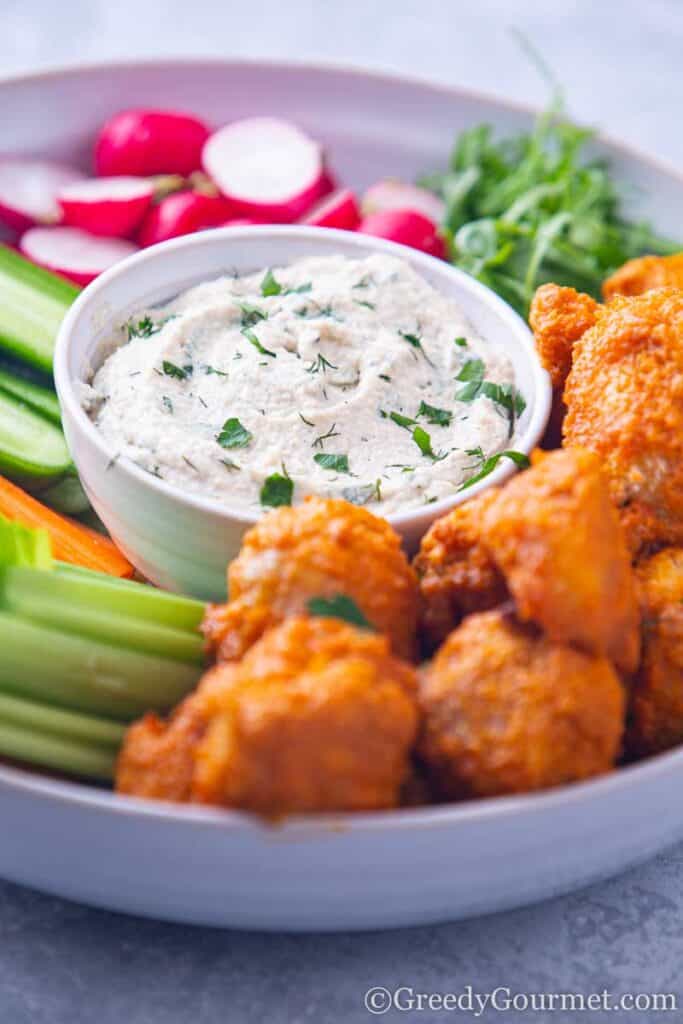 More amazing sauces, dips and dressings
Want some more flavor in your life? Check out these recipes:
Delicious vegan starters
Need some inspiration to create some amazing entrées? When it comes to vegan starters, I've got you covered.
Here are some of the best Greedy Gourmet recipes for kicking off a vegan feast:
Need more? Here's a full list of 30 vegan starters to sink your teeth into.
Print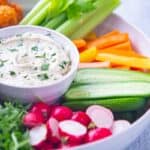 Vegan Ranch Dressing
---
Author:

Michelle Minnaar

Total Time:

10 minutes

Yield:

10

servings, 1½ cups, 30ml (

2 tbsp

) each

1

x

Diet:

Vegan
Description
This easy Vegan Ranch Dressing is creamy with a little zesty tang for your tastebuds. Try it with some Buffalo Cauliflower Wings or serve as a salad dressing. 
---
150g

(

1 cup

) raw cashews, soaked in water overnight

250

ml (1 cup) almond milk

15

ml (1 tbsp) lemon juice

6g

(

2 tsp

) garlic powder

2g

(

½ tsp

) onion powder

10

ml (2 tsp) apple cider vinegar
salt and pepper, to taste
fresh dill, washed and chopped finely [optional]
fresh parsley, washed and chopped finely [optional]
fresh chives, washed and chopped finely [optional]
---
Instructions
Place the drained, soaked cashews in a high powered blender, along with milk, lemon juice, garlic powder, onion powder and vinegar.
Blend until smooth then season to taste.
Garnish with parsley, dill or chives.
Serve immediately as a dip with crackers and vegetable crudites, or Cauliflower Buffalo Wings. Enjoy!
Notes
Alternatively, if you didn't soak the cashew nuts in water overnight, you can use a shortcut by pouring boiling water over them and soaking the nuts for 10 minutes. Drain and proceed with the recipe.
This vegan ranch dressing will store in the fridge for up to a week. The cold temperature will thicken it though.
This recipe is not suitable for freezing. Additionally, if you find you have too much almond milk leftover, then check out my guide on Freezing Almond Milk as your results can vary depending on how you use it once thawed.
Prep Time:

10 minutes

Cook Time:

0 minutes

Category:

Sauce

Method:

Blend

Cuisine:

American
Keywords: vegan ranch dressing, vegan ranch recipe, how to make vegan ranch dressing, cashew ranch recipe, ranch sauce, dairy free ranch