Who says you can only get eggnog latte at coffee shops? Not us!
In fact, you don't even need a latte machine or espresso maker to create your very own eggnog latte. You can make an eggnog latte perfect for frosty mornings or evening get-togethers in your kitchen using a handful of common ingredients.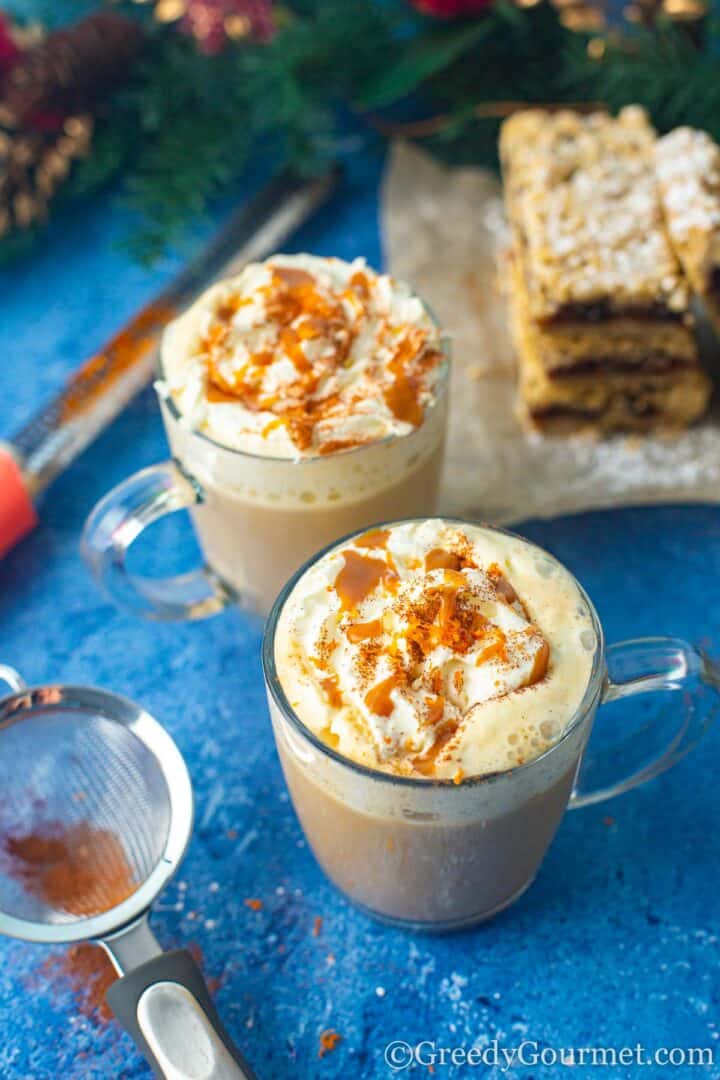 Even better, this eggnog latte recipe is quick and easy, so you can share it with your friends and family members. Whether you're a fan of traditional hot coffee or signature espresso, you're going to love this homemade eggnog latte.
So let's break down how you can whip up a tasty eggnog latte in no time.
Special Equipment Needed to Make This Recipe
Saucepan – this is how most folks will make their eggnog lattes, although you can alternatively use a…
The core difference here is that a latte or espresso machine may come with a milk steaming wand. A steaming wand allows you to directly heat the eggnog for the recipe. However, most people don't have their own latte-making machines at home, which is why the recipe below assumes you don't.
Let's face it; some coffee drinks require pretty pricey equipment. but not everyone wants to spend a small fortune to get Starbucks eggnog latte-quality drinks. Understandably, store bought eggnog latte just doesn't cut it.
The good news is that the eggnog flavor of this recipe delivers a well-balanced flavor of coffee, milk, and eggnog. Please note that if you prefer extra-creamy eggnog, you're free to top with whipped cream, too, if you desire. But on its own, we think you're going to be really happy with the latest recipes for eggnog lattes.
Before we proceed any further, it's important to note that you may also wish to get the espresso for the recipe via a Keurig machine or espresso maker. Again, if you don't have an espresso maker or a Keurig, never fear!
You can make delicious eggnog lattes using traditional, strong drip coffee instead. This is especially good news for fans of strongly brewed coffee. We'll break down how to concentrate your coffee for an espresso-like flavor and experience below.
In the end, you will have a Starbucks eggnog latte recipe that delivers exceptional flavor for the perfect drinks cuisine. This eggnog latte is ideal for savoring in your favorite mug on Christmas morning or any other day.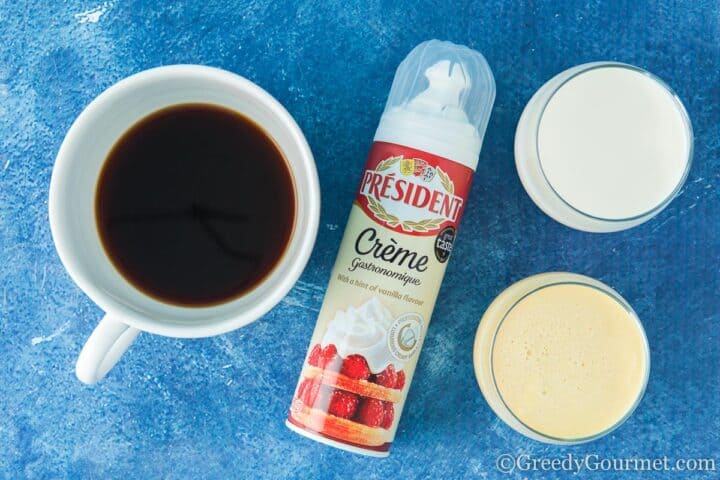 Special Ingredients You Need for This Recipe
The type of espresso or coffee you use will directly affect the recipe flavor in the end. For the best results, and if you don't have an espresso machine, opt for espresso-flavored coffee. You can pick up such coffee from Starbucks or similar coffee shops. Many grocery stores also have store brand espresso flavored coffee.
These coffee varieties are dark, heavy, and often contain notes of chocolate, hazelnut, and similar flavors. When you concentrate your coffee to simulate drip espresso, you'll appreciate them even more. Do not buy your espresso or coffee in light roast or medium roast varieties.
We also recommend picking a delicious eggnog you know and love. Any eggnog taste will do, although thick, rich eggnog makes the best lattes. The thicker and richer the eggnog product, the easier it will heat in your saucepan without evaporating or reducing too much.
For best results, try cooking over medium heat in a small saucepan on your stovetop for about a minute. check to see what kind of results this gives you. If you don't like it, you can always increase the heat as desired. Follow these helpful tips to ensure your eggnog recipe turns out the way you like it.
Why You'll Love This Eggnog Latte Recipe
This eggnog latte recipe is easy, straightforward, and ideal for fans who love eggnog beverages. But it's a particularly excellent recipe because:
You don't need an espresso or latte machine
It only takes a few minutes from start to finish
The eggnog is heated to perfection for a great start to your morning
You get to choose the coffee flavor since you'll use concentrated coffee in place of espresso
That's right; you can enjoy eggnog latte recipe without the need for fancy equipment, such as a milk frother for steamed milk. This easy recipe tastes delicious, and you don't even have to run to your local coffee shop to get it.
If you're in the mood for such a treat and can't wait to try out the distinct flavor, this is the perfect eggnog latte recipe for you. Best of all, you don't have to wait until Christmas to enjoy this great recipe. With the eggnog latte recipe, it's happy holidays all year long!
How to Make This Recipe
Ready to get started? Let's break down how you can make an eggnog latte from scratch in a few basic steps. The delicious options and eggnog ingredients below are sure to please.
Step 1 – Brew Some Strong Coffee/Espresso
You can't make an eggnog latte without a coffee base! To that end, brew up a pot of concentrated, dark roasted, strongly brewed coffee or slowly pour yourself some espresso if you have a Keurig machine.
What's concentrated coffee? It's just regular drip coffee brewed with less hot water than usual. The resulting drip coffee you get will be more concentrated and caffeinated than normal: perfect for simulating delicious espresso. The extra caffeine and sugar combine for a more festive drink.
We recommend using a dark roast or espresso flavored coffee if possible. To brew concentrated strong French press coffee, use the same amount of beans or grinds as usual. But you should only use about one-half as much water as is necessary for a cup of drip coffee. Use the markers on the side of your coffee pot to make sure you use the right amount of water.
Step 2 – Mix the Ingredients
Once your pot of coffee is finished brewing, put that and all the other ingredients, including the eggnog and spices, in a saucepan at low heat. Use a whisk to mix everything together. The more you mix, the better the flavor will be in the end!
Step 3 – Heat!
Now you just have to let the eggnog latte mixture key to your desired temperature. Don't raise the temperature above medium because the last thing you want is for it to begin boiling. Boiling may cause the coffee to take on a burnt flavor and could reduce the mixture too much.
We recommend heating your eggnog latte for between five and 10 minutes at low heat. This should be enough to heat it to drinking temperature. The coffee is already caffeinated, so you don't need to wait for any espresso to brew and be squeezed into a cup!
Step – Pour and Finish
You're almost done. Now you just need to pour the eggnog latte into your chosen glass or glasses. For added flavor and a little seasonal touch, put some squirty (or whipped) cream on top. Be sure to add cinnamon (just a dash) to make it truly delightful!
Top Tip
Don't stop whisking the eggnog mixture as it heats up. This will also prevent anything from sticking to your saucepan.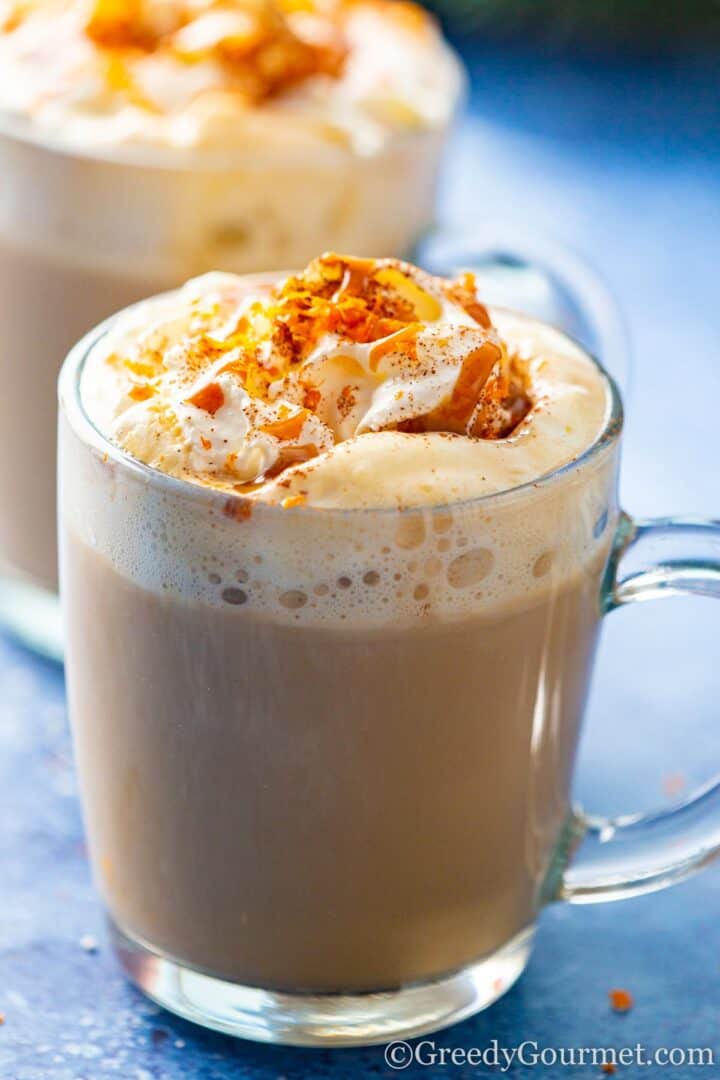 What temperature should I heat eggnog to?
Eggnog is best heated to 160°F before drinking. However, you can heat it up to 170°F if you prefer hotter beverages.
Does heated eggnog last if you put it back in the fridge?
No. Once heated, it should be consumed or thrown out because eggnog is a dairy-based product.
What to Serve with Your Eggnog Latte
Eggnog lattes are delightful by themselves, but you can pair them with a few snacks for a complete breakfast or afternoon treat.
Snacks
Crisps
Candy
Bagels
Sandwiches
Desserts
Donuts
Ice cream
Biscuits
Pies
Popular Substitutions for This Recipe
If you're a vegan or otherwise can't digest dairy, never fear – you can easily substitute a milk alternative for the eggnog in this recipe. For example, you can make the exact same recipe with coconut milk, soy milk, or almond milk.
However, keep in mind that milk alternatives may need to be heated for different times or at different temperatures. It may take a little experimentation before you perfect your unique non-milk variation of this recipe!
Variations to This Recipe
Instead of adding whipped cream or nutmeg, you can add about a tablespoon of caramel to your coffee. This will give it a delicious extra edge and make it a bit sweeter than normal. But be warned – it's dangerous since it's so tasty and you'll want to make another one ASAP!
Top Tip
Use a non-stick saucepan if possible. You won't be able to add any butter, oil, or anything else to the recipe without changing the eggnog latte's flavor. Therefore, naturally non-stick pans made of materials like copper are ideal.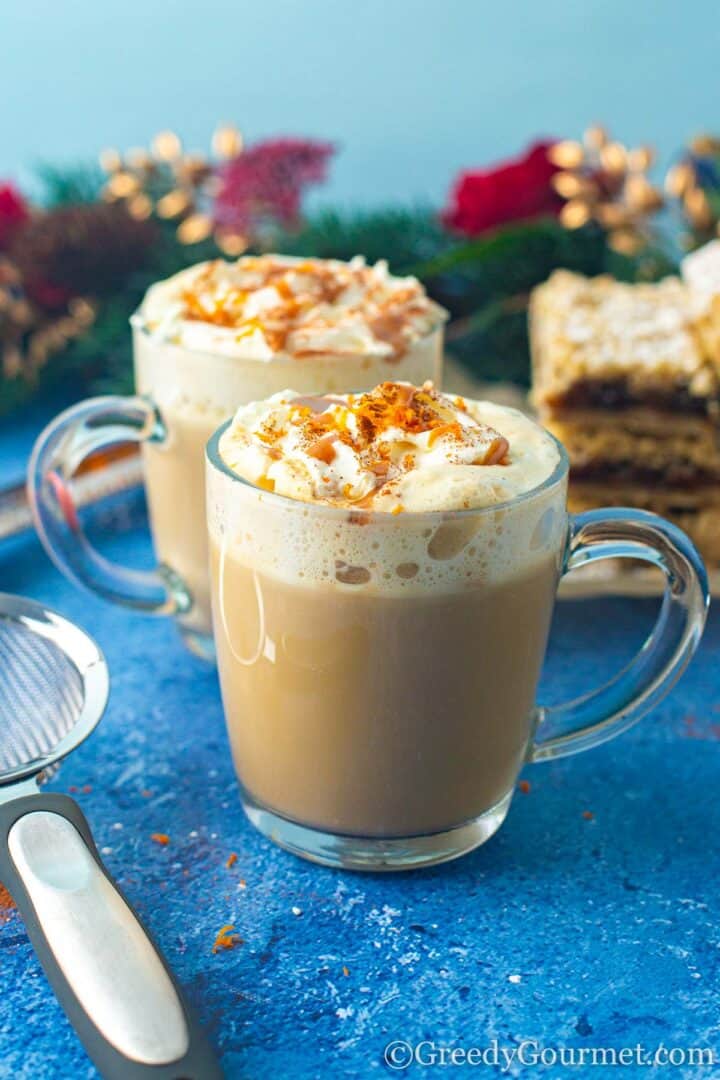 Other Recipes You'll Love
Cashew Milk
Try this tasty recipe to whip up your own dairy-free milk at home! It's a homemade cashew milk recipe that anyone can master. You might even use your new cashew milk for a variation of this eggnog latte recipe!
Boiled Custard
This charming recipe will quickly become a staple of your holiday season delights. Boiled custard is a delicious after-dinner treat!
Almond Milk Shake
If you're a fan of milk alternatives, this almond milk protein shake recipe will be great for bolstering your muscle growth. You can enjoy it as a postworkout beverage because the chocolate in the recipe gives your body a quick boost of energy and the almond milk provides vital protein for muscle synthesis.
Food Safety
Keep these key food safety tips in mind as you make your eggnog latte:
Don't use a sharp utensil or whisk on your saucepan, as you may scratch the bottom. This could pave the way for germs to settle in the cracks and make your saucepan unsafe
Don't leave the saucepan unattended
Don't lean close and smell the eggnog, as it could pop and burn your face
Always wash the saucepan thoroughly after using it to prevent residue from sticking
Let Us Know How You Like It!
Eggnog lattes are some of our favorites, especially as winter gives way to spring. There's no better way to start the day than with a delicious eggnog latte you whip up in your own kitchen. Don't forget to let us know what you think of this recipe or if you have any creative tricks or variations to share with us!
Print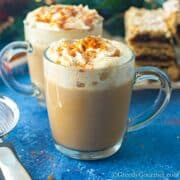 Eggnog Latte Recipe
---
Author:

Michelle Minnaar

Total Time:

10 minutes

Yield:

2

servings

1

x

Diet:

Vegetarian
Description
If you're a fan of traditional hot coffee or espresso, you're going to love this quick and easy Eggnog Latte.
---
Eggnog Latte
80

ml (⅓ cup) espresso (strong coffee)

250

ml (1 cup) milk

310

ml (1¼ cups) eggnog

1g

(

⅛ tsp

) ground nutmeg, or pinch

1g

(

⅛ tsp

) ground cinnamon, or pinch
To Decorate
squirty cream
ground cinnamon
---
Instructions
Place all the Eggnog Latte ingredients in a saucepan over a low heat.
Let the mixture reach your desired temperature. Don't let it boil though!
Pour into your chosen glasses and top with squirty (or whipped) cream and a sprinkle of cinnamon.
Serve immediately. Enjoy!
Notes
For a little added twist add 15ml (1 tablespoon) of caramel to the coffee. This gives it a delicious extra edge!
Looking for a scrumptious dessert to serve alongside this? Try my delicious Chocolate Delice recipe!
Prep Time:

5 minutes

Cook Time:

5 minutes

Category:

Drink

Method:

Boil

Cuisine:

American
Keywords: Latte, Eggnog, Eggnog Latte, Eggnog Drink, Thanksgiving Drinks, Christmas drinks