An absolutely sensational dish that's packed full of fabulous flavour, king prawn chow mein might just make its way to the top of your list of favourite new recipes!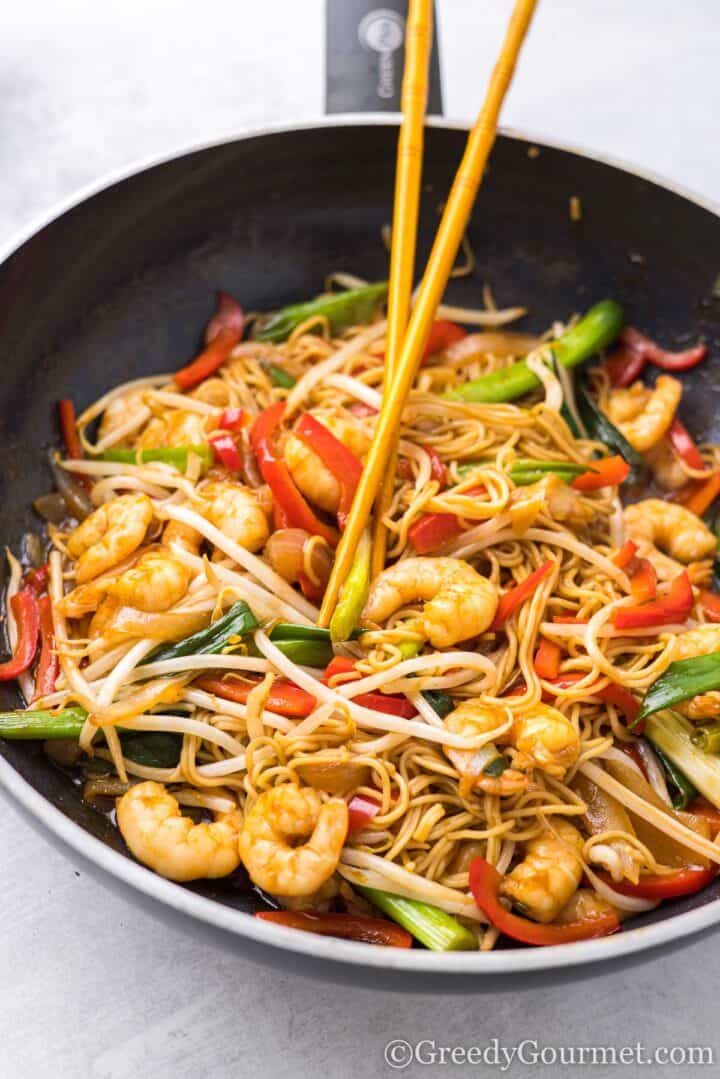 Best of all, it's an absolute cinch to make! You want to know how? Let's find out.
Why you'll love this recipe
It's utterly delicious
With only 20 minutes cooking time, it's very quick and easy to make
You can feed a lot of people with minimal cost
It's a very adaptable recipe that can be tweaked to your tastes
Everything is cooked in one pan
Special equipment needed to make this recipe
There are a few key items you'll need for this king prawn chow mein recipe:
Large wok – a wok or a large frying pan is required to flash fry the ingredients in this prawn chow mein stir fry
Food processor – this recipe requires you to slice, grate and chop. Use an all-in-one gizmo to get the job done for you!
Ingredients you need for this recipe
You'll need to source some special ingredients to get the best out of this king prawn chow mein stir fry:
Oyster sauce – the amazing rich flavour of oyster sauce is so important to this dish
Sesame oil – the unique taste of sesame oil is very important to this dish. It can be replaced (see below) but the substitutions won't be as good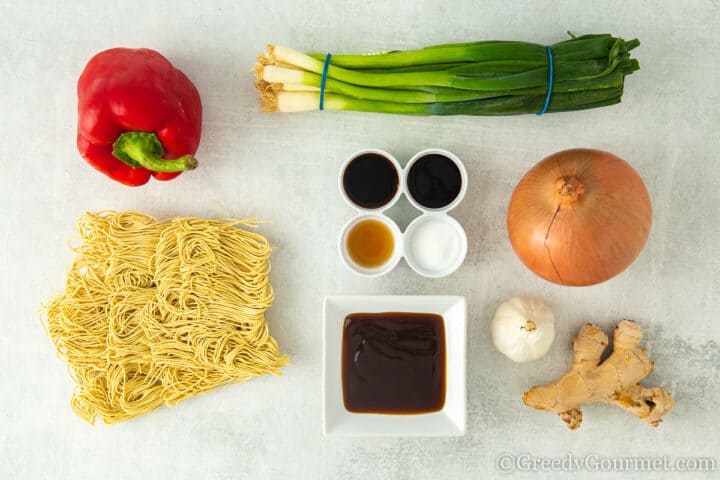 Top Tip
Don't crowd the frying pan! Your ingredients need space in order to get that wonderful caramelised taste, otherwise they'll steam and end up soggy. If needed, fry in batches.
What to pair with your king prawn chow mein
Sides
You can use noodles as a side to this king prawn chow mein stir fry, although I prefer to stir my noodles into the chow mein sauce to get everything coated.
I've gone for dried egg noodles in this recipe, although you can also use fresh egg noodles, yakisoba noodles or ramen noodles.
Wine pairing
Sauvignon Blanc would be an ideal pairing with the light spices and savoury flavours in this recipe. A dry sparkling wine would also be a good choice. My tip would be a sparkling Riesling.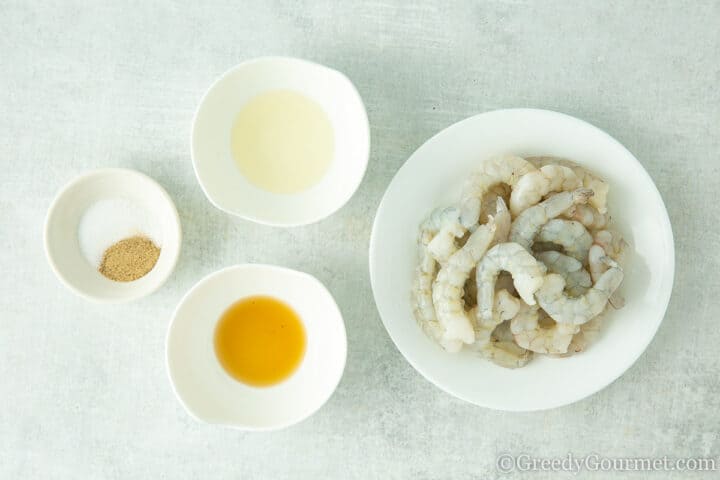 Popular substitutions for this recipe
Here are a few good substitutions for those ingredients that you can't get hold of:
You can use fish sauce or teriyaki sauce in place of oyster sauce
I really recommend using fresh ginger, as it brings so much flavour. However, you can swap it out for ginger paste at a 1:1 ratio, or a teaspoon of ground ginger
Variations to this recipe
Add any of the following to give your kind prawn chow mein a whole new dimension:
Mushrooms – use white mushroom, chestnut, baby bella, oyster, shiitake, portobello or enoki
Mixed peppers – use yellow or green peppers to complement the red pepper in this recipe
Bamboo shoots – a staple ingredient in Asian cuisines, bamboo shoots add a sweet earthiness to the dish, while bringing an extra crunchy texture
Water chestnuts – sweet, nutty and tart, water chestnuts are a great ingredient to add to a king prawn chow mein stir fry
Broccoli – you've got to love a bit of broccoli in a stir fry. Unless you don't. In which case, leave it out. Trust me though, it works really well as a variation to this recipe
Bok choy – crunchy, juicy and with that wonderful herbal taste, bok choy is definitely a great ingredient to add to any stir fry
Other types of bean sprouts – kidney bean sprouts or mung bean sprouts bring an earthier flavour
How To Make This Recipe
Marinate the prawns with salt, white pepper, sesame oil and Chinese rice wine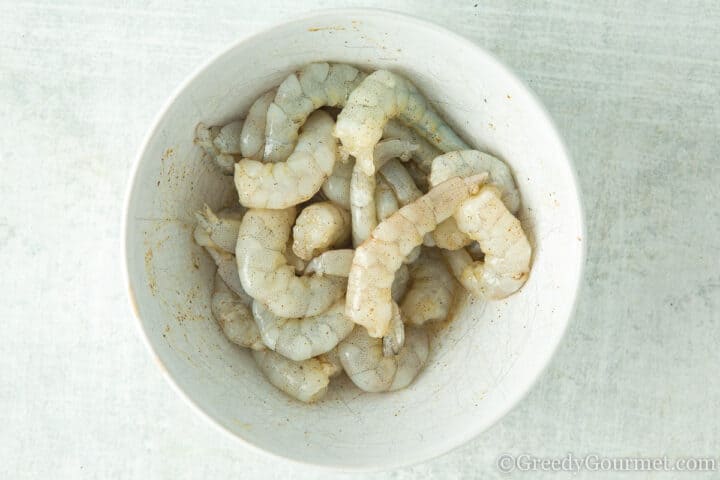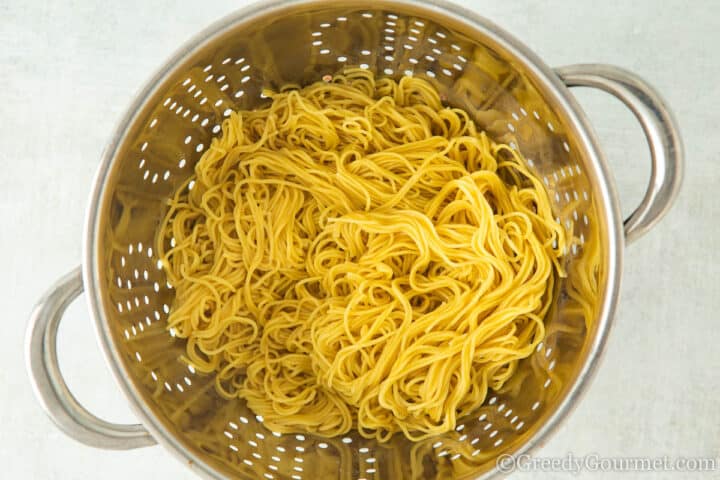 Cook the noodles according to package instructions. Drain and set aside.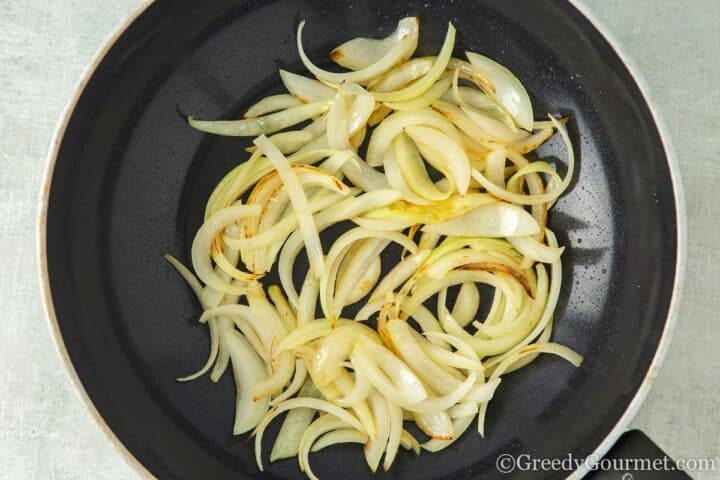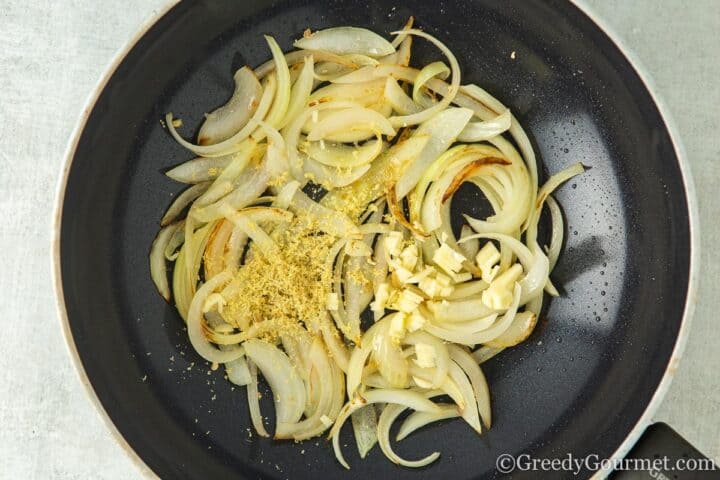 Add the red peppers and spring onions.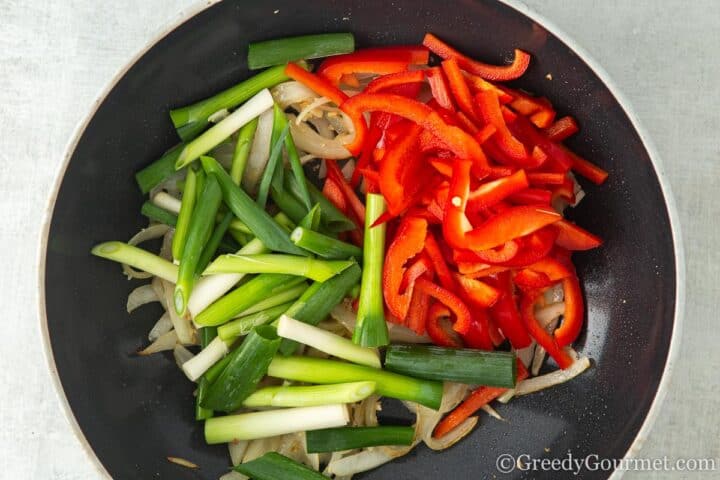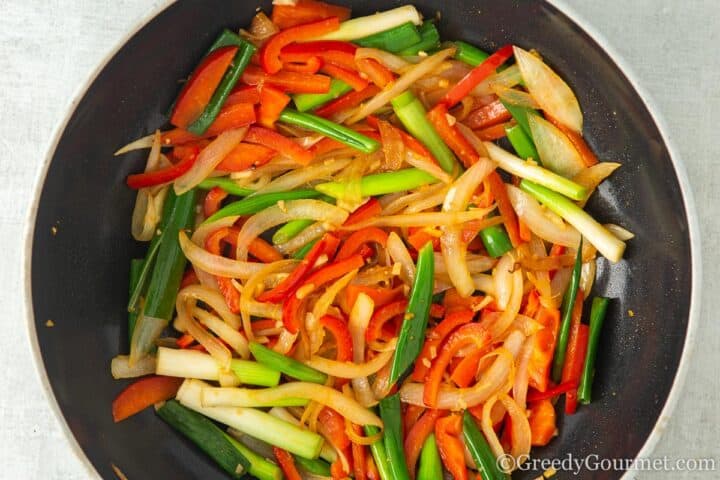 Cook for 5 minutes until softened.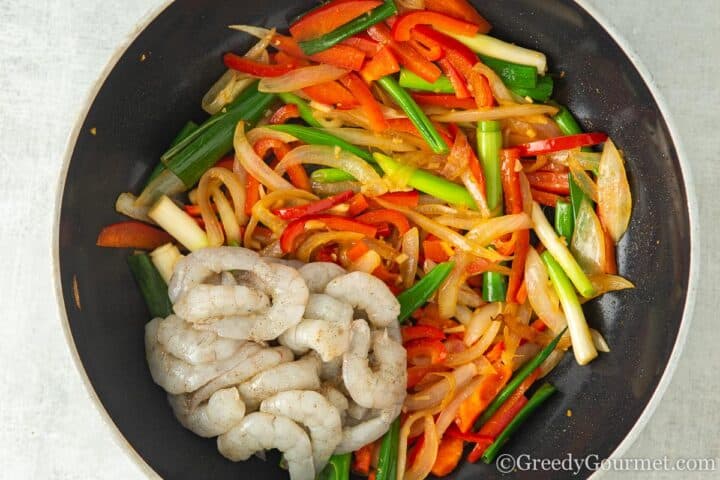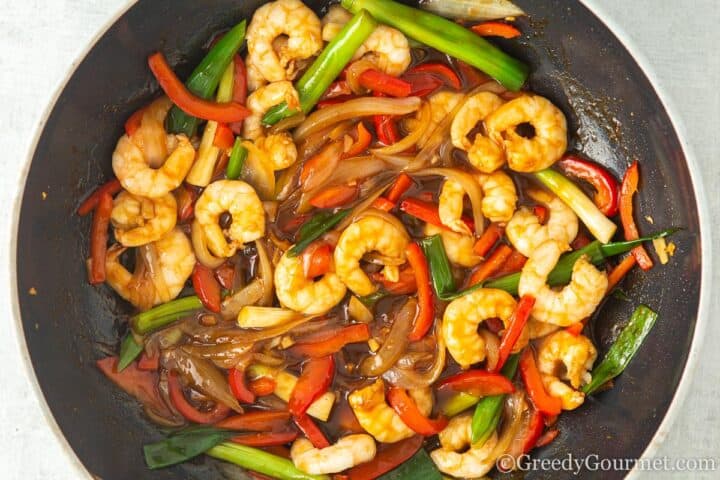 Pour in the sauce and let it bubble for a few minutes until the turns turn pink and are cooked.
Add noodles and beansprouts.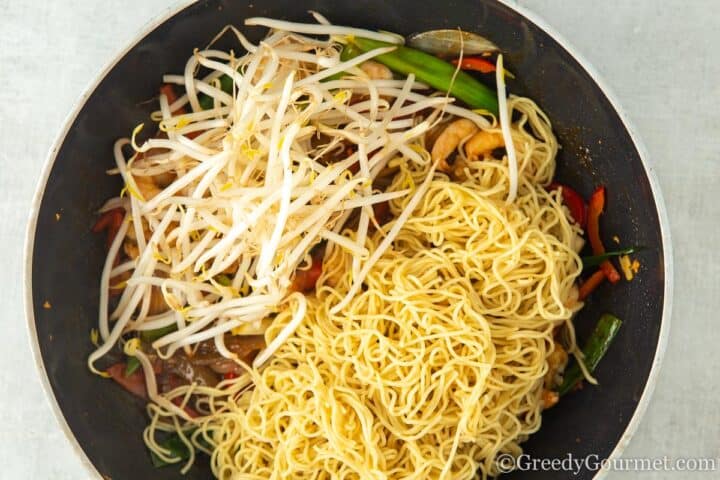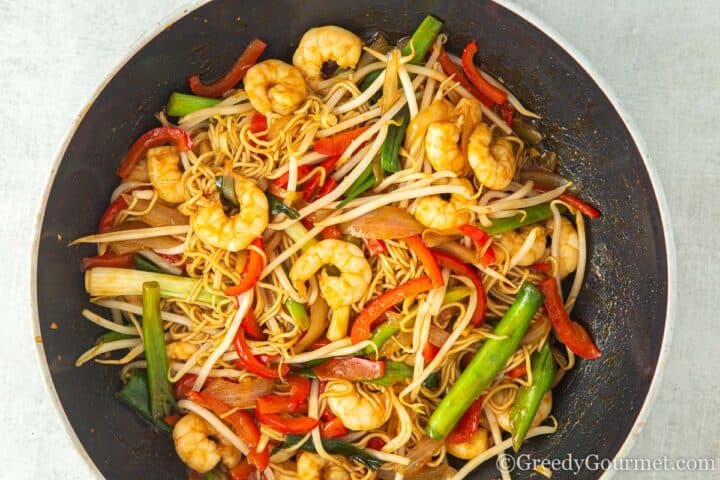 What is a chow mein?
Chow mein is a stir fry dish consisting of noodles, onions, spices and meat or fish. Beef and chicken are common main ingredients in a chow mein, but king prawn chow mein is the king of stir fry dishes in my opinion.
What's the difference between chow mein, lo mein and chop suey?
There are a lot of similarities between these popular dishes. Lo mein and chow mein are both noodle dishes with vegetables, sauces and spices. However, the key difference is in the way they are cooked. 
In lo mein stir fry dishes, the noodles are boiled before being added to the sauce at the end of the cooking process. They tend to be quite soft in texture, oily and contain a lot of sauce. In contrast, chow mein stir fry dishes are usually crunchy, with the noodles fried with the other ingredients for a few minutes until slightly crispy.
Chop suey, on the other hand, is an American Chinese dish. It contains egg and meat, as well as vegetables and a thick, velvety sauce. It's usually served on a bed of fluffy white rice.
Should I use pre-shelled prawns for prawn chow mein?
Yes, I recommend it. This recipe is all about speed and simplicity, so save yourself time and get raw king prawns that are pre-shelled.
Can I use pre-cooked prawns?
You can, although I recommend getting raw king prawns. If you use cooked prawns, they'll be slightly rubbery once heated through, as they'll end up overcooked.
If you do go for pre-cooked prawns, heat them through in the pan for a minute.
Can I use frozen prawns?
You can, but I'd defrost them first. King prawn chow mein stir fry is supposed to be cooked fast in a hot pan. Once you start throwing frozen things into the pan, things are going to turn soggy, fast.
What wine should I use for the marinade?
As with the wine pairing, you should go for a crisp dry white wine. I recommend using a Sauvignon Blanc. Don't break the bank though – cooking wine doesn't have to be expensive to be effective.
How do I store leftovers?
This king prawn chow mein deserves to be devoured in one sitting. However, you can keep  leftovers in the fridge. Allow to cool properly, then store them in an airtight container for up to 2 days. 
Reheat on the hob in a frying pan or saucepan for 2 minutes, or until piping hot.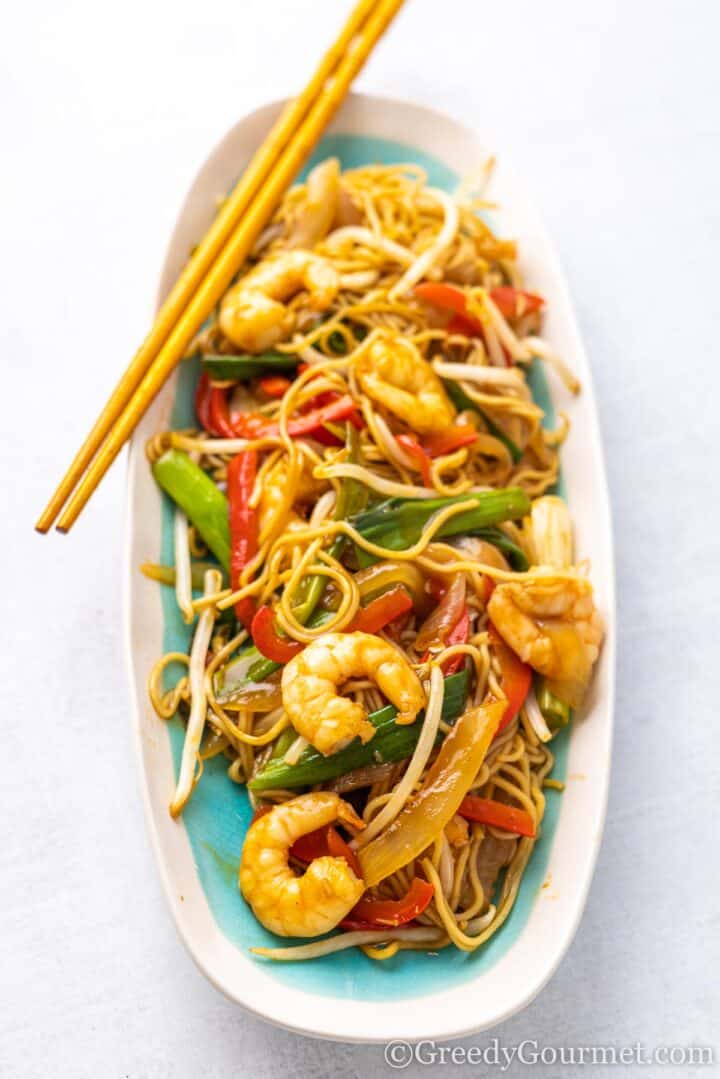 More amazing Asian-inspired recipes
Want to try out some more incredible Asian-inspired dishes? I've got you covered:
Food safety
Wash and dry your hands properly before or after handling raw king prawns. Also, try to purchase the prawns on the day you're cooking this recipe, and no more than three days before.
Print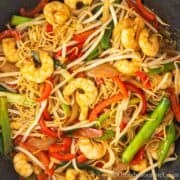 King Prawn Chow Mein
---
Author:

Michelle Minnaar

Total Time:

25 minutes

Yield:

2

servings

1

x

Diet:

Low Lactose
Description
This delicious recipe is a Chinese takeaway favourite. Learn how to make King Prawn Chow Mein at home.
---
Marinated Prawns
225

g

(1/2 lb) shelled king prawns

1.5

g

(1/4 tsp) salt

0.5

g

(1/4 tsp) white pepper

5

ml

(1 tsp) sesame oil

5

ml

(1 tsp) Chinese rice wine
Stir Fry Vegetables
1/2

large onion, sliced

2

garlic cloves, crushed

2.5

cm (1in) fresh ginger root, grated

1

red pepper, julienned

8

spring onions, cleaned and chopped
Chow Mein Sauce
30

ml

(2 tbsp) light soy sauce

3

g

(1 tsp) cornflour

30

ml

(2 tbsp) dark soy sauce

5

ml

(1 tsp) sesame oil

13

g

(1 tbsp) sugar

60

ml

(4 tbsp) oyster sauce
Remaining ingredients
30

ml

(2 tbsp) vegetable oil

120

g

(1/4lb) dried egg noodles, cooked accordingly to instructions

110

g

(1 cup) beansprouts
---
Instructions
Marinated Prawns: Place the prawns in a bowl along with the salt, pepper oil and wine. Give it a stir and let it marinate while you prepare the vegetables.
Prepare the Vegetables: Cut everything up as stated in the ingredients list. Set aside.
Chow Mein Sauce: Pour the light soy sauce in a bowl. Add the cornflour and stir to form a thick slurry. Once it's smooth, systematically add the remaining sauce ingredients while stirring, ensuring no clumps are formed. Set aside. 
Cooking the Chow Mein: Heat the oil in a large wok until it starts to smoke. 
Fry the onions for 3 minutes, stirring them constantly. 
Add garlic and ginger and fry for another minute.
Tip in the red pepper and spring onions and fry for 3 minutes. 
Add the prawns and the marinade and stir until the prawns start to change colour, which should take 1-2 minutes.
Pour the chow mein sauce in, give it a stir and let the mixture reach a bubbling point. 
Add the cooked egg noodles and beansprouts and stir until everything is covered with the luscious sauce. Serve immediately. Enjoy!
Notes
Feel free to adjust the salt and white pepper levels in the prawn marinade. The white pepper gives it a little kick.
In the UK, frozen raw prawns appear to come in 180g packets. These are enough to serve 2 people. 
Egg noodles come in different thickness. In this recipe I used fine egg noodles but you can opt for thick or medium ones. They just need a longer cooking time.
Prep Time:

15 minutes

Cook Time:

10 minutes

Category:

Dinner

Method:

Stir Fry

Cuisine:

Chinese
Keywords: king prawn chow mein, king prawn chow mein calories, prawn chow mein recipe, king prawn chow mein ingredients, best prawn chow mein, king prawn chow mein takeaway, chinese prawn recipe, chinese shrimp takeout recipe