The perfect boozy beverage for wizards and muggles alike, one sip of alcoholic butterbeer and you'll realize what all the fuss is about.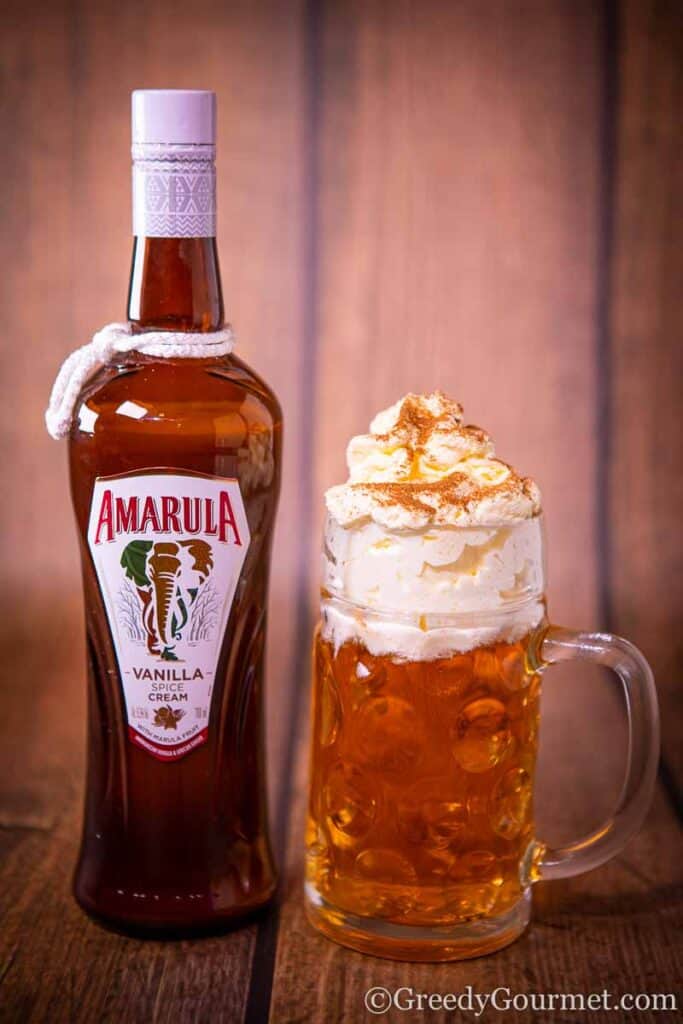 The twist to this incredible butterbeer recipe? The addition of the delicious liqueur Amarula mixed in with the double cream on top, for the alluring white 'frosting' resembling the beer's foam.
It's the perfect drinks recipe for Halloween or Harry Potter-themed parties. So, is your cauldron ready? Let's make butterbeer!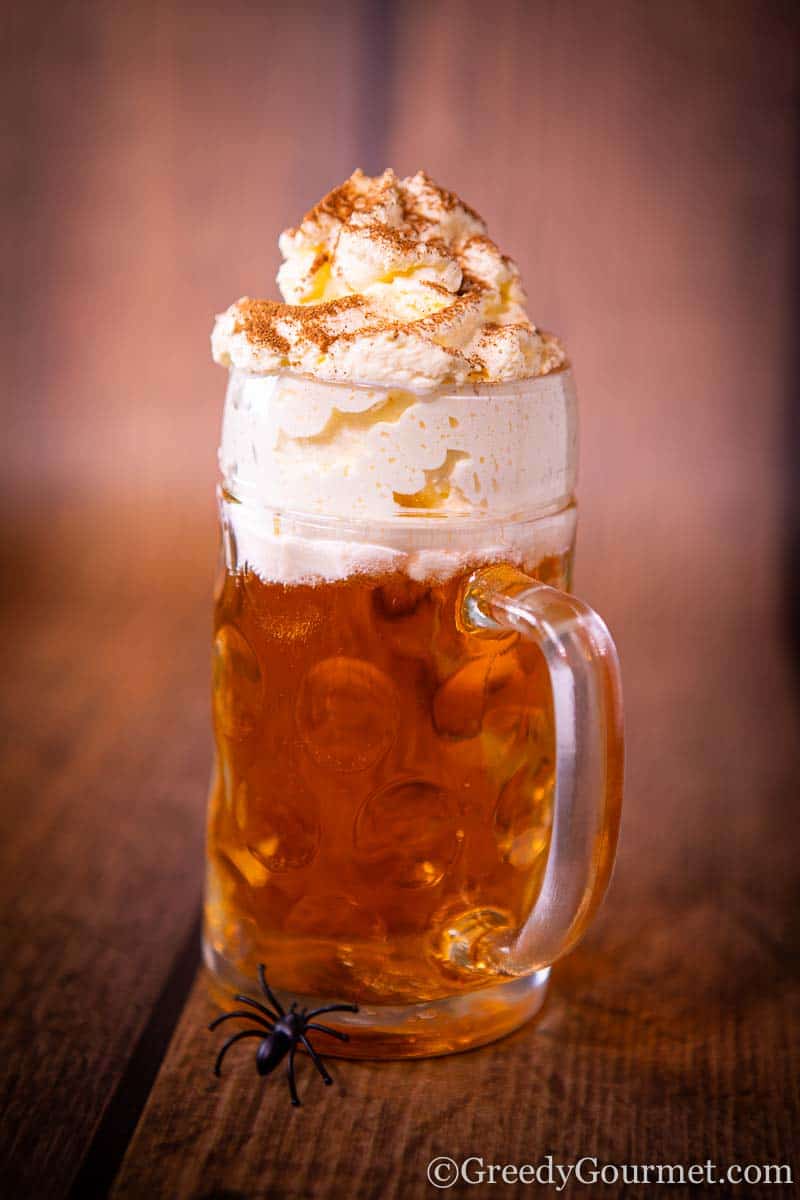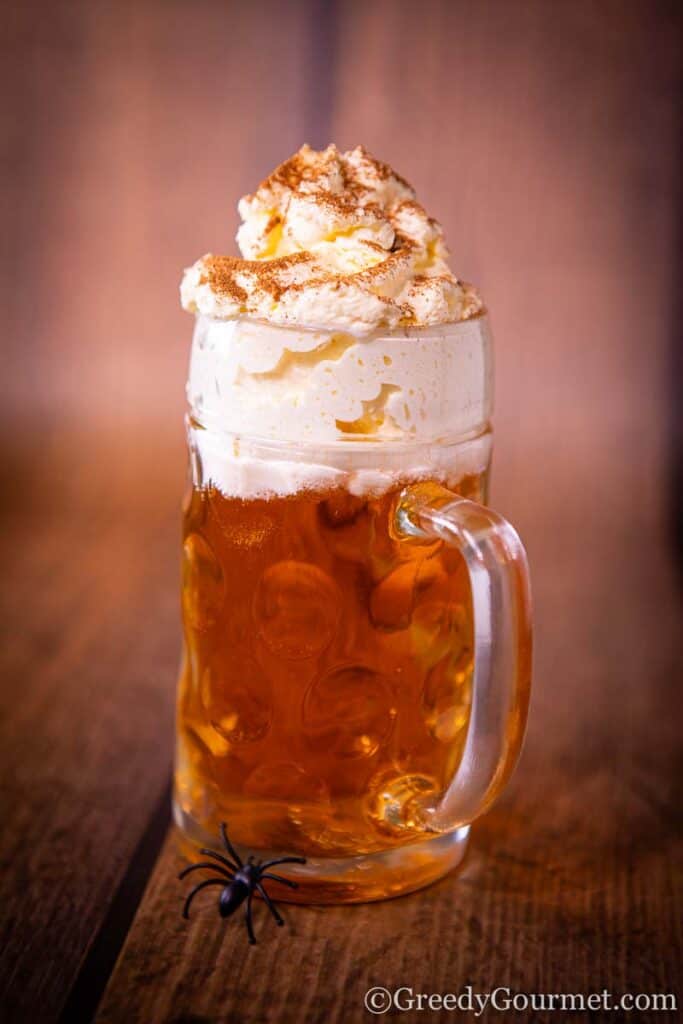 The taste of Amarula
Amarula is a delicious liqueur from South Africa. It uses the unique tasting Marula fruit, an exotic fruit that grows in the sub-Saharan plains of Africa. The Marula trees only bear fruit for a few weeks of the year, which makes the Marula fruit all the more special.
Amarula has a unique taste. A subtle smoked caramel-like flavor mingled with notes of chocolate, vanilla and nuts for the deep, woody richness of this incredible liqueur.
Then comes the flavor of the Amarula fruit. Imagine a blend of ripe pears, passion fruit, orange and mango and you'll come somewhere close to the taste of this unique fruit.
When you put everything together, you have a rich, creamy, melt-in-your-mouth liqueur that goes oh-so-well in indulgent dessert recipes. In fact, it's almost butterscotch in taste, which makes it perfect when added to this delicious Harry Potter butterbeer recipe.
If you were wondering where to buy Amarula Vanilla Spice, look no further. You can find it at any big supermarket or online.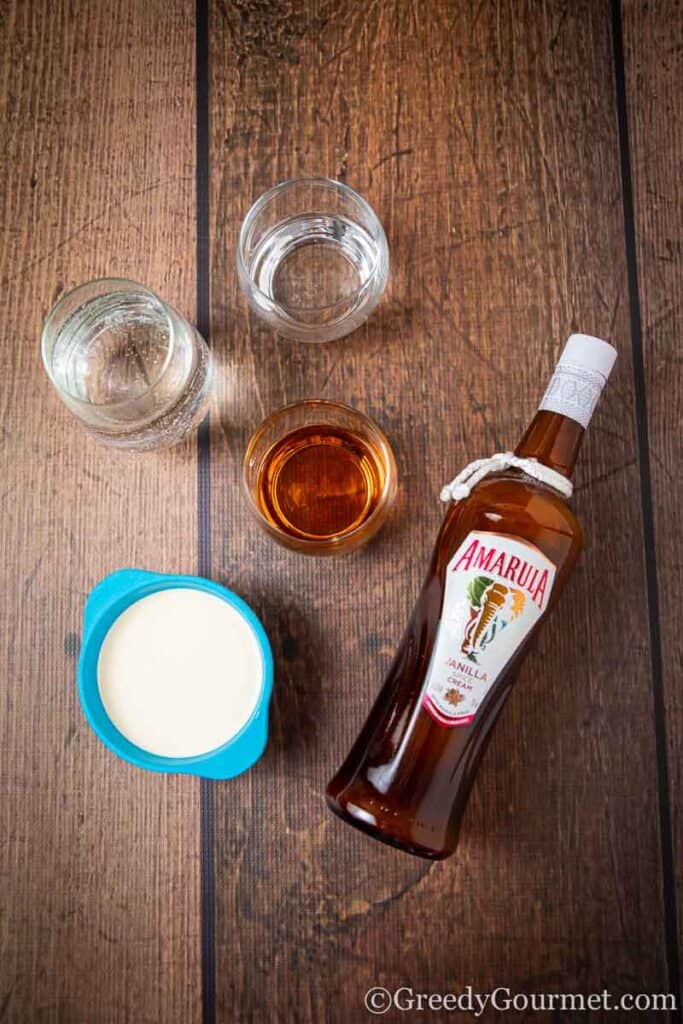 Is there alcohol in butterbeer?
Butterbeer is described in JK Rowling's Harry Potter books as being a very popular beverage for wizards and muggles, with a rich smooth taste that's similar to butterscotch, but a little less sickly.
Still, many Harry Potter fanatics have always wondered – is butter beer alcoholic?
Well, the answer is yes and no. It depends who you ask!
There's definitely a hint in the Harry Potter books that butter beer contains a little alcohol. In Harry Potter and the Goblet of Fire, Winky is described as becoming an alcoholic and getting hooked on the buttery beverage.
"Winky is getting through six bottles a day now," Dobby whispered to Harry.
"Well, it's not strong, that stuff," Harry said.
But Dobby shook his head. "'Tis strong for a house-elf, sir," he said.
So, maybe in the Harry Potter books there's a small amount of alcohol in butter beer. JK Rowling may have taken inspiration from real buttered beer recipes, the kind that were served up in the taverns around London during medieval times. This old butterbeer recipe was made from beer, sugar, eggs, nutmeg, cloves and butter and was very low in alcohol.
Still, the kind served in Harry Potter World, Universal definitely doesn't have alcohol in it. Too many younger Harry Potter fanatics are desperate to try it!
Still, plenty of older Harry Potter fans like a boozy butter beer. That's why butterbeer alcoholic drinks are gaining in popularity. These butterbeer recipes are especially great to serve at parties – Halloween or Harry Potter themed.
Where can I buy alcoholic Butterbeer?
While you'll be able to buy butterbeer at the Wizarding World of Harry Potter in Florida, it most certainly won't be alcoholic.
That's why, if you want a bit of a boozy bite with your beverage, this butter beer recipe is the one for you.
The wizardy butterscotch drink tastes delicious as it is. As soon as you add an alcohol twist, things get interesting. It's so simple to make too, so there's no reason to worry about buying it. Make it yourself and it'll taste even more satisfying. Plus, if you make this butterbeer recipe you can impress all your friends with your very own Harry Potter creation!
What is Butterbeer made of?
There are usually a few standard ingredients for each butterbeer recipe. Butterbeer tastes vary a lot though, depending on the little extras that are added to the recipe. These little garnishes make all the difference.
Standard butter beer is made of quite a simple list of ingredients. First, butterscotch schnapps. This recipe calls for De Kuyper, which brings a smooth, rich, mouth watering taste to the butter beer. You can also add food coloring to get the desired color to your butterbeer.
Vanilla vodka is also added, to give a sweet boozy kick to the butterbeer. The vanilla flavor works so well with the sweet caramel of the butterscotch liqueur. Next, cream soda, which makes up most of the body of the butterbeer drink.
Once you've got the main butterbeer body, you need the all important beer frosting!
The butterbeer frosting is made by making whipped cream with a whipped cream dispenser, along with the all important Amarula Vanilla Spice. This will give your butter beer its unique taste.
How do you drink butterbeer?
This boozy butterbeer recipe is best served in a big frosty glass, just as they'd serve it in the Three Broomsticks. Think something like Oktoberfest, but with more wizards and less maidens.
To chill your glasses beforehand, rinse them with cold water and place them in the freezer for two hours. By the time your butterbeer is ready, they'll be fully frosted and ready to go.
There's something so satisfying about drinking a big beer from a tall frosty glass. Especially on a hot summer day!
The beer frosting effect on the top of the butterbeer is very important too. As great as this butterbeer tastes, the final look of butterbeers really counts. You want that proper Harry Potter experience when drinking your butterbeer.
So get some big glass mugs when serving your butterbeer. The type you'd find at Oktoberfest - a beer stein to be accurate. Or, in a tavern in England in the Tudor times.
You could even get a wooden tankard beer mug, for the full Harry Potter effect!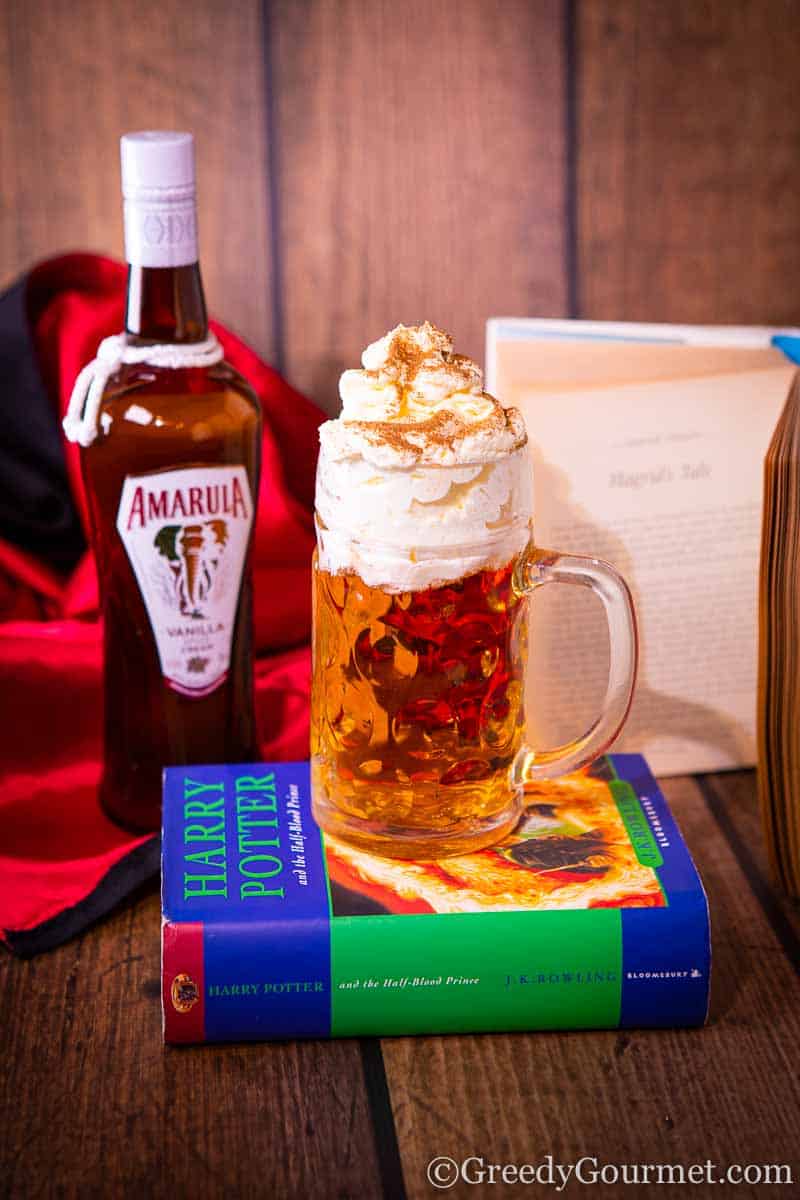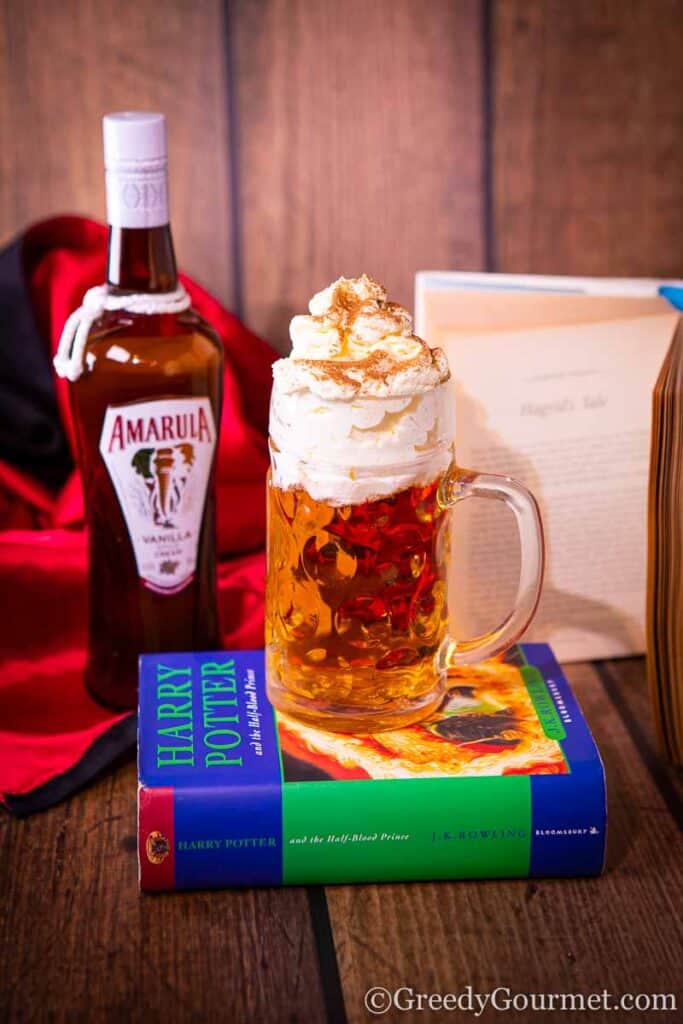 More terrific tipple recipes
If making this butter beer has put you in the mood to make some amazing boozy drinks, check out these recipes.
Long vodka – one for the summertime, this recipe is a boozy little refresher. It's perfect for sipping poolside on a hot summer day, or reclining on a summer evening in the garden as the sun goes down.
Amaretto and coke – the sweet Italian liqueur and the classic soft drink make for a marriage made in heaven. You'll like this long drink a lot!
Christmas gin cocktail – a fruity festive surprise, this drink could be the star turn at your Christmas party, or at any party! It's irresistible and goes down dangerously well… don't so you weren't warned!
More delicious Amarula recipes
Once you've tried Amarula, you'll be blown away by its one of a kind taste! So, if you want some ideas on what you can create with this heavenly tasting liqueur, here are a few more recipes for some Amarula inspiration.
How did your alcoholic butterbeer turn out? Let me know in the comments below!
Print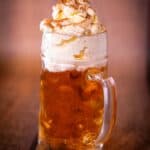 Alcoholic Butterbeer
---
Author:

Michelle Minnaar

Total Time:

10 minutes

Yield:

1 pint

sized drink

1

x

Diet:

Vegetarian
Description
Alcoholic Butterbeer is perfect for grown up Harry Potter fans. It comprises butterscotch liqueur, cream soda and vodka with whipped Amarula Vanilla Spice cream.
---
Golden Bottom
50

ml

(1 x double jigger) butterscotch schnapps liqueur

50

ml

(1 x double jigger) vanilla vodka

300

ml

(1 1/4 cup) cream soda
Creamy Top
---
Instructions
Pour the cream and Amarula into a whipped cream dispenser. Close its lid and place in the fridge for 5 minutes to chill.
While for the cream, pour all of the Golden Bottom ingredients in a one pint beer stein.
Charge whipped cream dispenser with an N2O gas canister.
Turn the dispenser upside down and give it a shake.
Spray the cream on top of the drink.
Sprinkle with ground cinnamon and serve immediately. Enjoy!
Notes
Most butterscotch schnapps varieties are clear or very pale in colour. If you can get hold of it, use Buttershots. Alternatively, you can add colour to the bottom part of the cocktail by adding 4 drops of brown colourant and 1 drop of orange red colourant.
If you don't have a whipped cream dispenser, you can whip the cream in the bowl until soft peaks form. Slowly add in the Amarula while whisking, then spoon on top of the drink.
Don't make the same mistake as we did by using a CO2 gas canister instead of an N2O when we attempted the cocktail for the first time.
If you can't get hold of Amarula Vanilla Spice, the original Amarula will work well too.
Prep Time:

10 minutes

Cook Time:

0 minutes

Category:

Cocktails

Method:

Mix

Cuisine:

British
Keywords: butterbeer cocktail, alcoholic butterbeer, adult butterbeer, Harry Potter butterbeer recipe, halloween cocktail recipe, amarula recipe
P.S. This is a sponsored post.