Have you ever heard of Bang Bang Chicken? When I first came across this name my mind bounced all over the place trying to figure out what it could possibly be. Bang Bang Chicken is a delicious and light meal, which includes bits of juicy chicken on top of a salad. It's a wonderful way to hero one of our favourite ingredients of all time, that being smoked chicken.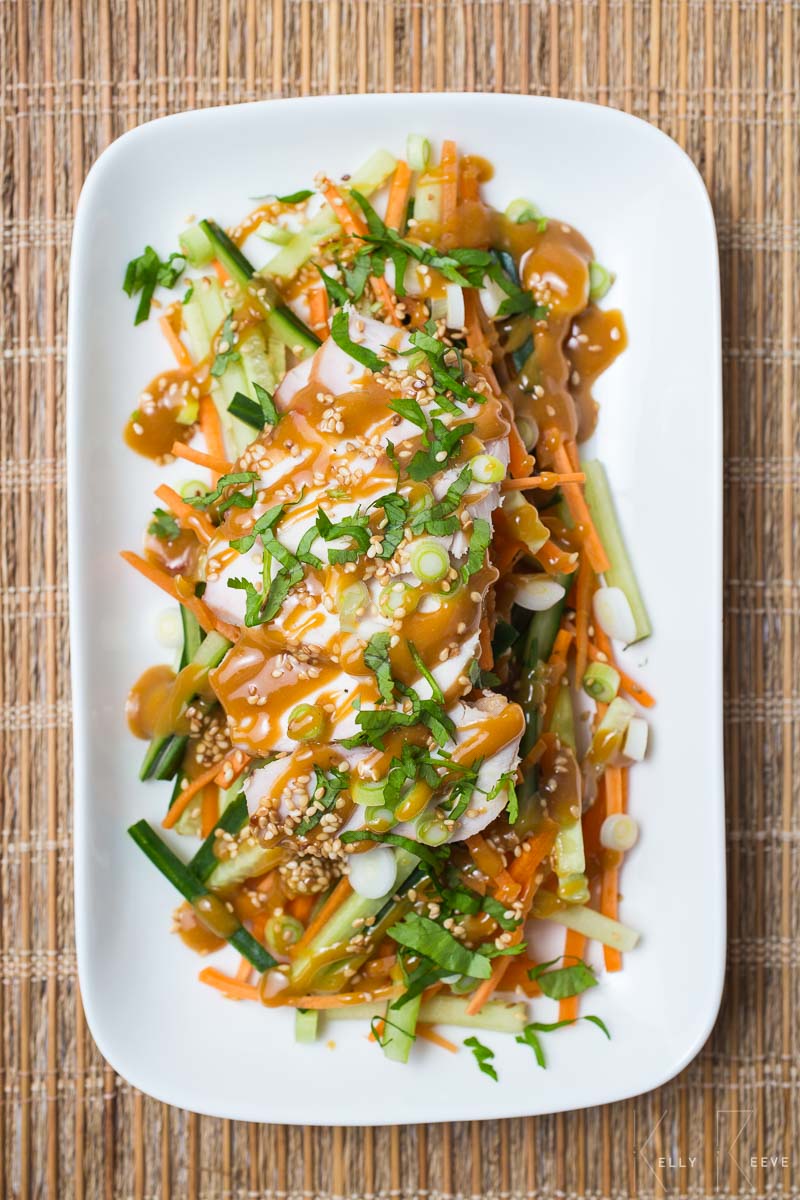 bang bang?
For some reason, when I hear the words 'bang bang', I immediately think of that Rammstein heavy metal song! A bit odd, I admit. Well, Bang Bang Chicken has nothing to do with the sound of heavy metal, or does it? Ironically, 'bang bang' refers to the sound that the mallet makes, when you beat tough chicken breasts. Get it? It's all about tenderising the chicken as much as possible. I'm not really sure though why someone decided to phrase it like that. They also could have used terms like whack, boom or pow! You get the point.
history of bang bang chicken
Bang Bang Chicken goes all the way to the ancient Chinese dynasties. Legends states that, Bang Bang Chicken was discovered by a talented and a rather curious chef who got bored of making soups. The art of soup mixing was a very honourable talent. This chef found a way how to use chicken in a way that made the broth more powerful and intense in flavour. So, he cut the entire chicken into thin pieces. This was also advantageous, as back then chicken was an expensive commodity. This way, it could be sold per piece.
After a while, his new soup with his chicken slices became very popular. The way the chef cut the chicken into even thin slices, was by beating the chicken first with a stick. Hence the name Bang Bang. Back then and today, Bang Bang Chicken was known as Bon Bon Chicken, and remains a very popular dish in China. Still, it's funny how myths and urban legends influence the dishes that we love so much today. It only took one curious chef to change history.
how to beat chicken breasts correctly
This technique is best known, in Vienna with their Wiener Schnitzels. Ever Sunday, you'll hear the loud banging of the mallet against the meat in almost every kitchen. If you were to prepare the Bang Bang Chicken properly, you'll need to know how to beat the chicken breast correctly with the mallet. Make sure you spread the chicken on a hard or wooden surface. Don't use plastic or tin foil underneath. The mallet will tear these in a split second. Spread the chicken evenly, and start applying pressure with the mallet. Beat the chicken breast until you get an even thickness. Double check for inconsistencies!
how to beat chicken breasts without a mallet
Haven't got a mallet at home? Not a problem. This time you can use plastic. First, find a skillet in your kitchen. Wrap the bottom half. Then place the chicken breast on an even surface and cover it with plastic. Finally, smack the chicken until you get your desired result.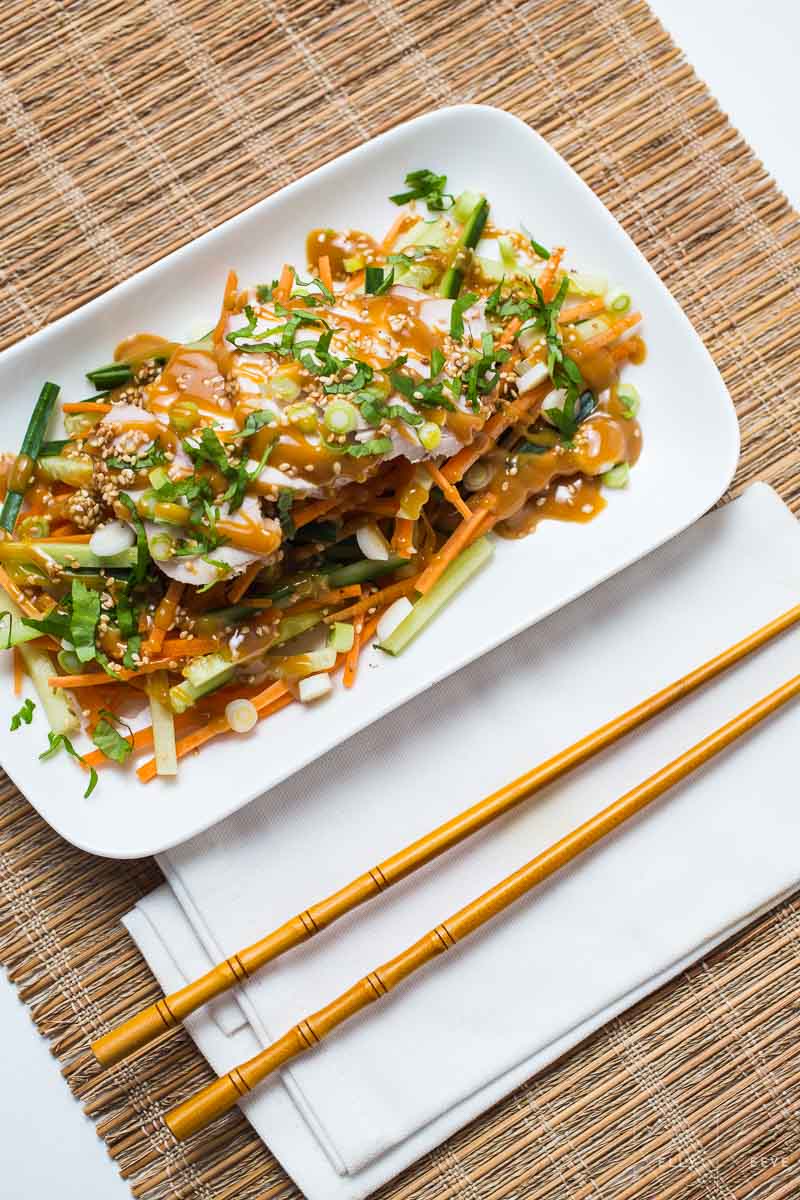 smoked or poached chicken?
You know, to achieve the best type of Bang Bang Chicken, you'll need a juicy piece of meat. Smoked chicken is preferred but if you can't get hold of it, you can poach some chicken breasts in stock, which should do the trick.
If you don't like the smoky taste, you can always serve juicy chicken in one way or another. Simply, poach the chicken breasts in some chicken stock. Good quality chicken stock is preferable. Boil for roughly seven minutes and then allow the chicken breasts to cool in the stock.
sauce and spices
The peanut butter sauce is an excellent complement to the sweet child flavours, which is one of my favourite combinations. The latter is very popular in Thailand as well. I like to sprinkle a bit of sesame seeds, either white or black, on the chicken pieces. For an extra punch of flavour you can sprinkle some coriander leaves on top. The amazing thing about this recipe is that you can put the Bang Bang Chicken on top of anything, such as noodles, and top it off with anything, like roasted peanuts. Its most common form is in a salad.
peanut or chili allergy?
If you've got an allergy or a food intolerance, don't worry. You can still enjoy this lovely chicken. Instead of these sauces, why don't you try making a greener sauce. For example, you can try making watercress salad dressing. Very healthy and delicious but most importantly, it's allergy free!
salad pairing
Speaking of salads, do you have a favourite salad of all time? For inspiration, why don't you try checking out some salads here. I can totally imagine an excellent pairing with the smashed cucumber salad. Also, you can pair it up with some lovely couscous, like I did here.
As you can see, I've used the normal ingredients you would expect in an Asian inspired salad. Get some some cucumber, carrots and spring onions. The trick here is that you take the care to cut all the ingredients evenly. You can also make noodles out of these. This time I've cut them in thin rectangular slices that look like French fries.
Print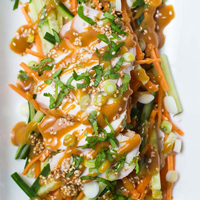 Bang Bang Chicken
---
2

carrots, peeled and finely shredded

3

spring onions, finely sliced

½

cucumber, peeled and finely shredded

2

smoked chicken breasts

125

ml (½ cup) smooth peanut butter

30

ml (2 tbsp) sweet chilli sauce

30

ml (2 tbsp) sesame oil

20

ml (4 tsp) sesame seeds, lightly toasted
---
Instructions
Mix the carrots, spring onions and cucumber together then divide the mixture evenly between two plates.
Shred the chicken breasts and place on top of the salad.
In a small bowl, mix the peanut butter, chilli sauce and sesame oil together until smooth. Add a bit of water or oil to make is more runny if necessary.
Drizzle the salad with the sauce and sprinkle with sesame seeds. Serve immediately.
Notes
If smoked chicken isn't available, poach the chicken breasts in chicken stock for 7 minutes or until cooked. Allow them to cool in the stock.
Nutrition
Serving Size:

1 serving

Calories:

460

Sugar:

6.8 g

Sodium:

346 mg

Fat:

25.5 g

Saturated Fat:

4.1 g

Carbohydrates:

48.4 g

Fiber:

4.9 g

Protein:

11.5 g

Cholesterol:

13 mg
save the recipe to your pinterest board
A special thanks to Kelly Reeve for assisting with the recipe shoot.