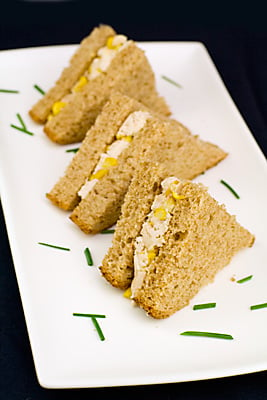 Ladies and gentlemen, may I present you another classic British sandwich you will find on just about every shop's shelf on this small isle. It took me ages to get around to trying one, since the idea of eating cold sweet corn didn't appeal to me in the least. Starving after hours on the road Neil grabbed a sandwich at a rest stop and I grudgingly shared it with him. What a surprise it was indeed and after that I've been preparing my own at home which tastes all the better.
In late July a TV programme called Dispatches aired an episode where they did some research on the sandwiches available on the market today. One word sums it all up: scary. Personally, I've never given it much thought how and who prepared my sandwiches. After all, they just magically pop up in the shop and look lovely in the bright, colourful and shiny packaging. Of course the small print is not going to mention they pay their employees below the legal minimum wage who in turn doesn't give a flying "fish" about their jobs. Neither will it mention the decrepit hygiene standards the factory advocates day in and day out. Not only that, do you remember that "ham" sandwich you had for lunch five minutes ago? Did the pig's arsehole taste good? Okay, okay, I meant tail. Like all companies, food factories keep the bottom line in mind at all times, which means ham isn't necessarily ham and any off cuts can be used instead. Hopefully I've put you off buying any more sarnies and make your own instead – all the more reason to keep on reading Greedy Gourmet! So go on, make your own sandwich!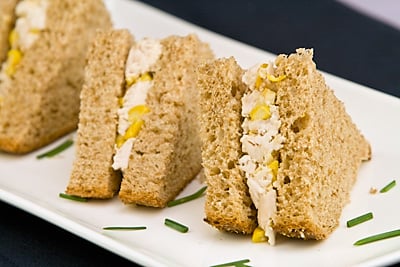 Print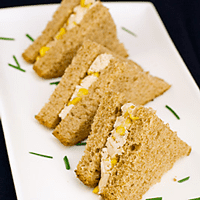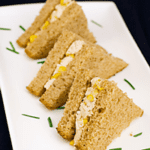 Chicken, Sweet Corn & Mayonnaise Sandwich
---
Scale
Ingredients
120g

(

4 oz

) sweet corn, cooked

60g

(

2 oz

) cooked chicken breast, shredded

30

ml (2 tbsp) mayonnaise

2

slices of bread, white or wholemeal, you decide
---
Instructions
Mix the sweet corn, chicken and mayonnaise in a bowl.
Spoon the mixture on one slice of bread and close the sandwich by placing the other slice on top. Enjoy.
---
Notes
Use frozen sweet corn that has been thawed if you like. My preference is to cut off fresh corn off the cob and frying them for a few minutes in a very hot frying pan with a little butter. This way the sweet and crunchy sweet corn contrasts well with the soft and velvety chicken.
Nutrition
Serving Size:

1 serving

Calories:

220.2

Sodium:

70 mg

Fat:

11.7 g

Saturated Fat:

1.8 g

Carbohydrates:

6.8 g

Protein:

22.6 g

Cholesterol:

3.8 mg