This is one heavenly sauce! Silky, rich and easy to make, creamy mushroom sauce is one of those dishes that can take a meal to the next level.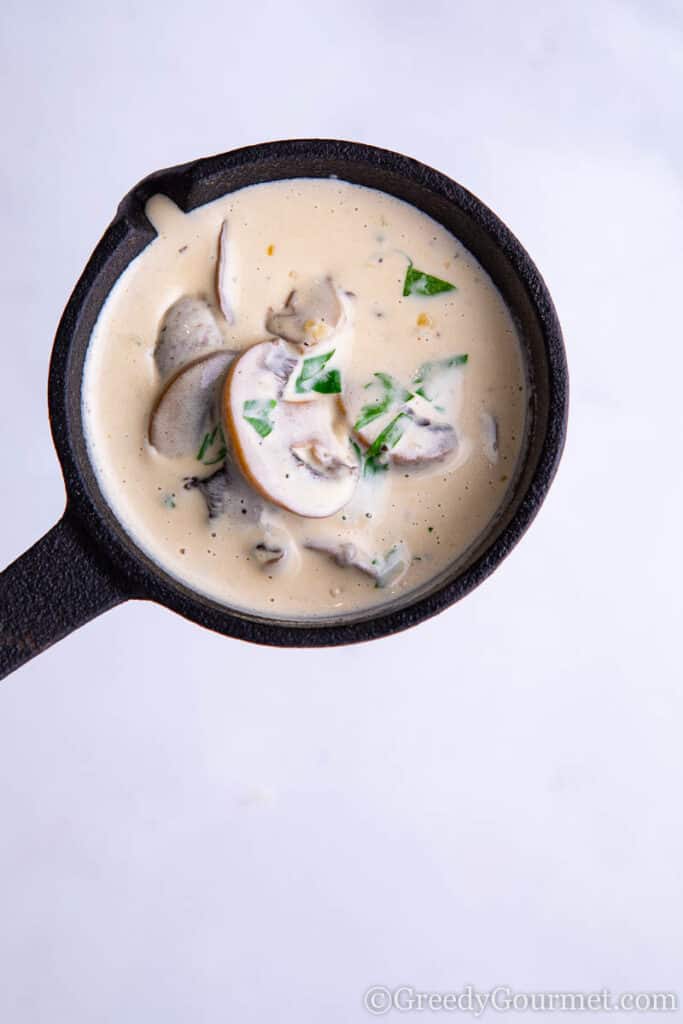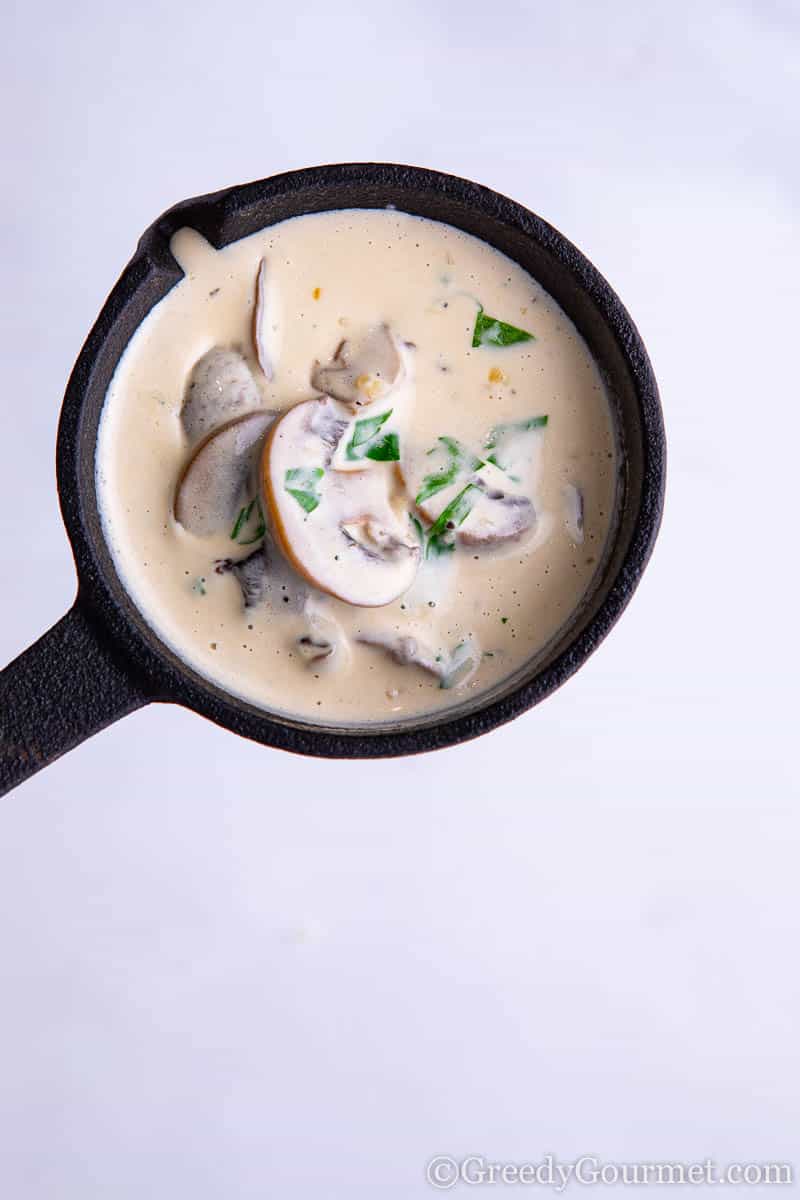 With a simple list of ingredients, a cook time that clocks in at around the ten minute mark and a flavour that electrifies your taste buds, this is one sauce you have to try.
Products you need for this recipe
Before we delve into the details of this creamy mushroom sauce recipe, here are a few useful products: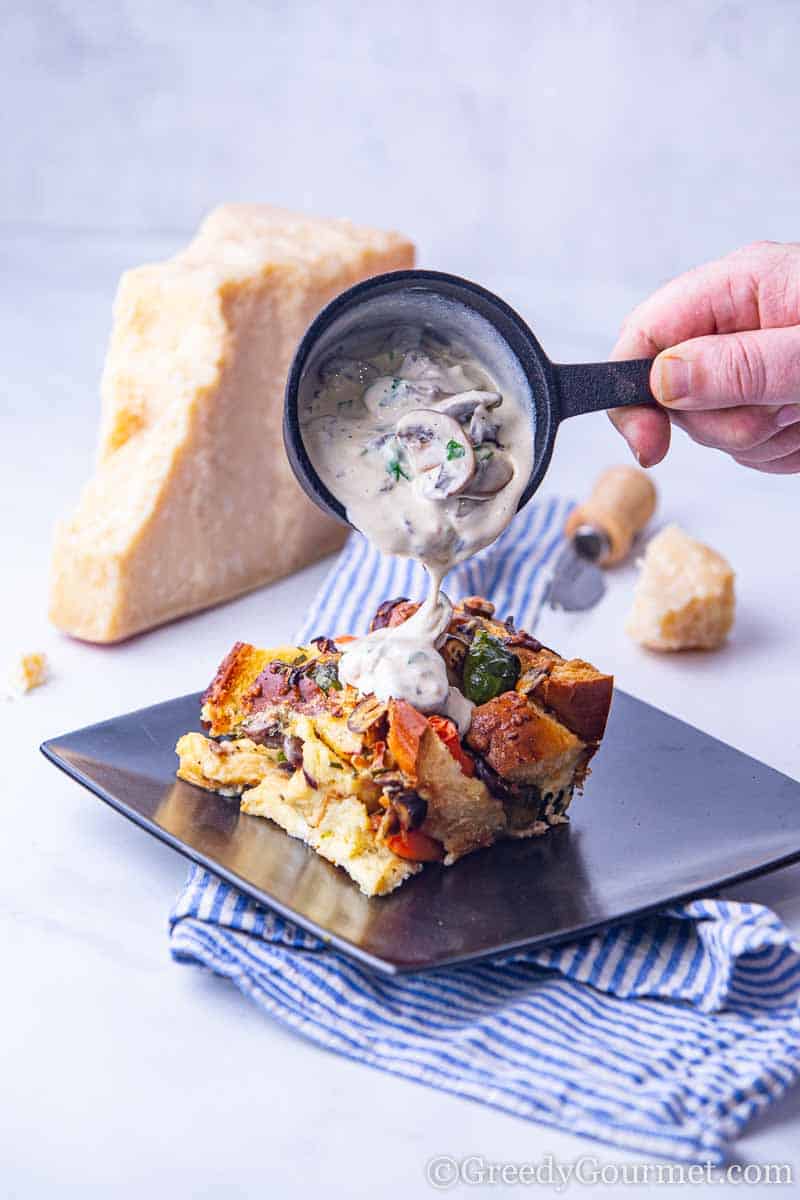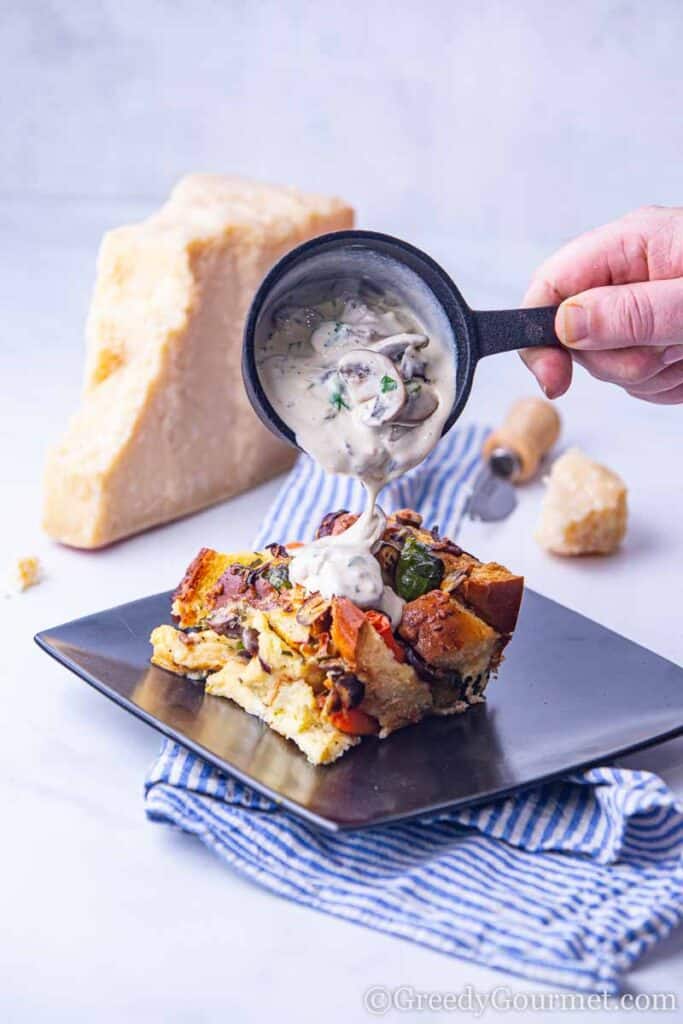 Creamy mushroom sauce recipe
Simple it may be, but this sauce is something special. If you're looking for a sauce for a sumptuous steak, any other type of meat dish, or even to bring extra flavour to your pasta bake or baked potato, creamy mushroom sauce is the answer.
It's so simple to make and there are only six ingredients. Mushrooms, cream, butter, garlic granules, parsley and – the finishing touch to bring an extra dimension of flavour – parmesan cheese.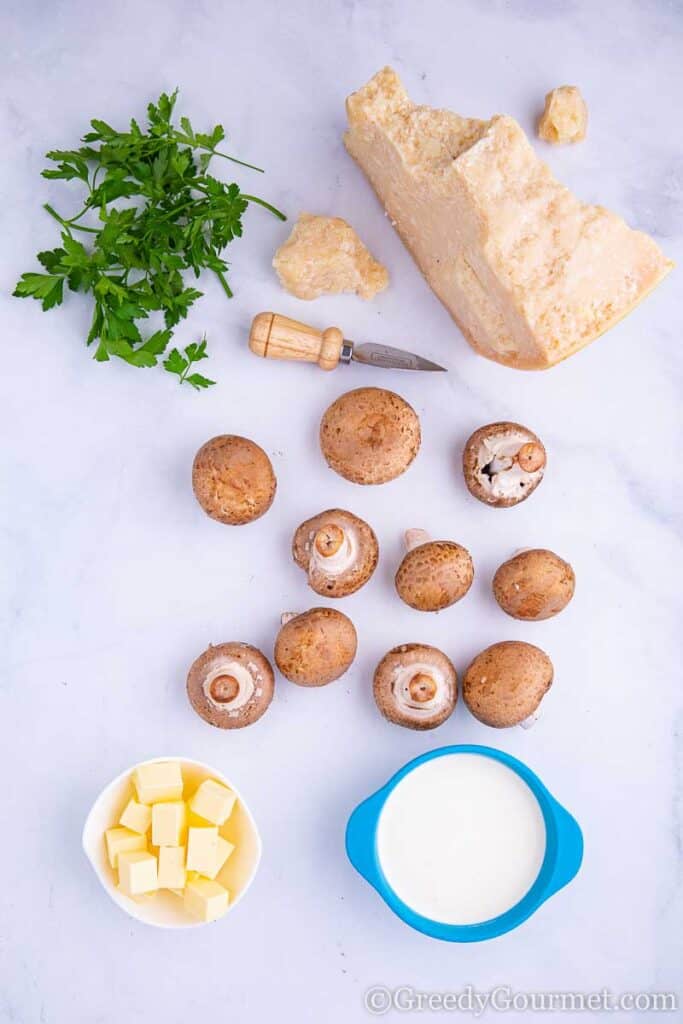 How do you thicken mushroom sauce?
Lots of recipes will tell you to use cornstarch to thicken the sauce. There's no doubt that cornstarch can be useful to get you out of trouble when you end up with a thin, watery sauce. Still, for me, there are far better options to thicken your sauce.
Arrowroot is an excellent natural thickener that will bring a beautiful gloss to your mushroom sauce. 
If you're used to using cornstarch, you'll know how to use arrowroot – just add a teaspoon of arrowroot powder to a teaspoon of water to create a slurry. 
Then add this to your mushroom sauce and stir your sauce until it thickens. If you need to, repeat the process until your mushroom sauce is the proper consistency.
If you can't find arrowroot, there are plenty of great arrowroot substitutes out there.
Why is my mushroom sauce pale in colour?
Proper mushroom sauce should have a soft brown colour. If you end up with an unappetising pale grey colour to your creamy mushroom sauce, chances are it's because you've not browned your mushrooms enough.
When cooking your mushrooms, make sure you don't cram the pan. Giving enough space in the pan allows the moisture to escape from the mushrooms, which helps them to brown well. 
Also, make sure you fry your mushrooms on a high heat. If it's not sizzling, it's not hot enough. 
Once you've browned your mushrooms properly, you'll be ready to add cream to form your sauce.
Why is my mushroom sauce lumpy?
If you add flour straight into your creamy mushroom sauce, you could end up with lumps. This is why you have to first make a slurry when adding flour at the end of a recipe, stirring equal amounts of powder and water together before adding it to the sauce.
If you do end up with lumpy sauce here's a tip: first, strain the sauce into a deep pan. Then, add a splash of cold water. Then, with your sauce back on the heat, give it a good whisk until it reaches its desired consistency. 
What type of mushrooms can you use?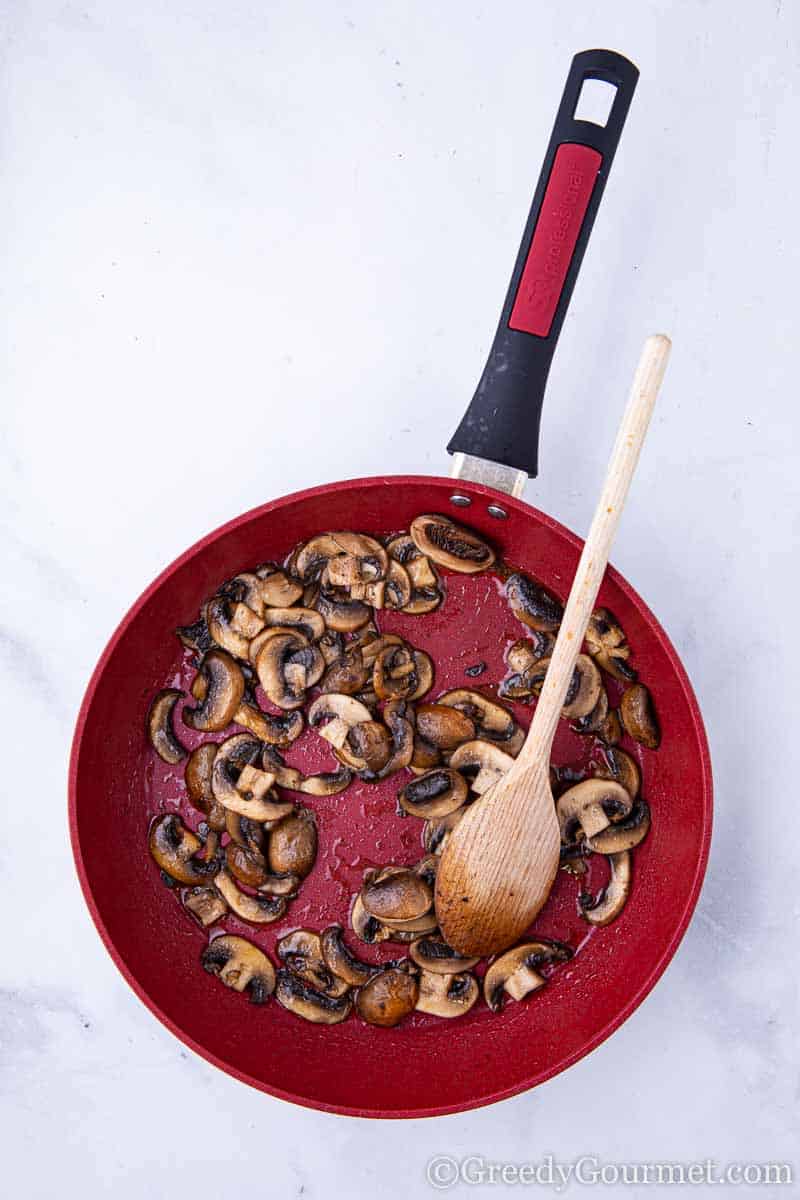 There are lots of different mushrooms you can use in this recipe. I've gone with the humble button mushroom, which is the most common and readily available. Feel free to switch things up a little bit and play with different types of mushrooms.
Here are some different types of mushrooms that would work well in this recipe:
Chestnut mushrooms – very similar to plain white button mushrooms, chestnut mushrooms are slightly brown in colour and have a better taste and texture than button mushrooms
Portobello mushrooms – these big meaty mushrooms are basically overgrown button mushrooms. Even though they're much bigger and thicker than white button mushrooms, they still have a relatively mild flavour
Oyster mushrooms – although their appearance might put many people off, oyster mushrooms are actually pretty mild in taste. They're slightly sweet and only a little more earthy than the likes of button and chestnut mushrooms
Porcini mushrooms – these mushrooms are typically used in Italian cooking. Their nutty creamy taste makes them a great mushroom to use in this creamy mushroom sauce 
Chanterelle mushrooms – this mushrooms are characterised by their bright yellow colour, chanterelle mushroom have a wonderful peppery taste with a subtle sweetness
Shiitake mushrooms – big on flavour, shiitake mushrooms are common in Asian cooking. They bring a smoky, earthy, peppery flavour to dishes, perfect for this recipe
Are mushrooms good for you?
Mushrooms are low-calorie, low-fat and are a great source of protein, fiber and antioxidants. They are also rich in vitamin B, copper and potassium, and can help reduce blood pressure while also helping to strengthen the immune system.  
Mushrooms are also a great source of selenium, an essential mineral that helps cognitive function, supports the immune system and may also prevent certain types of cancer.
What to serve with mushroom sauce
For me, something to mop up the rich creamy sauce is the perfect foil for this recipe. Try my savoury bread pudding with Parmigiano Reggiano for a great combo. Both recipes contain parmesan cheese, you expect an extra rich meal that will send your taste buds into overdrive!
Another great dish to serve with this creamy mushroom sauce is steak. Try a standard beef steak or, for a twist, make this venison steak recipe – just omit the blackberry sauce. 
You could also serve them with steamed vegetables or mashed potatoes. Better yet, pour your creamy mushroom sauce over these parmentier potatoes, confit potatoes or rosemary potatoes.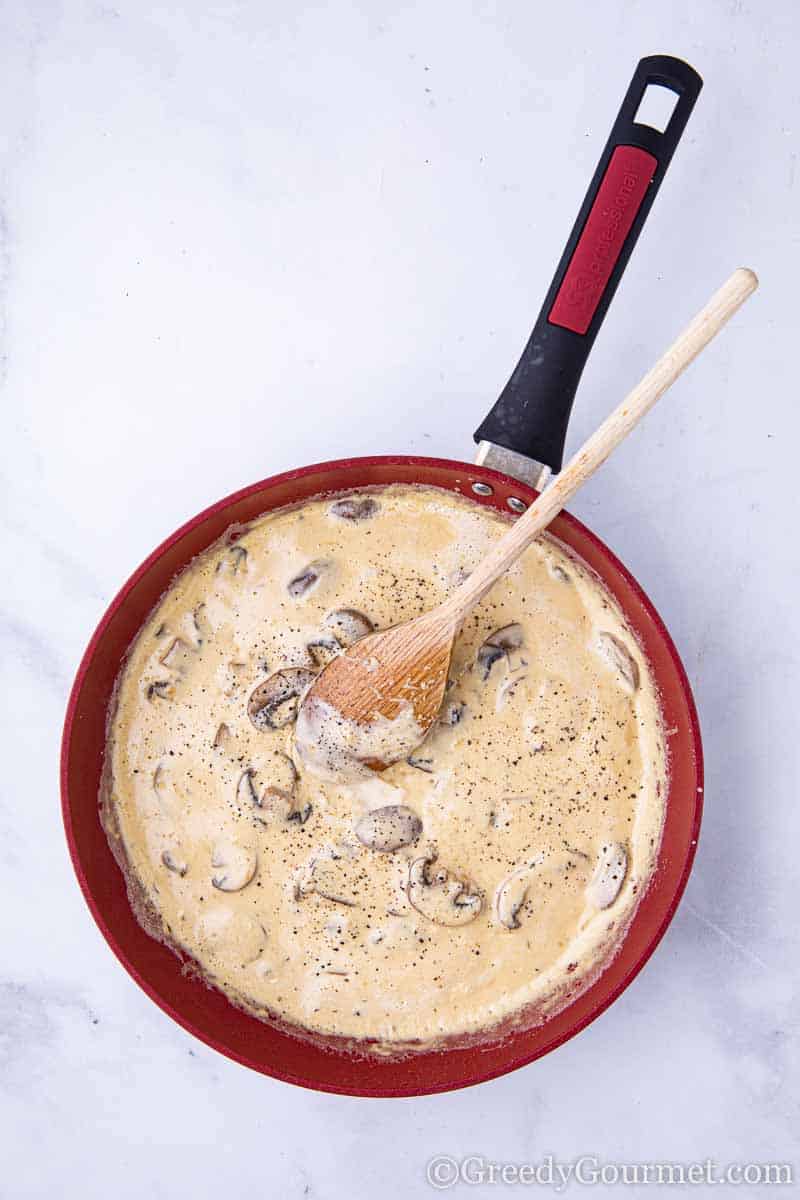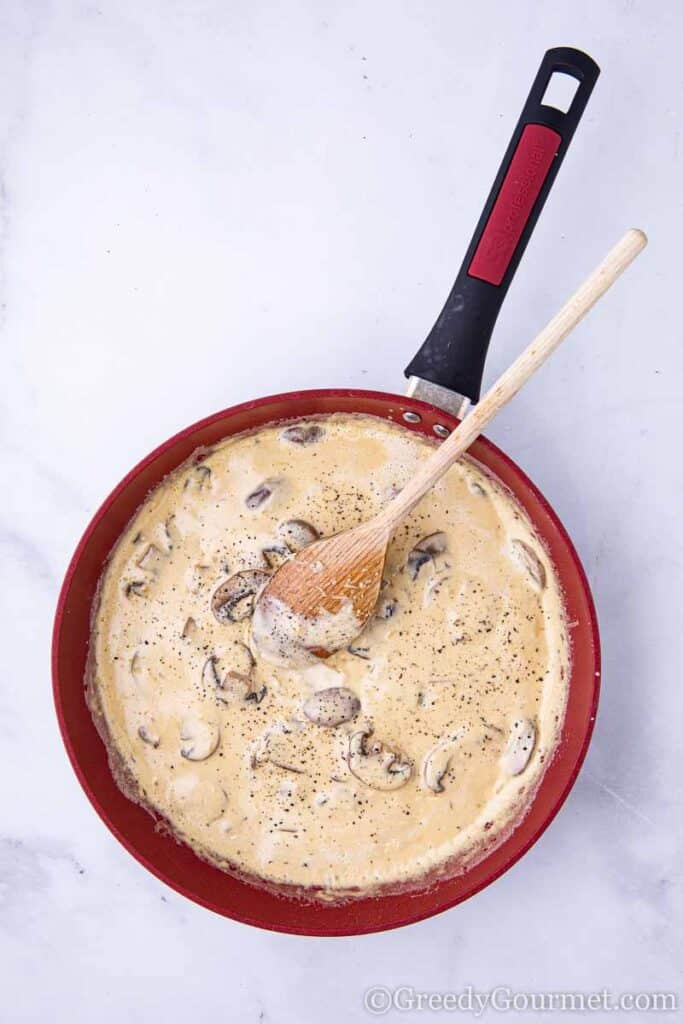 Tips for making the best mushroom sauce
Let's break down some of the details and clarify a few essential points that will help you get the perfect mushroom sauce:
Make sure you clean your mushrooms properly
Use a big frying pan when frying your mushrooms. If your mushrooms are close together, you'll end up steaming them rather than browning them, leading to a less tasty, grey coloured sauce. Give them space and your sauce will have a lovely brown colour and rich taste
Using garlic granules instead of fresh garlic means that the garlic won't burn. In sauce dishes that need to be cooked on a high heat, garlic granules can work better than garlic cloves
Use double / heavy cream to get the full indulgent flavour for this creamy mushroom sauce
If you want to make this recipe extra special, you can deglaze the pan after the mushrooms have browned with a splash of white wine or brandy, before adding the cream. Just add 2-3 tablespoons of white wine or brandy and cook for 20 seconds, before adding the cream
You can also add a teaspoon of mustard for a richer taste
Aside than fresh parsley, you can also use fresh thyme or fresh oregano
Always use salt and pepper to taste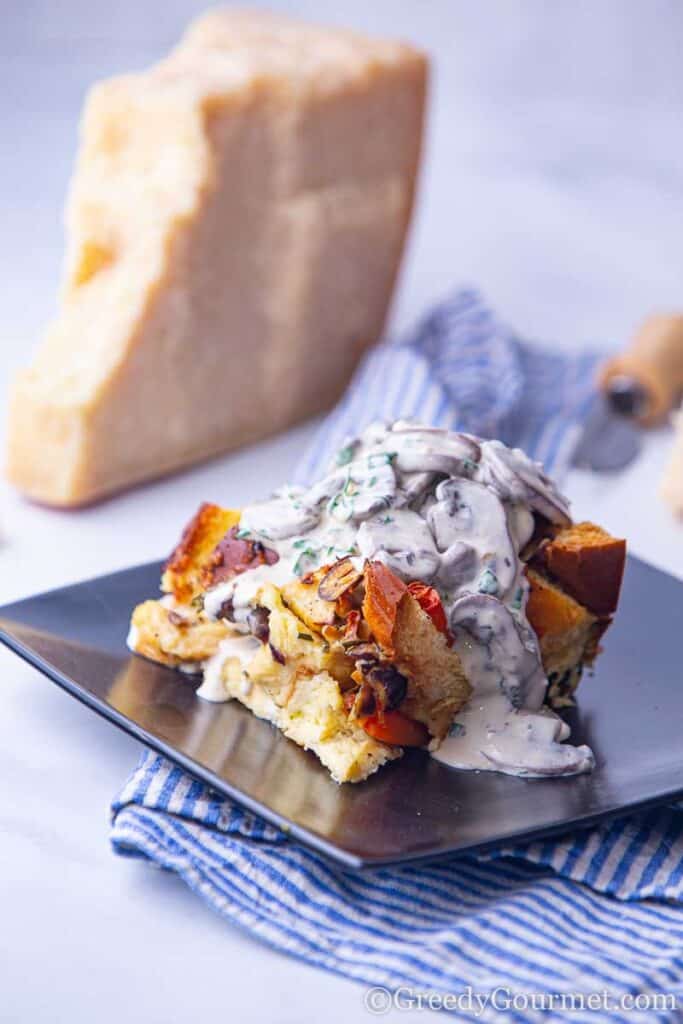 More mushroom recipes
An unsung ingredient that really needs to be appreciated more, mushrooms are as versatile as they are delicious. Here are some more fantastic recipes for a little more inspiration:
More sumptuous sauces
If you love a good source, you won't want to miss out on these recipes:
Print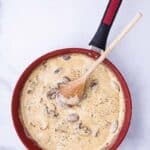 Creamy Mushroom Sauce
---
Author:

Michelle Minnaar

Total Time:

25 minutes

Yield:

6

servings

1

x

Diet:

Gluten Free
Description
Learn how to make this Creamy Mushroom Sauce in a few simple steps. It is best served with steak, vegetables or as a pasta sauce.
---
30

g

(2 tbsp) butter

300

g

(1 1/2 cups) mushrooms, cleaned and sliced

2

g

(1 tsp) garlic granules

250

ml

(1 cup) heavy cream

60

g

(2/3 cup) grated Parmigiano Reggiano cheese

3

g

(2 tbsp) fresh parsley, washed and finely chopped
---
Instructions
Melt the butter in a large frying pan then fry the mushrooms at a high heat for 3 minutes.
Add the garlic granules and cook for another minute.
Pour in the double cream, stir and let it bubble for a minute.
Sprinkle in the cheese, and stir until it has melted.
Stir in the parsley and pour into a gravy boat to serve with your favourite roast meat, such as chicken or pork. Enjoy!
Prep Time:

10 minutes

Cook Time:

15 minutes

Category:

Sauce

Method:

Pan Fry

Cuisine:

British
Keywords: creamy mushroom sauce, how to make creamy mushroom sauce, mushroom sauce recipe, mushroom recipe mushroom sauce for steak, mushroom sauce for pasta