Is there a better smell than rosemary potatoes cooking in the oven?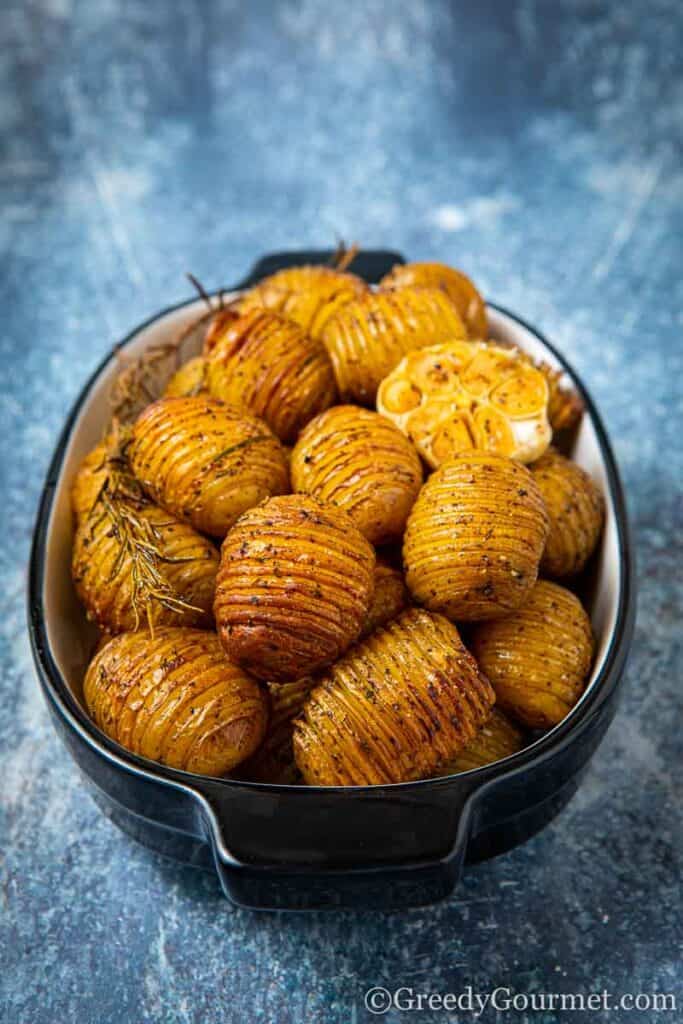 Christmas Day without roast potatoes in the oven just isn't the same. Add the smell of rosemary into the mix and you've got a merry mix of heavenly smells and flavors.
Potatoes with rosemary is an amazing combination and this roasted side dish recipe will make a great addition to your Christmas feast.
Products you'll need for this recipe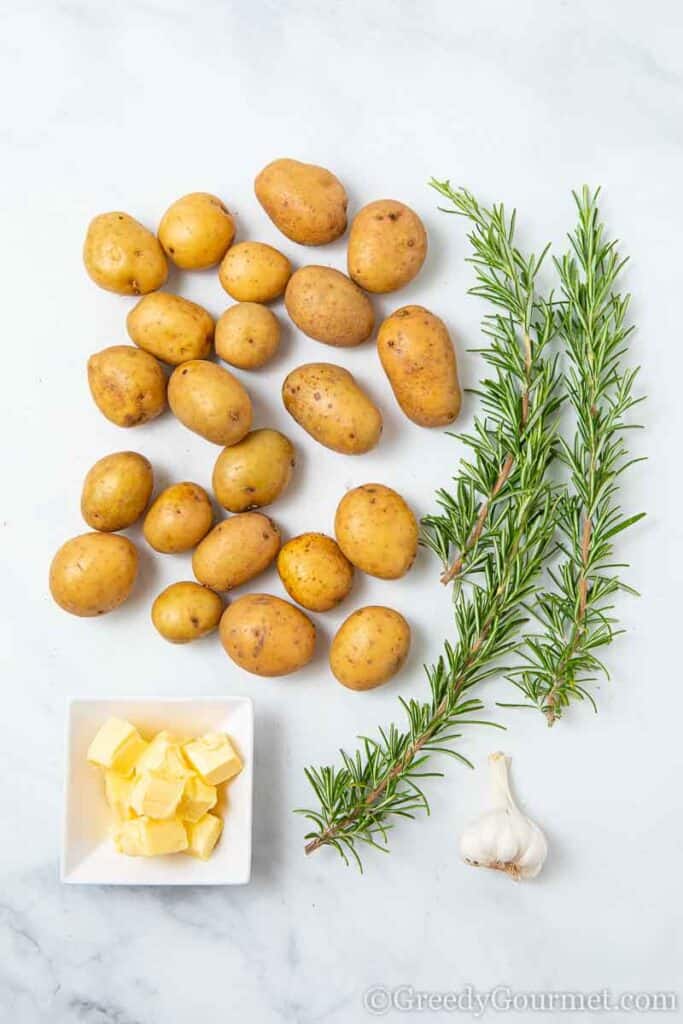 Rosemary potatoes recipe
This rosemary potatoes recipe is the perfect Christmas dinner side dish. What could be better than garlic infused rosemary potatoes, crispy on the outside, and light and fluffy on the inside?
Rosemary roasted potatoes is one of the many Christmas time essentials. There's just something so comforting about biting into a golden brown potato. Rosemary, garlic and olive oil are the three amigos when it comes to flavoring potatoes – the three magic ingredients that'll make any roast potato recipe sing.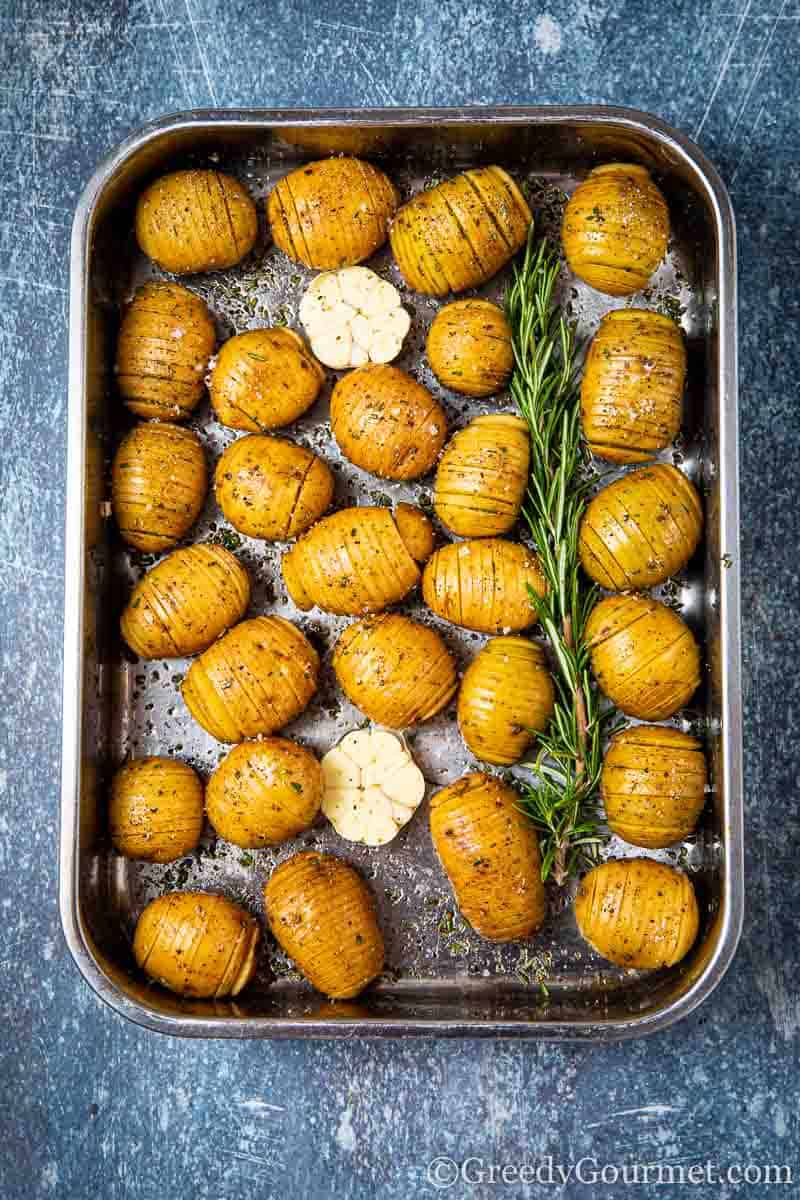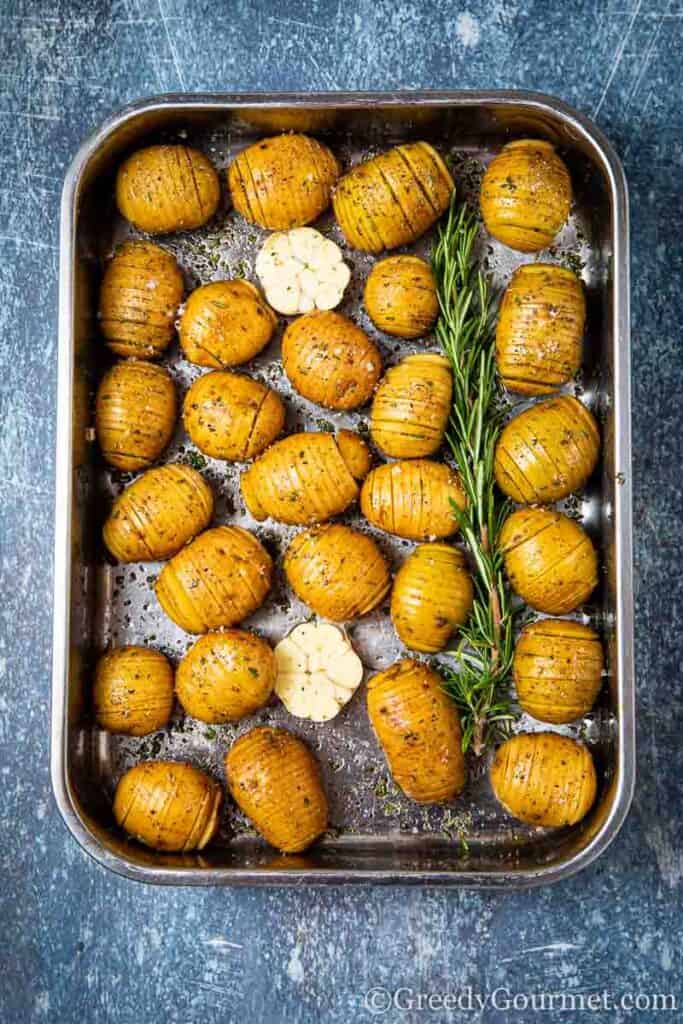 How to make rosemary potatoes
As recipes with roasted potatoes go, this one is pretty straightforward. Simple ingredients – just the potatoes, fresh rosemary, garlic, salt and pepper – and an easy cooking process make this side dish simple to cook.
One option is parboiling the potatoes in a large bowl of salted water makes sure they will be extra soft and fluffy on the inside as well as crispy on the outside. It's not essential, but it's an extra trick to make sure these roasted potatoes are as tasty as possible and takes no time at all.
Once you've parboiled and left the potatoes to steam dry, you'll place them in a baking tray, on a baking sheet drizzled with olive oil. Put them in a preheated oven at 200°C / fan 180°C / 400°F / gas mark 6.
After about 25 minutes, when the potatoes have developed a nice crispness, you'll give them a shake to make sure they get cooked evenly. This is when you'll add the rosemary and put them back in for another 20 minutes. This time, when you take them out of the oven, they'll be golden brown and ready to devour with your festive feast!
How to season roasted potatoes
You can season rosemary roasted potatoes three ways – at the beginning, in the middle or at the end of the cooking process.
For me, parboiling potatoes in salted water gives them a beautifully seasoned taste that really gets in deep. Black pepper can be added before they go in the oven, but salting them this way gives the rosemary roasted potatoes an extra special taste.
If you're not parboiling them, sprinkle liberally with salt and black pepper just before you put them in the oven.
What can I make with fresh rosemary?
There are an endless number of ideas when it comes to cooking with fresh rosemary. Almost any savoury dish will be elevated with the addition of this magical herb.
Try chopping finely and frying lightly in butter with crushed garlic, then adding to mash potato for an extra special twist to standard mash.
Chop finely and rub into butter with crushed garlic for an extra special rosemary garlic butter. You could spread this onto a baguette and then heat it in the oven for amazing rosemary and garlic bread.
Or, add it freshly chopped into soups at the last stage of cooking.
Adding chopped fresh rosemary into a burger mix or rubbing it into any cut of meat will elevate the flavor, especially lamb. When it comes to perfect pairings in food, lamb and rosemary takes some beating!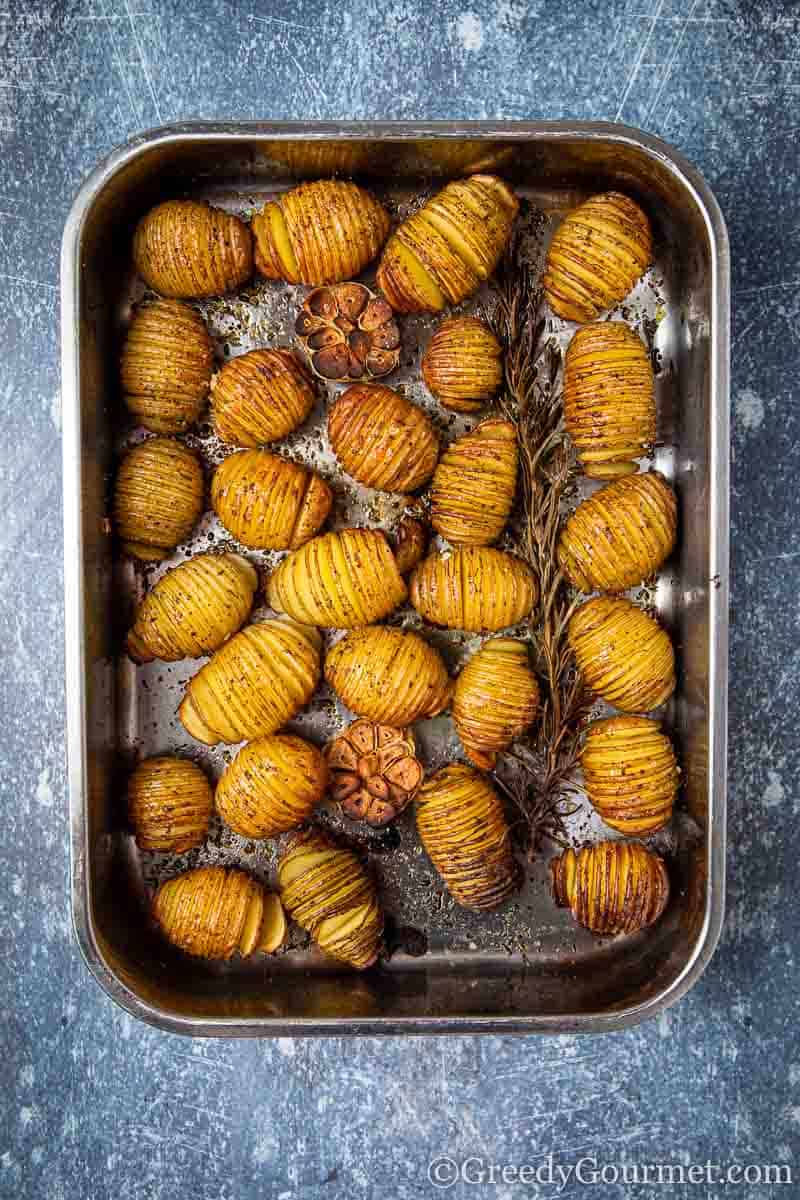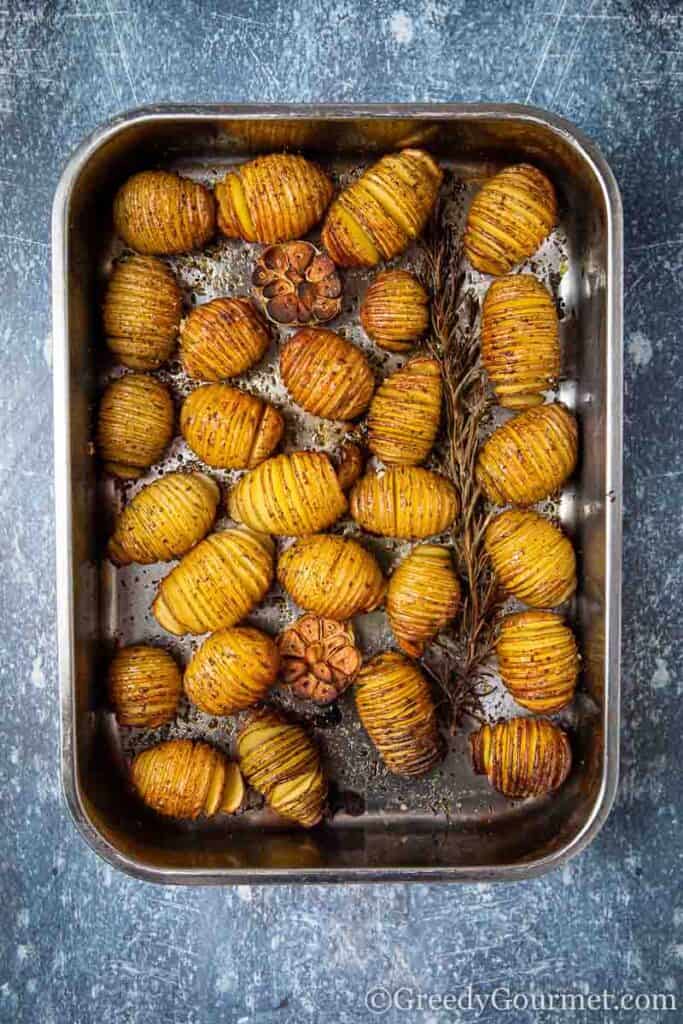 What to eat with roasted potatoes
Try some of these amazing mains with this delicious side dish.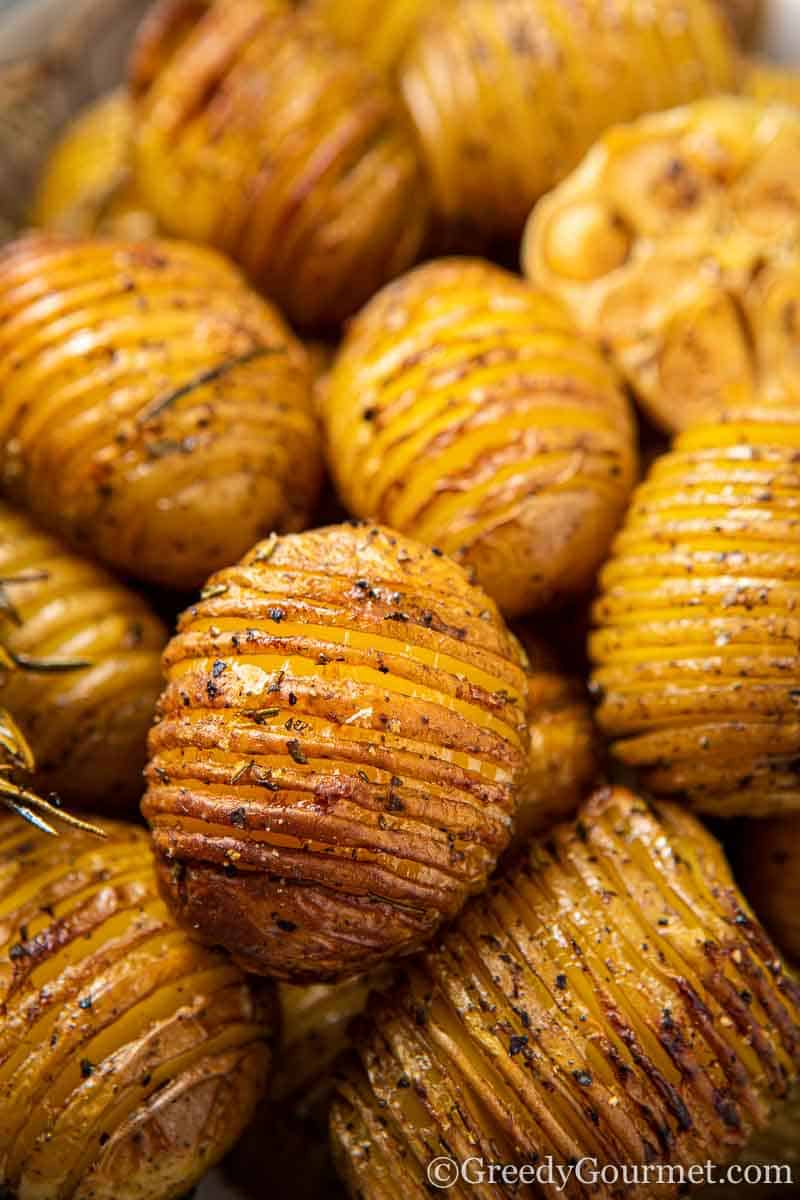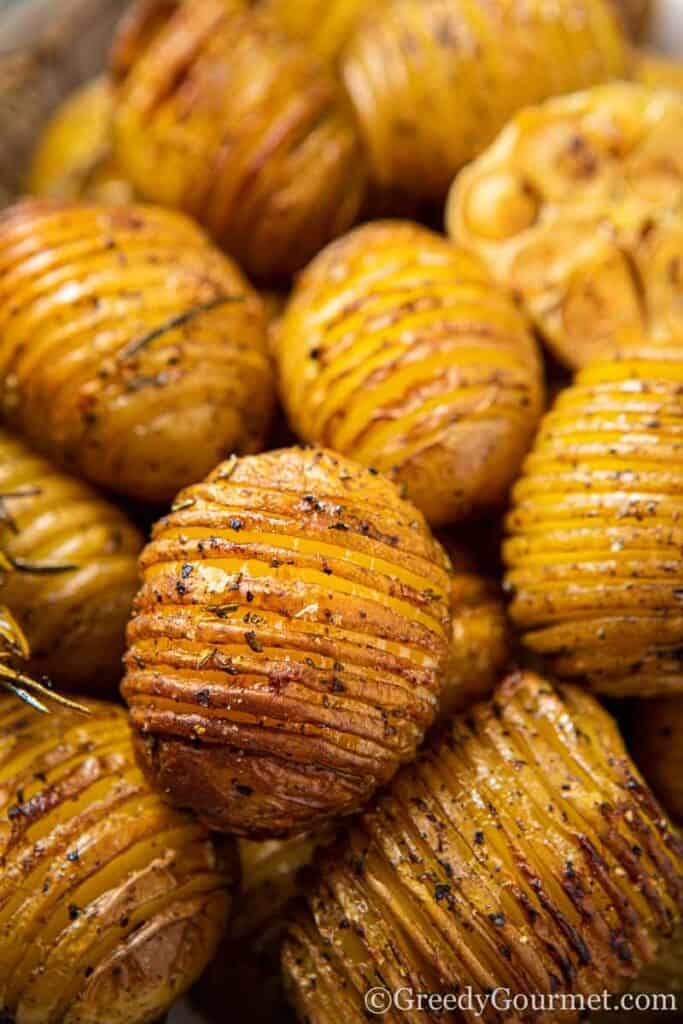 Other great potato recipes
One last thought, why don't you try serving the potatoes with blue cheese sauce?
Please let me know what other ideas you have!
Print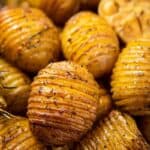 Rosemary Potatoes
---
Author:

Michelle Minnaar

Total Time:

1 hour 25 minutes

Yield:

4

1

x

Diet:

Gluten Free
Description
Rosemary potatoes is a vegan potato side dish recipe that works well with most western meals, especially roast lamb dinners.
---
1

kg (2lbs) new potatoes, washed

45

ml (3 tbsp) vegetable oil

5g

(

1 tsp

) salt

3g

(

¾ tsp

) freshly ground pepper

4

cloves, garlic, minced

10g

(

3 tbsp

) fresh rosemary leaves, minced
---
Instructions
Preheat the oven to 200°C / fan 180°C / 392°F / gas mark 6.
Hasselback each potato. Do this by placing the potato between two parallel pens/chopsticks of the same height. Cut the potato down to said objects. Be careful not to cut the potato all the way through.
The objects are there to stop this. Slice as thinly as you're comfortable with. Repeat the process along the potato.
Place all remaining ingredients in a mixing bowl and stir.
Here comes the messy part. Place the potatoes in the mixing bowl. Use your hands to massage the herb and oil mixture into the potatoes, try to get into the grooves.
Place potatoes in a large roasting tin in one layer then cook in the oven for 1 hour, or until golden and crispy. For best results, give the tin a shake every 15 minutes to loosen up the potatoes and recoating with the herbed oil.
Serve immediately as part of a roast lamb dinner. Enjoy!
Notes
Stick to small potatoes where possible.
You can use larger potatoes, wash and cube them into 2.5cm (1in) squares and proceed with the recipe.
If you don't have any rosemary don't worry! You can always use one of these rosemary substitutes!
Prep Time:

25 minutes

Cook Time:

1 hour

Category:

Side Dish

Method:

Roast

Cuisine:

English
Keywords: rosemary potatoes, rosemary garlic potatoes, oven roasted potatoes, roast potatoes recipes, roasted hasselback potatoes, potato side dish recipe
save the recipe to your pinterest board