A mirepoix is a classic recipe that is used in many other recipes. It is not something you typically eat on its own, thought you could.
However, it is an important thing to know how to cook. You will find lots of recipes that call for mirepoix the more you cook, especially French recipes, so knowing what it is, as well as how to make it, will help immensely on your culinary journey and have you feeling like a chef de cuisine in no time.
A standard mirepoix, a staple of French cooking, is made of onions, carrots, and celery, and is cooked in a pan with olive oil. However, there is much more to learn about mirepoix, so let's begin:
Why You'll Love This Recipe
You'll love this traditional mirepoix recipe because is super simple, familiarizes you with a French mirepoix, and ensures the vegetables cook evenly, which is of utmost importance.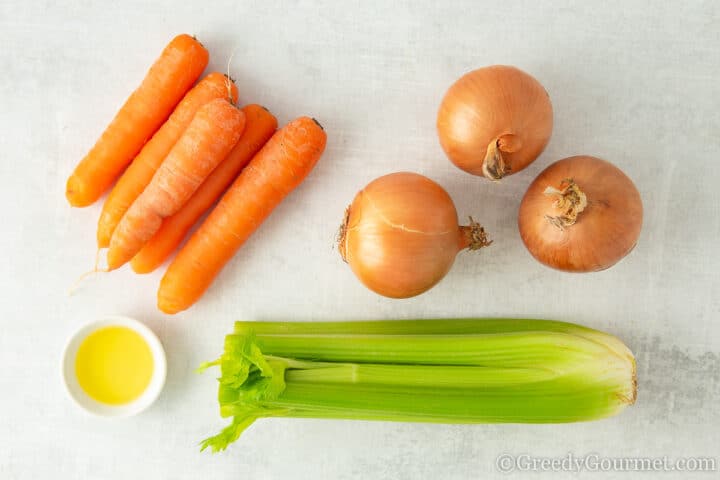 The Mirepoix Ratio
The traditional ratio is 2:1:1 onions, carrots, and celery. It can be tempting to forego the ratio and add measurements that seem correct, but don't do that here. Honor the chefs who've come before you and agreed for centuries that this will give you the best flavor in your dish.
Mirepoix Uses
A mirepoix isn't necessarily something that you serve on its own with other things, but here are some recipes that you will use it in:
Soup
There are more soups than any one person could name that contain mirepoix vegetables. The most common is chicken noodle, and that alone is reason enough to learn how to make a mirepoix.
If you don't know what soup vegetables to use, just whip out a mirepoix and you've got yourself a stellar soup. Check out this Navy Bean Soup recipe which uses onions, carrots and celery as a base.
If you don't have any celery, you can check out these celery alternatives!
Stir fry
Though mirepoix is typically diced and stir fry vegetables are left in bigger chunks, there are lots of stir fry recipes that call for the vegetables in a mirepoix. If you have some uncooked mirepoix on hand, you can easily toss them into a wok and make up a tasty stir fry.
Stews
Mirepoix is simply a must when it comes to stew. It forms the base of a lot of French recipes. Check out this Italian Ossobuco, which uses the equivalent - sofrito - as a base.
Popular Substitutions For This Recipe
As aforementioned, mirepoix traditionally consists of onions, celery, and carrots, but you can make some substitutions if you need to. With all of these substitutions, it's important to note that using what's called for is best, but sometimes swaps need to be made.
Also note that if you do make substitutions, you are no longer cooking a mirepoix, but rather your own vegetable medley.
Carrots - There are several good root vegetable substations for carrots such as celery root, parsnips, rutabaga, and even potatoes.
Celery - You can replace celery with green onion, green bell pepper, fennel, or leeks.
Onion - Instead of an onion, you can use shallots. You could also switch the type of onion you use.
How To Make This Recipe
Chop the onions, carrots and celery finely.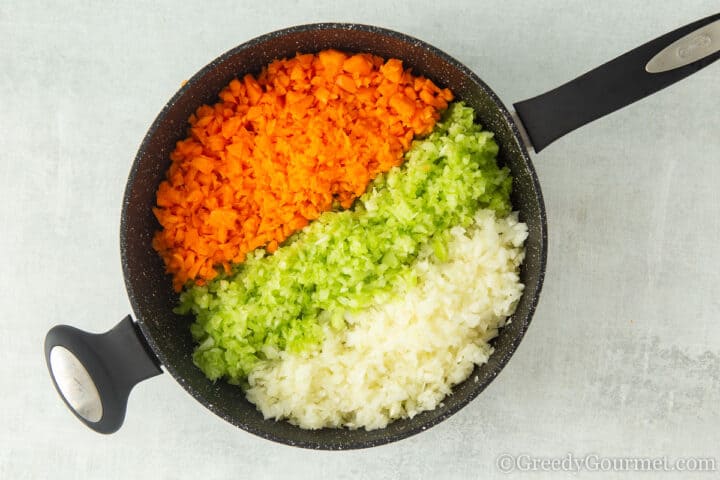 Fry gently with a bit of olive oil until the vegetables have softened. Done!
Variations To This Recipe
There are versions of a mirepoix from all over the world, and each is worth knowing about:
Italian soffritto
This is a dish made with aromatic vegetables very similar to mirepoix. It also uses the holy trinity (the vegetables in a mirepoix), except it has the addition of garlic and fennel. You'll find this in lots of italian stuff, like pasta recipes, soups, and even as the base for some sauces.
Cajun holy trinity
This is the cajun version of a mirepoix, and it uses diced vegetables - onions, celery, and bell peppers. This ratio is 1:1:1 and is often found in Creole dishes.
Spanish sofrito
A Spanish sofrito is another mirepoix-esque dish containing onions, bell peppers, garlic, and tomato paste. It is popular in Latin recipes and paella. Many people like to eat it with eggs, too.
Soup greens
Soup greens, or German suppengrun, are the German version of a mirepoix. This consists of the regular mirepoix vegetables, as well as some extras, like parsley root and celery leaves.
I highly recommend playing around with each of these mirepoix variations. The more you familiarize yourself with each of them, the better your palate becomes, and the more your chef imagination grows.
By making each of them, you'll learn more about how flavors complement each other, and you'll sharpen your taste buds and be able to better recreate recipes at home that you've had elsewhere.
These are all classic dishes in their respective cultures. Each one will unlock a little bit more about the food from various countries. You'll never regret trying a new food!
Top Tip
A mirepoix is best when cooked slowly. By letting the vegetables take their time, you soften them and bring out their delicious flavor.
How do I store leftovers?
Store your leftover mirepoix in an airtight container in the refrigerator. I suggest making a large batch to keep on hand and reheating it whenever necessary.
There are an infinite amount of recipes you can make with a mirepoix, and having it on hand is, well, handy!
You can also freeze mirepoix. It'll be good in the freezer for up to six months, so spend an afternoon making a large batch and store it in the freezer to have whenever you need it.
I like to store it in many little freezer bags that are the amount I'll need for one recipe. This makes cooking such a breeze, especially when I'm short on time.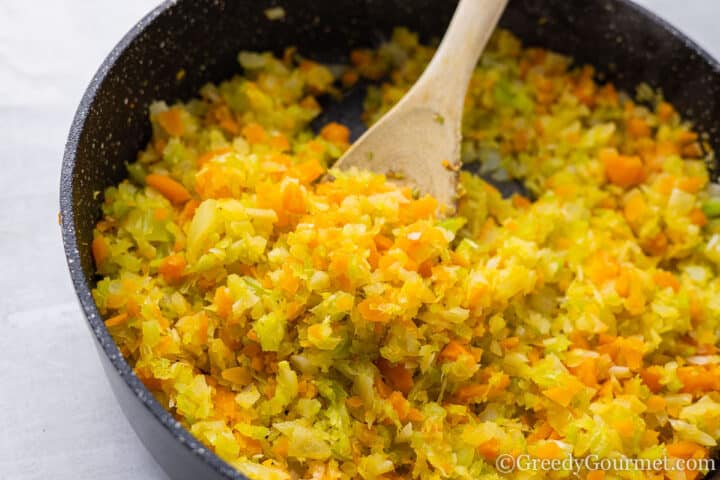 Other French Recipes You'll Love
Don't forget to come back and let me know how your recipe turned out!
Once you've perfected a mirepoix, I know you'll be searching for recipes to use it in. Let me know what you think and report back!
If there are recipes you love using a mirepoix, share them with me. I love to try new dishes!
Print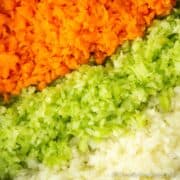 Mirepoix
---
Author:

Michelle Minnaar

Total Time:

30 minutes

Yield:

4

servings

1

x

Diet:

Vegan
Description
Mirepoix is used in many French recipes, made using oil onion, celery and carrot this is a quick recipe only taking 30 minutes to prep and cook. Click here for the recipe!
---
30

ml

(2 tbsp) olive oil

500

g

(17.5oz) chopped onions

300

g

(10.5oz) chopped celery

300

g

(10.5oz) chopped carrots
---
Instructions
Heat the oil in a large frying pan over a medium heat.
Place the onions, carrots and celery in the pan and cook for 10 minutes, giving them a stir every now and then. 
When the vegetables have softened, remove from heat, let it cool before storing it in freezer bags in even quantities, and use as needed. 
Alternatively, immediately use it for different applications such as making a stock or a soup!
Prep Time:

15 minutes

Cook Time:

15 minutes

Category:

Sauce

Method:

Pan Fry

Cuisine:

French
Keywords: mirepoix recipe, french recipe, french sauce, mirepoix uses, mirepoix uses, mirepoix stock, mirepoix soup, mirepoix ratio