Nothing satisfies alongside a delicious dish of chicken tikka masala or saag paneer like freshly made roti. If you are gluten-free, it doesn't mean you have to miss out. You can make gluten free roti!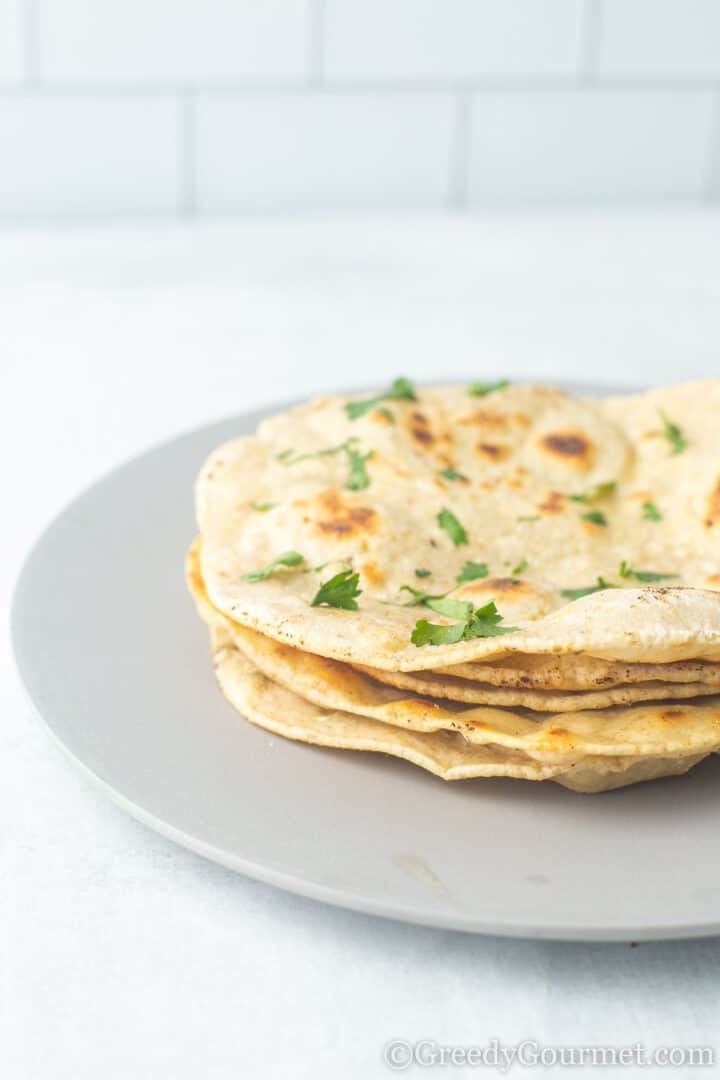 No need to deprive yourself any longer! This recipe for gluten-free roti dough is simple and tastes just like classic roti!
Roti, also known as chapati, is an unleavened flatbread. Unlike naan bread which is leavened with yeast or baking powder and often has a filling, roti is thin and simple, similar in appearance to pancakes.
Luckily, roti is easily made into a gluten-free bread, to be enjoyed by everyone, whether you have celiac disease, are gluten intolerant, or you're on a gluten-free journey.
This roti recipe was inspired by one my other gluten-free recipes, Gluten-Free Puri recipe also found on this site. Gluten-free roti pairs great with my Chicken Tikka Masala, a homemade recipe for one of Britain's favorite takeaway dishes.
This gluten-free flatbread is perfect to enjoy year round anytime you have a craving for Indian food, such as marrow curry. Whip this recipe up when you order takeaway and need a gluten-free option, or if you are making a homemade Indian feast to enjoy with friends and family.
Why You'll Love This Recipe
It's an easy recipe to make
There are only a few simple ingredients
You can whip it up quickly
It's delicious and gluten-free!
Equipment Needed to Make This Recipe
Ingredients You Need For Gluten Free Roti
Gluten-Free Chapati Flour blend – also known as atta, use a gluten free flour blend to make your rotis. This blend contains rice flour, millet flour, amaranth, and sorghum flour. There are different variations to a gluten-free chapati flour blend that may contain psyllium husk powder, quinoa flour, or even potato starch.
Ghee – also known as clarified butter, use ghee instead of oil for frying your gluten free roti in the pan. Ghee is typical in Indian cooking, and is made by simmering the butter to separate the milk solids from the fat. The liquid fat can be stored at room temperature and used for frying at high temperatures.
Coconut oil – if you are dairy-free, you can use coconut oil to make your rotis instead of ghee. Although the dairy is mostly removed from ghee, it is not completely free of milk proteins.
How To Make This Recipe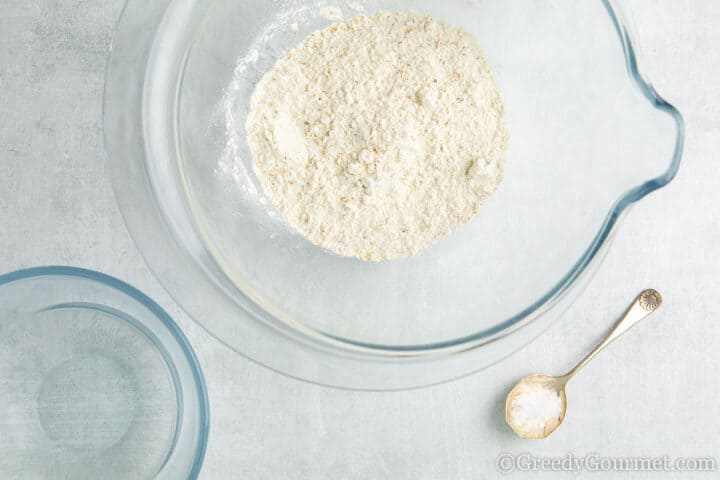 Gluten free flour, water and salt.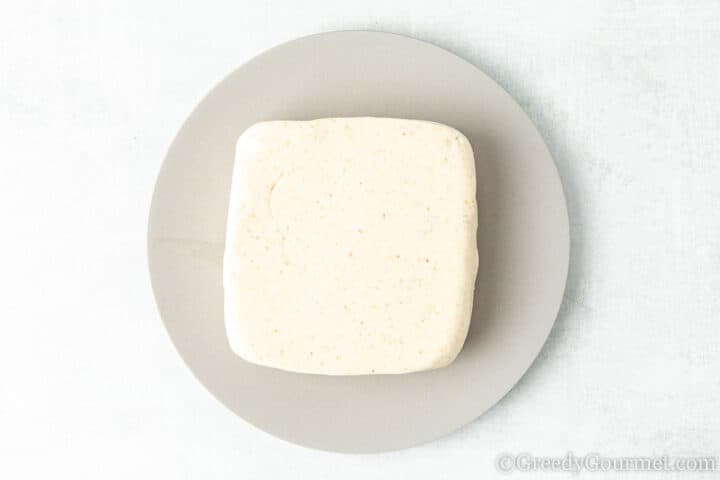 Mix together then rest. Roll into balls then fry one at a time.
Top Tip
If the dough is too sticky, add more gluten free flour. If it is too dry, add more water.
What To Serve With Your Gluten-Free Roti
Gluten-free roti makes a versatile flatbread for dipping and scooping, and is tasty on it's own or accompanied by Indian dishes, snacks, and spreads.
Main Courses
Try your gluten-free roti served alongside one of these irresistable Indian dishes
Prawn Korma – this mild spiced yet rich and creamy dish is a perfect dinner for your family. You can serve this dish with rice and make gluten free roti for a truly satisfying meal.
Lamb Pasanda – another mildly spiced Indian dish, lamb pasanda has a curry base accompanied with loads of flavor. Serve gluten-free roti along with this lamb dish to soak up the excess sauce.
Marrow Curry – this warm and spicy curry is healthy and hearty and pairs great with this gluten-free roti recipe.
Spreads
What pairs better with flatbread than a nice spread or chutney? If you're looking for a delectable dip to enjoy with your gluten-free roti, look no further than these recipes.
Courgette Chutney – this chutney has it all – tang, sweetness, and crunch. Perfect for dipping roti or naan.
Green Chutney – this herby and fresh chutney packs lots of flavor and even a little heat when you add green chilies to it.
Bombay Chutney – this thick and tasty chutney made with chickpea or gram flour is versatile during mealtime. It can be served alongside main dishes or even used as a spread for sandwiches. Try Bombay chutney spread on a roti and topped with vegetables or protein to really spice things up!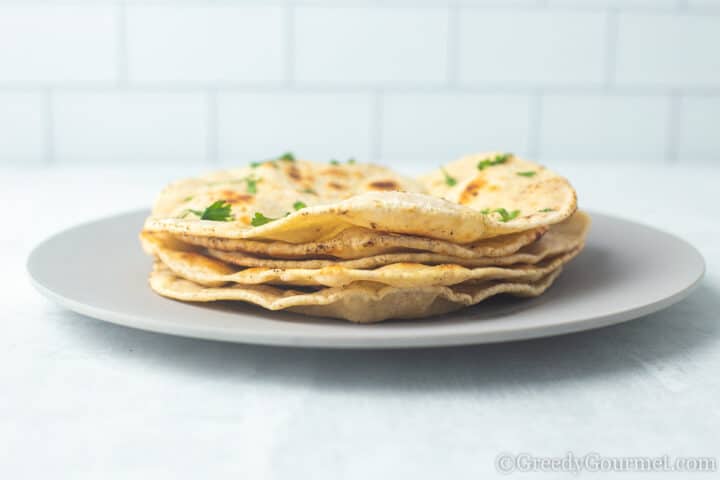 Snacks
These snacks stand alone as a traditional version of the indian street food, chaat. To make these more filling, try them with this homemade roti recipe.
Chicken Chaat – this quick and easy recipe has garam masala and tamarind paste in it, giving it loads of flavor.
Aloo Chaat – this vegetarian potato based chaat has simple ingredients but unique and vibrant flavor.
Masala Chana Chaat – a filling vegetarian salad dish, masala chana chaat has a good spice level and is a healthy alternative to heavier dishes.
Popular Substitutions for This Recipe
Millet Flour
to make millet roti, another gluten-free version, use a millet flour blend instead of a gluten- free chapati flour blend. Millet flour is healthy and naturally gluten free and high in fiber, making millet roti a healthy substitute
Quinoa Flour
this slightly nutty flavored flour is another option for making this gluten-free flatbread. Quinoa flour is versatile and creates a pliable dough in this simple recipe.
You can try most any of the gluten free flours that are available, keeping in mind that different flours will yield slightly different textures and taste. Using psyllium husk with certain flours may be necessary to keep them soft and pliable.
If you can't find gluten-free flour, you can also use whole wheat flour or all-purpose flour.
Variations to This Recipe
If you prefer a fluffier roti, you can add baking powder and baking soda. This will make the rotis stay softer for longer.
If you don't have a skillet, you can also cook the roti on a griddle or in a frying pan.
Top Tip
You can also make this roti with ghee instead of oil. Ghee is a type of clarified butter that is often used in Indian cooking. It has a rich flavor and can be found at most grocery stores.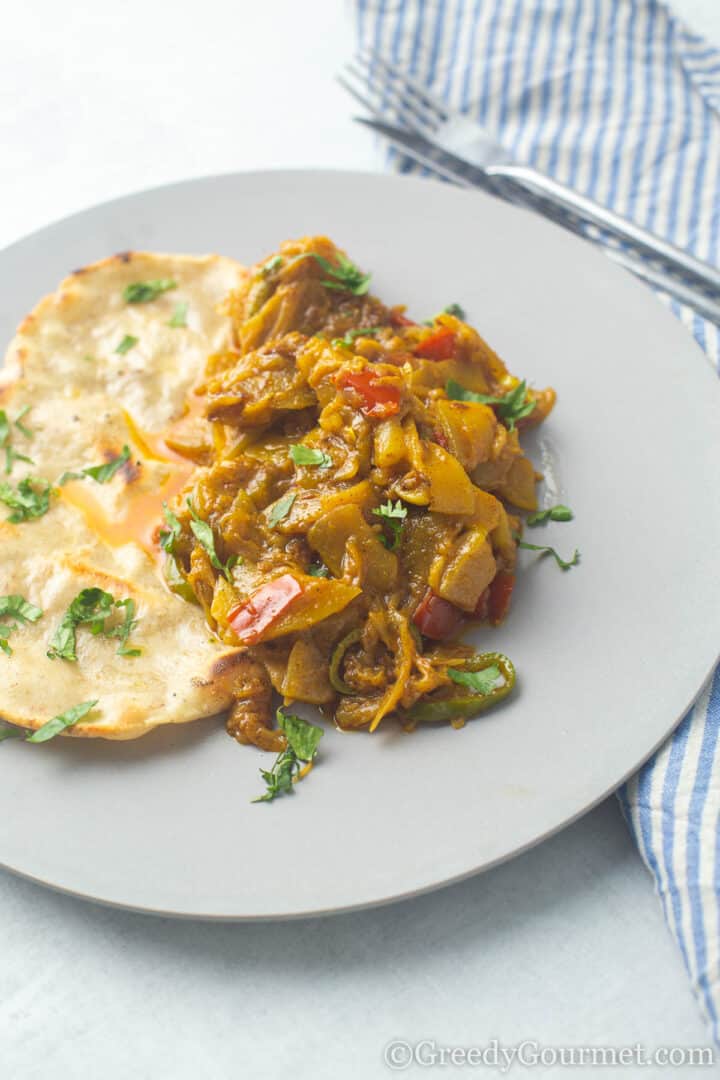 Can I Make This Recipe Ahead of Time?
Yes, you can make the dough recipe ahead of time and store in the refrigerator for up to one day. Before rolling out, allow the dough to come to room temperature.
How Do I Store Leftovers?
You can cook the roti up to three days ahead of time. Make sure to properly store the cooked flatbread in an airtight container, wrapped in a soft cloth to retain moisture.
Can This Recipe be Scaled?
Yes, you can scale this recipe by halfing it, or doubling and even tripling it. You may want to use more than one pan to cook all of your rotis is you make a big batch.
Print
Gluten Free Roti
---
Author:

Michelle Minnaar

Total Time:

1 hour 35 minutes

Yield:

8

Servings

1

x

Diet:

Gluten Free
Description
This Gluten Free Roti tastes just as good as the original Indian fried bread. Ensure you use a good quality chapati flour.
---
300g

(

3 cups

) gluten free chapati flour

160

ml (⅔ cup) warm water

15

ml (1 tbsp) milk

3g

(

½ tsp

) salt

60

ml (4 tbsp) ghee, for brushing
---
Instructions
Place the flour in a large bowl.
Add the water in small amounts to the flour in order to bind it. Don't make the dough too wet. Only use enough water to form a dough. The quantity specified is estimated, use more or less as needed.
Knead the mixture together for about 5 minutes until it sticks together.
Add the milk and salt and knead for another 5 minutes. 
Roll the dough in a ball and cover the dough with a damp cloth or paper towel. Place it somewhere warm for at least 1 hour. 
Split the dough into 8 evenly sized balls and make them as round as you can. 
Roll out into discs but keep them on the thicker side instead of thin because they risk falling apart then. 
Heat a frying pan or tawa on medium-high heat. Make sure the tawa is hot enough then brush off any flour from the surface of the roti dough then place it in the pan. 
Let it cook for 15-30 seconds or until you see some bubbles forming on the top. Flip the roti and brush the topside with melted ghee. 
Once 30 seconds of cooking has elapsed, use a tong to check the bottom side of the roti. If it's browning, flip it over again and brush this side with ghee too. 
Continue cooking the roti until both sides have browned well, flipping once or twice as needed. 
Remove from the pan and proceed with the next roti until everything is cooked, while keeping the cooked ones warm. 
Serve immediately with your favorite curry. Enjoy! 
Notes
Use as much or as little ghee as needed. 
Prep Time:

15 minutes

Resting Time:

1 hour

Cook Time:

20 minutes

Category:

Side Dish

Method:

Fry

Cuisine:

Indian
Keywords: gluten free roti, gluten free indian recipe, gluten free indian side dish, gluten free indian bread, indian side dish recipe