Looking to repurpose leftover turkey into a delicious one-pot dinner? Look no further than this leftover turkey biryani that combines some staple ingredients together into a flavorful dish full of delicious spices and aromatics.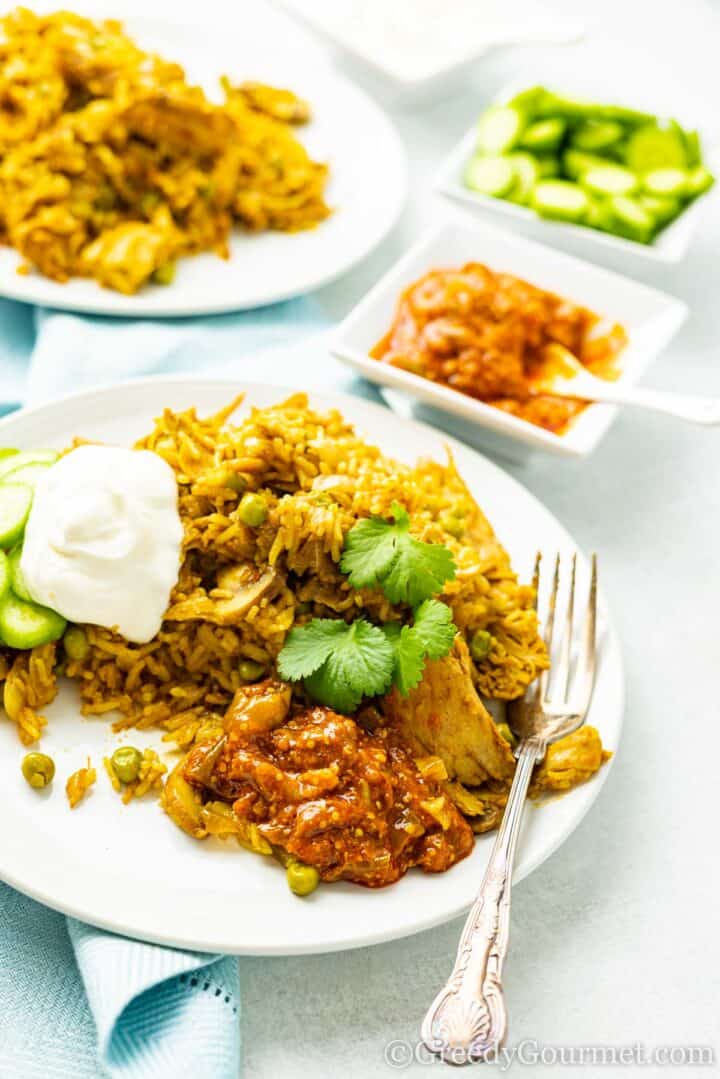 Biryani, the traditional Indian mixed rice dish, is often made with chicken, beef, or lamb, but this version gives it a twist with leftover turkey. Since your protein is already cooked, this dish comes together in less than an hour for a weeknight dinner idea that is sure to please.
Make the most of your leftover turkey
My leftover turkey lasagna recipe, another shortcut dinner casserole, inspires this leftover turkey biryani. Pair leftover turkey biryani with some mango chutney or raspberry chutney as a slightly sweet and tart condiment just like you would with a turkey masala.
Leftover turkey biryani is a great dish to make; simply serve it up whenever you have abundant thanksgiving leftovers or turkey from a holiday gathering or big family dinner. You can count on the fact that your friends and family will love this updated turkey biryani recipe and come back for seconds, maybe even thirds!
When making this easy recipe be sure to gather all your ingredients and prep them before you start cooking. This step will make your job much easier as you won't have much time between adding ingredients, and you will find yourself stirring frequently to be sure to cook everything evenly.
Why You'll Love This Recipe
It's made using one pot
There aren't a lot of ingredients
You can customize the level of heat with whichever curry paste you prefer
It's kid-friendly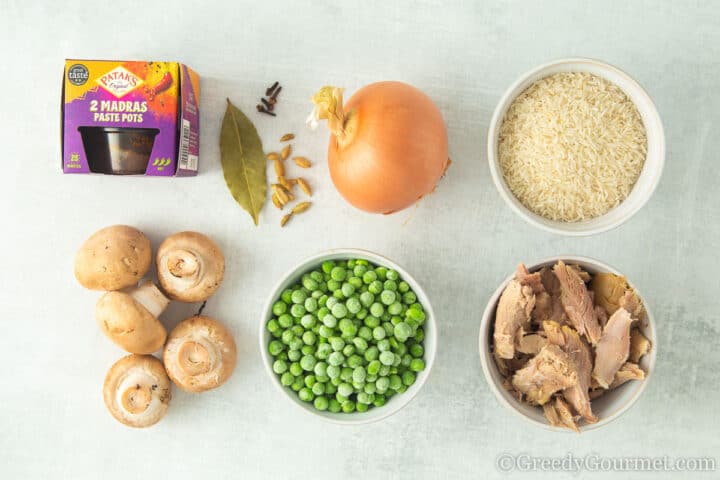 Special Ingredients You Need For This Recipe
Cardamom pods - cardamom has a citrusy, piney, and slightly fruity flavor that is a classic ingredient in any biryani. The pods must be ground up to use in this recipe, like most whole spices, so make sure to have a mortar and pestle to make a spice mixture to add to your recipe.
Curry paste - make your leftover turkey biryani spicy or mild, depending on your preference for heat and spice. You can also make curry paste for your turkey biryani recipe if you prefer, using this korma curry paste recipe.
How to Make This Recipe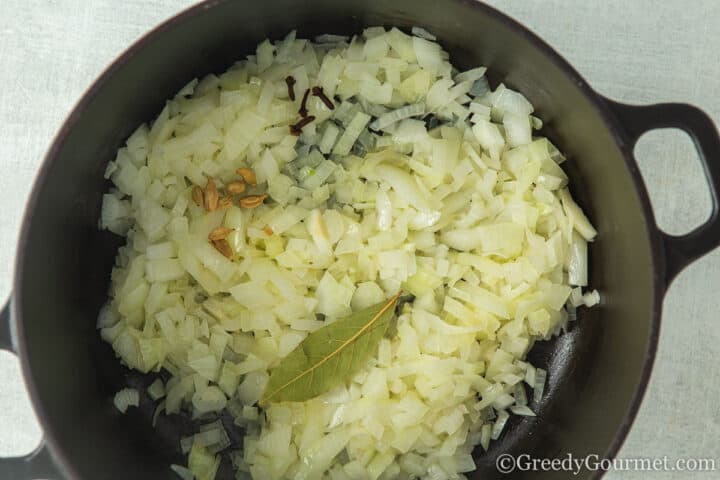 Fry the onion, cardamom and bay leaf for 5 minutes until the onions have softened and become translucent.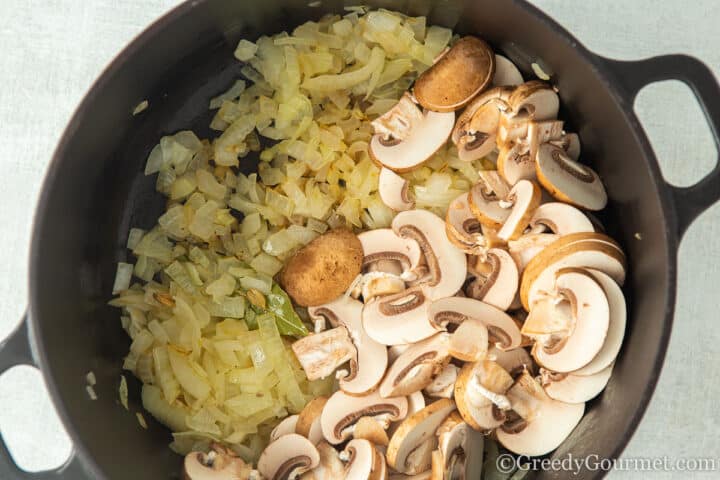 Add the mushrooms and fry for another 3 minutes.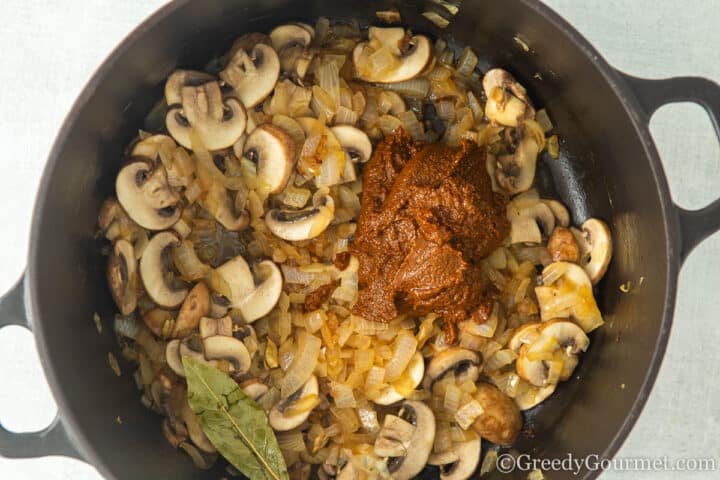 Tip in the curry paste and let it bubble away for about 5 minutes.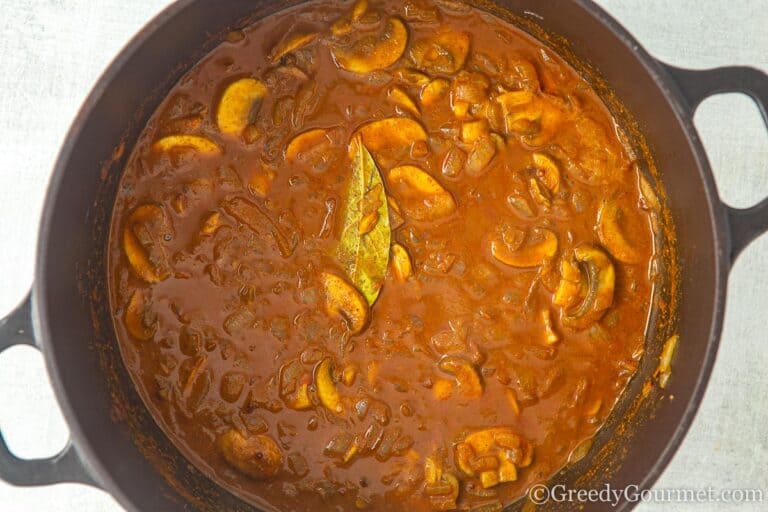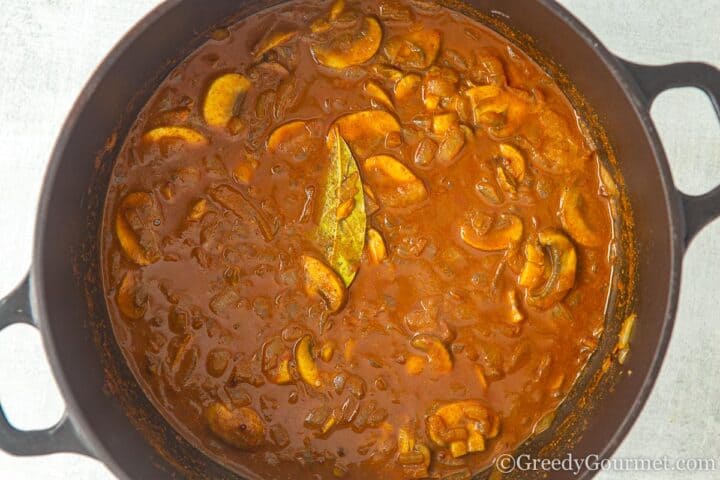 A thick sauce should have formed by now.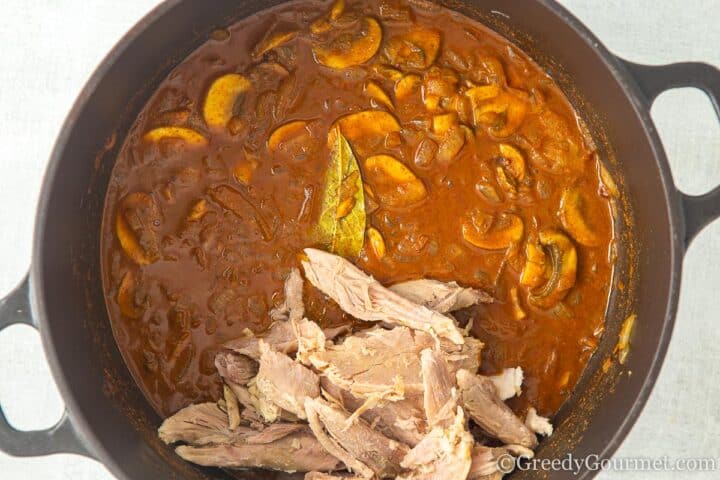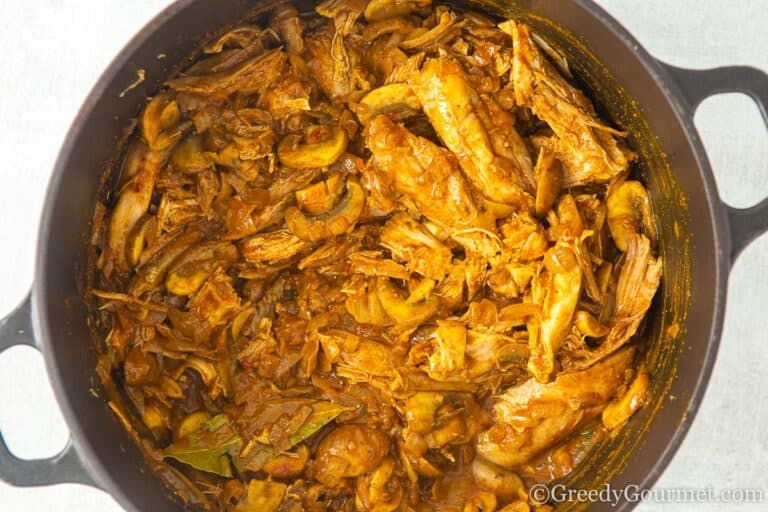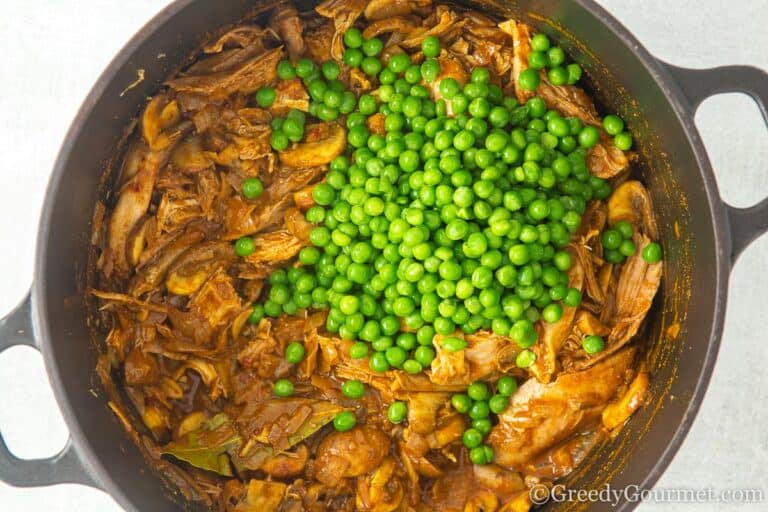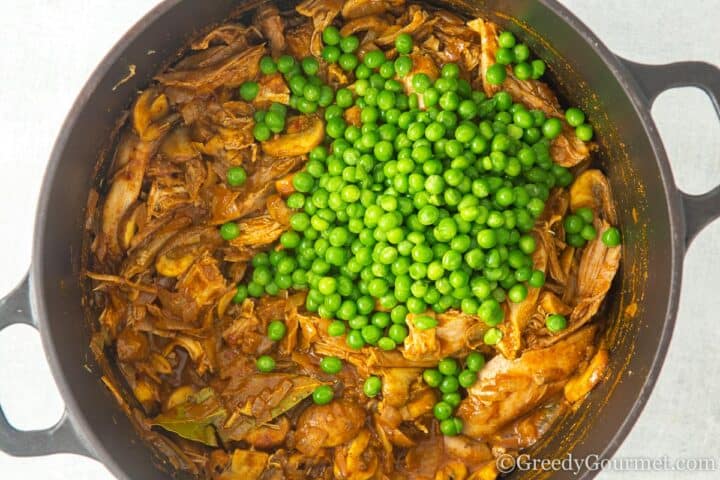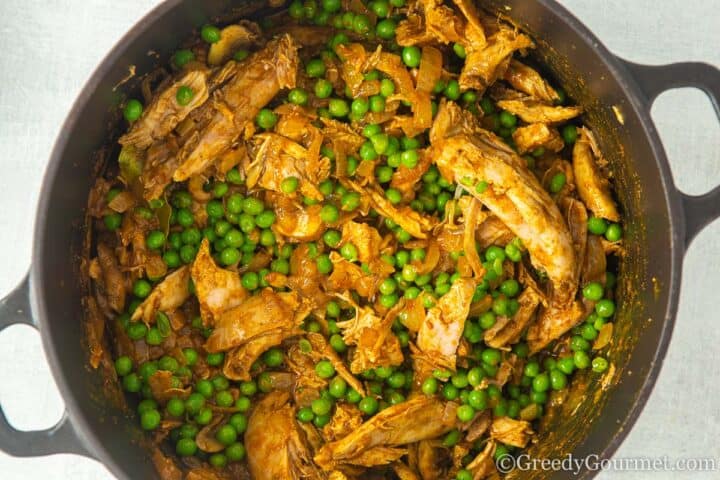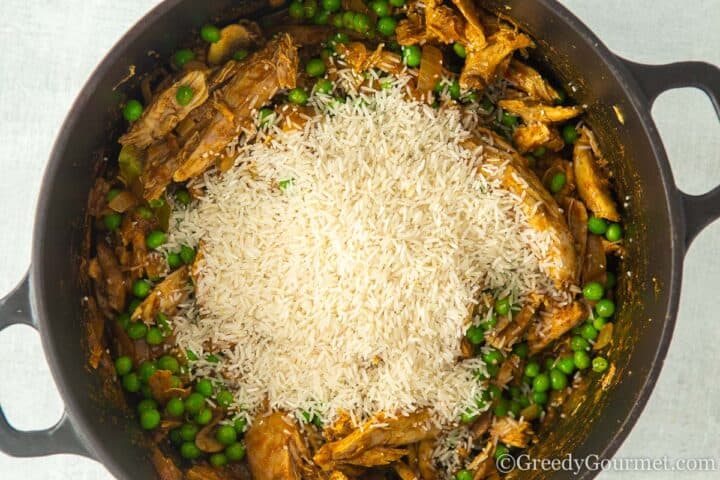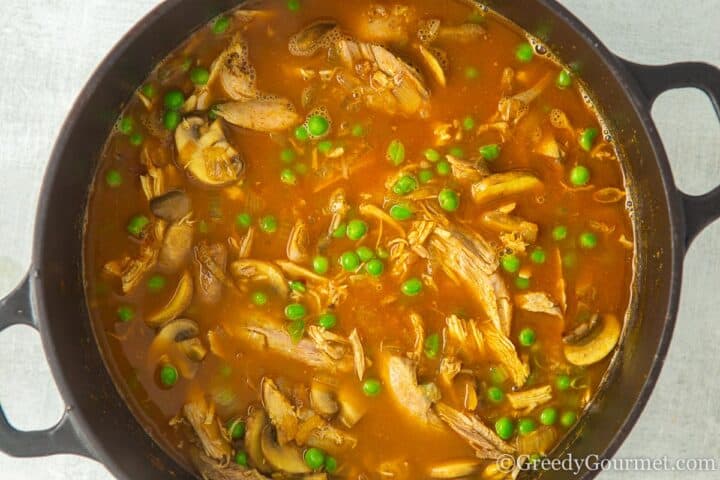 Pour in the stock then stir. Cover with lid and cook for 25 minutes or until the rice is cooked.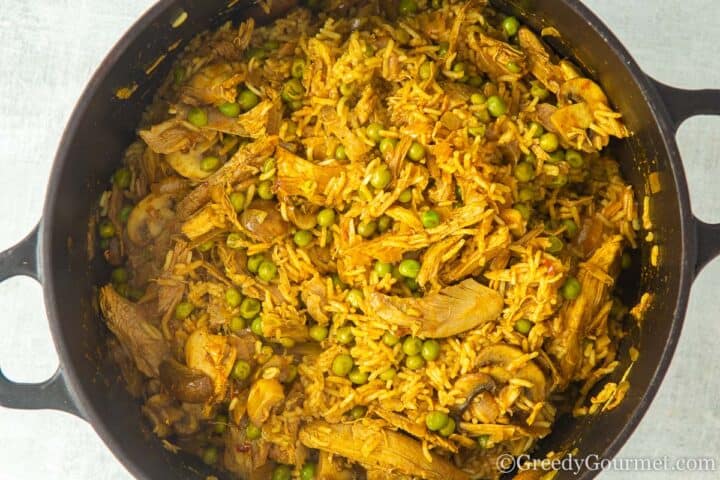 Fluff up the rice and serve immediately with your favourite Indian accompaniments. Enjoy!
What to Serve With Your Turkey Biryani
Turkey biryani is loaded with flavor and textures that make it a great meal anytime you have turkey leftover. Try these additions to make it even better.
Sides
Honey roast parsnips - add a sweet and savory sides dish to your leftover turkey biryani like honey roast parsnips to balance out some of the heat from the dish. Roasted parsnips are complimented with some sweet honey and herbs for a simple and delicious side.
Maple glazed carrots - healthy and sweet, these maple glazed carrots are a favorite side dish, whether with a whole roasted turkey or with spicy and flavor-packed turkey biryani.
Edamame salad - bright and crunchy, this edamame salad doesn't fail to add a splash of color and some greens to your plate.
Pickled cucumbers - commonly eaten with curries and biryani, pickled vegetables like these cucumbers add acidity and brightness to the many flavors going on in this turkey biryani.
Paratha - you can never have enough carbs, and these parathas are no exception. Perfect served alongside turkey biryani and chutney or cooling raita.
Desserts
Biscoff blondies - these incredible cookie bars will give you even more reason to polish off your turkey biryani
Chocolate coconut clusters - these chocolate and coconut clusters make a great snack or a perfect end to a delicious meal
Rhubarb and pear crumble - enjoy a fruity and refreshing rhubarb and pear crumble to cool your pallet and satisfy your sweet tooth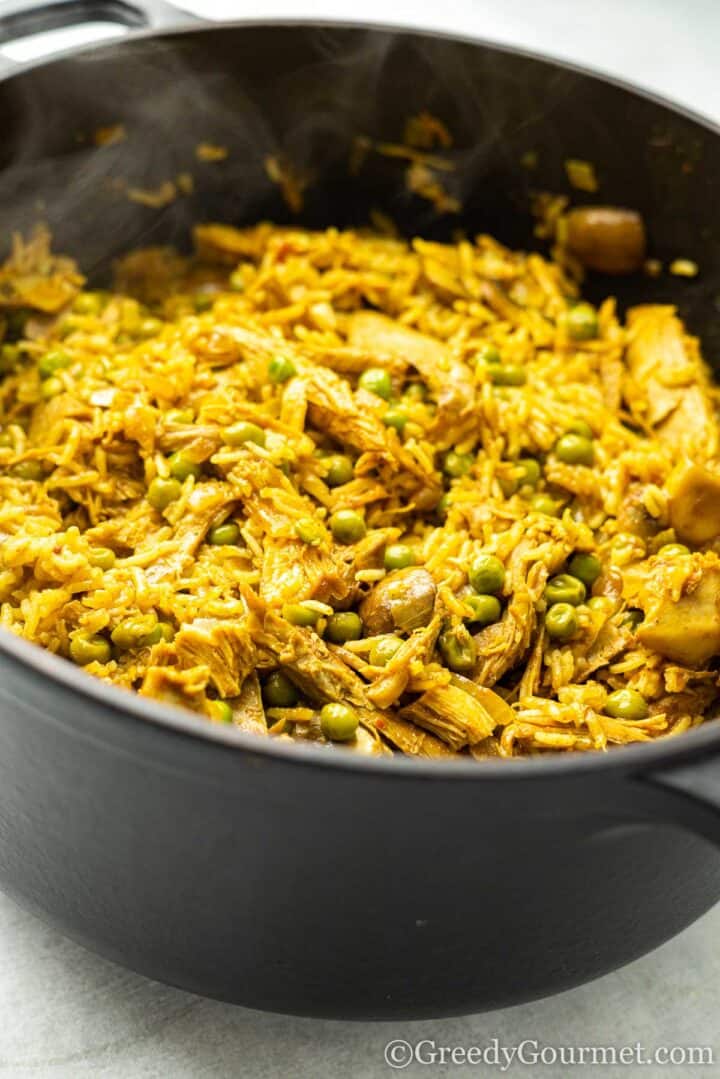 Popular Substitutions for this Recipe
Rice
Use another long-grain rice besides basmati rice like jasmine or brown rice. You can use already-cooked basmati rice if you have some to use up by waiting until after the dish has simmered and incorporating it in at the very end or baking it with the curry instead.
Keep in mind that you won't give the cooked rice as much of a chance to absorb as much of the flavor of the turkey biryani by using this shortcut.
Turkey
Instead of leftover turkey pieces, use ground turkey meat in your turkey biryani dish. You can start with raw meat instead of already cooked turkey, allowing you to reheat the dish, unlike the leftover version.
Variations to this Recipe
Spices
Try customizing your turkey biryani recipe by adding additional spices like garam masala, chilli powder, garlic powder, ground cloves, or even cinnamon for even more flavor. If you use chilli powder, be aware that it can add to the heat that is already there from the curry paste, so I don't recommend using chilli powder unless you love a lot of spice!
Extra vegetables
Add carrots, red or green bell pepper, tomatoes, or squash to increase the vegetable load in your turkey biryani.
Extra flavor and crunch
For extra flavor and crunchy rice texture, bake the rice, turkey, and curry mixture using a large casserole dish. Since everything is already cooked, the casserole dish must only be in the oven to meld the flavors together, about 10 to 15 minutes at 180 degrees Celsius. Give the casserole dish a light layer of butter first to prevent the turkey biryani from sticking.
Top Tip
Use the leftover turkey carcass to make homemade turkey stock. You can use turkey stock instead of chicken stock for this recipe, as well as for soup. Just add carrots, onions, celery, and the turkey and allow to simmer for a few hours before straining the solids from the stock and cooling down to store or use right away.
If you have a lot of liquid from the carcass, turkey stock freezes perfectly and should be used in four to six months.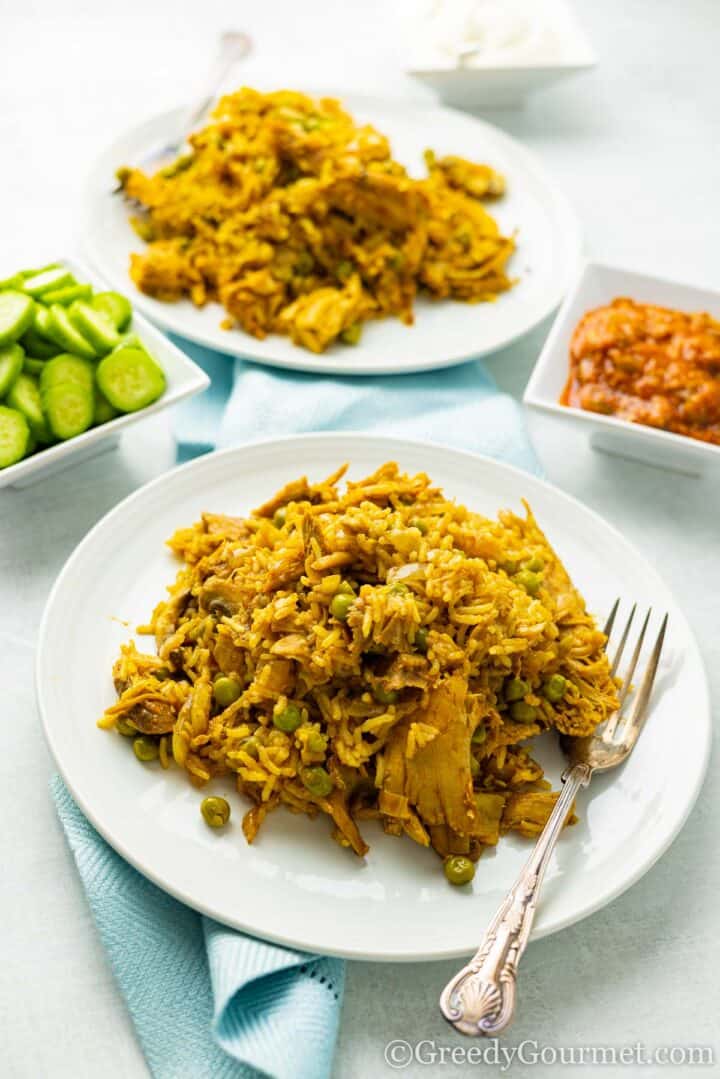 How do I store leftovers?
Store leftovers in the fridge for three to five days, depending on how long ago you made the turkey originally. It's best to make this recipe within one to two days of originally cooking the turkey to ensure that it is safe to eat in this biryani recipe.
If you use leftover turkey for this recipe and have leftovers, I recommend eating them cold instead of reheating them again for food safety reasons.
Can this recipe be scaled?
Yes, you can scale this recipe if you are feeding a large crowd and you have a lot of turkey. Simply double the amount and enjoy!
Can I freeze this recipe?
No, I do not recommend freezing this recipe with the leftover turkey in it for food safety reasons. It is not recommended to reheat the turkey multiple times before eating it.
However, if you make it with freshly cooked turkey instead, you can easily freeze it to be thawed and enjoyed within four months of freezing it.
Other leftover turkey recipes you'll love
Print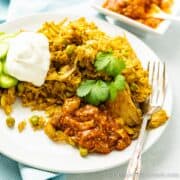 Leftover Turkey Biryani
---
Author:

Michelle Minnaar

Total Time:

55 minutes

Yield:

4

portions

1

x

Diet:

Gluten Free
Description
Have some turkey leftover from Thanksgiving or Christmas? Don't let it go to waste and make this tasty Leftover Turkey Biryani.
---
Biryani
15

ml

(1 tbsp) oil

14

g

(1 tbsp) butter

1

large onion, finely sliced

1

bay leaf

8

cardamom pods, crushed

300

g

(10 1/2 oz) mushrooms, cleaned and sliced

140

g

(6 tbsp) curry paste, see notes

450

g

(1lb) cooked turkey, roughly chopped

260

g

(2 cups) peas

250

g

(8oz) basmati rice

580

ml

(2 2/3 cups) chicken or vegetable stock
Accompaniments
coriander leaves, chopped
plain yogurt
lime pickle
---
Instructions
Heat the oil and butter in a large, lidded frying pan over a medium heat. 
When it starts sizzling, add the onion, bay leaf and cardamom. Stir fry for 5 minutes or until the onion has softened and the spices' aroma have been released. 
Add the mushrooms and stir fry everything for another 5 minutes.
Turn up the heat and stir in the curry paste. Let it sizzle in order to release the flavours. 
After 5 minutes, lower the heat to medium and stir in the turkey, peas and rice.
Pour in the stock and let the contents reach a low simmering point. Cover with a lid and cook for 25 minutes or until the rice is cooked.
Season to taste and serve immediately with your favourite accompaniments. Enjoy!
Notes
In this recipe, I used 2 x Madras Curry Pots. Feel free to use other types of curry pastes of your choice and use as little or as much as you desire, in order to control the amount of heat and spice. Want to make your own? Check out my Korma Curry Paste recipe!
Since the turkey has already been cooked, for safety purposes, it's best not to reheat this biryani and the leftovers should be enjoyed cold instead.
Prep Time:

10 minutes

Cook Time:

45 minutes

Category:

Dinner

Method:

Pan Fry

Cuisine:

Indian
Keywords: leftover turkey biryani, turkey biryani recipe, leftover turkey recipe, leftover turkey uk recipe, leftover christmas recipe, leftover thanksgiving recipe