When I first heard the name of this dish, chana chaat, I thought it would be a classical Indian dish like a nice spicy curry. To my surprise, it's a salad!
Chana chaat is a tangy and flavourful chickpea salad from India that is very popular amongst vegetarians and those who like a bit of spice. It's an excellent way to lose a couple of pounds if you have this healthy salad for lunch or dinner.
It is made up of vegetables, including potatoes. Therefore, with the addition of chickpeas you can imagine that it's rather filling.
Also, it is perfect as a side dish, while you serve other types of Indian dishes such as tadka daal or dhaan saak.
history
Chana chaat goes all the way back the B.C. era in the Uttar Pradesh state of India. Uttar Pradesh is the origin for some of the most powerful empires in India. In addition, today it's known for being the most populous region in the world.
Chana chaat is only a very specific type of dish or rater chaat. Back in the empire era, there was a big exchange between cuisines and various types of cultures.
For this reason, there are many types of chaats that you can find in India. Still, chaat is a savoury snack which can go either direction as a result of the various cultural interactions thoughout the history of the Uttar Pradesh region.
The word chaat comes from the Hindi word cat, which means delicacy. Today, chana chaat is commonly known in India and Pakistan as a popular street food dish.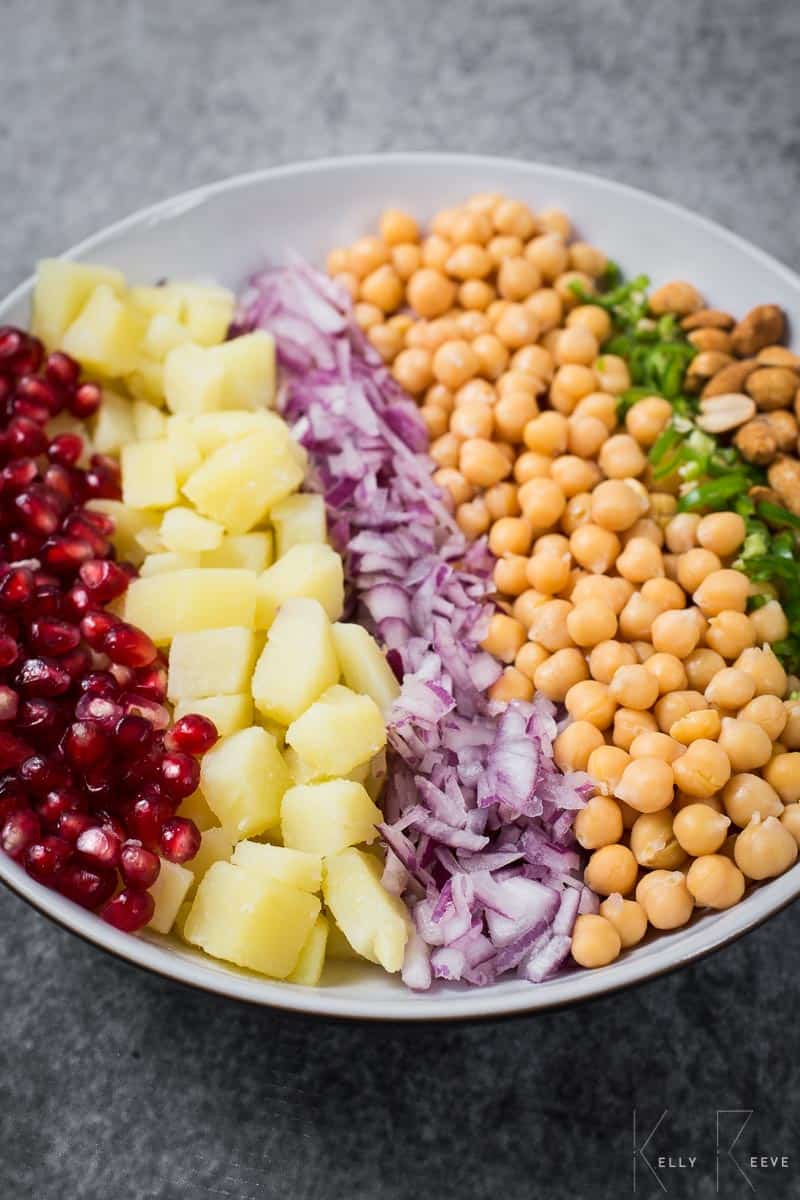 types of chaat
There are many types of chaats out there in India. Chana chaat is a popular one, which is from white chick peas. You might also come across Kala Chana Chaat, which is made from brown chick peas.
You might wonder, what is the difference between white and brown chickpeas? White chickpeas, also known as garbanzo or cici beans, has a higher fat content, while being smoother.
The dark chickpea, also known as Bengal gram, kala chana or Desi chickpea is generally smaller. Also, it has a rougher coat.
If you're a diabetic, you should try and use the dark brown chickpeas more often as they have a lower glycemic index.
Now coming back to the different types of chaat, you can also come across these:
Aloo chaat - with crisp potatoes and chutney. Simply delicious!
Papri chaat – papri is a crisp patty which you serve on top the chaat
Samosa chaat – you tear a samosa into pieces and infuse it into the chaat
Beetroot and potato chaat and many more! The list can go on forever.
the original chaat
You might be wondering, what it then the original chaat? The original chaat consists of pieces of potatoes, crisp friend bread, chickpeas, chili mixture, fresh coriander, yogurt and sauce made out of ginger and tamarind sauce.
Sounds spicy and delicious, right? If you love spicy tangy Asian classics, then you should definitely try this one the next time you go to India!
Not sure if we can get this in the UK, unless we go to an authentic Indian restaurant.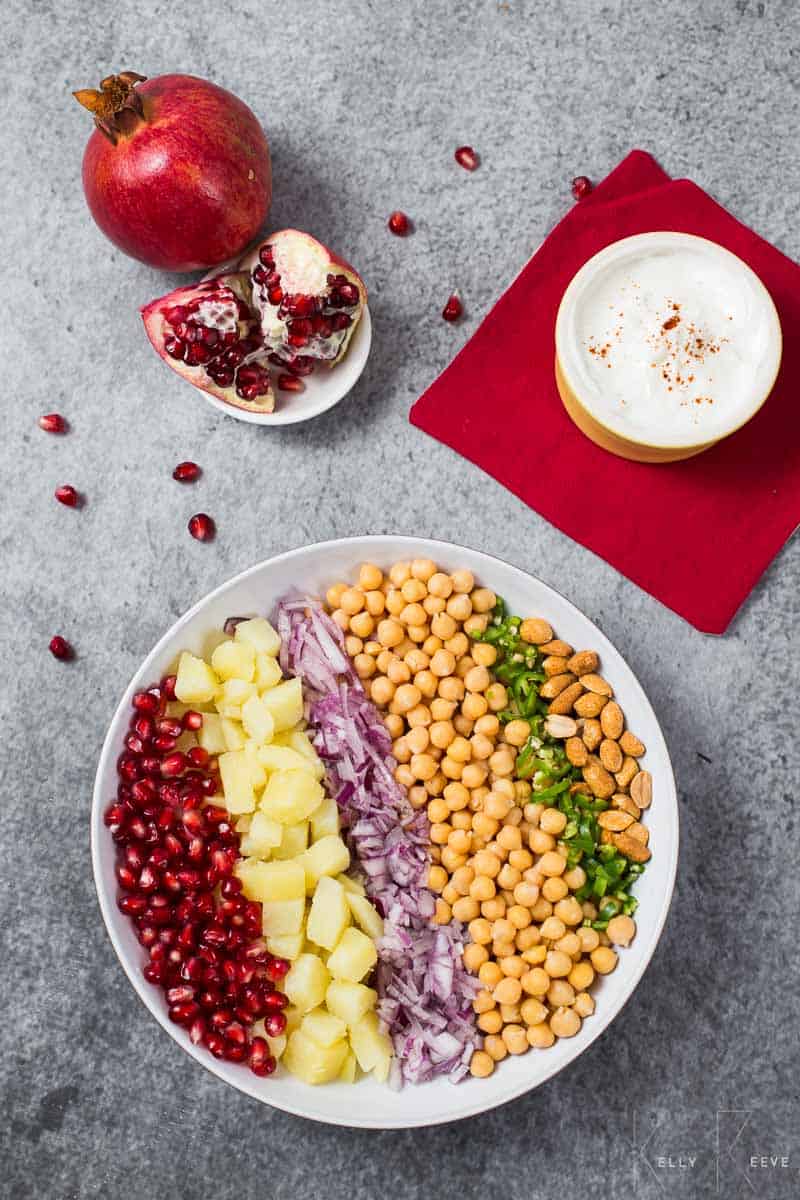 lime and chilies in your yogurt dressing
Remember, if you like the chana chaat spicy, make sure you have the yogurt sauce right next to you. The yogurt will act as a cooling agent on your tongue.
Why do you think that it's common to serve all the curries with mint yogurt sauce? They know what they are doing!
masala component
I know his chana chaat calls for a masala component. You can make any masala mixture that fits your taste buds. However, people tend to go for the spicier mixtures.
The more spice, the more flavour. Remember, the chickpeas will also absorb a lot of the spice and act as a neutralising element.
If you enjoy spices, I've also seen some chana chaats use green chili paste. Since I use green chilies here already, why not make the paste yourself? Just throw it in the blender, add some oil and spices, and you're done.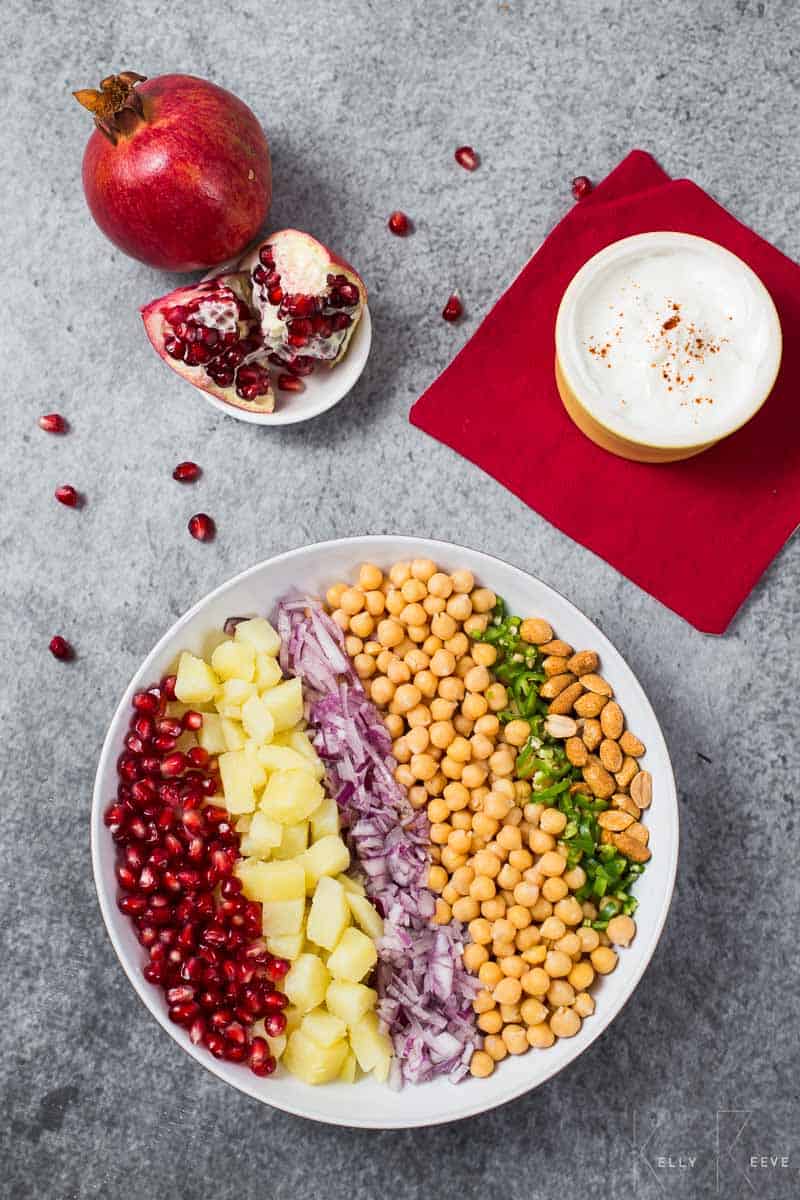 flavour enhancers and neutralizers
The pomegranate acts as a refreshing element. Some versions include pieces of mango. However, I think if you are looking for more flavour, why not go for the more aromatic mango fruit?
Also, I would recommend cutting fresh coriander and sprinkle it over the top of the chana chaat. If you don't like chilies too much, just omit them altogether and use lots of coriander.
If you are looking for a more subtle way to use the chickpeas in a salad, why not try this healthy grain bowl? This latter is better for those who don't really tolerate high spice levels.
go from India to Egypt
Want to make things interesting and travel away from the traditional Indian flavours? This is why I love chickpeas.
You can take out the masala, the potatoes and add some fresh tomatoes and tahini sauce and you've got yourself a delicious Egyptian salad.
Also, use lemon instead of lime. It's subtler, as the tomatoes already give off quite some acidity.
Print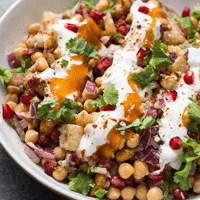 Masala Chana Chaat
---
1

red onion, finely chopped

1

green chilli, finely chopped

250

g

(9 oz) potatoes, peeled, cooked and cubed

400

g

(1 tin) chickpeas, drained

1

pomegranate, deseeded

60

g

(2 oz) roasted peanuts

2.5

ml

(1/2 tsp) garam masala

1.25

ml

(1/4 tsp) dried chilli powder

5

ml

(1 tsp) sea salt

30

g

(1oz) fresh coriander leaves

125

ml

(1/2 cup) plain yogurt

125

ml

(1/2 cup) mango chutney
---
Instructions
Mix the onion, chilli, potatoes, chickpeas, pomegranate, peanuts, garam masala, chilli powder and salt in a large bowl and stir thoroughly.
Divide the mixture among 4 plates and top with coriander, yogurt and chutney.
Notes
Alternatively, you can first lightly fry the mixture in 5ml (1tsp) coconut oil before serving.
Fancy a bit of chicken? Try this Chicken Chaat recipe instead!
Nutrition
Serving Size:

1 serving

Calories:

564

Sugar:

33.2 g

Sodium:

607 mg

Fat:

10.3 g

Saturated Fat:

1.5 g

Carbohydrates:

98.2 g

Fiber:

20.7 g

Protein:

24.9 g

Cholesterol:

2 mg
save the recipe to your pinterest board

A special thanks to Kelly Reeve for assisting with the recipe shoot.