Do you want to know the secret to making the perfect pilau rice? There's nothing to it! It only takes a few minutes longer than normal rice and you'll need just a handful of ingredients.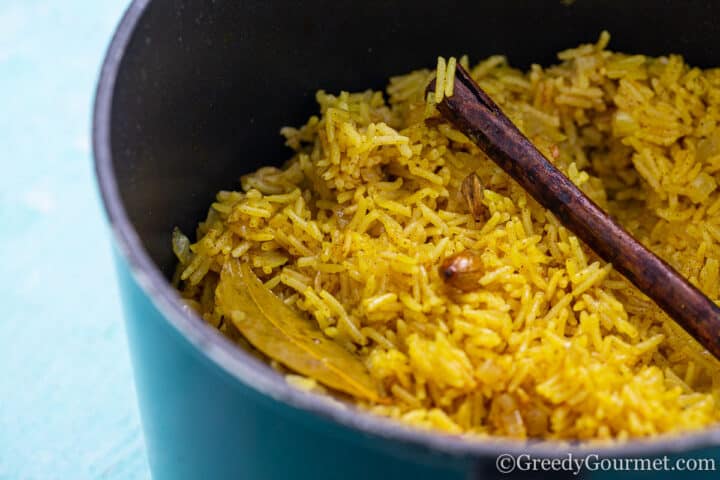 In fact, when you're done, you'll have a delicious Indian restaurant-style side that will take your homemade curries to another level.
Products you need for this recipe
There are a few important items you'll need before you get going with this homemade pilau rice recipe:
What is pilau rice made from?
Pilau is a fragrant rice dish cooked with spices.
A million miles away from plain old boring boiled rice, it tastes and smells like a dream. Looks-wise it catches the eye, with a wonderful vibrant yellow that makes it all the more appetising.
Typical spices used in pilau rice vary, although cumin seeds, turmeric, cardamom pods, cinnamon and bay leaves are standards.
It's the turmeric that gives pilau rice its glorious colour. Acting as a natural colouring agent, this sublime spice infuses the rice with its golden yellow colour. 
The dish is sometimes called a pilaf, pilaw, pullao, or pilav, depending on the country in which it's being cooked. The word (or maybe we should say 'words') refers to the cooking technique, rather than the dish itself.
The technique is to let the grains of rice absorb ghee, butter or oil while sautéed in a pan, while other ingredients such as onion or chicken are added, before it's all cooked in a simmering spiced stock. 
Where does pilau rice come from?
The dish is typically served in Northern India, although the cooking technique comes from Persia, nowadays known as Iran.
When was pilau invented?
The earliest known recipe for pilau rice comes from a 10th century Persian scholar. This old school foodie and all-round genius – known as Avicenna to us in the West – wrote about the medicinal benefits of the dishes of the day, including many pilau recipes.
While he might not have 'invented' pilau rice, he certainly documented it and was widely read. This has led to him being known as the father of modern pilau or pilaf.
There are plenty of theories that it goes all the way back to ancient times, with ancient Indian and Iranian civilisations said to turn their noses up at plain boiled rice in favour of the flavour of a spicy pilaf.
Is basmati rice the same as pilau rice?
Basmati is the type of rice used in the dish known as pilau rice. Basmati is a long, slender-grained aromatic rice. It's traditionally grown in India, Nepal and Pakistan.
Can I use a different type of rice?
Basmati rice is the best type of rice to use in this recipe. If you want to make it really special, go for aged basmati. This is basically basmati that has been aged for up to two years, to give it an extra intense flavour and fragrance.
Of course, there are alternatives to basmati. Jasmine rice is a good alternative, as is long grain rice.
Avoid brown rice. It's definitely healthier, but you won't get the same texture or colour if you go for brown rice over white rice. Also, steer clear of easy-cook rice. You'll end up with a spiced stodgy mess.
Is pilau rice vegan?
It definitely can be! Most pilau rice recipes are meat free, favouring vegetables cooked in with the rice, although some also use meat or a meat-based stock.
Can I make pilau rice ahead of time?
You can, but it's much better to eat it straight after you've cooked it.
As with all rice dishes, there's a chance that cooking this dish ahead of time and eating it later will cause food poisoning. This is because cooked rice can quickly gather harmful bacteria.
How do I store the leftovers?
Again, it's best to eat rice straight away. If you do find yourself with leftovers, cool the rice as soon as possible by spreading it evenly on a baking tray lined with greaseproof paper. Once it's cooled down, transfer the rice into an airtight container and place in the fridge.
Use the leftovers within a day.
How long does pilau rice last?
Never keep rice for longer than a day before reheating it.
How do you reheat it?
Despite the myth, it is safe to reheat rice. The problem doesn't come from reheating the rice, but keeping it for too long.
You can reheat rice in the microwave or on the hob. Add a tablespoon or two of water and heat on medium until piping hot.
If you're unsure whether the rice is safe to eat, use a cooking thermometer. The temperature should be 74ºC/165ºF.
Can I freeze it?
If you want to keep this dish for longer, you can freeze it for up to 4 months. Cool the rice by spreading it evenly on a baking tray lined with greaseproof paper. Then transfer the rice into a freezer-safe airtight container and place in the freezer. 
Tips for perfect pilau rice
Use basmati rice to get the best out of this recipe
Freshly grind your spices for extra flavour and fragrance
You don't need to rinse basmati rice, just add it straight to the pan
Use a high quality sturdy saucepan to get a good distribution of heat and make sure the lid fits properly
While it's possible to reheat leftovers, this dish is definitely best eaten after serving
For a real authentic Indian pilau rice, use ghee in place of vegetable oil
After you've added all the ingredients, reached a simmering point and put the lid on, turn the hob down to a low setting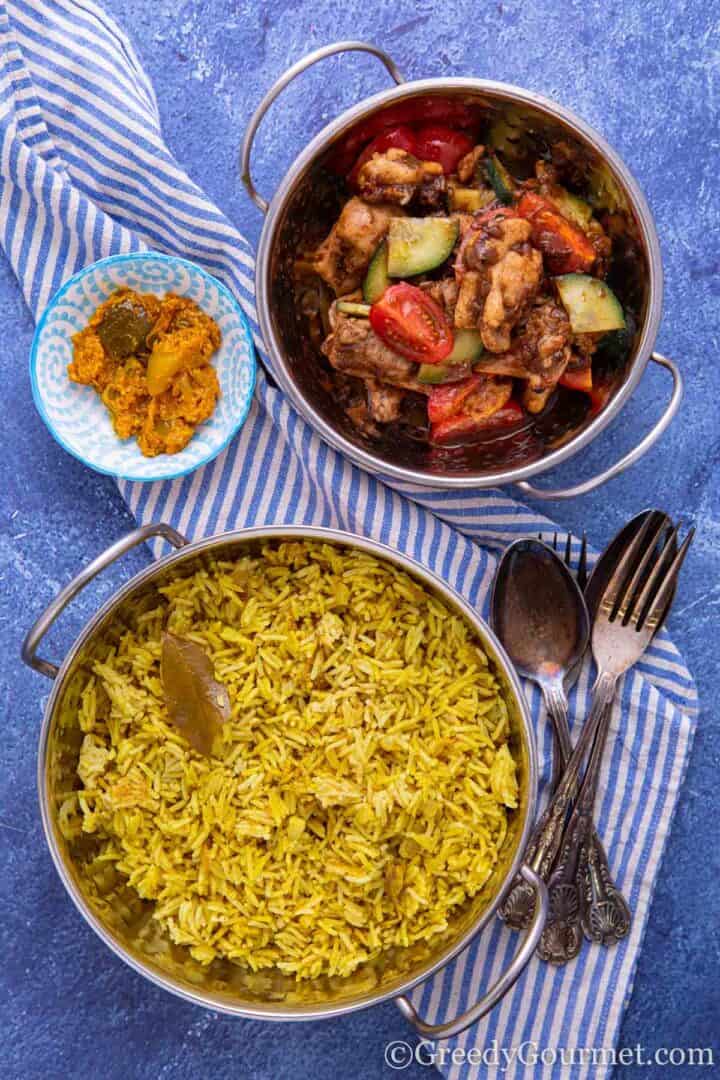 What to serve with this recipe
This easy peasy pilau makes the perfect pairing with a delicious curry. Need some inspiration? As always, the Greedy Gourmet has got you covered:
More amazing Indian side recipes
Spice up your sides and add some of these recipes to your homemade curry feast:
Print
Pilau Rice Recipe
---
Author:

Michelle Minnaar

Total Time:

30 minutes

Yield:

6

servings

1

x

Diet:

Vegan
Description
Never order takeaway Pilau Rice again! Learn how to make the easy Indian side dish recipe in a few easy steps. Great with curries! 
---
45

ml

(3 tbsp) vegetable oil

6

green cardamom pods, crushed

1

cinnamon stick, approximately 10cm (4in) long

1

onion, finely chopped

1

garlic clove, crushed

370

g

(2 cups) basmati rice

2

g

(1 tsp) ground cumin

2

g

(1 tsp) ground turmeric

2

whole cloves

750

ml

(3 cups) water
---
Instructions
Heat the oil in a large saucepan and gently fry the cardamom and cinnamon until the spices' aromas are released, which should take about 5 minutes. 
Add the onion and gently fry for around 5 minutes, or until it has softened and has become translucent.
Add the garlic and stir fry for another 2 minutes.
Tip in the rice, cumin, turmeric, cloves and bay leaves. 
Stir vigorously then pour in the water. 
Turn up the heat, give it another stir then wait for a slow simmering point to be reached. 
Once it slowly simmers, cover the saucepan with a tight-fitting lid and cook for about 15 minutes or until the rice is cooked. 
Fluff up the rice with a fork and serve immediately with your favourite curry. Enjoy!
Notes
If you're not vegan, you can use ghee or butter instead of vegetable oil.
Watch out for the whole spices when eating the rice. You can remove them immediately after cooking but the longer they stay in the more fragrant the rice becomes. 
This recipe is freezer-friendly. 
If you're struggling to find bay leaf to use in this recipe, check out one of these bay leaf substitutes.
Prep Time:

10 minutes

Cook Time:

20 minutes

Category:

Side Dish

Method:

Boil

Cuisine:

Indian
Keywords: pilau rice, pilau rice recipe, how to make pilau rice, indian rice, pilaf rice, indian rice, yellow rice recipe, how to flavour rice