This pea and chicken risotto recipe is pure comfort food! Plus, it's incredibly easy to make… there's really nothing to it! Minimal prep time, only a few ingredients and no fuss. Italian food at its best.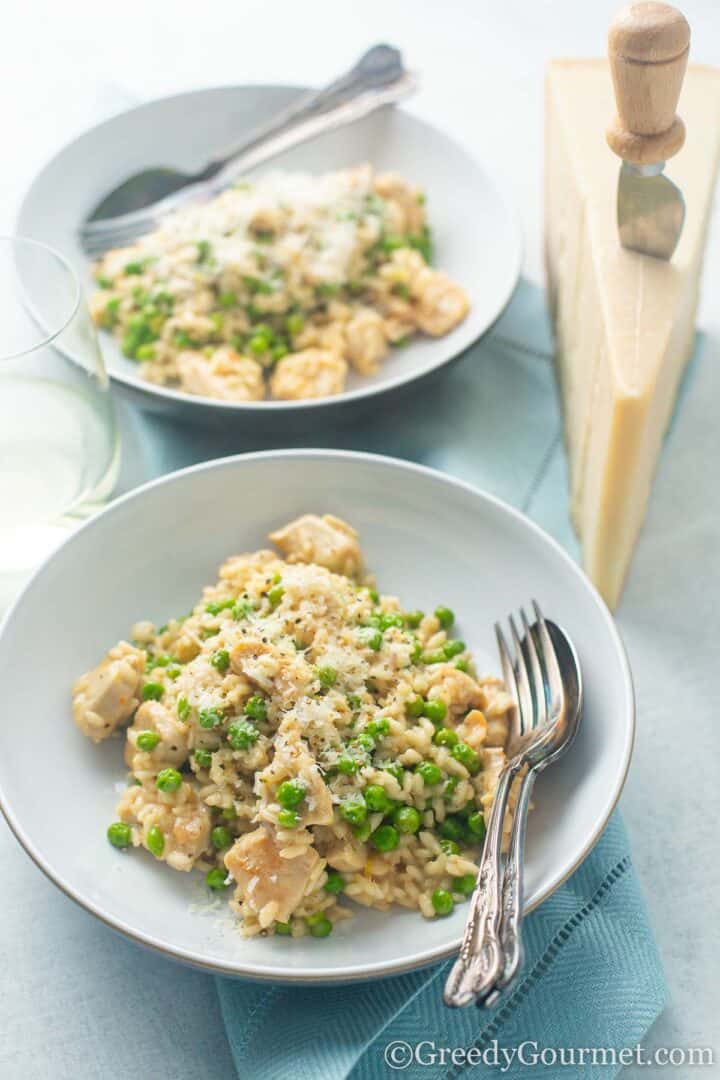 So, do you want to know how to make the perfect chicken and pea risotto? Let's find out…
Products you need for this recipe
There are a few key items you'll need for this chicken and pea risotto recipe:
Large frying pan – you'll need plenty of space to cook your risotto, so make sure you have a large frying pan. The bigger the better!
Wooden spoon – if you haven't got a trusty wooden spoon to stir things up, now's the perfect excuse to get one
Parmesan grater – if you can't get hold of grated parmesan, grate your own!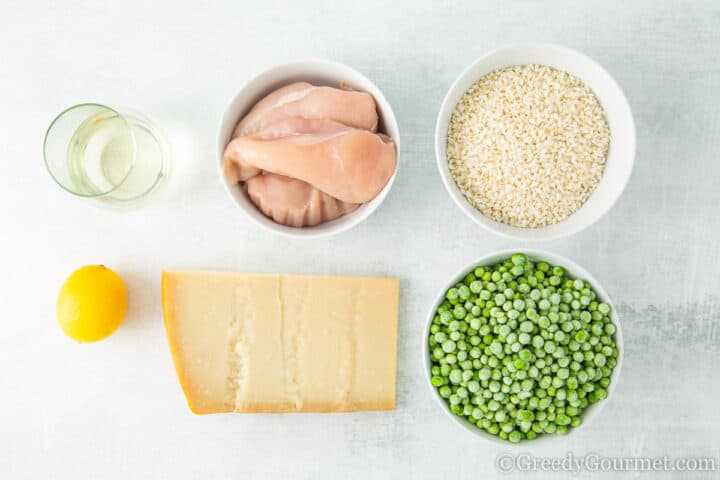 Chicken and pea risotto recipe
No one does simple comfort food like the Italians! From master chefs to wise old nonnas, Italians love their traditional recipes.
Risotto is as traditional as it gets and has certainly stood the test of time – it goes back centuries! Historically regarded as peasant food – it was cheap and easy to make for the whole family – it's now considered to be the perfect blend of classy and comforting.
If you've made risotto before, you'll know how much it can be to make. If it's your first time, however, you're in for a treat!
There's minimal prep time and only 30 minutes cooking time. Plus, everything is made in one pan – brown the chicken, melt the butter, add the rice and fry, add the wine, a little bit of stock – bit by bit – then return the chicken to the pan and add lemon juice… it's such a stress free, enjoyable cooking experience.
You can even sip a glass of wine while you make it!
The parmesan broth
The key to the deep rich flavor and creamy consistency of this chicken and pea risotto is the parmesan broth. The broth acts as the stock to the recipe – soaking into the rice as you add it a ladleful at a time.
Use my homemade parmesan broth recipe to get the best out of this chicken and pea risotto. The complex flavor of the parmesan cheese, or parmigiano reggiano to give it its proper name, gives this dish a totally different dimension of flavor. It works wonders with the other flavors in the dish.
What wine is best for cooking with?
You might think you need a really expensive bottle of wine to get some great flavor. That's not true! In fact, you definitely shouldn't use an expensive bottle to cook with. Save that for toasting the good times!
A decent bottle will add some excellent flavor to your dish. Not cheap, mind… if it's not good enough to drink, it's not good enough to cook with.
For this risotto, I'd recommend going for a dry, crisp white wine. Something like a Pinot Grigio, a Pinot Noir, a Sauvignon Blanc, a Marsala or an unoaked Chardonnay would be perfect. 
What rice should I use for risotto?
Arborio all the way.
It's the most common rice to use when making a traditional risotto. That's because it's quite a starchy, short grain rice, which makes it ideal for achieving that lovely creamy texture.
Don't be tempted to go with a standard long grain rice. If your choice of rice doesn't have enough starch, you'll end up with a dry rice dish – nothing like a risotto, which needs to be creamy.
The good thing about arborio is that it's widely available – you'll be able to find it in any supermarket or grocery store. Olive 
Of course, if you want to go all out and get an extra special rice, you could go for the chef's choice – carnaroli is the 'rolls-royce' of risotto rice, giving you a heavenly texture that can't be achieved with any other type. 
Still, arborio is a great risotto rice and works perfectly well with this recipe.
Do you need to stir risotto?
To stir or not to stir… that is the question.
Add 250ml (1 cup) of stock at a time, stirring constantly, waiting for the liquid to be absorbed before adding the next cup of stock.
Should I use butter or oil for the risotto base?
Despite what you might think, olive oil is not traditionally used in a risotto. A proper risotto should always be made with butter, which is melted in the pan before coating the rich. 
This recipe calls for vegetable oil for frying the chicken. Then, once you've removed the chicken from the pan, you add butter to gently fry the rice.
Should I use fresh or frozen peas?
Either works fine. If you do want to use frozen peas, defrost them before adding to the risotto. Otherwise, you'll cool it down, which will affect the cooking process.
One little trick to quickly defrost peas – place them in a bowl and pour boiling water over them. Leave them for a few minutes, then drain in a colander. Easy peasy! 
Is this a gluten free risotto?
Yes it is!
Arborio rice, the rice used in this recipe, is naturally gluten free, as are all the other ingredients.
Should I stir the risotto at the end?
If you follow the measurements and the instructions below, you'll end up with deliciously creamy risotto.
However, traditionalists will tell you that the last part of the risotto-making process is where the magic happens. That bit when you add the last sprinkle of grated parmesan and the final knob of butter.
This stage is called the 'mantecare.' The mantecare is a whisking process, where the butter and cheese are stirred vigorously into the rice. The fats from the butter and cheese blend with the starch from the rice to create the perfect creamy texture.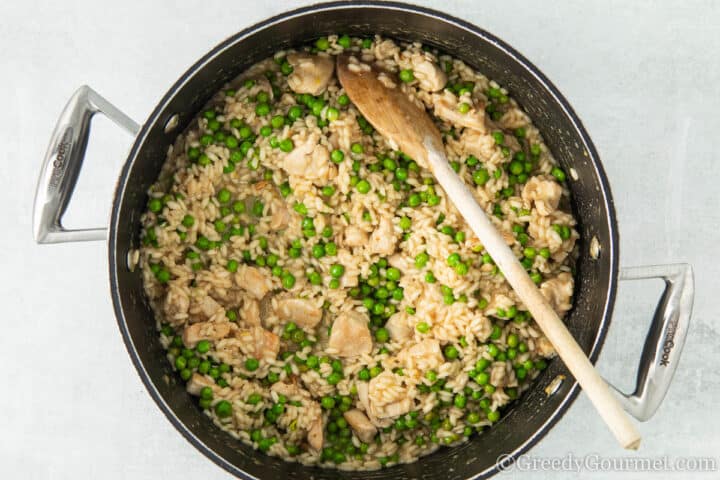 Key tips for the perfect risotto
Let's recap on some of the key points to achieve the perfectly delicious, creamy risotto:
Use arborio rice (or carnaroli if you want to go next level) when making risotto. It's a round grain rice that absorbs liquid really well, which makes for that wonderful creamy consistency
Be sure to fry the rice for a few minutes before adding your stock. This tostatura or toasting of the rice is important for the final consistency
Keep your stock warm. Warm stock incorporates into the dish better
Add the stock one ladle at a time. This allows the rice to gradually soak up the liquid, which is going to give you a creamier risotto
Consistent stirring helps to aerate the risotto, which helps to achieve the all-important creaminess
You can use other types of cheese, but trust me, parmesan is the way to go. It's got a complex taste that takes this chicken and pea risotto to the next level
Don't forget the mantecare! This is the final whisking process, where you vigorously stir the butter and cheese into the dish to get the creamiest risotto you've ever tasted
The best tip for perfect risotto? Have everything ready before you begin! Timing is everything when making a risotto… you don't want to be grating cheese when you should be adding more stock to the pan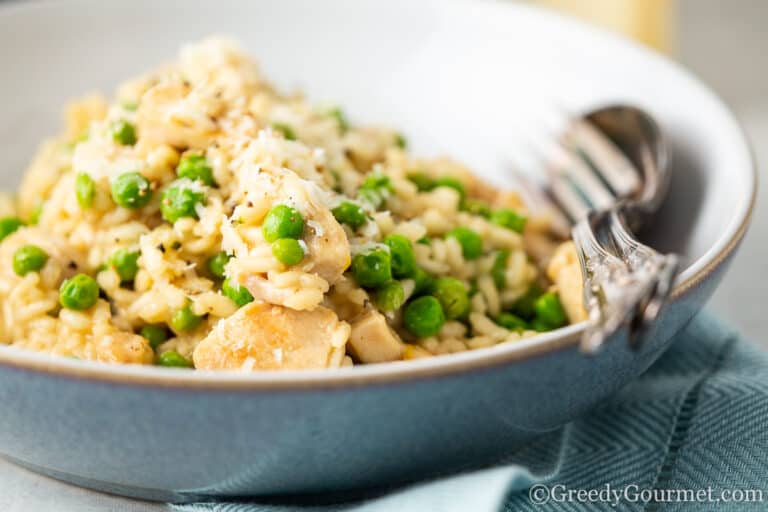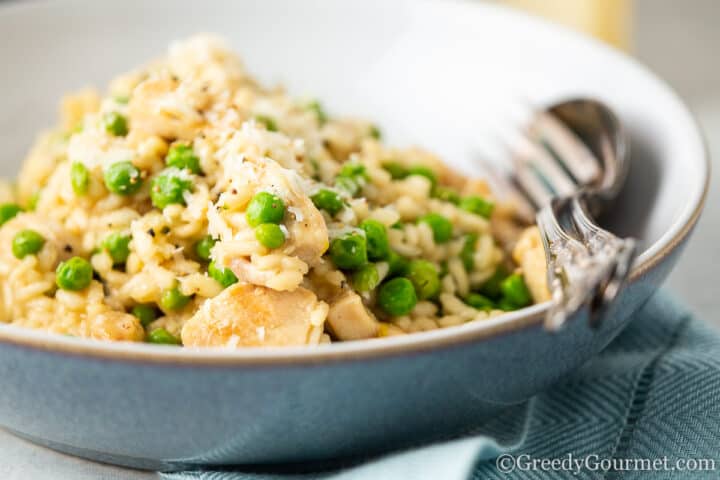 More traditional Italian recipes
Fancy making some more Italian classics? Don your apron and get cooking!
Print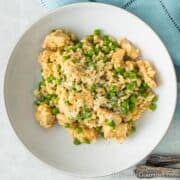 Chicken and Pea Risotto
---
Author:

Michelle Minnaar

Total Time:

40 minutes

Yield:

6

Servings

1

x

Diet:

Gluten Free
Description
Want to learn how to make a mouth watering Chicken and Pea Risotto? Follow this easy recipe to create family-friendly meal. 
---
15

ml (1 tbsp) vegetable oil

500g

(1lb) chicken breast, cut into bite-sized pieces

15

ml (1 tbsp) butter

500g

(1lb) arborio rice

250

ml (1 cup) white wine

1.25

ℓ (5 cups) Parmesan broth

450g

(1lb) peas, washed and chopped

1

lemon, zest and juice

60g

(

2oz

) Parmiggiano Reggiano cheese, grated
---
Instructions
Heat the oil in a large frying pan.
Brown the chicken on all sides, then remove from the pan and set aside.
Melt the butter in the same pan and let it melt.
Add the rice and fry for about 5 minutes until a golden colour is achieved. 
Pour in the wine and let the mixture bubble while stirring until all the liquid has been absorbed.
Add 250ml (1 cup) of stock at a time, stirring constantly, waiting for the liquid to be absorbed before adding the next cup of stock. 
Once you add the last cup of stock, add the browned chicken, peas and lemon zest and juice as well.
After the risotto has achieved desired consistency, remove from the heat and vigorously stir through ¾ of the grated cheese and [optional] an extra knob of butter.
Divide between bowls. Sprinkle the remaining cheese on top and serve immediately. Enjoy!
Notes
If you haven't made your own Parmesan broth, you can substitute it with chicken stock.
In this recipe, I used frozen peas, or frozen petit pois for that matter. I thawed them first before adding to the risotto. One shortcut is to let them soak in boiling water for a minute and then drain.
If you find that you have some leftover peas, ask yourself what doesn't taste better with cheese?
Prep Time:

10 minutes

Cook Time:

30 minutes

Category:

Risotto

Method:

Pan Fry

Cuisine:

Italian
Keywords: chicken and pea risotto, chicken risotto recipe, Italian chicken recipe, chicken and rice recipe, dinner with rice recipe, Italian dinner recipe, chicken and peas recipe