Have you ever had the opportunity to sample some of Nando's macho peas?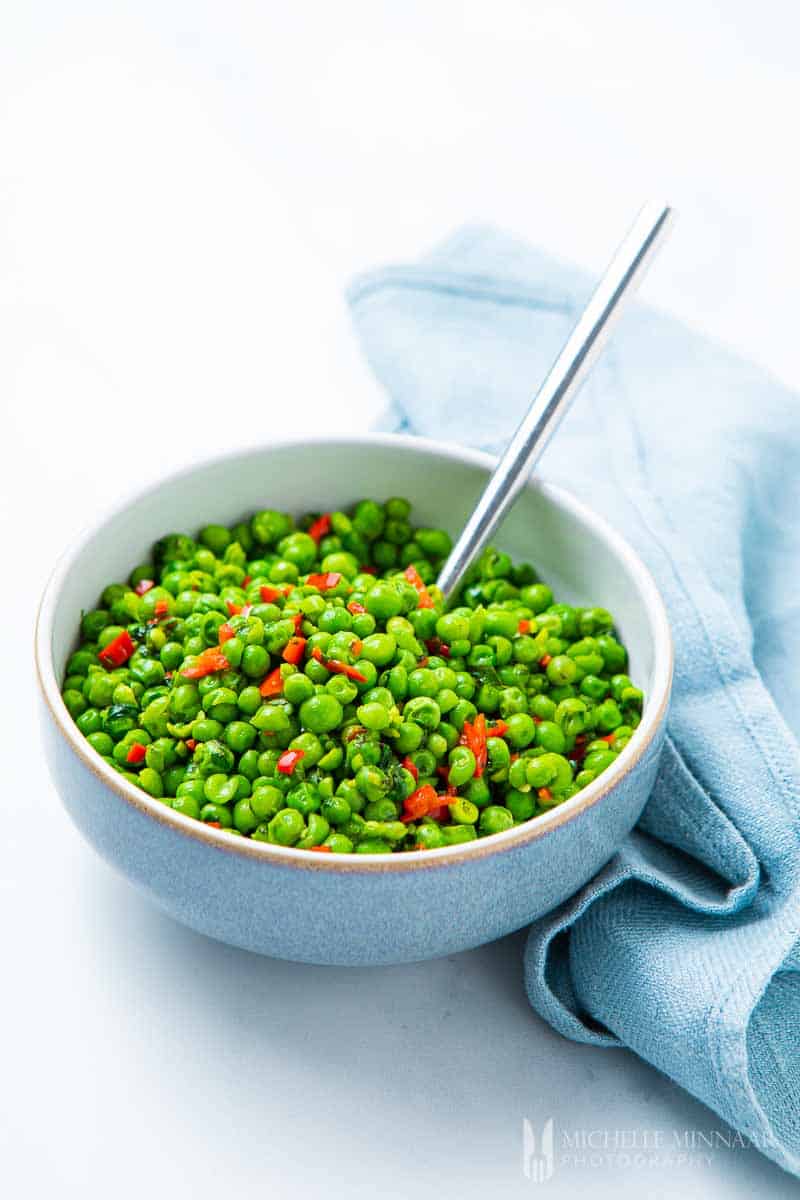 If you have paired it with peri-peri chicken, then you know that they are completely irresistible to nibble on.
In fact, macho peas make the perfect side dish to any roast dish, whether it be an easy roasted chicken recipe, whole smoked turkey, venison roast or smoked leg of lamb.
I mean, peas and lamb are an awe-inspiring combination that never gets old.
What's best, is that macho peas are not difficult to replicate. You can easily make your own Nando's homemade macho peas recipe at home.
It only requires a handful of simple requirements. Who would have ever thought that something could come out so delicious from a pack of frozen peas?
In any case, you can make these macho peas in under five minutes. Moreover, you can put your own finishing touch to them by adding extra ingredients and spices.
For instance, you can add in roasted vegetables to keep the recipe vegetarian. Or, you can add some curry spice or soy sauce to give the macho peas an Asian spin.
How to make macho peas
Macho peas just like Nando's
These macho peas are an excellent example of takeaway food you can make at home, without the extra expense of ordering it and then having to pay a fortune for this delicious side dish.
If you make homemade macho peas, not only will you have tonnes of leftovers but you can also control the amount of ingredients that go inside.
If you are like me and love fresh herbs, you can max out on herbs to enhance the flavour of the macho peas.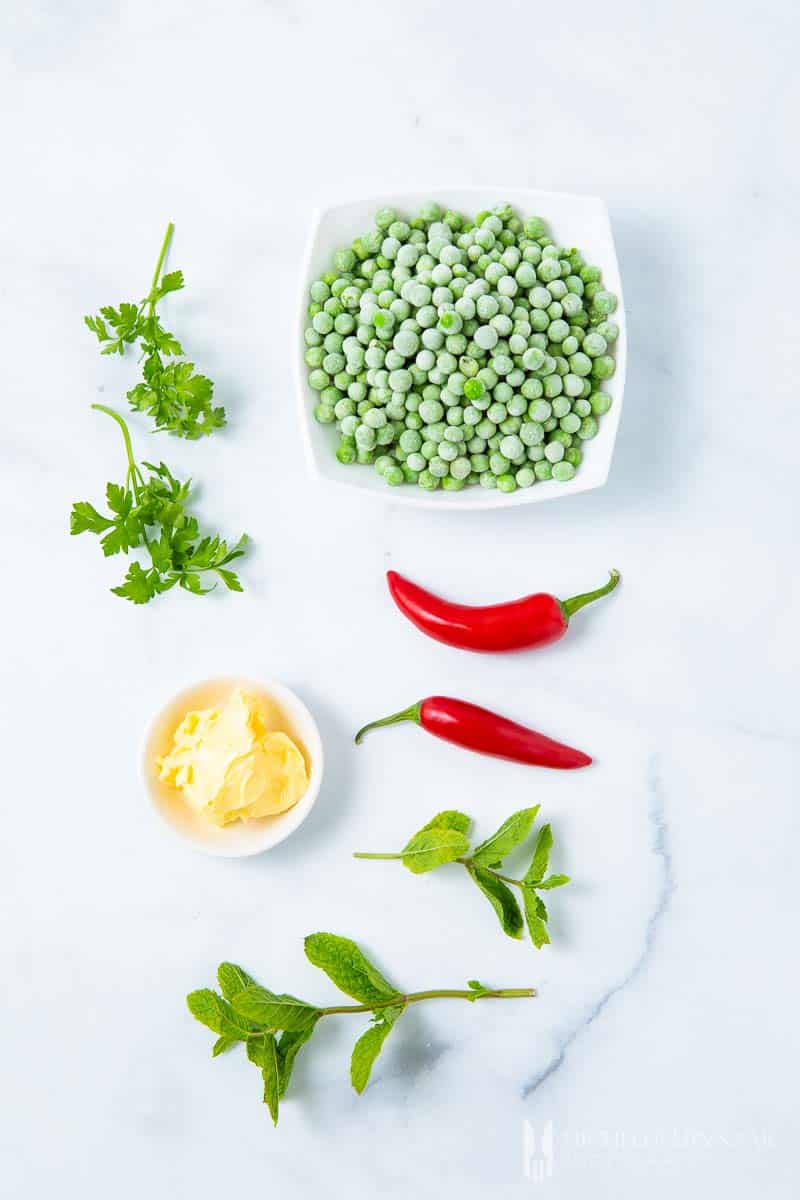 Nando's peas ingredients
For those of you, who are reading this and have never heard of Nando's, Nando's is a South African restaurant chain, which specialises in serving piri-piri chicken dishes.
My version of the Nando's macho peas calls for petit pois but standard frozen peas work just as well. If you can get your hands on fresh peas, even better!
Other ingredients you need to complete the dish are mint, parsley, red chilli and olive oil.
That being said, if you are not a vegan, you can also add a hint of butter into your macho peas. I always love the combination of butter and peas. The butter makes the peas glossy and lends a subtle creaminess to them.
Macho peas keto
Although peas are a part of a very healthy diet, they are a legume. This means, that this recipe is not suitable for keto or low-carb diets.
Even though legumes like sugar snap peas, sugar peas, lentils, etc. are normally good for you, you should avoid them if you are on a strict keto diet.
What you can do to make this macho peas recipe more keto-friendly, is to use a smaller quantity of peas and add a low-keto vegetable to the mix. You can up the amount of red chillies and fresh herbs like mint and parsley.
This will give the macho peas a salad-like consistency. Moreover, you can also add salad if you feel like you are lacking a bit of ingredients.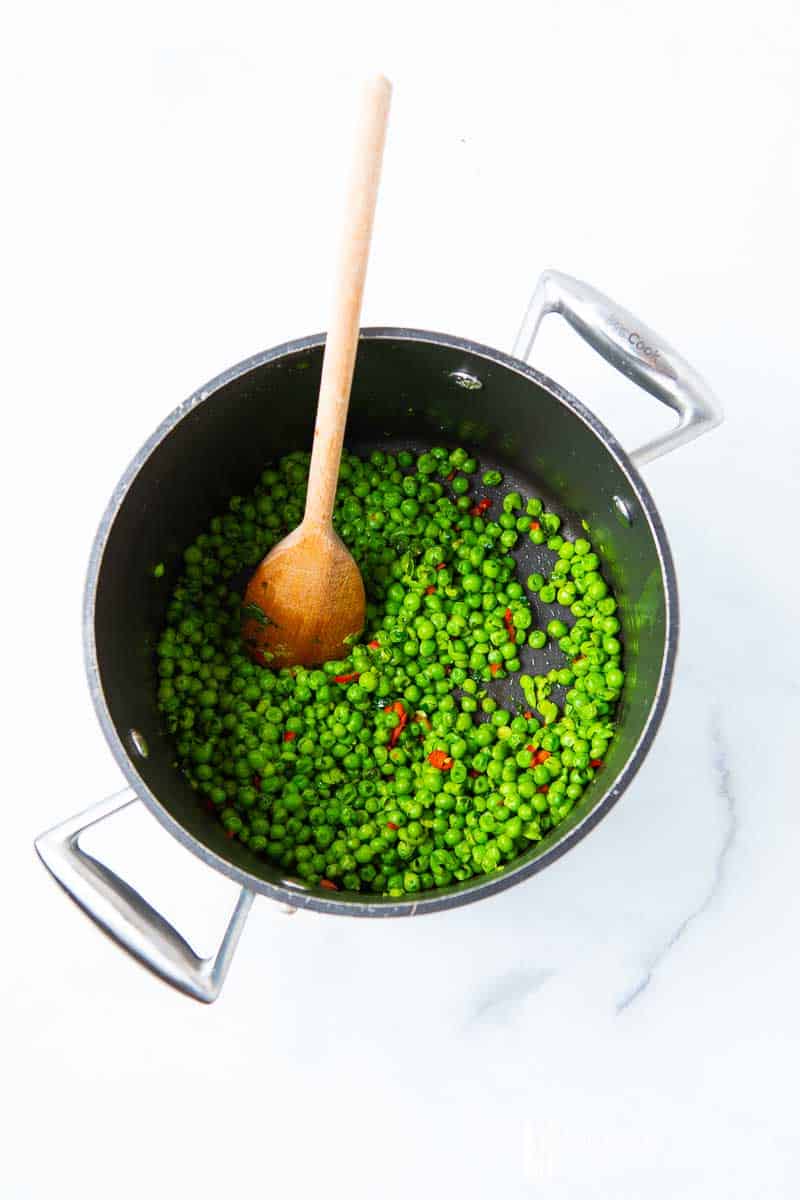 Easy vegan macho peas
This macho peas recipe is vegan. If you want to be inspired by more vegan side dish recipes like these macho peas, then check out some of these below:
Vegan mint peas
The beauty of this recipe is that you can make it your own. For instance, if you are pairing it with slow-roasted lamb, then omit the parsley. Instead of the parsley, add even more mint.
Similarly, you can add you own twist to this macho peas recipe by adding different ingredients and sauces. For example:
Soy sauce
Curry spice
Different types of herbs like coriander, watercress, chives and more
If you're not vegan, you can take inspiration from my broad beans with bacon recipe and add bacon bits with these macho peas.
Just don't add too much olive oil as the fat from the bacon will be sufficient enough for this recipe. You don't want this recipe to be greasy.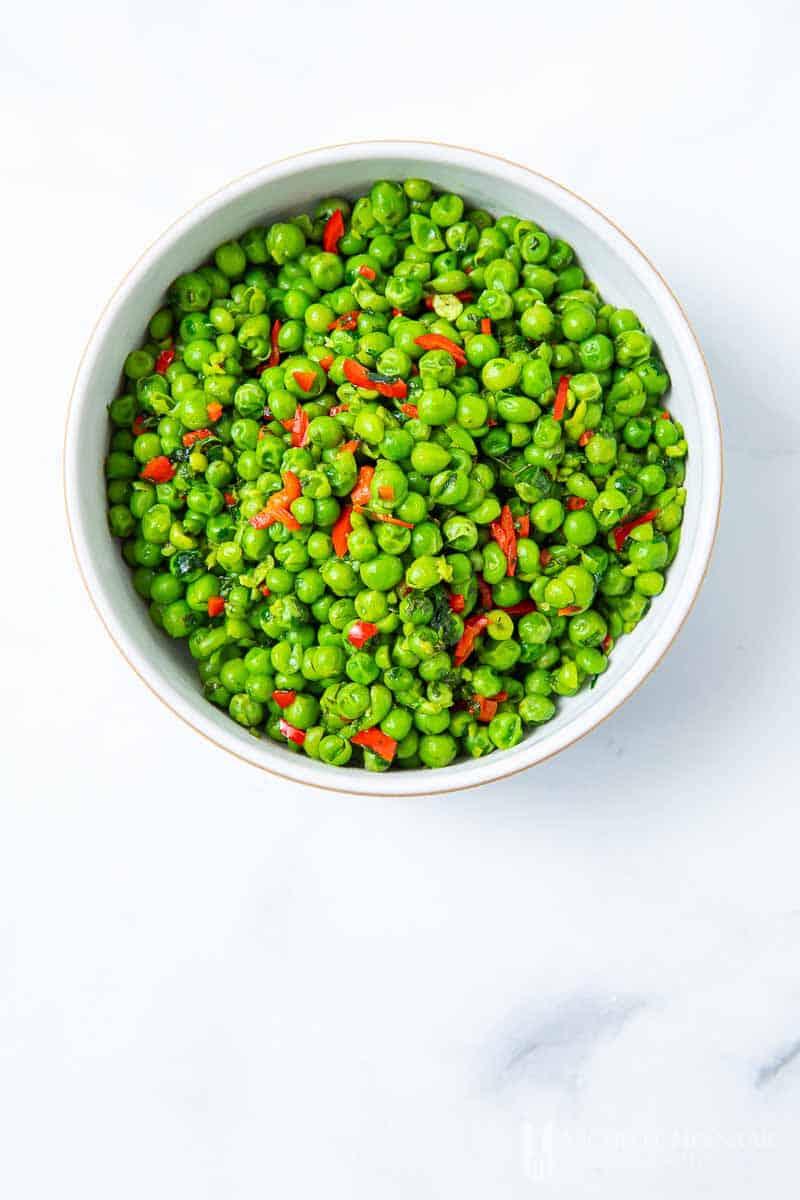 What to do with leftover peas?
If you've got leftovers from your pack of frozen peas, then you can make the following recipes:
Salad olivieh – a delicious creamy potato salad with peas
Chicken caldereta – just toss in a bit of peas into this hearty chicken stew to lighten the dish up
Cheesy Peas - What doesn't taste better with cheese? This simple side dish really packs a punch.
If you've made a really large batch, you don't need to panic. This macho peas recipe stores and freezes very well. Feel free to store the macho peas in an air-tight container and freeze up to 3 months.
How would you make these macho peas? Would you cook them Nando's-style or would you put your own spin on them? Let me know in the comments section below.
Print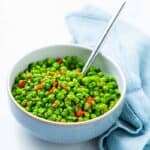 Macho Peas
---
Author:

Michelle Minnaar

Total Time:

20 minutes

Yield:

4

x 85g (

3oz

) portions

1

x
Description
Nando's Macho Peas are very easy to replicate at home and vegan. You'll need peas, mint, parsley & chilli. It's ready in under 20 minutes!
---
340

g

(2 1/4 cup) peas

15

ml

(1 tbsp) olive oil

1

red chilli, washed and finely chopped

15

ml

(1 tbsp) fresh parsley, washed and finely chopped

15

ml

(1 tbsp) fresh mint, washed and finely chopped
---
Instructions
Boil the peas in salted water for 4 minutes. If cooking from frozen, follow manufacturer's instructions. Drain.
[Optional] Place half peas in a bowl and mash them.
Heat the oil in the same pan you used and gently fry the chilli for 2 minutes.
Turn up the heat and return all the peas to the pan, stirring for 2 minutes in order for the vegetables to heat through.
Add the parsley and mint and continue stirring for 1 minute.
Season to taste and serve immediately. Enjoy!
Notes
Use petit pois if you can. Petit pois are small green peas that tend to be sweeter than standard garden peas. If you can't get hold of the former, the latter will work just as well.
You can use fresh peas (lucky you!) for this recipe as well. Just cook them first then follow the rest of the steps.
If you're not vegan, feel free to substitute olive oil with butter.
For extra punch in flavour, you can add a crushed garlic clove to the mix.
Adjust the ingredients to your taste. E.g. add more chilli if you want an extra bite, or add more herbs for even more flavour.
Prep Time:

10 minutes

Cook Time:

10 minutes

Category:

Side Dish

Method:

Boil

Cuisine:

Portuguese
Keywords: macho peas recipe, nando's macho peas, Nando's side dish, pea side dish recipe