A rich, fully flavored homemade broth, this parmesan broth beats the store bought stuff hands down!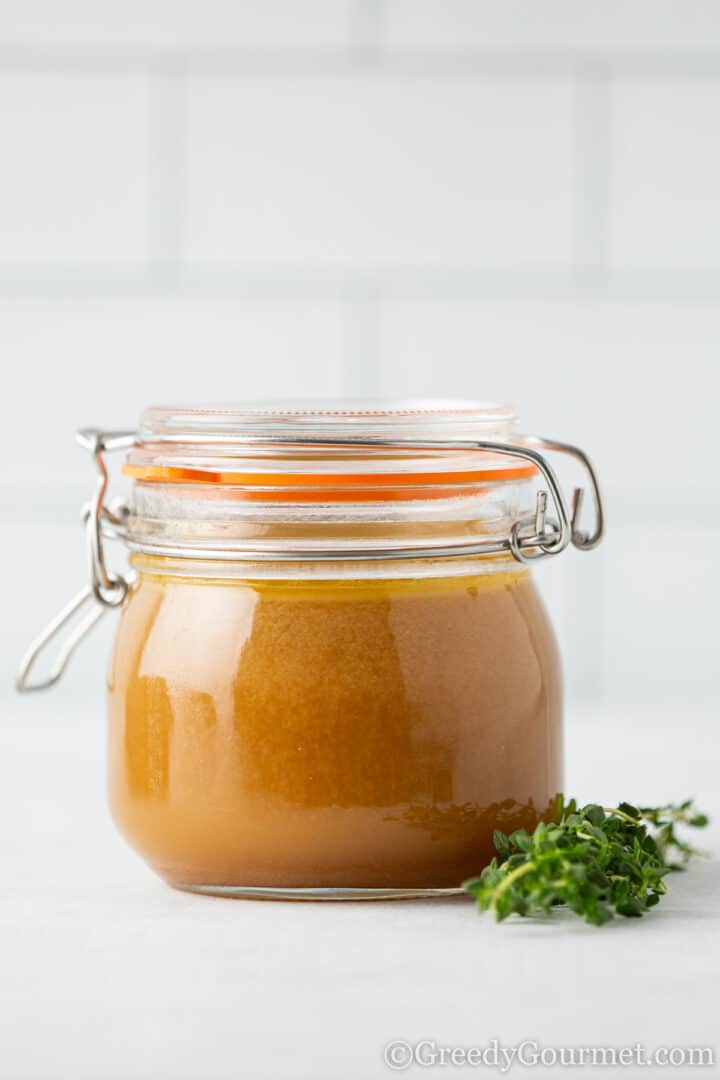 If you're looking for a way to bring some extra special flavor to soups, sauces and pasta dishes, look no further than this one!
Products you need for this recipe
There are a few essential items you'll need for this recipe.
Stock pot – go for stainless steel and non-stick
Fine-mesh sieve – you'll need this to strain your broth
Parmigiano Reggiano – if you can't find any cheese rinds at your local store, buy a whole block of this incredible cheese online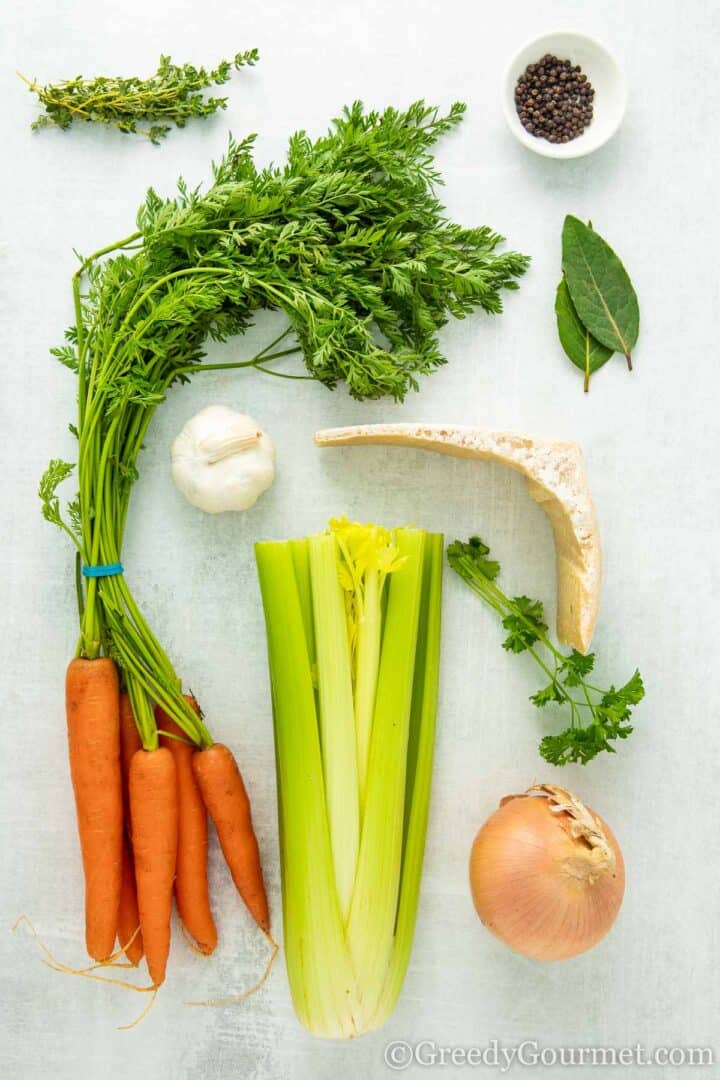 Parmesan broth recipe
An incredible flavor and super simple cooking process make this parmesan rind broth recipe extra enticing for those who love their cheese. It's an excellent alternative to the kinds of broths you see in stores and called for in many recipes.
While there's always a place for chicken, beef or vegetable stock, parmesan stock is delicious in its own right and, when added to the right dish, can create sublime flavors. It's got that special quality that parmesan possesses – the umami taste, rich and satisfying.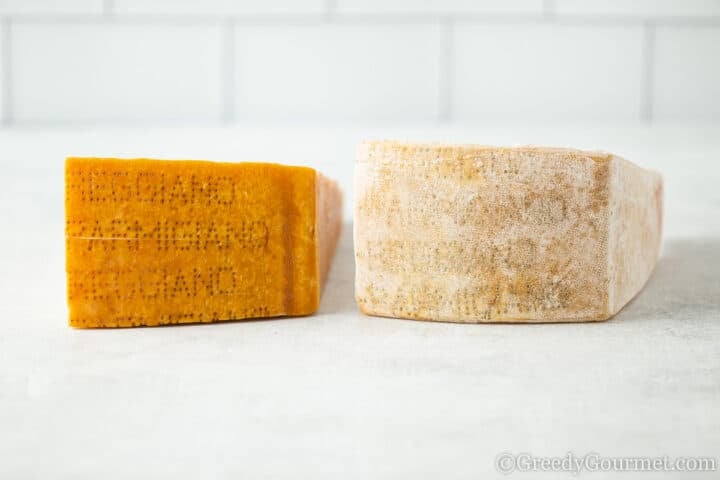 This parmesan broth makes use of parmesan cheese rinds to create the unique flavor of the dish. You'll need a few rings (about ½ pound parmesan rinds).
The parmesan rinds are simmered over a low heat along with onions, celery, carrots and garlic, as well as parsley, bay leaf and peppercorns. After a couple of hours, you simply strain your delicious parmesan broth and serve as you see fit.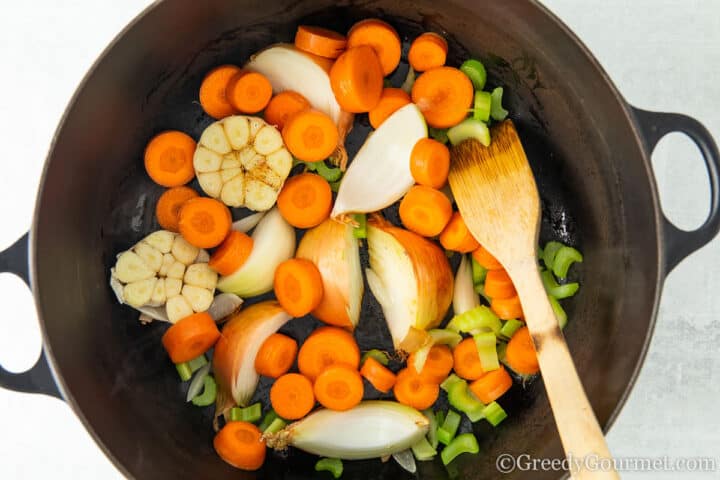 What is parmesan?
Parmigiano reggiano is one of the oldest, best-loved cheeses in the world. It was first made in Northern Italy over 1,000 years ago and is still made using the same specific methods.
These specific methods are all to do with the ingredients and the manufacturing processes. They go into incredible detail to ensure the overall quality of the finished product and serve to protect the history and legacy of this special, sacred Italian ingredient.
Genuine parmesan has to be made within the specific region in Northern Italy where it was first made. Within this region, there are 300 certified artisanal dairies. As parmesan is a 'Protected Denomination of Origin' or P.D.O. product, it is 100% natural. As a result, it's extremely high quality, with no additives. 
In fact… Parmigiano Reggiano is such a protected product that, by law, it's the only cheese that is allowed to be called "Parmesan" within the EU!
Only three ingredients can be used in the production of parmesan – raw, unpasteurised milk; salt; and rennet. The cows that produce the milk eat only on a specially selected diet, to get the most flavor from the milk that's used to create the parmesan. 
Once it's made, parmesan is left to mature for up to four years. This maturation period, together with the natural, specially selected ingredients, gives parmesan its incredible, unique flavor.
The flavor is sometimes referred to as a blend of fruity, nutty and spicy. It definitely has a big hint of an umami flavor, which is why it's so often used as a flavor enhancer on top of dishes or thrown into the casseroles.
What does parmesan broth taste like?
Amazing!
While some of the flavor comes from the vegetables – celery, garlic, carrots and onions – as well as the herbs – thyme, bay leaf and parsley – the majority comes from the parmesan rinds.
Parmesan rinds develop an immense amount of flavor during the maturation process of parmesan. The flavor concentrates towards the rind to more the parmesan ages. This makes the cheese rind particularly tough and very hard to slice or chew through.
However, parm rinds are perfect when it comes to flavoring a liquid. Which makes parm broth perfect!
Where can I buy parmesan rind?
You don't actually have to buy a big parmesan wedge to get hold of parmesan brinds. There are many stores in big cities that now sell the rinds separately. They are normally sold as a few rinds in one packet. 
So, the next time you're in a cheese store or a grocery store, ask if they sell them.
Of course, you could always get hold of the real deal – you can buy Parmigiano Reggiano online. Just remember to never throw away parmesan rinds!
How do I store parmesan rind?
Storing parmesan rinds for a long period of time is very easy. Whenever you finish a block of parmesan, keep the rinds and store them in the freezer to be used for later use.
All you need to do in order to freeze parmesan rinds, is to place them in a sealable, ziploc, airtight freezer-proof bag. They'll stay fresh and delicious for up to a year.
How do you store parmesan broth?
When it comes to storing this parmesan broth, you have two options, depending on how long you want to keep it for.
In the fridge 
Much like chicken broth or vegetable froth, parmesan broth will keep fresh in the refrigerator for around 5-7 days. Just be sure to place it in an airtight container.
In the freezer
If you want to store your parmesan broth for longer than a week, you can easily freeze it. This broth freezes particularly well, so I do recommend making a big batch – feel free to double the quantities below and follow these freezing instructions.
Allow your parmesan broth to cool completely, then transfer it to a freezable, airtight container. If you want to freeze smaller, individual portions, you can pour the broth into compartments in an ice cube tray. That way, you can defrost the right amount each time. Even better than defrosting, just add the cubes straight to the dish of your choice.
What other vegetables can I use?
There are lots of different types of vegetables and herbs you can play with. Try broad bean pods, corn cobs, fennel, bell peppers, pea pods, chard, celeriac, marjoram, basil, potato parings, dried ceps, leeks or asparagus stalks.
What do you use parmesan broth for?
Sauces
Try adding this parmesan broth to marinara sauce or any kind of tomato sauce to bring an extra depth of flavor. You could also add it to cheese sauces for the like of cauliflower cheese.
Soups
A white bean soup would be perfect. Take a look at my haricot bean soup and parmesan soup.
Pasta
This would be an amazing addition to any kind of pasta dish, including pasta fagioli, lasagna or a turkey meatballs dish.
In place of chicken broth
If a dish calls for chicken broth and the flavor matches cheese, why not swap it for this parmesan broth!?
Risotto 
Add to any kind of risotto, whether it's chicken and leek risotto, beef risotto, chicken and pea risotto or just a basic risotto, and you'll take the flavor of the dish through the roof!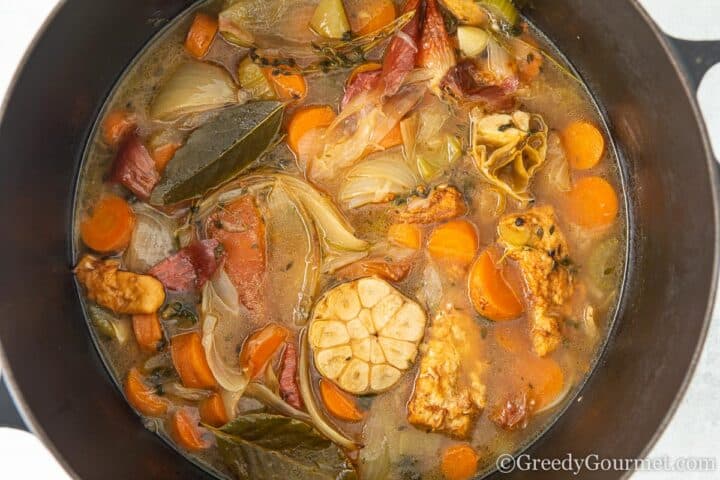 Tips for the perfect parmesan broth
Here are a few key points when it comes to making parmesan broth:
When preparing the vegetables, chop them up as finely as you can. It's definitely worth investing in a good kitchen knife and brushing up on your chopping technique, as the smaller the surface area of the vegetables, the more flavor they'll impart
Parmesan broth comes with one catch – the rind has a tendency to stick to the bottom of the pan as it simmers. You can wrap the rind in a cheesecloth, which will protect it without restricting the flavor. You can also invest in a non-stick pan, although you may still notice a bit of sticking.
As long as you remember to stir the pan frequently, you shouldn't have a problem
Don't rush the simmer time. You need to give the broth plenty of time for the parmesan rinds to be able to impart that incredible flavor. At least two hours is essential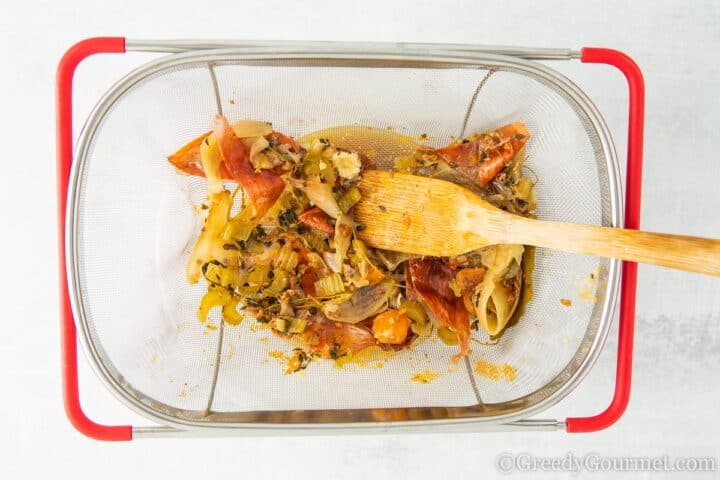 More amazing parmesan recipes
Once you've made parmesan broth, try the following: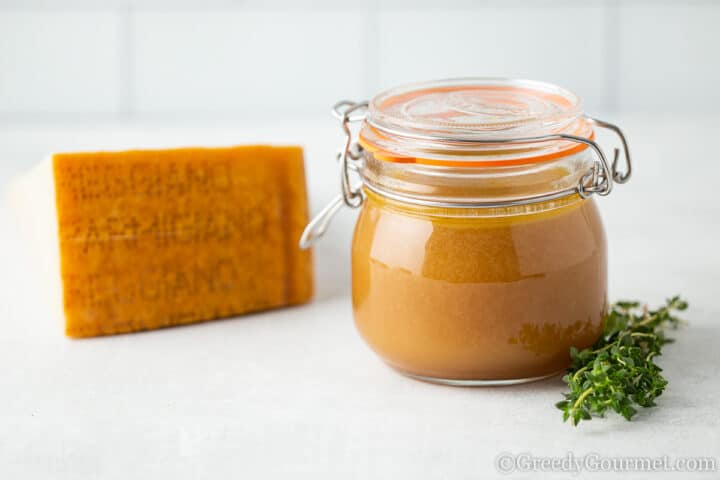 Print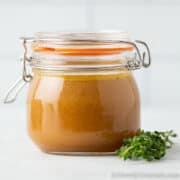 Parmesan Broth
---
Author:

Michelle Minnaar

Total Time:

2 hours 15 minutes

Yield:

12

servings

1

x

Diet:

Gluten Free
Description
Learn how to make your own Parmesan Broth. You can add flavor to soups, sauces and pasta with this easy home made broth.
---
15

ml (1 tablespoon) olive oil

1

large onion, chopped

2

stalks celery, including some leaves, sliced

2

large carrots, cut into 1cm (

½

in) slices

1

garlic bulb, halved

8

sprigs fresh parsley

6

sprigs fresh thyme

2

bay leaves

2g

(2  teaspoons) whole black peppercorns

225g

(

½

pound) Parmigiano Reggiano rinds

2.5

L (10 cups) water
---
Instructions
Heat the oil in a large stockpot.
Fry the onion, celery, carrots and garlic over a high heat for 5 minutes, stirring frequently.
Add the parsley, thyme, bay, peppercorns, Parmigiano Reggiano rinds and water. Bring to a boil.
Lower the heat and simmer for 2 hours. Give the bottom a stir every now and then to prevent the rinds from sticking. The broth should taste robust, smell aromatic and should have approximately halved during the cooking process.
Strain through a fine-mesh sieve and serve immediately. Alternatively, it will keep in the fridge for 4 days or 3 months in the freezer.
Notes
For best results, chop the vegetables as finely as you can. The more exposed surface area, the greater the flavour yielded.
The vegetables used in this recipe form the basis of any stock. You can play around with other types of vegetables to influence the flavour, such as broad bean pods, corn cobs, fennel, bell peppers, pea pods, chard, celeriac, marjoram, basil, potato parings, dried ceps, leeks or asparagus stalks.
If you're struggling to get bay leaves, check out one of these bay leaf substitutes.
If you find that you have plenty of celery left-over, please don't waste it! Check out my guide on freezing celery to make sure this underrated vegetable doesn't go to waste.
Prep Time:

15 minutes

Cook Time:

2 hours

Category:

Side Dish

Method:

Boil

Cuisine:

Italian
Keywords: parmesan broth, parmesan stock recipe, parmesan cheese recipe, parmigiano reggiano recipe, risotto stock, soup stock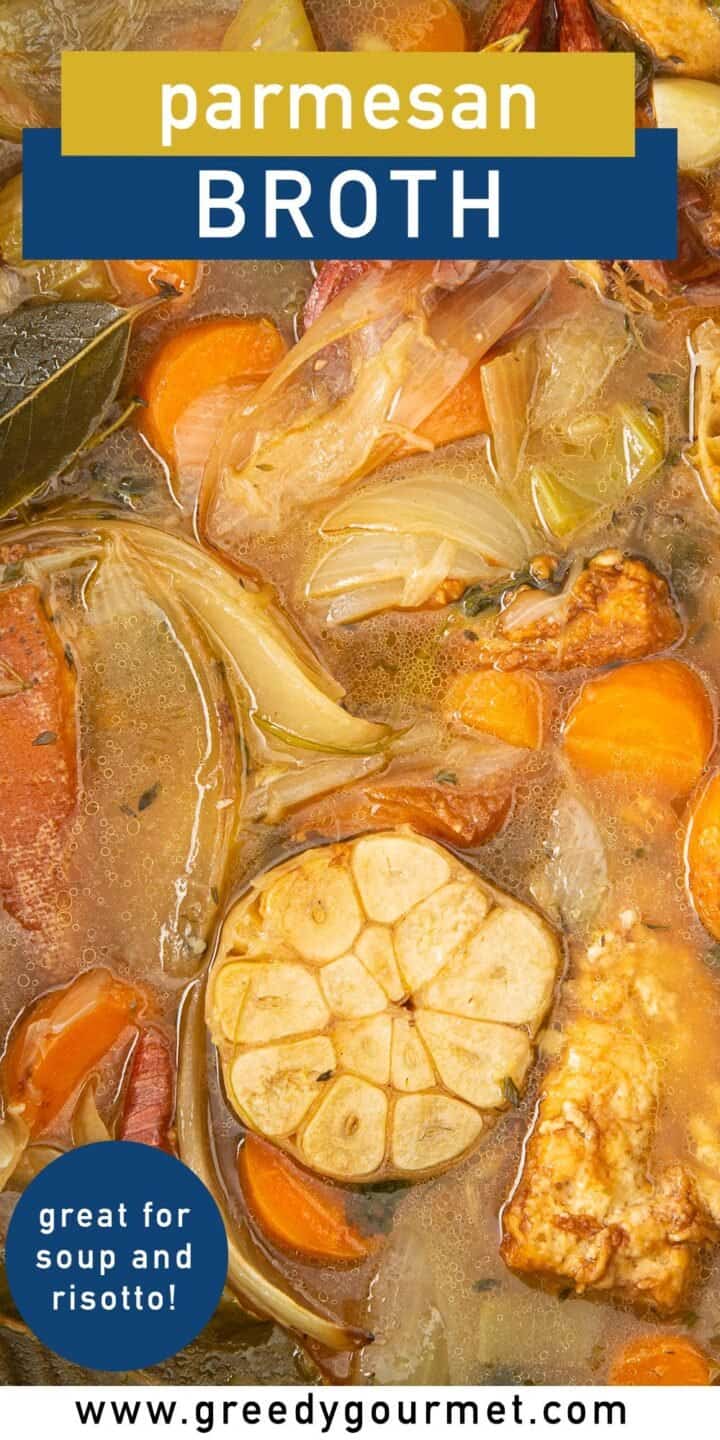 P.S. This is a sponsored post.