These tender, juicy shrimp cakes are quick and easy to make and are so addictive!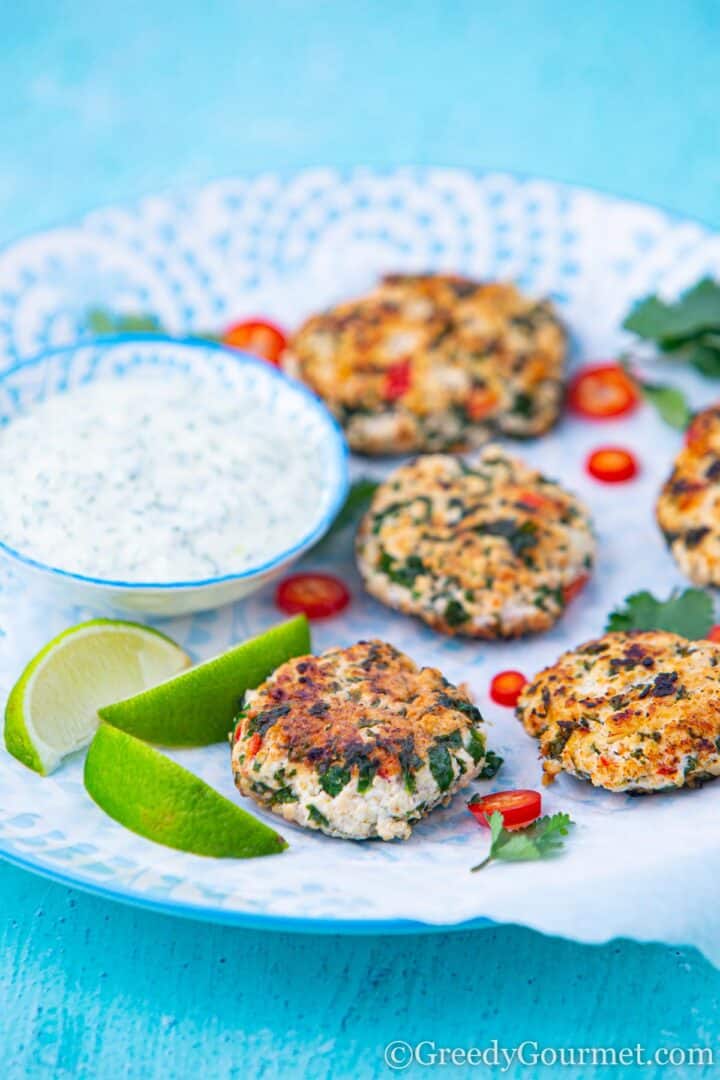 You'll be amazed that something this simple can taste this good. Only a handful of fresh ingredients make up these shrimp cakes which, along with the divine dip, are set to make your day!
Products you need for this recipe
Here are a few essential items you'll need for this Thai shrimp cakes recipe: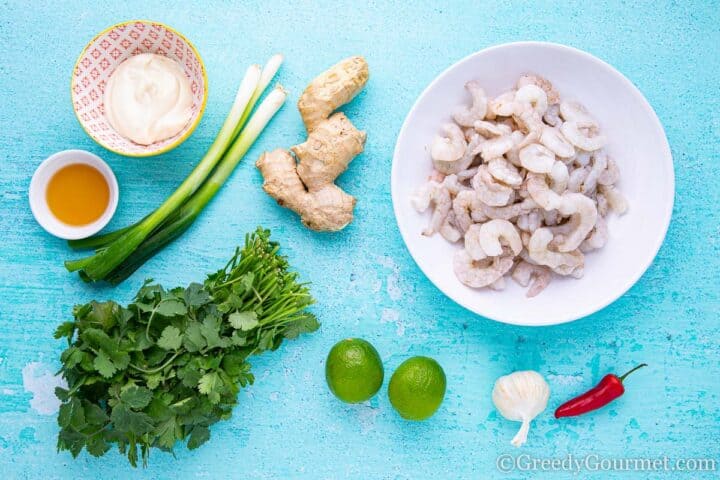 Thai shrimp cakes recipe
These really are something else! Who knew lunch could be this good and this easy?!
All you need is a handful of fresh ingredients and a hankering for some serious flavor.
We all know at least one person who actively dislikes seafood. Well, this is the recipe to turn them around. It's almost impossible to not fall head over heels in love with these Thai shrimp cakes. Dip them in the sauce and the deal is sealed.
They are a little similar to crab cakes. They're definitely less expensive to make, but they have that same rich, tender taste. Like crab cakes, you won't be able to control your hand as it reaches out for more!
The key to perfect shrimp cakes? Two things. The ingredients and the cooking method. Let's take a look at the ingredients in this recipe:
The cakes
These incredible cakes are made up of fresh, delicious ingredients. Raw prawns or shrimp (quality is important – more on this later), cilantro for that heavenly aroma, red chili for a little extra bite, a squeeze of lime juice with some zest for the fresh citrus element, crushed garlic for that one-of-a-kind flavor and fresh ginger for that earthy heat.
These ingredients bring a fantastic balance to each shrimp cake.
The dipping sauce
These Thai shrimp cakes are incredible on their own, but if you want to make shrimp cakes even more special, here's how. With my special dipping sauce!
Like the cakes, the sauce is all about a delicate balance of flavor. The base is mayonnaise, with a tablespoon of fish sauce to bring that all-important rich flavor. Spring onion adds character and crunch, while basil and cilantro deliver that herbal fragrance.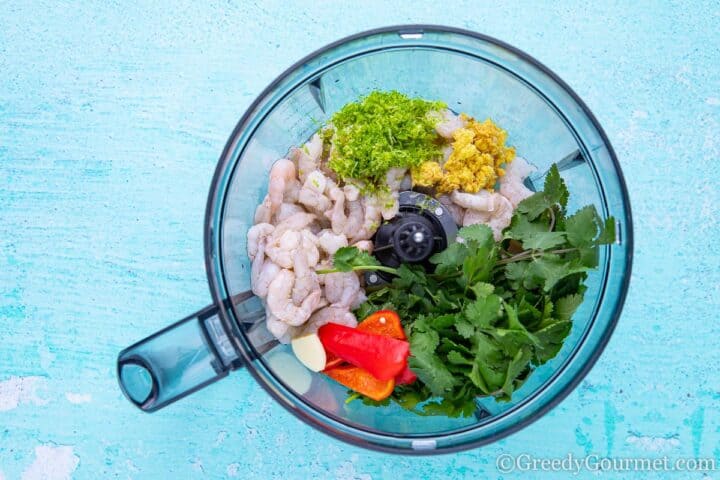 What do Thai shrimp cakes taste like?
Tender, succulent and seriously moreish!
You might have had them from a restaurant before and thought they were much of nothing. Or maybe you were seriously impressed. 
The thing is, there tends to be a lot of inconsistency when it comes to shrimp cakes. That's why I've come up with this recipe, which I think will deliver amazing taste and texture every time.
So forget that overpriced restaurant shrimp cake and make your own. My shrimp cakes have a great balance of flavor, with the succulent prawns perfectly placed alongside the zest of the lime, the fragrant flavor of the garlic and the sweet heat of the chili.
​​Can you make shrimp cakes with pre-cooked shrimp?
No, this recipe calls for raw shrimp. The problem with using cooked shrimp is that you'll overcook them when you fry them in the pan. Then you'll end up with rubbery shrimp cakes.
Shrimp should always be raw when you're making shrimp cakes.
Can you use frozen shrimp for shrimp cakes?
Yes, you can use shrimp that has been frozen, but don't cook them from frozen.
In fact, in many ways frozen shrimp can actually be fresher than fresh shrimp! All shrimp is frozen after being caught at sea. The fresh shrimp you see at the seafood counter in the grocery store or at the fishmonger's is just frozen shrimp that has been thawed.
So, you could buy frozen and thaw it yourself at home.
Should you thaw shrimp before cooking?
Most definitely. 
Thawing shrimp is easy. All you have to do is defrost them in a bowl under a running cold water tap. They'll be ready in just a few minutes.
After they are properly defrosted, pat them dry with a paper towel before whizzing them up in the food processor. 
Are these shrimp cakes keto-friendly?
Yes, absolutely! These shrimp cakes are a fantastic lunch option for those on a keto-friendly, low-carb diet. They are also low in calories, yet packed with protein and essential vitamins and minerals.
Are these Thai shrimp cakes gluten free?
Yes, they are 100% gluten-free!
What about the dipping sauce?
It all depends on the type of fish sauce you use. Many fish sauce brands are gluten-free, but some aren't. Keep that in mind when making your dipping sauce.
Also, check your mayo. While almost all mayonnaise is gluten-free, a few brands have been known to use gluten additives. So, it's always worth double checking. 
What's the best shrimp to use?
As I said before, raw is the way to go. Don't be tempted to use pre-cooked prawns or shrimp. You'll end up with bad tasting, rubbery shrimp.
Also, unless you want to spend a long time in the kitchen, go for ready peeled prawns. Peeling can be a real chore and life's too short to be peeling shrimp all day long!
If you live by the coast, you're lucky! There's nothing like freshly caught shrimp. Go to your local fishmonger or grocery store and get the freshest shrimp you can find – hopefully ready peeled and deveined! 
Avoid imported shrimp! The reality is, much of the shrimp imported into the US and Europe comes from unregulated countries, with shrimp farms that use antibiotics. 
Tiger, rock and white are all great varieties. Spot prawns are also one of the best types (you'll notice the distinctive white spots on these large brown shrimp). They tend to be larger and far juicer than the average shrimp.
To check for freshness, first smell the shrimp. It should smell of the sea, with no 'fishy' or ammonia smells. Also, if shrimp is slimy or looks to be breaking apart, it's no good.
Finally, black spots on the head and body are a sign that the shrimp is turning bad. These are called 'melanosis' and are the result of a long exposure to air. Kind of like when avocados or apples turn brown.
What is the dark vein in a shrimp?
It's not actually a vein at all. The thin dark tube running through the middle of the shrimp is the digestive tract.
While it's safe to eat, the digestive tract might contain small pieces of grit and might have a slightly bitter taste. So, if your shrimp has not already been deveined, it's worth doing so. 
How do you 'devein' shrimp?
Removing the digestive tract of shrimp is simple. All you need is a shrimp deveiner (see 'products you need for this recipe' above).
You could also use a paring knife. SImply make a shallow incision through the shell at the back of the shrimp, all the way from the head to the tail. Then, simply pick out the vein and wipe the shrimp with a paper towel.
Can you cook shrimp cakes in the oven?
Cooking them in a large skillet or frying pan is the best way to go. Cooking them this way will deliver a more satisfying taste and texture.
If you would rather cook them in the oven, place them on a baking tray and cook in a preheated oven at 400ºF/205ºC. Cook for around 15–20 minutes, until golden brown.
How long will they keep?
They're so delicious, chances are they'll be gone in 60 seconds.
If, however, you can resist devouring the lot, you'll be able to keep them fresh in the refrigerator. Store in an airtight container and use them within 3 days.
Can you freeze them?
If you've made a big batch and you want to keep them longer than 3 days, freezing is easy. Shrimp cakes should always be completely cool before freezing. SImply store them in an airtight, freezer-safe container.
You'll need to place a piece of parchment between each one, to stop them sticking together. Freeze for up to 2 months.
What wine pairs well with shrimp cakes?
Shrimp and wine go together fantastically well! We need something that balances alongside the delicate, succulent flavor of the shrimp, without overpowering it.
Pick an off-dry Riesling to complement the delicate flavors and aromas in this recipe. A lower alcohol Riesling will ease the spice and the slight carbonation works well with crisp cakes.
Or, you could go for a Chilean Sauvignon Blanc, to harmonize with the herbs and contrast the citrusy notes with the succulent shrimp flavour.
Variations on this recipe
One of the great things about this recipe is its versatility. From the size and shape to the taste and texture, there are plenty of ways to change it up to suit your or your family's preferences:
Play with the sizes of the cakes. You can make them little bite-sized cakes or king-sized cakes, or something in between.
Making them for kids? Why not use cool cookie cutter shapes? Better still, get the kids to help you make them.
Sprinkle some cheese into the mix for extra flavor. I'd go for some grated parmesan for maximum flavor.
Want more of a chili kick? Leave the seeds in.
If you want some earthy spice without too much heat, add a teaspoon of smoked paprika or Old Bay seasoning into the mix. If you're a seafood fan, you know how well Old Bay and shrimp go together!
I've gone with lime juice and lime zest, but you can easily swap this for lemon juice and lemon zest. You can also add lemon juice and lemon zest in the dipping sauce.
Fancy a spicier dip? Add a tablespoon of hot sauce along with the mayo and fish sauce.
If you're a real fan of citrus, cut up some lime or lemon wedges for serving and maybe some extra lime or lemon zest grated on top.
You can swap out the spring onions for green onions. Green onions are larger and have a slightly stronger flavor.
If the dipping sauce isn't for you, serve with a big helping of sour cream and chives.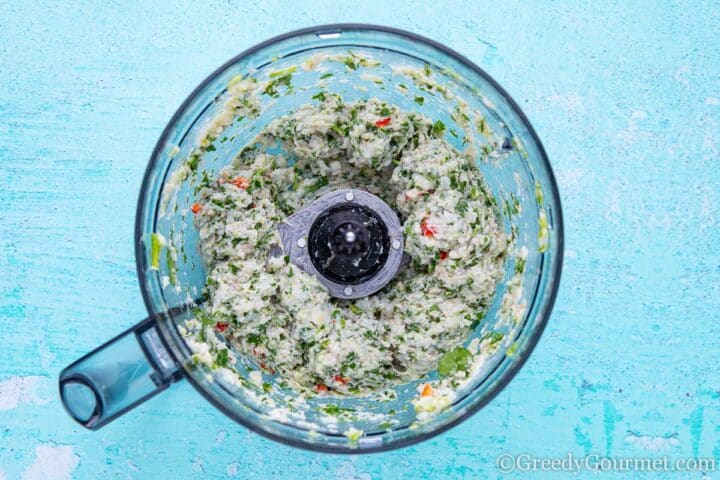 Tips for the perfect shrimp cakes
Let's recap on some of the key points of this recipe:
Always go for raw over pre-cooked shrimp and pat them dry to remove as much moisture as possible.
Go for wild-caught shrimp over farmed.
Buy ready peeled and deveined shrimp to save time.
Wash the shrimp before placing it in the food processor.
Once you've blended the ingredients and shaped the cakes, leave them to chill for 30 minutes. This will help them stay together.
What goes with shrimp cakes?
Looking for something to serve alongside your Thai shrimp cakes? I'd recommend a crisp green salad, something like this pear and rocket salad. Check out my post for great dishes to serve with fish cakes.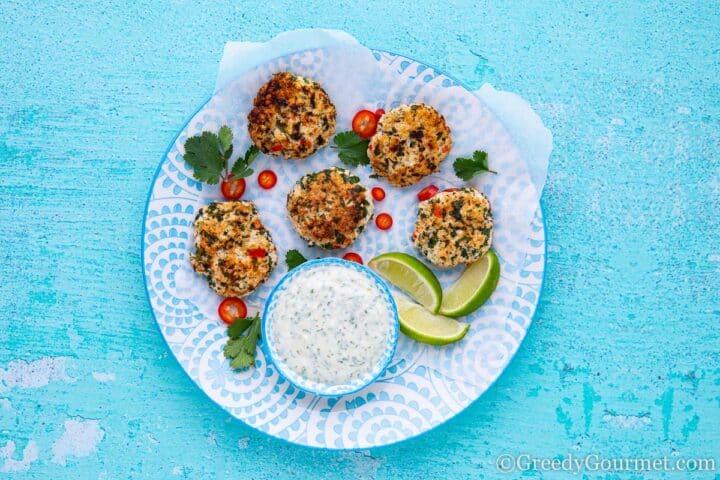 Shrimp it up!
You can never have too much shrimp. There's a reason it's far and away the most popular seafood in the US.
Here are a few more simple, delectable shrimp recipes:
Print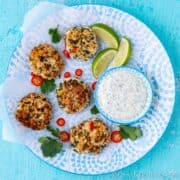 Thai Shrimp Cakes Recipe
---
Author:

Michelle Minnaar

Total Time:

30 minutes

Yield:

4

portions

1

x

Diet:

Gluten Free
Description
These Thai Shrimp Cakes are gluten free and keto-friendly. Make it from scratch with a mouth watering dip in a few easy steps.
---
Shrimp Cakes
600

g

(1 1/2lbs) raw, peeled prawns

17

g

(1 cup) cilantro, chopped

1

red chilli, deseeded and finely chopped

2

limes, juice and zest

4

garlic cloves, peeled, crushed

2.5

cm (1in) fresh ginger root, finely grated
Dipping Sauce
17

g

(1 cup) cilantro, chopped

125

ml

(1/2 cup) mayonnaise

5

g

(1/4 cup) basil leaves

1

spring onion, finely chopped

15

ml

(1 tbsp) fish sauce
For Cooking
30

ml

(2 tbsp) coconut oil
---
Instructions
Shaping the Shrimp Cakes
Place all the Shrimp Cake ingredients in a food processor and blend until everything is minced.
Tip the mixture out into a bowl then season.
With wet hands, for 12 prawn cakes, then leave them in the fridge to chill for 30 minutes. 
For the Dipping Sauce
Meanwhile, place all the Dipping Sauce ingredients in a food processor and blend everything to as smooth as can be. Place the sauce in the fridge to chill.
Cooking the Shrimp Cakes
Melt the coconut oil in a large frying pan and fry the shrimp cakes for 4 minutes on each side. 
Serve the Thai Shrimp Cakes immediately with the Dipping Sauce. Enjoy!
Prep Time:

20 minutes

Cook Time:

10 minutes

Category:

Fish Cakes

Method:

Pan Fry

Cuisine:

Thai
Keywords: thai shrimp cakes, shrimp patties, shrimp cake recipe, shrimp fritters, fried shrimp cakes, Thai prawn cakes, keto shrimp cakes recipe