Lamb madras is a rich, fragrant and intense curry, which is a popular item British Indian restaurants' menus. Beware though, while lamb madras curry doesn't come close to a vindaloo, it is well known for being a sharp and spicy curry.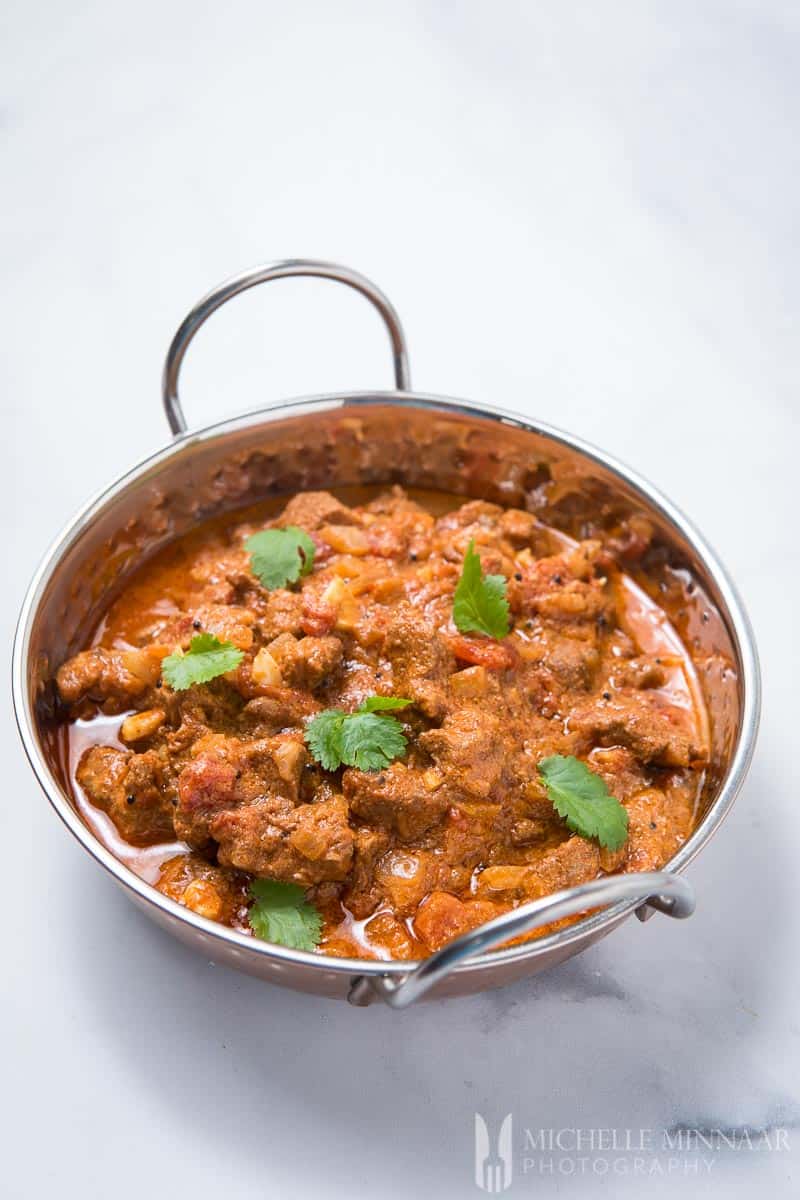 It makes a change from the usual jalfrezi, balti and korma curry, so why not give this fakeaway a whirl? You can hold back on the amount of chilli and still experience the amazing taste of the lamb smothered in spices.
I cook with madras spices on a regular basis and highly recommend anyone to purchase them. They come in many versions and are an excellent addition to curries, and can be used to season vegetables for roasting, stews, etc.
fakeaway lamb madras curry recipe
Lamb madras curry is a distinctly hot curry, originating from the southern part of India using the famous madras spices. A madras curry has most of its flavour and aromas from the spice mix. Generally speaking, the usual components of a madras curry spice mix include:
ground coriander powder
cumin powder
allspice
ground cinnamon
cardamom
ground ginger
fenugreek
fennel
turmeric
cloves
garlic powder
Due to the pungency of these spices, the lamb madras has a powerful and rich taste which is distinctly lemony too. As a result, sometimes to accentuate these lemony notes of a typical madras curry, it is very common for fresh lemon juice to be added during the cooking process.
By now, we all know that lemon and lamb pair well together. That's why I highly recommend using a delicious and rich meat like lamb to enhance the flavours of this madras curry even more. Of course, you can opt for other versions of the dish using different kinds of meat, such as chicken madras, beef madras and prawn madras.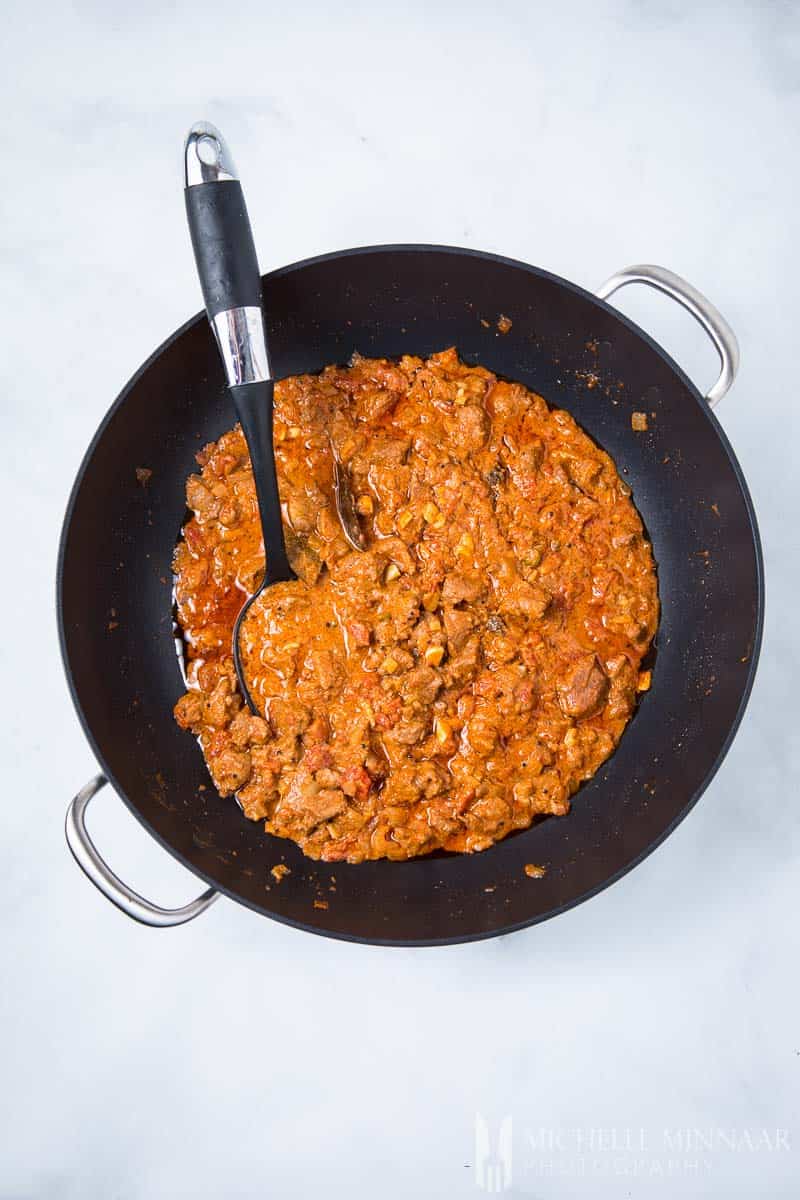 lamb madras recipe with amazing lamb
It genuinely is a pity that people don't cook so much with lamb anymore. Today, young people carry the misconception that lamb is a premium ingredient falls outside their budget.
Others have the misconception that lamb is unhealthy. Both these statements couldn't be further from the truth!
Luckily, we have campaigns like Lamb Try It Love It to emphasise that lamb is not only inexpensive but can be nutritionally beneficial too. Lamb Try It Love It is an EU-funded campaign which aims to educate the younger demographic of Europe that there are multiple inexpensive cuts of lamb which are delicious.
There is no reason why lamb shouldn't be at your dinner table! It's one of the few types of meat that actually possesses a punch of flavour.
In addition to that, lamb is very easy to prepare. You won't necessarily need to roast it for hours unless it's a leg of lamb.
Some cuts can even be prepared under 30 minutes! In this case, different cuts of lamb can be used for this lamb curry and the flavour will remain the same.
If you like leading a healthy lifestyle, then adding lamb to your diet is what you should do. European lamb is premium quality, coming from sustainable farms located in remote regions of Europe.
Forget the processed ready made meals found in supermarkets and indulge in a healthy meat which is good for you. Lamb has essential vitamins and nutrients that are good for your bones, muscles and mental functions.
Being protein-rich and low on sodium, it also helps to reduce tiredness and fatigue. Admittedly, knowing that lamb contributes to my health and well-being would be my number one reason for eating lamb!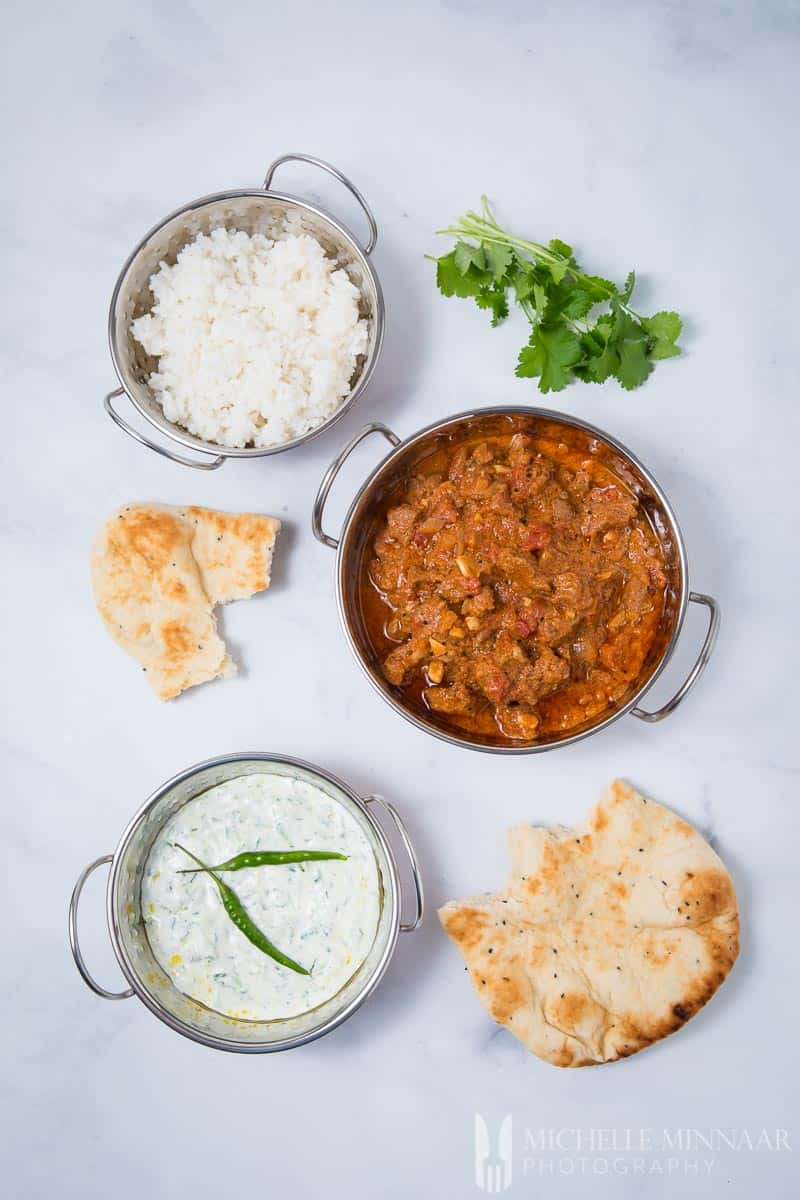 Indian madras curry origins
Madras curry has been historically associated with the arrival of the British in the late 17th century when British merchants set foot on Indian shores. In 1996 the city changed its name to Chennai.
If you ever plan to visit the city of Chennai, hoping to try an authentic madras curry you're in for a disappointment. Even though the madras spices are produced in Chennai because the dish was actually invented in Britain.
It's very difficult to find a version of lamb madras curry, or any version of madras curry for that matter, in Chennai.
Today, we have multiple blends of madras powders available at our fingertips. Some are hotter and more fragrant than others. I dare you to try the hotter version for your lamb madras!
best side dishes for madras curry
The best side dish you can serve with lamb madras is a refreshing cucumber raita. Due to the fact that a madras curry has quite a bite, you'll want to have a cooling agent by your side, and the cucumber raita will bring the spice levels down significantly.
Another popular side dish which is commonly served with hot dishes like this one is peshwari naan. This isn't any regular naan like a garlic naan or a cheese naan.
What's different about it is that it contains almonds, sugar and raisins inside it. Yes, it's a sweet naan. Naans this rich and sugary will complement your lamb madras. Other traditional side dishes include white rice, pilau rice, chapatis, rotis, kerala paratha. 
If you happen to have leftover lamb, feel free to make another delicious lamb curry. Give lamb jalfrezi a go.
Print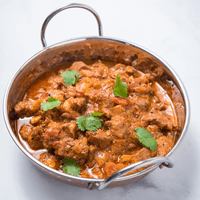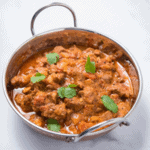 Lamb Madras
---
Description
Lamb Madras curry is one of the most popular Indian curry dishes. A lamb madras recipe uses the authentic madras spices and a beautiful cut of lamb. Try it!
---
15

ml (1 tbsp) ground cumin

15

ml (1 tbsp) ground coriander

5

ml (1 tsp) chilli powder

1

kg (2lbs) lamb leg meat, cubed

30

ml (2 tbsp) vegetable oil

2

onions, peeled and finely chopped

5

ml (1 tsp) brown mustard seeds

5

curry leaves

2

black cardamom, crushed

1

cinnamon stick

5

garlic cloves, peeled and crushed

5

cm (2in) fresh ginger, peeled and grated

5

bird's eye chillies, washed and finely chopped

30

ml (2 tbsp) tamarind concentrate

600g

(1½lb) chopped tomatoes

125

ml (½ cup) yogurt

125

ml (½ cup) coconut milk

2

bay leaves

90

ml (6 tbsp) fresh coriander leaves, washed and chopped
---
Instructions
Mix the cumin, coriander and chilli powders together and mix into the lamb until the meat is covered in spices.
Marinate the lamb at least 2 hours or overnight.
Fry the onions in the oil until softened.
Add the mustard, curry leaves, cardamom and cinnamon to the onions and continue frying until their aromas are released.
Add the garlic, ginger and chillies to the mixture and fry for 3 minutes.
Pour in the tamarind, tomatoes, yogurt, coconut and bay. Give it a good stir and let the mixture slowly bubble for 10 minutes until a thick gravy has formed.
Place the marinated lamb into the mixture, and let the curry cooked on a slow simmer for 90 minutes or until the meat is cooked and tender.
Season to taste.
Garnish with coriander and serve with rice or naan.
Notes
As with most curries, bay leaf truly shines in this recipe. But if you're struggling to find any, feel free to experiment with any of these bay leaf substitutes.
If you're wondering what you could make with the leftover coconut milk then check out my other recipes or my guide on freezing coconut milk.
Prep Time:

2 hours

Cook Time:

2 hours

Category:

Main Course

Cuisine:

Indian
Nutrition
Serving Size:

1 serving

Calories:

480

Sugar:

6.7 g

Sodium:

430 mg

Fat:

26.9 g

Saturated Fat:

9.9 g

Carbohydrates:

14.7 g

Fiber:

4.1 g

Protein:

45 g

Cholesterol:

125 mg
save the recipe to your pinterest board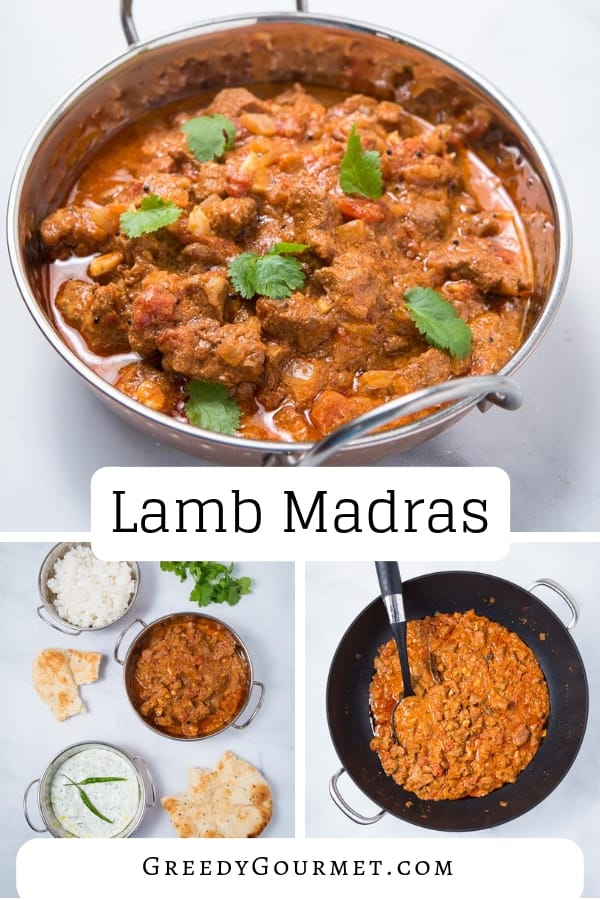 P.S. This is a sponsored post.