Looking for something to pair with a Christmas ham, cold cuts or your favourite cheese? It just doesn't get any better than a fruity, spicy, homemade plum chutney!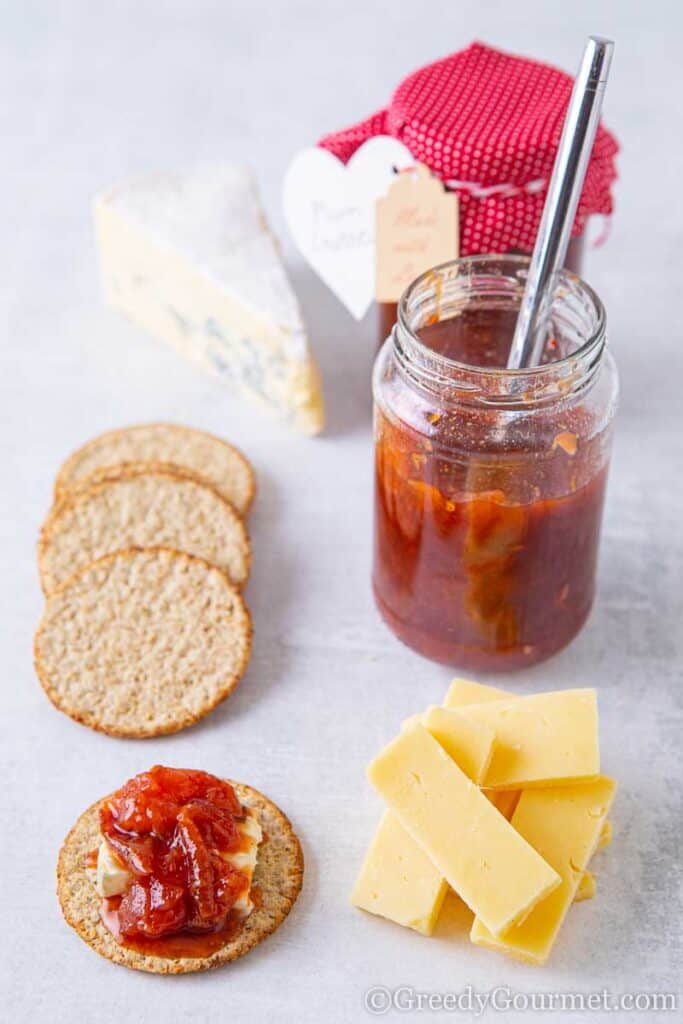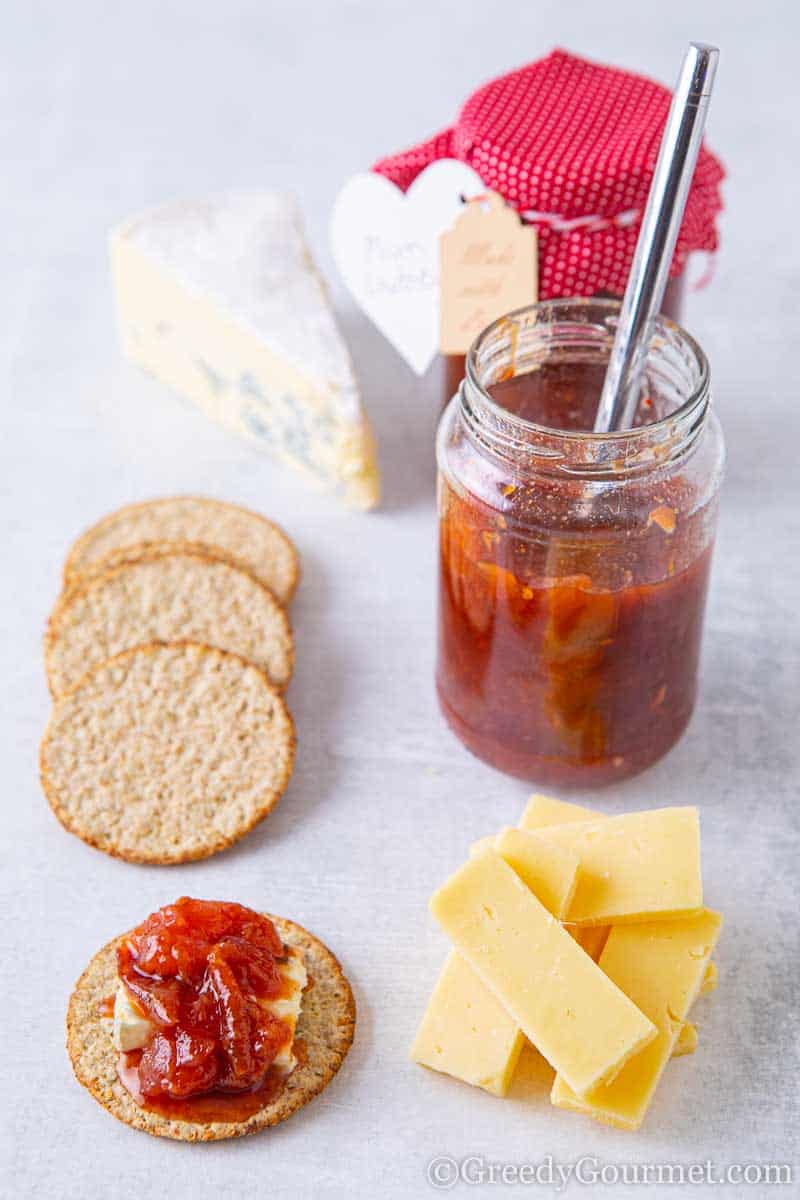 A simple recipe that can be made way in advance, spiced plum chutney has a sensational taste and texture that can elevate just about any savoury snack food.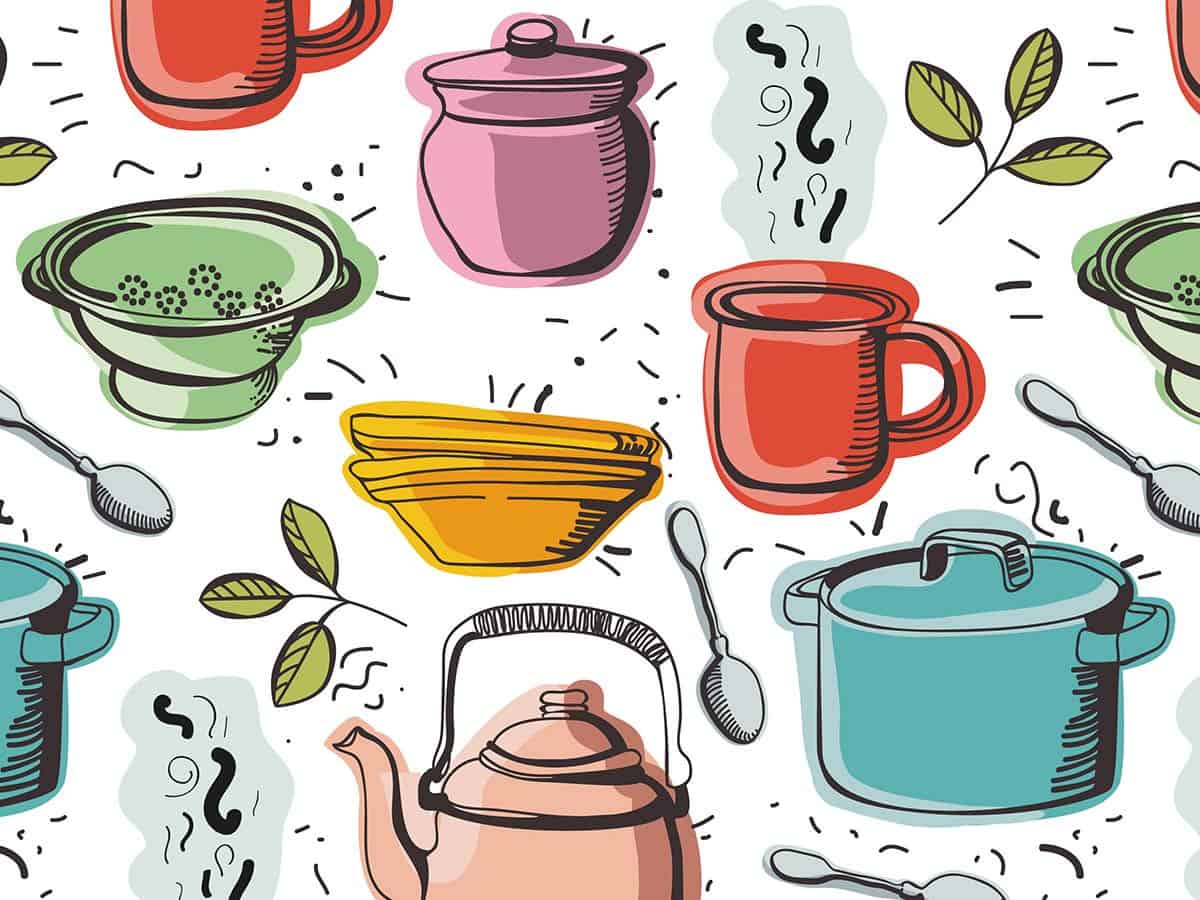 CHUTNEY EQUIPMENT YOU NEED
Check out the ultimate list to chutney making equipment. You actually don't need that much and most of the items are quite affordable!

Making your own preserves is a great and satisfying hobby. Giving the gift the lovely food to your friends and family are especially rewarding!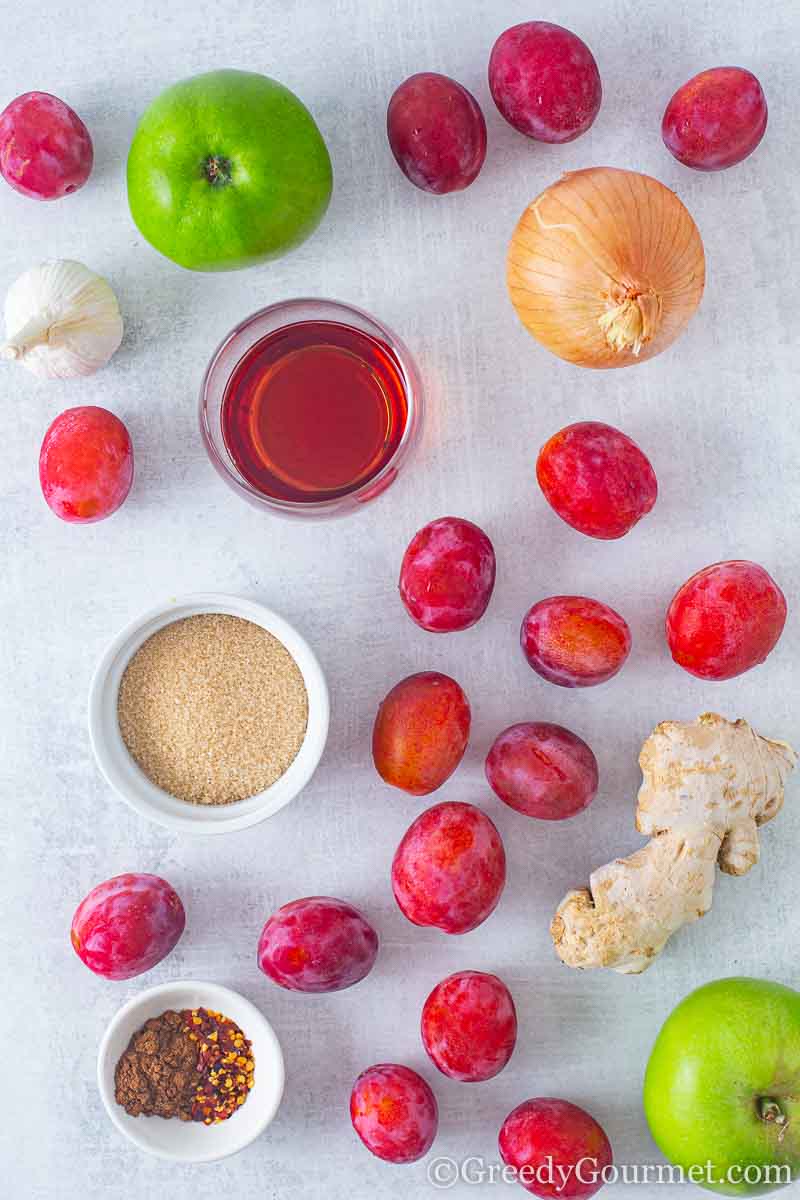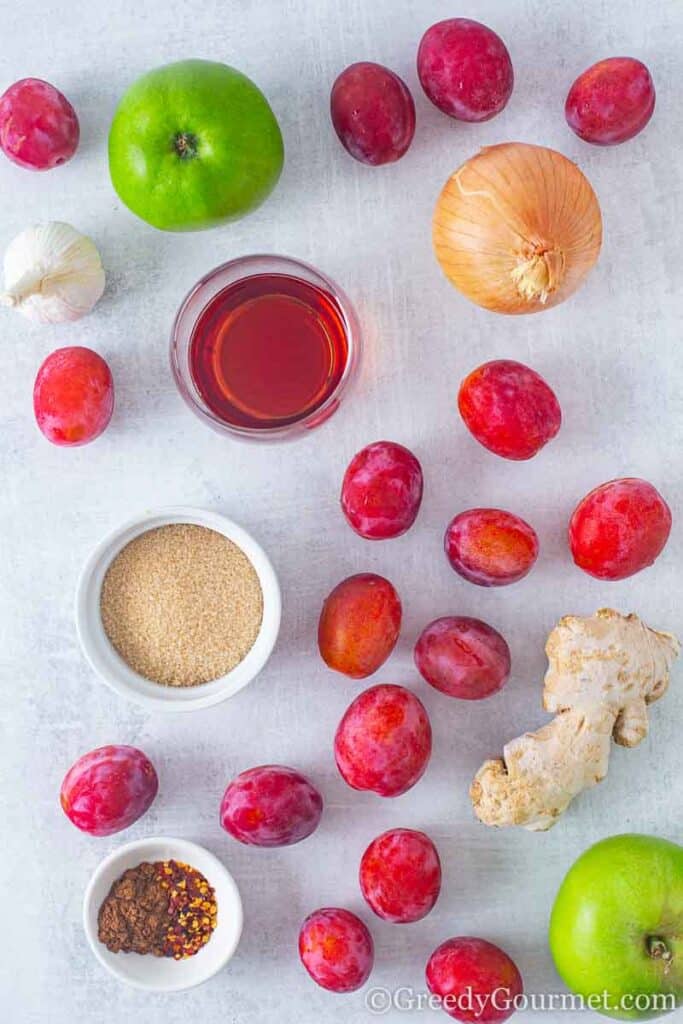 Plum chutney recipe
If you're a fan of chutneys, you have to try this recipe! It's fruity, tangy, spicy and packed full of flavour.
Plum chutney is perfect for the festive season, as you can make it in advance and unveil it at the perfect time. It'll bring a bit of magic to your festive spread!
From cold meats and rich cheese to Christmas time turkey and ham, so many dishes go well with a side of plum chutney. Just imagine tucking into a succulent Christmas turkey with a little helping of subtly spiced plum chutney for good measure. Delicious!
It's the perfect recipe for those looking to make something a little different this Christmas.
So, ditch those boring shop bought additions to your Christmas Day table. Nothing brings that festive feeling quite like a homemade plum chutney!
A chutney is not just for Christmas time though. Make this recipe and it will blow your socks off all year round!
Imagine pairing it with a cheeseboard and a crisp white wine on a fresh summer evening. Pure bliss!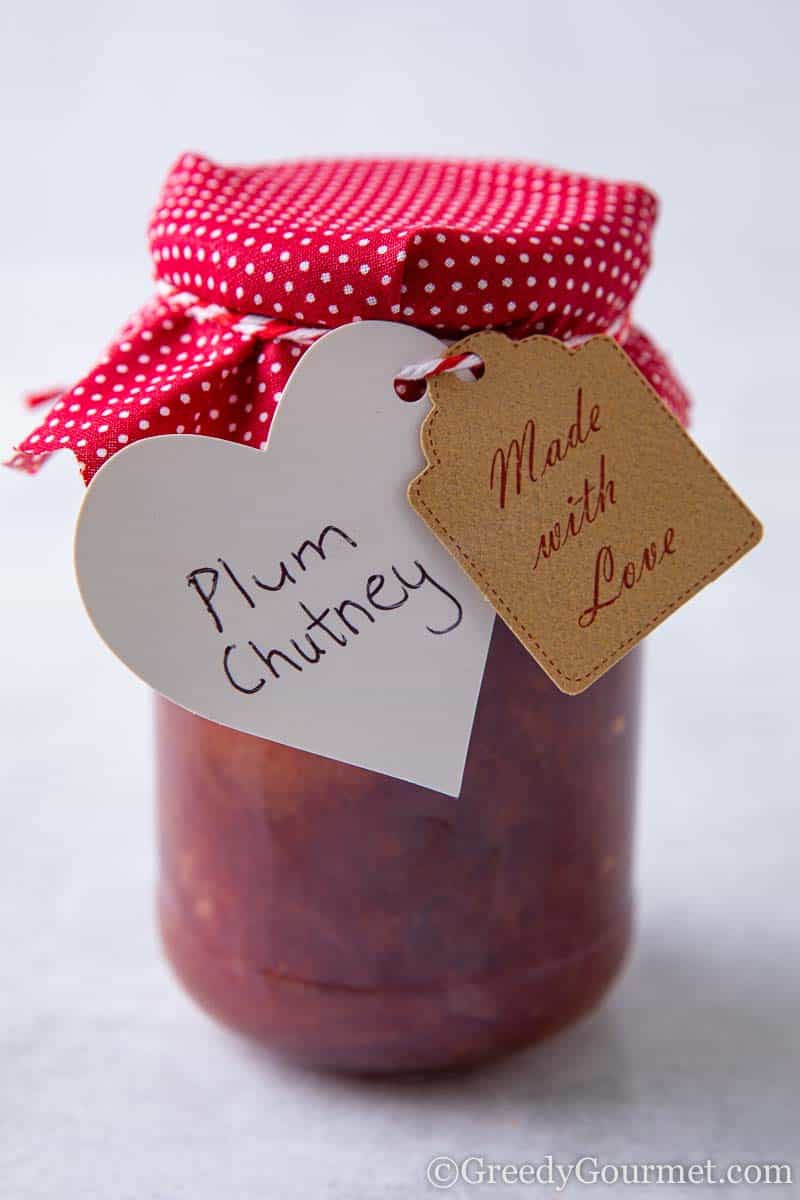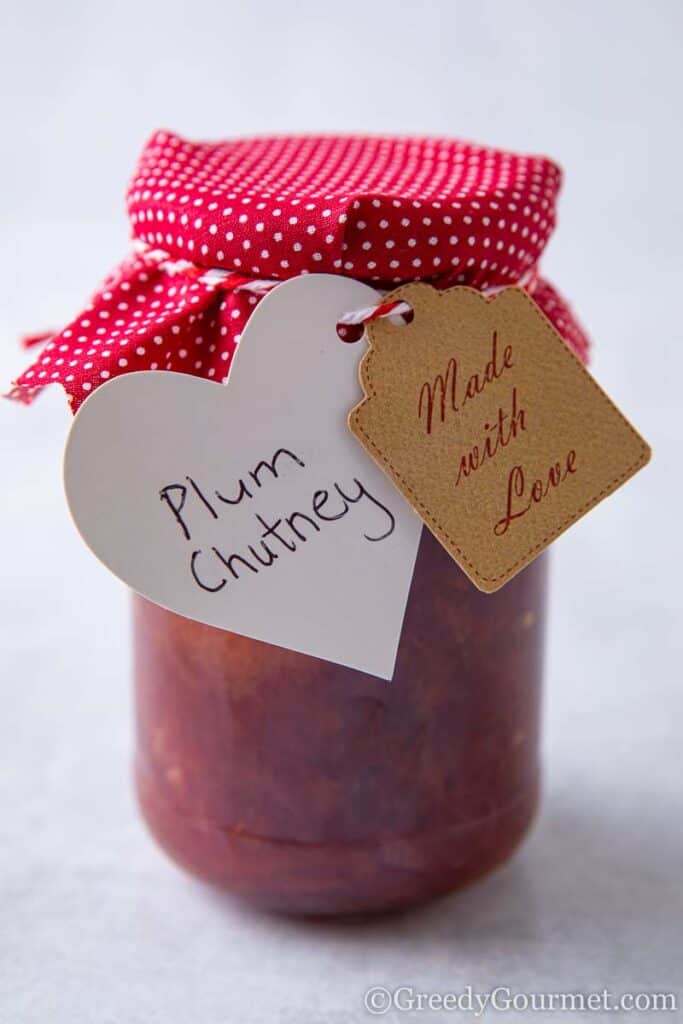 Each ingredient in this chutney works together in perfect harmony, to create something very special. The plums, apples, onions and ginger all bring their own flavour to the table.
When simmered together over an hour, their flavours fuse for a fantastic blend – sweet, tangy and irresistible.
Let's not forget the spices. The chilli flakes and Chinese 5 spice add a hot and earthy character to this chutney.
Vinegar is essential to add to any chutney – for this recipe I've gone with red wine vinegar. It goes with the colouring of the dish and the flavours work well.
Brown sugar is also important, to add a little sweetness and to balance out the flavour.
Add all these ingredients to the pan and bring to the boil. Then simmer for an hour to 3 hours, stirring occasionally to make sure nothing sticks to the bottom of the pan.
A good time to check is once every 30 mins. Cook until everything is soft and delicious!
When you let it cool, the mixture will thicken. You can eat it immediately, but it will only get more and more delicious with age.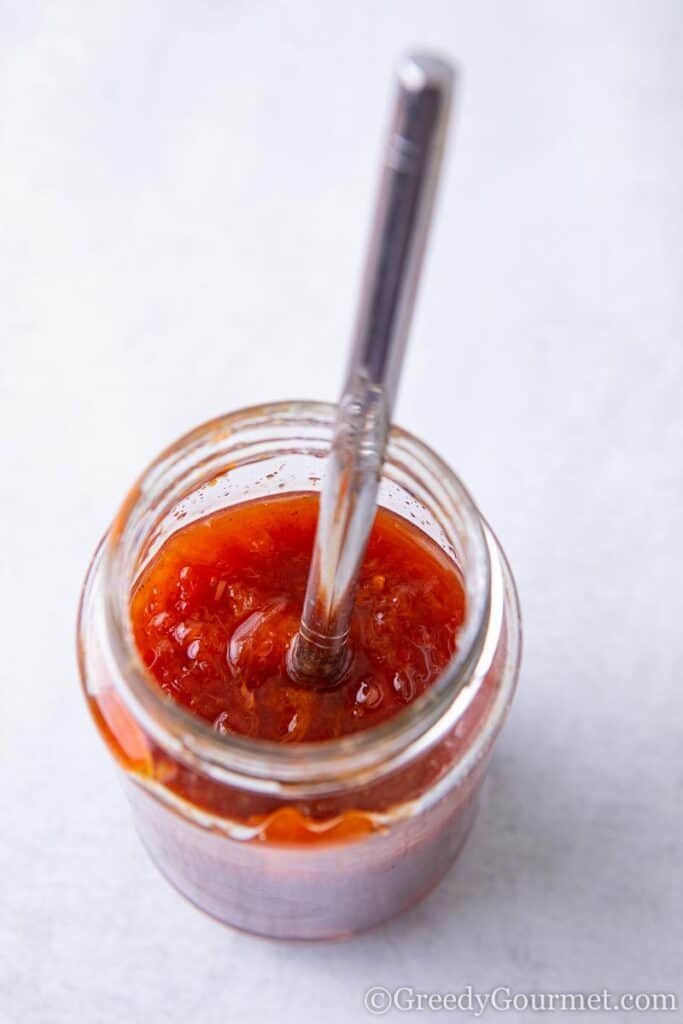 What is chutney?
A spicy, savory dip, it is made from fruits, vegetables and herbs with added sugar and select spices. It pairs well with anything from curries and cooked meats to cheese and bread.
The term chutney used to be specific to a certain mixture of fruits,vegetables and spices with a specific texture. Now, there are so many different types made from a large range of ingredients and the definition is a lot looser.
What are the origins of chutney?
Originally a way of preserving food, chutneys date back over 2,000 years to the Indian subcontinent. Back then, it was made in a form of paste or thick sauce with all kinds of different spices, much different to the chunky texture of modern chutneys.
It was eventually picked up by the Romans and, later during the colonial era, the British. The Brits produced it commercially in the 20th century and it eventually became a popular dish all over the world, with many more different types springing up. 
When should I pick plums?
Generally, plums are ready to be picked and harvested in the late summer/early autumn – so, around September into October.
You can tell when plums are ready to be picked by gently feeling the skin of the plum. If it feels soft, then it should be ready.
What is plum chutney used for?
Plum chutney will add some serious flavour to a sandwich and bring a whole new level of deliciousness to your favourite cheeses and cold cuts.
If you want to make this plum chutney recipe during the winter, it'll make the perfect addition to your festive feast. Pair it with your Christmas turkey or ham – the sweetness of the plums and the heat of the spices will work wonders!
How long does plum chutney keep?
Unopened homemade chutney will last up to a year when stored in a cool dry place. Once opened, it'll last 2 months when stored in the fridge.
Which vinegar is best for chutney?
Vinegar is a key ingredient in any chutney. The type you use depends on what kind of chutney you're making.
For this recipe, I've gone with red wine vinegar. It suits the flavour of the plums and the other ingredients. For other chutneys, white wine, balsamic or cider vinegar also works well.
What can I do with a glut of plums?
Plums are absolutely delicious fruits. Few things beat the taste and texture of a fresh, ripe plum in the summertime.
Still, if you've got a lot of plums and you want to know what to do with them, this recipe is a great way to use them up. You could also make plum jam, which will keep for a long time and tastes out of this world!
If you've got extra plums and you're feeling in need of some delicious comfort food, try and make my apple and plum crumble!
Can you eat homemade chutney straight away?
If you can't wait (who can blame you?) you can eat homemade chutney straight away. Well, after it has cooled down, of course.
As with a lot of things in life, like fine wine, good cheese and Brad Pitt, good plum chutney gets better with age. So, if you can hold off for a few months without opening it, this plum chutney will taste simply sensational!
How do you know if chutney is ready?
There's a very easy way to know if your plum chutney is ready or not. All you need to do is to draw a channel through the chutney with a wooden spoon. If the channel stays for a few seconds until the vinegar runs through, it's ready.
Can I freeze plums without cooking?
If you want to keep your plums fresh for longer, you can easily freeze them. Just put them whole in a sealable freezer bag.
In fact, a frozen plum makes a delicious summertime snack, especially for the kids!
Are plums good for you?
Not only are they absolutely delicious but plums are also a very healthy fruit, with a long list of nutritional benefits. Plums are packed full of vitamins, minerals and antioxidants that can help to lower the risk of developing chronic diseases.
A plum a day can definitely keep the doctor away. They contain over 15 different vitamins and minerals. Just one plum contains 15% of your recommended daily intake of vitamin C. 
Plums also have properties that can help keep your blood sugar under control and can help promote a healthy heart. They are also a high fibre fruit, so they help with your digestive health too.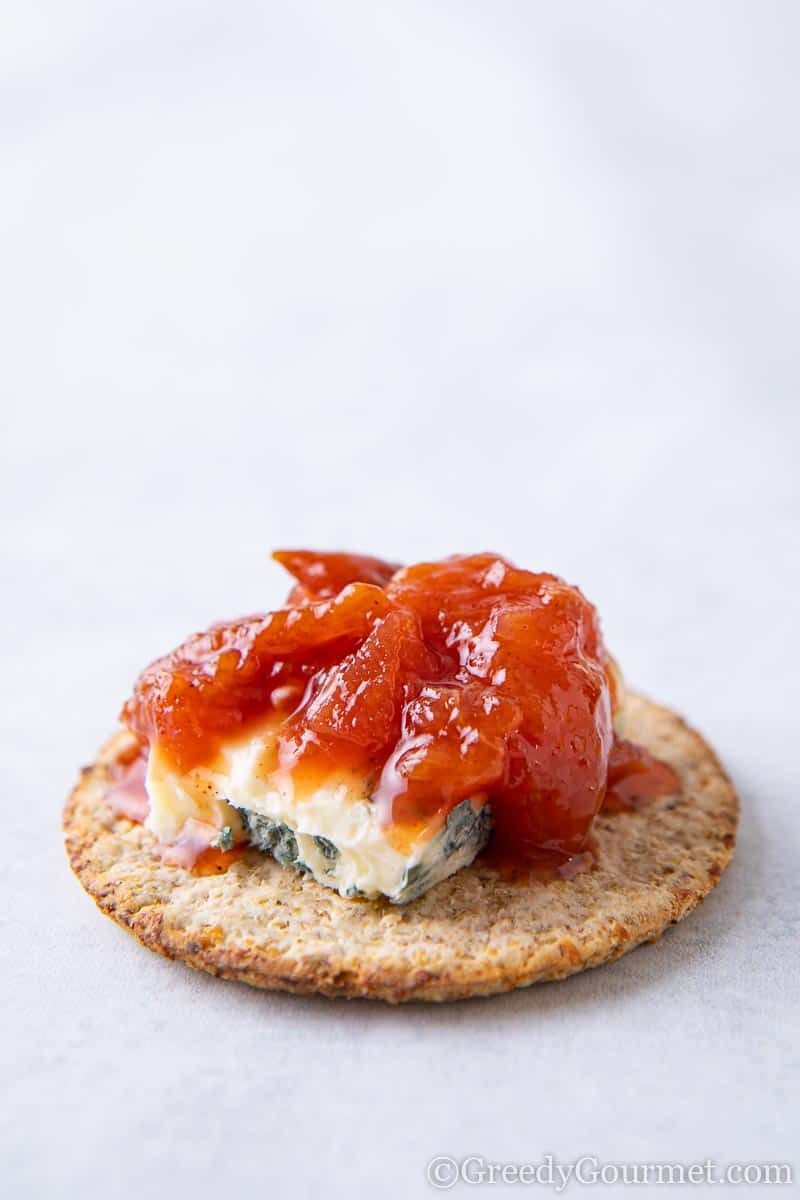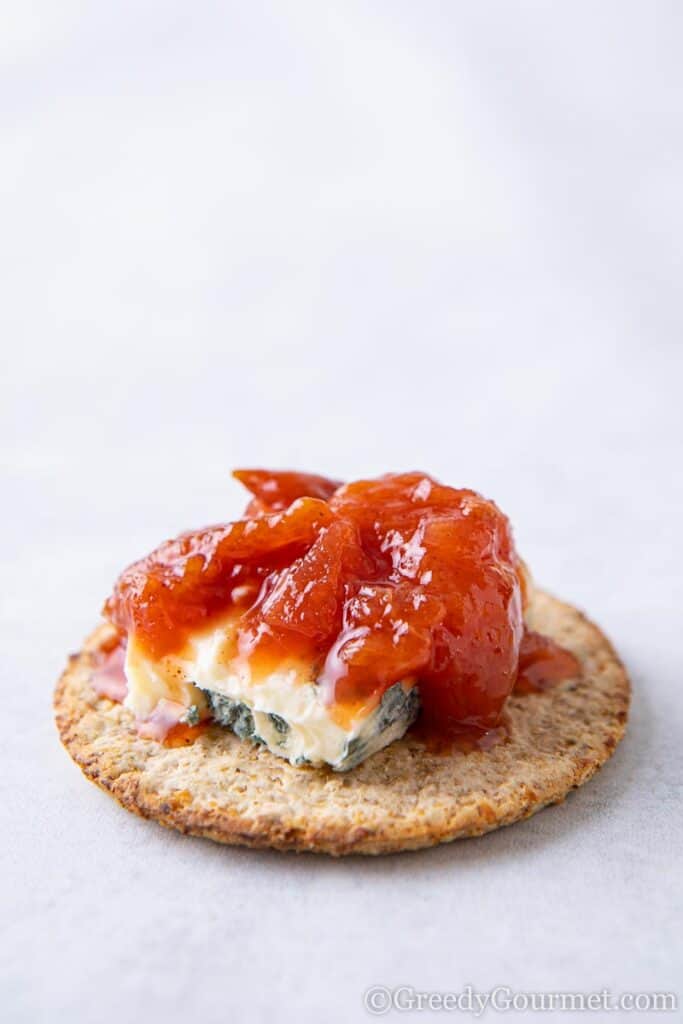 More amazing chutney recipes
Other fruity favourites
If you love the idea of creating fruit recipes that are full of flavour and comforting to make the winter that little bit warmer, have a go at these easy recipes:
Christmas side and snack recipes
If you're making this at Christmas time and want some more great recipes for your festive spread, why not make some of these delicious Christmas starter and snack recipes?
Print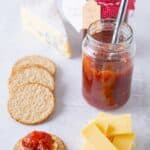 Plum Chutney
---
Author:

Michelle Minnaar

Total Time:

2 hours 20 minutes

Yield:

5

x 370ml (1lb) jars

1

x

Diet:

Vegan
Description
If you've got a glut of plums, this plum chutney recipe is a perfect way to use them up. This chutney goes great with cheese and makes a great gift.
---
900

g

(2lbs) plums, pitted and quartered

2

large Bramley apples, peeled, cored, and cut into small cubes

450

g

(1lb) onions, peeled and finely chopped

3

garlic cloves, peeled and crushed

2.5

cm (1in) fresh ginger root, peeled and grated

400

ml

(2/3pt) red wine vinegar

450

g

(1lb) brown sugar

3

g

(1 tsp) dried chilli flakes

3

g

(1 tsp) Chinese five spice

3

g

(1/2 tsp) salt
---
Instructions
Place all the ingredients in a large heavy bottomed saucepan.
Heat the contents slowly until boiling point is reached.
Turn the heat down until a consistent slow simmering point is reached.
Cook for at least 1 hour but no more than 3 hours. Check on it every 30 minutes and stir occasionally.
Towards the end of cooking time stir the chutney more to ensure that nothing sticks and burns at the bottom. It will thicken when it cools.
Pour into sterilised containers and seal with airtight lids. Enjoy as part of a cheeseboard!
Notes
The apples should weigh roughly 450g (1lb) in total.
This recipe yields 5 x 370ml (1lb) jars.
Plum chutney makes a great homemade Christmas gift!
Prep Time:

20 minutes

Cook Time:

2 hours

Category:

Chutney

Method:

Boil

Cuisine:

British
Keywords: plum chutney, plum and apple chutney, chutney recipe, plum recipe, easy spicy plum chutney recipe, spiced plum chutney, how to make plum chutney, what to eat with plum chutney