Learn how to cook oxtail and everything else there is to know about this fabulous cut of beef.
This is the very first recipe that was ever posted on Greedy Gourmet. Miserable, bored and stuck in a rut with the food I was eating I missed home dearly and asked my mother for the family oxtail recipe. South African comfort food I call it, especially on those subzero evenings in winter. Yes, it does get cold there…
My favourite bones are the smallest ones. Dead easy to get the meat off, not as fatty and the meat itself is very tender. Try it and see for yourself!
What is oxtail?
There seems to be a lot of confusion regarding oxtail. In the olden days a castrated bull was known as an "ox" but these days cows' tails are chopped off too. So yes, it's a cut of beef, technically red meat and is classified as offal but is much less gross than it sounds. It's perfectly safe to eat and a tail weighs between 1-1.5kg (2-3lbs).
When it's winter and you're freezing cold and starving, oxtail stew will seem like food sent directly from heaven. The flavour is undoubtedly beefy with an unbeatable flavoursome richness that makes it the ultimate comfort food.
Where to buy oxtail
In South Africa oxtail is available in leading supermarkets but in the UK the offal is as rare as hen's teeth. The best thing to do is to go to your local butcher and order it. Extra tip: ask him in advance to segment the tails to save you time and trouble.
Thanks to gastropubs, the recession and TV chefs the price of oxtail has been steadily climbing in recent years. Nothing is as good as the real deal but you can possibly substitute oxtail with veal or beef neck, short rib, shin, shank or other various soup bones. Some people even recommend ostrich neck!
Nutritional Value of oxtail
Oxtail contains 50% protein and 50% fat and no carbohydrates or cholesterol whatsoever. For a 100g cooked serving (261.9 calories), 5.56g of saturated fat can be found as well as trace amounts of calcium and iron. The more vegetables and pulses you add to your dish, the healthier the recipe becomes.
Oxtail and Special Diets
Weight Watchers, Slimming World and other Low-Fat Diets: Since these diets are fat phobic you'll only be able to enjoy oxtail in minute quantities.
You can make the recipe below gluten free by using corn starch instead of flour to coat the meat with and if you use oil instead of butter it will be lactose/dairy free as well.
It's kosher and safe to eat when you're pregnant.
Herbs, Spices and Other Ingredients You Can Add To Oxtail
garlic
grapes
gremolata
Madeira
mustard
onions
black pepper
prunes
shallots
tomatoes
red wine
3 Different Cooking Methods
Oxtail is a tough meat so forget about roasting or grilling it on the barbecue. The longer you braise it submerged in liquid, the better the results will be.
Slow cooker/Crock pot: In the morning add all the ingredients to the pot, switch on and leave for work. Dream all day about the awesome dinner you will be enjoying that evening.
Pressure cooker: It's late and you really, really, really fancy some oxtail stew and luckily pressure cooker will cut the cooking time by more than two thirds.
Oven: My preferred method of cooking oxtail. Prepare the pot at dinner time. Cook for three hours in the oven, then switch off the oven and let it stew all so slowly overnight.
What to serve with oxtail stew?
Here are a few ideas:
Cheesy polenta
Creamy mash
Rice
Couscous
Sweet pumpkin mash or carrots
Green vegetables
Burgundy wine pairs well with this meal.
Can you freeze oxtail?
Uncooked meat can be frozen for 6 months. If you set your freezer to -17°C (0°F) it will keep for 12 months. The cooked stew will keep in the freezer for 3 months but trust me, it will be long gone before then.
Can dogs eat oxtail bones?
It's hard to resist to treat our furry friends in life and your dog will think it's Christmas if you present it with some oxtail. A word of caution though. As a rule of thumb raw bones are better than cooked ones because of the risk of splintering. There have been times that the cooked oxtail bones were so soft that my then young dogs chewed through them with great ease. However, smaller bones prove to be a choking hazzard. A few years later Shacia howled of pain throughout the night and we even made an emergency call to the vet at 3am. It turned out bones got stuck in her digestive tract and it wasn't a pretty experience. After that my dogs never received a bone again. Rather safe than sorry!
---
The night before cooking oxtail, place your beans in a bowl with ample water to soak in. You can use any type of pulses you prefer. The original recipe, created by my mother, uses lentils.
It's not unusual for foam to form overnight. Make sure you rinse the beans thoroughly before adding them to the pot. Drain and set aside.
You can substitute the shallots with a few onions in this recipe but once these little gems are cooked they literally melt in your mouth. You won't regret the hard work of peeling them.
To make life easier, place the shallots in a large bowl and pour boiling water over them and let them soak for a few minutes. This makes them easier to peel and less likely to make you cry.
Since the task is laborious and time consuming I tend to do this in front of the TV.
As I said you won't regret this!
No dish is complete without garlic.
Feel the meat to find the knots of "knuckles" of bones. Each lump is a separate vertebra. Push a large, sharp butcher's knife down between the vertebrae with even, firm pressure. You may have to press hard to cut through any cartilage or sinew between the two pieces.
Hopefully you can skip the previous step if your butcher already cut up the oxtail for you.
Now to trim off the excess fat.
Trim off as much fat as you can but if you start to take off too much meat you know you're overdoing it.
Each piece of oxtail should then be lightly dusted in a bit of flour. If you're gluten intolerant, use corn starch instead but use sparingly because corn starch's thickening quality if much more potent than flour's.
Heat a large pot with oil. When the meat hits the pan it should SIZZLE.
Fry the oxtail in batches if you have to.
Place the browned oxtail on a plate to one side and carry on with the next batch. Repeat until all done.
When all have been browned, return all oxtail to the pot.
Add the onions and garlic to the meat. If you can be bothered you can fry them a bit first if you like, before adding all the meat to the pot.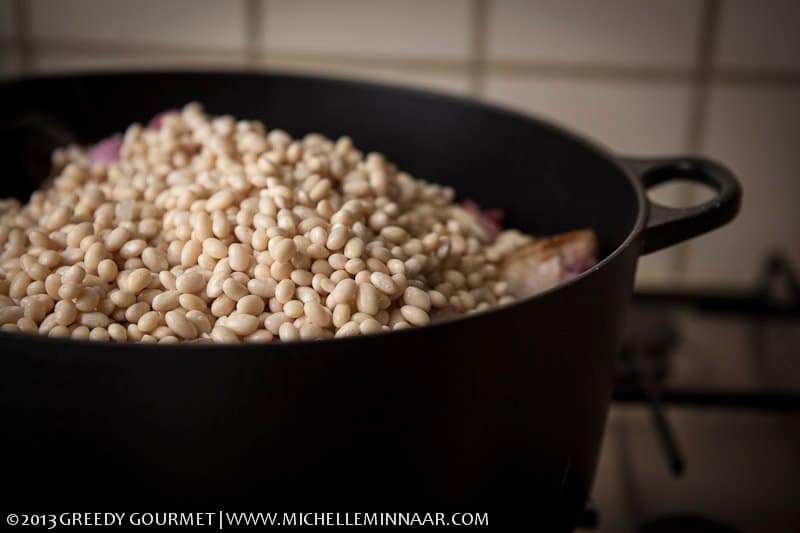 Next you add the beans that soaked overnight.
Add the red wine to the pot and let it simmer for a few minutes.
Then add the beef or vegetable stock.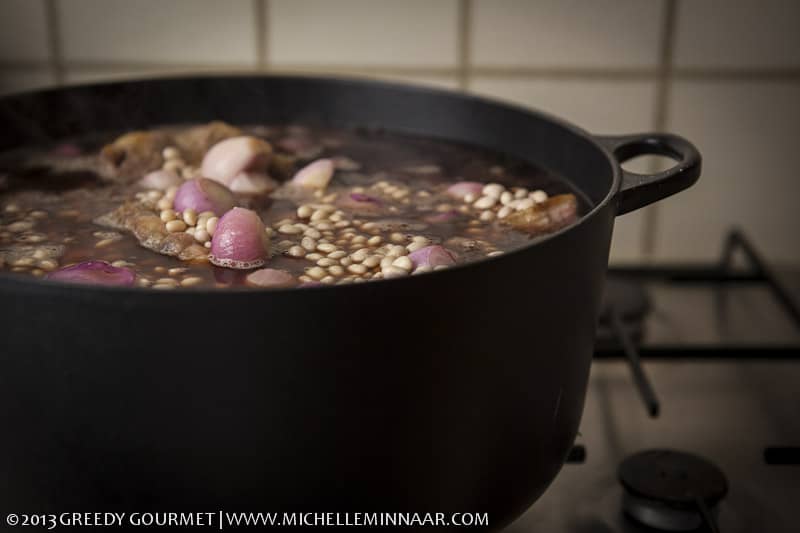 Make sure there is enough liquid to cover the contents.
Sometimes I substitute the tomato puree and water with some passata which works just as well. Just use the same quantities!
Adding sugar is totally optional.
Bay leaves impart a rather serious flavour but with that said, this is a serious dish, is it not?
Stick the pot in the oven for 3 hours. Switch off the oven and LEAVE THE POT IN THERE until it has completely cooled down.
Ta-daa! A seriously good plate of food right in front of you. Very tender bits beef on the bone with sweet melt-in-the-mouth shallots and soul fulfilling beans.
Some people actually go to the trouble to remove all the meat and discarding the bones but it's a travesty! Sucking off the bones and gnawing off the gelatine is such fun!
Print
Oxtail Stew with Beans & Red Wine
---
Author:

Michelle Minnaar

Prep Time:

30 minutes

Cook Time:

3 hours

Total Time:

3 hours 30 minutes

Yield:

4

servings

1

x
Scale
Ingredients
150g

(

5 ounces

) dried haricot beans

1.5

kg (3 pounds) oxtail, segmented
flour, seasoned with salt and freshly ground black pepper

30

ml (2 tablespoons) vegetable oil

12

shallots, peeled

4

garlic cloves, crushed

250

ml (1 cup) red wine

500

ml (2 cups) beef stock

60

ml (4 tablespoons) tomato purée

250

ml (1 cup) boiling-hot water (optional)

45

ml (3 tbsp) brown sugar (optional)

1

bay leaf (optional)

2.5

ml (1/2 tsp) dried thyme (optional)

2.5

ml (1/2 tsp) teaspoon dried sweet basil (optional)

2.5

ml (1/2 tsp) teaspoon dried parsley (optional)
---
Instructions
Soak the beans in water overnight.
Preheat the oven to 180°C/350°F/gas mark 4.
Trim the excess fat from the oxtail.
Heat the vegetable oil in a heavy-bottomed ovenproof pan over a moderate heat. Dust the oxtail in seasoned flour, then add to the pan and colour until golden brown on all sides.
Add the shallots, garlic, wine and stock.
Mix the tomato purée with the boiled water. Add the sugar to the tomato mixture to neutralise the acidity. Give it a good stir to remove all lumps and add tomato mixture to the oxtail.
Rinse the beans thoroughly under running water and add to the meat.
Add the herbs if desired.
Bring the oxtail to a simmer and braise in the preheated oven. After 1 hour lower the heat to 150°C/300°F/gas mark 2 and braise for a further 2 hours.
For best results, switch off the oven and let it cool down overnight. When it's cooled, place the pot in the fridge to marinate further.
After it has been reheated, don't forget to remove the bay leaf.
---
Notes
If you love baked beans, you'll be simply blown away by the the beans in this recipe. A great idea is to add even more beans to this recipe, but you'll have to add more stock to it to compensate. Just keep checking liquid levels during cooking and top up with water where necessary. You can freeze the excess beans separately from the meat and enjoy them on toast or a baked potato.
Storage: Freeze for up to 3 months. It lasts for 3 days fresh in the fridge.
Category:

Dinner

Method:

Braise

Cuisine:

South African
Nutrition
Calories:

1273

Sugar:

Sugars

Sodium:

745 mg

Fat:

56.8 g

Carbohydrates:

49.9 g

Fiber:

Dietary Fiber

Protein:

126.8 g

Cholesterol:

413 mg