Incredibly rich and luxurious, this recipe for oxtail stew will end up being one of the most delicious dishes you've ever eaten. Pure comfort food at its finest – this oxtail recipe really is a showstopper!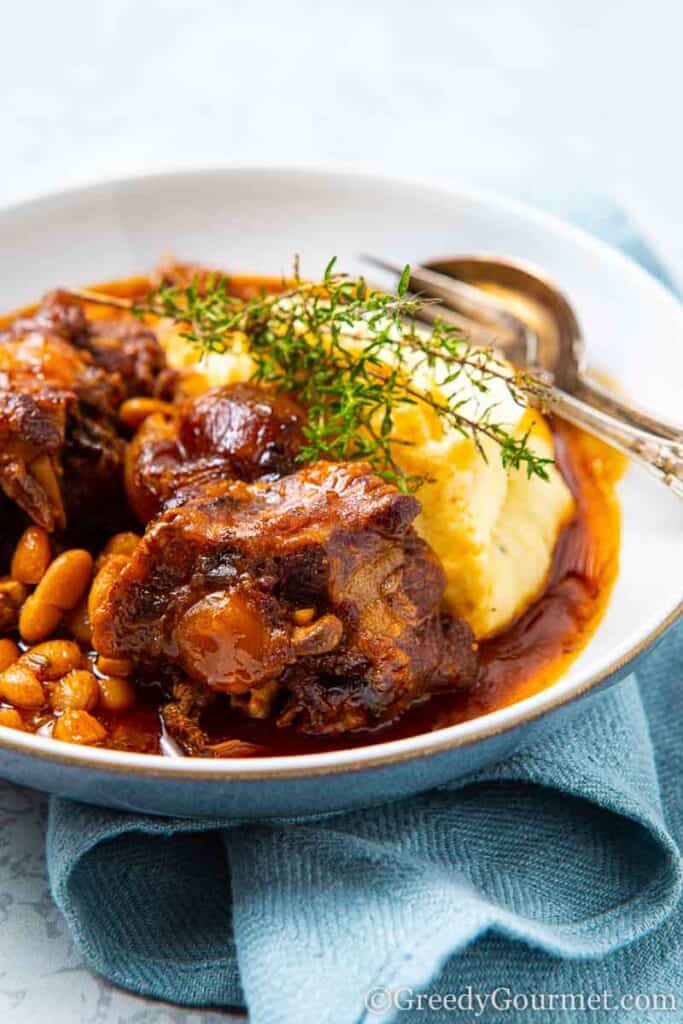 Like most stews, it's quite easy to make – just a quick prep of all the ingredients, then you'll leave it cooking away for around 3 hours - the longer the better! - on a low heat.
This is no ordinary stew though. Once it's done and you take the first mouthful, you'll be in utter heaven!
Items you'll need for this recipe
Casserole pot – invest in a quality cast iron Dutch oven. Try cooking a stew in something with this kind of quality and you'll never look back.
Slow cooker – it's not necessary of course, but a slow cooker is an optional way of cooking this sumptuous stew.
Chef's knife – you'll need a sharp knife to trim the fat from the oxtail.
Dried haricot/navy beans – you can also use ready-to-eat canned haricot/navy beans.
Vegetable oil –a good quality vegetable oil will be the base for your oxtail stew.
Beef stock – an extra richness, in the form of beef stock, will help the sauce become out of this world. You can even add soy sauce.
Dried thyme – if you like, you can add some dry thyme, for a fragrant, earthy taste.
Dried basil – dried basil will also bring a lovely mellow aroma and taste to your oxtail stew.
Dried parsley – a nice fresh sprig of parsley will also be great in this stew.
Oxtail seasoning – add some extra richness by including this oxtails seasoning, with its unique bold flavor.
Bay leaves – cook the stew with a bay leaf or two – it'll bring a subtle floral taste.
Tomato purée – a nice tomatoey twist brings a little extra richness to this dish. You can also use tomato paste.
Flour – you'll season the flour with a little salt and pepper, before dusting it onto the oxtail.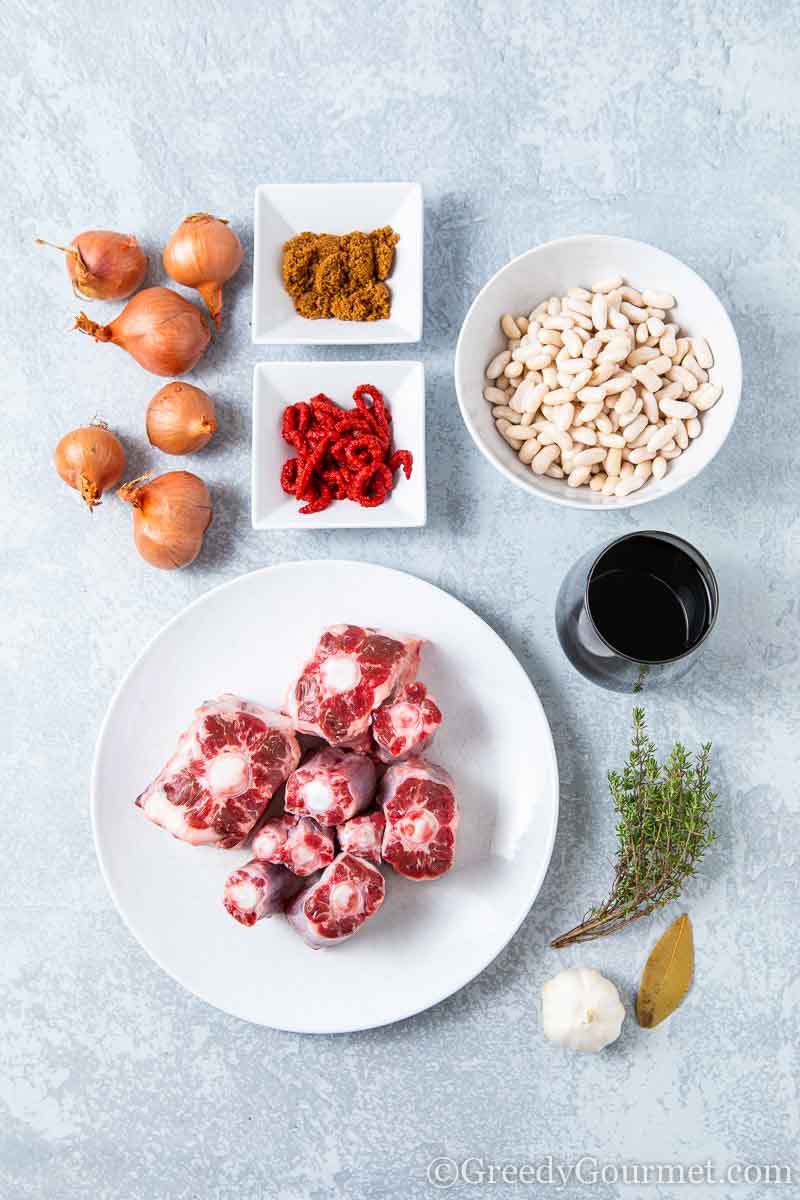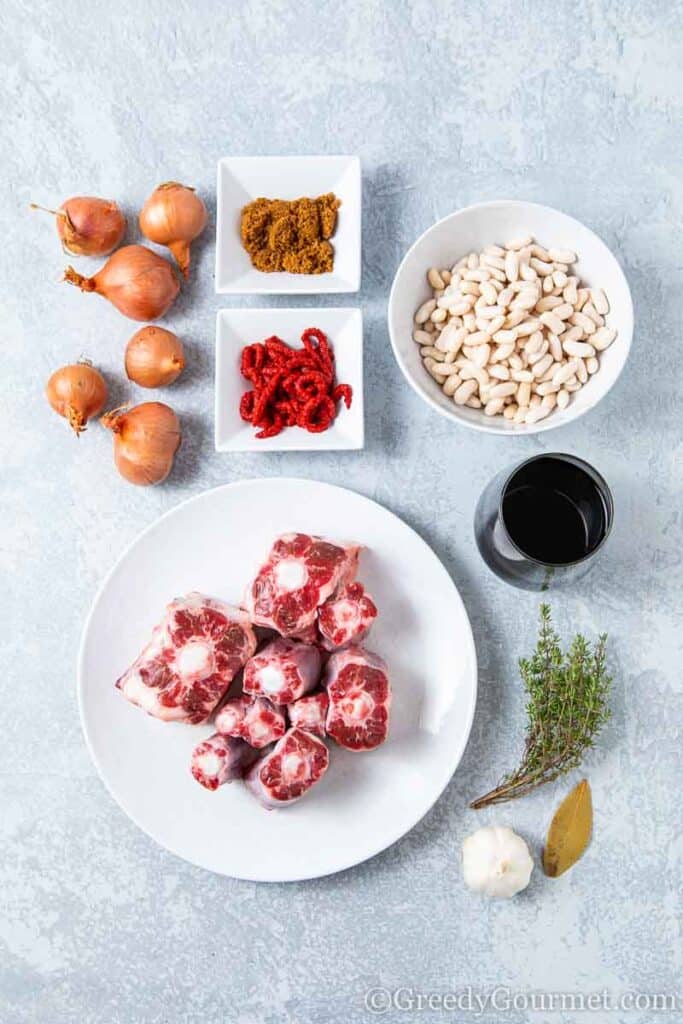 Oxtail stew recipe
The secret to the divine taste of oxtail stew is the way the slow cooking breaks down the oxtail bones and flavors the sauce of the stew. When oxtails are cooked for at least 3 hours, incredible flavors are released.
You can even use a slow cooker to achieve amazingly tender meat and an unbelievably rich sauce. If you haven't got a slow cooker, an oven works just fine.
Best herbs to use in oxtail stew
Herbs can add a beautiful subtle taste and fragrance to stews. There are lots of different herbs you can use, each with their own flavor, that'll elevate this dish.
Dried herbs work better than fresh herbs in stews. If you cook fresh herbs for longer than 10–20 minutes, the essential oils cook away, taking away the 'fresh' in fresh herbs.
Aside from the three used in this recipe, good herbs to use in this stew include oregano and rosemary. You could also use a mixture of herbs, such as Italian seasoning or herbes de provence.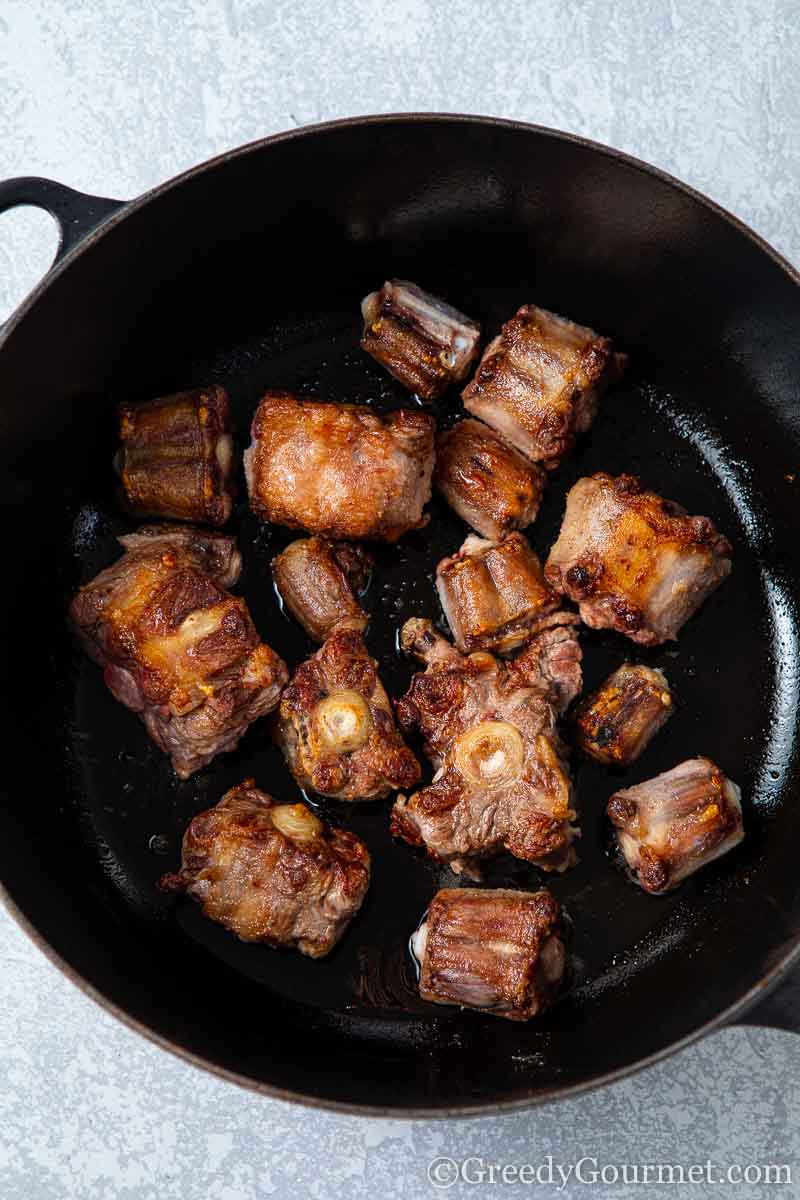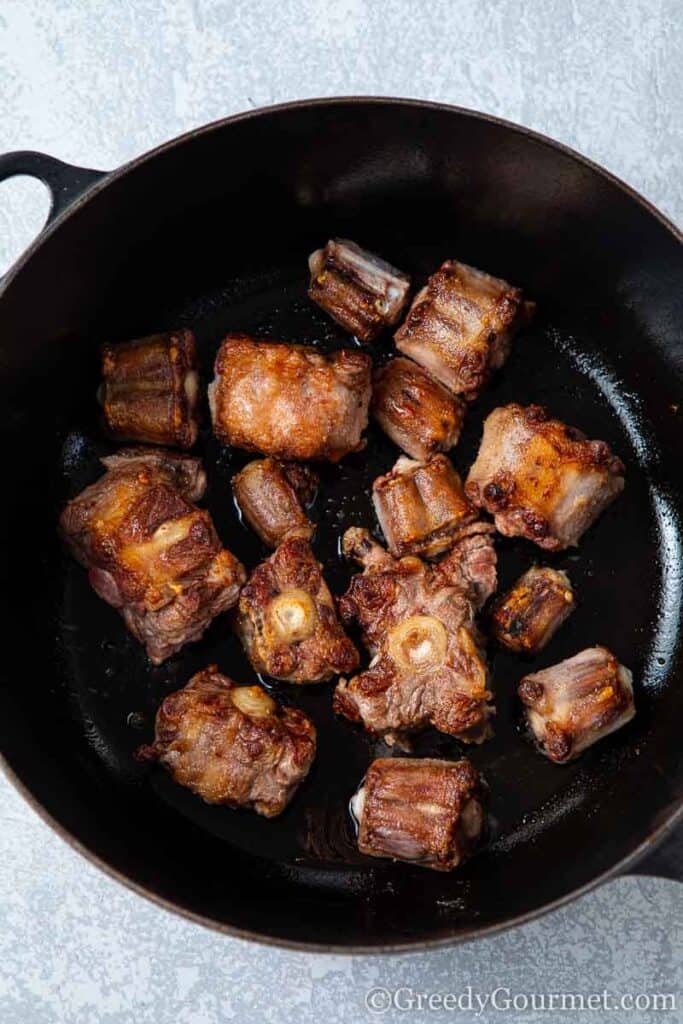 What is oxtail?
Traditionally, oxtails were the tails of oxen – hence the name. Nowadays though, more often than not it's cows' tails that are used for oxtails.
While oxtails are classed as offal, when cooked slow in the oven, or in a slow cooker, it's one of the most succulent cuts of meat you can get.
When you think of oxtails, imagine beef short ribs, but silkier, more tender and even more delicious. In soups and stews, oxtails become something rather special.
When it comes to making stews, other cuts of meat just don't cut it in comparison to oxtails. The way the marrow in the bone breaks down gives the sauce of the oxtail stew an unbelievable richness and texture.
Where to buy oxtail
Back in the olden days, oxtails were pretty much throwaway meat. Over the last few years though, their popularity has sky-rocketed, thanks in part to TV chefs singing their praises. Nowadays, oxtail is one of the most expensive cuts of meat.
You should be able to find oxtails in your local supermarket. If not, international food stores or Whole Foods might sell them frozen.
You could also try your local butcher. There might be a big demand in your area, so try and place an order in advance.
If you do manage to get oxtails from your local butcher, get them to segment the tail for you.
In what countries do they eat oxtail?
Oxtails are popular as a key ingredient in many dishes around the world. Many different cultures have an oxtail meat dish as a key part of their national cuisine.
In Jamaica, oxtails are often used in stews and soups, flavored with fresh herbs, salt and pepper, and dried spices. Check out Jamaican oxtail stew.
In Italy, oxtails are used to make a ragu that is a very popular dish. It's simmered low and slow in a rich tomato sauce. The result is an incredibly tasty dish that can be served with pasta or vegetables. Coda alla vaccinara, or roman stew, is also very popular in Italy.
In Russia, oxtails are a popular ingredient used in appetizer dishes, as well as in Russian borscht, a traditional thick, rich stew.
A thick Korean oxtail soup called kkori gomtang is popular in South Korea, usually served with rice.
In the Philippines, they cook oxtails in a peanut based stew called kare-kare, while in Cuba an oxtail stew called rabo encendido is a big deal, particularly around the holidays.
In Spain, rabo de toro is a very tasty stew. In British cuisine, as well as cuisines from countries in Africa and Asia, people use oxtails as an ingredient in soups.
Is oxtail stew healthy?
Oxtail is made up of 50% fat and 50% protein. A 100g serving of oxtail contains 262 calories and 5.56g of saturated fat.
While it's relatively high in fat - no surprise, this is a stew we're talking about here! - oxtail has plenty of health benefits too.
Oxtail is a great source of iron and protein. Just one serving contains 3.6mgs of iron and 30.93g of protein. Iron helps maintain a healthy immune system and prevents fatigue, while protein plays an essential part in creating and repairing cells in our body.
There are some other healthy ingredients that make up an oxtail stew. Herbs are well known to have anti-oxidant properties, while garlic has an array of benefits, from aiding digestion and reducing the risk of heart disease to lowering blood pressure and keeping vampires at bay. Okay, so the last one is pure speculation.
Beans are also very healthy. Whether you use haricot or butter beans in this recipe, you'll be getting plenty of low-fat, low-calorie protein – a cup of beans contains around 15grams of protein.
Beans are also a great source of fiber, which can aid digestion, lower cholesterol and protect you against heart disease and high cholesterol.
How do you prepare oxtail?
Before you cook oxtail, you'll need to give it a wash in cold water. Pat the oxtail dry with kitchen towels.
You'll also need to trim the excess fat. Hold one end of the oxtail nice and steady. Use a tea towel if you need to, just to get a better grip.
Then, using a sharp chef's knife, slice the fat off in strips, being sure to move the blade away from your body and in a diagonal downward motion.
Once you've removed some of the fat, your oxtail is ready to cook.
How do you make oxtail stew?
After you've prepared the oxtail - washed, fat trimmed off and dusted with flour - you'll cook it in the pan over a medium high heat, to lock in the flavor.
Next come the other ingredients. This recipe calls for shallots, but you can also use onion. Onion chopped finely, or shallots will add a gentle sweetness to the heavy, rich flavors of this oxtail stew.
In this recipe, I use dry haricot beans, also known as navy beans, that have soaked overnight which bring an earthy, nutty flavor.
Haricot beans are often used in stews, as well as Italian dishes like minestrone. They keep their shape and texture, making them perfect for using in salads, soups and especially stews.
You can also use butter beans. As the name suggests, butter beans are buttery little beans that bring a nice, creamy texture and extra rich taste. This is what makes them ideal for using in stew recipes.
If you like, you can also add herbs – dried herbs are best – to this dish. They will give it another flavor dimension that will sit nicely with the richness of the meat. There are lots of different herbs you can use.
Once all the ingredients are in the pot - a slow cooker can be used - you'll cover and cook on a low heat for about 3 hours. Once cooked, you can dive right in and eat it right away.
For those of you with the patience, let it cool down in the oven overnight. Your patience will reward you with the most incredible taste you've ever experienced.
Can you freeze oxtail stew?
Once you've cooked the oxtail stew, you might want to keep a batch for later. You can store it in a freezer for at least 3 months. Good luck keeping it that long!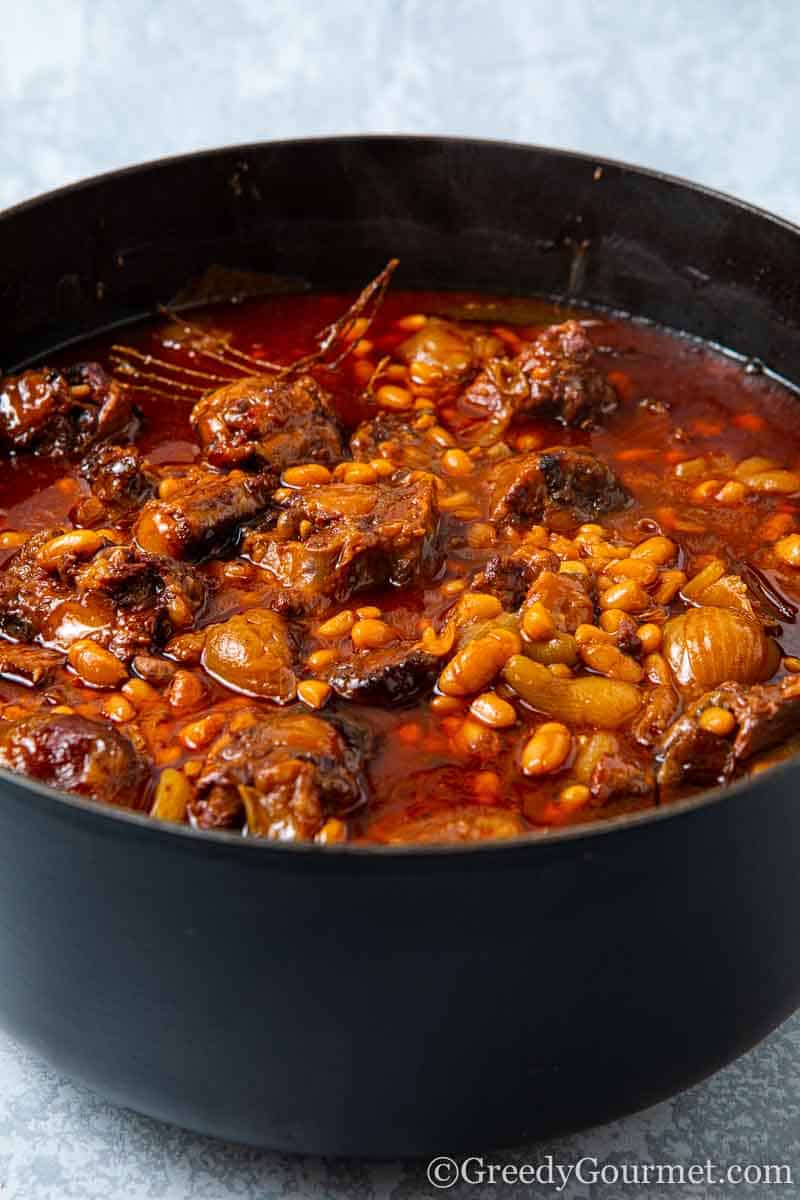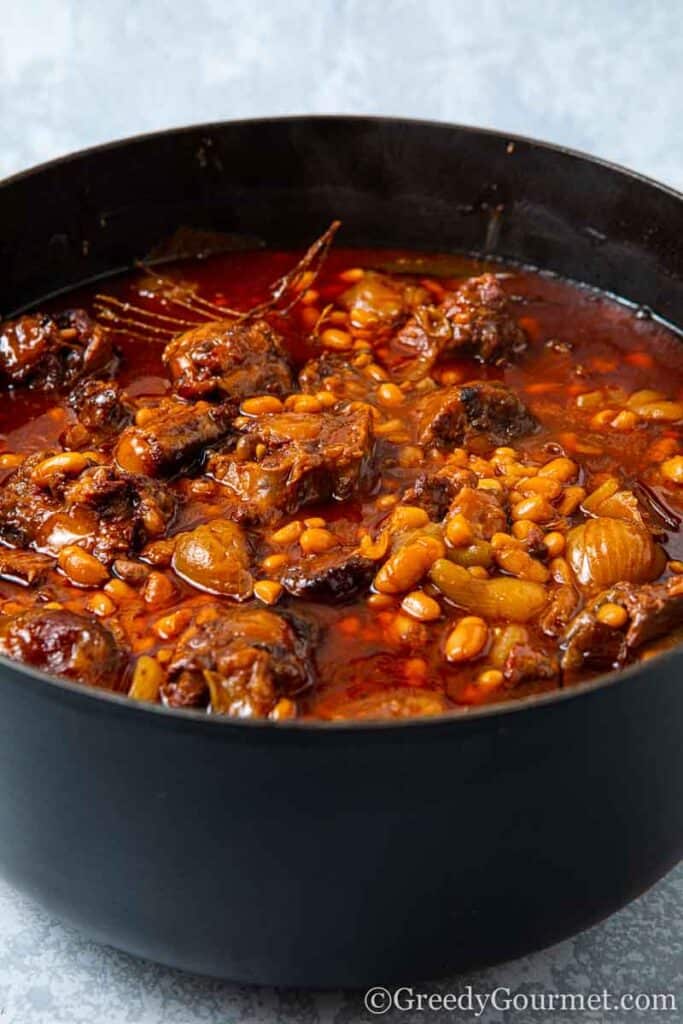 Storing oxtail stew in the fridge
Once you've bought your oxtail, you might want to know how long it will keep. If you don't want to cook it straight away, you can store it in the fridge for 3–5 days.
You can also freeze oxtail for 6 months – just make sure it's well wrapped.
More oxtail recipes
Here are more oxtail recipes for you to try!
More stew recipes
Did you make this oxtail stew? If so, what did you think? Also, let me know all about your favorite stew in the comments below.
Competition Question: What is your favourite oxtail recipe?
Print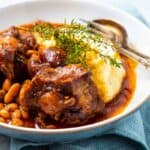 Oxtail Stew with Beans & Red Wine
---
Author:

Michelle Minnaar

Total Time:

3 hours 30 minutes

Yield:

4

servings

1

x

Diet:

Low Lactose
Description
Oxtail Stew is the ultimate comfort food in winter. This version comprises oxtail braised in red wine with beans on a low heat for a long time. The longer the better! Wait for the flavours to completely soak in and enjoy the day after cooking.
---
150g

(

5oz

) dried haricot/navy beans

1.5

kg (3lbs) oxtail, segmented
flour, seasoned with salt and freshly ground black pepper

30

ml (2 tbsp) vegetable oil

12

shallots, peeled

4

garlic cloves, peeled and crushed

250

ml (1 cup) red wine

500

ml (2 cups) beef broth/stock

60

ml (4 tbsp) tomato purée

250

ml (1 cup) boiling-hot water [optional]

45

ml (3 tbsp) brown sugar [optional]

1

bay leaf [optional]

2.5

ml (1/2 tsp) dried thyme [optional]

2.5

ml (1/2 tsp) teaspoon dried sweet basil [optional]

2.5

ml (1/2 tsp) teaspoon dried parsley [optional]
---
Instructions
Soak the beans in water overnight.
Preheat the oven to 180°C/350°F/gas mark 4.
Trim the excess fat from the oxtail.
Heat the vegetable oil in a heavy-bottomed ovenproof pan over a moderate heat. Dust the oxtail in seasoned flour, then add to the pan and colour until golden brown on all sides.
Add the shallots, garlic, wine and stock.
Mix the tomato purée with the boiled water. Add the sugar to the tomato mixture to neutralise the acidity. Give it a good stir to remove all lumps and add tomato mixture to the oxtail.
Rinse the beans thoroughly under running water and add to the meat.
Add the herbs if desired.
Bring the oxtail to a simmer and braise in the preheated oven. After 1 hour lower the heat to 150°C/300°F/gas mark 2 and braise for a further 2 hours.
For best results, switch off the oven and let it cool down overnight. When it's cooled, place the pot in the fridge to marinate further.
After it has been reheated, don't forget to remove the bay leaf.
Notes
If you love baked beans, you'll be simply blown away by the the beans in this recipe. A great idea is to add even more beans to this recipe, but you'll have to add more stock to it to compensate. Just keep checking liquid levels during cooking and top up with water where necessary. You can freeze the excess beans separately from the meat and enjoy them on toast or a baked potato.
If you are gluten-intolerant, use gluten-free flour of your choice to dust the oxtail with.
Storage: Freeze for up to 3 months. It lasts for 3 days fresh in the fridge.
The bay leaf in this recipe is optional, so if you can't get your hands on any then don't worry. Ethier try one of these bay leaf substitutes instead or simply make the recipe without it! I'm sure it'll still be yummy.
Prep Time:

30 minutes

Cook Time:

3 hours

Category:

Dinner

Method:

Braise

Cuisine:

South African
Keywords: oxtail stew, oxtail recipe, how to make oxtail stew, oxtail with red wine, French oxtail stew, oxtail and bean stew