Tender, smoky and melt in your mouth fantastic, smoked beef short ribs are quite simply out of this world! You'd be hard pressed to find a cut of meat that tastes this good.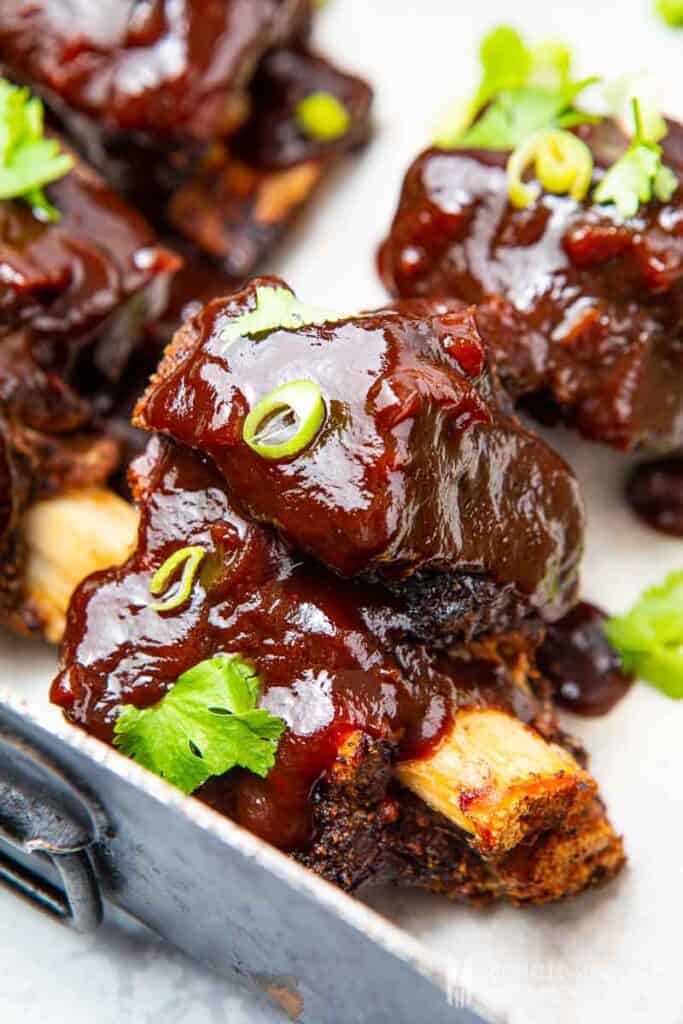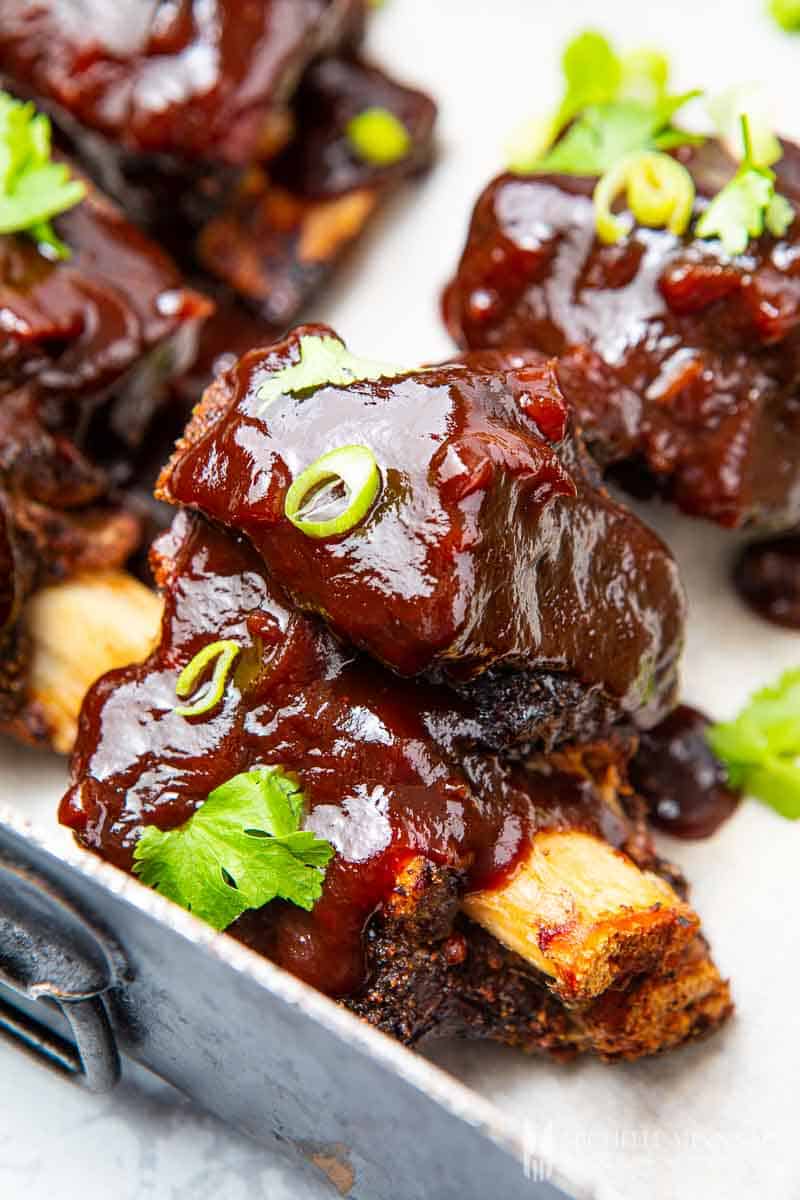 Don't believe me? Follow this amazing smoked beef rib recipe and you'll be converted!
Smoked beef short ribs
Few things in life are as satisfying as eating perfectly smoked meat on a beautiful sunny day. You've fired up the smoker, the meat is doing its thing, you've kicked back with a beer and you're whiling away the hours, basking in the afternoon sun.
Utter bliss!
The taste of tender smoked beef short ribs really is like nothing else. If you're yet to experience the sheer brilliance of cooking with a smoker, now's the time to get on board. It'll really make those long hazy summer days all the more memorable.
Once you've mastered this smoked beef short ribs recipe, you'll find your friends inviting themselves over for every single beef ribs BBQ! Neighbours will be peering over your fence, noses in the air, sniffing at the irresistible aroma of BBQ beef ribs.
So, if you like the idea of mastering the art of the smoked grill, read on to find out the best way to get smoked beef short ribs to die for!
The Meater+ meat thermometer
Ever wondered how to cook meat to perfection? Aside from the actual quality of the meat, the biggest factor is getting the temperature and cooking time spot on. For that you'll need a quality meat thermometer. Well, check this baby out!
The Meater+ takes things to the next level. It's the world's first wireless smart meat thermometer and has a wireless range of up to 50 metres. Best of all, it's so simple to use.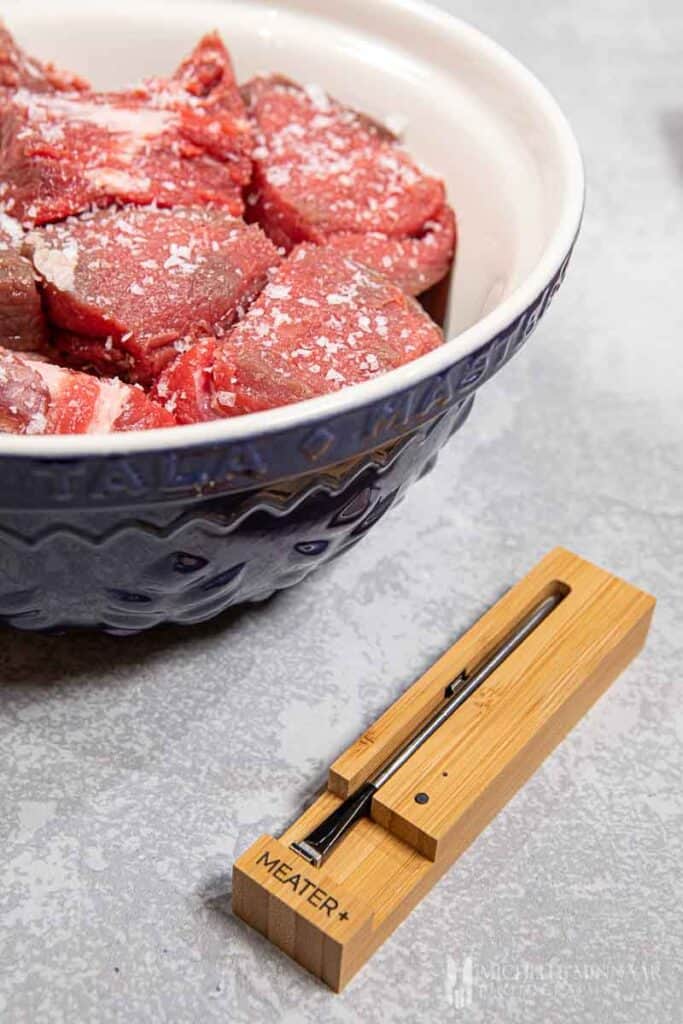 It's made with stainless steel and heat resistant ceramic, so it'll withstand the heat and be your cooking guide for many many years to come. It's really easy to store too – the little wooden storage bracket comes with metallic backing, meaning you can attach it to any metallic surface.
Everything runs through an app on your phone, which acts like a central culinary control centre. The app is so well designed and simple to use, even your grandma could cook killer ribs with this thing!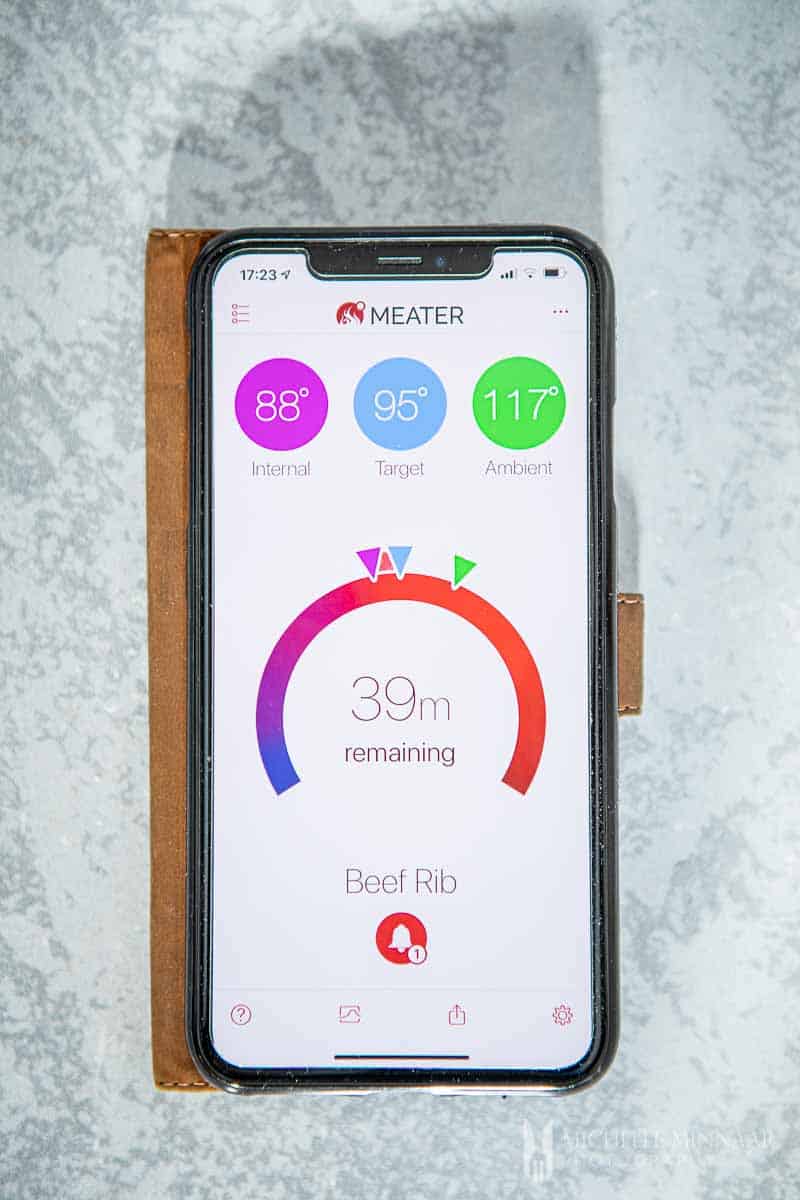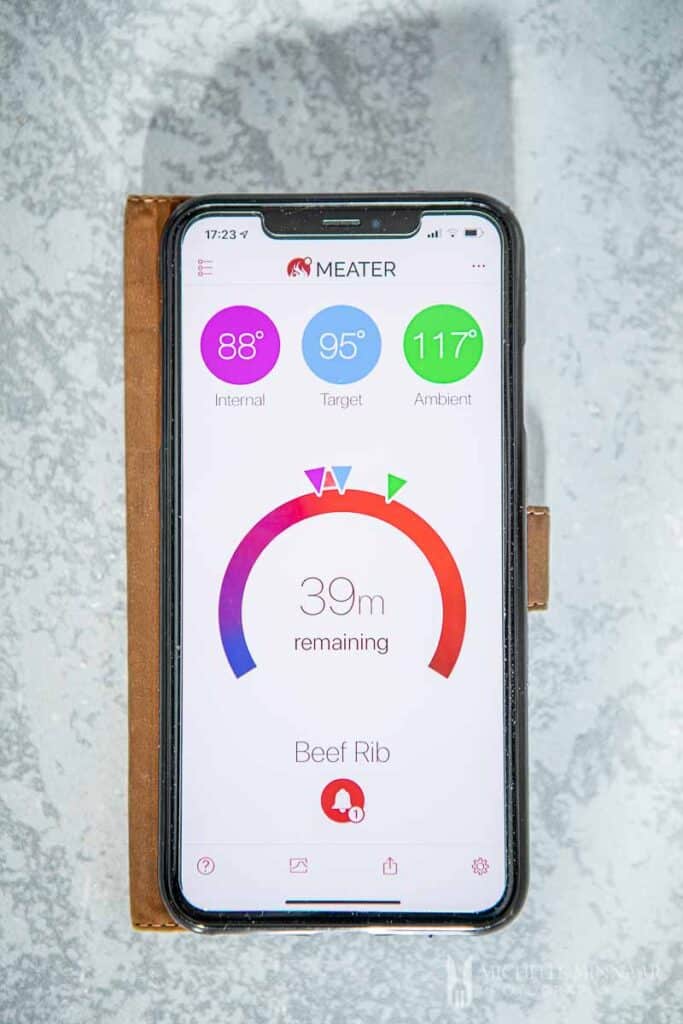 You type in your chosen meat and the Meater+ takes care of the rest – giving you the perfect final internal temperature and the estimated cook time. It then monitors the entire cooking process for you.
Through two sensors, the Meater+ monitors the ambient temperature and the internal temperature of the meat. This means you can relax (no more opening your grill smoker to check the temperature!) as your meat sizzles away.
The Meater+ app will sound an alarm 5 minutes before your meat is ready. Once cooked, it'll even give you the optimum resting time, meaning you'll end up with succulent and tasty meat every time.
And that's really what it's all about – getting amazing results EVERY time. Consistency is key – that's the secret to great cooking. This reliable little gourmet gizmo will deliver consistency, which is what makes it worth its weight in gold!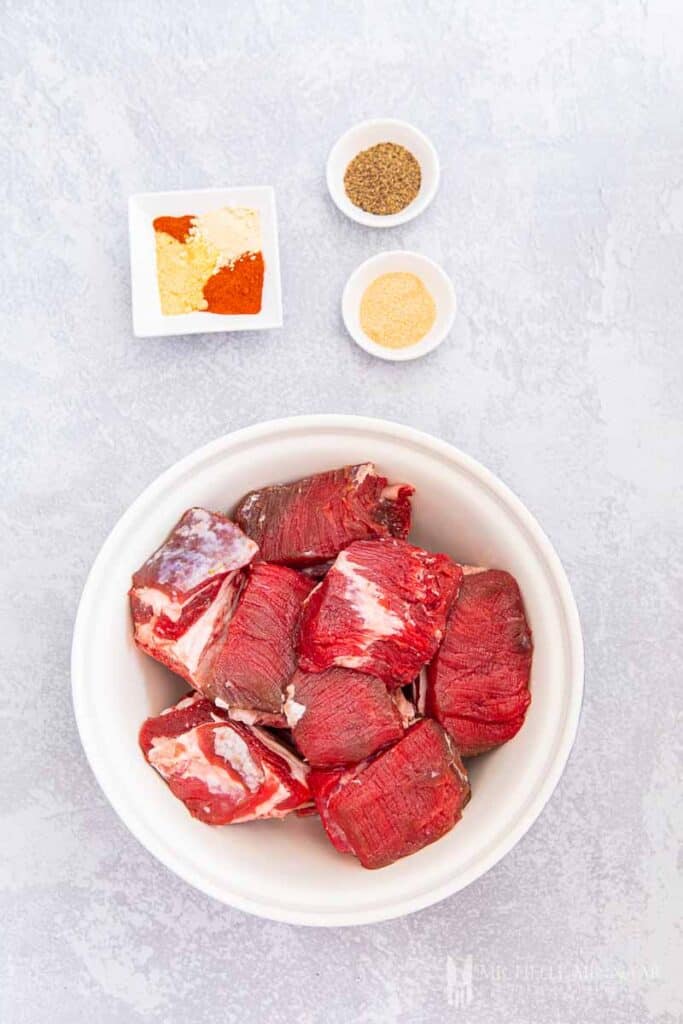 How to choose your beef short ribs
Short ribs are a really tasty cut of meat that is often overlooked. They are from the meatier end of the beef rib bones, providing dense, nicely marbled meat. This meat softens when cooked, creating a texture like velvet that melts in the mouth like butter.
When you choose a cut of beef short ribs, look for a prime, choice or wagyu cut. The marbling on these cuts will be great, which will give you perfectly tender beef that will just fall off the bones.
Always buy short ribs attached to the bones. Meat cooked on the bone will always taste better!
Also, beef short ribs cook best when you use moist heat cooking methods. This is why brining your ribs is the only way to go.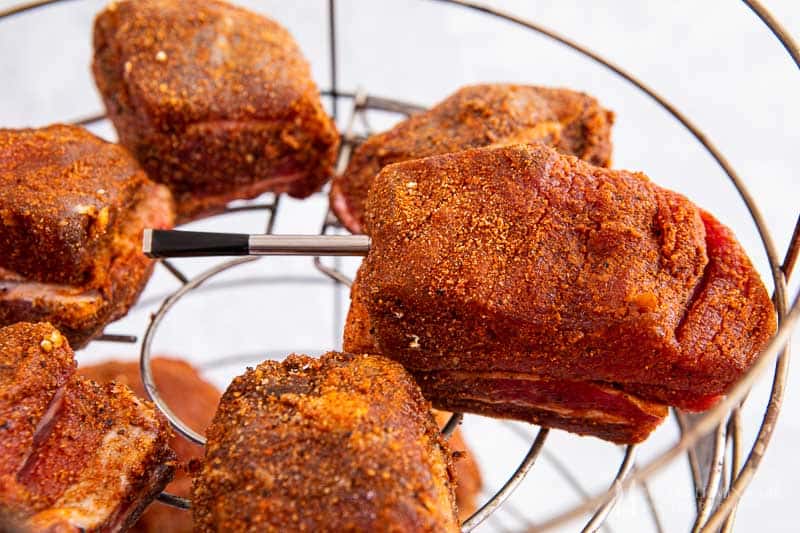 Removing the membrane from beef short ribs
Before you smoke your beef short ribs, you'll need to remove the membrane (also called the peritoneum), a piece of tissue attached to the underside of the ribs.
While the cartilage and other connective tissue of the ribs becomes soft and delicious after being slow cooked, the membrane will end up tough and chewy. Chewy like plastic.
Not only that, it'll also act as a barrier to your delicious spice rub. All those complex flavours won't be able to find their way into the meat. Lastly, the smoke from your smoker will be blocked, meaning your smoked beef short ribs will be short on flavour.
To remove the membrane, flip the ribs over so that the curved part is facing you. You'll see a thin layer of white tissue attached, like a super thin layer of plastic. This is what you need to remove.
Slide a table knife between the rib bones, separating the layer of membrane from the meat. You'll then be able to get your fingers underneath. The membrane should come away with ease.
If it feels a little slippery, use a paper towel for a better grip. Peel the membrane away – it should come off in one whole piece. Once you've removed it, you'll see just how elastic, plastic and utterly unfantastic it is.
Now you can get on with preparing those sumptuous short ribs!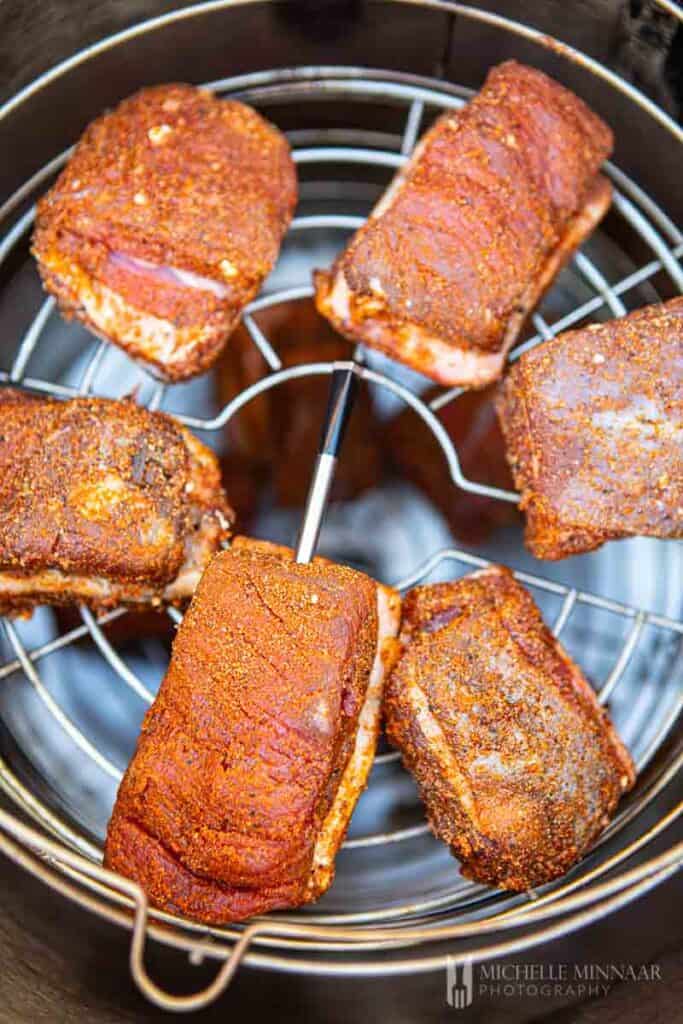 Dry brining beef short ribs
The whole dry brining process is quick and easy. What's more, it'll help keep moisture in the ribs as they cook for hours, producing tender juicy ribs every time.
Just two teaspoons of salt – kosher or sea salt – rubbed into the ribs is all that's needed. Once you've salted your ribs, place them in an airtight container and put them in the fridge. Something amazing will then happen.
As the salt gets sucked into the meat, it gives it a big boost of flavour. Not an overpowering salty flavour, but a nice subtle richness.
The salt also works to break down the proteins of the ribs, through a process that's called 'denaturing.' This enables the meat to suck up more moisture when cooking, which stays near the surface of the ribs and prevents them from drying out.
As the ribs cook, the moisture clings to the salt cells in the meat. This leads to the juiciest most tender smoked beef you've ever eaten in your life.
You've got to love science!
Spice rub for your beef short ribs
Some food just cries out for a good spice rub. Beef ribs and pork ribs are exactly the kind of food that tastes a million times better with a spice rub.
Think of your short beef ribs as a blank canvas. With a magical mix of heavenly herbs and divine spices, you can create your very own masterpiece!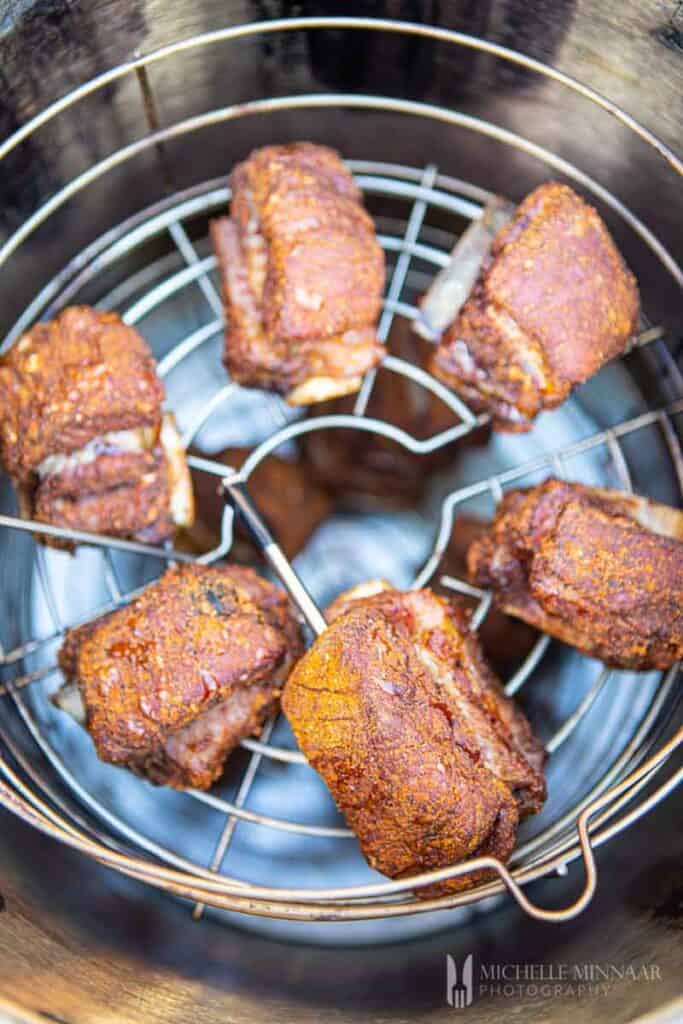 For this recipe, my spice rub is made up of ground black pepper, brown sugar, onion powder, garlic powder, paprika, mustard powder and ground cayenne pepper for an explosive combination. These beef short ribs will blow you away!
What is the best temperature to smoke beef short ribs?
The best temperature to smoke beef short ribs is 225 degrees Fahrenheit (about 110 Celsius). The temperature needs to be high enough so that the tough collagen and connective tissue around the beef ribs turns to buttery, melt in your mouth gelatin.
But 225°F is a relatively low temperature to smoke ribs. This gives the ribs a nice slow cooking time, which will make sure you get a crisp texture to your beef short ribs, while ensuring they remain juicy and tender. The last thing you want is dry beef ribs!
How long does it take to smoke ribs at 225 degrees?
To get perfectly cooked beef short ribs at 225°F, you'll need to smoke them for about 4 hours. Of course, your Meater+ thermometer will do all the work for you, constantly monitoring the internal temperature and telling you the exact number of hours your smoked beef short ribs will take.
But set aside 4 hours for the job. Once cooked, your Meater+ will give you the exact resting time. Then, it's all down to you… so dig in!
Best wood to use for your smoker
There are many types of wood you can use for your smoker. Each has their own character and will add a certain subtle flavour.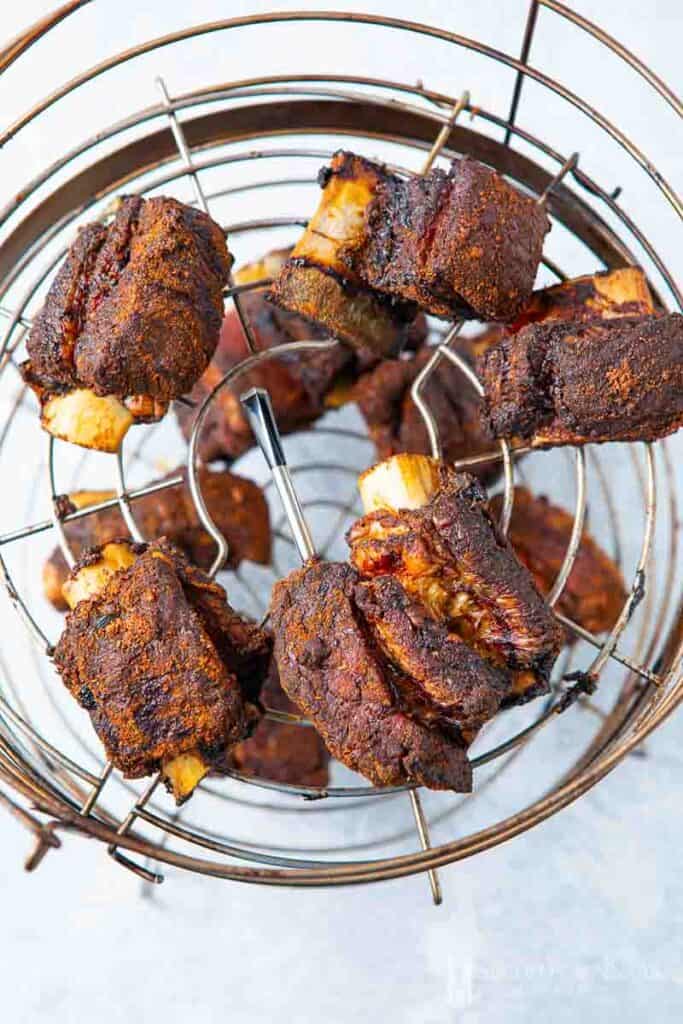 Oak – our choice of wood for this beef ribs recipe, oak is the standard chip for smoking food. The flavour is nice and subtle, and rarely overpowering.
Hickory – a very versatile wood for smoking, hickory has a rich aroma with a hint of sweetness, a little like smoked bacon.
Maple – sweet and mild, maple adds a light smokiness to meats. Perfect for pork ribs.
Mesquite – bringing a very intense flavour, mesquite needs to be used sparingly. But it sure packs a punch and can really create a unique smokiness.
Cherry – mild and fruity, cherry wood can really take chicken, turkey and ham to the next level. When combined with a wood like hickory, the results are heavenly!
Pecan – bringing a nutty sweetness, pecan goes great with briskets, roasts and ribs. Combine with a harder wood for a great blend.
Apple – nice and mild with a delicious mellow fruitiness, apple wood is best suited to smoking chicken and pork.
Best BBQ accompaniments for smoked beef short ribs
Gluten free barbecue sauce – simple but effective, this classic barbecue sauce will add a zing to every mouthful. So, if you've never made your own barbecue sauce, put down the bottle and check out this easy recipe. You'll never look back!
Vegan coleslaw – creamy and crunchy, this vegan coleslaw is the perfect complementary dish for those ultra tasty bbq beef ribs. Much healthier than the standard mayo heavy coleslaw, my vegan coleslaw won't leave you feeling quite as guilty but still tastes great.
Roasted jerusalem artichokes – when roasted, artichokes take on a completely different character. A rich complex taste and a crunchy texture makes them the ideal side dish at a barbecue. Serve them up with this beef ribs recipe for a marriage made in heaven!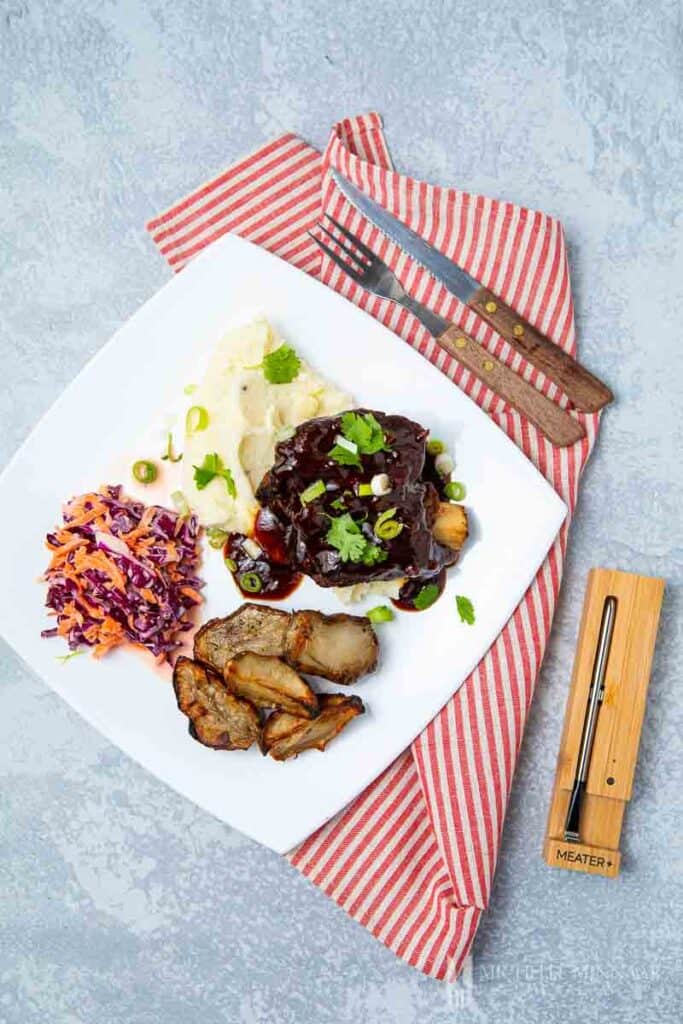 More amazing smoked recipes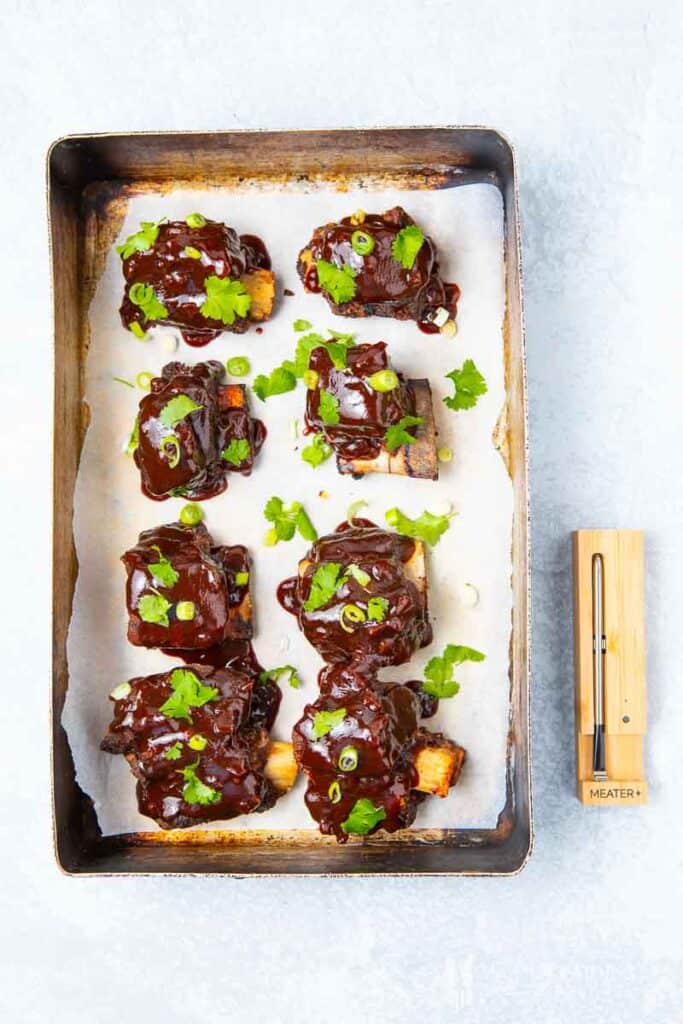 What would you cook with the Meater+?
Print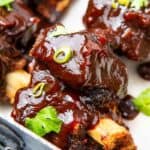 Smoked Beef Short Ribs
---
Author:

Michelle Minnaar

Total Time:

4 hours 10 minutes

Yield:

8

Diet:

Gluten Free
Description
Smoked Beef Short Ribs take little preparation and effort. Smoke at a low temperature for 4 hours and you have have meltingly tender meat. 
---
Dry Brining
2

kg (4lbs)  individual beef short ribs

10

ml (2 tsp) kosher or sea salt
Spice Rub for Ribs
---
Instructions
The day before you intend to smoke the ribs, dry brine them first by sprinkling all the surfaces with salt. Place in an airtight container, then in the fridge to brine overnight.
Preheat the smoker to 110

°

C / 225

°

F. 

Mix all the spices for the rub in a bowl, then proceed to rub them all over the ribs.

Stick the Meater+ meat thermometer in the thickest part of one rib.

Place the short ribs in the smoker. 

Fill up the wood chip compartment with oak wood chips.

Program the Meater+ app on your phone to alert you when the meat reaches 95

°

C / 203

°

F. 

Cook for 4 hours, or until Meater+ alerts you that the meat is done. 

Remove the short ribs from the smoker and let them rest for 10 minutes before serving. 

Baste with your favourite barbecue sauce and sprinkle with spring onions and cilantro. 

Serve with your favourite BBQ accompaniments. In this case it was with horseradish mash, roasted jerusalem artichokes and coleslaw. Enjoy!
Notes
If you want to go as juicy as possible, keep the rib slab intact while cooking. The downside to this is that not every surface will have the delicious rub on it. Your choice!

If the butcher hasn't done so already, remove the membrane from the bone side of the ribs. If not, score them.

In this case, I used oak chips. Feel free to play with different types of wood, such as beech, apple or hickory.
Prep Time:

10 minutes

Cook Time:

4 hours

Category:

BBQ

Method:

Smoke

Cuisine:

American
Keywords: smoked beef short ribs, beef short rib recipe, bbq beef recipe, how to cook beef short ribs
PIN THIS RECIPE!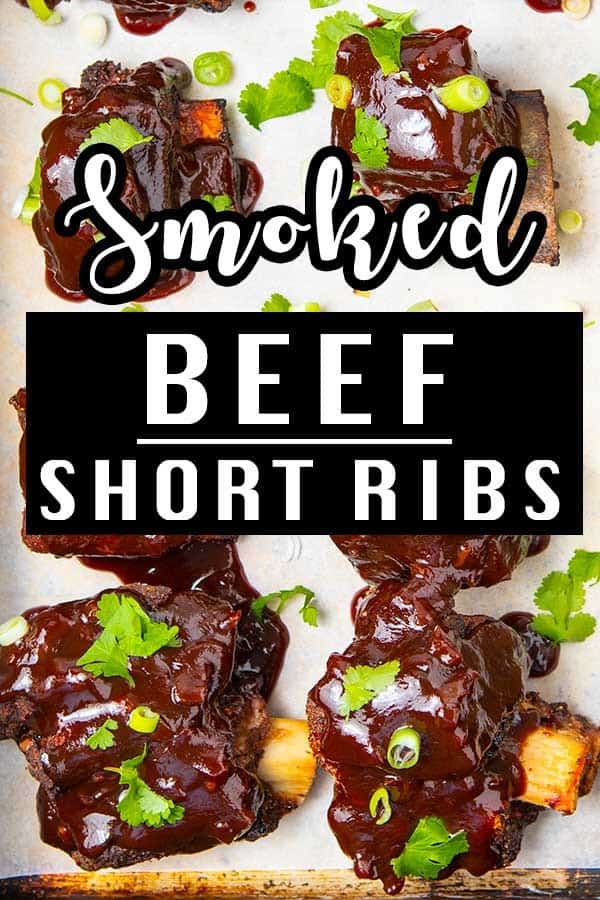 P.S. This is a sponsored post.