One of my favourite French recipes is a lobster bisque. A simple recipe, yet packed with complex flavours, a lobster bisque is a fine choice when you are looking to cook to impress.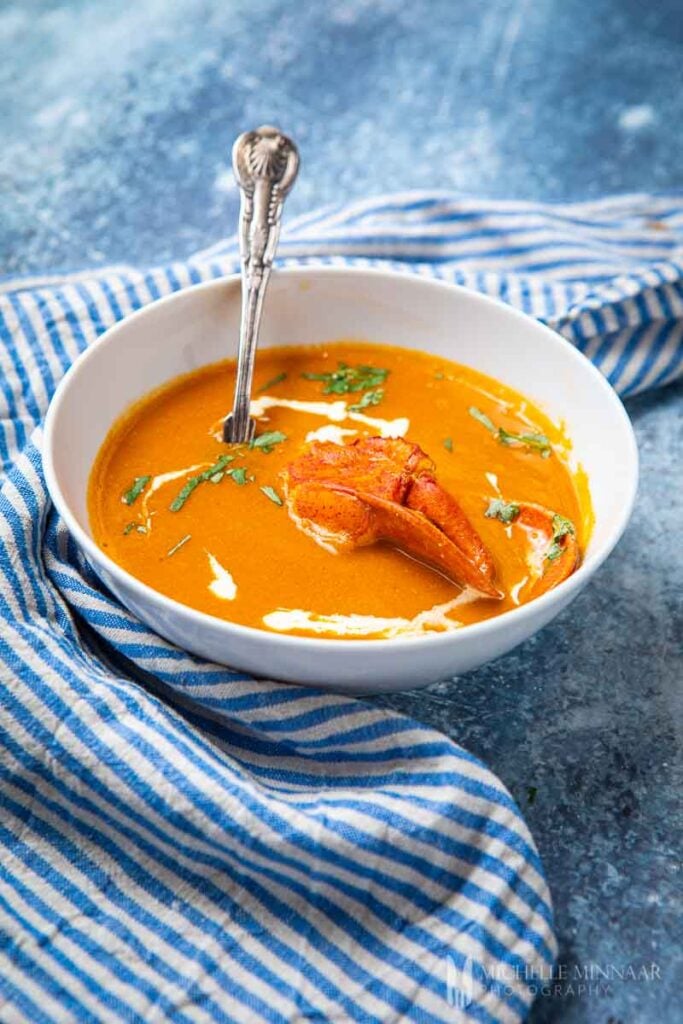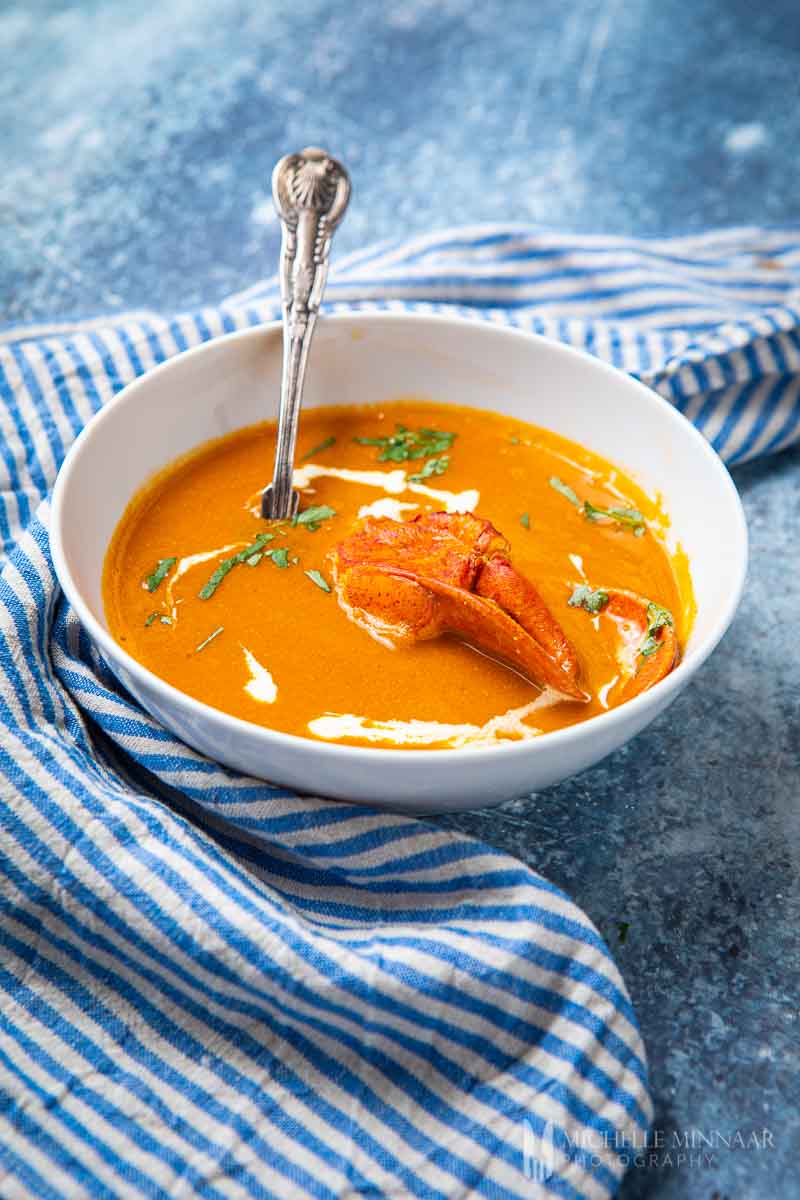 Although cooking with lobster might sound expensive, you don't necessarily have to have such a large budget for completing this recipe. You can easily use a frozen lobster. Better yet, you can also substitute the lobster with shrimp or prawns. Both ingredients work very well.
Nevertheless, this lobster bisque is divine. Serve it with some cooked lobster meat, a baguette and a beautiful glass of mature white wine or rose wine. So, what are you waiting for?
Come and learn how to make this easy lobster bisque recipe. Have fun.
products you need for this recipe
Here is a list of the top things you will need to complete this lobster bisque recipe. Take a look below and see which items you are still missing:
lobster bisque recipe
In total, this lobster bisque recipe will take you one hour and fifteen minutes to prepare and cook. This is indeed a quick and easy bisque recipe, bearing in mind that in France, sometimes, bisques are known to cook for hours to extract the maximum amount of flavour possible.
In any event, this elegant and refined recipe will only take a little over an hour to complete.
For those of you who are trying to cut down on your meat consumption, cooking pescatarian recipes like this one is a great way to start your journey towards a healthier lifestyle.
That being said, lobster is a nutritious and delicious ingredient with which you can cook up some excellent recipes.
For instance, check out these incredible recipes I've made with lobster:
lobster gratin - a creamy gratin recipe with chunks of cooked lobster
lobster rolls - a beautiful starter recipe with a creamy lobster salad filling
and lastly lobster benedict - for a five-star gourmet-style breakfast to impress the likes of anyone
As you can see, lobster isn't just about its meat. It brings a certain richness and enhances a dish with complex flavours. Do you have a favourite lobster dish in mind?
If you haven't tried lobster, then this lobster bisque is the prefect dish to turn you into a lobster lover.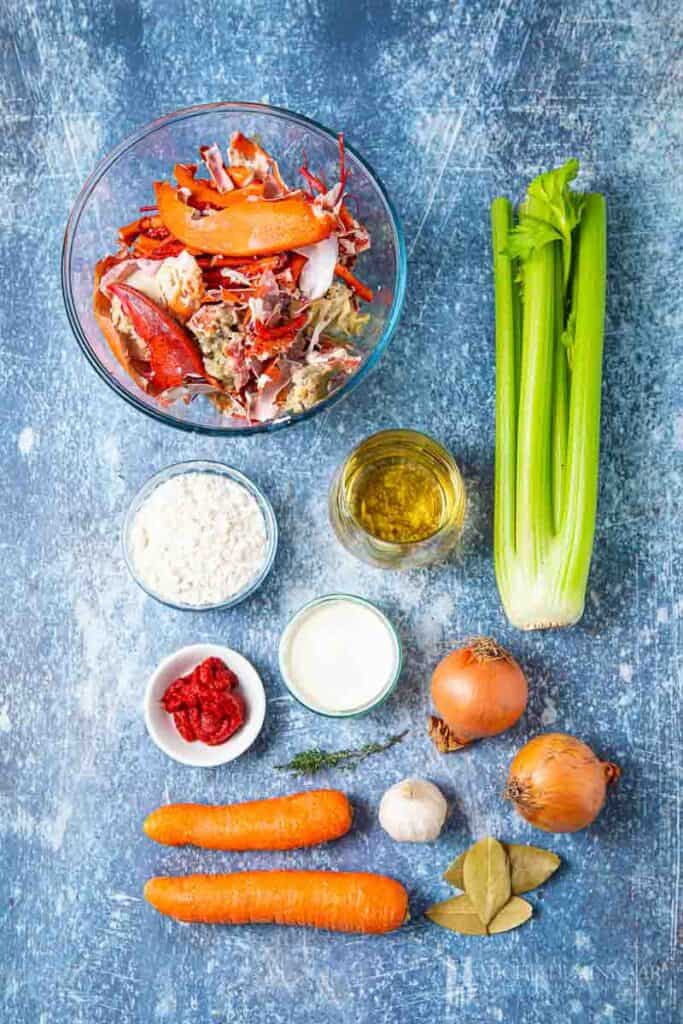 lobster bisque from shells
There are quite a few ingredients which you will need to complete this lobster bisque recipe. However, the main ingredient from which you will need to extract the most flavour is the lobster shells.
This lobster bisque recipe calls for the shells of two lobsters. The shells of one lobster wouldn't complete this recipe. You will need to procure two for this reason.
That being said, as mentioned above, you can use one lobster to make another delicious lobster recipe. Just don't throw away the shells as they can be used in a sustainable way in a bisque or a seafood broth.
Once you've prepared your lobsters and taken out all the flesh, you will need to pan fry the shells. The caramelisation of the shells will release an intense seafood flavour as well as all those irresistible aromas.
Handy tip: Don't crowd the lobster shells when you are frying them. If you crowd them, they will not caramelise and brown properly. If you spear them out, they will start releasing their flavours.
Again, please don't forget to store the shells for this step. Don't throw them away as it would be an incredible waste.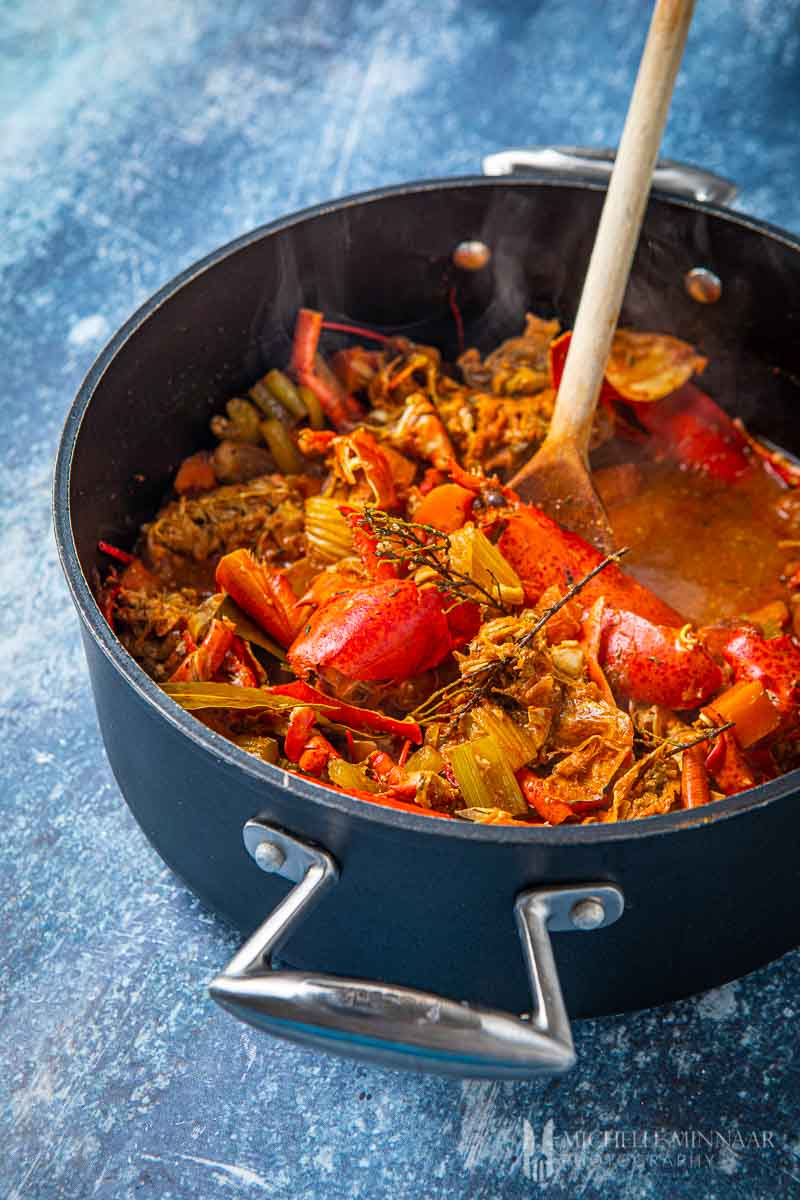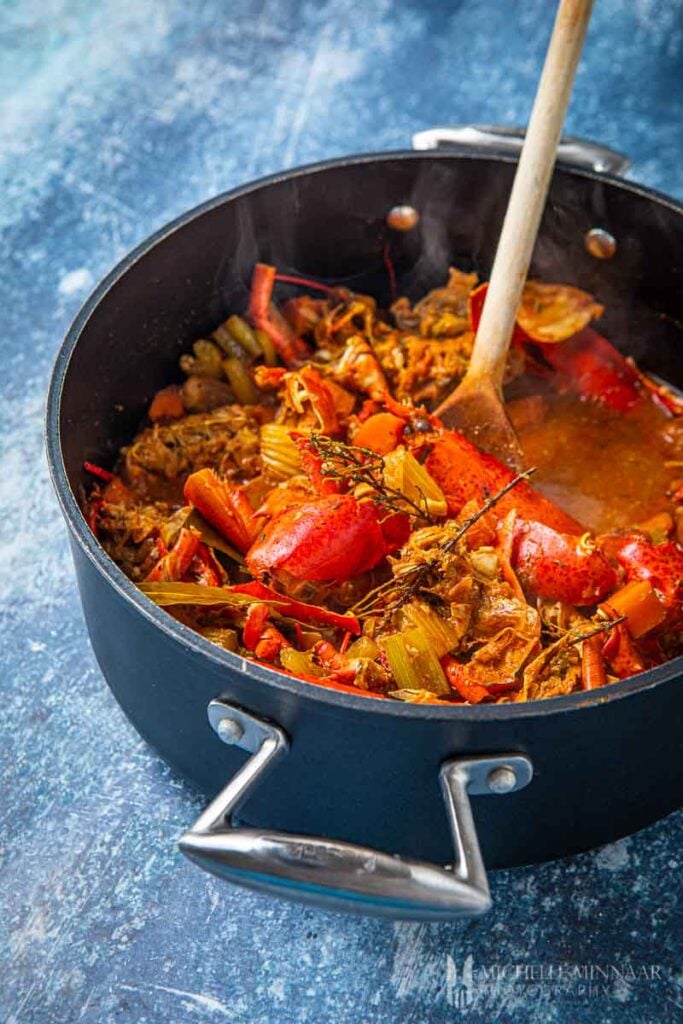 lobster bisque with sherry
One ingredient that ties everything together in this lobster bisque recipe is the addition of sherry. Don't worry about the alcohol, it will cook off eventually.
Sherry is a fortified wine, which originates from Jerez de la Frontera, in Spain. Mostly, it is consumed as a digestive or an aperitif. However, chefs have discovered its multiple benefits as regards culinary applications.
As a result, sherry has been a component of many sauces. In short, it intensifies the flavours in a sauce by fusing all the flavours together, which is why I often prefer to add sherry when I'm making sauce. For instance, sherry can be added into these recipes:
You can also add sherry to intensify the flavour of a dessert.
Handy tip: There are multiple types of sherry. As sherry matures, the flavour and colour changes. Hence, it is essential that you select the right type of sherry for this lobster bisque.
I recommend going for the Fino sherry or the Manzanilla sherry. These two pair exceptionally well with seafood (especially white fish).
how to cook bisque?
There is one pivotal step in cooking bisques like this lobster bisque recipe. If you do this step wrong, all your preparation efforts will have gone to waste.
This involves the addition of cream. Make sure to add the cream on really low heat. Otherwise, you risk that the lobster bisque will split.
My recommendation would be to take the bisque off for 3-5 minutes and allow it to cool down. Only then add the cream in slowly and stir.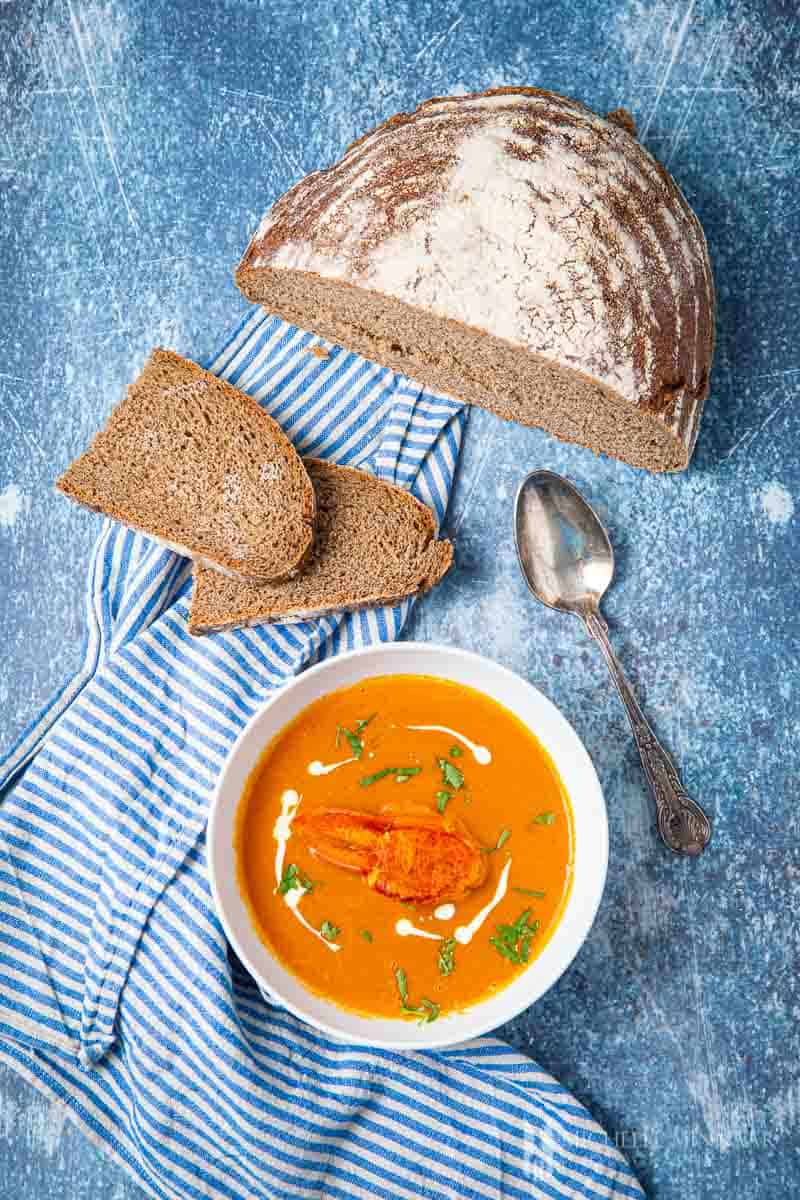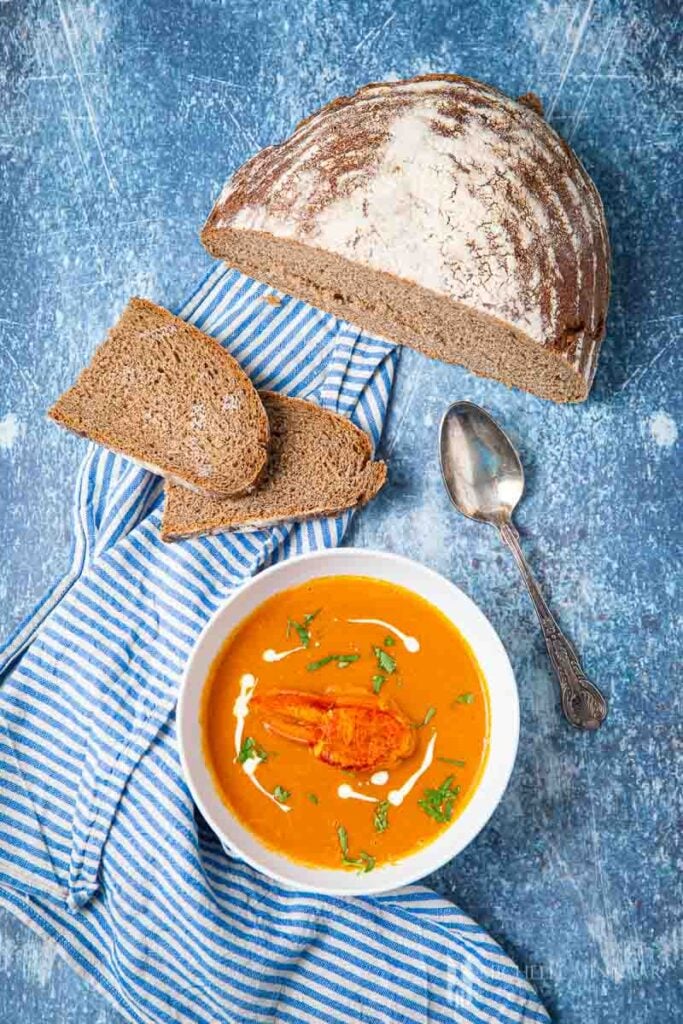 best bisque toppings
The best toppings for this lobster bisque are:
cream or creme fraiche
cooked lobster meat (crab also works)
you can also pan sear some scallops and toss them into the lobster bisque
fresh herbs like parsley, watercress or valeriana salad
Remember to serve the bisque with a piece of fresh bread or baguette.
For a posh smoked salmon starter, check out salmon terrine.
How would you serve your lobster bisque? Would you add some cooked lobster inside? Let me know in the comments below.
Print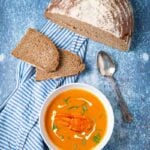 Lobster Bisque
---
Description
Learn how to make this classic French lobster bisque recipe from scratch. A perfect starter. Find out how to make the most of lobster shells!
---
60

ml

(4 tbsp) butter

1

onion, peeled and chopped

2

garlic cloves, peeled and crushed

2

carrots, peeled and chopped

2

celery stalks, washed and chopped
lobster shells from 2 lobsters

30

ml

(2 tbsp) tomato paste

3

thyme sprigs

1

bay leaf

400

ml

(1 1/2 cup) white wine

1

ℓ (4 cups) seafood or fish stock

125

ml

(1/2 cup) double cream

450

g

(1lb) cooked lobster meat

60

ml

(4 tbsp) parsley, washed and finely chopped
---
Instructions
Melt the butter in a large saucepan.
Gently fry the onion, garlic, celery and carrot and cook until softened, which takes about 5 minutes.
Turn up the heat, tip in the lobster shells and stir vigorously for 2 minutes.
Pour in the wine, giving it a stir then let it bubble until the liquid has halved.  
Stir in tomato paste, thyme and bay leaf, then pour in the stock.  
Let the soup simmer slowly for 30 minutes, allowing the flavours to infuse. 
Tip the contents into a powerful food processor and blend until the shell pieces are tiny. 
Cover a big bowl with a large piece of muslin. 
Pour the contents into the muslin, then squeeze out every last drop out of the shell mixture and discard the leftovers. You will now be left with a smooth soup.
Return the soup to a saucepan and add the cream and lobster meat. Let the soup heat through, then divide it between 4 bowls. 
Sprinkle parsley on top and serve immediately with fresh, crusty bread. Enjoy!
Prep Time:

30 minutes

Cook Time:

45 minutes

Category:

Soup

Method:

Boil

Cuisine:

French
Keywords: lobster bisque recipe, lobster bisque from shells, french lobster recipe, french soup recipe