Fresh and zesty with a little bit of bite, this bok choy stir fry recipe makes for the perfect midweek dinner.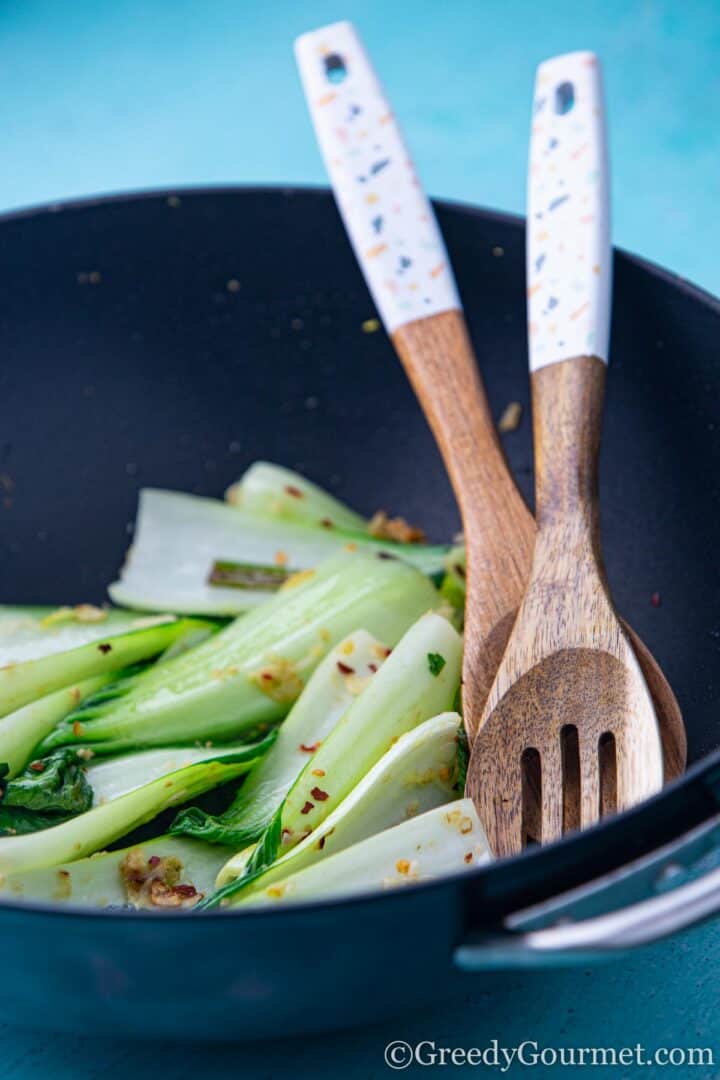 It's super quick from start to finish and is a pure people pleaser! So, you want to know how to whip up this delicious, gluten-free stir fry? Read on...
Products you need for this recipe
Here are a few essential items you'll need for this stir fry: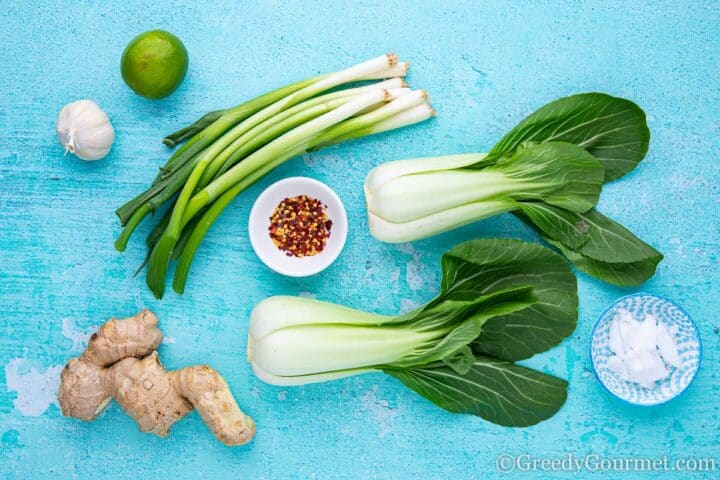 Bok choy stir fry recipe
This is one of those dishes that's so quick to make and tastes so good, you'll wonder why you've never made it before.
Not only is it quick to make and super tasty, it's adaptable too. Make it as a main for a light weekday lunch or dinner, or as a side dish for your favorite Asian main meal.
It's very healthy too! All the ingredients are fresh and revitalizing – bok choy, ginger, spring onion, garlic, lime, coconut oil… how about that for an ingredients list?
Not only is it vegan and keto-friendly, it's also gluten and lactose free. No sauces with additives, just pure delicious fresh ingredients. This recipe is all about good food that makes you feel great.
Delicious healthy ingredients, cooked together in one pan in less than 5 minutes. What's not to like?
So, whether you're looking for a side dish for your Chinese food feast, searching for the perfect appetizer for your dinner party or on the lookout for the ideal light lunch recipe, this is the one for you.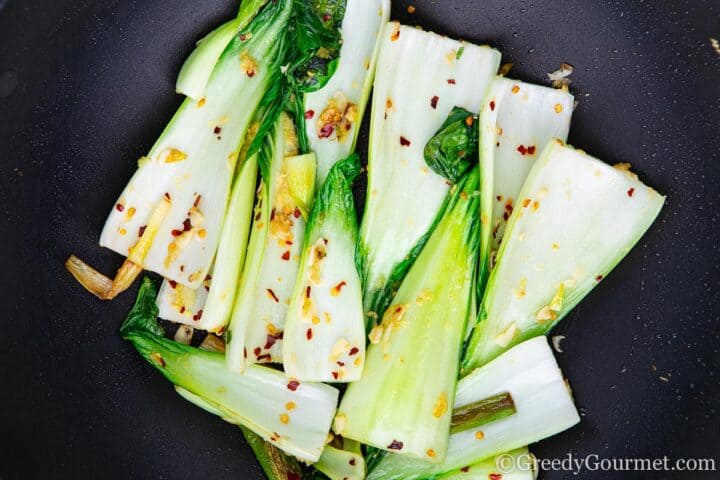 What is bok choy?
Sometimes known as "pok choi","pak choi," "chinese cabbage" or "Chinese celery," this leafy green belongs to the mustard family, along with broccoli, kale, turnip and cabbage.
It originated in Asia, where it has been grown for thousands of years. In fact, 6,000 year old seeds have been found in China's Yellow River Valley, hinting at just how embedded bok choy is in Chinese cuisine.
It was introduced to America by Chinese immigrants in the nineteenth century. It's now grown all over the world.
What part of bok choy do you eat?
The entire bok choy plant is edible, from the stems to its leaves, and it's absolutely delicious.
What does bok choy taste like?
It's mild and fresh, with that grassy vegetable flavor that you get with cabbage and celery. The thing that really sets it apart is the peppery kick that you get after the first bite.
It's also got a great crunchy texture which adds to the satisfaction.
What's the difference between baby bok choy and bok choy?
Baby bok choy is basically the same as the standard kind, although it has been harvested earlier. This leads to smaller leaves and a more delicate sweeter taste.
Both are interchangeable, so you can use either for this recipe. I prefer the larger kind to baby bok choy in stir fries. For me, baby bok choy is best used in salads, where the delicate, sweet flavor has a chance to shine.
If you've never used baby bok choy in a salad, I highly recommend it. You can use it in place of just about any dark leafy green.
When is bok choy in season?
It's mostly harvested between late summer and early fall/autumn. This is because it doesn't like too much heat and is best when the summer temperatures have dropped.
In fact, it grows well in colder conditions. It can grow from fall/autumn right the way through to the spring. This makes it good pretty much all year round.
How do you store bok choy?
It's best to keep it in the refrigerator until you are ready to use it. Don't wash it until you are ready to use it; this way it will stay fresh for longer.
It will last in the refrigerator for up to 6 days.
Can you freeze bok choy?
If you want to keep it fresh for longer, you can even freeze bok choy. You'll need to flash freeze it first, to prevent the leaves from sticking together. 
To do this, place individual leaves on a baking sheet. Spread them apart so they don't stick together. Freeze for around 2 hours or until properly frozen. Then, place them in an airtight freezer-safe container.
How do you prepare bok choy for stir fry?
Preparing bok choy to be stir fried is a simple process:
Chop the bottom part of the bok choy using a sharp chef's knife. You want to chop about an inch from the tip. Wash both the leaves and stalks. 
Chop each bok choy leaf lengthwise, down the center of the stalk.
Now chop each leaf horizontally down the center. 
You now have quartered bok choy leaves, ready for stir frying
You can also separate the leaves from the stems and chop both into smaller, bite-size pieces, so that they cook faster. I prefer to leave the pieces larger when adding them to a stir fry.
Can you eat bok choy stems?
Yes, you absolutely can eat bok choy stems. The stems are delicious and very good for you. Just remember to remove the root part of the stem at the bottom.
Is bok choy good for you?
Like most leafy greens, bok choy is very good for you. It's a great source of essential vitamins, including vitamin C, A and K, and is packed full of minerals such as calcium, magnesium, potassium, manganese and iron.
In fact, it comes second on the CDC's list of powerhouse fruits and vegetables.
Is bok choy keto?
Bok choy is one of the most keto-friendly vegetables you could hope to find. It contains 0.8g of carbs and only 9 calories per serving. 
So, if you're looking for a keto-friendly vegetable side or starter, this bok choy stir fry recipe is the dish for you!
What's the best pan to use for stir fries?
It's always best to go with a wok for stir fry dishes. That's because they're designed specifically for hot, fast cooking.
The sloped sides allow you to get an even cook throughout the dish. When some ingredients are already cooked, you can push them towards the outside, while the ingredients in the center continue to cook on a high heat.
Woks also require less oil and can contain splatter, again due to their sloped sides.
If you don't have a wok, you can use a large, heavy bottomed, cast-iron frying pan.
What if I can't find coconut oil?
Coconut oil is a great oil for cooking this bok choy stir fry. Not only does it bring a wonderfully subtle coconut flavor, it also has a high burning point. This means it works really well when cooking food fast and hot.
You should be able to find coconut oil in all good supermarkets and grocery stores. If you can't find it, I recommend sesame oil or a quality vegetable oil. You should check out my coconut oil substitute guide for a list of other suitable alternatives.
Is there anything that I can substitute for bok choy?
It could be that you can't find bok choy or it's not quite to your taste. Luckily, there are a few alternatives you could try that would work well with the other ingredients in this bok choy stir fry recipe.
Take a look at my bok choy substitute guide to get some ideas of what you can use in place of bok choy in this recipe.
Do I need to use spring onions?
I think they make a big impact on the dish, bringing a subtle peppery sweetness. You can replace them with green onions, scallions or shallots, depending on your preference.
What goes well with bok choy?
If you want to add extra flavor to this bok choy stir fry, you can dress it with soy sauce, coco aminos, sesame oil, oyster sauce or shoyu. Toasted sesame seeds or chopped cashews would also give your bok choy stir fry an extra element of flavor.
You can also keep it simple and serve it with brown rice and some soy sauce, or with noodles and soy sauce. 
If you want to use this bok choy stir fry as a side dish, I recommend pairing it with any of the following:
Orange peel chicken – an instant classic, this is packed full of flavor
Japanese miso eggplant – so much flavor! 
Shrimp in oyster sauce – deliciously succulent shrimp
Vegan chop suey – a wonderful vegan dish that's healthy, fresh and very tasty
Tofu in black bean sauce – a classic Chinese vegan recipe
Salt and chili chicken – you have to try this! Very easy to make and very hard to resist
Edamame Salad - packed full of protein, incredible flavour and takes just five minutes to make!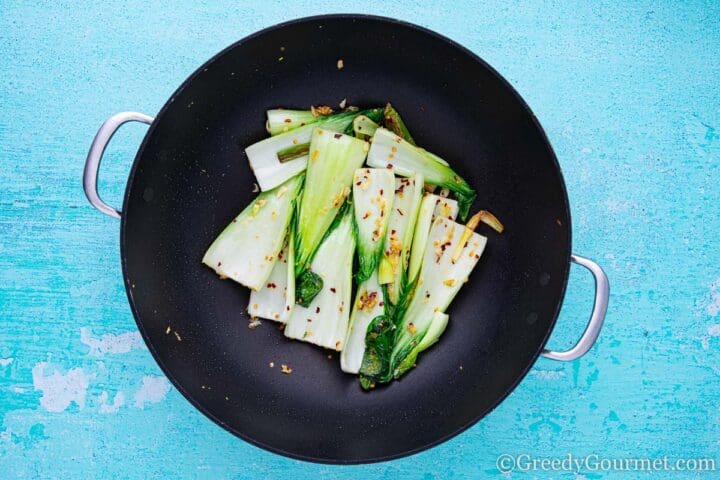 More stunning stir fries
Start the meal with Salt and Pepper Spring Rolls, then stir it up! Don't stop with this bok choy stir fry… check out these other quick-as-a-flash, fantastically tasty stir fry recipes. Which one takes your fancy?
Print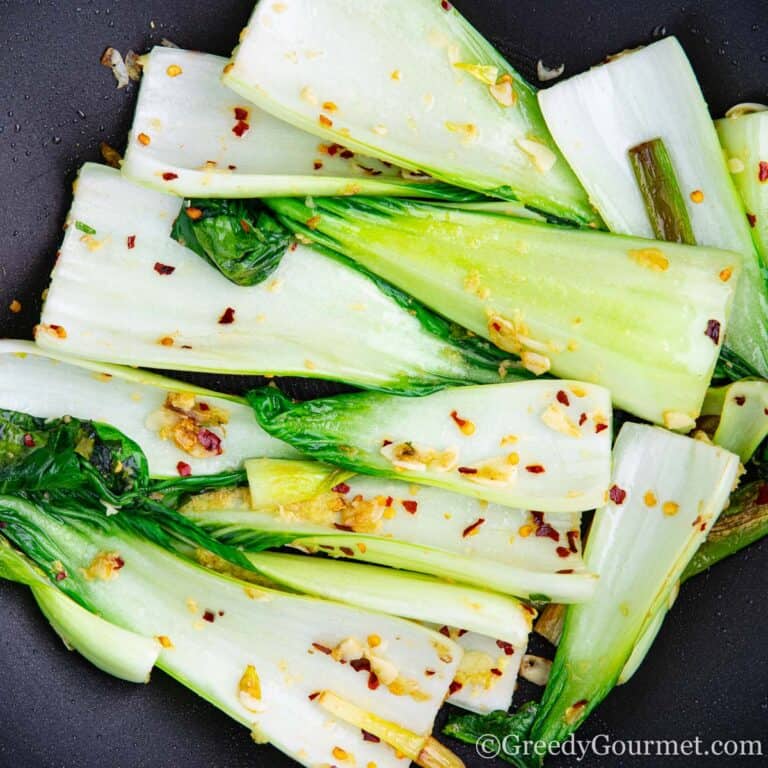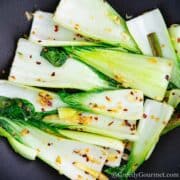 Bok Choy Stir Fry
---
Description
Learn how to make this tasty Bok Choy Stir Fry side dish. Fresh bok choy cooked with a zesty lime and chilli flake topping.
---
15

ml

(1 tbsp) coconut oil

2

bunches spring onions, trimmed and cut into 10cm (4in) segments

4

bok choy, roots trimmed and quartered lengthwise

4

garlic cloves, crushed

2.5

cm (1in) fresh ginger root, peeled and grated

1

g

(1/2 tsp) dried chilli flakes

1

lime, juiced
---
Instructions
Heat the oil in a pan, then fry the spring onions for 1 minute over a medium-high heat. 
Add the bok choy, garlic, ginger and ginger, and stir fry for 2 minutes.
Add the chilli flakes and lime juice. Give it a stir and serve immediately. Enjoy!
Prep Time:

10 minutes

Cook Time:

5 minutes

Category:

Side Dish

Method:

Stir Fry

Cuisine:

Chinese
Keywords: bok choy, stir fry recipe, bok choy recipe, how to cook bok choy, vegan stir fry