This vegan leek and onion soup is a definite winter-warmer recipe. It's one of those healthy soup recipes which is made with humble vegetables like onions and leeks.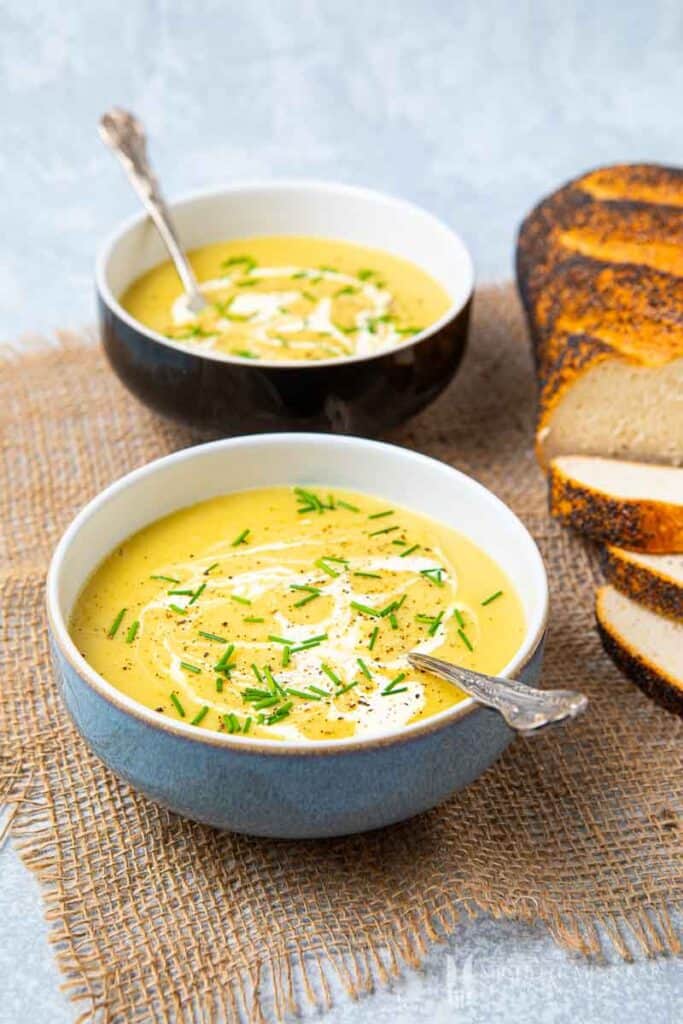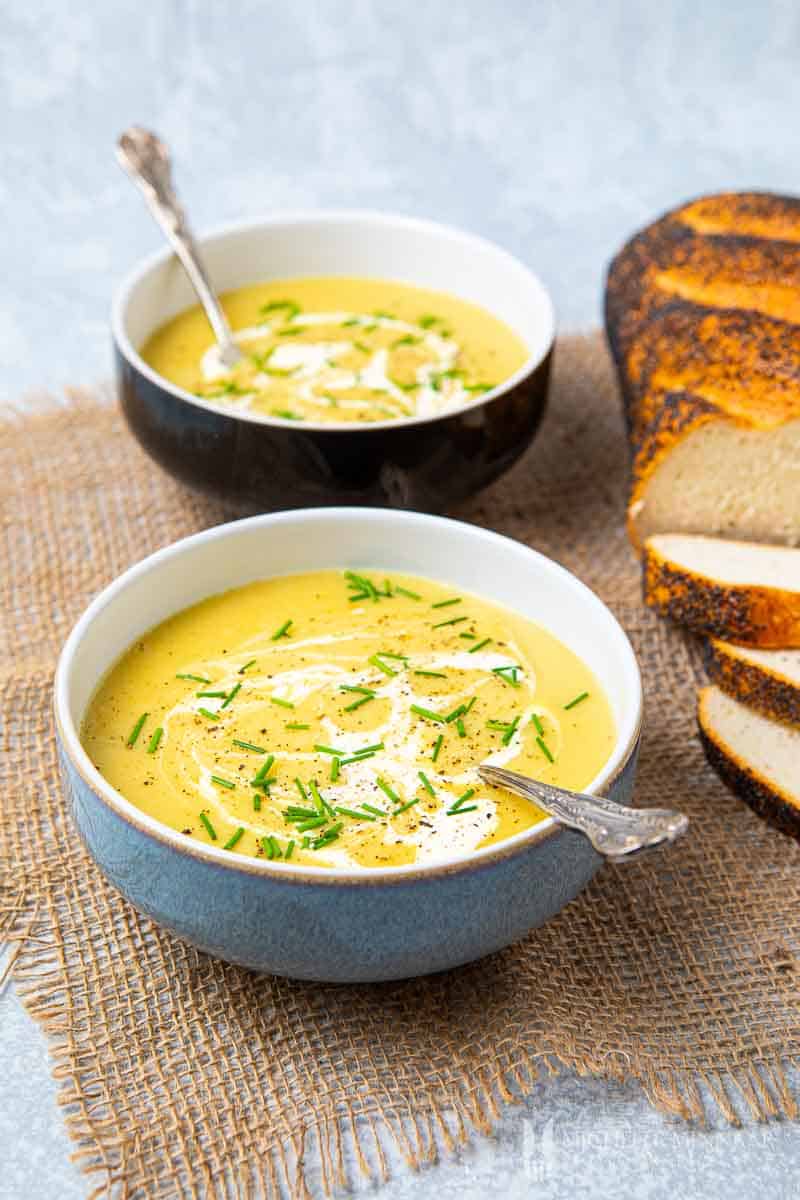 What's best is that you can add other ingredients such as potatoes, zucchini / courgette, carrots, swedes and more to enhance the flavour. Especially if you want to thicken up the leek soup or make it more filling.
Serve it hot as a starter. If it will be your only course, then serve this hearty soup with a large slice of vegan bread. I have no doubts that this will make your weekly menu list. Enjoy!
Products you need for Leek and Onion Soup
Take a look below and see which products to get to help you make this leek and onion soup recipe a success.
Do you use any other kitchen tools or products when it comes to making vegetable-based soups? Let me know in the comments section below.
Which part of the leeks do you use to make soup?
The fact is, you can use the whole ingredient. No matter how large it may be. Just chop off the ends which are usually wilted. You'll know that they're wilted once they start turning a yellowish colour.
The dark green parts of leeks have plenty of flavour. However, most people still prefer to use only the white and the light green parts of leeks, especially in salads.
If you use all of the ingredient, then you'll have to cook the leeks longer to tenderise the darker leaves. The difference is most likely only a couple of minutes.
Moreover, leeks come in different shapes and size. If you only get a hold of smaller ones, you may need to use 5 or 6 of them. However, if you get larger ones, 4 or even 3 will suffice.
If you want to inspire yourself with more soups using leeks, then check these out:
I could make these soups time and time again. Plus, my kids like them very much with a piece of cheesy garlic bread.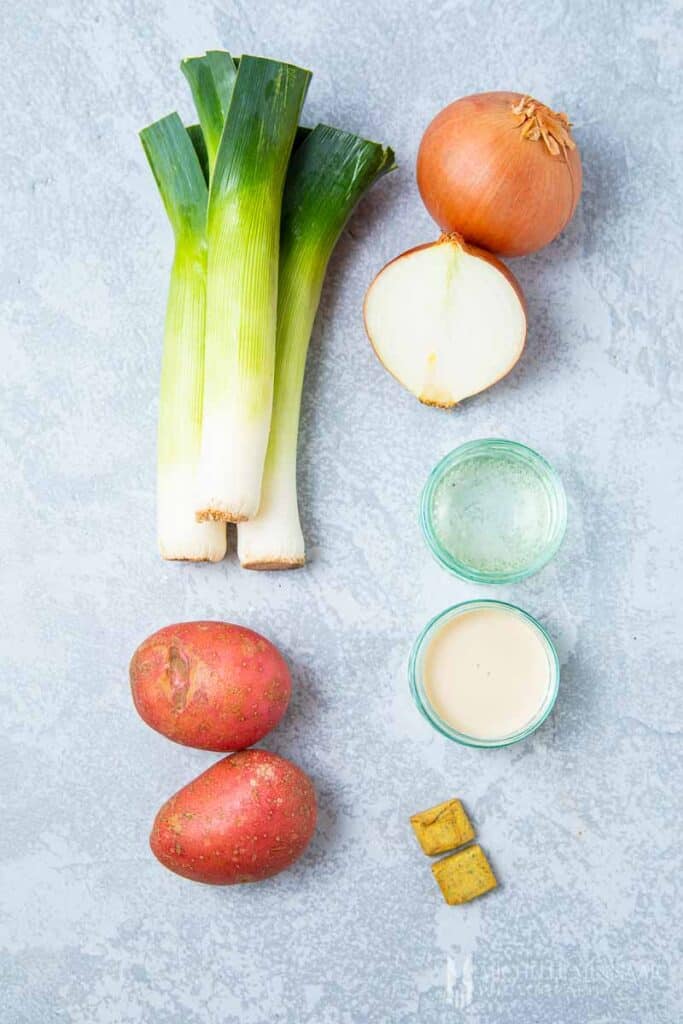 how to control consistency of soup
I've added two potatoes for consistency control. It will thicken up the leek onion soup immediately.
Although I added two potatoes, one may do the trick just as well, especially if the potato is very starchy.
The best type of potatoes are the starchy ones. This means that once you cook them, they'll turn mushy, hence acting as a thickening agent. It will only take a matter of minutes before things will start to thicken up. Just give it some time!
Some of the best starchy potatoes include:
It's very important to add a sufficient amount of salt with this step as the potato absorbs quite a lot of it. I like to use pink Himalayan salt, as this type of salt is known for regulating water content of the cells.
In the end though, it doesn't actually matter what type of salt you use. Perhaps, you won't even fancy adding any salt at all, if it's not to your taste.
If you would like to keep this starter low on carbs, then you can omit the potatoes. Just remember, the whole thing might become too runny.
If this is the case, feel free to thicken it up with:
corn starch powder – works every time!
cassava flour
flour
On the other hand, if you find your soup to be too thick, then dilute it with almond milk, stock or water. In the end, the consistency is entirely in your hands.
Can you use leek and onion together?
Indeed, leeks and onion go hand in hand when it comes to balanced flavours. These two work exceptionally well together in a soup recipe. It is also not so uncommon to find these two in recipes such as creamed leeks or a chicken risotto with leeks.
That said, leeks and onions also pair very well with garlic! So, if you like the savoury taste of garlic, roast it at the same time you roast the other vegetables.
Moreover, if it's the savoury flavour which you're after, then add more onions to the leek soup. I recommend using regular onions.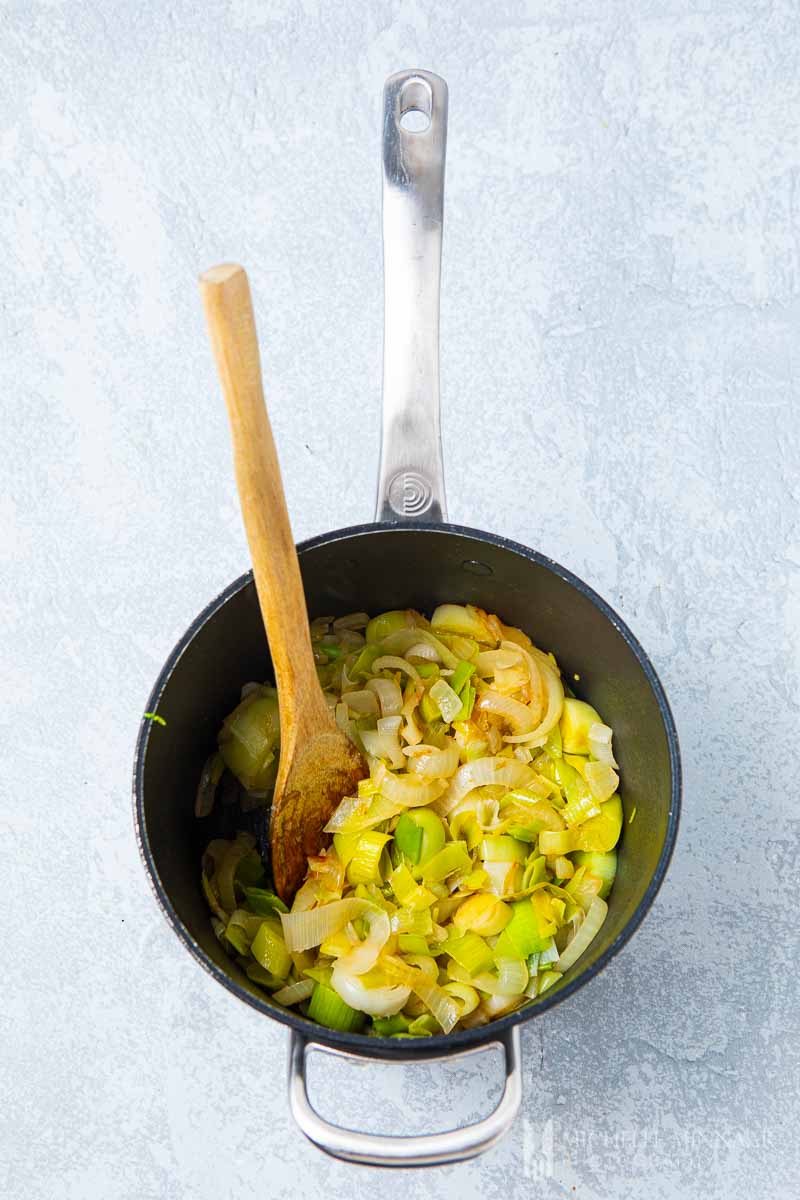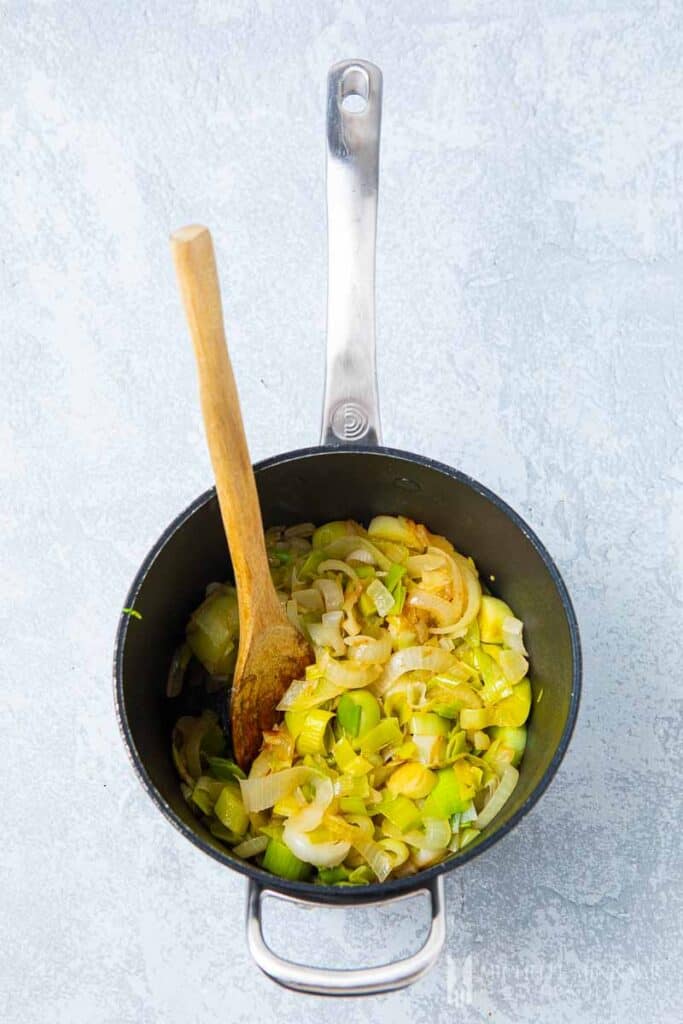 Can you use onion instead of leek in soup?
Leeks have a very distinct, sweet flavour when you cook them. Using onion instead will not be sufficient to produce the sweet flavour.
Therefore, proceed with caution when using onion instead in a soup recipe. If it is made with more ingredients, then it shouldn't be a problem. Especially when it comes to tasty soup recipes made from root vegetables such as carrots and parsnips.
That being said, you can easily substitute onion in a salad as they both have a sharp and peppery flavour when they are raw.
easy vegetable soup
This soup is completely vegan. It is made with almond milk, which is extremely nutritious. It is rich in protein and is perfect for those who suffer from lactose intolerance.
I love cooking with almond milk. It's usually a part of my morning almond milk porridge. Almond milk contains a lot of good fats, so no need to worry about using it in this leek soup.
You can also substitute the almond milk with coconut milk, This in turn will give the soup a creamy texture as well as an Asian flavour. If you go for the coconut milk, then add some curry powder and some fresh red chillies for some heat.
To keep this soup vegan, I've used vegetable oil for frying the vegetables. However, you can also use vegan butter. If it's not so essential that this soup remains vegan, then you can also fry the vegetables in ordinary butter.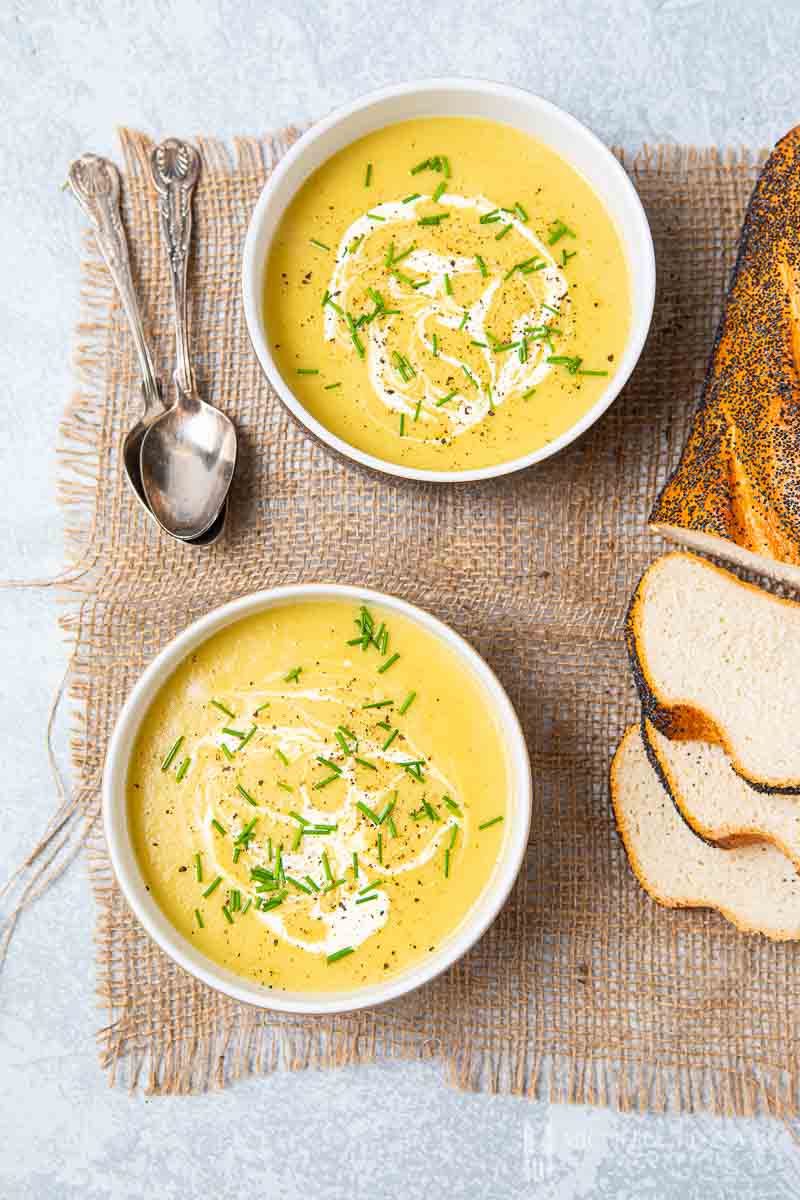 best toppings for vegan soup
There are a couple of toppings which you can add to enhance the flavour as well as nutritional value of this leek onion soup. For example, you can consider adding these on top:
freshly cut chives
spring onions
tarragon or these tarragon substitutes
fresh parsley or fresh coriander
vegan cream
vegan cheese flakes (nutritional yeast)
finely cut red or green chilli peppers
chilli powder (add 1 teaspoon at a time)
black or white pepper
smoked hot paprika or these smoked paprika substitutes
roasted seeds or any type of nuts
Feel free to add these as generously as you want. All of these ingredients are very healthy and will not compromise the flavour of this leek onion soup. Don't forget to season with salt and pepper.
More smooth vegetable soup recipes
Need some more soup for the soul? Check out these divine recipes.
How would you serve your vegan soup? Let me know in the comments section below.
Print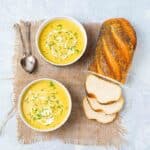 Leek and Onion Soup
---
Author:

Michelle Minnaar

Total Time:

45 minutes

Yield:

4

servings, 3 prawns each

1

x
45

ml (3 tbsp) vegetable oil

4

leeks, washed and diced

1

onion, peeled and chopped

2

potatoes, peeled and sliced

750

ml (3 tbsp) vegetable stock

250

ml (1 cup) almond milk
salt and pepper, to taste
---
Instructions
Gently fry the leeks and onion for 10 minutes, or until soft and translucent. 
Add the potato and stock, then bring to a simmering point. Let it simmer for 15 minutes or until the potato is cooked. 
Pour in the almond milk, and let it simmer for another 2 minutes. 
Transfer everything to a food processor and blend until smooth. Alternatively, you can you a stick blender and do it straight in the pot. 
Season to taste then divide the soup between four bowls. 
Sprinkle with chives and drizzle with vegan cream. Serve with your favourite bread. Enjoy!
Notes
This recipe is vegan, but you can easily substitute the oil with butter, use standard milk and cream. 
This soup freezes well, and if you find you have too much leftover, take a look at my guide on Freezing Almond Milk.
Struggling to get hold of leeks? Why not try one of these leek substitutes.
Prep Time:

15 minutes

Cook Time:

30 minutes

Category:

Starter

Method:

Boil

Cuisine:

French
Keywords: leek and onion soup, onion and leek soup recipe, vegan soup, vegan starter recipe