Try this nutritious mung bean curry that's full of protein and nutrients, which will make you last throughout the day. In addition to being perfectly suited for vegans, it is also crammed full of flavour.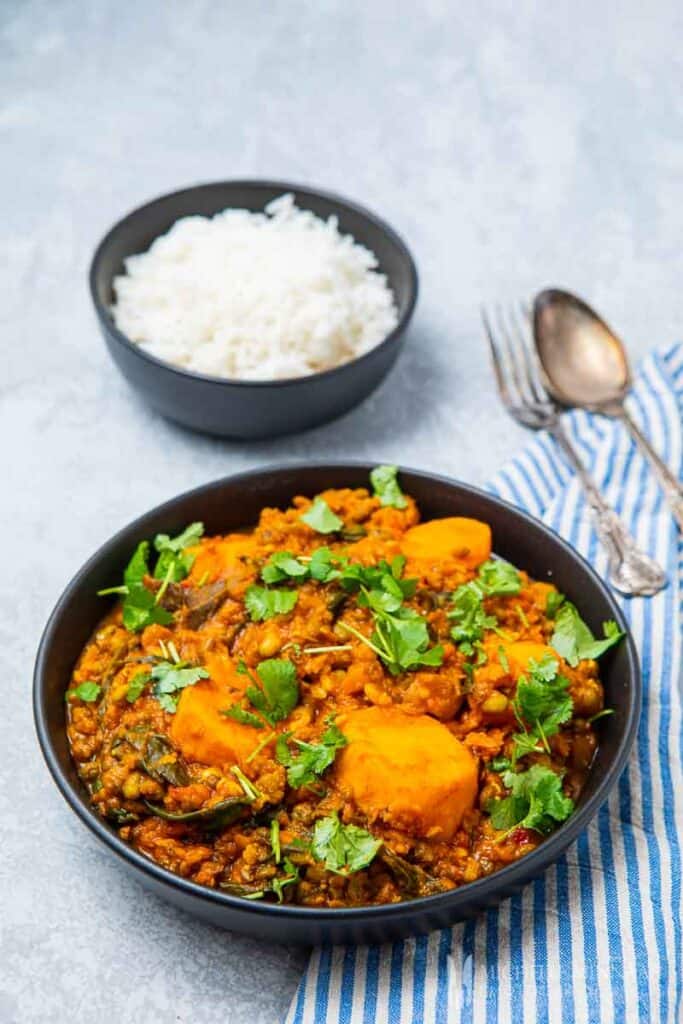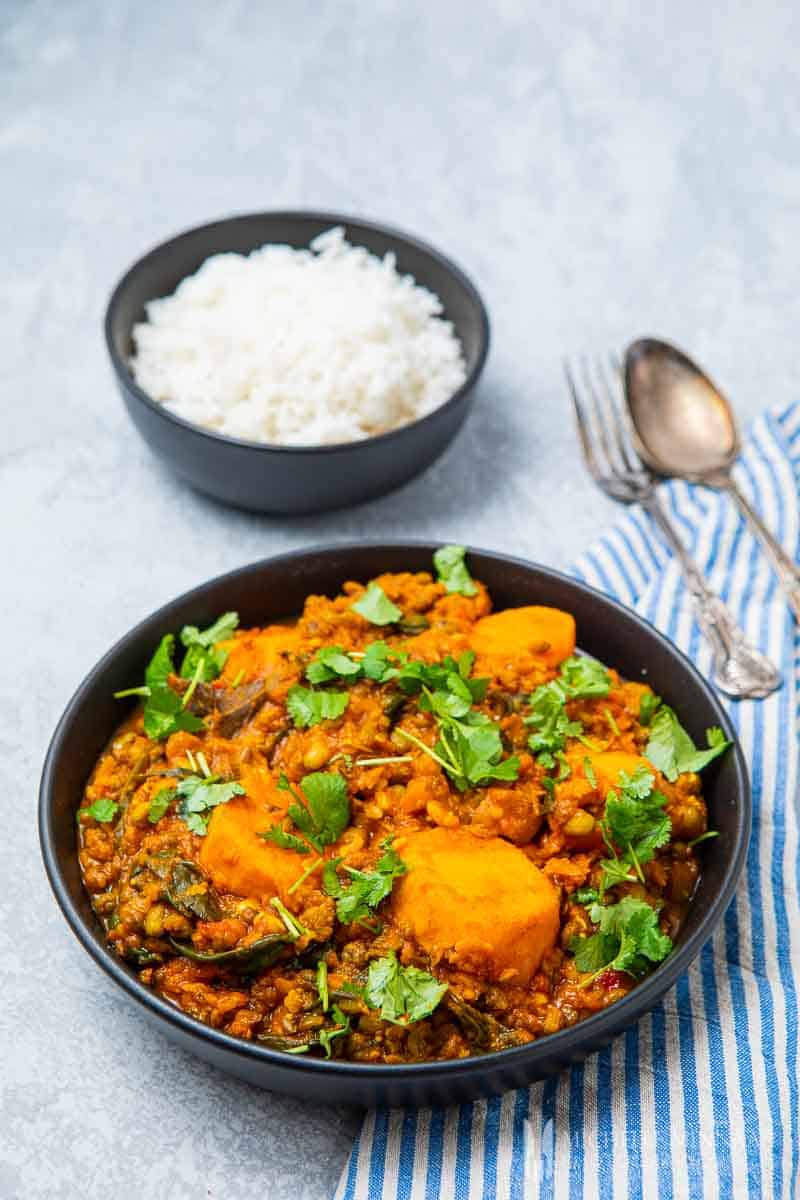 mung bean curry recipe
Thanks to the addition of spices like asafoetida, ground cumin, ground coriander, fenugreek seeds and frozen herbs, you can rest assured that each spoonful will satisfy your taste buds.
So, forget the meaty curries, when you can enjoy this healthy mung bean curry instead. Besides, did you know that mung beans, lentils and seeds were the go-to ingredients for ancient gladiators of Rome?
Instead of sourcing their protein from meat, they would opt to derive it from beans and lentils. It has been proven that most fighters were herbivores and followed plant-based diets.
So, it is without a doubt that my mung bean curry recipe would definitely be favoured amongst these great competitors. So, are you ready to conquer the day? Let my mung curry help you!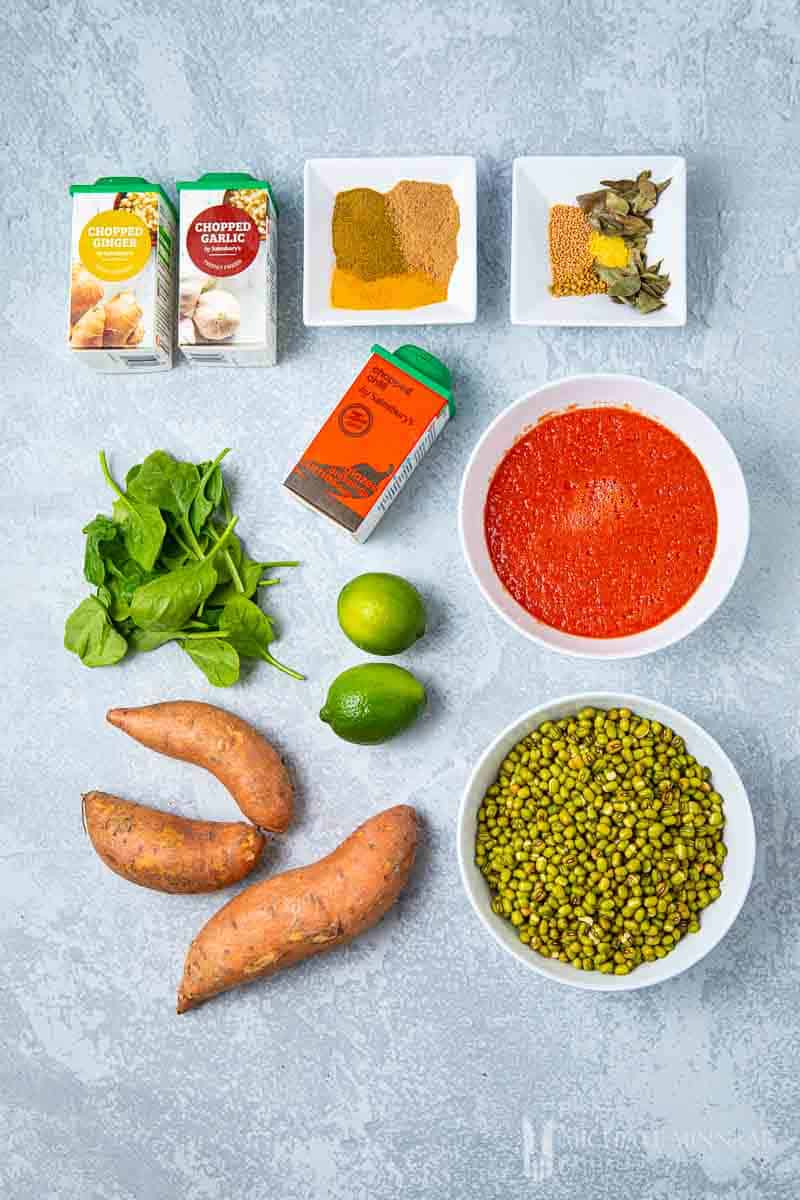 Darégal's frozen herbs and spices
I don't know about you, but one of the tedious tasks about preparing Indian recipes, like this mung bean curry, is preparing all of the vegetables and herbs. Especially, when it comes to chopping, dicing, cleaning, you name it.
Plus, I am not the biggest fan of chopping chillies and ginger, this can be a painful process.
Well, not anymore!
This is why I opted for using frozen herbs and spices from Darégal, the world's frozen aromatic herbs and ingredients specialist.
For this curry recipe I opted for Darégal's garlic, ginger and red chilli products, respectively. These are the three essential ingredients for curry-making!
The frozen herbs are very convenient, because they are already washed and chopped – saving you precious time in the kitchen.
All you need to do is to add them straight to the pan. There is absolutely no need to defrost them.
Above all, the fresh taste and quality of the herbs is preserved due to the highest technical food standards Darégal lives by.
All Darégal herbs are grown in open fields and harvested at optimal times to produce top flavours.
The herbs are frozen via a Quick Freezing Process (IQF), which basically locks all of the herbs' essential oils and releases them when you add the herbs to the pan.
So, forget peeling, chopping, dicing and cutting. Cooking with these frozen herbs is completely hassle-free. While fresh is best, frozen comes close to it. These frozen products are much better than bottled counterparts that are steeped in chemicals.
Another bonus is that your hands will not reek of garlic and chilli when you cook this mung bean curry.
Are you wondering where to get hold of these fabulous products? You won't find it sold with the Darégal label. Instead, browse in a supermarket's freezer section and it will be found in the shop's own brand packaging.
Here are the stockists: Iceland, Tesco, Asda, Sainsbury's and M & S.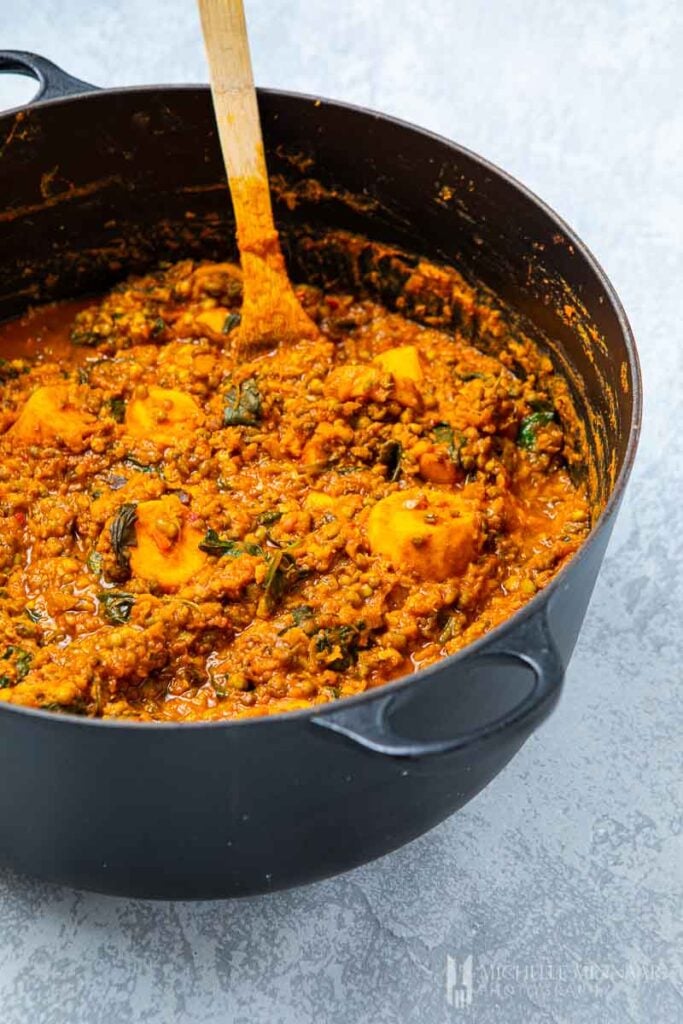 what are mung beans?
Mung beans are small green beans, which are also known as green gram, moong, or mash. The term "mung" is derived from the word "mudga" from Sanskrit.
Typically, mung beans are cultivated in Asia, mostly in South Eastern Asia and the Indian sub-continent. Nevertheless, this type of bean was originally domesticated in Persia, an area known as Iran today.
That said, there is archeological evidence which suggests that mung beans have been present in India more than 4,000 years ago.
The exterior of the mung bean is green, however, when you remove the outer layer of skin, you'll find that the bean is actually yellow inside.
In addition to making a fabulous mung bean curry, mung beans are also used for both sweet and savoury culinary applications in different types of cuisines.
For instance, in India you can find mung beans in a winter-warming tadka daal recipe. They are also used to make rice gruel or a dosa called pesarattu.
If you visit Bangladesh, you would find mung beans in a traditional Bengali pitha recipe.
In Eastern and Southeastern Asia, you would enjoy mung beans in a dessert called tangshui, meaning sugar water. Moreover, it is also very common to come across mung bean paste inside mooncake recipes.
In Korea, ground mung beans are used to make pancakes. However, if you travel to the Philippines, you would easily find mung beans in a stew with fish or shrimp.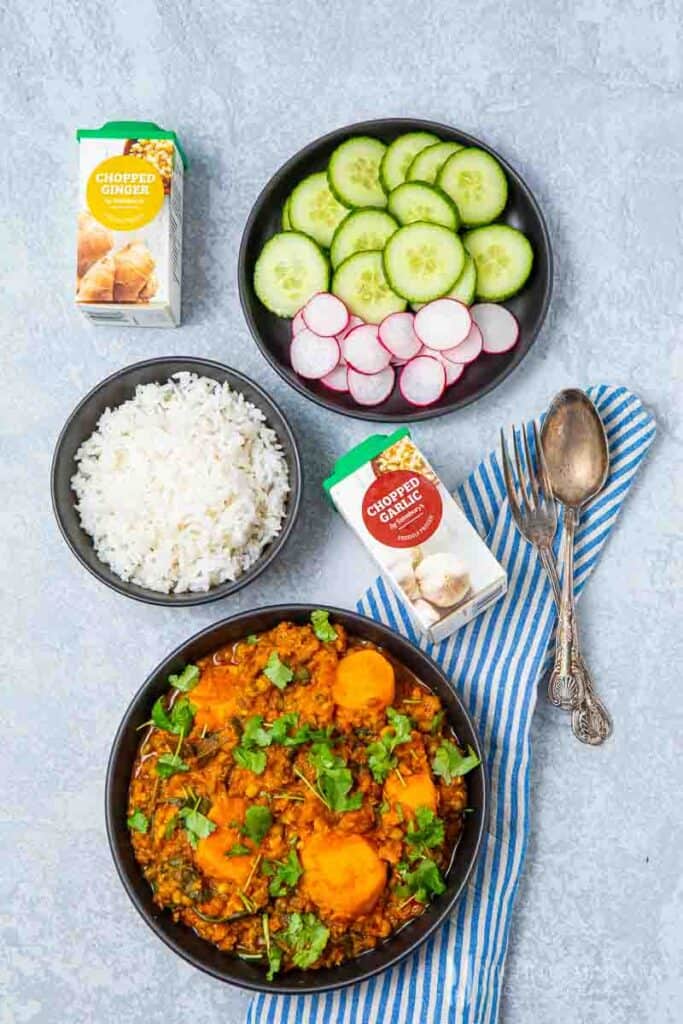 how to cook mung beans?
There are two ways you can cook mung beans.
First, you can soak them overnight. This step is important because it will reduce your cooking time of the mung bean curry. You can proceed to cook them the following day.
Alternatively, you can cook the dried mung beans without soaking the beans for a couple of hours. Just boil them in water until they are soft and split open.
Once you are done, you can enjoy them as they are! Just make sure you boil them in salted water, otherwise they will taste bland.
Due to the fact that mung beans are an excellent source of plant-based protein and energy, you can make outstanding vegetarian recipes with them.
For example, take a look at my sweet potato and mung bean falafel recipe. Combined with my beetroot falafel, these recipes are bound to make an impression on anyone, meat eater or vegan alike.
In general, I like to make a large batch of the falafel to last me through the week.
Next, if you've got some leftover mung beans, then try your hand at my simple mung bean salad recipe. Just toss in other ingredients like avocado and tomatoes and you'll fall in love with it.
If you love beans, let these delicious bean recipes inspire you:
I hope the above-mentioned bean recipes, including this mung bean curry, will help you transition towards eating healthier!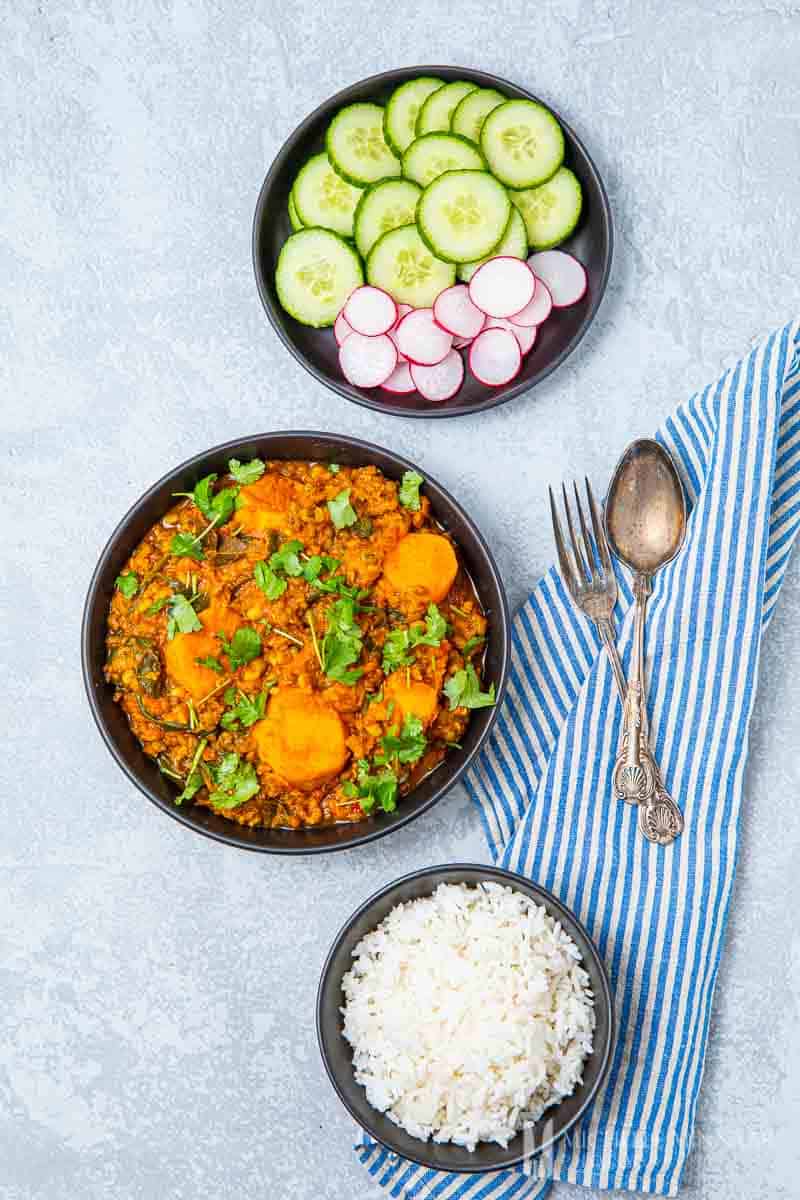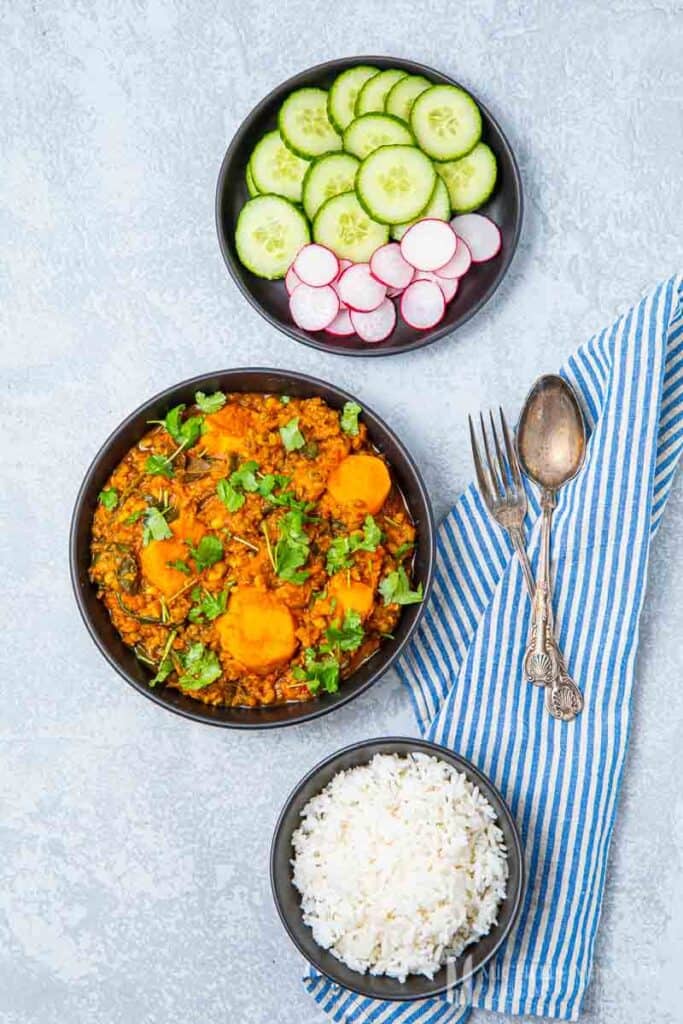 Sri Lankan mung bean curry
Even though my mung bean curry recipe is Indian, you can easily tweak this curry to have a Sri Lankan slant.
The first thing you can do is add coconut cream and grated coconut to the mung bean curry. Next, to make it truly a Sri Lankan dish, serve it with grilled or steamed fish.
best toppings for mung bean curry
I recommend using the following toppings with this mung bean curry:
parsley or coriander leaves
spinach
salted or roasted peanuts or almonds
lime or lemon juice
grated coconut
spring onions or chives
If you feel like eating a larger portion, you can pair the curry with a bowl of white rice.
How would you serve your mung bean curry? Let me know in the comments section below.
Print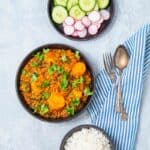 Mung Bean Curry
---
Description
This mung bean curry is healthy & easy to prepare. Sweet potato and spinach are added to make it a complete vegan meal with rice. 
---
500g

(

2½ cups

) dried mung beans

45

ml (3 tbsp) coconut oil

7.5

ml (½ tbsp) mustard seeds

2.5

ml (½ tsp) fenugreek seeds

2.5

ml (½ tsp) asafoetida

10

curry leaves

5

onions, peeled and finely chopped

45

ml (3 tbsp) Daregal frozen garlic

45

ml (3 tbsp) Daregal frozen ginger

45

ml (3 tbsp) Daregal frozen red chillies

60

ml (4 tbsp) ground cumin

30

ml (2 tbsp) ground turmeric

30

ml (2 tbsp) ground coriander

30

ml (2 tbsp) sea salt

3

x (400g) tins of chopped tomatoes

1.5

ℓ (6 cups) vegetable stock

45

ml (3 tbsp) brown sugar

1

kg (6 medium) sweet potatoes, peeled and cut into chunks

240g

(

8 cups

) spinach, washed

1

lime, juiced
Coriander leaves, washed
---
Instructions
Soak the dried mung beans in plenty of water overnight.
Rinse and drain the beans.
Place the beans and 2.5ℓ (10 cups) of water in a large saucepan and bring to the boil over medium heat.
Simmer over a low heat for 30 minutes, or until the mung beans are soft. Drain and set aside.
Melt the coconut oil in a large saucepan over medium heat.
Add the mustard and fenugreek seeds.
Once the seeds start popping, stir in the asafoetida and curry leaves. Fry for 1 minute.
Tip in the onions and stir. Continue to cook for about 5 minutes, or until the onions are translucent and softened.
Stir in the garlic, ginger and chilli. Cook for 1 minute.
Add the cumin, turmeric, coriander and salt.
Pour in the chopped tomatoes, vegetable stock and sugar.
Let the sauce reach a simmering point then tip in the sweet potatoes. Cook for 10 minutes or until the the sweet potatoes are almost cooked.
Tip in the mung beans, stir and cook for another 10 minutes.
Add the spinach and let it wilt in the heat.
Pour in the lime juice, stir and season to taste.
Serve with brown rice and top with coriander leaves.
Notes
If you can't get hold of frozen garlic, ginger or chillies, substitute with the following, respectively – 6 garlic cloves, 5cm (2in) fresh ginger root and 4 red chillies.
For a smoother base sauce, I blended the chopped tomatoes until smooth and then added it to the curry.
In this dish, feel free to use any of these fenugreek substitutes and if you can't get hold of coconut oil, check out these coconut oil substitutes.
Prep Time:

20 minutes

Cook Time:

1 hour

Category:

Curry

Method:

Simmer

Cuisine:

Indian
Keywords: mung bean curry, mung bean recipe, vegan bean curry, mung beans curry recipe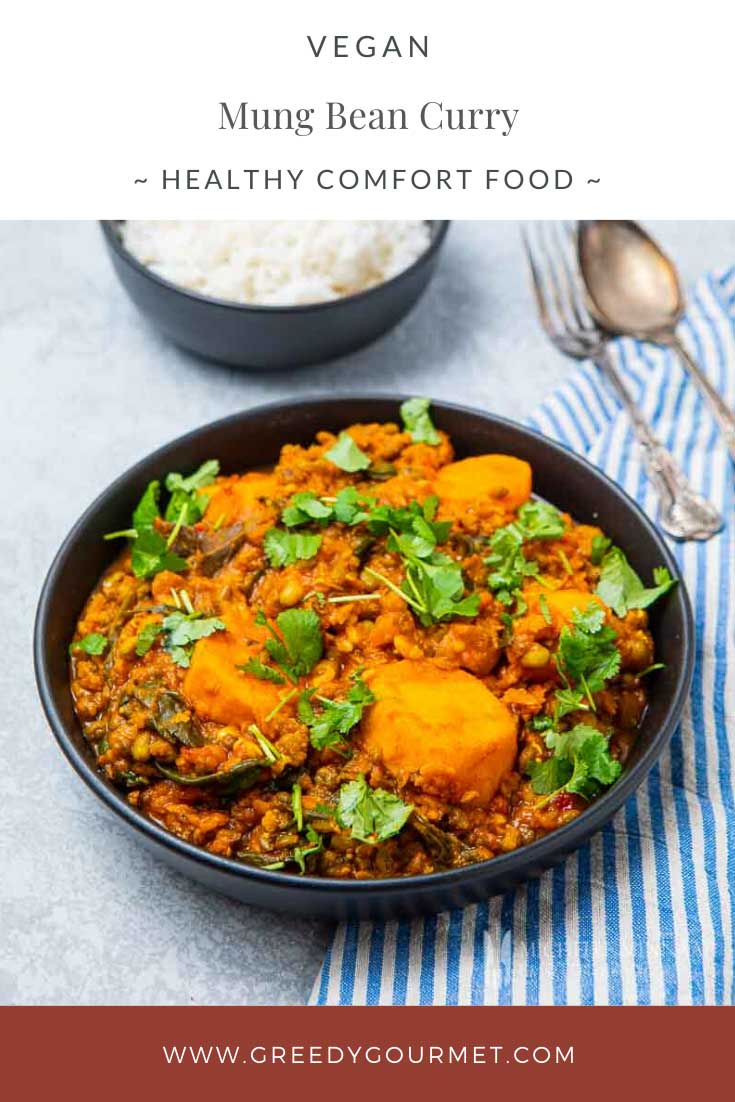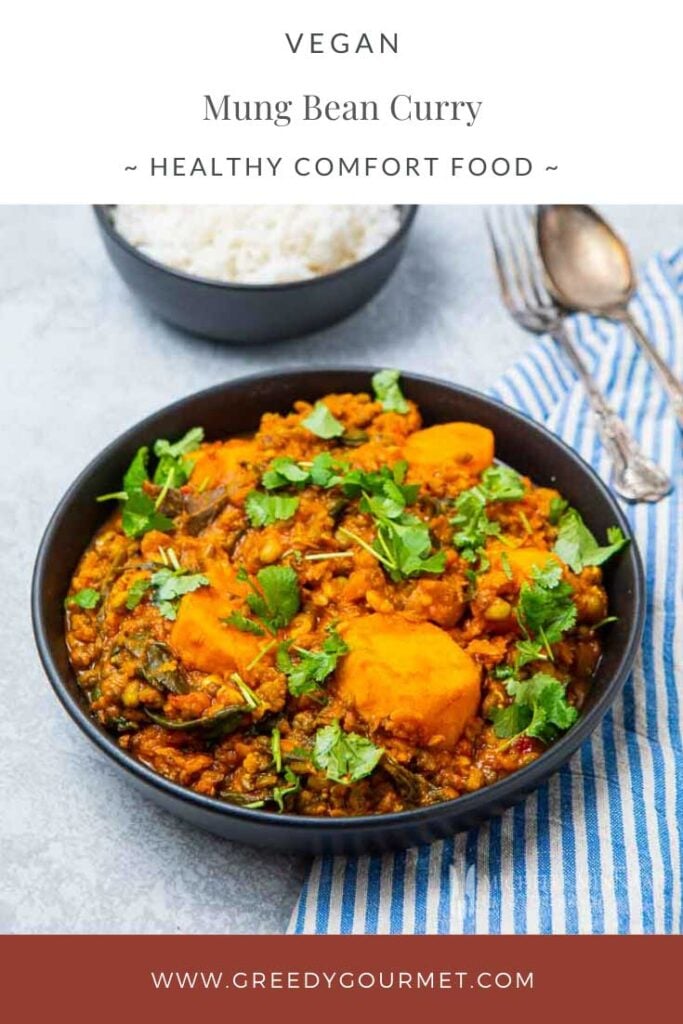 P.S. This is a sponsored post.