Mushroom pakora is one of the best and healthiest pakora recipes. In essence, it's a ball made of vegetables which is deep fried. It is suitable for vegetarians, and mushrooms are both nutritious as well as delicious. Combined with a delicious homemade red pakora sauce, the earthy flavours of the mushroom pakora are beyond any store-bought starter.
There are multiple versions of pakora recipes out there, so you can even add additional ingredients to jazz these babies up. Don't be afraid to experiment and make your own version of mushroom pakora.
You can easily serve mushroom pakoras as a starter, for canapés or even as a side dish. If you wish to serve the mushroom pakora as a main course or main meal, then double up in portion size. Remember, these pakoras are only bite sized.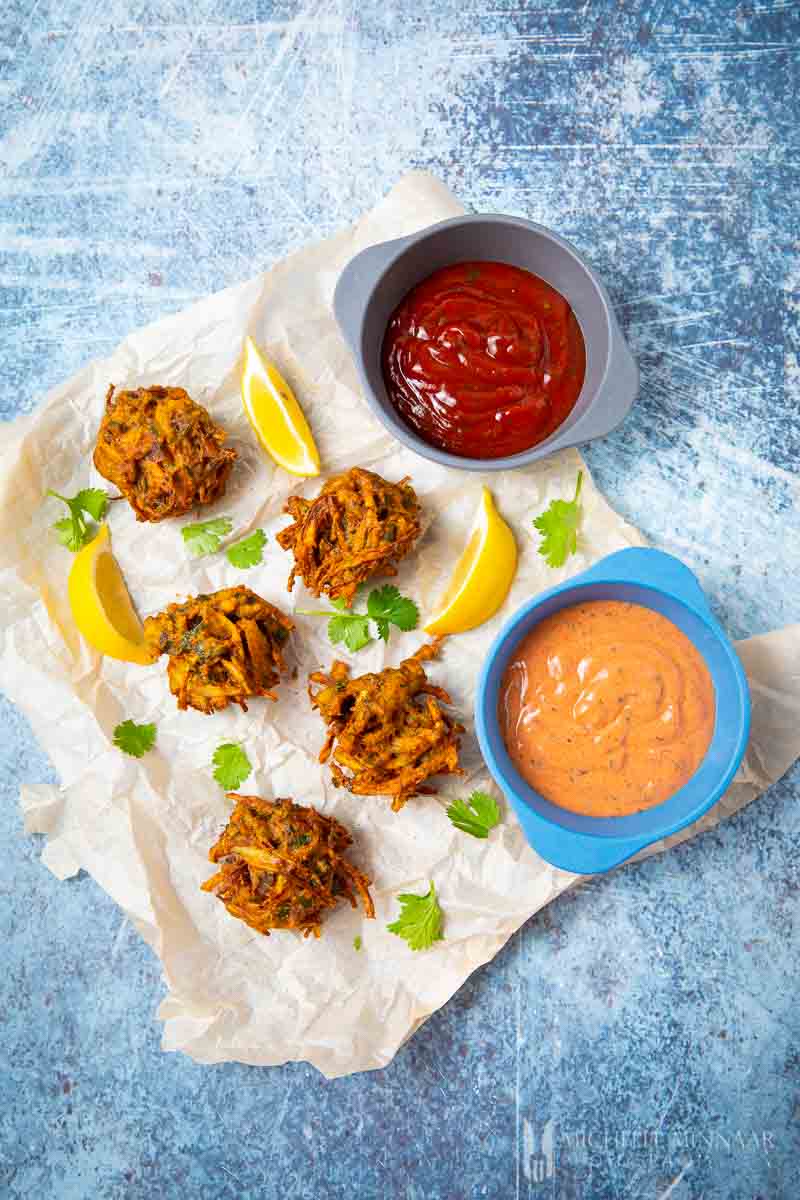 In essence, a pakora recipe creates one of the best Indian finger-foods. If you are into Indian street food, then this is the recipe for you. If you plan on serving other bite-sized Indian-style starters, you should also consider paneer tikka and chana tikki. Enjoy discovering the deliciousness of Indian street food! Let me know what type of pakoras you come up with.
Mushroom pakora recipe
My mushroom pakora recipe is simple and inexpensive to make. It calls for one of the most underrated ingredients in the world: mushrooms.
Mushrooms are a fabulous ingredient, and there are so many different varieties (thank goodness), that sometimes it's hard to choose which ones are the perfect choice for your given recipe. This mushroom pakora can be made with many types of mushrooms. For instance, you can consider:
Champignons, button or common mushrooms (small white): the most common (you can even use canned or frozen ones for this mushroom pakora)
Oyster mushrooms: best when they are fresh in season
Cremini mushrooms: also an excellent choice, and they are also superb (consumed whole) in stews
Porcini mushrooms: also excellent in a basic risotto because they are very fragrant
Portobello: maybe not the most efficient ones to chop up as they are generally eaten whole (but you can still use them)
As you can see, I've opted for the first type of mushroom, meaning button mushrooms or common mushrooms. Which mushrooms would you use for your mushroom pakora?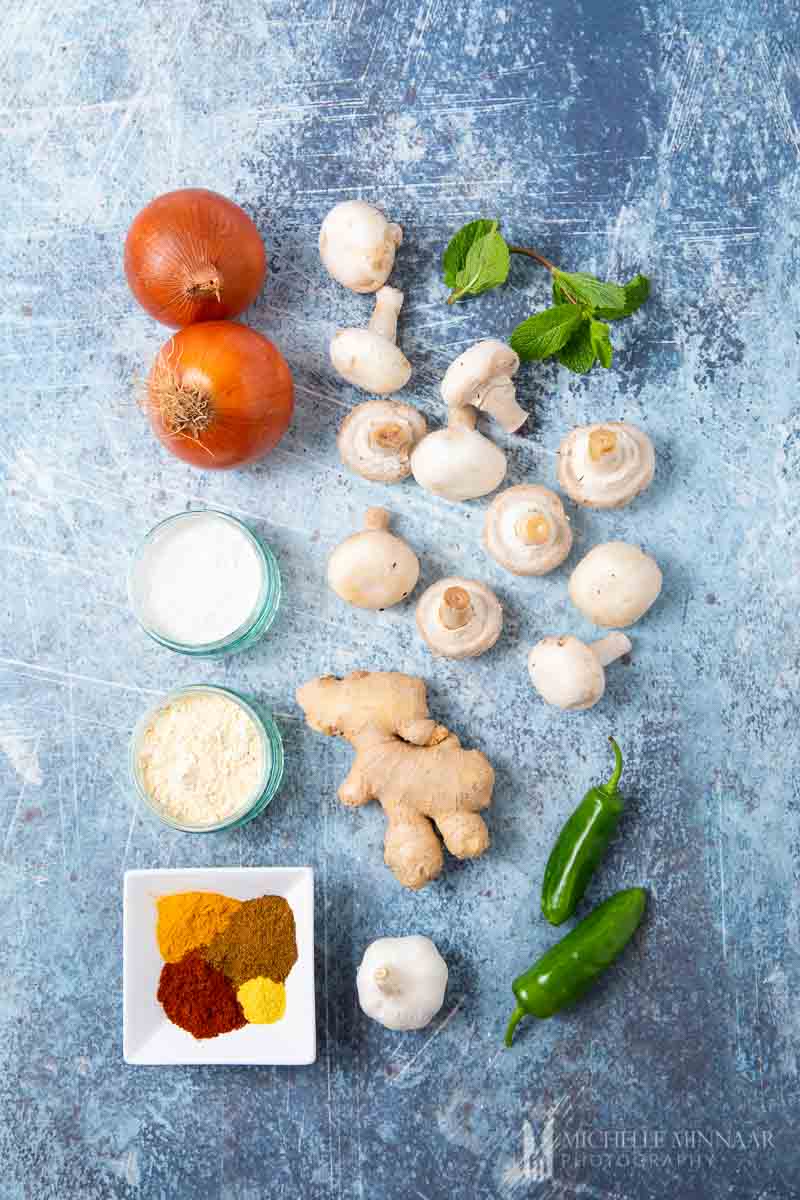 How to make Indian pakora
Here is a list of the essentials you'll need to make a delicious mushroom pakora recipe.
oyster mushroom pakora
Oyster mushrooms are one of the most common mushrooms used in an Indian mushroom pakora recipe. Simply because they are very easy to prepare and they give off a lovely taste and aroma.
If you wish to use another type than the common button mushroom, then I highly recommend you use oyster mushrooms. Oyster mushrooms are known for being medicinal. That's because they contain some properties that help the digestive tract as well as support the immune system.
Oyster mushroom soup would be the thing you'd find in Central European households, when the kids have a cold.
In either case, don't hesitate to use oyster mushrooms in a mushroom pakora recipe. They hold their structure well and will not fall apart during the deep-frying process.

Now, in terms of spicing, generally you have all the liberty in the world when it comes to making pakora. In fact, it's like making your own curry. You can spice it in any way you prefer and make a completely unique version.
For instance, I like to add lots of chilli powder into my mushroom pakora. However, some people might find my amounts of chilli slightly excessive. I've also seen other mushroom pakora recipes using different herbs like:
marjoram
coriander
thyme
parsley
mushroom pakora calories
Even though a mushroom pakora recipe requires deep-frying, you won't have to worry about the calorie count.
However, if you feel a little bit guilty about the deep-frying process, I have an excellent suggestion for you. Instead of deep-frying the mushroom pakora in normal oil, go for coconut oil. Just remember that it has got to be unscented coconut oil.
You won't even notice the difference – whether you've deep fried it in normal cooking oil or coconut oil. Besides, coconut oil is so much healthier for you, especially when it comes to digestion. It contains those healthy fats which also have anti-fungal and anti-inflammatory properties. Basically, it has the ability to regenerate your intestines as well as your metabolism. That's the magic of coconut oil.
chicken pakora
If you feel like you need some protein, you can always add chicken to this mushroom pakora recipe. In fact, in India, you would be able to find all sorts of versions of pakoras. Whether it be chicken, beef, lamb, you name it.
The key thing though is to cut the chicken into thin strips so you can manipulate it into the form of a sphere.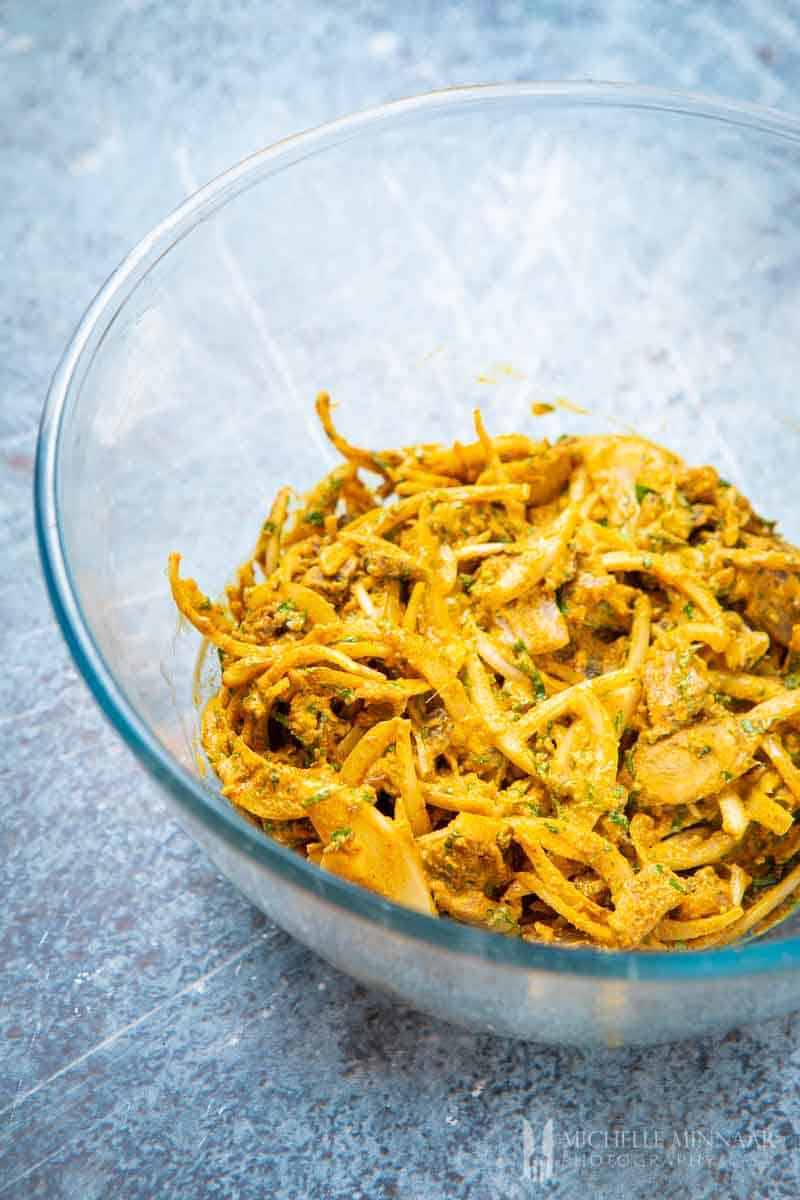 How to serve pakora
In essence, there is only one essential sauce to serve with Indian pakora. That is fresh red pakora sauce, which is a spicy Indian dip. It also comes in different versions such as Scottish pink pakora sauce and green pakora sauce (mostly made with either mint or spinach).
Even though a fresh pakora sauce is the ideal pairing, you can also serve the mushroom pakora with these Indian dips:
As you can see, you have tons of options for serving your mushroom pakora. It all depends on what your favourite sauce is and what you feel like dipping the pakora into on any given occasion. Honestly, you can't go wrong with any of the sauces mentioned above, as they are all homemade and flavourful in their own way.
How would you make a mushroom pakora recipe? Would you follow the recipe or put your own twist on things? Let me know in the comments section below.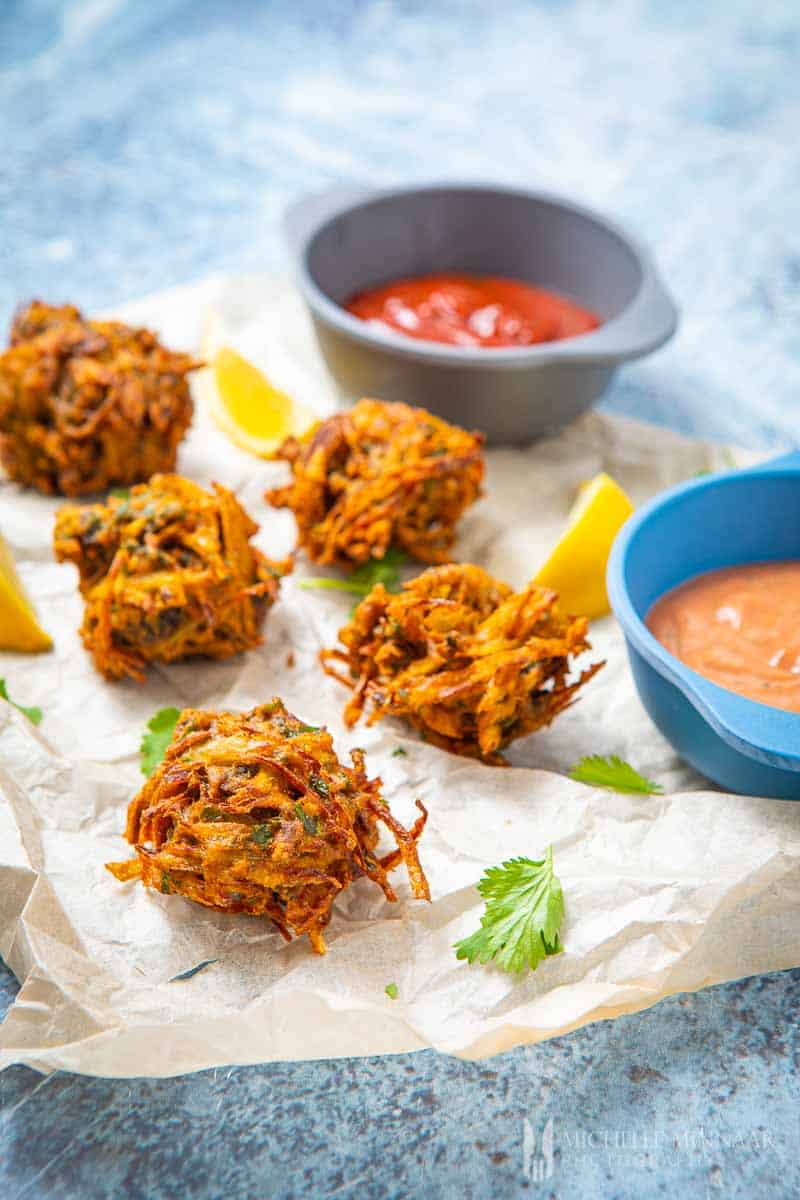 Print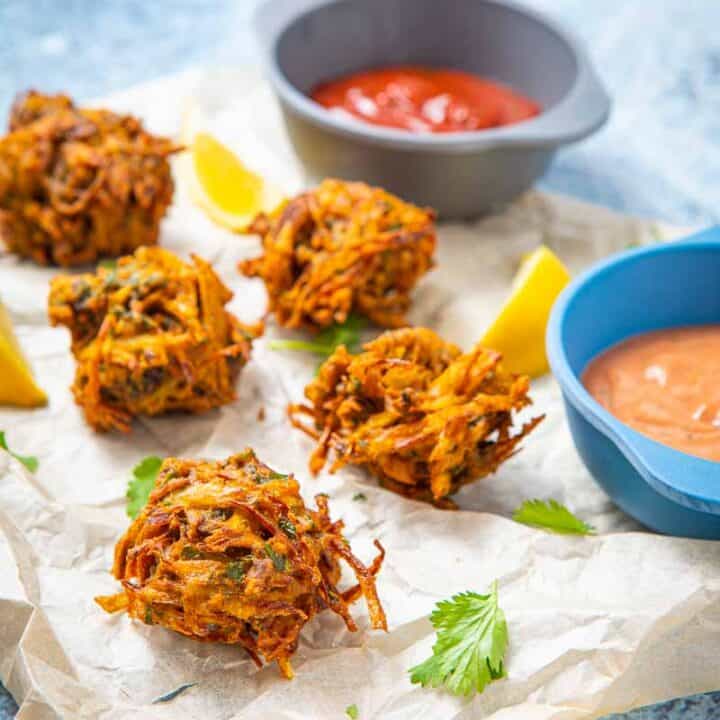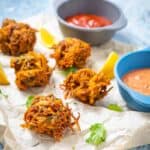 Mushroom Pakora
---
Description
Try this delicious mushroom pakora recipe today! Serve it with a homemade & fresh red pakora sauce & you are in for a treat.
---
225g

(¼lb) mushrooms, cleaned and thinly sliced

1

onions, peeled and thinly sliced

2

garlic cloves, peeled and crushed

2.5

cm (1in) fresh ginger root, peeled and grated

1

green chilli, washed and finely thinly sliced

15

ml (1 tbsp) cilantro, washed and finely chopped

15

ml (1 tbsp) mint, washed and finely chopped

5

ml (1 tsp) ground turmeric

1.25

ml (¼ tsp) asafoetida

5

ml (1 tsp) chilli powder

2.5

ml (½ tsp) ground cumin

5

ml (1 tsp) salt

15

ml (1 tbsp) rice flour

30

ml (2 tbsp) gram flour

125

ml (½ cup) water
---
Instructions
Place all the ingredients in a large mixing bowl and stir until all the ingredients are well incorporated.
Heat about 5cm (2in) of oil in a wok or deep pan.
Test whether the oil is hot enough by dropping a small quantity of the batter into the oil. If it rises to the surface surrounded by bubbles and starts to brown, then the oil is hot enough for frying.
Form a ball, with a diameter of no more than 7.5cm (3in) with your hands, place it on a slotted spoon and lower it into the oil. Remove the spoon. Repeat, but don't add too many balls at a time, because you risk lowering the oil temperature too much.
Cook the balls for a few minutes, turning once, until they are evenly browned and crisp, so about 3-4 mins. Repeat the process until you have used up all the potatoes.
Drain on kitchen paper, season to taste and keep warm while you cook the rest.
Serve with raita and pakora sauce. Enjoy!
Notes
If the consistency is runny, add a bit more rice and gram flour.

If the mixture isn't coated well enough, add a bit more batter. I.e. Mix in more water, rice and gram flour.
Prep Time:

30 minutes

Cook Time:

20 minutes

Category:

Starter

Method:

Deep Fry

Cuisine:

Indian
Keywords: mushroom pakora, mushroom pakoda recipe, Indian starter recipe, homemade pakora