My first inspiration to make a homity pie came to me after watching a film called The Guernsey Literary and Potato Peel Pie Society. Admittedly, potato peel pie sounded somewhat dubious, so in the end I settled on making the homity pie instead.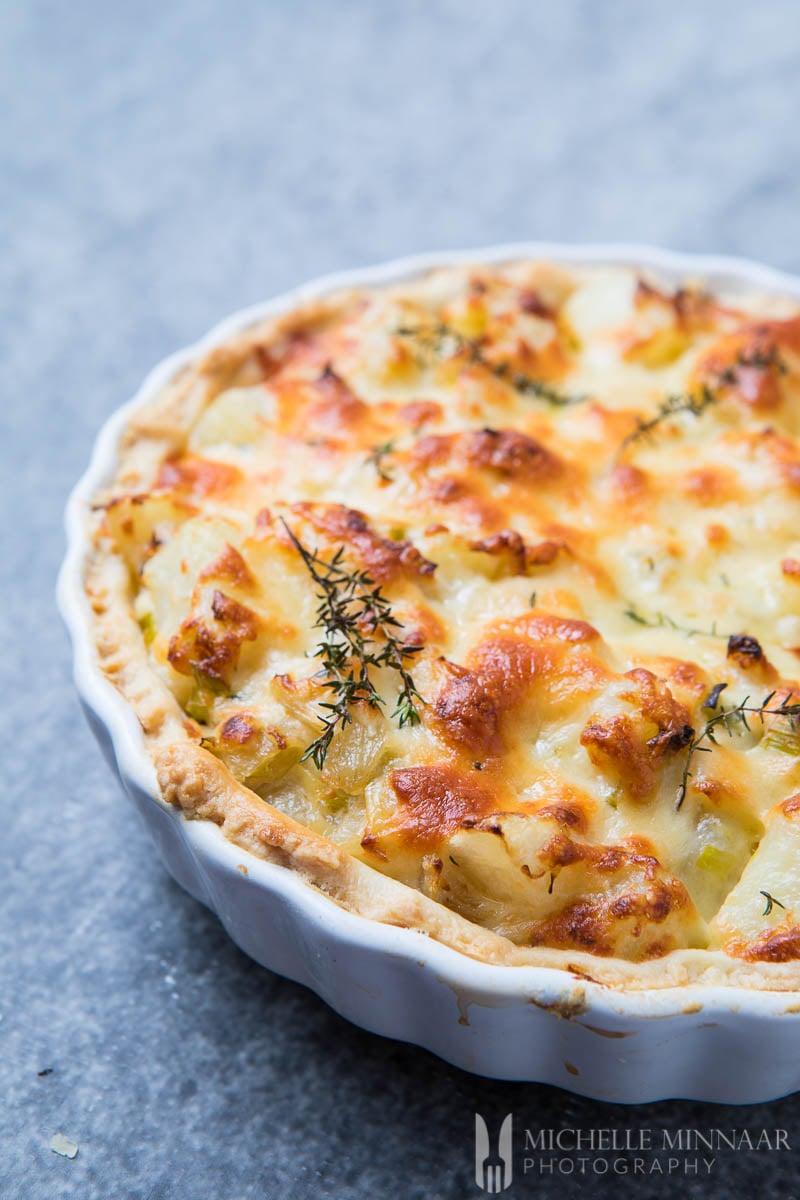 Despite the peculiar name, a homity pie is simply a shortcrust pastry pie with a vegetable filling, topped off with cheese. In this sense, the homity pie bears a resemblance to my creamy potato, bacon and brie tartiflette. The obvious difference is of course the shortcrust pastry. In a homity pie, the filling is pre-cooked and prepared separately. Then, the filling is put into the blind-baked pastry shell, before being finished off in the oven, topped with cheese.
homity pie with bacon
If you don't strictly insist on keeping your homity pie vegetarian, bacon is actually a wonderful addition. It brings about the classic flavour profile, with the added saltiness and smoke.
A homity pie with bacon is not similar to a traditional French quiche Lorraine. Not to mention the South African version, ham en kaas souttert.
If you do choose to add bacon to the homity pie, make sure to get a good quality bacon. I look to use smoked and dried bacon for cooking. Preferably, a piece I can dice up myself.
In any case, make sure that the bacon is not too fatty, otherwise the excess fat will make the pie greasy and less enjoyable. Instead of bacon, you can also use diced-up dried ham.
products you need for this recipe
Here are a few essentials you'll need for making a homity pie, or any pie for that matter. Check them out below:

the origin of homity pie
The exact origin of homity pie is not entirely clear, and no specific individual has yet been credited for its invention. It is also referred to as a Devon pie, as some believe the recipe is from Devonshire.
Others call it a wartime pie, and suggest it was invented by the Women's Land Army during the Second World War. Women's Land Army, or Land Girls as they were also called, was a civilian organisation. During the war, women were trained to replace men on the farms.
One of the many struggles at the time was to get by with sparse ingredients due to wartime rationing. That's how the pie may have come about – as a way to bring new life to leftover vegetables.
It started gaining popularity, at least in part thanks to Cranks Vegetarian Restaurant, which opened up in London in the early sixties.
Brits were a meat-loving people at the time, so vegetarian dishes were not at all mainstream food, even less so in restaurants, though we take such offerings pretty much for granted today.

cornish homity pie
As already explained, the origin of the homity pie is not completely certain. Therefore, I was a bit baffled the first time I heard of Cornish homity pie.
However, after going through many different recipes, I have not found any major difference between the Cornish homity pie and any other homity pie. Apart from the addition of English mustard to the filling that is.
Mustard is one of those ingredients that tends to divide people. Either you hate it or you can't get enough of it. Personally, I very much like mustard, especially for dressings and sauces. Not least for cold dishes such as this salad olivieh.
If you want to learn more about mustard and what can be used as a replacement, have a look at my article about Dijon mustard substitutes.

can I make homity pie the day before?
The simple answer is yes. This pie does require a bit of time in the kitchen. Not only to prepare the filling but also to make and blind bake the shortcrust pastry.
It is possible to prepare it the day before, without major disadvantages. The main thing to keep in mind is how you reheat the homity pie, when you actually want to serve it.
Needless to say that it won't be as good if being reheated in a microwave oven. In my experience, the trick is to reheat in a conventional oven at lower temperature.
I normally use 120°C when I do it. Even though the pastry will have absorbed some of the moisture from the filling overnight, this method should prevent the pie from being soggy when served.
If you're afraid of getting the cheese crust burnt, you can cover the pie with tin foil before reheating.

can you freeze homity pie?
If you for some reason do not manage to eat up all of this delicious homity pie, you can actually freeze it for later. It will easily keep in the freezer for months. The thing to be aware of is the defrosting and reheating.
The danger is, of course, that the homity pie might become soggy after defrosting. In my opinion, the best thing to do is let the homity defrost in the fridge.
For example, you can take it out of the freezer and place it in the fridge in the morning before going to work.
By evening, it ought to be defrosted and you can reheat the homity pie in the oven. If you are unsure whether the pie is warm all the way through, you can check with a needle.
A frozen homity pie is a nice back-up to have in the freezer, when you know you're going to have a long day, with little time for cooking.
Also check out these posts on freezing food:

what to serve with pie?
Considering that the pie is quite a rich dish, especially if you choose to add bacon, I like to serve it with a light side. A simple green salad for example is an excellent side dish for a pie.
To make sure the salad has a bit of acidity to cut through the richness, you can dress it with my honey and mustard dressing.
I personally think it's a wonderfully refreshing side, not just with this dish, but with any sort of meat pie or quiche.
Alternatively, if you want a warm side dish, I recommend some simple roasted green beans with garlic.
With a dish like this, I like to keep it simple and rustic, yet extremely tasty.
How would you enjoy your homity pie? Let me know in the comments section below.
Print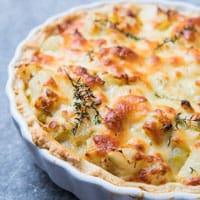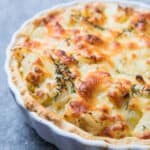 Homity Pie
---
Author:

Michelle Minnaar

Prep Time:

60 minutes

Cook Time:

30 minutes

Total Time:

1 hours 30 minutes

Yield:

6

portions

1

x
Description
Learn how to make a homity pie, a classic British pie recipe. It is a shortcrust pastry pie crammed with potato and cheese.
---
Scale
Ingredients
400g

(1lb) shortcrust pastry

600g

(1⅓lbs ) peeled potatoes, cubed

30

ml (2 tbsp) butter

15

ml (1 tbsp) oil

1

large onion, peeled and chopped

1

large leek, peeled and chopped

2.5

ml (½ tsp) fresh thyme, finely chopped

60

ml (4 tbsp) double cream

150g

(

5oz

) Cheddar cheese, grated
---
Instructions
Preheat the oven to 190°C/375°F/gas mark 5.
On a floured surface, roll the pastry out to the thickness of 0.5cm (¼ inch) and 5cm (2 inches) wider than the tin you're lining.
Using your fingers, gently press the pastry into the corners of the tin, letting the excess hang over the sides of the tin.
Using a fork, prick the base of the pastry.
Line with baking parchment and fill with baking beans or dried pulses.
Pop the pastry case in the oven and bake for about 20 minutes or until golden brown.
Boil the potatoes in salted water for 5 minutes or until just tender. Drain and set aside to cool.
Heat the butter and oil in a large frying pan and cook the onion and leek gently until soft and caramelised. This takes about 20 minutes.
Preheat the oven to 190°C/375°F/gas mark 5.
Add the thyme, cream and potatoes and give the mixture a stir. Remove from the heat and wait for it to cool down.
Stir in half of the cheese then pour the filling in the pastry case.
Sprinkle the remaining cheese on top. [Optional: Garnish with fresh thyme sprigs.]
Bake for 20 minutes or until the cheese has melted and the top is golden brown.
After removing the pie from the oven, wait for the pie to cool down for 10 minutes before slicing with sharp knife.
---
Notes
I used a 24cm (9½ inch) pie tin.
The onion amounted to 225g (½ lb) and leek 150g (5oz).
Serve with a green salad and tangy dressing.
Category:

Pie

Method:

Bake

Cuisine:

British
Keywords: homity pie recipe, Cornish homity pie, traditional british pie recipe, cold weather comfort food
save the recipe to your pinterest board