If you're a curry lover, you'll know that 'naan bread' – an Indian/Pakistani flatbread – is the perfect side dish. But have you heard of a Kashmiri naan?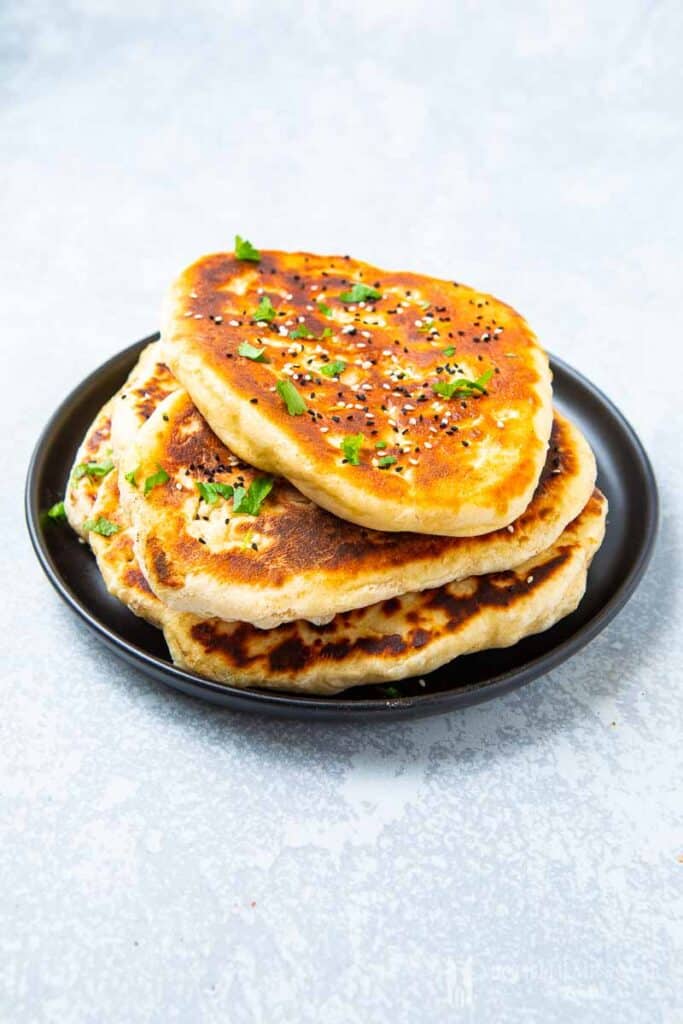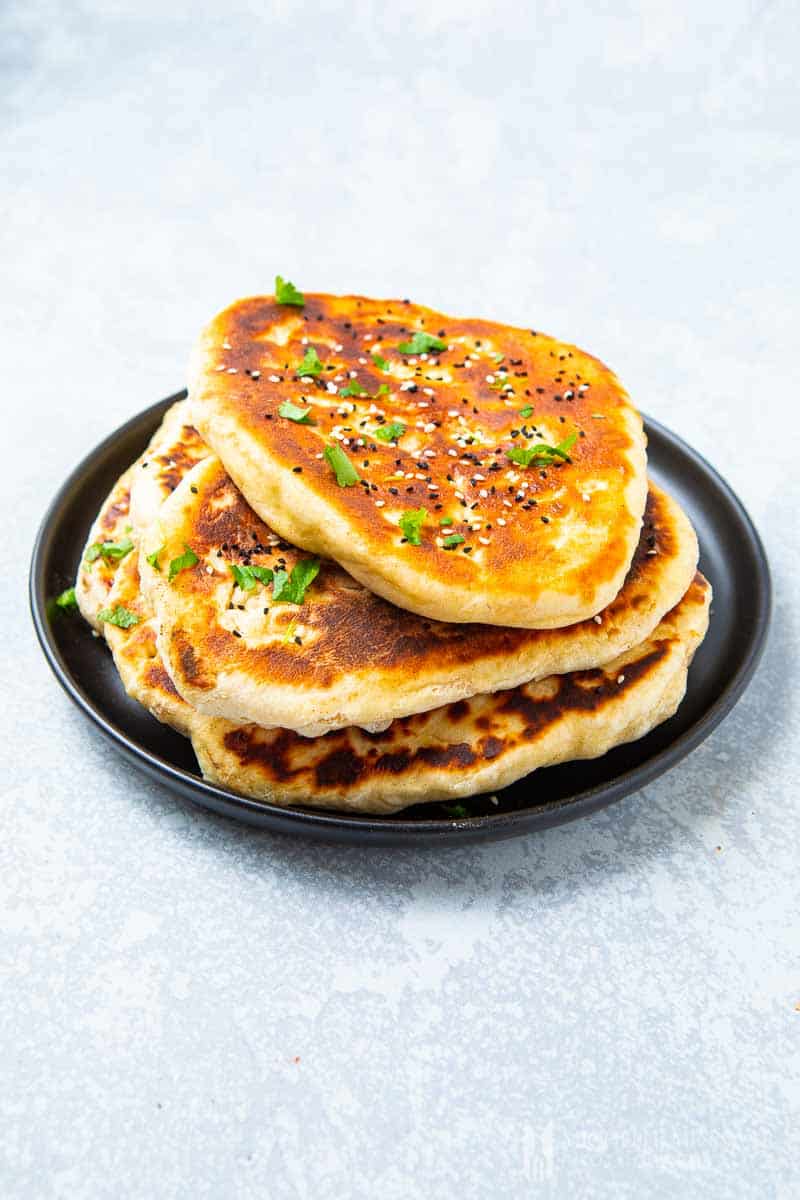 Kashmiri naan
Kashmiri naan is one of the most loved recipes in Kashmiri cuisine. And it's quite different to most other naan breads. In fact, it's usually served at breakfast or, sometimes, with afternoon tea (especially Kashmiri tea!). This is because Kashmiri naan has a sweet, nutty taste.
Best of all, it's super simple to make. So, read on to find out how to whip up this sweet, fruity, nutty delight.
Products you need for this recipe
Before you're ready to make a Kashmiri naan, you'll need to make sure you've got the right equipment in the kitchen.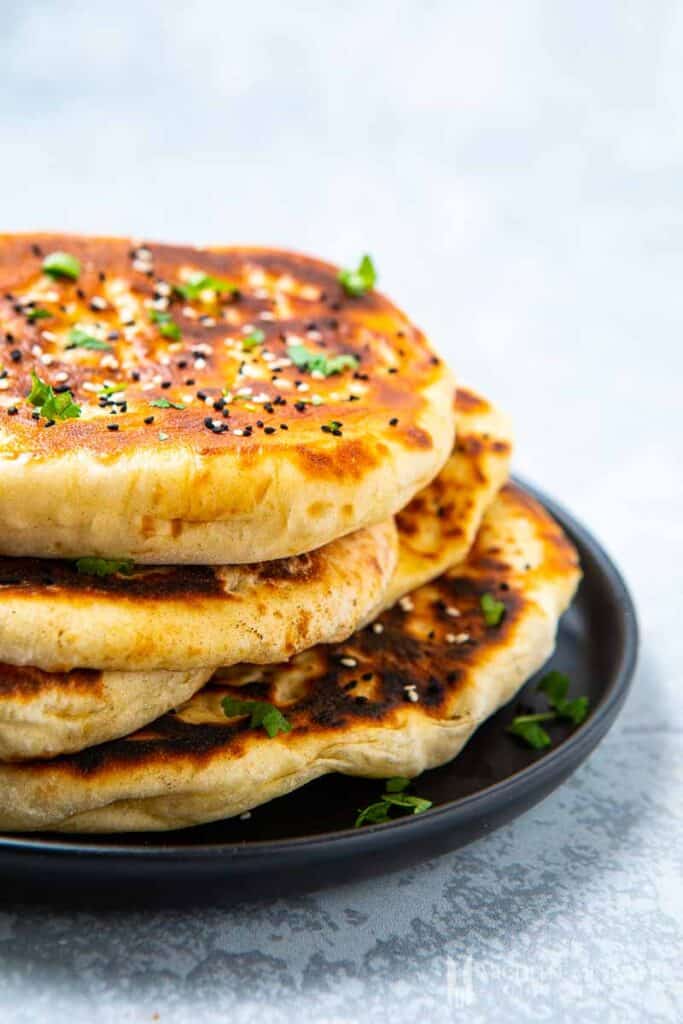 Kashmiri naan history
The word 'naan' comes from the Persian word nān, which means 'bread.' Naan breads were traditionally baked in a tandoor, a clay oven from which tandoori cooking takes its name. This way of baking the naan gives it a beautiful, unique taste. Although, when baked in a normal oven or a pan, it'll still taste great!
In the Kashmir region, an area between India and Pakistan, it became popular to use nuts and raisins to make a sweeter naan. Kashmiri naan soon became a staple dish, enjoyed by millions of people throughout the continent.
But what makes Kashmiri naan so unique? Well, it's renowned for its nutty taste (normally cashew, almond or pistachio) and its sweetness (usually cherries, sometimes raisins).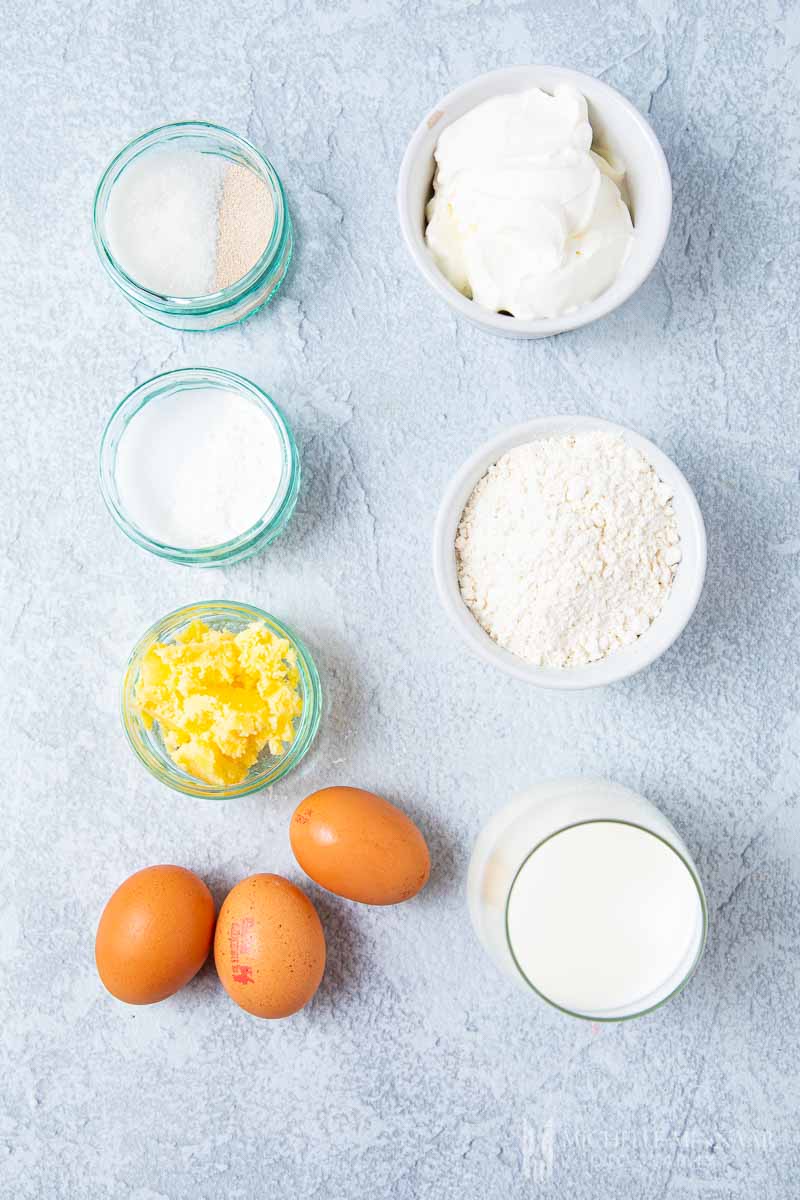 Different types of naan bread
There's quite a variety of traditional Indian naan breads, all with their own special unique character. So, whatever your preferred taste, discover the range of naans and find your favourite. Here are a few of the most well known naan breads:
Peshwari naan
The ingredient that defines a peshwari naan is coconut. You can use desiccated coconut or coconut powder Take a look at my recipe for Peshwari naan.
Laccha
While not actually a naan, laccha is very similar. It is normally made with whole wheat and doesn't use raising agents. This makes it quite thin and multilayered when cooked.
Keema naan
A soft and fluffy naan that, once cooked, is stuffed with keema. Absolutely delicious! Have a go and use my keema matar recipe for the stuffing.
Kulcha
Kulcha is made with maida or refined white flour, instead of wheat flour. It's also a mixture of dough with mashed potato, making it a unique flatbread.
Paneer naan
A crispy, plain naan stuffed with paneer, which is a fresh soft cheese that is very popular in Indian cuisine.
All of these naan breads make a great side dish to accompany just about any curry. But for me, Kashmiri naan is special. And I've no doubt that if you try it just once, you'll think so too.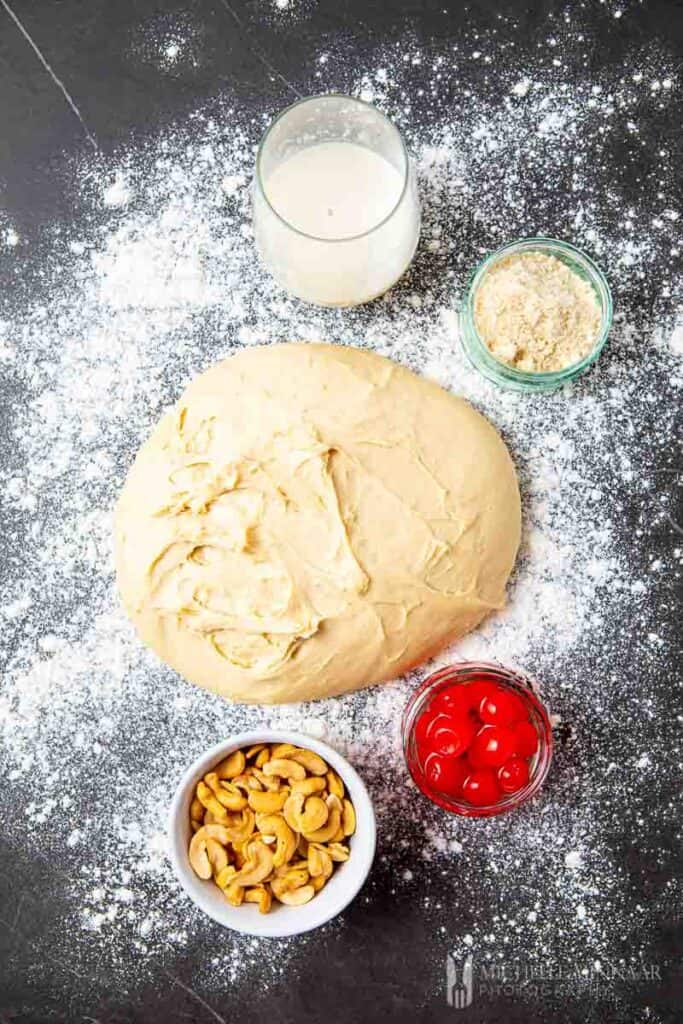 What goes well with Kashmiri naan?
With its sweet nutty taste, Kashmiri naan makes a healthy, heavenly snack. That's why it's so popular as an afternoon tea treat in Indian and Pakistani culture. So, let's have a look at what goes down well with Kashmiri naan.
Kashmiri kahwa – a traditional green tea, with flavours of saffron, honey and walnuts
Noon chai – an essential part of Kashmiri breakfast and supper, this vivid pink tea is made with green tea leaves, milk, salt and baking soda
Kashmiri pulao – for a savoury pairing, pulao is perfect. It's an incredibly tasty sweet and savoury rice that influenced everything from paella to biryani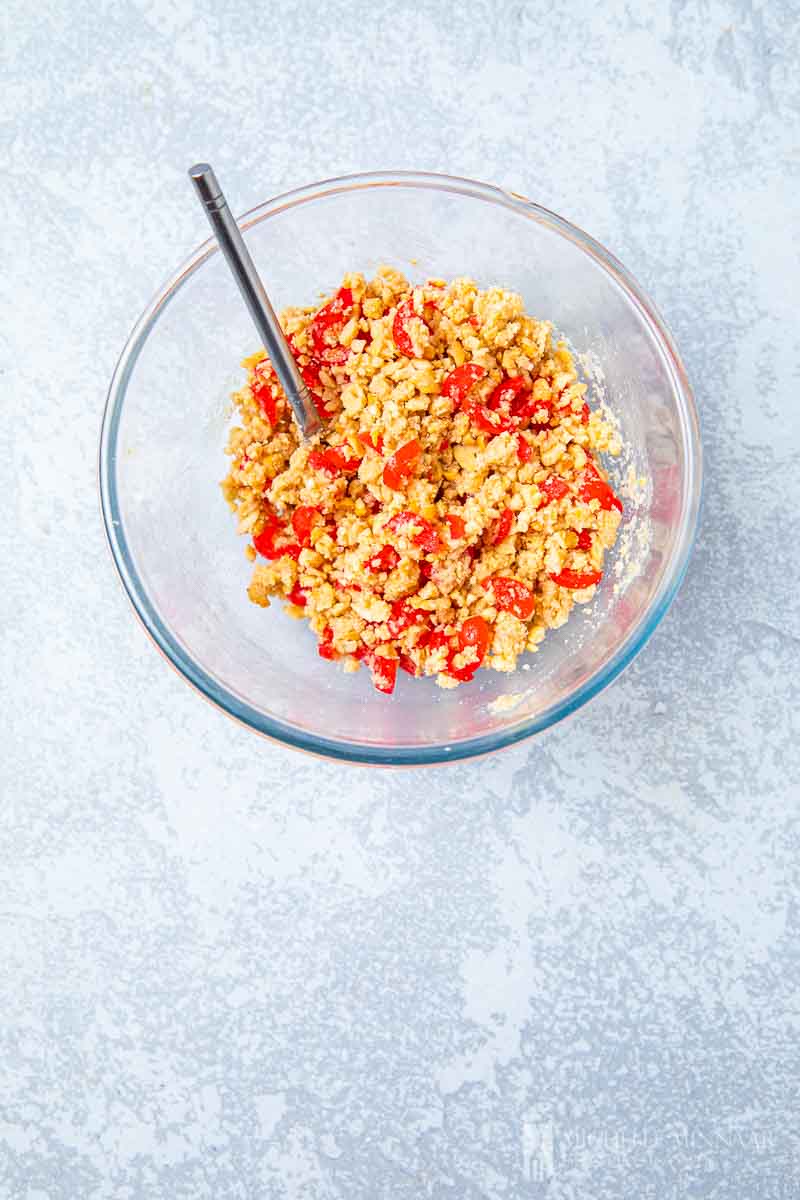 Kashmiri naan recipe
My Kashmiri naan recipe uses simple ingredients that add up to something special. The taste is so wonderful that kids and adults will love it. Whether you're a foodie with a taste for Indian and Pakistani dishes, or it's the first time you've tasted naan bread, you'll be knocked out by the flavour. And it's so worth making Kashmiri naan breads from scratch!
My recipe for the Kashmiri filling uses cashews and ground almonds, mixed with glacé cherries and honey.
The dough uses baking basics like flour, baking powder and dried yeast. It also uses a classic Indian ingredient – ghee, which is a type of clarified butter.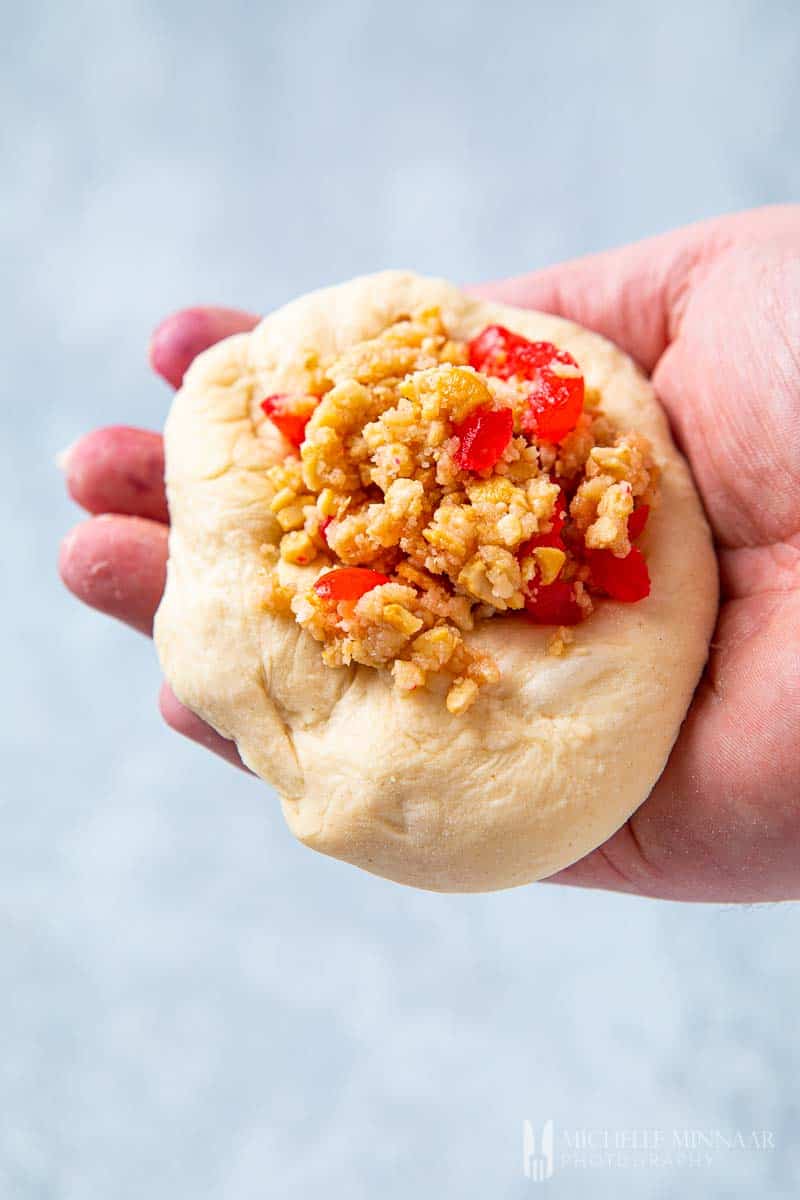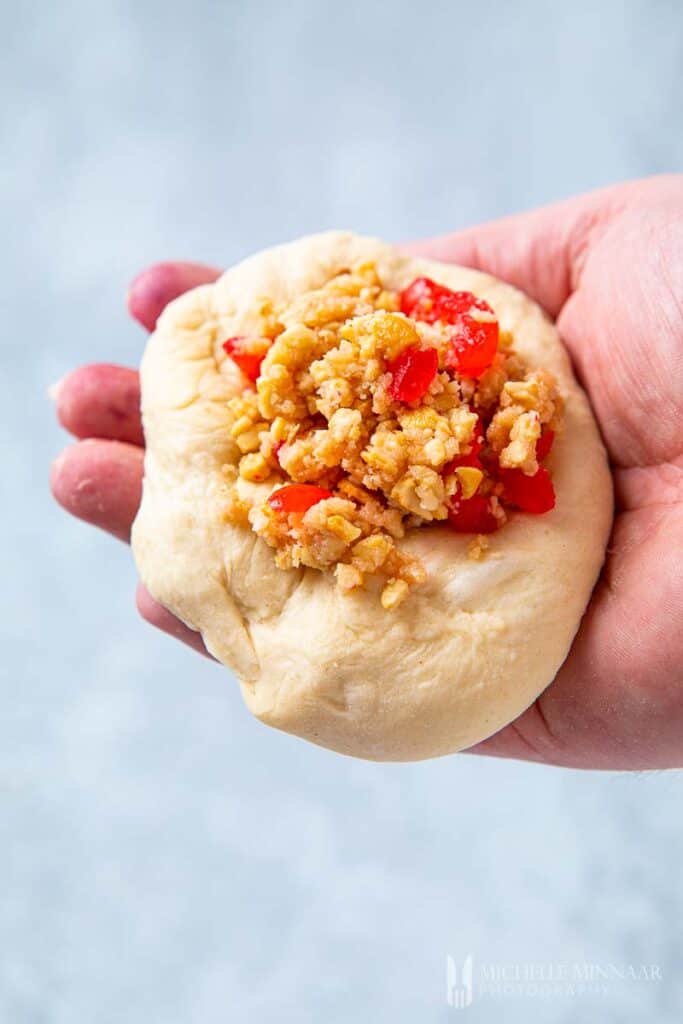 Ghee is key!
The secret to a wonderfully tasty naan, is to brush ghee on it after it's cooked. Never heard of ghee? Let's delve a little deeper.
An essential ingredient in Indian cooking, ghee is made by melting butter. Once melted, the butter separates into liquid fats and milk solids. Then, the milk solids are removed. Voilà! Now you have ghee.
As it has no milk solids, ghee has less lactose than butter. So, it's definitely better than butter if you're lactose intolerant.
Ghee also has a much higher melting point than butter. This means it's great for frying or sautéing. As it's heated for longer than other types of clarified butter, ghee has a rich nutty flavour. This explains why it's the first ingredient on the list when it comes to making an authentic Indian curry.
It also contains a fatty acid known as butyrate, which helps digestion and may also have anti-inflammatory effects.
You can find ghee online on Amazon, at any large grocery store/supermarket, or any Indian food store.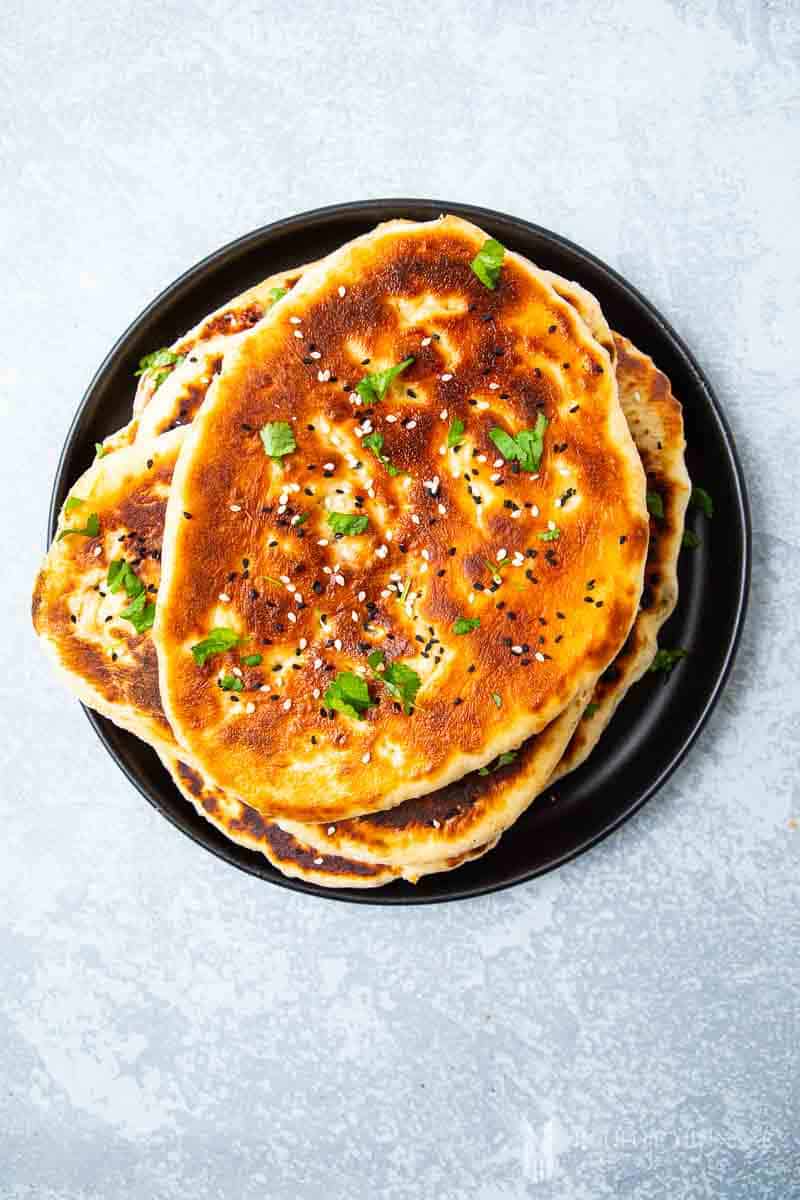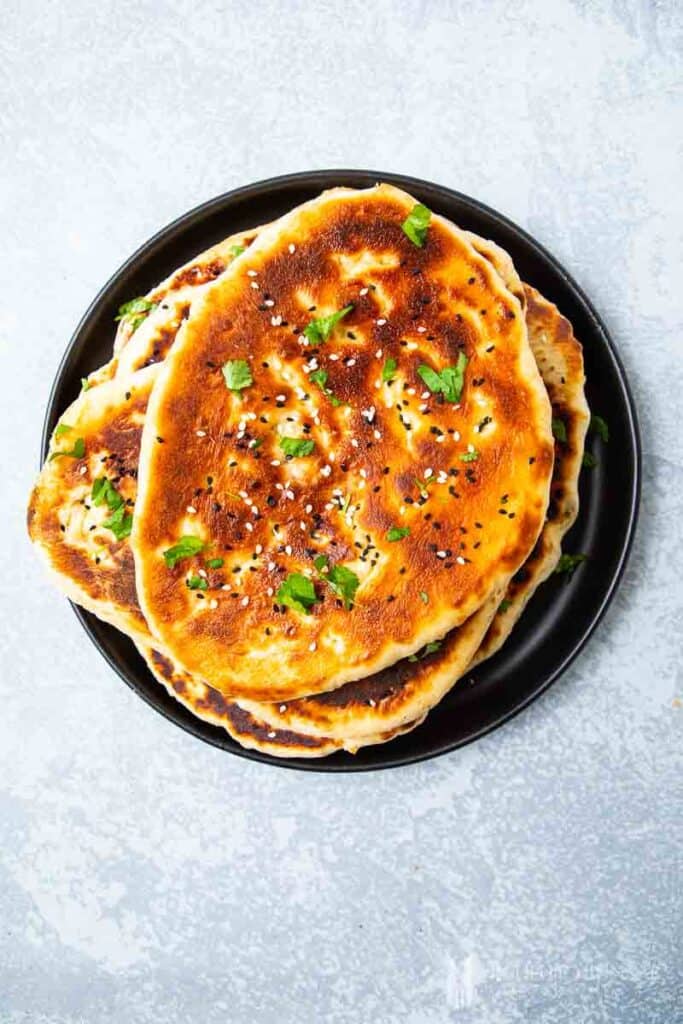 Curries that go perfectly with Kashmiri naan
Kashmiri naan is not just delicious for breakfast or as an afternoon tea snack. Its subtle sweetness and lovely nutty flavour makes it the perfect side dish for a tasty curry. So, try some of these delicious curry recipes, all of which make a perfect pairing with a Kashmiri naan.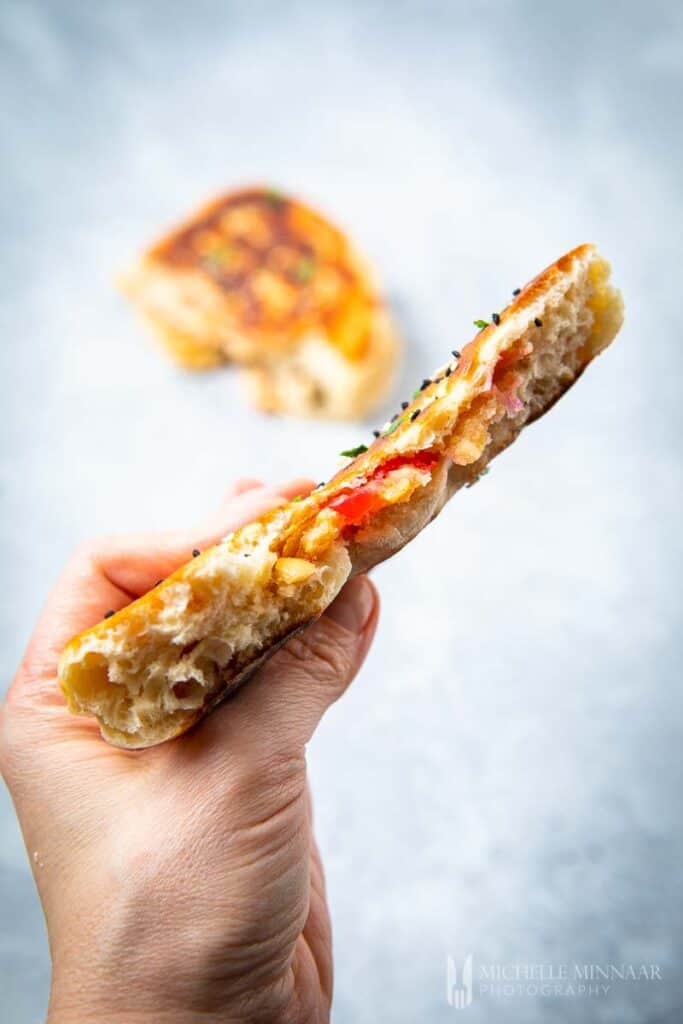 GIVEAWAY
This week one winner will receive one copy of Cooking up a Country by James Vasey.
For anyone who appreciates food, fine wine, history and travel, Cooking up a Country by James Vasey is an essential read. Vasey's feelgood, lock-down antidote for foodies is an appetising addition to the world's collection of contemporary romantic fiction.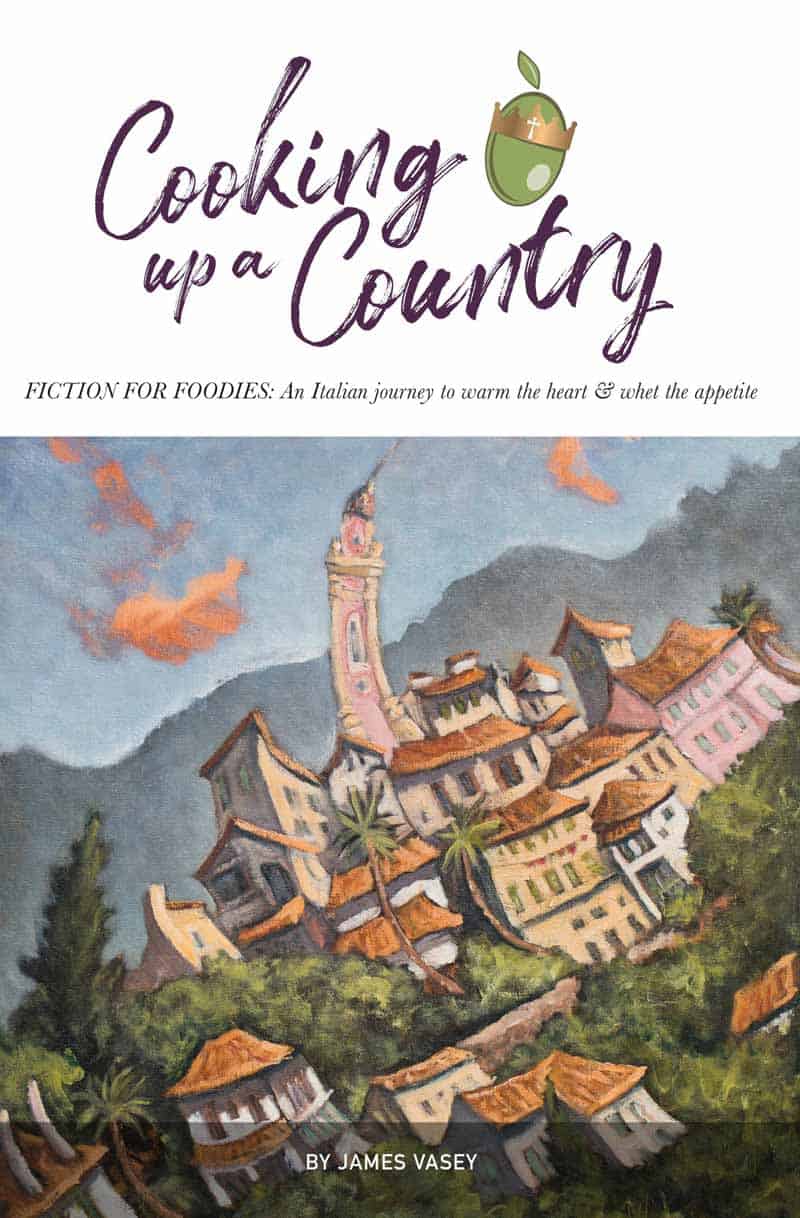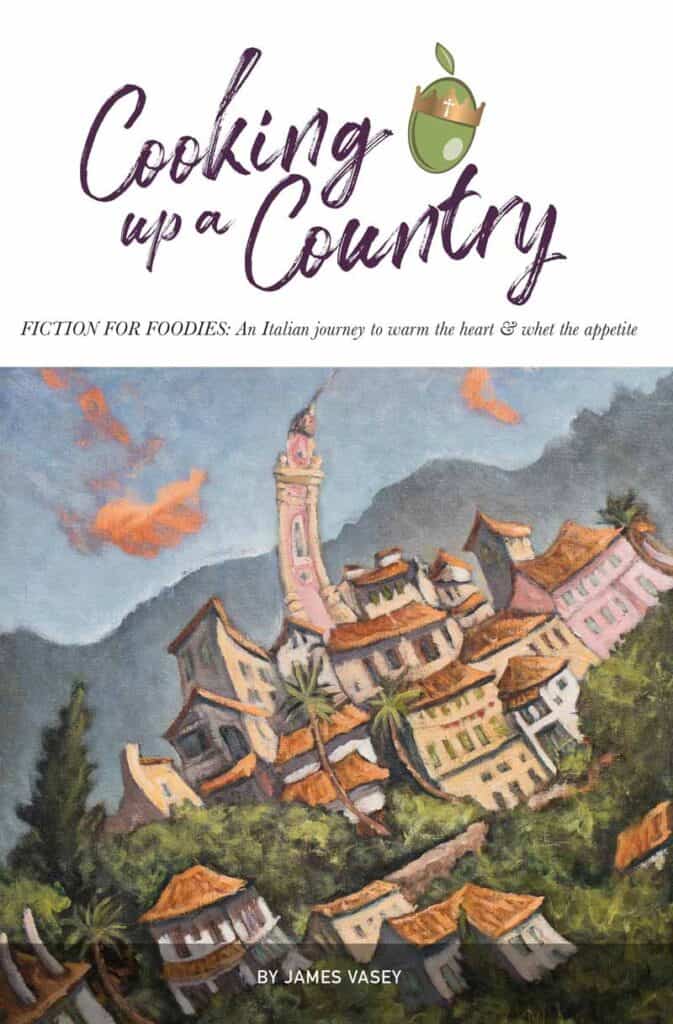 Like everyone's best-kept secret recipe, Cooking up a Country is a gem of a book to be devoured by all. With the bonus inclusion of local recipes of Seborga, you can truly get a taste of the region.
Two damaged people from very different backgrounds are drawn together by a shared passion for food and wine. Ben is a feckless but fundamentally decent English academic on the run from his own mistakes. Alessandra is a talented but bitter Italian chef escaping her ex-partner's stupidity. It is definitely not love at first sight.
Their two worlds collide in the ancient Principality of Seborga, whose claimed independence from Italy dates back to the Knights Templar. Perched high above the azure sea of the Italian Riviera it is a community in sight of, but also in stark contrast to, its wealthier neighbour, Monaco.
The forces of globalisation threaten Alessandra's family Osteria and the community's artisan food producers. If he is to win the woman and earn the respect of his new neighbours Ben needs a plan to help them survive.
a Rafflecopter giveaway
Entering is easy, just follow the instructions below.
HELP
Here you can find a tutorial on how to enter with Rafflecopter.
If your form is not showing, try refreshing the page.
Complete the form, otherwise your entries will not count.
Make sure the mandatory entries (e.g. leave a blog comment) are completed first.
Don't forget to come back daily for extra entries via Twitter.
If you're viewing this post by email, please come to the actual webpage to enter.
Competition Question: What is your favourite type of naan?
Print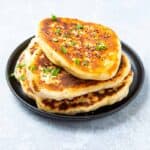 Kashmiri Naan
---
Description
Kashmiri naan is one of the most loved recipes in Indian cuisine. This fruity and nutty delight is best served with saucy curries.
---
Kashmiri Filling
Naan Dough
---
Instructions
For the Filling: Place all the ingredients in a bowl and stir until everything is well incorporated. Set aside.
For the Naan: Sift the flour, salt and baking powder into a large bowl.
Gently heat the milk in a saucepan until warm to the touch. Don't boil it!
Pour the milk in a large bowl and whisk in the yeast and sugar. 
Cover the bowl of milk mixture with a cloth and keep in a warm place for 30 minutes. Ideally, it should foam. 
Beat the eggs and yogurt together.
Pour the milk mixture into the flour, plus the egg mixture. Stir until well combined.
Tip the dough out onto a clean, flour-dusted work surface and knead until the dough is soft and sticky, which should take around 10 minutes. Alternatively, you can use a stand mixer to do the job.  
Place the dough in a greased bowl and cover it with a cloth. 
Wait for at least 1 hour, but no more than 24 hours, for the dough to rise.
Filling the Naan: Divide the dough into 10 balls. (Use extra flour for dusting purposes to get this part of the recipe done. Things can get sticky!)
Roll out each of the 10 portions of dough balls into thick circles.
Fill half of each circle with one portion of the filling leaving about an inch around the edge.
Wet the dough around the edges with a little water and fold each circle in half to enclose the filling.
Pinch the dough around the edges to close.
Gently roll out each naan into a round shape. Shake off excess flour.
Cooking the Naan: Heat a dry frying pan over a high heat. When very hot, place a naan in it. 
Check the bottom regularly to ensure it doesn't burn. What you're looking for is a golden sheen with a brown toasted look. If it starts to look too dark, turn it over to cook on the other side. The average cooking time for a naan is between 3 and 5 minutes. If you prefer your naan more charred, finish it off under a grill.
Place the naan on a plate and brush with ghee. Serve immediately with your favourite Indian curry. Enjoy!
Notes
If you love this naan, be sure to check out Peshwari Naan, which has a coconut filling!
Prep Time:

30 minutes

Cook Time:

40 minutes

Category:

Bread

Method:

Pan Fry

Cuisine:

Indian
Keywords: kashmiri naan, kashmiri naan bread recipe, how to make kashmiri naan, indian naan bread recipe, naan with cashews and cherries