Thick, creamy, sweet and delicious, with a taste that'll bowl you over, this white chocolate and raspberry smoothie recipe is set to become your go-to smoothie recipe.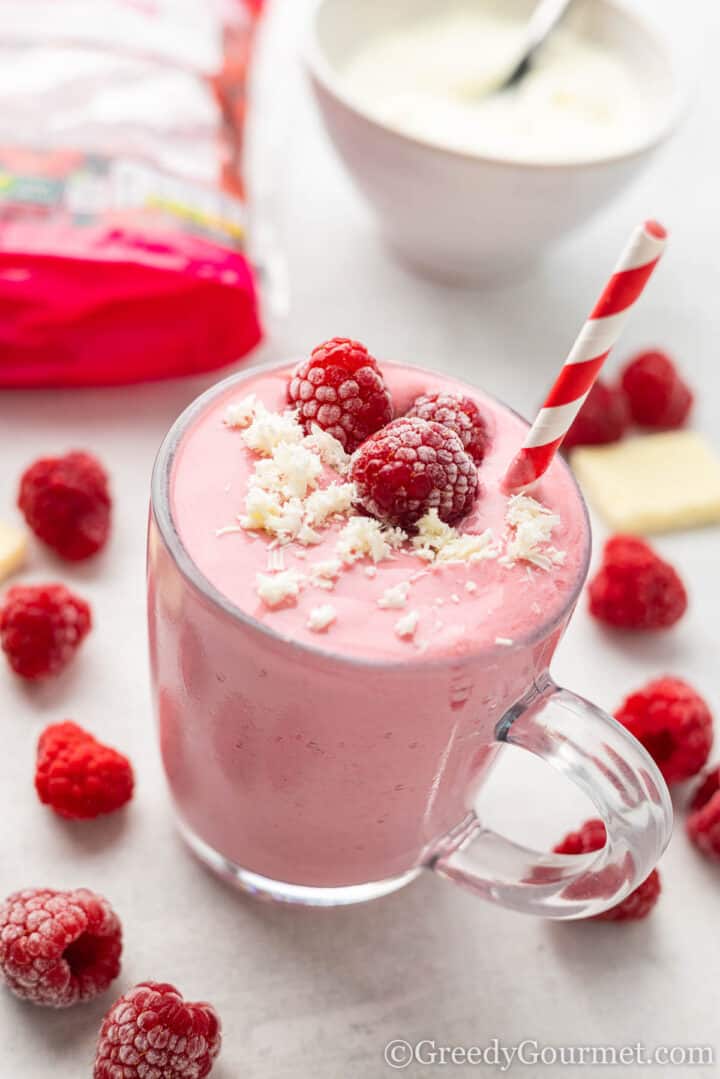 Best of all, it can be made in mere minutes! Whether it's for a super quick breakfast, a mid-morning pick-me-up or a sumptuous afternoon snack, this white chocolate and raspberry smoothie is too good to resist!
Why you'll love this recipe
It's so simple and so quick to make
There are only four ingredients
It has a wonderful vibrant red color
It tastes amazing!
Equipment needed to make this recipe
There one key kitchen item you'll need for this white chocolate and raspberry smoothie: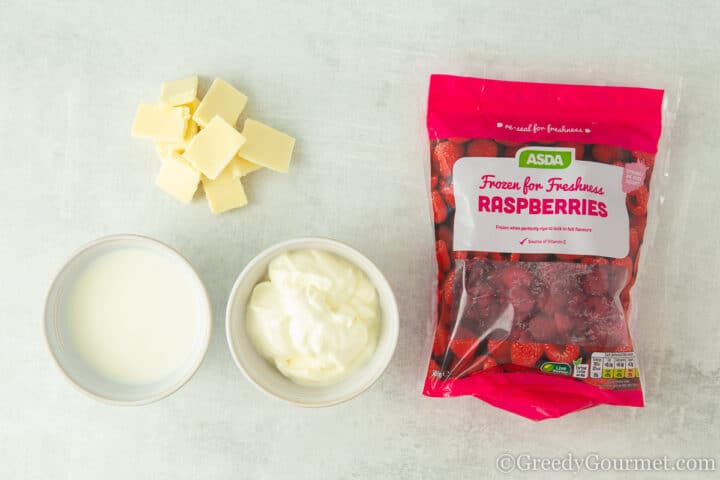 Why frozen food helps with food waste
There's so much food waste in the UK! WRAP research shows that throw away a staggering 6.6 million tonnes of household food waste a year. Furthermore, almost three quarters (70% of the total) of this is food we could have eaten.
This all amounts to a loss of around £60 per month for the average family with children. The carbon footprint of this food waste is equivalent to that generated by one in five cars on UK roads.
So, by reducing food waste, we're not only benefiting our own pockets, but also helping to save the planet.
A big reason for so much food waste is because the food hasn't been eaten in time. That's why, in order to reduce food waste, we should start to think frozen.
Many foods are just as good when prepared from frozen as they are when prepared fresh. Especially fruit. Which makes recipes like this raspberry smoothie recipe perfect for helping you to reduce food waste.
In fact, this recipe is best when using frozen raspberries, as the texture of the smoothie is thicker and more delicious. So, you get a better smoothie and you get to reduce food waste at the same time!
Check out the website freshfromthefreezer.co.uk for more information on how to think frozen, reduce food waste and help save the planet... one recipe at a time!
How to make this recipe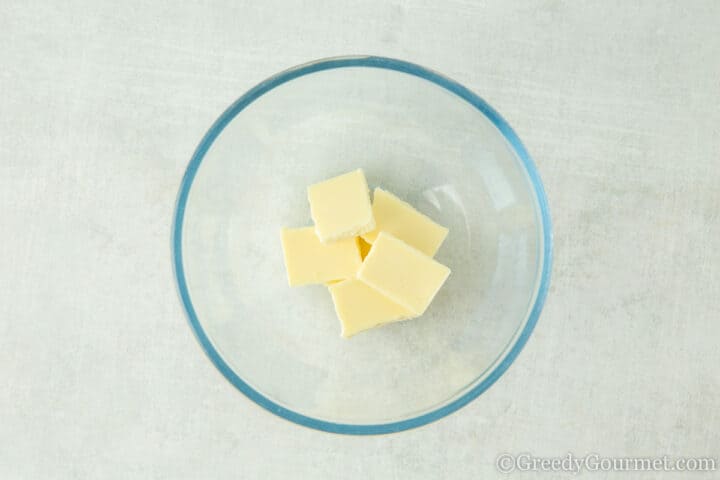 Break the white chocolate into pieces in a bowl.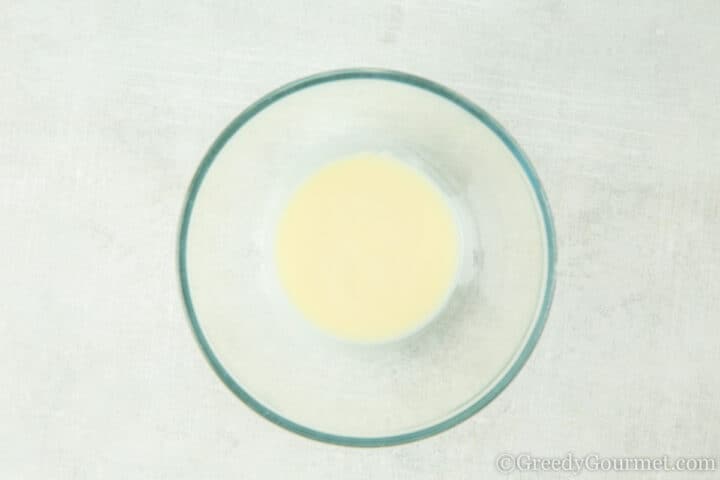 Zap in the microwave in short stints for a total of about 30 seconds and stir until smooth and completely melted.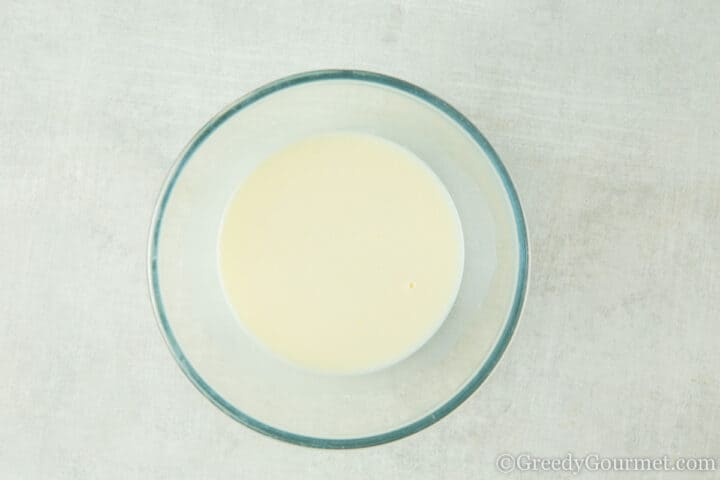 Stir in the milk. Let the mixture cool a bit.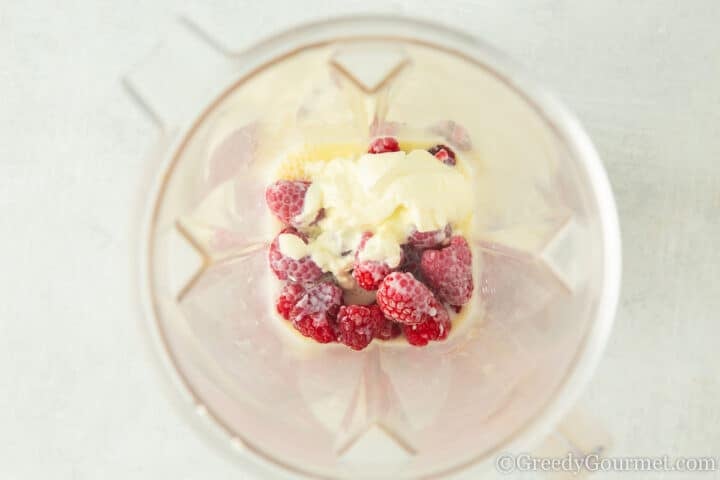 Add the white chocolate mixture, yogurt and frozen raspberries in a blender.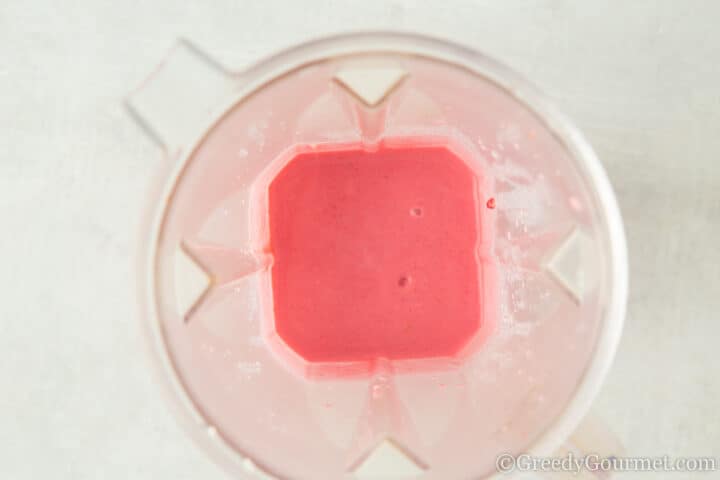 Blitz until smooth. Drink immediately. Enjoy!
Popular substitutions for this recipe
You can substitute the white chocolate for milk chocolate or dark chocolate if you prefer a richer chocolate flavor
Variations for this recipe
Add extra fruit
If you want to bring the fruitiness of this raspberry smoothie to a whole new level, there are a few different fruits you can add to the recipe:
Blueberry is a complementary cousin of raspberry and works very well in this recipe
Banana takes the sweetness up a notch or two, while perfectly complementing the chocolate flavor and bringing a beautiful creamy texture. Trust me... a raspberry banana smoothie with chocolate is utterly divine!
Go vegan
If you're vegan, don't worry… adapting this raspberry smoothie recipe is easy! Simply replace ½ cup of milk with ½ cup of almond milk, cashew milk, coconut milk or oat milk. Then add a frozen banana in place of the yogurt, to bring the creaminess. If you find the texture is not to your liking, simply add a touch more almond milk or a little more banana, until you've got the right balance.
You can also add cashew butter, almond butter or macadamia nut butter for a thicker, creamier texture.
Go extra decadent
Fancy turning this simple raspberry smoothie into an all-out decadent dessert? Here's how:
Add a scoop or two of your favorite ice cream in place of the yogurt
Add a drizzle of maple syrup or honey to sweeten the deal!
Spice things up
This recipe is simple and delicious as it is. However, there's plenty of room to get creative!
If you like a bit of heat, add some fresh chopped chili into the mix. Be careful! You don't want to overpower the smoothie. Just half a teaspoon will do – add a couple of seeds if you like it extra hot.
Ginger is another spice that would work well with chocolate and raspberry. Add half a teaspoon of ground ginger before blending up your smoothie.
You could also add mint for an interesting fragrance and taste, as it works well with both chocolate and raspberry.
Go healthy
Add a small amount of spinach or kale to your raspberry smoothie. You won't notice any change in flavor and it'll add extra nutrients to your smoothie. You could also add hemp, flax or chia seeds into the mix.
Top Tip
If you don't have a microwave, you can place a heatproof bowl over a pot of simmering water. Just add the chocolate and milk to the bowl and stir until everything is melted and the mixture is smooth. Then remove from the heat and let it cool.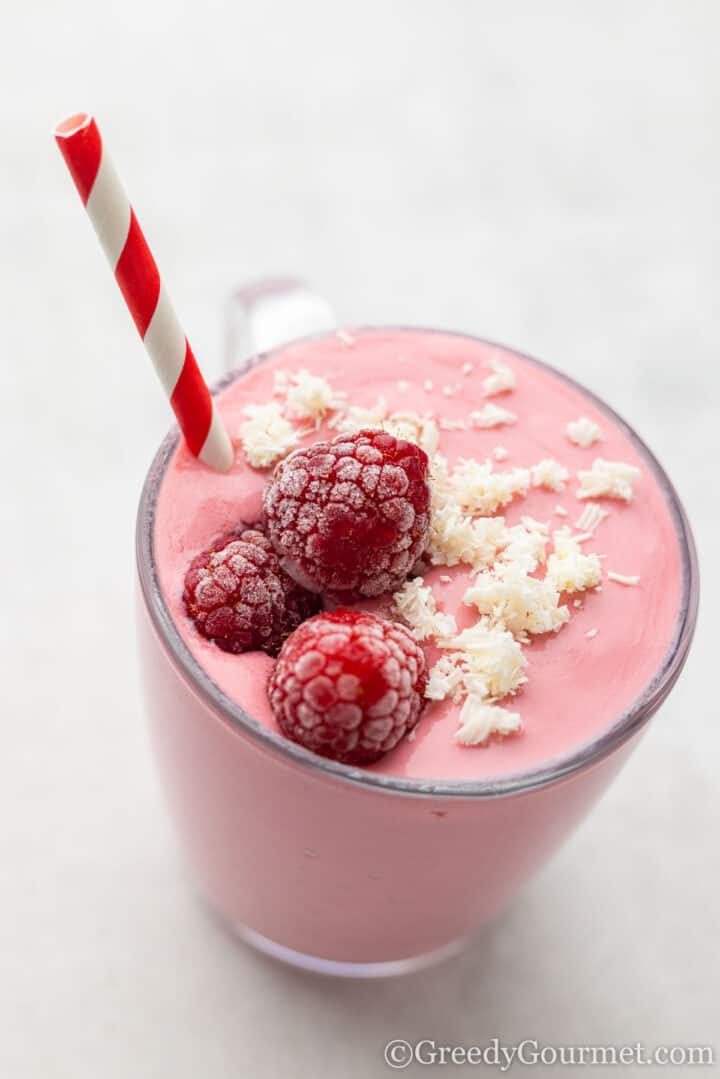 Can you put frozen raspberries in a blender?
Absolutely! A good blender should be able to handle frozen fruit. Go with my recommended blender (see 'equipment needed for this recipe' above) and you'll have no problems.
Are smoothies better with or without yogurt?
They're definitely better with yogurt – for reasons of taste and texture. However, you can always substitute milk (regular, almond, oat or coconut) for yogurt. You can also add frozen banana, which brings a similar creaminess to smoothies.
What kind of yogurt should I use?
For me, the best way to make a raspberry smoothie is to use plain Greek yogurt. Its creamy and neutral taste is perfect for making a delicious raspberry smoothie.
If you want a healthy raspberry smoothie, low fat Greek yogurt is the way to go.
Can you use just water in a smoothie?
You can, although you'll water down that delicious taste. Adding a touch of water is a good idea if your smoothie is too thick, although if you follow the recipe below you'll end up with the perfect texture.
Do raspberries have seeds in smoothies?
Not if you use a good blender. If you do find that your raspberry smoothie still has seeds, you can pass it through a fine mesh sieve to remove the seeds.
Can I use fresh raspberries instead of frozen raspberries?
Yes, you can replace frozen raspberries with fresh raspberries. However, if using fresh berries, I recommend adding a few ice cubes. This will make your smoothie nice and cool and will thicken up the mixture – which is essential, as fresh raspberries contain more moisture than frozen raspberries.
How do you store White Chocolate and Raspberry Smoothie?
It's always best to drink a smoothie straight away! However, if you make too much, or intend on making a big batch, the best way to store your white chocolate and raspberry smoothie is to pour it into a mason jar or another sealable airtight container. Then, store it in the fridge.
How long does it last?
Your refrigerated chocolate and raspberry smoothie will keep for a day or two, before losing its wonderful taste and texture.
Where can I buy frozen raspberries?
Frozen raspberries can be found in supermarkets year round. They are cheaper at times of year when raspberries have to be imported from southern Europe. Personally, I've bought them from Aldi and Asda.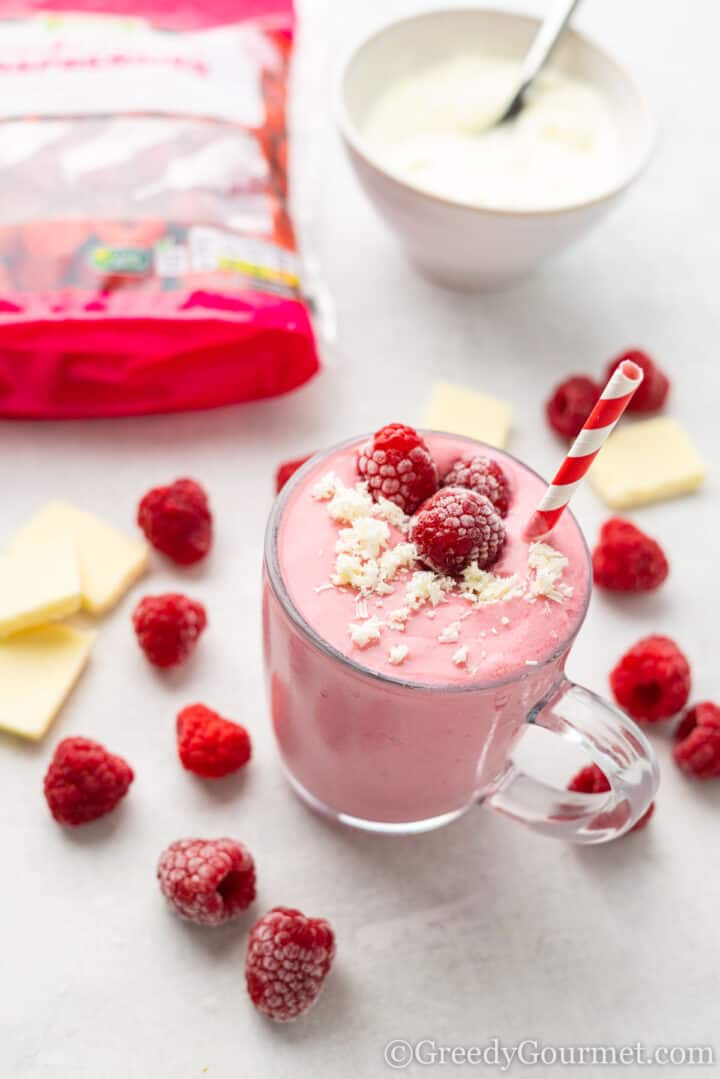 More sublime smoothie recipes
The best thing about smoothie recipes is that they're so delicious and easy to make. So, put that smoothie maker to the test and make some more delicious smoothie recipes. Here's just a few of our Greedy Gourmet favorites:
Print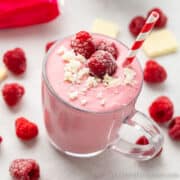 White Chocolate and Raspberry Smoothie
---
Author:

Michelle Minnaar

Total Time:

5 minutes

Yield:

1

serving

1

x

Diet:

Vegetarian
Description
Thick, creamy and sweet, this White Chocolate and Raspberry Smoothie is delicious. This smoothie can be made in 5 minutes.
---
50

g

(2oz) white chocolate, chopped

125

ml

(1/2 cup) milk

60

ml

(1/3 cup) yogurt

150

g

(1 cup) frozen raspberries
---
Instructions
The quickest way to melt white chocolate is to zap it in short stints in the microwave in a heat proof bowl. Give it a stir after every zap and return to the microwave until everything is completely melted. 
Remove from the heat, then stir in the milk, and set aside until cooled down.
Place white chocolate mixture, yogurt, and raspberries in a blender, and blend until creamy and smooth. Serve immediately. Enjoy!
Notes
Alternatively, if you don't have a microwave you can place a heatproof bowl over a pot of simmering water. Add the chocolate and milk to the bowl and stir until everything is melted and the mixture is smooth. Remove from the heat and let it cool. Proceed with Step 3.
Prep Time:

5 minutes

Cook Time:

0 minutes

Category:

Breakfast

Method:

Blend

Cuisine:

American
Keywords: white chocolate and Raspberry Smoothie, raspberry smoothie recipe, raspberry smoothie without banana, raspberry smoothie with milk, raspberry smoothie benefits, raspberry smoothie ingredients, raspberry smoothie with yogurt, simple raspberry smoothie
P.S. This is a sponsored post.