This brilliant, Italian-inspired dish has just become a new favourite of mine. Beef cheek ragu is full of flavour, easy to prepare, and can be combined with a number of sides.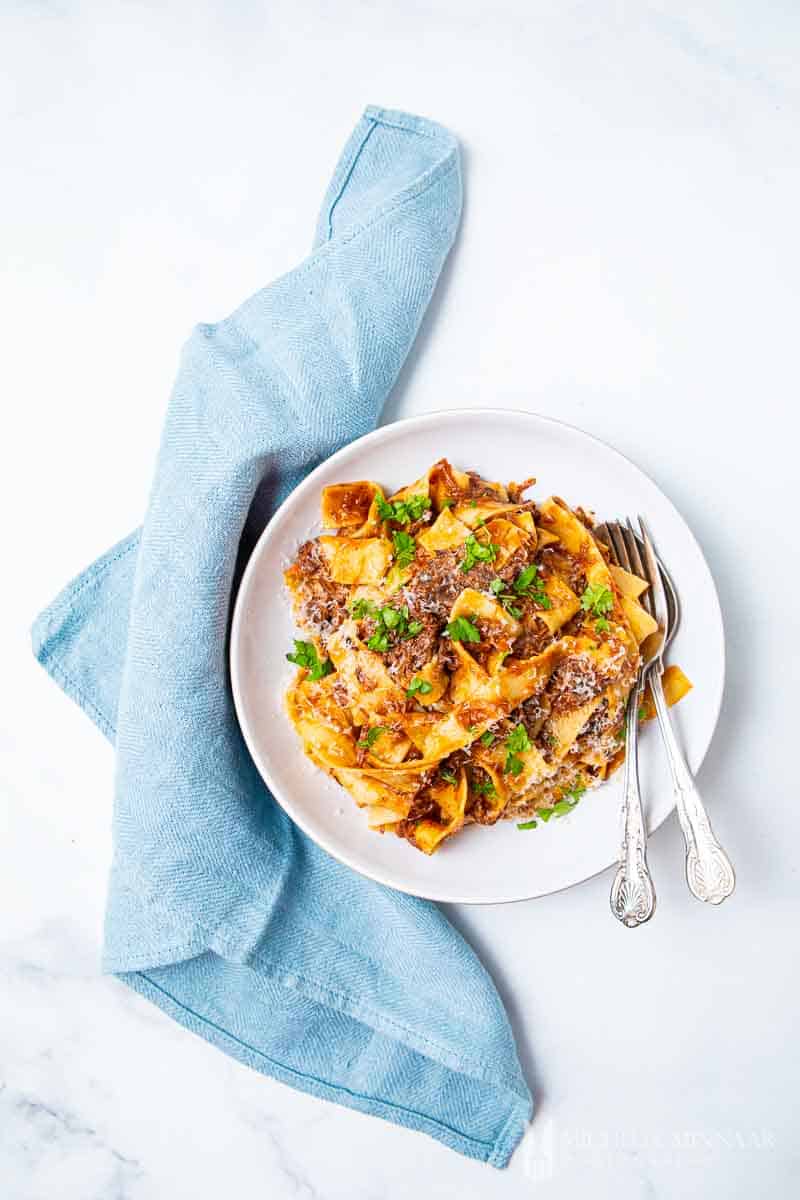 If you're tired of always cooking with the same cuts of meat, you need to try beef cheeks.
When treated right this unsung hero among beef cuts will deliver you one of the tastiest meals you have ever cooked.
It might sound like a heavy winter dish, but in fact it isn't that heavy at all. It will fill you up, no doubt, but with the refined touch of Italian cuisine it will do so without overpowering you.
Top products for beef cheek ragu
Here's a list of the top products you'll need for recreating my classic Italian beef cheek ragu recipe. Take a look below and see which items you've got missing in your pantry.
Have you got a product in mind without which you simply cannot make this beef cheek ragu recipe? Let me know in the comments section below.
easy beef cheek ragu recipe
I strongly recommend that you dedicate a bit of time this weekend and try my version of beef cheek ragu.
The prepping is easy, but you need to be patient and allow the beef cheek ragu the necessary cooking time. Trust me though, it is worth the wait.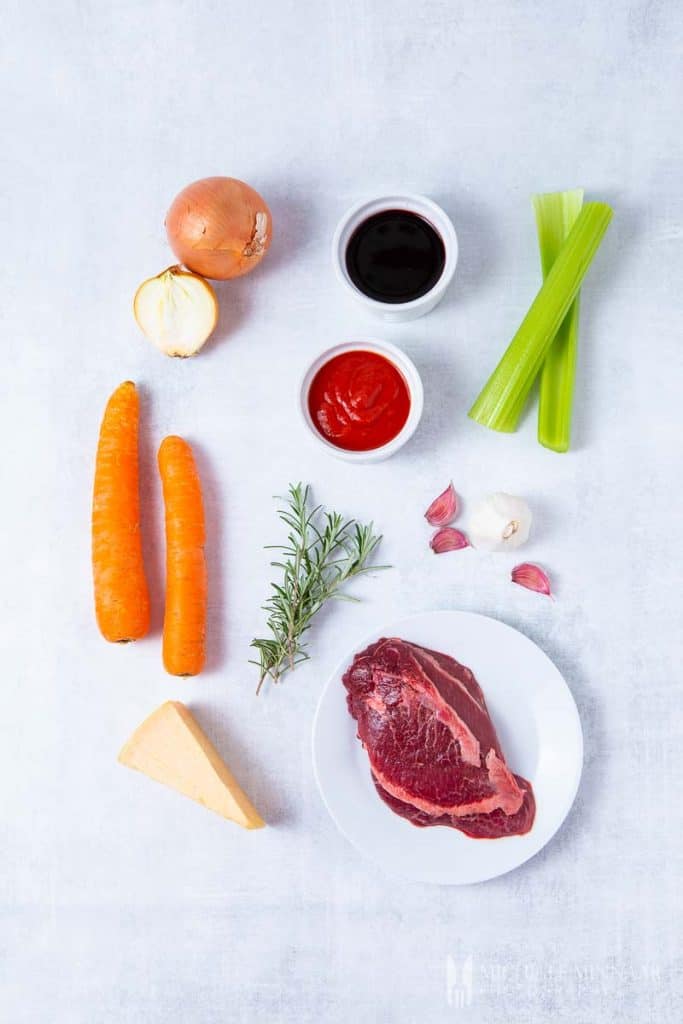 Although, what you need to make this a sensational beef cheek ragu is a delicious bottle of wine. This step is completely optional.
I haven't included a splash of red wine in my beef cheek ragu recipe. This is because the brown sugar is the element which fuses everything together in my recipe.
However if you intend to enjoy a glass during dinner, there is no reason why you can't add a glass of wine into the ragu.
Usually, most Italian stews contain wine to enhance the flavours. If you are looking for other inspired beef stew recipes similar to this one, take a look below:
where to buy beef cheeks
Beef cheek is not the most sought-after cut of meat. But as a matter of fact that works to your advantage.
What it means is that you can often get this very tasty cut of meat at a very reasonable price.
When you look at the basic ingredients, this beef cheek ragu is really great value for money. Maximum flavour for a minimum price tag.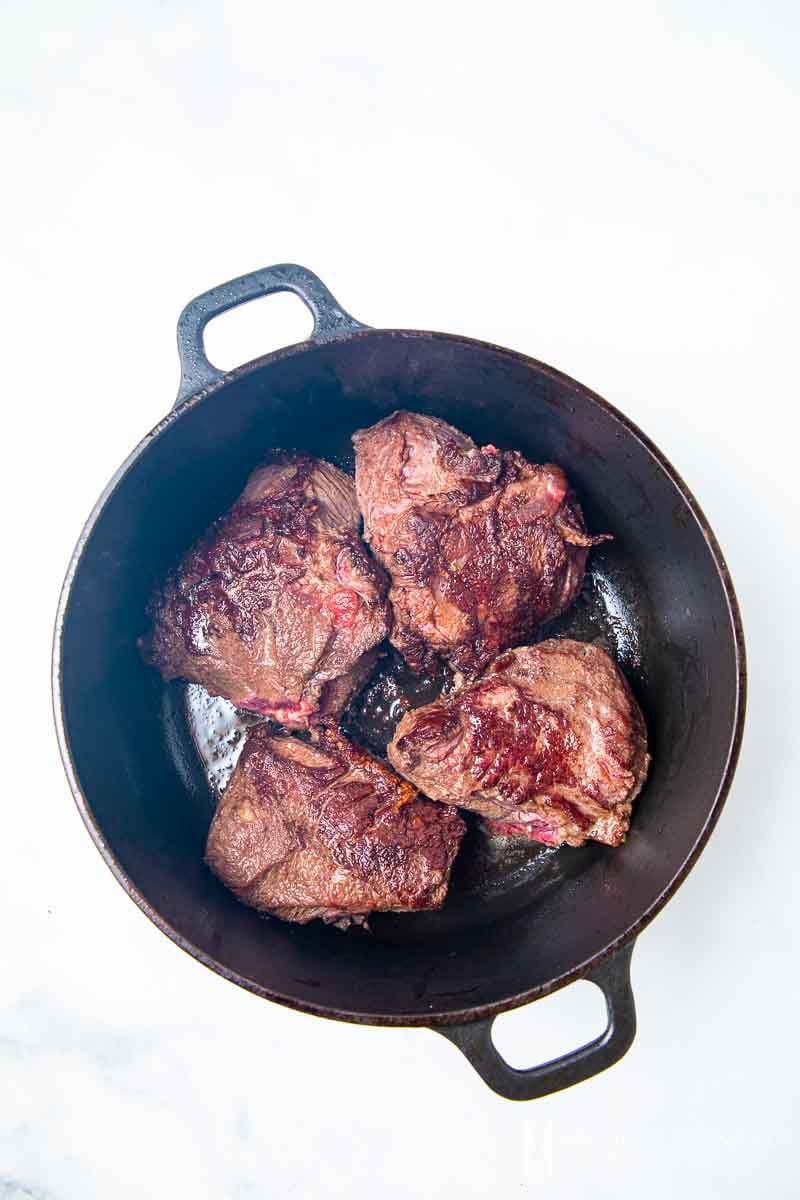 I have seen beef cheeks in some broadly-stocked supermarkets although admittedly that is the exception rather than the rule.
The best way is to go to the meat counter or to your local butcher and ask for them – preferably a couple of days in advance in case they have to order them especially for you.
The good thing is that you can buy a bunch of them and freeze the ones you don't need. This way you will have enough for another beef cheek ragu whenever you feel like it.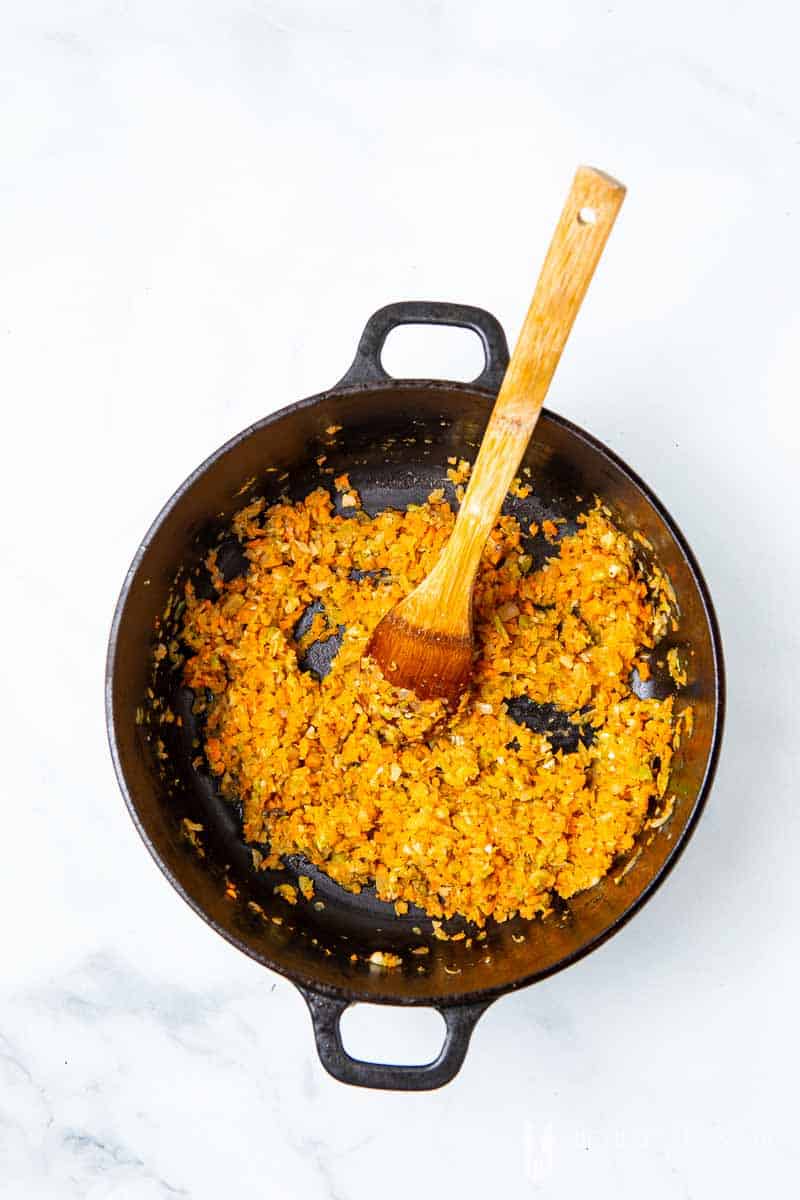 are beef cheeks fatty?
Generally speaking, beef cheeks are quite a tough and fatty cut of meat.
For this reason, it is important to slow cook them or braise them until they are completely tender.
What you want is that melt-in-your-mouth experience! You should also try my sous vide beef cheeks.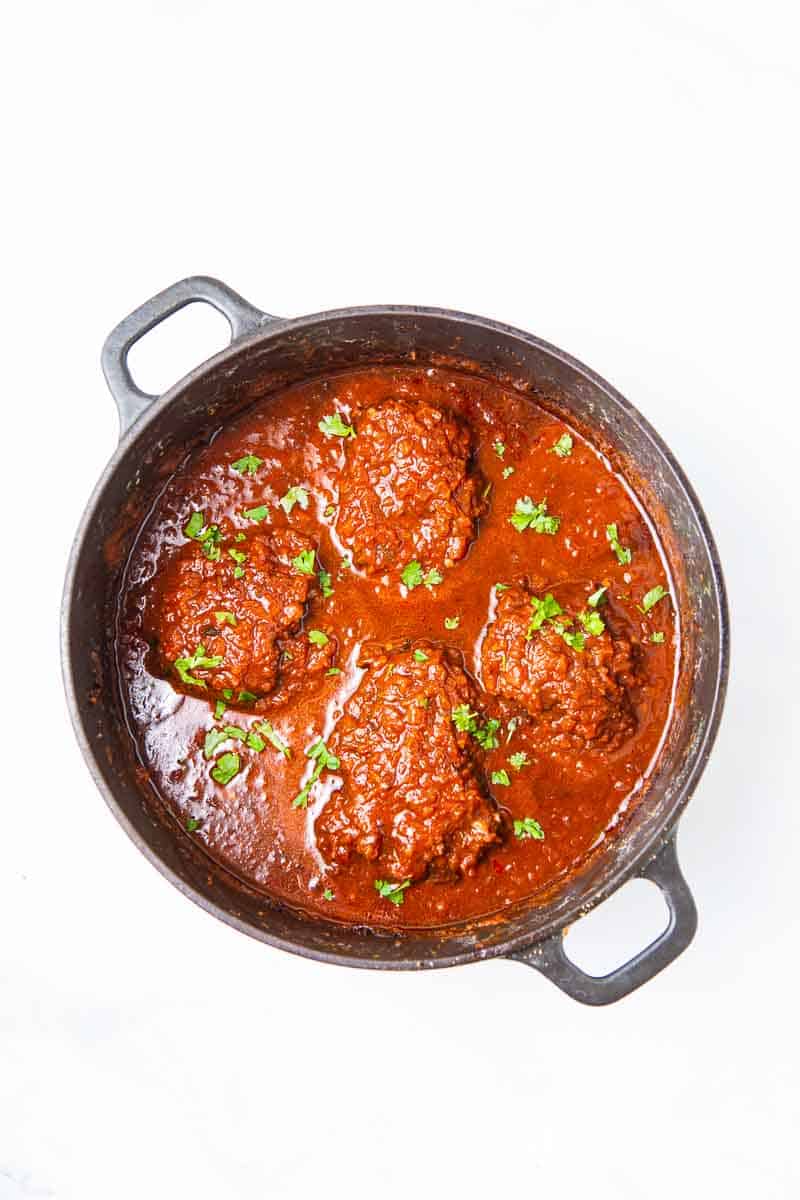 alternatives to beef cheeks
Beef cheeks have the most intense flavour. You can replace them with pork cheeks.
Again this is a cut of meat that you will need to search for.
If you can't find any sort of cheeks, you can make the ragu using normal beef or any other meat you would include in a stew.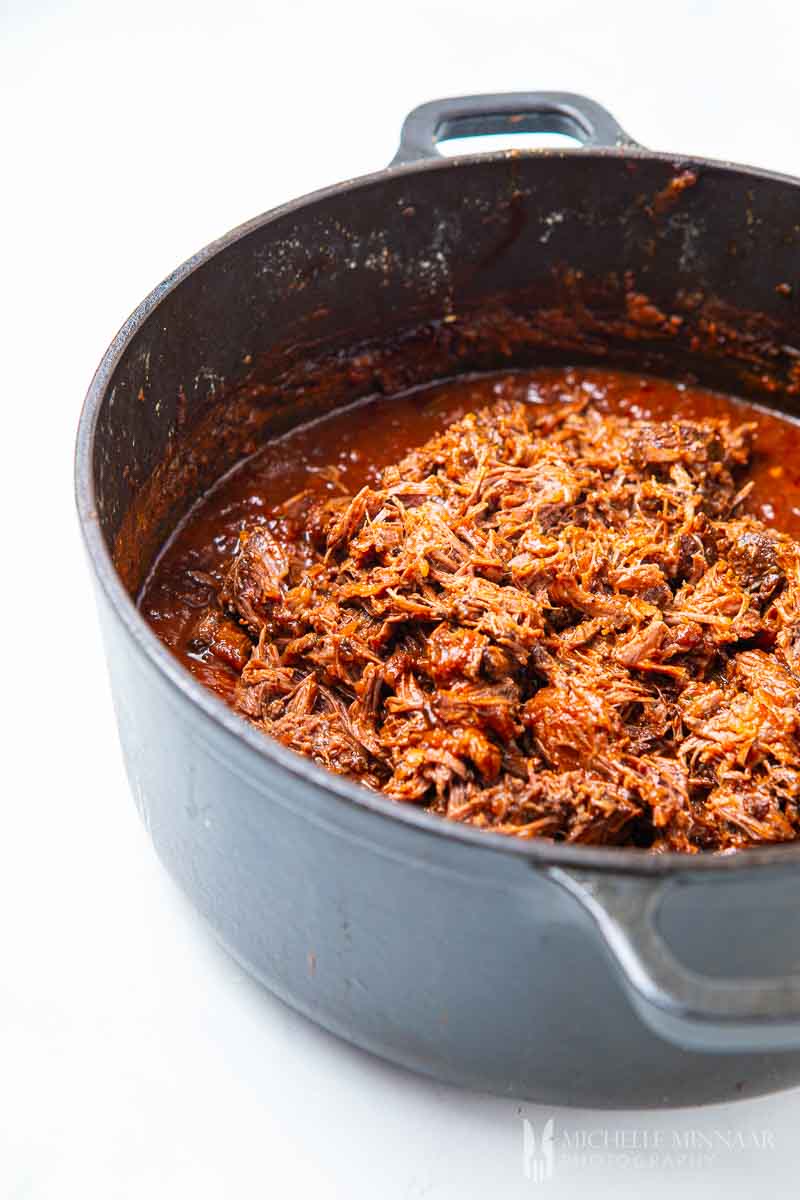 beef cheek ragu with pasta
In order to keep my beef cheek ragu as authentic as possible, I've served it with pasta. I highly recommend pappardelle.
In essence, pappardelle is a broad type of fresh pasta, which is perfect for scooping up that fantastic ragu.
I think that it is the ideal pasta to serve with beef cheek ragu. Despite this, you can obviously use any kind of pasta you prefer. However, I recommend that you still stick to fresh pasta.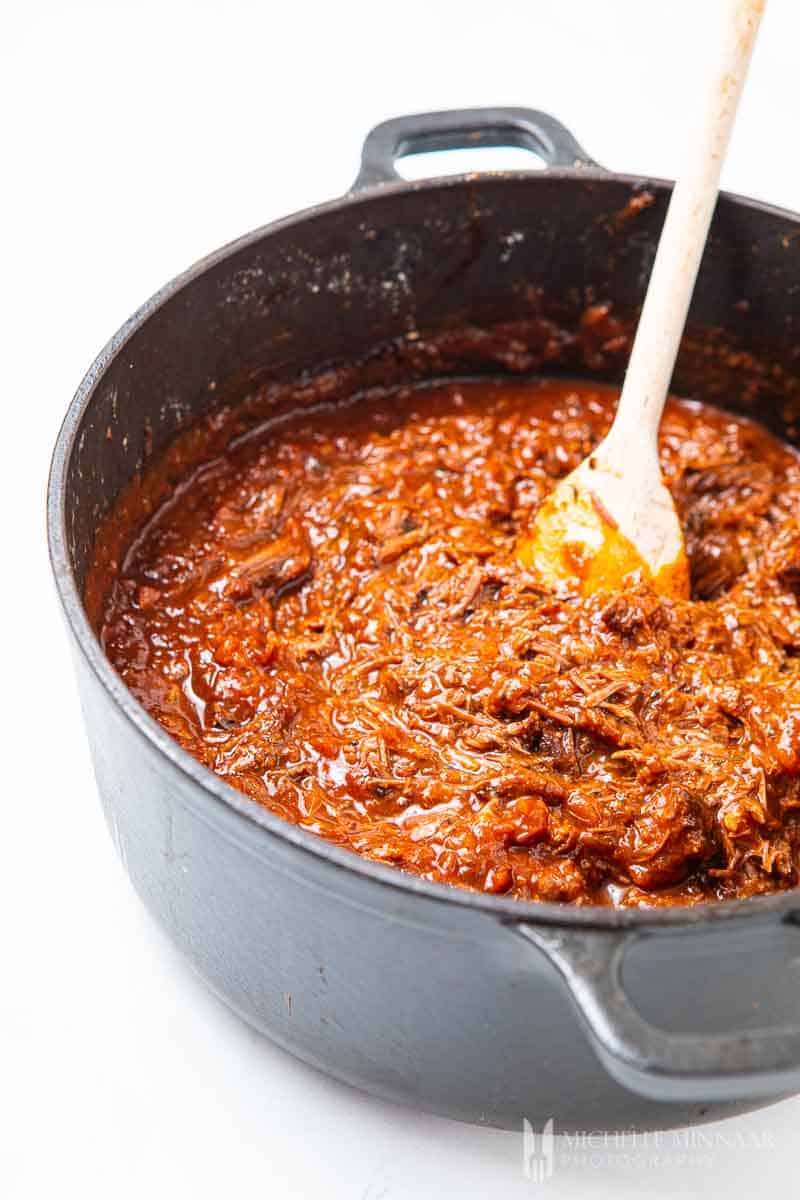 beef cheek lasagne
You can also make a variation of this beef cheek ragu and make a fantastic beef cheek lasagna recipe. Just take a look at my Bolognese pasta bake recipe for inspiration.
To make a lasagna recipe, you'll need to source lasagna sheets and make lots of white sauce.
beef cheek ragu gnocchi
Similarly, you can also alter this recipe by making a beef cheek ragu gnocchi, instead of serving it with pasta.
Just check out some of these inspired gnocchi recipes below:
The beef cheek ragu would work with any of these gnocchi recipes.
other sides to serve with beef ragu
Another good Italian alternative is to serve the beef cheek ragu with polenta. Polenta is a sort of porridge made from boiled cornmeal.
It is a very typical side dish in Northern Italy, and quite ideal for serving with full-flavoured stews like our beef cheek ragu.
You will find it in most supermarkets and it is quite easy to make. You only need to boil the cornmeal for a few minutes whilst stirring.
If you prefer to give your beef cheek ragu a more British twist you can make a good homemade mash to go with it.
In essence, my carrot and parsnip mash for example would be an ideal alternative to pasta.
Alternatively, you can also serve beef cheek ragu with boiled rice or couscous, depending on your preference.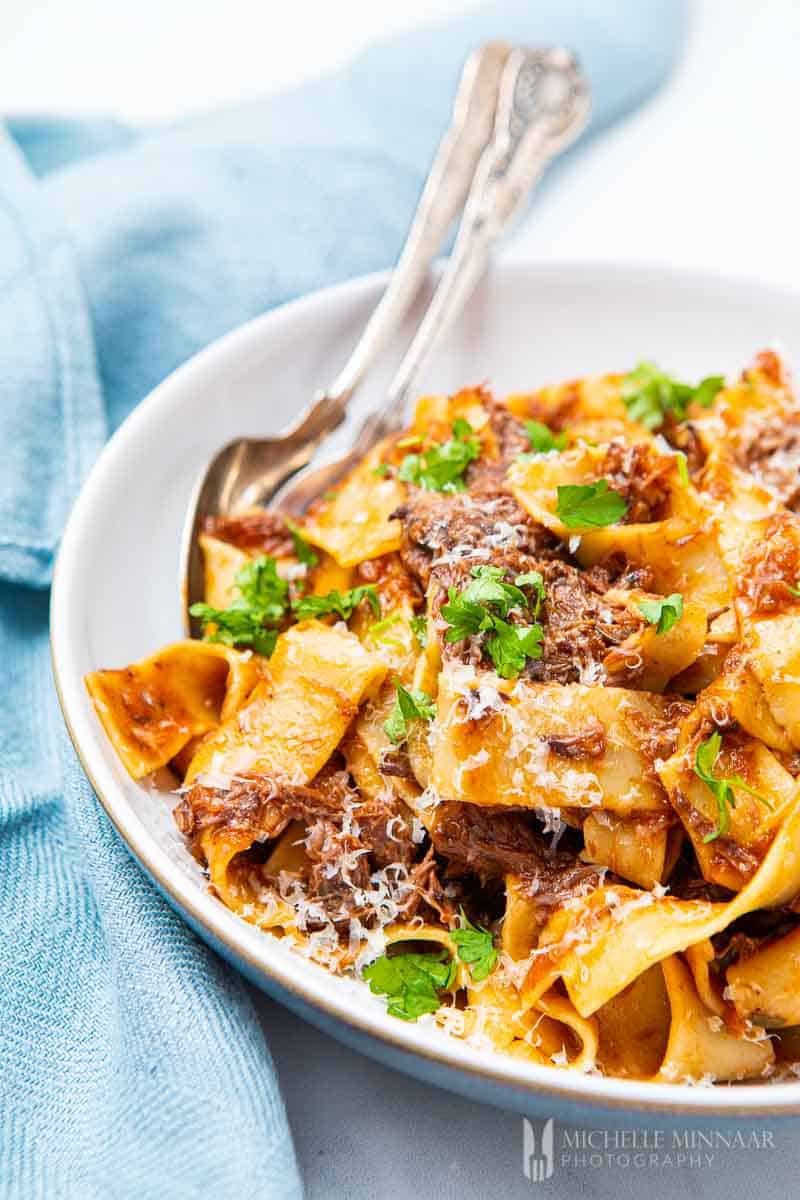 how to season beef ragu
Lastly, Italian cuisine is renowned for its ability to produce tasty food with only a handful of select ingredients.
Apart from the garlic and vegetables, I have only used rosemary to bring extra flavour to my beef cheek ragu.
If you find rosemary to be too powerful you can use thyme instead.
Alternatively use Marjoram. On that note have a look at my 10 marjoram substitutes to learn more about changing up the spices.
More beef stew recipes
If you love stews, here are plenty more for inspiration:
Oxtail stew – if you're patient and cook this recipe at a long temperature for a long time the result is pure bliss.
What is your favourite way to cook with red wine?
Print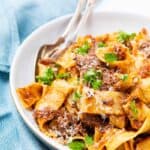 Beef Cheek Ragu
---
Description
Make this beef cheek ragu recipe in just a few simple steps. This Italian recipe is rich and full of flavour.
---
2

kg (4lbs) beef cheeks

30

ml (2 tbsp) vegetable oil

2

onions, peeled and finely chopped

8

garlic cloves, peeled and crushed

2

celery ribs, washed and finely chopped

2

carrots, peeled and finely chopped

15

ml (1 tbsp) fresh rosemary, finely chopped

5

ml (1 tsp) dried oregano

500

ml (2 cups) red wine

800g

(2lbs) passata

30

ml (2 tbsp) brown sugar [optional]
---
Instructions
Preheat oven to 160°C/320°F/gas mark 3.
Heat the oil in a large ovenproof casserole.
Brown the cheeks all over on a high heat, remove from the casserole and set aside.
Lower the heat, then add the onion, garlic, celery and carrot to the casserole and fry for 3 minutes, or until the vegetables have softened.
Return the meat to the casserole.
Sprinkle the herbs over the vegetables.
Crumbled the stock cubes over the meat.
Turn up the heat and pour in the wine, letting it sizzle for a few minutes.
Pour in the passata and add the sugar.
Give everything a good stir and wait for the stew to reach a slow simmering point.
Place the lid on the casserole and transfer it to the oven.
After 1 hour, remove the lid and cook for another 3 hours. Check on the meat once in a while, turning over the top pieces so that their surfaces don't harden and burn.
Place the lid back on, lower the heat to 140°C/275°F/gas mark 1.
The meat should now fall apart with the touch of a fork. Remove the casserole from the oven and shred the meat to desired consistency.
Serve on a bed of buttered pappardelle and a glass of red wine.
Notes
The amount of stock cubes used should equate to 1 litre's (4 cups) worth.
You don't have to faff about with the lid during cooking time so much. Cooking without the lid simply means the liquid will evaporate and you're left with a thick, luscious sauce. You can cook it for 6 hours straight in the oven with the lid on if you prefer. It's always good to check up on the meat every once in a while though.
Prep Time:

30 minutes

Cook Time:

390 minutes

Category:

Main Course

Method:

Braise

Cuisine:

Italian
Keywords: beef cheek ragu, beef cheek recipe, Italian beef recipe, Italian ragu, slow cooked beef cheeks with red wine and tomato
save the recipe to your pinterest board