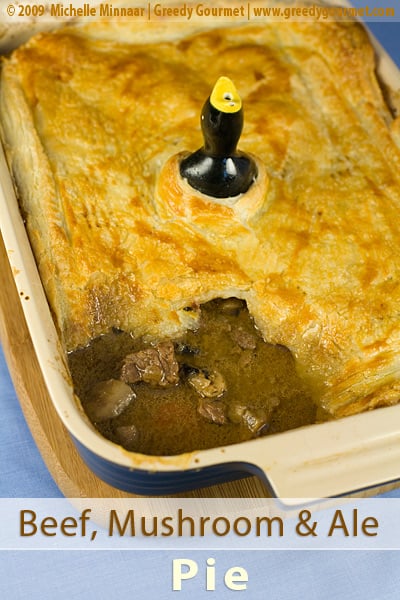 Four days after Gabriel's birthday it was Neil's turn to celebrate his. After countless offers from my parents to take him out for a meal he still preferred my home cooking to any restaurants in the area and with good reason.
There are two pubs in the tiny village, called Canewdon, I live in. One is called The Chequers and the other The Anchor Inn. The latter's food is on the dismal side and it's a ghost town on most evenings while The Chequers is bursting at its seams with clientele. The Chequers is believed to be owned by Jamie Oliver's family and my parents loved hanging out there.
While Neil was at work my father and I ventured to the nice pub and ordered Chicken Satay for starters and duck breast with apricot sauce for a main course. What was placed before me was anything but Chicken Satay. The meat on the skewers resembled something that comes out of the frozen section from a price-cut store, which was then chucked in a deep fryer since it was over-browned and glistening with oil. The pieces were perfectly formed and upon further inspection I couldn't even see a grain in the meat. The sauce was a watery chilli one.
The duck breast was delicious but the vegetables were another story. Now I've boiled broccoli many times in my life. There are three possible outcomes: overcooked and mushy, perfectly cooked and tender or undercooked and crunchy. The broccoli and cauliflower were tough and the edges were scorched brown. I clicked. They gave us last night's leftover vegetables and microwaved it!
My sticky toffee pudding was burned to death and very unapologetically I sent it back in a blink of an eye.
While we were eating my mother was babysitting Gabriel at home and I relieved her while my father took her out to lunch. Unfortunately, they ended up sitting right opposite the kitchen and saw how every single meal came out of the microwave. There were two of them and they were working over time. What a shame its standards have gone down so much…
Having worked in a "gastro" pub, more accurately a "microwave" pub, myself for a full four weeks (any longer and I would have died), I know the problem is not local. Especially in these days of economic hardship we want bang for our buck. In terms of food at restaurants we want fresh and quality produce, not a ready-made meal we could have bought at half the price from the supermarket and microwaved it at home.
Although the pie took in total about three hours to prepare, it was worth every crumb of pastry and dribble of sauce. At least we knew exactly what we were eating.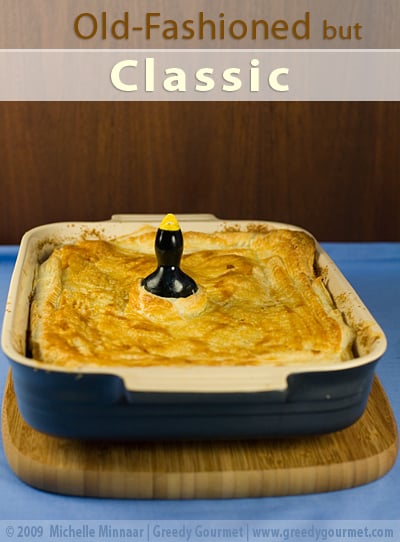 Print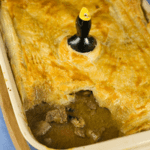 Beef, Mushroom & Ale Pie
---
Author:

Michelle Minnaar

Prep Time:

150 minutes

Cook Time:

10 minutes

Total Time:

2 hours 40 minutes

Yield:

4

1

x
400g

(1lb) mushrooms

15

ml (1 tbsp) vegetable oil

60g

(

2oz

) butter

1

onion

2

carrots, chopped

900g

(2lb) chuck [stewing] beef, cubed

15

ml (1 tbsp) flour, plus extra for dusting

30

ml (2 tbsp) Worcestershire sauce

30

ml (2 tbsp) fresh thyme leaves, or 5ml (

1 tsp

) dried thyme

15

ml (1 tbsp) English mustard

250

ml (1 cup) ale

250

ml (1 cup) beef stock

225g

(½lb) puff pastry

1

egg, beaten
---
Instructions
Preheat the oven to 180°C/fan 160°C/356°F/gas 4.
For the filling, in a heavy-bottomed saucepan fry the mushrooms in the oil until softened then drain on kitchen paper. Add the butter to the pan and gently sweat the chopped onion and carrots until cooked but not coloured.
Add the beef and flour to the pan and brown. Tip in the softened mushrooms, then add the Worcestershire sauce, thyme, mustard and ale.
Place the lid on the pan and place in the oven. After 30 minutes, turn the temperature down to 140°C/fan 120°C/275°F/gas 1 and simmer for another hour.
Remove from the oven and allow to rest for 5 minutes.
Adjust the oven's temperature to 220°C/fan 200°C/425°F/gas 7.
On a floured surface, roll out the pastry to 5mm (¼ inch) thick. Pour the filling into a pie dish. Brush the beaten egg around the rim of the dish. Top with the pastry and crimp the edges down. Make a hole in the pie lid and decorate with the excess pastry, then brush with egg. Bake in the oven for 15 to 20 minutes, or until golden brown.
Remove the pie from the oven and allow cooling for a few minutes before serving.
Notes
We enjoyed this pie with mashed potato, roast parsnips and butter-fried leeks.
I didn't have any ale in the house, so used Guinness instead, which worked just as well.
Nutrition
Serving Size:

1 serving

Calories:

340

Sodium:

176 mg

Fat:

24.8 g

Saturated Fat:

8.7 g

Carbohydrates:

10.025 g

Protein:

17.6 g

Cholesterol:

78 mg