Can you tell a good Greek Salad from a bad one? Here's how to spot the latter.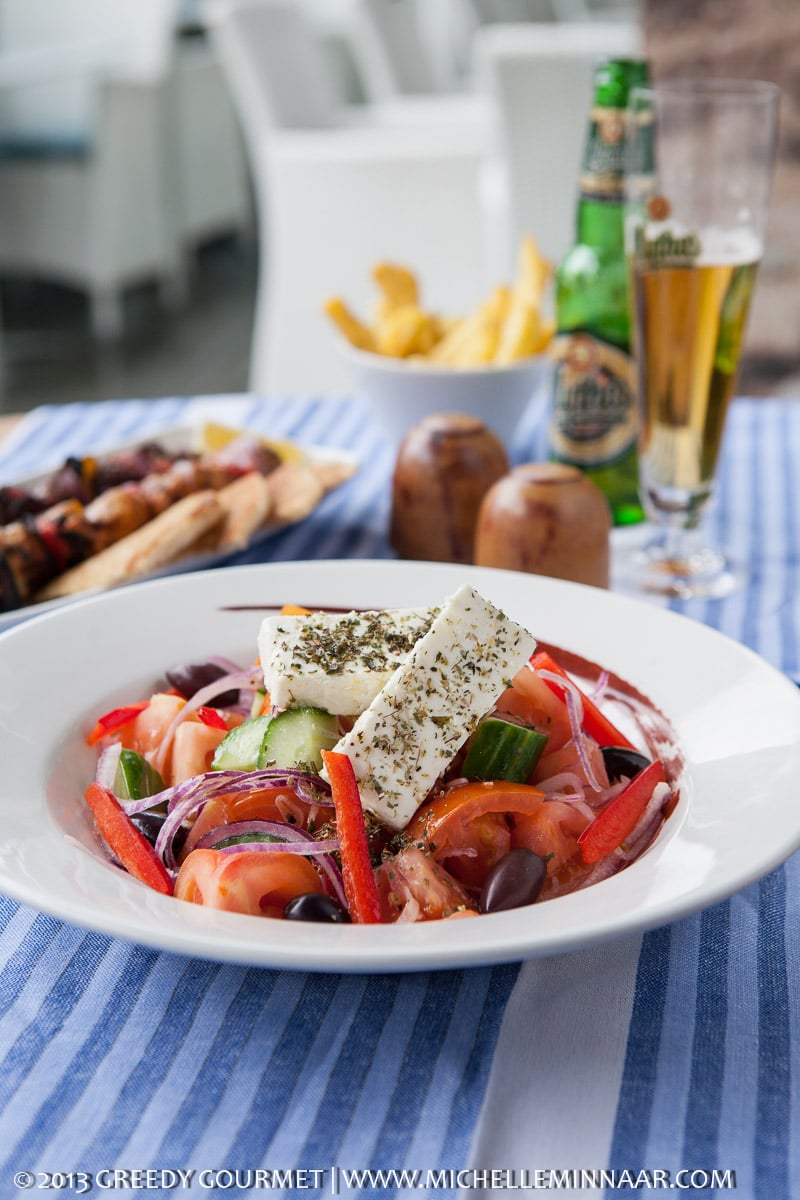 First use your eyes and take a look at the tomatoes. Are they soggy? Use your nose and smell if the onions are stinky. Third step, lift your fork and poke the cucumber. If it bounces off the plate in a rubbery way, take it as a bad sign. Lastly, touch your plate. If it's cold, it means it's been going stale in the fridge. Congratulations, you're sitting in a bad restaurant manned by lazy kitchen staff!
When entertaining guests, most of us would like to get most of the preparation done beforehand. If you'd like to make Greek Salad ahead of time, for example like the night before the big event, the best thing you could do is to chop up the different elements of the salad and storing them covered in the fridge separately, in other words don't mix anything. Only add the vinaigrette at the very last moment before you serve up. The salad will last for the rest of the remainder of the day – let's say 6-7 hours; that is if you're eating it for lunch.
Love Greek food? Then you'll LOVE this fantastic book: Food From Many Greek Kitchens
.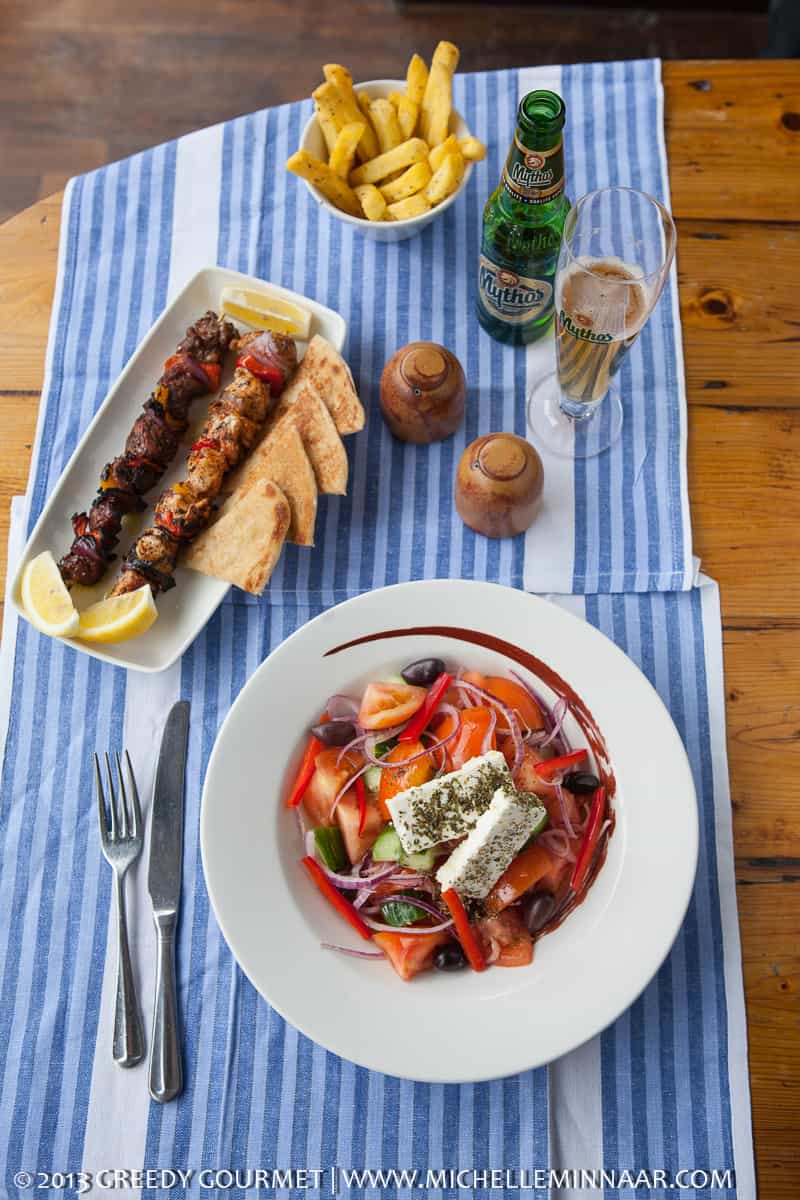 Adjusting the recipe for Special Diets
In Greece, Greek Salad is known as Horiatiki, which literally means "from the village". Most of the calories are found in the olive oil, which is healthy and a serving will set you back 317 calories.
This vegetarian dish is naturally gluten free and if you remove the feta cheese it becomes vegan and paleo diet friendly. It is safe for pregnant women to eat.
What can you serve with Greek Salad?
Thanks to the dense nature of feta cheese a big bowl on its own will serve as a meal as a light lunch but otherwise you can enjoy the following with it:
Any grilled meat or fish
All types of bread
Deep fried/ tempura vegetables such as courgette or aubergine
Soup, such as Fakes (Lentil soup) & Fasolada (Butter Bean soup)
Lastly, if you thought Greek Salad had lettuce in it, think again.
I shot this Greek salad on the same day as the Tzatziki at The Real Greek's Bankside branch. On a previous occasion we prepared roasted pork belly, recipe here.
You would have thought that it's a no brainer to make a salad but in fact there are a few secrets to making a perfect Greek one. Let me talk you through the key points.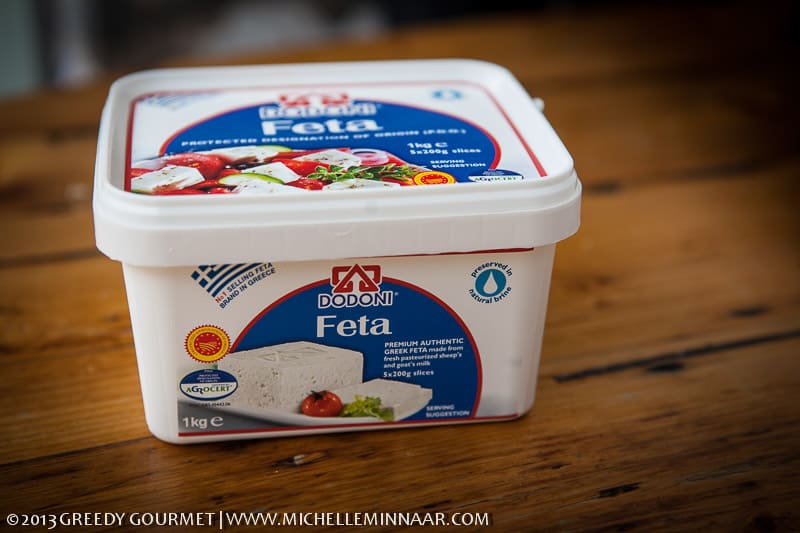 There is a wide variety of feta cheese on the market today including German and Danish ones that are considered fake by the Greeks. The problem with the latter's European counterparts are that they are usually made just out of goat's milk whereas authentic Greek feta comprises 50% sheep's milk and 50% goat's milk. So always check the label and make sure the milk has been pasteurised. Dodoni is an excellent product and is available in the UK.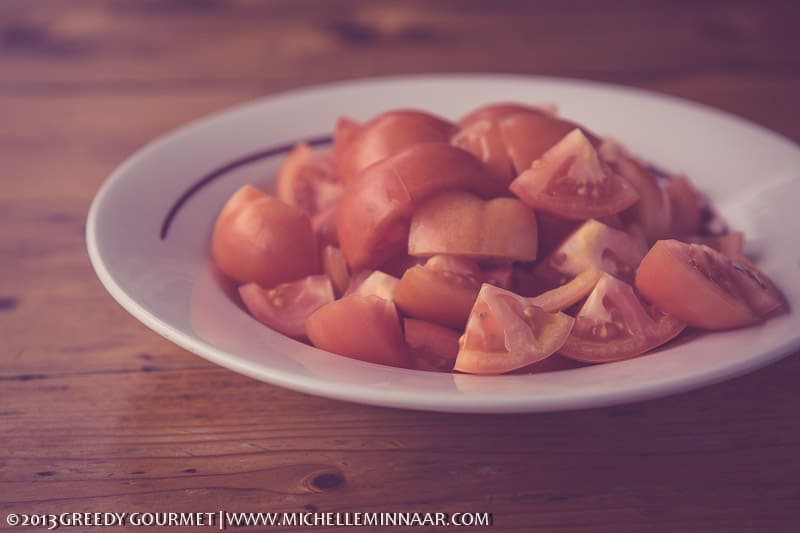 The best tomatoes you can get are fresh, plum tomatoes. It goes without saying that the better the quality, the better the salad will be. Chop the tomatoes into big chunks.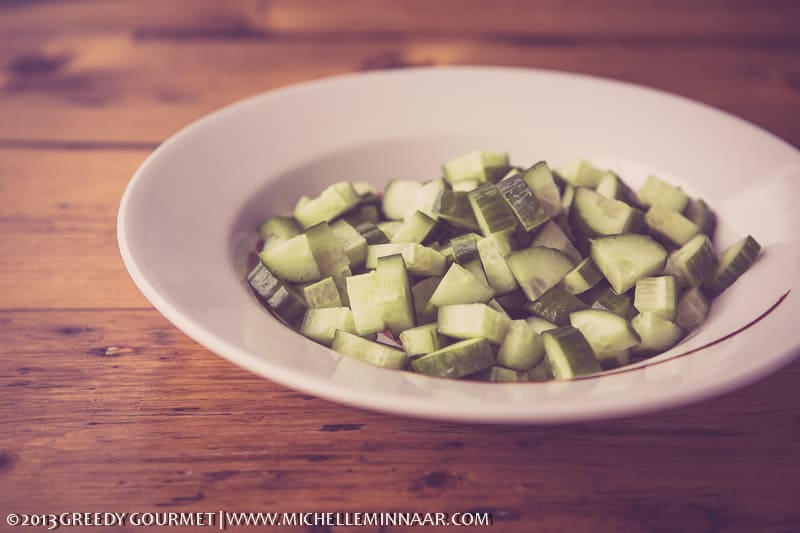 Washing and chopping some cucumber is easy enough to do.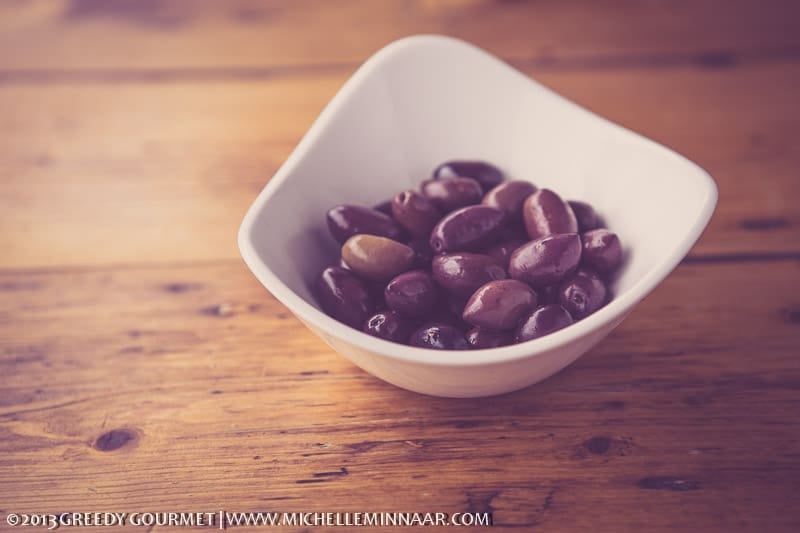 Kalamata olives work great but other varieties are also fine, as long as they are pitted.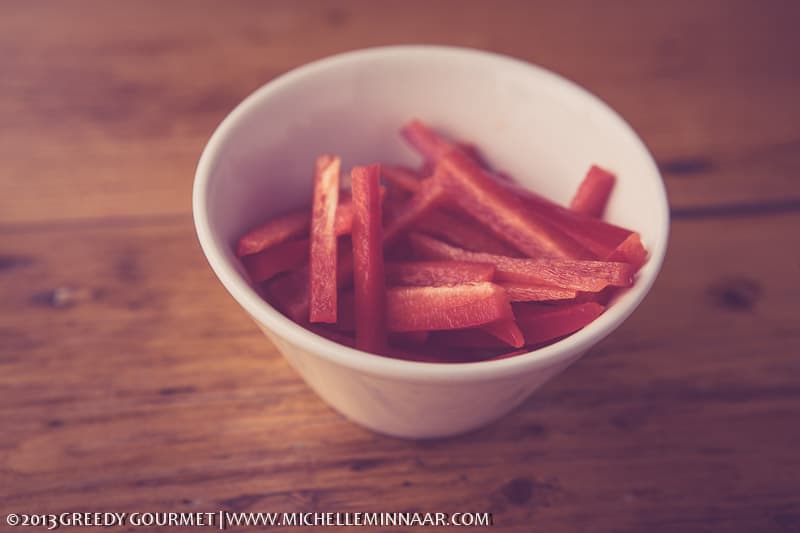 In Greece the bell peppers are usually green but they are of a different variety and are actually quite sweet. In the UK you have to hunt for the sweetest peppers available, i.e. the red ones.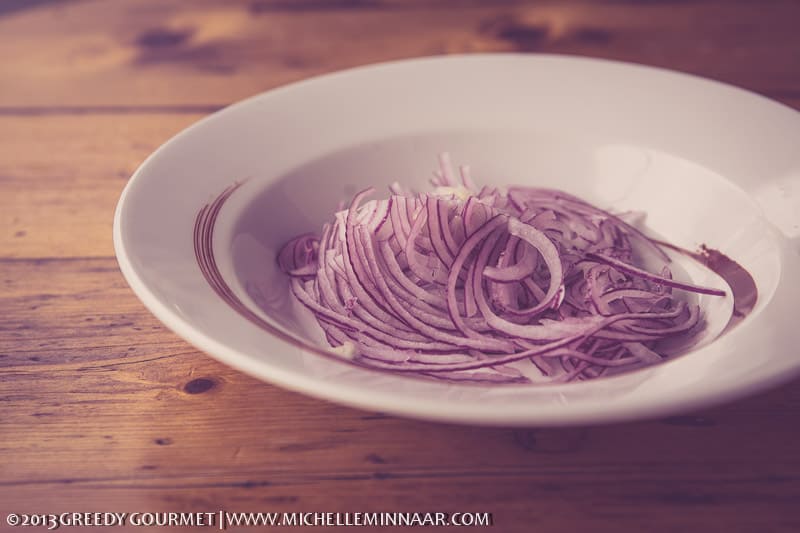 Finely sliced red onions give the salad an additional splash of colour. Don't forget to add the olives!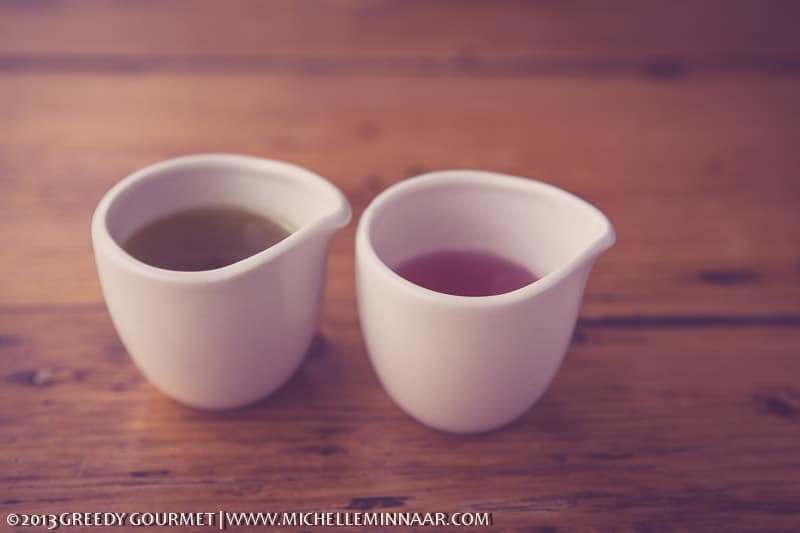 The salad dressing consists of extra virgin olive oil and red wine vinegar. You can play with different types of vinegar, such as balsamic, if you like. When you've mixed the two, toss it with the salad ingredients. Leave out the cheese! The acidity of the vinegar messes it up.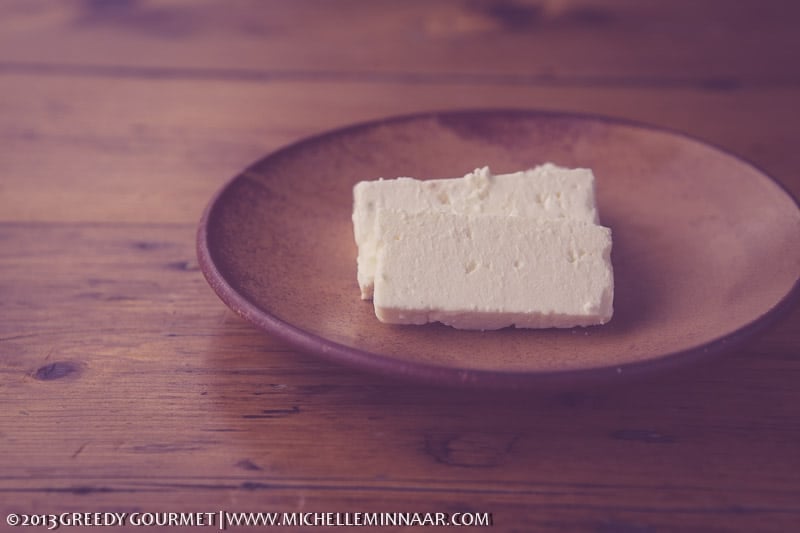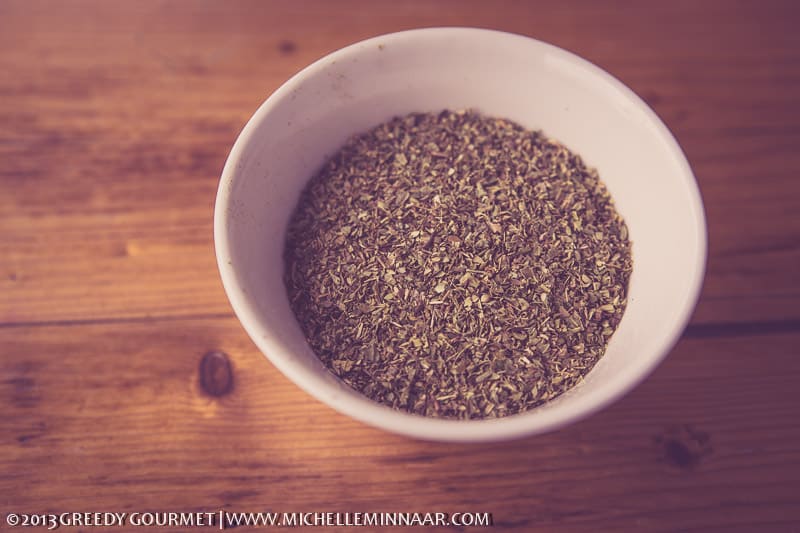 When the ingredients have been tossed, place the thick slices of feta cheese on top and sprinkle with dried oregano.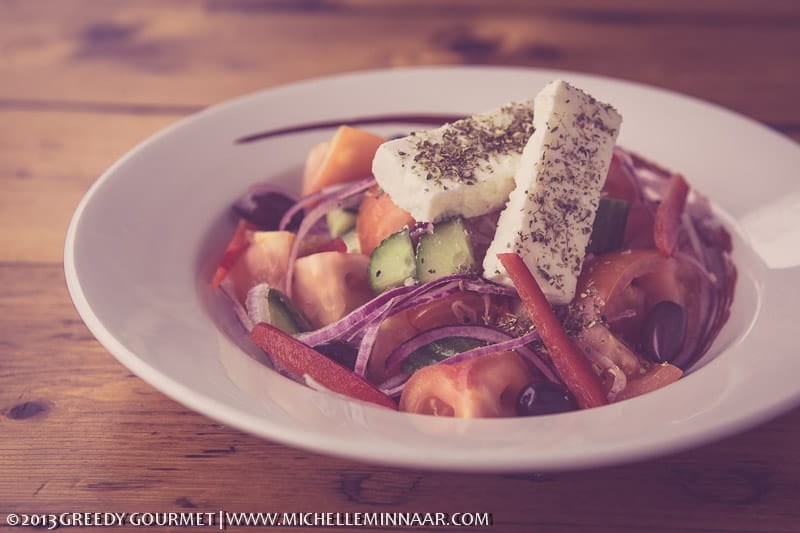 See?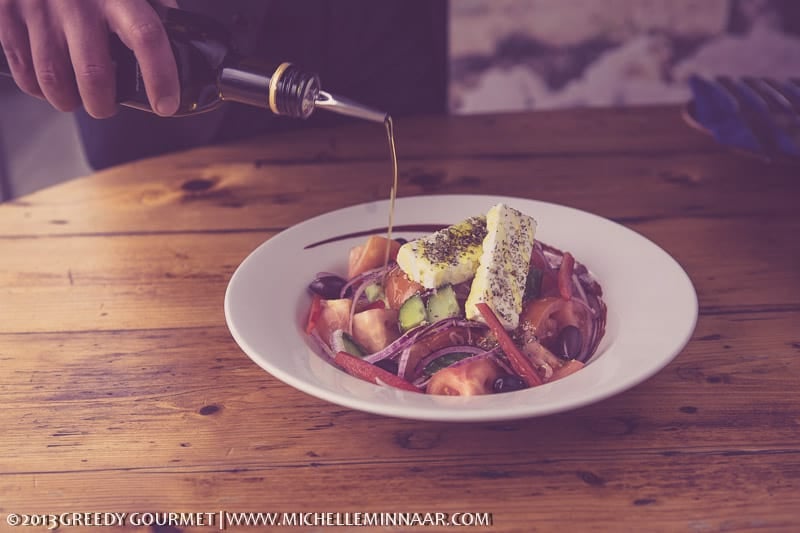 Drizzle with some more olive oil and you're done!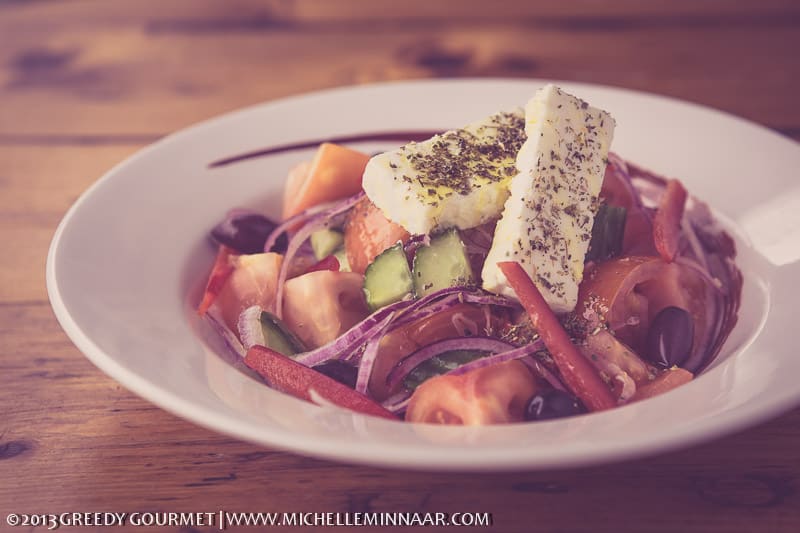 Now that wasn't hard, was it? Enjoy your summer!
Of course, if you're too lazy you can just visit The Real Greek and eat it there with flat bread or grilled meat dishes. You can read my full review here.
Print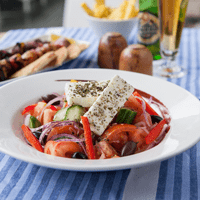 Greek Salad
---
6

tomatoes, chopped

1

red onion, finely sliced

½

cucumber, chopped

15

olives

1

red pepper, cut into long strips

5

ml (1 tsp) salt

5

ml (1 tsp) oregano

45

ml (3 tbsp) red wine vinegar

70g

(

2 oz

) feta cheese

100

ml (3 fl oz) extra virgin olive oil
---
Instructions
Place the tomatoes, onion, cucumber, olives and red pepper pieces in a bowl.
Mix the vinegar, salt and oregano in another container, then pour over the salad ingredients and give it a good toss.
Place the cheese on top of the salad and drizzle with olive oil.
Prep Time:

15 mins

Category:

Salad

Method:

No Cook

Cuisine:

Greek
Nutrition
Calories:

317

Sugar:

Sugars

Sodium:

780 mg

Fat:

27.8 g

Carbohydrates:

11.4 g

Fiber:

Dietary Fiber

Protein:

3.3 g

Cholesterol:

16 mg