A tastebud tingling, breathtaking blend of two decadent delights, this homemade Malteser rocky road recipe is about to rock your world!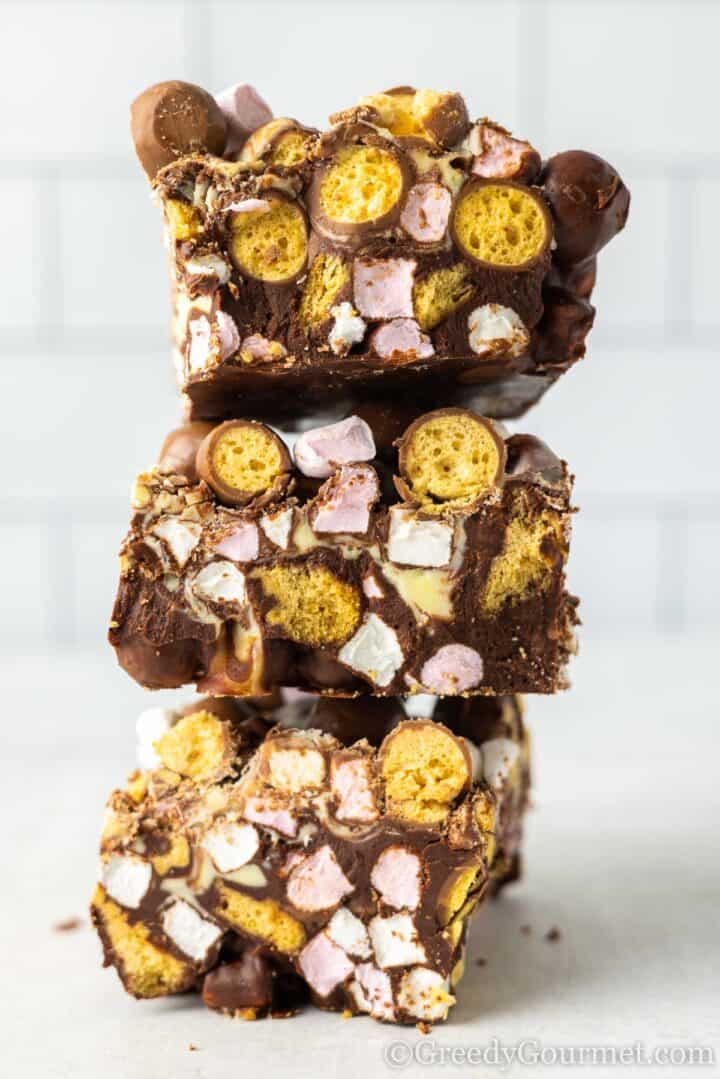 So, forget about those underwhelming store bought snacks. Making your own Malteser rocky road is easy. Stopping yourself from scoffing the lot? That's another matter...
Why you'll love this recipe
Simple maths... Maltesers + rocky road = absolute heaven!
This is a no fuss recipe and the prep time is 15 minutes max
It tastes incredible!
The ingredients are easy to get hold of
Homemade rocky road tastes way better than shop bought rocky road
Crunchy Maltesers, golden syrup, marshmallows and delicious melted chocolate is a marriage made in heaven!
Equipment needed to make this recipe
There are a few essential kitchen items you'll need to get hold of before you start making this Malteser rocky road recipe.
Baking tin – a non-stick baking tin is the best kind for this recipe. Just make sure it's the correct size for the amount of rocky road you want to make.
Airtight container – if you have any leftovers – that's if – an airtight container will help to keep them fresh and fabulous for longer.
Large glass mixing bowl – a crucial piece of kitchen equipment, you'll need a large glass mixing bowl to mix up your rocky road ingredients.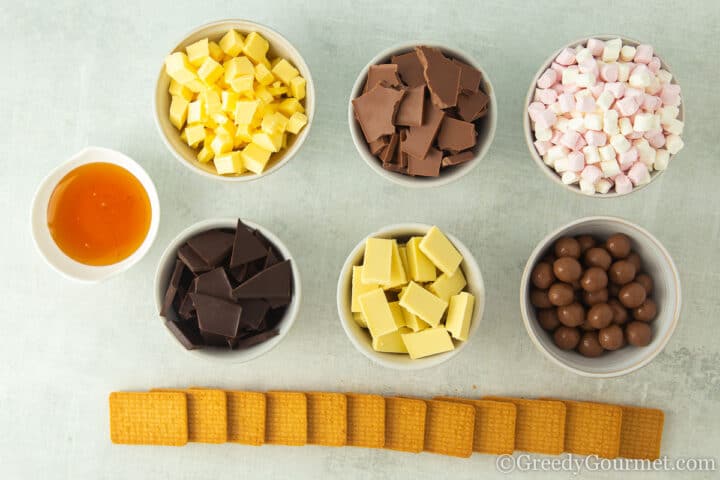 Ingredients you need to make this recipe
Don't forget these key products:
Maltesers – the delicious star of the show, you'll need a 300g box of Maltesers for this rocky road recipe
Mini marshmallows – an essential element to any rocky road recipe, mashmallows bring that wonderful gooey chewy texture to your Malteser rocky road.
Milk chocolate chips – a good quality chocolate chip makes all the difference
How to make Malteser Rocky Road
Melt the chocolates and butter in a large bowl.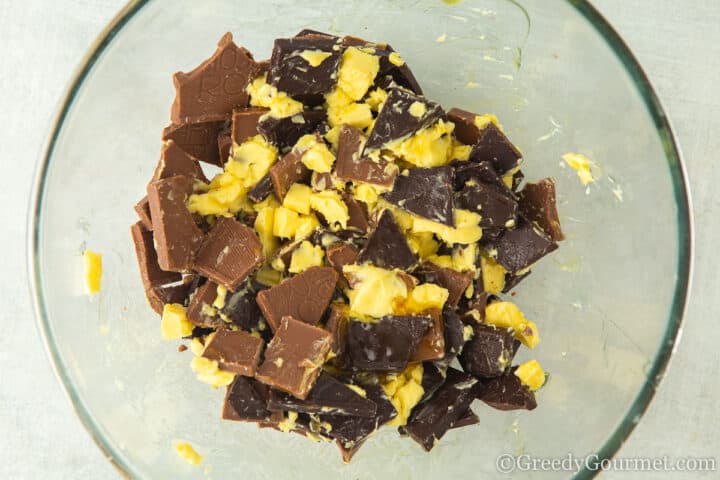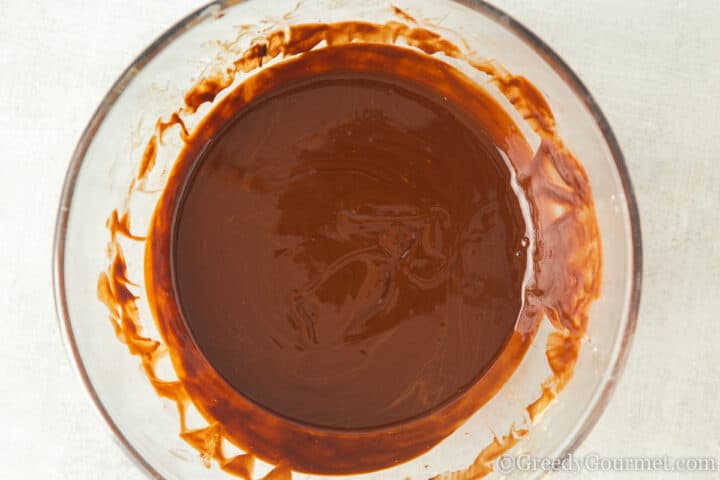 Stir until a smooth chocolate sauce forms.
Add the Maltesers, marshmallows, biscuits and syrup.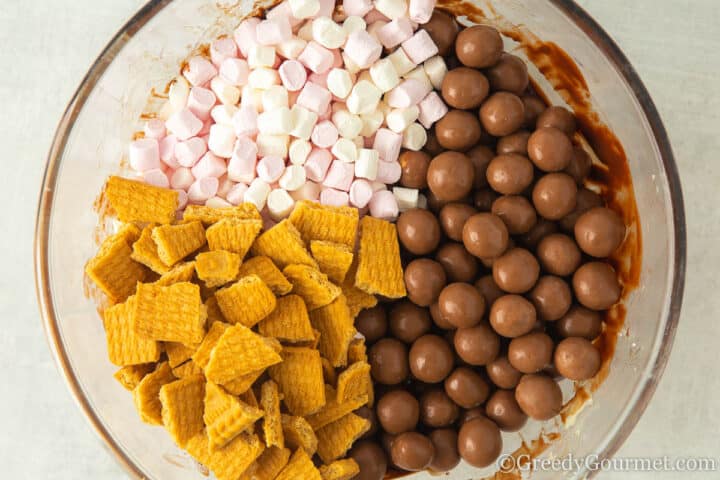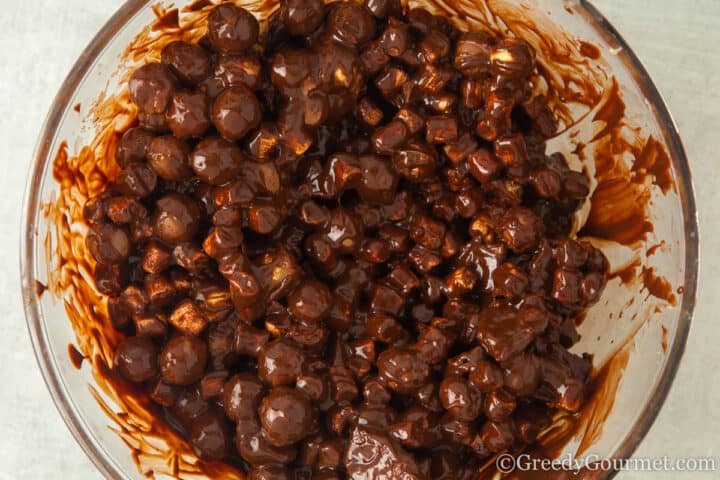 Stir until everything is covered with chocolate.
Transfer the contents to a baking tin and press into an even layer.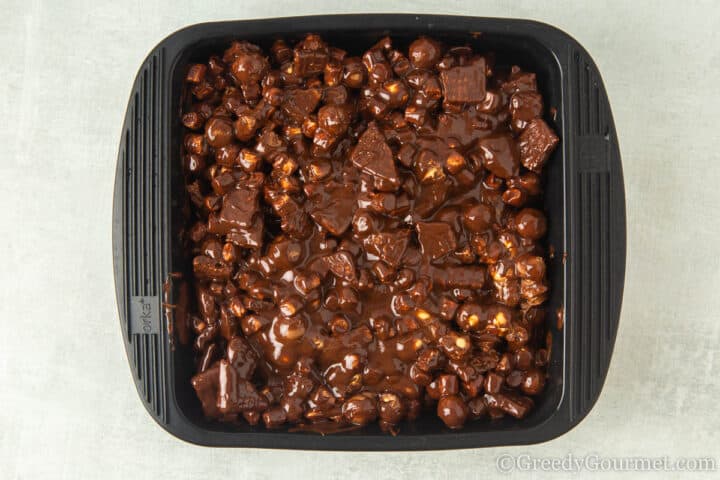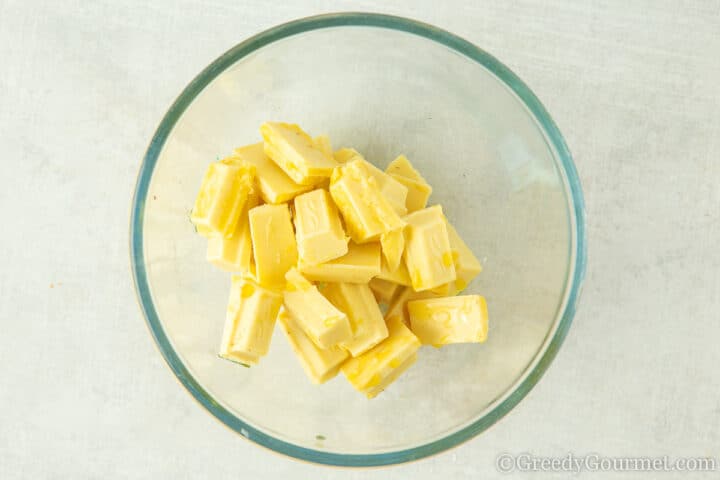 Melt the white chocolate.
Stir to make it's perfectly smooth.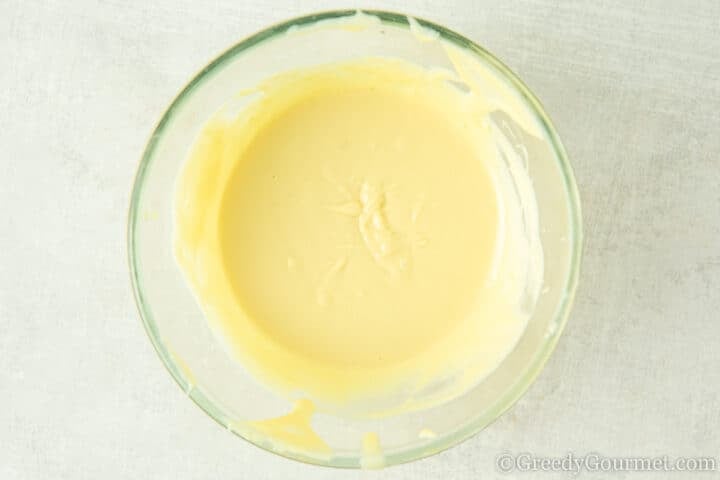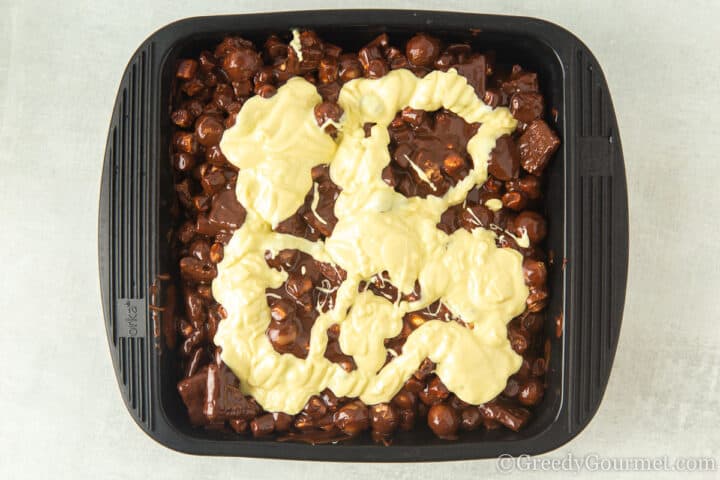 Drizzle on top of the rocky road.
Swirl it around a bit, then decorate with marshmallows and Maltesers. Let it set in the fridge then cut into slices. Enjoy!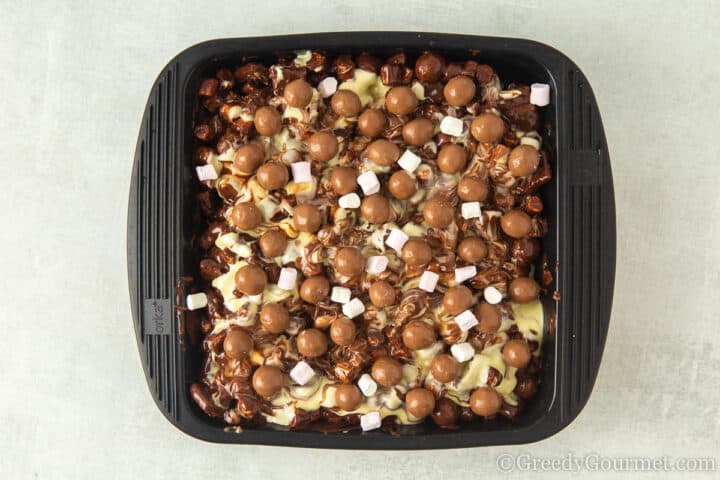 What to serve with Malteser Rocky Road
Sometimes, simplicity is bliss. With something this good, there's no need to make things complicated – all you need is a cup of tea or a coffee for the perfect accompaniment to this Malteser rocky road, try out this Cardamom Coffee Recipe!
Feeling indulgent? Pair this Malteser Rocky Road with your favourite dessert tipple. I recommend a Grenache or a sparkling Italian red, like a Valpolicella dessert wine.
Variations to this recipe
The great thing about rocky road recipes are their versatility. Countries around the world have their own take on the delicious snack, so you can get some inspiration and tweak to your tastes.
Here are just a few suggestions:
Popular substitutions for this recipe
Here are a few ideas when it comes to swapping ingredients:
Chocolate – feel free to experiment with different types of chocolate. This recipe calls for a mix of white chocolate, smooth milk chocolate and dark chocolate. You can mix up the ratios to your taste, using white or dark chocolate, or a mix of the two, or just milk chocolate for example; but make sure you use the right overall amount of chocolate in the mixture.
This recipe calls for malted milk biscuits, which work well with Maltesers. If you can't get hold of malted milk biscuits, you can easily swap them for digestive biscuits.
Use maple syrup or honey in place of golden syrup, if you prefer.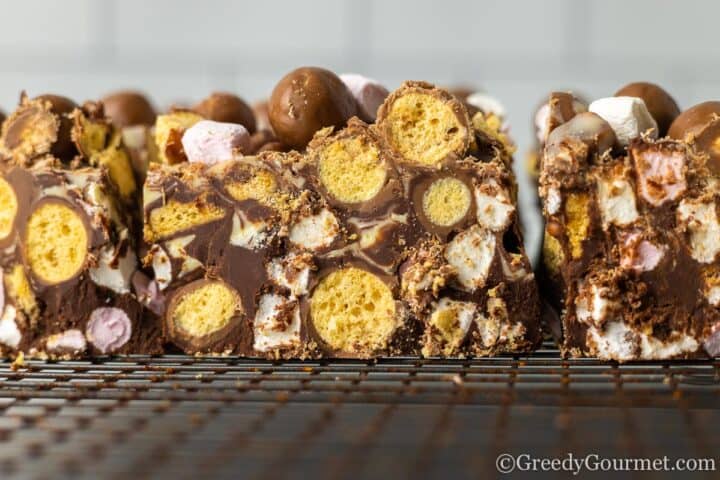 Where did rocky road originate?
Despite what many people assume, rocky road isn't British or American either. In fact, it's believed that rocky road originated in Australia in 1853.
Businessmen arriving in Australia from Europe would find that the sweets and candies they brought had gone slightly stale, so they would add chocolate and biscuits to liven them up. Then they would sell them while travelling the 'rocky road' to the gold fields.
How do I store rocky road leftovers?
This recipe is so delicious, chances are there won't be any leftovers!
However, the best way to store leftover rocky road is in an airtight container. Store it in the fridge – it will last up to 3 weeks.
When it comes to serving your rocky road, let it sit out at room temperature for half an hour beforehand. That's because rocky road tastes better when not its not chilled.
Can I freeze this recipe?
Absolutely! Freezing Malteser rocky road is very simple and doesn't affect the taste or texture too much. All you need to do is store your rocky road in a freezer safe airtight container.
I recommend flash freezing it beforehand. This means freezing it on a baking tray for around 2 hours until partially frozen. Then you can place the individual portions together in a container and they won't get stuck together.
You can freeze Malteser Rocky Road for up to 2 months. After that, the taste and texture will start to be affected.
How do I thaw frozen rocky road?
Thawing rocky road is simple! Just leave it to defrost in the fridge.
Your best bet is to transfer the Malteser Rocky Road from the freezer to the fridge in the evening, then allow it to defrost overnight. This way, the taste and texture won't be affected.
Can this recipe be made in advance?
Yes. Make it up to 3 weeks in advance and store it in the fridge in a suitable airtight container.
Is homemade rocky road better than the stuff in the shops?
Absolutely! This homemade Malteser rocky road recipe tastes glorious... plus it's even better when you know you've made it yourself!
What's the difference between tiffin and Rocky Road?
Tiffin is the British word used to describe this delicious dessert. The word comes from the term 'tiffing,' meaning to take a little snack, and became used in the British Raj in India, specifically referring to the time when tea would be taken.
Later, the name tiffin was given to the chocolate and dried fruit biscuit that became popular in Britain in the late 19th century.
Is rocky road vegan?
No, it's not. Rocky Road contains marshmallows, which are made using gelatin. Gelatin, which is derived from animal protein, helps to give marshmallows a gooey texture. Unfortunately, it also makes rocky road unsuitable for vegetarians and vegans.
However, there are now a whole load of delicious vegan marshmallow options on the market. These are made from a combination of soy proteins and carrageenan, which is a substance that comes from seaweed.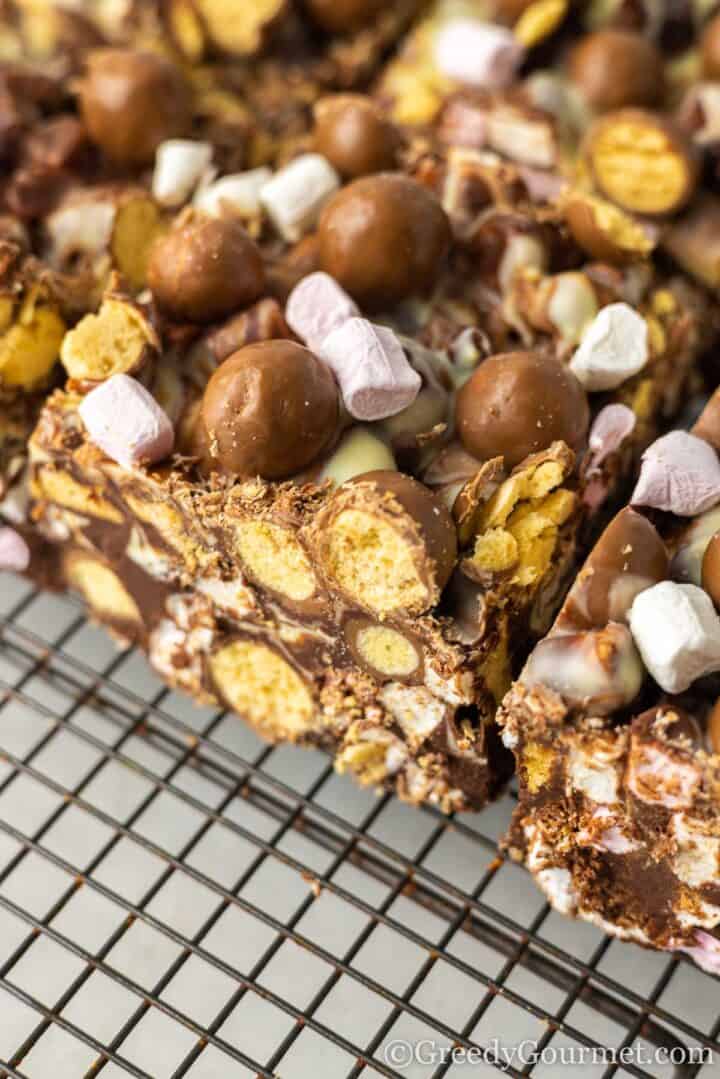 More amazing sweet snack recipes
If you enjoyed this Malteser rocky road recipe, you're going to love these delicious recipes!
Print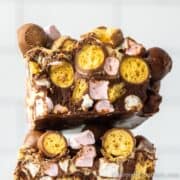 Malteser Rocky Road
---
Author:

Michelle Minnaar

Total Time:

4 hours 20 minutes

Yield:

16

portions

1

x

Diet:

Vegetarian
Description
Learn how to make an irresistible Malteser Rocky Road, perfect for chocolate lovers. This fab dessert is made in a few easy steps. 
---
150

g

(5oz) butter

200

g

(7oz) dark chocolate chips

200

g

(7oz) milk chocolate

60

ml

(4 tbsp) golden syrup

150g

(

5oz

) mini vegetarian marshmallows

100

g

(3 1/2oz) malted milk biscuits, broken in half

300

g

(10 1/2oz) Maltesers

200

g

(7oz) white chocolate
Decoration
100

g

(3 1/2oz) Maltesers
mini marshmallows
---
Instructions
Line a 20 x 20cm (8 x 8in) baking tin with baking paper. Set aside.
Place the butter, dark and milk chocolate, and syrup in a large glass bowl. Zap it in 20 second stints in the microwave and stir it in between. See notes for an alternative method.
Let the chocolate mixture cool a bit, then add the marshmallows, biscuits and Maltesers. Stir until everything is coated in chocolate.
Tip everything into the baking tin and press into an even layer. 
Melt the white chocolate in a separate bowl by zapping it in the microwave.
Pour the white chocolate in blobs on top of the chocolate filling. Give it a random stir to create a marbling effect then flatten gently. 
Decorate with Maltesers and marshmallows, pushing them gently into the rocky road so that they will "stick" when it's chilling. 
Place in the fridge and chill for at least 4 hours, preferably overnight. 
Remove from the tin and slice into portions. Enjoy!
Notes
In this case, silicone bakeware is ideal, which is what I used. No need to grease or line it!
If you don't have a microwave, you can place the butter, chocolates and syrup in a pot and melt it over a low heat, stirring it frequently. 
This rocky road is best stored in an airtight container in the fridge. It should last for 2-3 weeks then.
If you can't get hold of malted milk biscuits, you can use digestive biscuits.
Prep Time:

20 minutes

Chill Time:

4 hours

Category:

Dessert

Method:

Chill

Cuisine:

Australian
Keywords: malteser rocky road, ultimate rocky road recipe, rocky road variations, malteser tray bake, rocky road recipe, white chocolate rocky road with maltesers, malteser and marshmallow tray bake, malteser rocky road nigella, rocky road with maltesers