Do you miss the thrill of a BLT after going meat free? Here's a sandwich to get you going! Check out this hummus sandwich, which comprises beetroot hummus, spinach, avocado, cucumber and… yep, you guessed it… a bagel!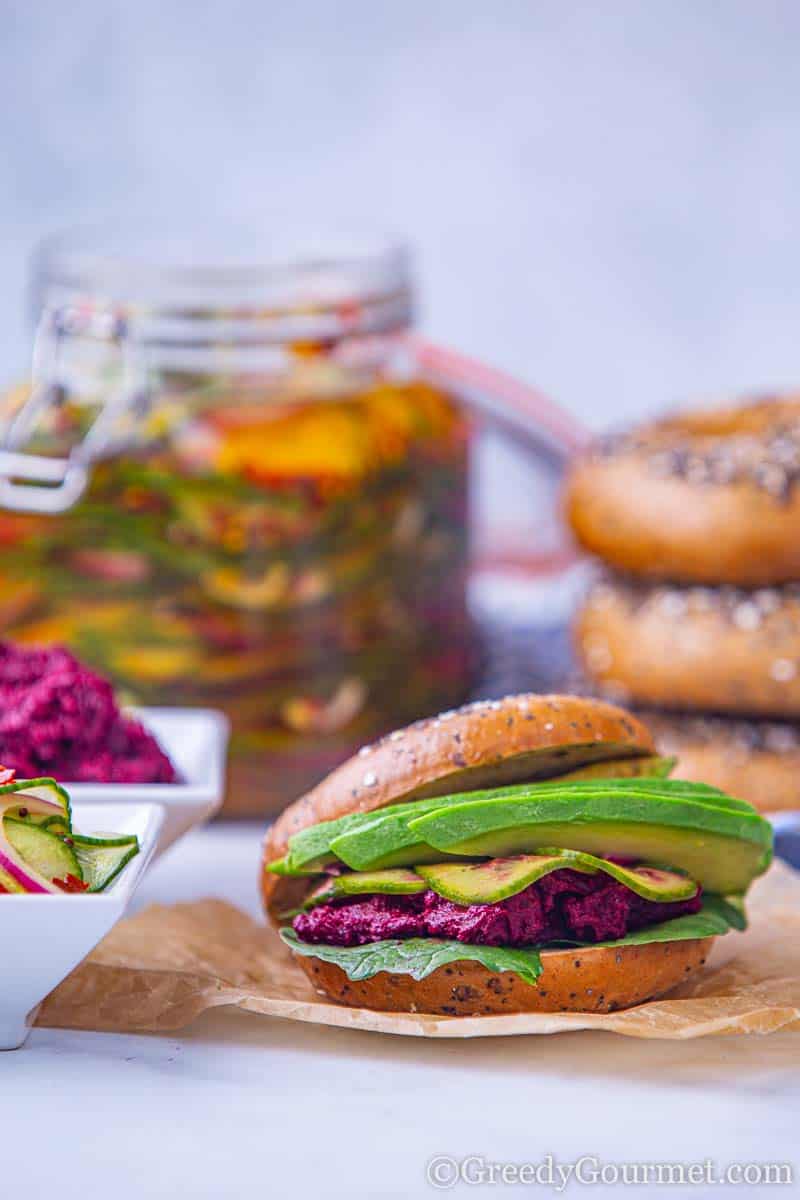 Products you need for this recipe
Before we get started, here are a few products that you can use with this recipe: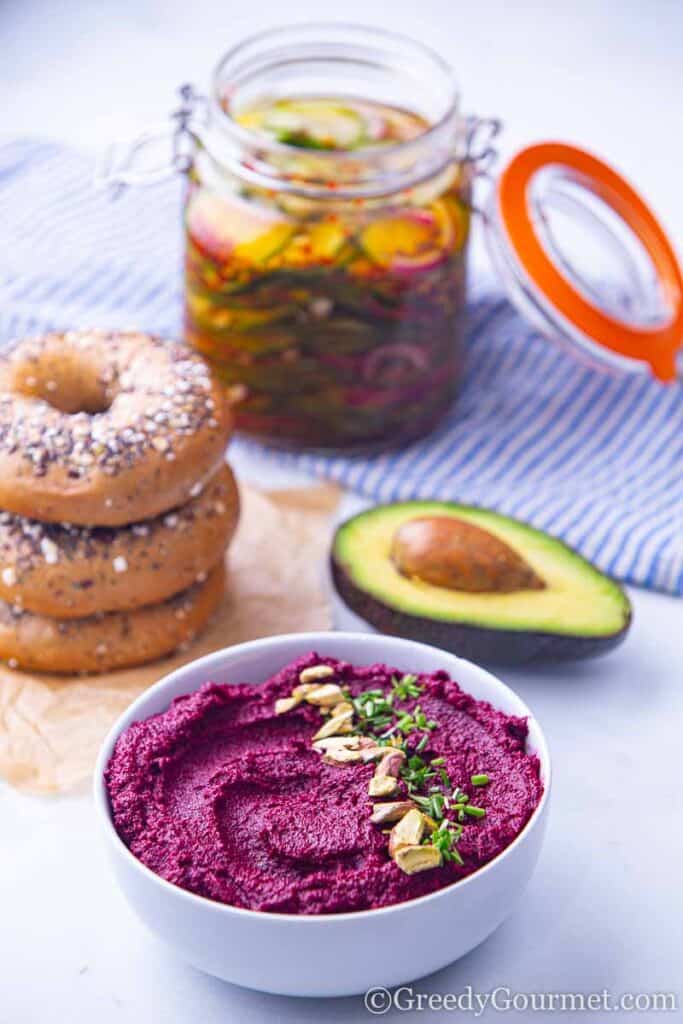 What is a hummus sandwich?
It can be pretty much whatever you want it to be! For me, a hummus sandwich should reflect just how incredibly moreish hummus is, yet still stick within its healthy nature.
Any type of crusty bread will work well with hummus, but, for me, there's a clear winner.
A bagel brings the taste like nothing else. It's a clear winner when it comes to the bread of choice for my ultimate hummus sandwich.
Next, we need a healthy green crunch. There are lots of vegetables and salad options you could go for. For me, something with a peppery taste is needed, to complement the creaminess of the hummus.
That's why I've chosen spinach. It's my go-to peppery green in a simple salad and it makes the perfect sandwich ingredient when you need to make things a little more interesting.
The creamy savory taste of hummus is amazing, especially when paired with a bagel. Let's take the creaminess up a notch though and add some avocado slices.
You can opt for a little less creaminess and a little more bite with a less ripe avocado. I prefer mine on the softer side.
Finally, we need a fresh, revitalizing ingredient. That's where the cucumber comes in.
There you have it! My ultimate hummus sandwich – the perfect, easy, gloriously tasty snack, whether your vegan, vegetarian or a meat-eater.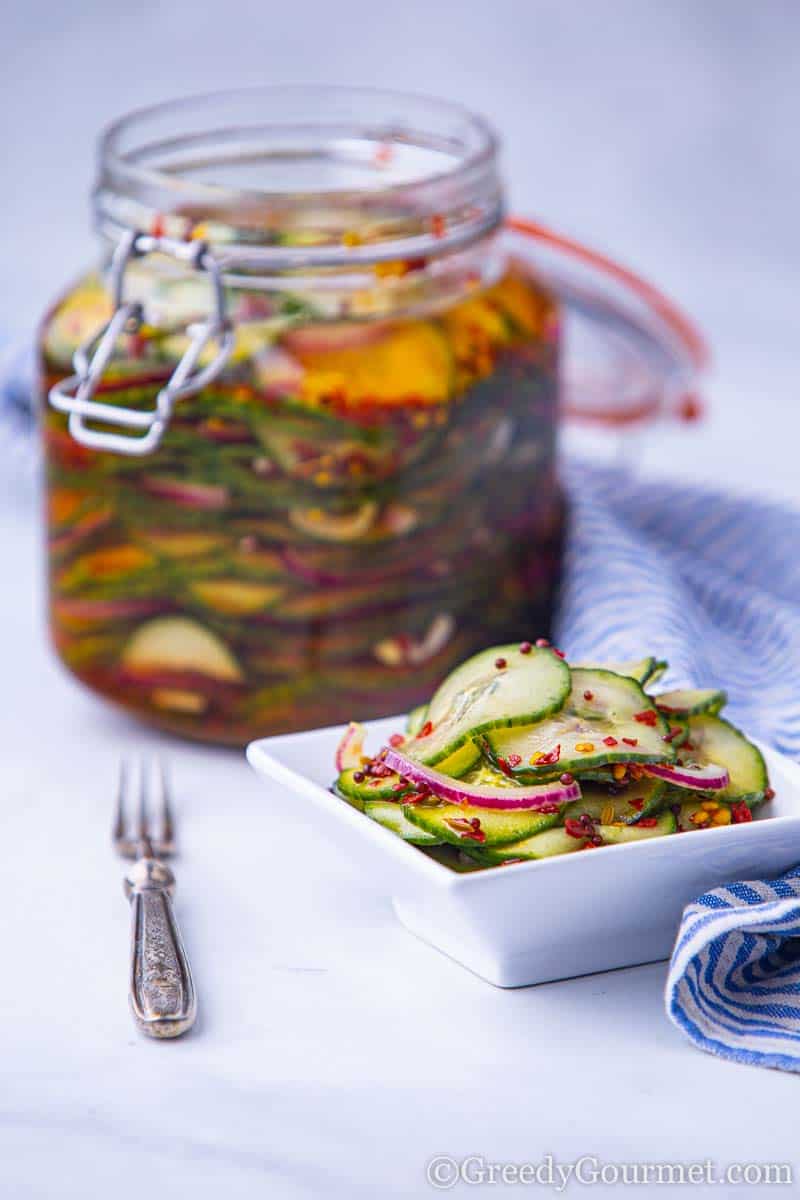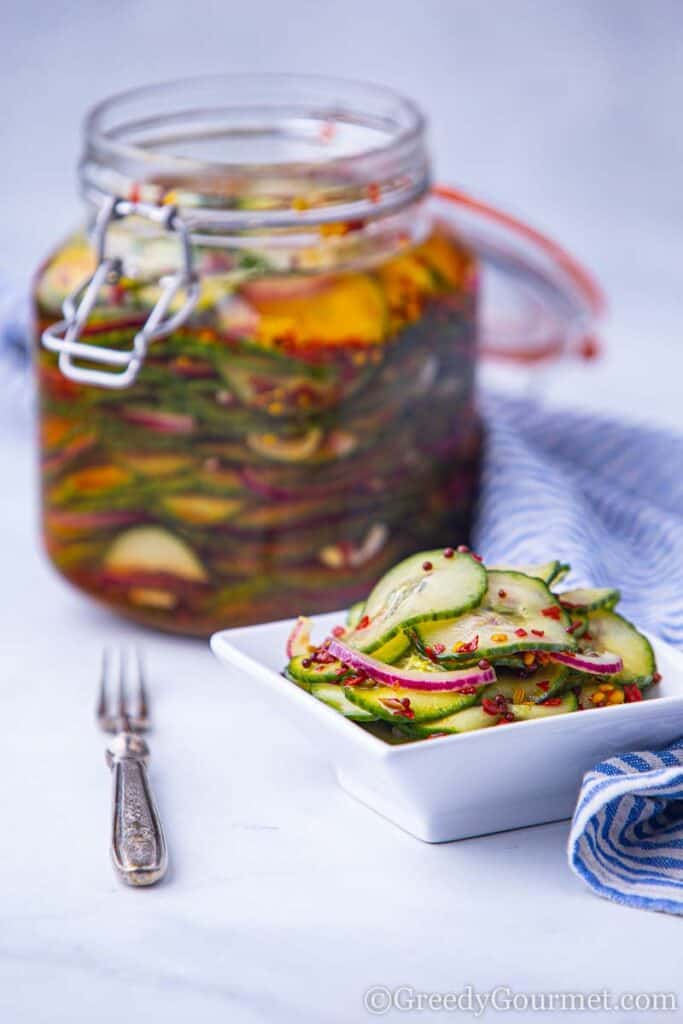 What type of hummus is best to use in this sandwich?
Any type of standard hummus would be delicious in this sandwich. You can get hummus from just about any normal supermarket or store and store-bought hummus tastes good. Homemade hummus tastes so much better though and making your own is easy – I highly recommend it. 
If you're in the mood for treating yourself and your family, make your hummus with a twist. My special beet hummus recipe is the ultimate quick, delicious and healthy recipe. Serve it in a bagel with spinach, avocado and cucumber and you'll be in dreamland!
Where does hummus come from?
Hummus originates from the Middle East, where it has been tickling taste buds for centuries.
Fun fact: the word 'hummus' means 'chickpea' in Arabic. The full name for the divine dip is 'hummus bi-t-tahini' or 'hummus with tahini.'
As well as chickpeas and tahini, ingredients in hummus include lemon, olive oil, garlic and spices such as cumin.
What bread is best to use for a hummus sandwich?
You could go for healthy whole grain bread, crusty white, sourdough or even my heavenly homemade chia seed bread.
However, to make this homemade hummus sandwich recipe you'll need bagels... beautiful bagels! Use your favorite kind – store bought or from your local bakery. 
Of course, you could make your own bagel. Still, some of us don't have all the time in the world and I won't hold it against you if you opt for the quick and easy method.
Where do bagels come from?
It is thought that bagels were brought to Poland by Jewish migrants travelling from Germany during the 14th century. They would bake the bagels and sell them on the streets.
Originally, pretzels were the baked good of choice. With a bit of experimentation and fermentation, they eventually started making a new type of bread – chewy on the outside yet soft on the inside. This became known in Polish as obwarzanek.
Due to their ring shape, which represented renewal and long life, bagels began to be regarded as magical, lucky charms. They were given as gifts to women after childbirth and eaten during religious festivals, as a way of connecting with the divine.
At the beginning of the 20th century, Jewish migrants then brought bagels to New York. Over the decades, their popularity gradually increased. By the '60s, the bagel's popularity had spread to every corner of the States, cementing its status as a staple of US cuisine.
Is this hummus sandwich vegan?
Yes, this hummus sandwich is 100% vegan. It's made up of a simple list of dairy free and meat free ingredients.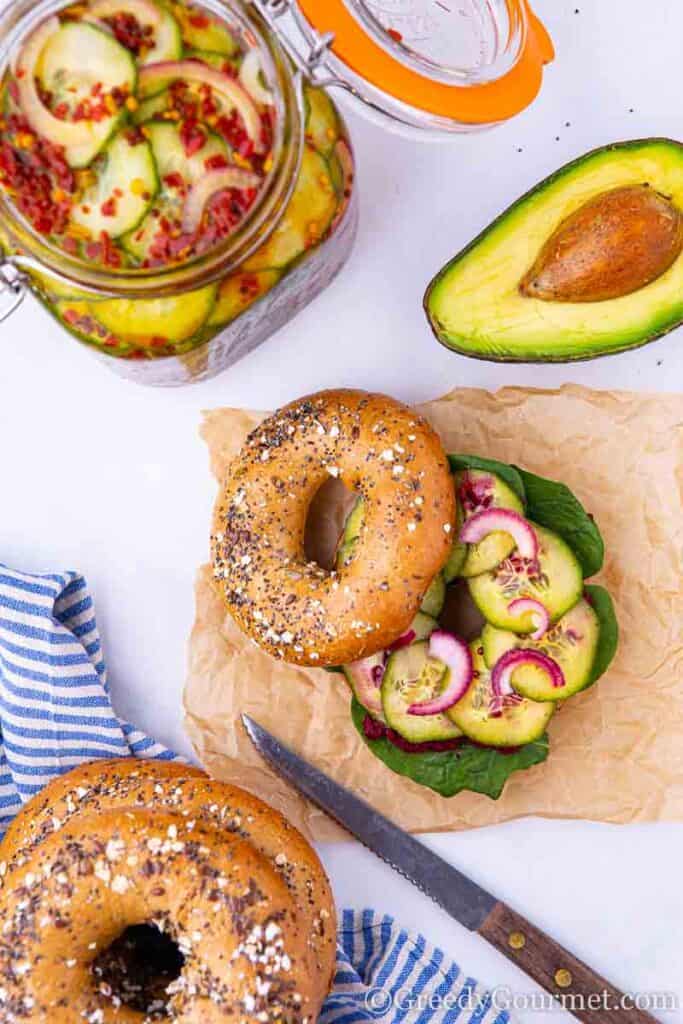 How to layer a hummus sandwich
Start with the spinach. Spread a few spinach leaves across the bottom half of the bagels, then spoon the hummus on top of the spinach. Be generous here – you really want that delicious creamy hummus taste to come through when mixed with the chewy bagel.
Then, add the slices of cucumber on top of the hummus, followed by the avocado slices. Then finish by closing the sandwich with the other half of the bagel.
How to store a hummus sandwich
Storing a sandwich is important business – just don't ask Homer for advice.
If you're using whole grain bread or standard white bread, you can store your hummus sandwich in a zip-loc bag in the refrigerator for 2-3 days.
Bagels, however, seriously dry out in the fridge. So, my advice? Make as much as you plan to eat in one sitting. Then dig in!
How to soup up this hummus sandwich
I've already mentioned how my beet hummus takes hummus to new heights. You might want to add even more flavor to this hummus sandwich recipe, so here are a few suggestions.
Try adding fresh tomato or, even better, finely chopped sun-dried tomatoes. You could also finely slice some red onion, for that extra 'zing!'
Swap the spinach for some chard for a twist on the greens. You could even add some alfalfa sprouts or rocket for a different dimension of flavor.
Another idea, if you have time, is to take the cucumber to another level.
Have you made your own pickled vegetables? It's so easy to do and the result is a supercharged veggie with a taste that's out of this world.
Want to give it a try? Check out my homemade pickled cucumber recipe. Then add pickled cucumber to this sandwich to make it extra special.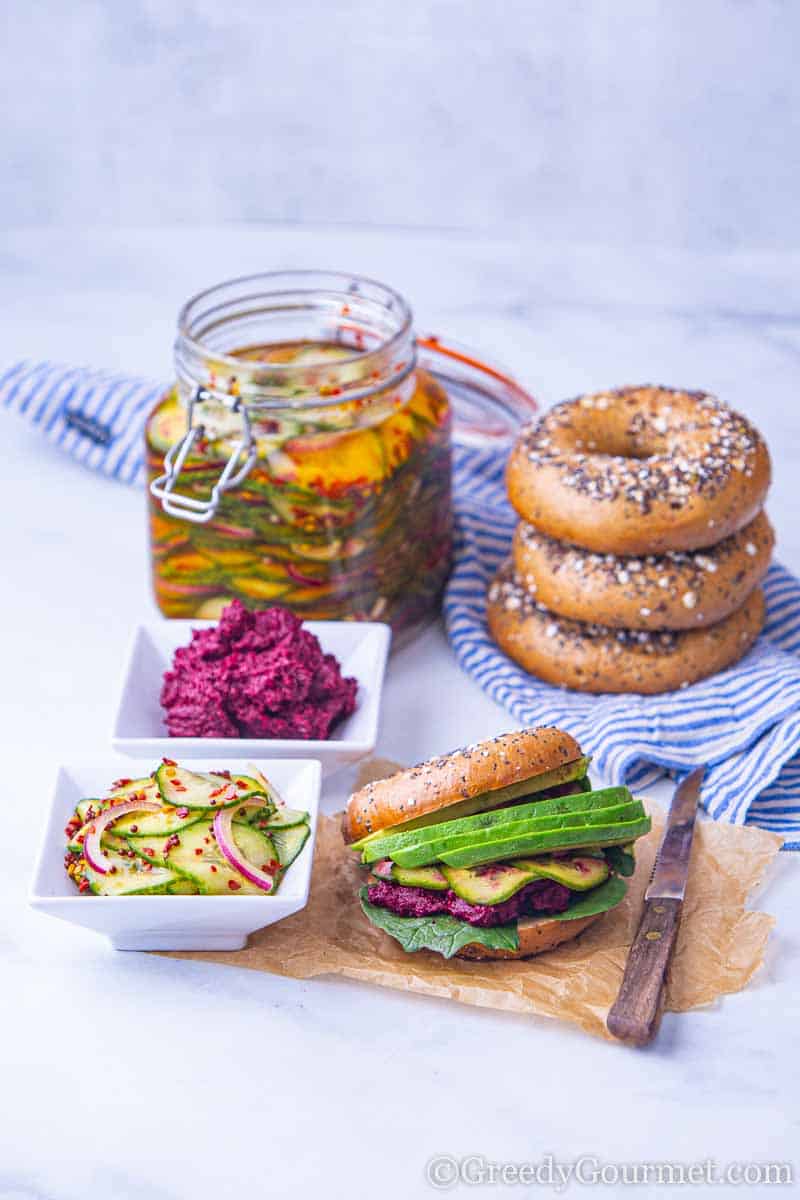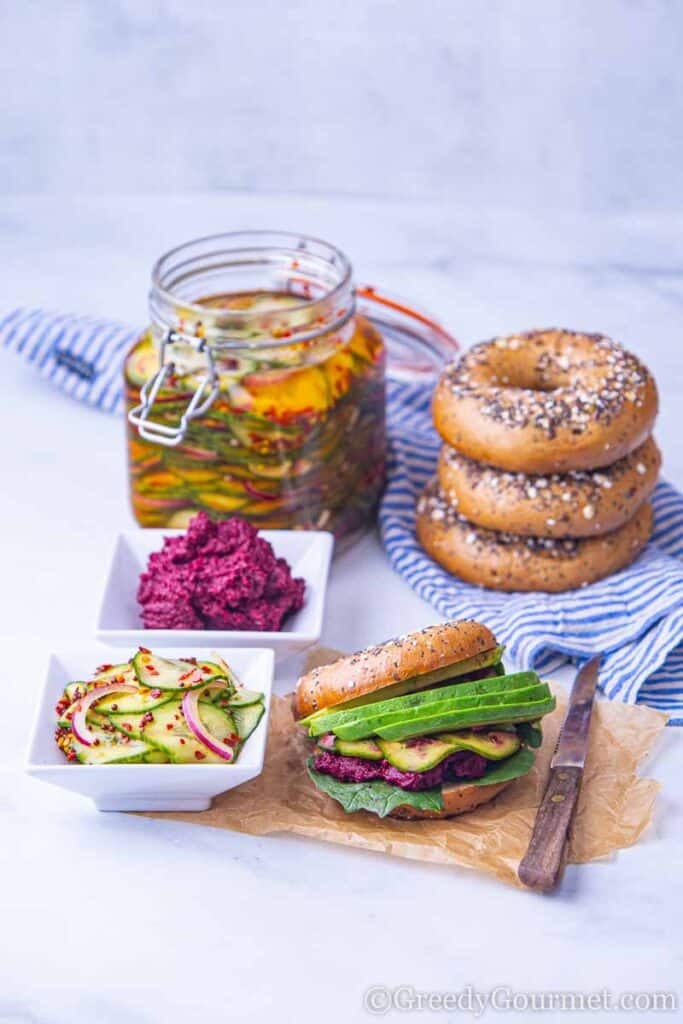 More simple healthy snack recipes
If you enjoy this recipe, check out these delicious, easy to make vegan snacks:
Print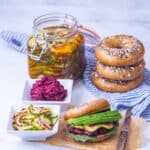 Hummus Sandwich
---
Description
This Hummus Sandwich is crammed with beetroot hummus, avocado slices, spinach and pickled cucumber. A great vegan lunch or brunch.
---
2

bagels, halved

15

g

(1/2 cup) spinach leaves, washed

150

g

(1/2 cup) hummus

1

avocado, peeled and sliced

1/4

cucumber, washed and sliced
---
Instructions
Place the spinach on the bottom half of the bagels.
Spoon hummus on top, then the cucumber slices.
Place the avocado slices on top and close the sandwich with the top bagel half.
Repeat and enjoy!
Notes
Feel free to play with the ratios and different fillings.
You can play with different types of hummus in the sandwich. In this case I used beetroot hummus.
If you have the time and want to take this sandwich to the next level, make your own pickled cucumber and use it instead of a plain one.
Any type of bread will do, using a bagel just changed things up a bit.
If you're having trouble getting hold of an avocado, try one of these avocado substitutes.
Prep Time:

10 minutes

Cook Time:

0 minutes

Category:

Sandwiches

Method:

No Cook

Cuisine:

American
Keywords: hummus sandwich, vegan sandwiches, vegetarian sandwich recipe, beetroot hummus sandwich, avocado hummus sandwich