The best giblet gravy you'll ever taste, my turkey giblet gravy is the perfect accompaniment to your big Thanksgiving Day or Christmas Day feast.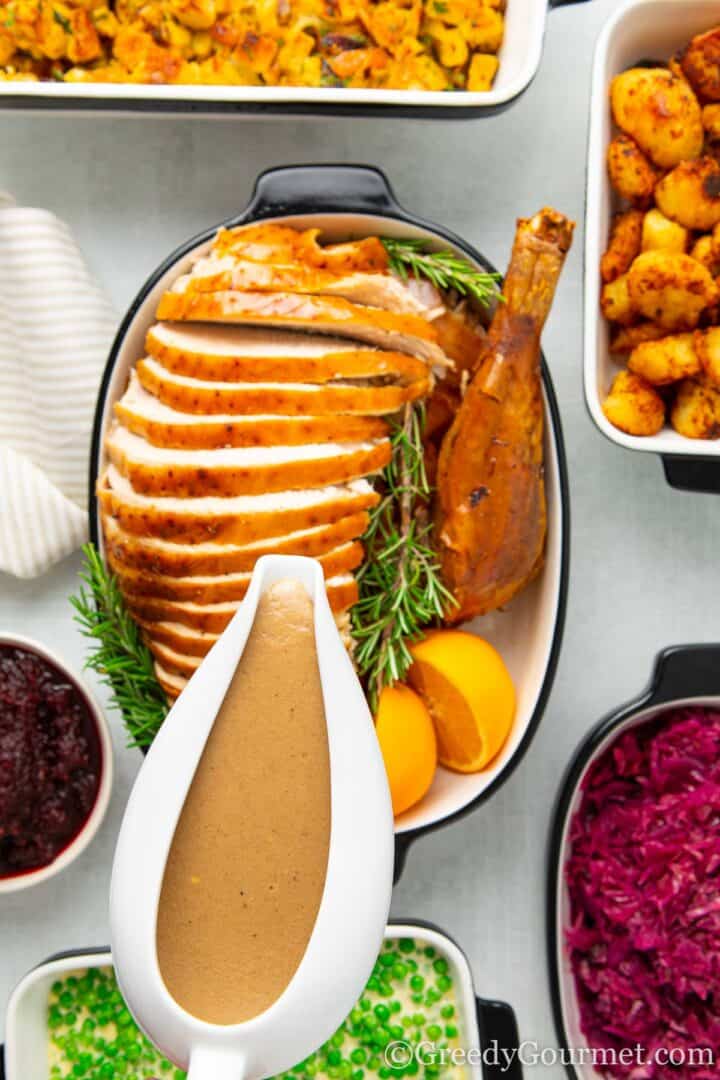 So, instead of wasting the parts of the turkey that normally get thrown away, use them to make this incredibly tasty gravy. After all, they come free with the turkey and can be made to create something so delicious – how can you turn that down?
After you've made it once, it will surely become a holiday staple that you go back to every year.
Products you need for this recipe
There are a few key items that you'll need for this recipe before you make the gravy.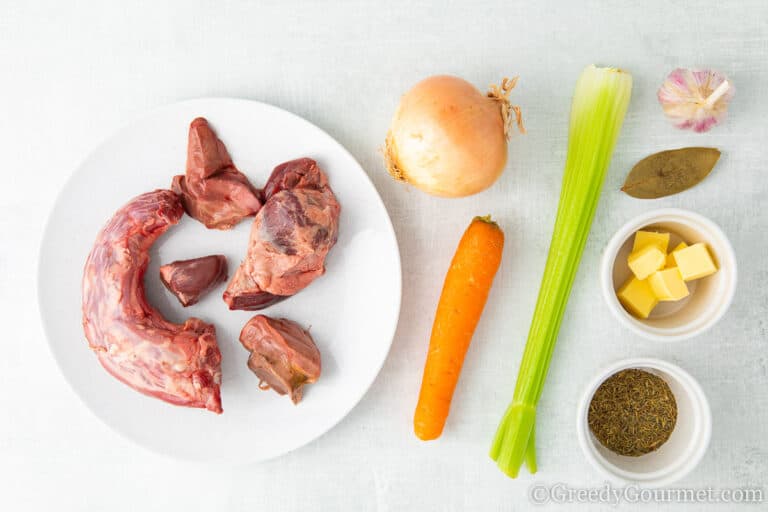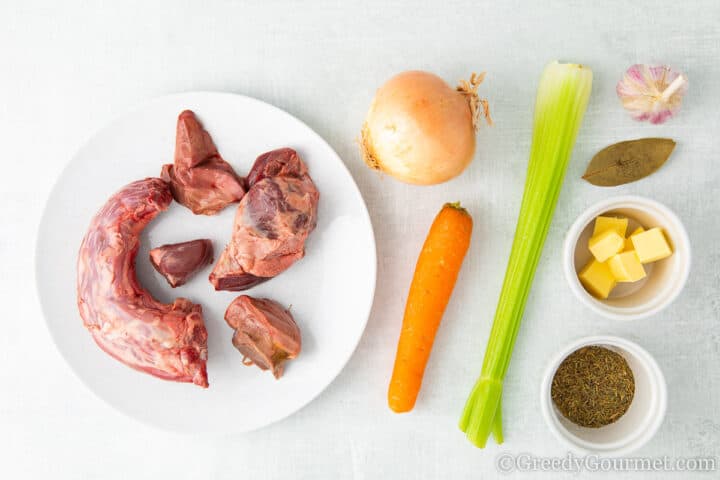 Turkey giblet gravy recipe
If you're after a sensational gravy to take this year's Thanksgiving or Christmas feast to another level, look no further than this turkey gravy. For those who love to go the extra mile in the kitchen during the holiday season, it's the perfect recipe. When you see the faces around the dinner table after just one taste, it will be so worth the effort!
It really does have that 'wow' factor. There are several elements to this turkey gravy that give it a taste and texture that make it incredibly satisfying.
The broth
You'll be using homemade broth with this recipe. It's a combination of vegetables and the giblets of the turkey, simmered for an hour to extract all the incredible flavor. The result is a rich liquid that makes up the essence of your turkey gravy.
The turkey drippings
Once you've made your broth, you'll add it to the drippings. You can either do this in a saucepan, or you can use the turkey roasting pan.
The food processor
Once you've used the giblets to flavor the broth, you'll shred them and add them to the food processor, along with the gravy made from the drippings and the broth. This way, the gravy thickens to perfection!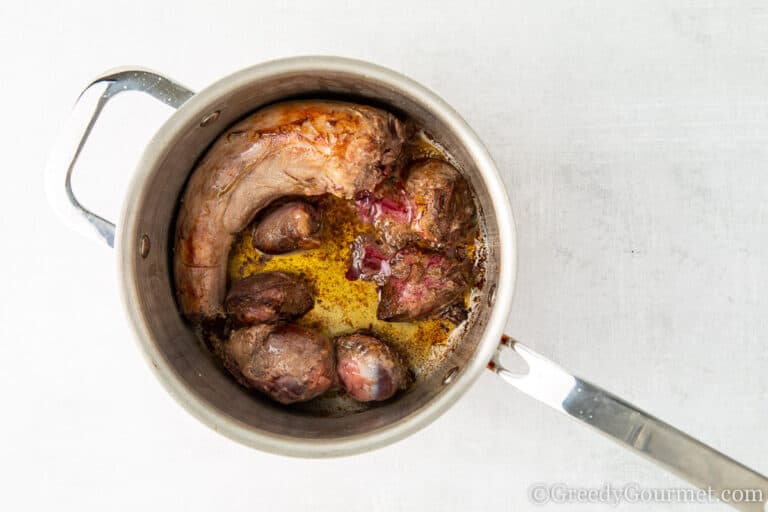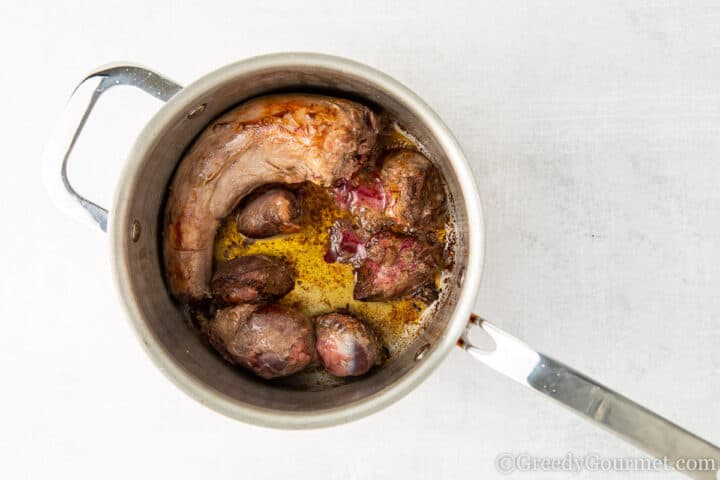 The turkey giblet broth
A big part of the delicious taste of this turkey giblet gravy recipe comes from the turkey giblet broth. Homemade giblet broth has an absolutely incredible flavor and will make your gravy taste out of this world.
If you haven't already, make sure you take a look at my turkey giblet broth recipe. It's extremely easy to whip up and this recipe just won't be the same without it.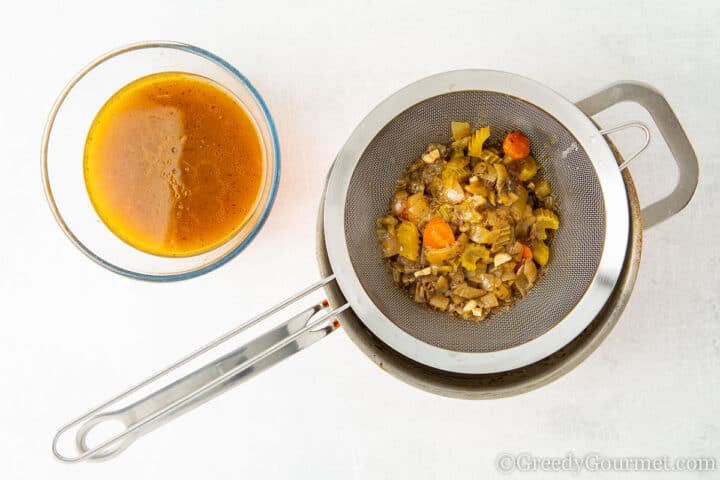 What are turkey giblets?
These are the unused parts of the turkey that normally get thrown away. Lots of people find them unappealing – wrongly, in my opinion. There's so much flavor that's wasted by not using them. While many people might find it too much to eat them cooked and as they are, using them to make gravy is the perfect way to use them.
Giblets are pronounced as in 'jiblets'. They include the heart, gizzard, liver and the turkey neck. 
If it sounds unappealing, just trust me. They make the most incredible gravy.
In days gone by, when buying a turkey from a supermarket or butcher's, the giblets would be stored in a bag under the flap of skin covering the neck end of the turkey. This way to flavor the drippings in the pan or make gravy.
Over the years, the concept of giblet gravy has become less popular, so many supermarkets no longer provide the neck and giblets. Many butchers still do though. So, buy your bird from your local butcher to make this recipe, or find a supermarket that supplies giblets with your turkey.
Are giblets nutritious?
Not only is it delicious, but giblet meat is packed full of flavor and contains lots of nutrients, including essential vitamins and minerals.
Do I need to include the liver in this gravy?
No. Some people find the taste of liver a bit too strong. It has a certain 'iron' flavor that can be a bit overpowering. If you're not a fan, leave it out of the recipe.
Do I use a saucepan or roasting pan to make the gravy?
If you're making this gravy on a different day to the day you roasted your turkey, you can just use a clean saucepan. Then, you'll add your leftover drippings and flour to the pan and, eventually, your turkey broth.
On the other hand, you might want to make this gravy as your roast turkey rests. In which case, feel free to make it in the roasting pan that you roasted your turkey in.
How do you store leftover gravy?
If you're serving this gravy at a big Thanksgiving or Christmas with the whole family, chances are you won't have many leftovers. However, it's always a good idea to think about how to store any extras, as you don't want something so wonderful to go to waste.
Storing your gravy depends on how long you want to keep it.
Storing it in the refrigerator
If you find yourself with leftover gravy and you want to use it soon, allow it to cool completely, then store it in an airtight sealable container and keep it in the fridge. It will stay fresh for two days.
Storing it in the freezer
You can also freeze it, to keep it fresh for a special occasion. To freeze your turkey gravy, place it in an airtight freezable container and use it within four months. 
Can I use a different broth?
Making turkey giblet broth is really simple and doesn't take much effort. If you want to add another broth for extra flavor, you can also use chicken broth or vegetable broth, to make the gravy richer and give it a more rounded taste.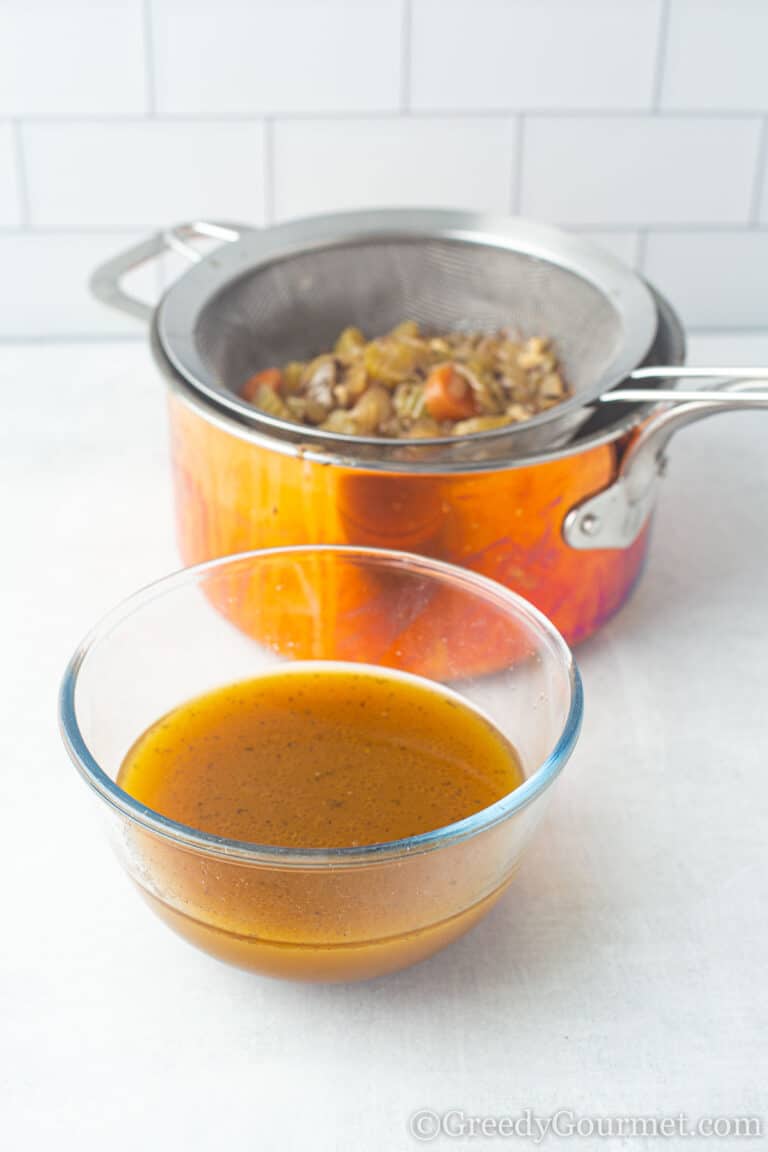 More turkey recipes
For those who need a little inspiration to bring some magic to the table this Thanksgiving or Christmas, look no further than the delicious recipes below!
Whole roast turkey – the main centerpiece to your fantastic festive feast. Full of flavor and very simple to follow from beginning to end, you'll end up with a juicy, tender roasted turkey every time with my special recipe
Dried cranberry sauce – Thanksgiving wouldn't be the same without this essential sauce. Stress-free and very easy to follow, this is one side recipe you do not want to miss out on
Marmite roast potatoes – a sensational side that's set to steal the show, these roast potatoes are absolutely divine. If you've never used Marmite to flavor your food, this will open up your world. It's the star of the recipe and, alongside the goose fat, delivers deliciously crispy on the outside and irresistibly fluffy on the inside roast potatoes
Apple cider turkey brine – want a foolproof way of keeping your turkey perfectly moist and tender? Brining a turkey takes things to the next level and this brine is very special
Apricot stuffing – a delicious vegetarian stuffing that is very easy to make. Make an extra big batch and use it to stuff your turkey or serve it on the side
Leftover turkey curry – leftovers don't get much more delicious than this leftover turkey curry! If you're a fan of Indian cuisine, then this recipe is a must. Lightning fast and super simple to put together, this curry could become your go-to leftover dish during the holiday season
Leftover turkey chowder – another delicious leftover dish, this one is creamy, smokey and incredibly satisfying
Leftover turkey lasagna – the last of my leftover recipes, this is an Italian feast that adds to the decadence of the season! Wonderfully rich and epically indulgent… you cannot afford to miss it!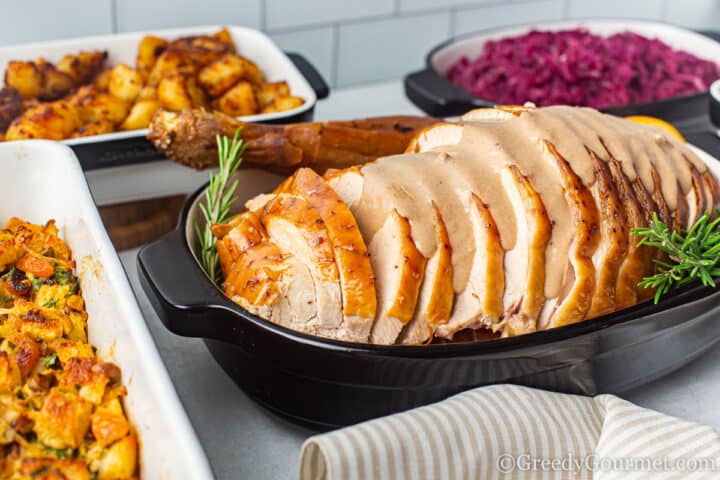 Print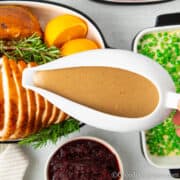 Turkey Giblet Gravy
---
Author:

Michelle Minnaar

Total Time:

1 hour 45 minutes

Yield:

2

L (8 cups)

1

x

Diet:

Kosher
Description
The perfect accompaniment to your Christmas Turkey. Instead of throwing them out, why don't you use your giblets to make this easy and delicious Turkey Giblet Gravy. 
---
Turkey Giblet Stock
15

ml (1 tbsp) butter

5

ml (1 tsp) vegetable oil

1

turkey's giblets

1

onion, chopped

1

carrot, chopped

1

celery stalk, chopped

3

garlic cloves, crushed

1

bay leaf

1g

(

1 tsp

) dried thyme
Turkey Giblet Gravy
250

ml (1 cup) turkey drippings

45g

(

3 tbsp

) flour

30

ml (2 tbsp) Dijon mustard

2

hard boiled eggs, chopped [optional]
---
Instructions
Heat the butter and oil in a medium-sized stock pot.
Fry the giblets on all sides until golden brown. Remove the giblets from the pan and set aside. 
Tip the onion, carrot, celery and garlic into the stockpot and fry the vegetables for 5 minutes or until softened.
Pour in 1.5L (6 cups) of water, along with the bay leaf, dried thyme and reserved giblets.
Bring the mixture to a boil, then reduce the heat to a steady simmer. 
Cook for 1 hour, skimming the froth every now and then. The aim is to halve the amount of liquid, so that the flavour intensifies.
Strain the stock through a fine-meshed sieve into a bowl. 
Pick out the giblets, then strip all the meat off the applicable bones. Shred the meat. Including the liver is optional, set aside.
Using a clean saucepan, heat up the turkey drippings. 
Slowly stir in the flour, stirring vigorously to massage out all lumps. 
Pour the giblet stock little by little, while stirring constantly, until everything is incorporated. 
Transfer the sauce and giblet meat to a food processor and blend until smooth. 
Tip the gravy back into the saucepan and add the mustard and season to taste. Serve immediately with your favourite Thanksgiving or Christmas trimmings. Enjoy!
Notes
This recipe assumes you are preparing a whole roast turkey at the same time, essentially cooking a Thanksgiving and Christmas dinner. I.e. you'll need pan drippings from the cooked bird to complete this recipe.
Turkey giblets usually comprise the heart, gizzard, liver, and neck of the bird. 
If you'd like the gravy to be gluten free, substitute the flour with 18g (2 tbsp) cornstarch. You'll need to make a slurry first before stirring it into the drippings. I.e. stir the cornstarch into 60ml (4 tbsp) of water to form a paste, then proceed with the recipe.
You can make the turkey giblet stock in advance. Once you've got the pan drippings it's quick and easy to finish off the recipe.
You can use as much or little mustard as you like. It simply adds more depth to the gravy. 
Alternatively, if you prefer chunky gravy, you don't need to blend the meat with the sauce in the blender and simply serve as is. 
If you would like to add a Southern twang to the giblet gravy, stir in the chopped hard boiled eggs at the end. 
If you're having trouble getting bay leaf, check out one of these bay leaf substitutes.
Since we're only using one stem of celery, you might find that you have plenty left-over. Don't waste it! If you won't be using it soon then check out my guide on freezing celery to make sure it doesn't just end up in the food bin!
Prep Time:

15 minutes

Cook Time:

1 hour 30 minutes

Category:

Gravy

Method:

Boil

Cuisine:

American
Keywords: turkey giblet gravy, giblet gravy recipe, turkey giblet recipe, southern giblet gravy, turkey giblet stock, turkey giblet broth recipe, giblet recipe, thanksgiving gravy, christmas gravy recipe