Whether you are looking for a light lunch to enjoy on a sunny terrace or a light starter, tuna lettuce wraps are just what you need. Mind you, this is nothing like the tuna salads you might remember from the eighties. These tuna lettuce wraps are light, yet still bursting with flavour. Beautifully arranged in a crispy romaine salad leaves, not only brings texture but also a presentation worthy of a seaside bistro.
The flavours might be classic, but with good produce assembled in the right way, you will have a lovely dish to enjoy by yourself or serve to friends and family. The preparation is simple and can be done within only a matter of minutes. It is perfect when you need a quick lunch and would rather spend time in the sun than in the kitchen. Equally, ideal if you have unexpected visitors, as most of the ingredients relatively basic, you can rustle this up in no time.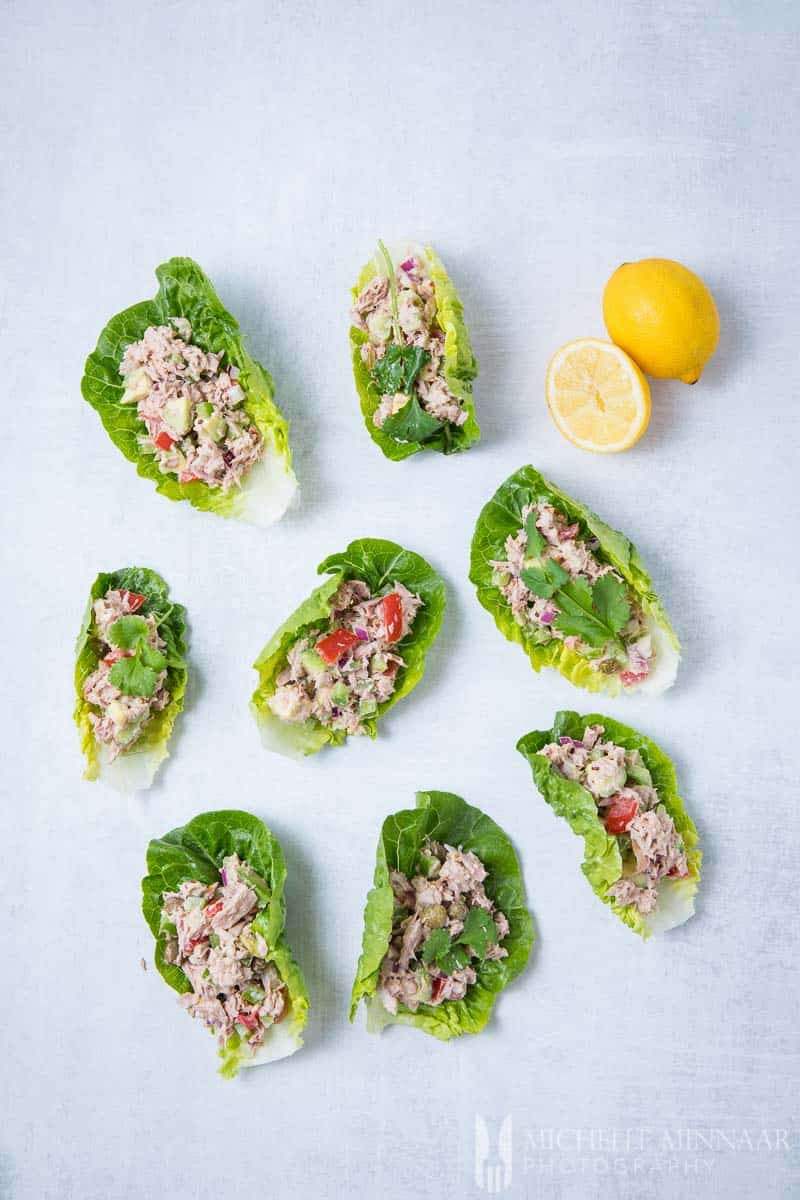 tuna lettuce wraps
Some people tend to frown a bit when it comes to using canned food, as if it was something unworthy or a thing of the past. However, you can actually get many high quality products in cans. There are excellent canned tomatoes from Italy, French pates and canned fish. The latter makes the ultimate tuna lettuce wraps.
Probably one of the most common canned foods in the world, tuna comes in many different qualities, flavours and price ranges. If you don't already have a favourite brand, I recommend you to keep trying different ones until you find one you like. I've recently eaten canned tuna from Seychelles and I've never had better!
So, in the case of making tuna lettuce wraps, don't go for the cheapest option. However, you don't necessarily need to buy the most expensive either. What you should aim for is a tuna that is nice and flaky with relatively large pieces and not one that is more on the minced side. This way you get some texture in the tuna lettuce wraps. I like to use the kind preserved in water rather than vegetable oil, which helps the lettuce warps getting too greasy. Nothing is better than tuna in its own juices!
tuna salad
Fresh vegetables already have a lot of flavour, so you just need to season the tuna salad mixture generously. Remember to taste along the way so that you tweak it to your desired taste. Hold back a little with the salt in the beginning as the capers are also somewhat salty. Speaking of capers, as you know these have a specific taste that doesn't sit well with everyone. Some people don't like them whereas others simply cannot get enough. Treat them as a spice or seasoning rather than an ingredient for this dish, and use the amount you find appropriate for your own palate.
Apply the same logic when using mustard. If you are not a huge fan of mustard, use a little less or find a milder one. For my tuna lettuce wraps, I like to use dijon mustard. The flavour is nice and sharp.
Whatever you do, do not leave out the lemon juice. It is important to add some acidity to give balance to the fattiness of the tuna, mayonnaise and avocado as well as the fresh vegetables. Alternatively, you can substitute with lime juice. Next, place all the ingredients, except the lettuce, in a large mixing bowl and stir until evenly distributed.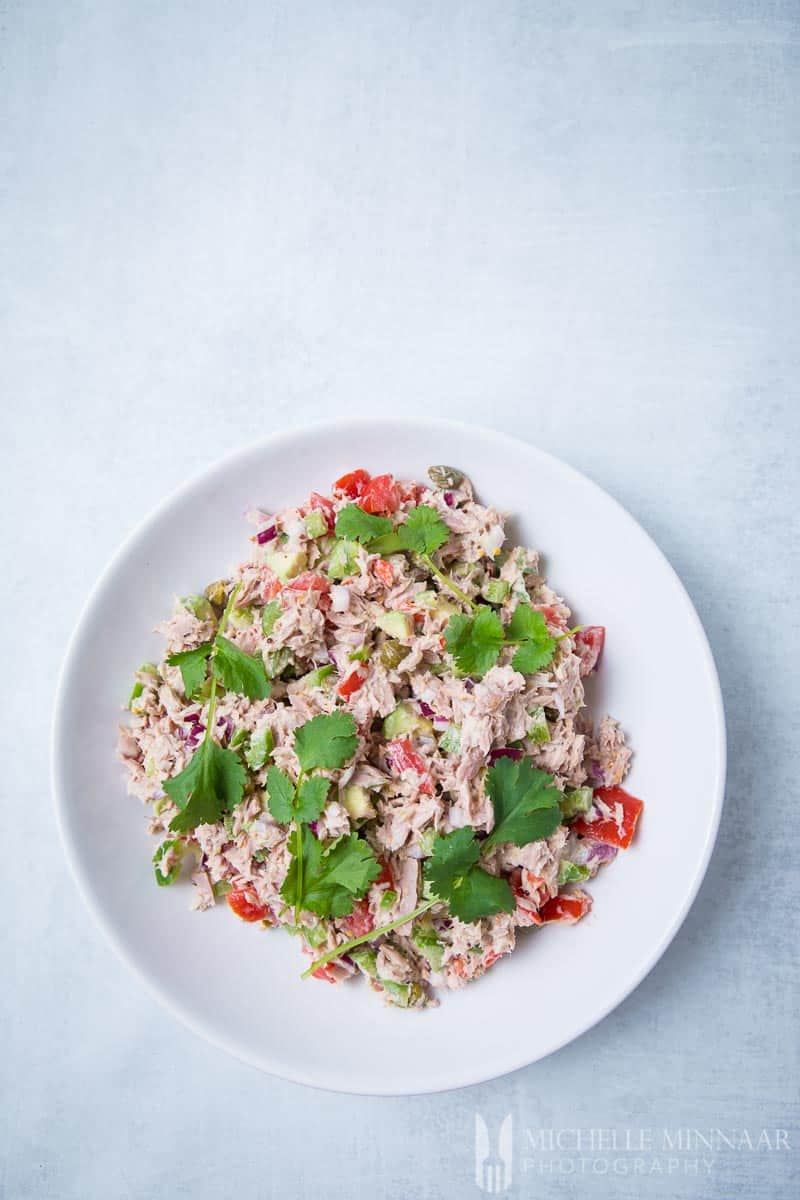 lettuce wrap recipe
In making my tuna lettuce wraps I have used simple but good quality ingredients. These classic flavours work well but if you are feeling adventurous, you can easily put your own twist on the tuna salad. For example you can spice it up by adding some finely chopped fresh chili. Not only do these little red flakes look stunning on the plate, they also give the dish a kick. Another easy way to give a little variation is the addition of fresh herbs.
For my version I have used a little fresh coriander, but herbs such as watercress or chervil also work very well in combination with the other flavours. Alternatively, leave out the avocado, and garnish with dill and parsley and you have a s slightly crisper more Nordic version of the tuna salad.
Alternatively, you can also experiment with substituting the tuna with hot smoked salmon, like this one. The hot smoked salmon is a fabulous addition to making a low carb salmon wrap.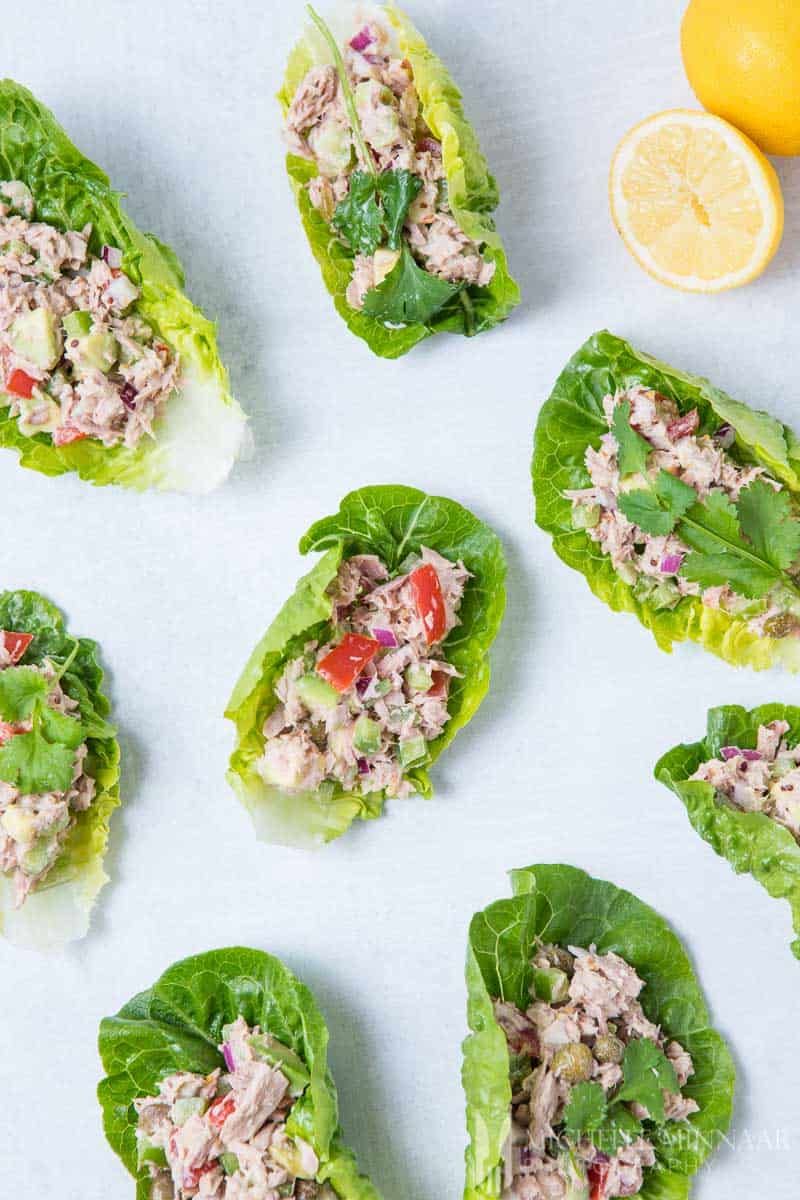 low carb tuna lettuce wraps
The tuna lettuce wrap owes its name to how it's served. Simply pick some nice crispy lettuce leaves of romaine salad or another crispy salad. It is important to use lettuce with some stiffness as the lettuce leaves in this case will play the role of the wrap, or "boat" if you like. I find that serving in this way brings not only a sense of rustic elegance but also lends a summer holiday vibe.
You can serve the tuna lettuce wraps as a starter. For example, before a barbecue with neighbours on the terrace. Alongside the tuna lettuce wrap, you can also serve this Asian BBQ chicken tortilla wrap for your meat loving friends!
Or, you can serve them as a light lunch or even a light dinner to be enjoyed in the sunshine. Depending on the size of the lettuce leaves you can serve more of them on one plate to make a complete meal of it. Add to the holiday spirit by serving the lettuce wraps with a cool glass of fruity chardonnay.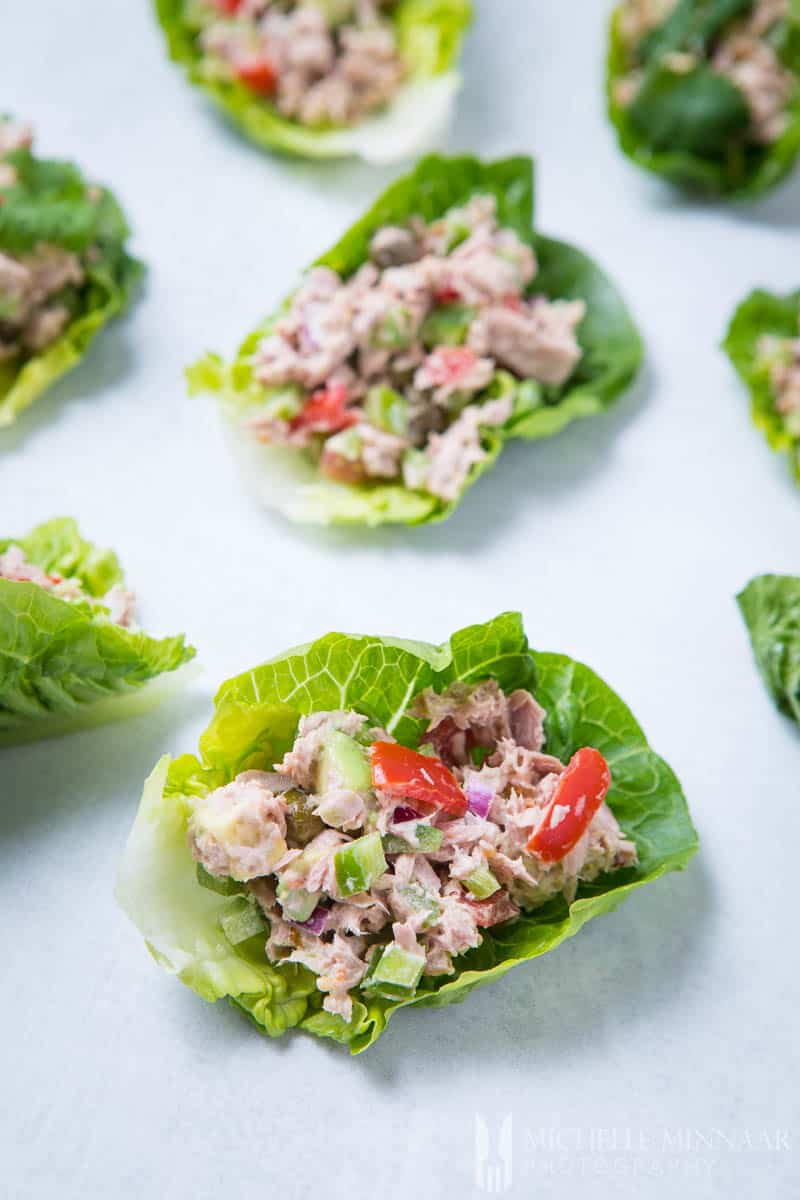 tuna sandwiches
Tuna lettuce wraps is a super healthy addition to any picnic. While the lettuce wraps might be a little unpractical for the picnic, you can easily use the tuna salad as a filling for delicious sandwiches. Keep the lettuce in the sandwiches for some crispiness.
If you set out to make sandwiches, try to use tomatoes without high water content. Alternatively, remove the seeds before adding them. This should help avoid your sandwiches from becoming soggy. Use dark or whole grain bread to get more bite and flavour, as well as a healthier sandwich. Not only great for a picnic, but also perfect for an office lunch.
Here are other sandwiches you can consider for more variety:
Print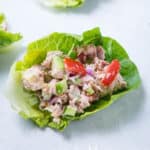 Tuna Lettuce Wrap
---
Description
Tuna lettuce wraps are easy to prepare and you'll use ingredients that you have stored in your kitchen! Don't hesitate to try this low-carb healthy wrapl!
---
240g

(

8oz

) drained, canned tuna flakes

1

avocado, peeled and chopped

15

ml (1 tbsp) capers

1

tomato, washed and chopped

½

green bell pepper, washed and chopped

½

red onion, peeled and finely chopped

5

ml (1 tsp) Dijon mustard

½

lemon, juiced

30

ml (2 tbsp) mayonnaise

8

lettuce leaves, washed
Coriander, for garnishing
---
Instructions
Place the all the ingredients, except the lettuce, in a large mixing bowl and stir until evenly distributed.
Season to taste, divide between two bowl and serve with lettuce.
Notes
Any lettuce will do but Romaine and Sweet Gem lettuce varieties work well if you want to have little "boats".
Feel free to play with different salad ingredient combinations, such as adding jalapenos etc.
If you can't get hold of avocado, try one of these avocado substitutes.
Prep Time:

15 minutes

Category:

Main Course

Cuisine:

English
Nutrition
Serving Size:

1 serving

Calories:

399

Sugar:

5.6 g

Sodium:

637 mg

Fat:

27 g

Saturated Fat:

5.9 g

Carbohydrates:

20.6 g

Fiber:

8.9 g

Protein:

25.4 g

Cholesterol:

54 mg
save the recipe to your pinterest board